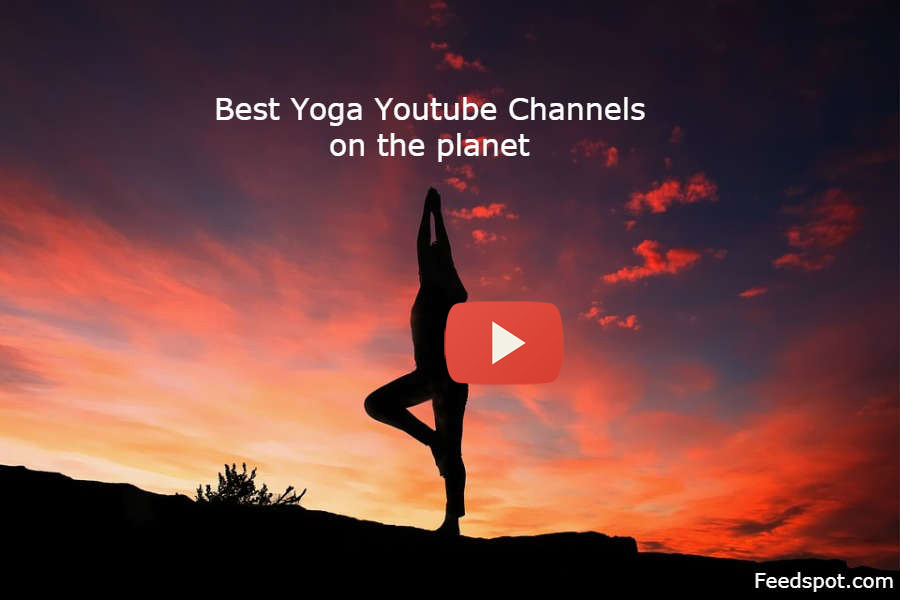 Yoga Youtube Channels
The Best Yoga Youtube Channels selected from thousands of channels on youtube and ranked based on youtube channel subscribers and popularity. Data will be refreshed once a week.
If your Youtube is selected in this list, you have the honour of displaying this Badge (Award) on your website.
Yoga Youtube Channels
Rank

Channel Name

Youtube Followers

Views Count

Video Count

1

youtube.com/user/yogawithadr..

Austin, TX

About Channel - Welcome all levels, all bodies, all genders, all souls! Find a practice that suits your mood or start a journey toward healing. Work up a sweat, or calm and relieve a tired mind and body. Create space. Tone and trim. Cultivate self love. Make time for you. Go deeper, have fun. Connect. Fall off the horse and then get back on. Reconnect. Do your best, be authentic and FIND WHAT FEELS GOOD.
Frequency - about 1 videos per week

2,493,407
183,500,660
336
2

youtube.com/user/cexercize/v..

Canada

About Channel - Completely self-taught, we began to create fitness and yoga videos growing, learning, and making mistakes as we went. It was a wonderful beginning…
Frequency - about 1 videos per week

539,203
48,565,758
133
3

youtube.com/user/KinoYoga/vi..

Miami Beach, FL

About Channel - Kino Yoga YouTube channel is place where you will find all the tools for your yoga practice. Full length beginner friendly practice sessions, tutorials on almost every posture that work like a yoga pose encyclopedia, yoga lifestyle and philosophy discussions and Kino's handstand and yoga demo videos for inspiration from all over the world.
Frequency - about 1 videos per week

461,667
116,025,979
1,460
4

youtube.com/user/lesleyfight..

Dana Point

About Channel - I'm Lesley Fightmaster (yes...that's really my last name). Before yoga, my head would never shut up! I felt anxious and uncomfortable. I stressed about the future and regretted the past. I was wound so tightly, took myself way too seriously and carried the weight of the world on my shoulders. I hardly ever laughed. Morning yoga taught me to breathe, to connect and to find space.
Frequency - about 1 videos per week

318,897
22,831,473
411
5

youtube.com/user/TaraStilesY..

About Channel - Tara Stiles started making these videos back in 2007 with the goal to help her friends and family connect to themselves, feel great, get healthy and happy.
Frequency - about 1 videos per week

299,487
29,385,296
599
6

youtube.com/user/yogatic/videos

Netherlands

About Channel - With EkhartYoga.com you can begin and advance your yoga practice with great teachers and the support of your fellow EkhartYogis. This yoga channel will give you a taste of what you can expect on EkhartYoga.com with a mix of styles including Hatha, Vinyasa, Ashtanga, Restorative and Yin Yoga.

Frequency - about 1 video per month

273,873
51,150,832
621
7

youtube.com/user/amritvideos..

About Channel - Yog Amrit is the Online channel of Yog Ayurved by Swami Ramdevji & Acharya Balkrishnaji. The aim of Swamiji & Acharyaji is to make 'Disease Free Bharat and Disease Free World'.
Frequency - about 2 videos per month

276,729
66,820,999
548
8

youtube.com/user/DoYouYoga/v..

The universe

About Channel - Join the DoYouYoga Community on YouTube! Learn and enjoy yoga with certified yoga instructors from around the world. Love yoga? Get your daily dose.
Frequency - about 2 videos per month

213,998
3,629,934
174
9

youtube.com/user/SarahBethSh..

Colorado

About Channel - Practicing yoga along with clean eating & mindfulness has provided me with balance and relief from mild scoliosis, Ulcerative Colitis, PMS, stress & just plain being moody. I hope you find health and happiness through yoga, clean eating & mindfulness too! My style of teaching is influenced by daily practice, functional movement and flow.
Frequency - about 2 videos per month

211,943
14,253,865
216
10

Connecticut

About Channel - These videos range from 15 minutes to 60 minutes, and cover a wide variety of themes. All video content published after June 13, 2014 is available for purchase for those of you who travel often or just want the content on your device when you don't have internet connection.
Frequency - about 2 videos per week

164,587
13,387,363
335
11

youtube.com/user/yogatx/videos

United States

About Channel - Videos from your favorite certified yoga instructors, including: Cole Chance, Jen Hilman, Lauren Bringle, Savannah V., Jacq St. Pierre, & many more! It is our goal to give you the most personal, informative, easy to follow, instructional Yoga videos out there, so our Yoga instructors intentionally teach their Yoga flows in our videos the exact same way they would teach a private Yoga lesson.
Frequency - about 2 videos per week

152,225
13,682,212
357
12

youtube.com/user/CosmicKidsY..

United Kingdom

About Channel - Healthy videos made specially for kids - with a focus on yoga, mindfulness, stories and relaxation. Used in homes and schools all over the world. Interactive adventures which build strength, balance and confidence - and get kids into yoga and mindfulness early!
Healthy screen time which gets kids moving, relaxing and learning simple lessons for a happy life.
Frequency - about 1 video per month

145,811
33,138,352
195
13

youtube.com/user/yogawithtim..

About Channel - A different 30-minute (or less) yoga class delivered to your inbox via video for 7 days in a row. You'll learn the foundational principles of vinyasa yoga that will help you achieve strength, flexibility, and balance. This practice is specifically designed to set you on a path to health, re-set your metabolism, and cleanse your body.

Frequency - about 1 videos per week

133,051
7,070,202
181
14

youtube.com/user/BrettLarkin..

San Francisco, CA

About Channel - I teach vinyasa flow yoga & meditation on Youtube with classes appropriate for people who've *never done yoga before* to very sweaty, advanced stuff for when you want a true yoga workout out home! My goal is to make this deeply powerful practice accessible, fun, and transformative to everyone. Pick a class and see you on the mat!!!
Frequency - about 3 videos per week

118,065
8,212,887
443
15

youtube.com/user/YogaInterva..

Los Angeles

About Channel - Interval yoga is a unique style of intense yoga that can get you fit and in ultimate supreme shape while saving you time and money. My classes are short but intense and they develop athlete level strength and tone and flexibility all at the same time. I offer beginner classes and yin classes as well. Right now I am offering prenatal yoga and workout classes that are invaluable during pregnancy!
Frequency - about 2 videos per week

110,288
14,596,764
551
16

youtube.com/user/sadienardin..

Los Angeles, CA

About Channel - Get Fit, Fierce and Fabulous, faster with Sadie Nardini, one of the world's most in-demand yoga and lifestyle experts, author and TV host! Get TWICE the benefits from your workouts, and your life, when you use her expertise to your advantage both on and off the mat. Get ready to rock harder!

Frequency - about 1 video per month

106,174
5,981,730
25
17

youtube.com/user/motleyfitne..

Evergreen, CO

About Channel - Please enjoy my diverse collection of Power Yoga, Core, Yoga, Boot Camp, Bodyweight & Pilates videos.
Frequency - about 2 videos per week

106,424
12,721,155
661
18

United States

About Channel - With Cody you get fitness video training from top coaches and a supportive community. Explore beginner yoga classes, refine your CrossFit technique, learn how to handstand, build strength, and get at-home workouts for free all with Cody. Come live in the movement with us.
Frequency - about 15 videos per week

110,087
8,626,663
334
19

youtube.com/user/yogawithkas..

Ottawa

About Channel - I am a Yoga Instructor who is passionate about helping people develop a fun and sustainable at home yoga practice. I offer online classes, tutorials and workshops so that you can practice in the comfort of your own home. My classes are suitable for beginners as well as advanced yogis and range from Vinyasa Flow to Yin Yoga. T
Frequency - about 2 videos per week

76,722
5,468,793
227
20

Yoga Mat

About Channel - I am a registered yoga teacher with a B.S. in Exercise Physiology. Movement is essential to a happy, healthy lifestyle and I believe there is a form of movement for everyone. With roots in dance, much of my yoga is free flowing and therefore looks different on every body. That is the beauty of it! Allow your body to MOVE YOU. I hope my classes can provide you some peace.
Frequency - about 3 videos per month

74,219
7,280,550
69
21

Haridwar

About Channel - This channel videos will provide information on how to do Yoga. Official YouTube Channel of The YoGa GuRu is the online channel of yoga Ayurveda by Swami Baba ramdev ji & Acharya Bal Krishna ji. The aim of Swami & Acharya is to make "disease free india and disease free world".

Frequency - about 4 videos per week

48,947
6,234,379
217
22

About Channel - Five Parks Yoga is a community oriented studio that strives to bring detailed instruction and personalized attention to a well-rounded yoga practice. You can expect small class sizes, as well as modifications and adjustments for all levels of practitioners.
Frequency - about 12 videos per week

43,630
3,330,306
204
23

youtube.com/user/YogaGoa/videos

About Channel - Purple Valley Ashtanga Yoga Retreat is a peaceful haven situated in Goa, a state on India's west coast which is lined by white sandy beaches and the azure Arabian Sea. India is the home of yoga, and Purple Valley hosts some of the world's leading Ashtanga yoga courses & teachers in Goa's most comfortable yoga accommodation.
Frequency - about 4 videos per month

40,971
4,343,407
313
24

youtube.com/user/kineticvigi..

About Channel - We travel, we explore, we practice, we eat, we love. join the movement - daily videos whenever we have wifi!

Frequency - about 1 video per month

32,531
1,356,951
190
25

youtube.com/user/HeartAlchem..

YouTube

About Channel - Heart Alchemy Yoga is a yoga and fitness channel focused on bringing the best of Los Angeles yoga to your living room. Founded by respected Yoga teacher Michelle Goldstein of Santa Monica Power Yoga, Heart Alchemy Yoga aims to provide you a wide range of top notch yoga flow, power yoga and yin yoga practices, pranayama, meditation and heart opening techniques.
Frequency - about 2 videos per week

26,464
2,554,103
180
26

About Channel - Yoga has changed my life and I love sharing this wonderful practice with others. I teach Vinyasa Flow, Wrist-Free/Hands Free Yoga Flow, Gentle/Beginners, Yin, and Restorative Yoga. I also post vlogs, yoga tutorials, and product reviews.

Frequency - about 3 videos per month

23,243
1,556,219
137
27

youtube.com/user/YogaJP/videos

About Channel - Yoga and Meditation Videos and DVDs and Gentle Yoga Teacher Training and Certification.
Frequency - about 1 videos per week

14,773
2,639,046
303
28

youtube.com/user/davidgarrig..

Philadelphia, Pennsylvania

About Channel - David Garrigues first traveled to India in 94' to study Ashtanga yoga with Sri K Pattabhi Jois. Three years later he had completed the Advanced A Series. By 97' he was certified by Guruji and became one of a few teachers in the United States certified to teach Ashtanga Yoga. He is the director of the Ashtanga Yoga School of Philadelphia.
Frequency - about 2 videos per month

12,103
1,511,410
257
29

youtube.com/user/TheSecretBl..

United Kingdom

About Channel - Do you remember a time in your life when you felt so happy, without a care or worry in the world...maybe when you were 5yrs old right? haha..Well, Yoga is a way to discover the "YOU" thats hiding beneath the all the stuff we think we should be, have or do to be OK with who we are. When we learn to feel into our bodies, listen to our inner voice and connect to the real Bigger Picture.
Frequency - about 1 video per month

11,150
1,782,817
133
30

youtube.com/user/AcroNogaS/v..

About Channel - Noga is a certified AcroYoga teacher, a personal trainer and a Thai massage therapist. Join me in my journey of spreading love, joy and AcroYoga around the world.
Frequency - about 1 video per month

8,094
1,024,126
41
31

About Channel - For your life on and off the mat. YogiApproved.com is your home for everything yoga and yogic lifestyle. Articles, videos, stories, product reviews and more. We're here for a happier, healthier you.
Frequency - about 3 videos per month

7,608
473,483
102
32

youtube.com/user/danielscott..

About Channel - Want to get better at AcroYoga? Daniel Scott can help. Daniel Scott is yogi provocateur with a fresh alternative to the traditional "yoga voice". His classes are a lively mix of balance cut with improv, strength and flexibility-- Daniel focuses on moving into postures, not through them. An E-RYT 500 globally renowned ashtanga-vinyasa teacher and Certified Level 2 AcroYoga instructor.
Frequency - about 1 video per month

5,550
727,744
86
33

youtube.com/user/yogaworks/v..

USA

About Channel - Founded in 1987, YogaWorks is the nation's authority in yoga instruction and offers world-class teachers, a premier teacher training program, workshops, and best-in-class online yoga at MyYogaWorks.com. YogaWorks' trademark approach is a mix of safe, compassionate and skillful teaching that features an array of yoga styles and teachers.
Frequency - about 1 video per month

11,205
930,911
184
34

youtube.com/user/TeamYogaSla..

About Channel - YogaSlackers is a group of elite ultra-endurance adventurers, master yoga teachers, and environmental activists. Through adventure racing, yoga instruction, slacklining, and remote climbing/packrafting expeditions, YogaSlackers members strive to live by the principles of environmental sustainability and social responsibility.
Frequency - about 1 video per month

6,766
1,568,947
284
35

youtube.com/user/GwenLawrenc..

New York

About Channel - Want to succeed like a Professional athlete, train like one with GWEN LAWRENCE! "I transform lives from good to great, helping my clients reach their highest potential, using my 6 power yoga for sports philosophy's to Attain fitness, find Balance, Create goals, and Define personal happiness in work, school, family and life the way only an intuitive Yogi and seasoned MOM can"

Frequency - about 2 videos per week

5,675
523,027
284
36

youtube.com/user/dahnyoga/vi..

AZ, United States

About Channel - Dahn Yoga is a national leader in health and wellness. We offer classes in yoga, tai chi, meditation, and other mind-body training programs based on traditional Korean healing philosophy and East Asian energy principles. Dahn Yoga's holistic methods have been offered in the United States through corporate, affiliate, and franchise locations, as well as in community-based classes.
Frequency - about 1 video per month

4,691
888,781
140
37

youtube.com/user/googley/videos

About Channel - My name is Nicholas Coolridge and I work as a professional Acrobat, Free Runner, Parkour Athlete, Partner Dance Acrobatics, Hand Balancer, Stilt Walker and more!
Frequency - about 1 video per month

4,603
3,935,558
52
38

youtube.com/user/FarmYoga/vi..

Grass Valley, CA

About Channel - Om Namah Sivaya, Blessed Youtube Viewer, This channel has been created by the Staff at the Sivananda Ashram Yoga Farm. The Yoga Farm is located in Grass Valley, California, 1 hour from Sacramento and 3 hours from San Francisco. We are a classical yoga ashram that has been around for more then 40 years.
Frequency - about 1 video per month

4,031
481,887
90
39

youtube.com/user/LoveYogaOnl..

United Kingdom

About Channel - Gemma and her yoga teacher friends have created high quality yoga class videos and inspirational, loving messages for you.
Frequency - about 1 video per month

3,130
258,073
54
40

youtube.com/user/KabalahYoga..

Montreal

About Channel - My name is Audi Gozlan, founder and creator of Kabalah Yoga.
Kabalah Yoga is searching inward, reaching deeply within and discovering yourself from the inside out. It is yoga with awareness that each posture can empower, heal, and inspire your life.
Frequency - about 1 video per month

2,425
2,643,226
116
41

youtube.com/user/yogavedanta..

About Channel - Get new insights in Yoga, Vedanta, meditation and the spiritual path. Listen to talks by Yoga Masters and Teachers, mainly from the tradition of Swami Sivananda.
Frequency - about 2 videos per month

4,888
825,244
227
42

youtube.com/user/superduperd..

About Channel - Need a place to start your acro yoga practice? Super Dave offers a variety of tutorials teaching basic acro yoga poses to more advance acro yoga sequencing. David Ung is co-founder of www.Acroyoga360.com and the lead instructor for the Acro yoga teacher training program; currently the only acro yoga teacher program offered in Toronto. He is a lover of movement and meditation.
Frequency - about 2 videos per month

2,451
248,384
62
43

youtube.com/user/akhandayoga..

Toronto / Rishikesh

About Channel - Akhanda Yoga balances a commitment to body mechanics with guidelines for inner inquiry. Yogrishi Vishvketu is renowned for his joyful and compassionate teachings. During challenging postures, students are encouraged to smile or to find the inner smile, thus making non-competition and contentment true aspects of the practice.
Frequency - about 3 videos per month

2,625
185,211
145
44

About Channel - It project This is Yoga aims to document the theoretical knowledge and the yogic techniques taught and practiced in the three years of the Teacher Training of the free Hatha yoga Hamsa School, incl. Preparation exercises and variations. The videos are thought of as an educational tool and are aimed primarily at school pupils, present, past and future, but also to anyone who wants to know Yoga.
Frequency - about 5 videos per week

2,215
597,462
733
45

youtube.com/user/agamayoga/v..

Koh Phangan, Thailand

About Channel - Agama is a true spiritual university whose core principles are rooted in preserving the authentic roots of yoga through courses, workshops, and retreats at campuses around the world.
Frequency - about 3 videos per month

1,718
396,857
121
46

1,604
60,584
178
47

youtube.com/user/RainbowKids..

All over the world!

About Channel - Rainbow Yoga offers some of the most well-known and loved yoga specialization teacher trainings in the world. Come and learn from us how to share with the world this unique style of interactive and fun yoga which celebrates life and brings people together. Step off of your individual yoga mat to explore and nurture your connections with friends and loved ones.
Frequency - about 1 video per month

1,581
365,674
79
48

youtube.com/user/oceanworshi..

About Channel - Blissoloy is about making the world a better place by bringing more awe joy and bliss into the world. Celebrating the interconnection of our minds, bodies, and hearts everywhere and asking what do we have to offer Nature and Community and what does Nature and Community have to offer us.
Frequency - about 1 video per month

1,572
160,567
68
49

youtube.com/user/PureYogaCha..

About Channel - Pure Yoga is Asia's leading lifestyle brand with studios in Hong Kong, Shanghai, Singapore and Taipei, with plans to continue expansion throughout the region. We offer a wide variety of traditional and contemporary... practices including Hatha, Hot, Power, Yin, Pranayama / Meditation, Ashtanga Vinyasa, Pre-& Post Natal, and Yoga Dance, plus the personal touch of Private Yoga.
Frequency - about 2 videos per week

1,355
727,246
104
50

youtube.com/user/YogaVistaAc..

About Channel - The Yoga Vista Academy is a Continuing Education School for the advancement and certification of Yoga teachers in their selected specialties. We offer advanced yoga teacher training and certifications for Gentle, Senior, Chair Yoga and Yoga Therapy.

Frequency - about 2 videos per month

1,454
171,274
112
51

youtube.com/user/endureyoga/..

San Francisco, CA

About Channel - A method to help athletes learn to how to complement—not compromise—their weekly training routines through fitness, functional movement, mobility and flexibility.
Frequency - about 1 video per month

1,696
88,424
21
52

About Channel - Ana Forrest has been changing people's lives for nearly 40 years. An internationally recognized pioneer in yoga and emotional healing, Ana created Forrest Yoga while working through her own healing from her life's trauma and experience. With thousands of licensed practitioners around the world, Forrest Yoga is renowned as an intensely physical, internally focused practice.
Frequency - about 1 video per month

1,173
116,295
80
53

Los Angeles

About Channel - Mindful movement. It's at the core of why we do what we do at Alo—it's our calling. Because mindful movement in the studio leads to better living. It changes who yogis are off the mat, making their lives and their communities better. That's the real meaning of studio-to-street: taking the consciousness from practice on the mat and putting it into practice in life.
Frequency - about 2 videos per week

n/a
582,777
83
These Youtube channels are ranked based on following criteria
Total youtube channels subscribers, video views, and video uploads
Quality and consistency of videos

Youtube search ranking

Feedspot editorial team' objective and subjective review
Top 50 Yoga Youtube Channels Winners
CONGRATULATIONS to every user that has made this Top Yoga Youtube Channels list! This is the most comprehensive list of best Yoga Youtube Channels on the internet and I'm honoured to have you as part of this! I personally give you a high-five and want to thank you for your contribution to this world.
If your Youtube Channel is one of the Top 50 Yoga Youtube Channels, you have the honour of displaying the following badge on your site. Use the below code to display this badge proudly on your blog. You deserve it!:
<a href="https://blog.feedspot.com/yoga_youtube_channels/" title="Yoga Youtube Channels"><img src="https://blog-cdn.feedspot.com/wp-content/uploads/2017/08/Yoga-Youtube-Channels-transparent_216px-1.png" ></img></a>