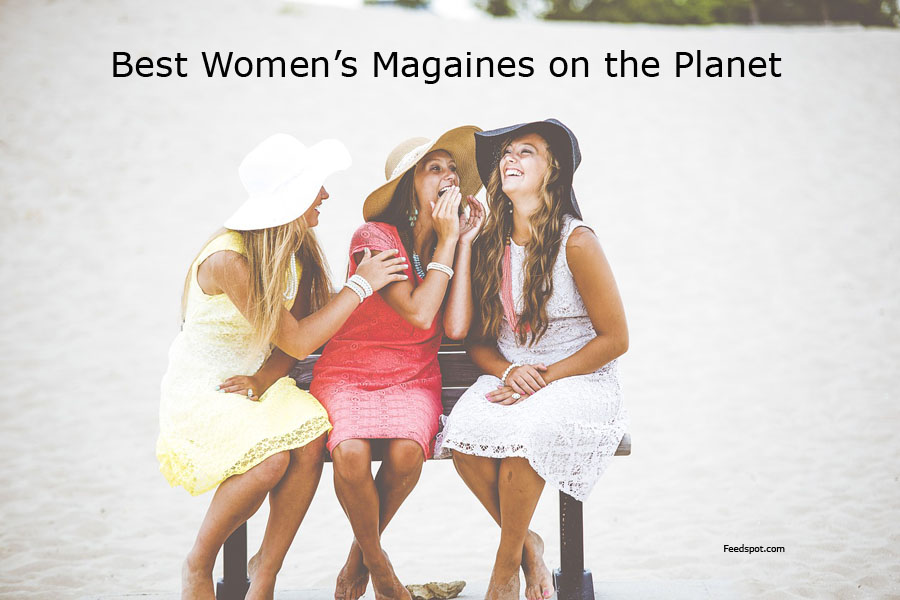 Women's Magazines List.
The Best Women's Magazines from thousands of Women's Magazines on the web using search and social metrics. Subscribe to these websites because they are actively working to educate, inspire, and empower their readers with frequent updates and high-quality information.
If your blog is selected in this list, you have the honour of displaying this Badge (Award) on your blog.
Women's Magazines

New York, NY About Blog Cosmopolitan is the best-selling young women's magazine. Cosmopolitan delivers the latest news on men and love, work and money, fashion and beauty, health, self-improvement and entertainment. Your source for the latest sex tips, celebrity news, dating and relationship help, beauty tutorials, fashion trends, and more.
Frequency about 168 posts per week.
Blog cosmopolitan.com
Facebook fans 10,575,736. Twitter followers 1,675,433.

New York About Blog Allure is a women's multimedia brand focused on beauty. Discover new hair ideas, makeup looks, skin-care advice, the best beauty products and tips, trends, and more from Allure, the first and only dedicated beauty magazine.
Frequency about 42 posts per week.
Also in Beauty Blogs, Beauty Magazines, Product Review Blogs
Blog allure.com
Facebook fans 1,432,976. Twitter followers 576,742.

UK About Blog Woman magazine is packed with the latest fashion and beauty buys, smart advice and inspiring stories about the things that matter to you. The smartest, most stylish weekly for 40-plus women with fashion and beauty to celebrity and food.
Frequency about 5 posts per week.
Also in Women Blogs, UK Womens Magazines
Blog womanmagazine.co.uk
Facebook fans 132,099. Twitter followers 14,607.

London, England About Blog Welcome to Britain's best women's magazine. Get ready for insider fashion and beauty tips, amazing must-read features, and first-look celebrity news. Also get the fashion advice on highstreet and designer trends and buys from the experts.
Frequency about 42 posts per week.
Also in UK Fashion Bloggers, UK Women Blogs
Blog glamourmagazine.co.uk
Facebook fans 3,413,739. Twitter followers 486,254.

About Blog Discover new workout ideas, healthy-eating recipes, makeup looks, skin-care advice, the best beauty products and tips, trends, and more from SELF.
Frequency about 12 posts per week.
Blog self.com
Facebook fans 1,746,886. Twitter followers 508,611.

Boulder, CO About Blog Women's Running is the world's largest women-specific running magazine. We cover all aspects of the running lifestyle. Women's Running focuses on providing editorial content focused on running, fitness, nutrition and wellness to the ever-growing community of women runners.
Frequency about 3 posts per week.
Also in Running Blogs, Women's Running Blogs, Running Magazines
Blog womensrunning.competitor.com
Facebook fans n/a. Twitter followers 190,857.

New York About Blog The voice of the women's accessories industry. Accessories Magazine is the leading fashion trade publication in the accessories industry. Accessories also provides in-depth statistics, insightful roundtables, retail profiles, consumer surveys, merchandising and display tips, as well as information on the leading products in all categories.
Frequency about 17 posts per week.
Blog accessoriesmagazine.com
Facebook fans 11,545. Twitter followers 13,842.

Los Angeles, CA About Blog Oxygen Magazine is the No. 1 trusted resource for information on training, nutrition, weight loss, health and fitness for women. Oxygen is designed to inform, educate and inspire women of all ages about the joys and benefits of fitness, proper nutrition, health and resistance training.
Frequency about 7 posts per week.
Also in Women's Health Blogs, Womens Fitness Magazines
Blog oxygenmag.com
Facebook fans 626,919. Twitter followers 64,850.

About Blog Women's Wear Daily brings you breaking news about the fashion industry, designers, celebrity trend setters, and extensive coverage of fashion week.
Frequency about 168 posts per week.
Blog wwd.com
Facebook fans 761,946. Twitter followers 2,876,389.

About Blog Women Daily Magazine created a new journey to happiness for every woman Follow if you want to find out more about fashion, beauty, health, love, happiness and entertainment.
Frequency about 19 posts per week.
Blog womendailymagazine.com
Facebook fans n/a. Twitter followers n/a.

Canada About Blog Chatelaine Magazine has been Canada's #1 women's magazine since 1928. Get the best recipes, easy meal plans, diet and nutrition tips, women's health advice, and fitness & exercise routines.
Frequency about 14 posts per week.
Also in Canadian Magazines
Blog chatelaine.com
Facebook fans 163,283. Twitter followers 66,544.

About Blog FIRST for Women is a national consumer magazine that delivers positive info on health, nutrition, beauty, fitness, decor & family.
Frequency about 12 posts per week.
Blog firstforwomen.com
Facebook fans 280,676. Twitter followers 3,419.

India About Blog Woman's Era food fashion and lifestyle magazine. Womansera magazine is a platform for women to get latest info and tips on fashion, beauty, health and relationship advice.
Frequency about 84 posts per week.
Blog womansera.com
Facebook fans 9,706,924. Twitter followers 726.

Atlanta, GA About Blog Get the latest news, interviews, guitar gear and fashion from the Best Female Guitarists.
Frequency about 11 posts per week.
Blog guitargirlmag.com
Facebook fans 7,917. Twitter followers 1,873.

India About Blog We are India's first and only home-grown women's luxury lifestyle monthly. Being a glossy, the emphasis on paper, printing, processing and aesthetics is intrinsic, but what people come back to us for is the quality of content. We've been told that we stand out as a reader's magazine. And that's not an anomaly for a good-looking glossy.
Frequency about 6 posts per week.
Since Mar 2009
Also in Indian Magazines
Blog vervemagazine.in
Facebook fans 311,786. Twitter followers 30,853.

Watertown, MA About Blog We are Better After 50, because we choose to be. Midlife Women talk about sex after 50, divorce, reinvention, fashion, menopause and more. We are better because we have each other; we are willing to share our experiences, our learnings, our concerns and our musings.
Frequency about 7 posts per week.
Since Apr 2012
Also in Baby Boomer Blogs, Over Fifty Magazines
Blog betterafter50.com
Facebook fans 49,613. Twitter followers 14,428.

About Blog With cutting-edge wellness and fitness guidance and practical but polished beauty, fashion, and lifestyle resources, The Fine Line is a place for women to celebrate the wisdom that health and happiness come from knowing who you are and where you're going.
Frequency about 3 posts per week.
Blog thefinelinemag.com
Facebook fans 54,606. Twitter followers n/a.

California, United States About Blog Yve Style is the ultimate source of information for every woman, featuring interesting articles about fashion, a healthy lifestyle, beauty tips and tricks
Frequency about 28 posts per week.
Blog yve-style.com
Facebook fans n/a. Twitter followers 413.

Portland, OR About Blog She Shreds magazine is dedicated to educating, inspiring, and encouraging future and current musicians by highlighting women guitarists and bassists from all over the world. We strive to raise awareness for under represented female guitarists and to cultivate the presence of women in the music industry. Although She Shreds is inspired by and created for women, it is our hope that our impact reaches far beyond boundaries of gender to encourage radicalism, respect and revolution.
Frequency about 2 posts per week.
Blog sheshredsmag.com
Facebook fans 34,169. Twitter followers 10,785.

About Blog Professional Woman's Magazine is dedicated to promoting the advancement of multicultural, diverse women in all aspects of business and employment to ensure equal opportunity. PWM covers news information ranging from professional concerns to civic affairs, trends, careers and business, life-style issues, the arts, education, finance, health, technology, family, travel all of which impact a professional woman.
Frequency about 5 posts per week.
Also in Womens Business Magazines
Blog professionalwomanmag.com
Facebook fans 5,825. Twitter followers 1,621.

About Blog Lilith Magazine charts Jewish women's lives with exuberance, rigor, affection, subversion and style. The magazine features award-winning investigative reports, new rituals and celebrations, first-person accounts both contemporary and historical, entertainment reviews, fiction and poetry, art and photography.
Frequency about 2 posts per week.
Also in Feminist Magazines
Blog lilith.org
Facebook fans 9,479. Twitter followers 8,423.

USA About Blog Women with an appetite for success and passion to bend the rules, feature frequently in latest editions of business magazines.Diversity Woman is an integrated print, event, and online business that provides comprehensive articles that focus on leadership and executive management.
Frequency about 2 posts per week.
Also in Women In Business Blogs
Blog diversitywoman.com
Facebook fans 4,664. Twitter followers 19,181.

About Blog STRONG Fitness Magazine is a trusted source of cutting-edge fitness and health information for the modern woman who lives to be fit. Our mission is to motivate, educate and empower women to achieve a fit and healthy life.
Frequency about 4 posts per month.
Also in Fitness Magazines
Blog strongfitnessmag.com
Facebook fans 313,349. Twitter followers 4,305.

Fort Lauderdale About Blog Business & Lifestyle Magazine for Women. WE's audience consists of women who want to explore great destinations, improve their outlook on life, learn quick and easy ways to get and stay healthy, find out about the latest technology gadgets and information, get some networking tips, become inspired as they read about women making a difference in the world and even ideas for great entertaining and learn how to more effectively and efficiently market and promote their business on and off the WEB.
Frequency about 6 posts per week.
Blog wemagazineforwomen.com
Facebook fans 3,160. Twitter followers 12,682.

Canada About Blog divine.ca is a online destination that caters to the interests of Canadian women. It covers an array of topics that resonate with the trendy, web-savvy 'divinista', such as fashion, beauty, health, fitness, nutrition, and entertainment.
Frequency about 3 posts per week.
Blog divine.ca/en
Facebook fans 19,569. Twitter followers 5,022.

Louisville, Ky About Blog Louisville magazine encouraging and highlighting local women. Today's Woman is a regional monthly magazine for women in areas around Louisville, Kentucky and Southern Indiana. We strive to reach out to women in the community and cover women of all facets of life. Our aim is to inform, inspire, and encourage women to reach their full potential.
Frequency about 11 posts per week.
Blog todayswomannow.com
Facebook fans 11,142. Twitter followers 1,586.

Falmouth, ME About Blog Maine Women is both a magazine and a web site devoted to exploring topics of interest to the women of Maine including health, relationships, leadership, family, events, activities, fashion and more.
Frequency about 7 posts per week.
Since Dec 2010
Also in Maine Blogs
Blog mainewomenmagazine.com
Facebook fans 4,283. Twitter followers 321.

Kent About Blog Key Women in Business are the only online magazine providing insightful and aspirational business content for entrepreneurial and business orientated women living or working in the UK, looking to develop their business, career or help others to do so.
Frequency about 2 posts per week.
Blog kwib.co.uk
Facebook fans 1,698. Twitter followers 3,071.

Overland Park, KS. About Blog HERLIFE Magazine is a window into the life of the women of today: what she is, what she thinks of herself and the world, what she wants to accomplish now and in the future, and what she knows in her heart. From the inspirational women we promote to interesting topics such as health, beauty and fashion to what's going on locally in each community, we strive to keep today's women connected to the things they need and want.
Frequency about 6 posts per week.
Blog herlifemagazine.com
Facebook fans 12,089. Twitter followers 1,985.

About Blog Hope for Women celebrates all women. We present captivating, content-delivered articles told by everyday women. From travel and food to wellness and relationships, Hope challenges women to live, dream and inspire. Our content simply reinforces the ideals that our readers already personify- optimism, determination and hope. .
Frequency about 1 post per month.
Blog hopeforwomenmag.com
Facebook fans 13,555. Twitter followers 13,052.

Syracuse, N.Y. About Blog Syracuse Woman Magazine is the No. 1 award-winning upscale magazine targeted specifically for Central New York's professional, community-oriented woman. Our mission is simple: to inform, inspire and entertain
Frequency about 2 posts per week.
Blog syracusewomanmag.com
Facebook fans 4,682. Twitter followers 5,786.

Toronto, ON, Canada About Blog Canada's Magazine for Wellness. A Powerful and inspirational Online Magazine to live a healthy life, while not compromising their sense of style. The women's Wellness Living magazine. Viva provides women with powerful and inspirational information to live a healthy life, while not compromising their sense of style.
Frequency about 3 posts per week.
Blog vivamagonline.com
Facebook fans 28,315. Twitter followers 9,122.

UK About Blog Women & Golf is the UK's leading women's golf magazine. It's modern, fun and a valuable source of information for any woman playing the game or discovering it for the first time.
Frequency about 7 posts per week.
Since Apr 2013
Also in Women's Golf Blogs, UK Golf Blogs
Blog womenandgolf.com
Facebook fans 5,256. Twitter followers 6,261.

London About Blog Global Woman Magazine is the UK's largest business networking and magazine publication commercial enterprise global platform empowering women in business through various activities including women's business events, branding and lot more.
Frequency about 1 post per week.
Also in UK Business Magazines
Blog globalwoman.co
Facebook fans 22,174. Twitter followers 4,044.

Singapore About Blog Womenlines is an e-Magazine promoting excellence in women and children. At Womenliness we believe if womenfolk is empowered with the right mindset and knowledge she can create a beautiful life for herself and her family. Therefore Womenlines is always focusing on bringing exclusive content on entrepreneurship, health tips, beauty and grooming tips for entrepreneurs, women's self-growth, to its readers to help them excel in life.
Frequency about 4 posts per week.
Blog womenlines.com
Facebook fans 696. Twitter followers 231.

DK USA Africa About Blog Women's Frontline Magazine is a nonprofit inspirational christian magazine for women that is designed to inspire, encourage, empower and uplift women who are working on the frontline to bring the gospel of Jesus Christ to the world.
Frequency about 2 posts per month.
Also in Christian Women's Magazines
Blog womensfrontlinemagazine.com
Facebook fans 667. Twitter followers 836.

About Blog Christian Womanhood is a monthly ladies magazine available printed and digitally. Loretta Walker and her staff are dedicated to helping christian ladies in all walks of life live victorious christian lives at home, work, and church.
Frequency about 2 posts per month.
Blog christianwomanhood.org
Facebook fans 4,232. Twitter followers 356.

Dorset About Blog The Digital Women UK Magazine. Welcome to Women UK, the online magazine for affluent women aged 30 plus. Women UK covers fashion, style, health, interiors, business, culture and much more.
Frequency about 2 posts per month.
Blog womenuk.co.uk
Facebook fans 2,586. Twitter followers 1,064.

About Blog Trending Woman is an online magazine specially made for women around the globe, the magazine is specialized on promoting women and making women feel unique irrespective of countries and regions.
Frequency about 9 posts per week.
Blog trendingwoman.world
Facebook fans n/a. Twitter followers n/a.

About Blog HER Magazine is an online women's publication featuring female entrepreneurs and content for women in business. Our main audience is the working woman, whether she's an entrepreneur, freelancer, or rising up the corporate ladder.
Frequency about 3 posts per month.
Blog hermag.co
Facebook fans 50,386. Twitter followers 1,196.

About Blog Published in Scotland for Women of the World. Scottish Woman Magazine - the No 1 fashion and beauty magazine for women in Scotland, covering luxury lifestyle with a UK-wide & international perspective.
Frequency about 6 posts per week.
Blog scottishwomanmagazine.com
Facebook fans 2,877. Twitter followers 536.
These magazines are ranked based on following criteria
Google reputation and Google search ranking
Influence and popularity on Facebook, twitter and other social media sites

Quality and consistency of posts.

Feedspot's editorial team and expert review