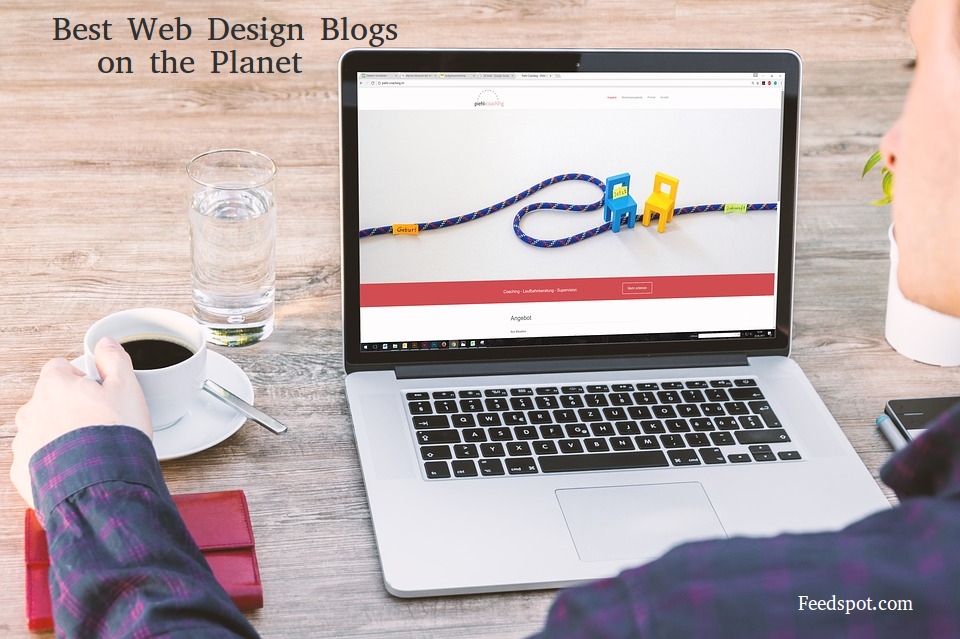 The Best Web Design blogs from thousands of top Web Design blogs in our index using search and social metrics. Data will be refreshed once a week.Also check out Top Web Design Youtube Channels list for Top videos on Web Design.
If your blog is selected in this list, you have the honour of displaying this Badge (Award) on your blog.
Rank

Blog Name

Facebook Fans

Twitter Followers

Alexa Rank

1

Freiburg, Germany

About Blog - To support the community with articles about the latest trends and techniques in web development. We try our best to impress you not with the quantity but with the quality of the articles we publish.
Frequency - about 3 posts per week

293,330

1,023,647

5,974

2

Vancouver, Canada

About Blog - Webdesigner Depot is one of the most popular blogs about web design trends, tutorials and much more. We include Photoshop Tutorials, WordPress Plugins, and Web Development tools.
Frequency - about 7 posts per week

277,657

740,599

14,269

3

About Blog - Tuts Web Design is home to some of the best web design tutorials and articles around. We publish tutorials that not only produce great results and interfaces, but explain the techniques behind them in a friendly, approachable manner.
Frequency - about 5 posts per week

144,256

137,698

1,667

4

NY

About Blog - TemplateMonster is a project delivering a vast variety of design products for web purposes as well as corporate design items. Delivering the best website templates and design products to the widest audience possible.
Frequency - about 17 posts per week

173,945

10,059

3,073

5

WORLD

About Blog - Awwwards are the awards that recognize and promote the talent and effort of the best developers, designers and web agencies in the world. Our mission is to discover, recognize and promote the talent and effort of web designers, developers and agencies around the world.
Frequency - about 2 posts per week

188,766

110,664

5,858

6

San Francisco, CA

About Blog - Topics related to web design: HTML, CSS, JS, layout, UI, graphics, etc.
Frequency - about 168 posts per week

1,133,706

498,300

9

7

Melbourne, Australia

About Blog - SitePoint is an online community of web professionals. We enjoy sharing our love for creating incredible internet things. Learn Web Design & Development with SitePoint tutorials, courses and books - HTML5, CSS3, JavaScript, PHP, mobile app development, Responsive Web Design.
Frequency - about 5 posts per week

101,749

135,606

1,969

8

Chris in MKE Remote Team

About Blog - Tips, Tricks, and Techniques on using Cascading Style Sheets. CSS-Tricks, a web design community curated by Chris Coyier.
Frequency - about 11 posts per week

71,418

329,771

2,187

9

About Blog - Creative Bloq delivers a daily balance of creative tips and inspiration across web design, graphic design, 3D and more. Bringing the very best design work to our audience and offering the insight that enables them to keep up to date with the latest trends and developments in global design and to create their best work.
Frequency - about 42 posts per week

345,159

183,895

3,893

10

hongkiat.com/blog/category/d..

Malaysia

About Blog - Design weblog for designers, bloggers and tech users. Covering useful tools, tutorials, tips and inspirational artworks.
Frequency - about 1 post per week

98,570

41,233

4,458

11

Alvor, Portugal

About Blog - Codrops is a web design and development blog that publishes articles and tutorials about the latest web trends, techniques and new possibilities. The team of Codrops is dedicated to provide useful, inspiring and innovative content that is free of charge.
Frequency - about 3 posts per week

90,809

172,899

6,258

12

About Blog - freshDesignweb is one of the popular web design and web development blog. It provided best WordPress themes, web templates and useful tutorials.
Frequency - about 4 posts per month

7,168

2,910

15,512

13

About Blog - Speckyboy Design Magazine offers insightful tutorials, time-saving techniques, fresh and useful resources and inspirational art, covering web design and development, graphic design, advertising, mobile applications and even, the occasional Lego post.
Frequency - about 6 posts per week

54,309

76,919

18,742

14

Web

About Blog - Design and Web Development Magazine. We provide design, web development, premium products, quality freebies. The blog is a great resource for both beginners and advanced designers looking to expand and improve their knowledge.
Frequency - about 3 posts per week

124,073

284,117

19,146

15

Everywhere

About Blog - We talk about Design, Art, Photography, Advertising, Architecture, Style, Culture, Technology, and Social Media. Anything creative or innovative. DesignTAXI is a highly-influential daily news source with content further shared by leading media including The New York Times, CNN, Wall Street Journal, Huffington Post and LinkedIn Today.
Frequency - about 56 posts per week

517,655

503,313

25,195

16

Everywhere!

About Blog - Design Shack showcases inspiring web design, alongside resources and tutorials for you to succeed in the same way. We only offer the cream of great design, filtering through lots of the redesigns that occur every day across the Internet, and cataloguing the greatest projects out there - perfect for getting that spark of creativity going again.
Frequency - about 3 posts per week

52,151

24,175

25,759

17

United Kingdom

About Blog - 1stwebdesigner is a design blog dedicated to bloggers, freelancers, web developers and designers. Topics focus on web design, graphic design, tutorials and inspirational articles.
Frequency - about 3 posts per week

110,506

56,307

32,226

18

PA

About Blog - We Love Design. It's at the heart of what we do. Through pixel perfect, beautifully crafted code, we write & create products that help educate and inspire. Tutorials, inspiration, freebies and so much more.
Frequency - about 3 posts per month

61,821

44,916

38,651

19

Bucharest, Romania

About Blog - A design magazine that is showcasing resources for web and graphic designers.
Frequency - about 5 posts per week

31,197

9,440

46,367

20

About Blog - The Web Design Ledger is a publication written by web designers for web designers. The primary purpose of this site is to act as a platform for sharing web design related knowledge and resources.
Frequency - about 3 posts per week

91,578

181,914

48,008

21

The Interwebs

About Blog - A List Apart explores the design, development, and meaning of web content, with a special focus on web standards and best practices.
Frequency - about 4 posts per month

39,796

146,899

51,610

22

About Blog - Noupe passionately delivers stylish and dynamic news for designers and Web developers across the globe on all subjects of design; ranging from CSS, Photography, JavaScript, Web design, Graphics, Typography and much more.
Frequency - about 6 posts per week

25,776

8,791

51,937

23

Philippines

About Blog - Naldz Graphics is a Design Blog dedicated to help the Design Community. The Site is regularly showcasing different kinds of Designs,Tutorials, Inspirations, Freebies. and Resources.
Frequency - about 1 post per week

36,497

57,122

52,213

24

WorldWide / Singapore

About Blog - A digital community devoted in sharing web design and development freebies, great tutorials, useful Internet resources, online tips and tricks for web designers.
Frequency - about 2 posts per week

69,652

57,624

64,766

25

About Blog - Line25 provides ideas and inspiration to web creatives, including roundups of cool website designs and tutorials to help you learn new skills.
Frequency - about 5 posts per week

n/a

28,213

73,464

26

instantshift.com/category/we..

Ge

About Blog - A leading design blog which provides daily resources like useful tips, tutorials, inspirational artworks and tools for web designers and developers.
Frequency - about 3 posts per week

9,302

17,554

75,190

27

New York

About Blog - Web design blog bringing design inspiration, how to design a website, web design tutorials and much more.
Frequency - about 4 posts per week

1,682

67,923

75,500

28

designbeep.com/category/arti..

About Blog - Designbeep is a design blog dedicated to web developers,bloggers,designers and freelancers.Our aim is to share everything about web design,graphic design,tutorials and inspirational articles.
Frequency - about 8 posts per week

37,355

10,677

80,481

29

About Blog - Daily Inspiration and useful online Resources for Web Design and Graphic Design.
Frequency - about 5 posts per week

13,360

49,903

83,198

30

About Blog - WPKube is a WordPress resource site which focuses on WordPress Themes, plugins, tutorials, news, and Modifications.
Frequency - about 1 post per week

5,405

9,482

93,285

31

San Francisco, California

About Blog - The 10 Best Design Blog provides a trove of information about the web, print, and digital design industries.
Frequency - about 10 posts per week
Since - Nov 2016

12,747

48,134

107,730

32

webdesignertrends.com/catego..

Strasbourg, France

About Blog - Webdesigner Trends is a site dedicated to creative , professional and passionate about web design . You will find articles on the latest trends in Web design, site selection for your inspiration, resources, tools and more.
Frequency - about 1 post per month

11,886

11,874

152,893

33

Fribourg, Switzerland

About Blog - Designer Daily is a blog for designers and webdesigners by Mirko Humbert, a Swiss graphic designer who shares his thoughts on design, ressources and tips for designers, beautiful stuff & more.
Frequency - about 5 posts per week

5,416

2,238

154,613

34

designinstruct.com

About Blog - Design Instruct is a regularly updated web magazine for designers and digital artists where you can find and learn design tips and tricks.
Frequency - about 1 post per month

12,262

62,542

295,606

35

London, UK

About Blog - A web site showcasing daily inspiration source for web designers, illustrators, Twitter addicts and iPhone lovers.
Frequency - about 2 posts per month

190,999

57,504

305,453

36

About Blog - Designer Blogs is a blog design studio that specializes in building beautiful blog designs for the Blogger and WordPress platforms. We pride ourselves in having superior customer service and creating designs our clients fall instantly in love with.
Frequency - about 3 posts per month

4,883

1,087

324,058

37

Zagreb, Croatia

About Blog - The Design Blog brings you carefully picked high quality inspiration, featuring works of designers and design studios from all over the world, with the main focus on young designers/ students. Except from the daily inspiration, whole week is filled with different types of inspiring posts and sections that are design-related.
Frequency - about 2 posts per week

30,563

5,100

350,458

38

About Blog - The goal of Design Reviver is to provide Web Designers with valuable information. Here you will find useful tutorials, free downloads, sources of inspiration, and articles covering a wide range of web design related topics.
Frequency - about 3 posts per month

3,426

8,482

603,789

39

wix.com/blog/category/web-de..

We're everywhere!

About Blog - Wix.com is a leading cloud-based web design and development platform with millions of users worldwide. We make it simple for everyone to create a beautiful, professional web presence. No creative limits, no coding skills needed to get your business online.
Frequency - about 4 posts per week

3,541,958

394,950

456

40

About Blog - A blog about web design and development, creative design inspiration, and updates to the Shopify Partners Program.
Frequency - about 4 posts per week

2,594,295

227,415

364

41

About Blog - Web design & development, UX, ecommerce, mobile, product management, and more...
Frequency - about 1 post per month

n/a

863

704,598

42

how-to-build-websites.com/ca..

About Blog - Beginners web design tutorial. Learn modern HTML, CSS and HTML 5 based web design. A blog by Stefan Mischook.
Frequency - about 1 post per month

1,513

1,239

327,649

43

popwebdesign.net/popart_blog/en

Novi Sad

About Blog - PopArt Studio is a full-service digital agency which provides professional services of web design, web development, graphic design, and internet marketing.
Frequency - about 2 posts per week

19,267

1,892

373,931

44

About Blog - Freshwebdev is a website that is written for web developers and web designers. We write the latest things on the web. We also collect the best resources from across the web in the world.
Frequency - about 4 posts per week

157

661

669,956

45

seattlewebdesign.com/blog/se..

Seattle, WA

About Blog - Efelle is an award-winning digital agency based in Seattle, WA USA. We offer a broad range of online marketing services including: web design, web development, ecommerce services, SEO services, email marketing and cloud hosting.
Frequency - about 3 posts per month

n/a

8,179

896,042

46

United States

About Blog - Web Design Blog is an Online Resource for Graphic Designers. We include PSD Mockups, Web Fonts, Icons, WordPress Templates and Other Web Design Tools.
Frequency - about 2 posts per week

1,022

990

13,834,264

47

Colorado

About Blog - Followbright is a award winning and highly respected web agency specializing in website consulting, planning, design, and development.
Frequency - about 1 post per month

538

121

2,318,475

48

United States

About Blog - A web design blog covering different topics such as WordPress, Html5, CSS3, jQuery, Seo, code snippets, and web design resources.
Frequency - about 1 post per week

2,218

8,459

3,084,172

49

India

About Blog - Here at Web Designer Pad we are passionate about design and coding and our goal is to share the beautiful and powerful things with lovely peoples like you. We include Web Design Resources such as Photoshop Tutorials, Development tools, freebies and useful tools for graphic/web designers.
Frequency - about 1 post per month

1,201

232

3,491,077

50

London

About Blog - siteInspire is a showcase of the best web design today, highlighting examples of exciting visual and interface design and is a resource of inspiration for your next web design project.
Frequency - about 9 posts per week

18,252

33,730

n/a

51

websitebuilderexpert.com/cat..

Vancouver, Canada

About Blog - Best Website Builder Reviews - So you can pick the perfect website builder for your unique needs.
Frequency - about 2 posts per month

n/a

556

34,496

52

About Blog - This is Kyle J Larson's Mobile Product Design & Web Design Blog.
Frequency - about 1 post per month

n/a

471

269,088

53

n/a

n/a

n/a
These blogs are ranked based on following criteria
Google reputation and Google search ranking
Influence and popularity on Facebook, twitter and other social media sites

Quality and consistency of posts.

Feedspot's editorial team and expert review
Top 50 Web Design Blogs Winners
CONGRATULATIONS to every blogger that has made this Top Web Design blogs list! This is the most comprehensive list of best Web Design blogs on the internet and I'm honoured to have you as part of this! I personally give you a high-five and want to thank you for your contribution to this world.
If your blog is one of the Top 50 Web Design blogs, you have the honour of displaying the following badge on your site. Use the below code to display this badge proudly on your blog. You deserve it!:
<a href="https://blog.feedspot.com/web_design_blogs/" title="Web Design blogs"><img src="https://blog-cdn.feedspot.com/wp-content/uploads/2016/09/Web-Design__transparent_216px.png" ></img></a>
Tags: web design rss feeds