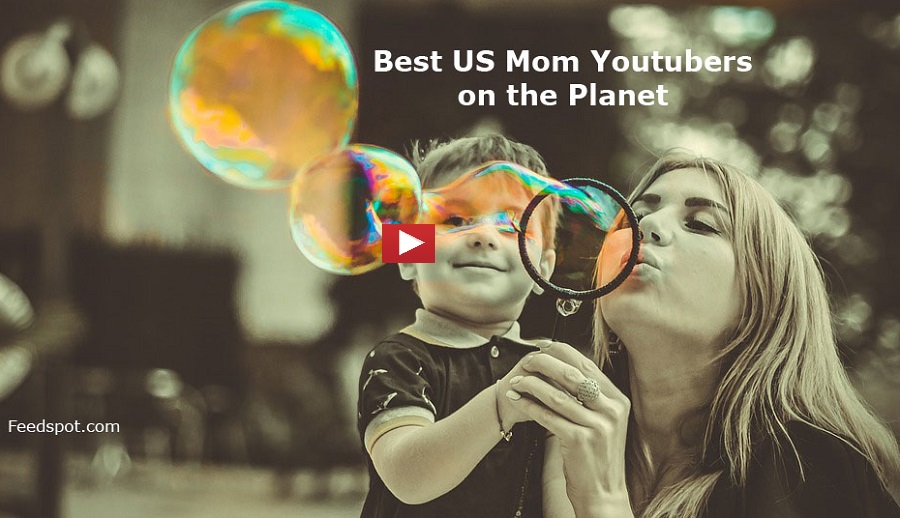 US Mom Youtubers List.
The Best US Mom Youtubers from thousands of US Mom Youtubers in our index using search and social metrics. Subscribe to these youtubers because they are actively working to educate, inspire, and empower their audience with frequent updates and high-quality videos.
If your Youtube is selected in this list, you have the honour of displaying this Badge (Award) on your website.
US Mom Youtubers
Destin, Florida About Youtuber Hey Fam! Welcome to my channel. I'm a teen mommy at the age of 17 to my beautiful daughter Collette.
Frequency 1 video / day
Since Nov 2010
Channel youtube.com/user/coolcam1009..+ Follow
Youtube Followers- 933,990 . Views Count- 106,285,545 . Video Count - 211

North Carolina, United States About Youtuber Hi! My name is Britney and my husband's name is Frank! On this channel you will find family vlogs, loud kids, cute faces, pranks, fun & tough times. Authenicity. But overall...love. Thank you for becoming apart of our family and letting us share our journey with you.
Frequency 1 video / day
Since Aug 2011
Channel youtube.com/user/britneyandb..+ Follow
Youtube Followers- 436,231 . Views Count- 111,082,768 . Video Count - 1,410

Colorado About Youtuber Haylee And Family is a channel about a working mom Haylee and her six year old Hazzel. Haylee loves to film & capture any & all memories she can.
Frequency 1 video / day
Since Jul 2012
Channel youtube.com/user/HayleeAndBa..+ Follow
Youtube Followers- 269,638 . Views Count- 55,323,928 . Video Count - 776

Utah, USA About Youtuber I'm a stay at home mom to 4 amazing kids. I'm a busy wife & mom like most of you! I am on a mission to organize my home / life, share a few things from my heart and things I have created. Come and visit with me while I cook, clean, organize and being goofy.
Frequency 3 videos / week
Since Apr 2012
Channel youtube.com/user/shesinherap..+ Follow
Youtube Followers- 213,000 . Views Count- 40,552,346 . Video Count - 1,503

United States About Youtuber Sunkissed Mama is a channel that features videos about a mom and her toddlers.
Frequency 1 video / day
Since Jul 2015
Channel youtube.com/channel/UCYVj..+ Follow
Youtube Followers- 103,951 . Views Count- 25,565,845 . Video Count - 688

United States About Youtuber Hi, I am a military wife and a young mom who is completely in love with her family and God most of all! Follow us for videos about baby updates, pregnancies, lifestyle, health videos and more!
Frequency 1 video / day
Since Apr 2013
Channel youtube.com/user/abigailarag..+ Follow
Youtube Followers- 414,000 . Views Count- 83,466,379 . Video Count - 301

United States About Youtuber As a busy mother and a full time worker I want to inspire young women that we still deserve to feel, look and be glamorus!!
Frequency 2 videos / month
Since Jul 2010
Channel youtube.com/user/StillGlamMo..+ Follow
Youtube Followers- 80,304 . Views Count- 5,091,368 . Video Count - 171

South Carolina, USA About Youtuber Hi, I am Lori. mother of 2 boys, working to balance life and work. Come here for wreaths, crafts and bath/body recipes. I love to make homemade items and I love to share them.
Frequency 1 video / day
Since Dec 2015
Channel youtube.com/channel/UCQ2z..+ Follow
Youtube Followers- 75,152 . Views Count- 7,279,579 . Video Count - 348

San Antonio, TX About Youtuber Hey guys! My name is Vanessa, I am a mom of 4 beautiful and energetic kids and an extremely funny husband. Taste Tests, challenges, shopping & grocery hauls are also things I share with you all.
Frequency 1 video / day
Since Feb 2016
Channel youtube.com/channel/UCdxH..+ Follow
Youtube Followers- 65,266 . Views Count- 5,929,770 . Video Count - 963

New York, USA About Youtuber Welcome to GradysMom! I'm LeeAnne-a housewife/stay at home mom from NY. Here to share many aspects of how I run my household in the most efficient way. From cooking, organization, hauls, decorating, advice, fashion, & much more.
Frequency 2 videos / week
Since Jan 2013
Channel youtube.com/user/GradysMom13..+ Follow
Youtube Followers- 28,891 . Views Count- 6,132,948 . Video Count - 1,205

United States About Youtuber For us, family minimalism is a survival tactic! It allows us to focus on what we're most passionate about, be better parents & friends and family members...and to enjoy this one life we've been given!
Frequency 4 videos / week
Since Nov 2017
Channel youtube.com/channel/UCeLI..+ Follow
Youtube Followers- 112,372 . Views Count- 7,347,509 . Video Count - 202

United States About Youtuber Hi there! My name is Jennifer and I'm a working mom to two kids. On this channel you'll find videos about crafting, cleaning, cooking, grocery hauls, and meal planning. Come along with me as we figure out this working mom thing one day at a time!
Frequency 1 video / day
Since Jul 2010
Channel youtube.com/user/chapin2508/..+ Follow
Youtube Followers- 74,300 . Views Count- 6,124,484 . Video Count - 382

United States About Youtuber Hi! Welcome to my channel! I am a wife & mom of one toddler girl (Scarlett, age 2). We live in sunny Arizona - but we are originally from the Midwest...Kansas to be exact! I share lifestyle related videos such as daily vlogs, motherhood, routines & cleaning videos! My goal on my channel is to uplift, inspire, empower and bring others valuable content.
Frequency 1 video / day
Since Aug 2016
Channel youtube.com/channel/UCSeF..+ Follow
Youtube Followers- 50,691 . Views Count- 6,310,609 . Video Count - 414

Colorado, United States About Youtuber Hi lovelies! Welcome to my channel and a glimpse into my life. I will be posting videos about my family, motherhood, lifestyle and more. I want this to be a positive place for women and families to watch, learn and interact.
Frequency 15 videos / year
Since Jan 2014
Channel youtube.com/channel/UCXC4..+ Follow
Youtube Followers- 23,700 . Views Count- 1,410,502 . Video Count - 71

About Youtuber Hi friends! I'm Jennifer, a forty-something wife and mother of 7 children ages 4 - 20. Here I'll share vlogs about all these things, what I'm doing that works and what I've tried but didn't work. I hope to encourage you in your journey through motherhood, homeschooling, learning to cook, and growing in your faith through it all.
Frequency 1 video / day
Since Feb 2016
Channel youtube.com/channel/UCVhD..+ Follow
Youtube Followers- 15,600 . Views Count- 1,667,214 . Video Count - 258

United States About Youtuber Hey y'all! I am a Mommy of two who loves my family, my faith, taking care of my home, and feeling fabulous! I hope you like my channel!
Frequency 1 video / day
Since Oct 2011
Channel youtube.com/channel/UCeLP..+ Follow
Youtube Followers- 12,089 . Views Count- 1,766,696 . Video Count - 1,227

About Youtuber I create contents for moms that focus on overcoming postpartum depression & anxiety. Along with my journey to a healthier me, breastfeeding, routine videos and your everyday vlogs on trying to raise decent humans.
Frequency 1 video / day
Since Jan 2018
Channel youtube.com/channel/UCS7a..+ Follow
Youtube Followers- 11,400 . Views Count- 1,399,827 . Video Count - 315

United States About Youtuber Hey guys!!! Welcome to my channel!!! My name is Destiny, I'm a mother to a beautiful little girl name Brooklynn who is the love of my life!!! On this channel you will see Cleaning Routines, VLOGS, Hauls and a lot more!!!
Frequency 1 video / day
Since Jun 2016
Channel youtube.com/channel/UCCsk..+ Follow
Youtube Followers- 7,873 . Views Count- 731,916 . Video Count - 199

United States About Youtuber Hey! I'm Marie Elaine. Join me and my family of six homeschooling/unschooling/roadschooling on a journey to buy less, choose well and live a simpler life. Check back for budget friendly grocery hauls, recipes, tips on how I save money, local road trips both educational and otherwise, lots of travel and even more.
Frequency 3 videos / quarter
Since Nov 2013
Channel youtube.com/user/CrazyBusyFi..+ Follow
Youtube Followers- 4,730 . Views Count- 552,951 . Video Count - 453

Missouri About Youtuber Welcome to Like Mother Like Daughter! As the channel name indicates, we are a mother & daughter team. We started this channel to spend more quality time together while doing something unique & fun in the process. If you've ever watched our videos to the end, you can tell by our out-takes that we have loads of fun filming.
Frequency 1 video / week
Since Jan 2014
Channel youtube.com/channel/UCafu..+ Follow
Youtube Followers- 2,649 . Views Count- 383,265 . Video Count - 455

New Jersey, USA About Youtuber I'm a stay at home mom and wife. We've got lots of cooking and Hauls. We love to interact with you!
Frequency 1 video / month
Since Nov 2016
Channel youtube.com/channel/UCGYO..+ Follow
Youtube Followers- 1,538 . Views Count- 286,968 . Video Count - 456

Arizona, US About Youtuber Welcome to my channel. My name is Neo. I am a double amputee wife and mother of twin boys. This channel shows my daily life with my wonderful family. Come join us for vlogs, parenting skills, lifestyle or anything related to being a wife and mom.
Frequency 3 videos / week
Since Jul 2018
Channel youtube.com/channel/UCdZD..+ Follow
Youtube Followers- 1,405 . Views Count- 87,076 . Video Count - 69

United States About Youtuber Hello there, beautiful people! Welcome to our channel, Mommy and Maddie! This channel is about all things girly and kid-friendly! On this channel, you will see toy unboxings, funny skits and dress up time, hair tutorials for little girls, kid-friendly makeup tutorials, homeschooling and life.
Frequency 3 videos / quarter
Since Apr 2017
Channel youtube.com/channel/UC20B..+ Follow
Youtube Followers- 1,147 . Views Count- 370,113 . Video Count - 41

Staten Island, NY About Youtuber My name is Anjanae. I'm a loc lover, lifestyle enthusiast and I'm raising three kings Samir, Azeem, and Rakan. My goal is to inspire women especially MOMS to start focusing on their self-care & take advantage of the different lifestyle hacks there is. Live life to the fullest. I want you to become part of my family and check me out every WEEK!!!
Frequency 1 video / month
Since Jul 2014
Channel youtube.com/user/womenwithmo..+ Follow
Youtube Followers- 1,320 . Views Count- 123,242 . Video Count - 28

About Youtuber Welcome to The Creager Family channel!! My name is Lauryn! I am a wife, stay at home mommy to our sons: Colton and Logan. Here you will find Clean with me with loads of cleaning motivation, shopping hauls, meal ideas, what we eat in the day and just all around motherhood and lifestyle videos! My goal is to meet and connect with new people but to inspire and help each other.
Frequency 5 videos / month
Since Jun 2013
Channel youtube.com/channel/UCwU3..+ Follow
Youtube Followers- 750 . Views Count- 36,353 . Video Count - 148

About Youtuber My names Kaitlyn and this is my FAMILY. Little back story, if you look at my older videos from when I was 17 you would know I have a little boy named Easton, a few years later, at 21 Elaina came along and now, at 22 ,I am becoming a mother of 3! Life gets pretty crazy at times and I'm here to show you all there is to know about my CRAZY BEAUTIFUL LIFE!
Frequency 2 videos / month
Channel youtube.com/channel/UCsYT..+ Follow
Youtube Followers- 534 . Views Count- 42,306 . Video Count - 11

US About Youtuber A vlog about our crazy simple life. joinbus as we grow together and have fun!
Frequency 16 videos / year
Since Oct 2014
Channel youtube.com/channel/UCEXY..+ Follow
Youtube Followers- 62 . Views Count- 983 . Video Count - 6

United States About Youtuber Slay your Giant is a Nutrition and Fitness Membership group to FREE Moms from the guilt and diet cycle! To help Mama's LIVE a life of BALANCE, NUTRITION, and FITNESS. We are here to give you a LIFESTYLE change that can help you LOSE THE WEIGHT and KEEP the WINE!
Frequency 1 video / week
Since Sep 2019
Channel youtube.com/channel/UCXqx..+ Follow
Youtube Followers- 12 . Views Count- 310 . Video Count - 11

Oregon, USA About Youtuber Hello my name's Nicole! I started this channel when I was 17 and 18 weeks pregnant with my daughter Aleia Rae. My goal started with just the desire to document my experience as a teen parent. Subscribe to get daily life & Aleia updates, tips and more!
Frequency 30 videos / year
Since Sep 2012
Channel youtube.com/user/AleiasTeenM..+ Follow
Youtube Followers- 17,174 . Views Count- 3,934,159 . Video Count - 601

United States About Youtuber I am a medical student in the United States and mother of six children ages 11 to under a year. I am also a registered nurse and historian. Follow us as we face the daily challenges of graduate student life while raising a large family.
Frequency 2 videos / year
Since Jan 2017
Channel youtube.com/channel/UC_j4..+ Follow
Youtube Followers- 717 . Views Count- 13,271 . Video Count - 22

New Jersey About Youtuber Two moms, twins, our daily LGBT family life and more. We have documented IUI's, IVF, frozen embryos and fertility, trying to conceive, second parent adoptions and other issues facing same-sex families. Our journey as lesbian moms, bringing our two moms family to YouTube to show the world that gay parents are just like any other parents and their families are just like other families.
Since Jul 2014
Channel youtube.com/user/twomomsandt..+ Follow
Youtube Followers- 6,624 . Views Count- 469,554 . Video Count - 118

United States About Youtuber My name is Laura and welcome to This Mom Blogs. Originally, I created a blog to express myself and to document the life of my son, Noah. I eventually decided I'd like to try out filming - and well, the rest is history. You can expect to see family vlogs from us, along with all kinds of other fun mommy related goodies!
Since Aug 2017
Channel youtube.com/channel/UC1Vi..+ Follow
Youtube Followers- 246 . Views Count- n/a . Video Count - n/a

Total youtube channels subscribers, video views, and video uploads
Quality and consistency of videos

Youtube search ranking

Feedspot editorial team' objective and subjective review