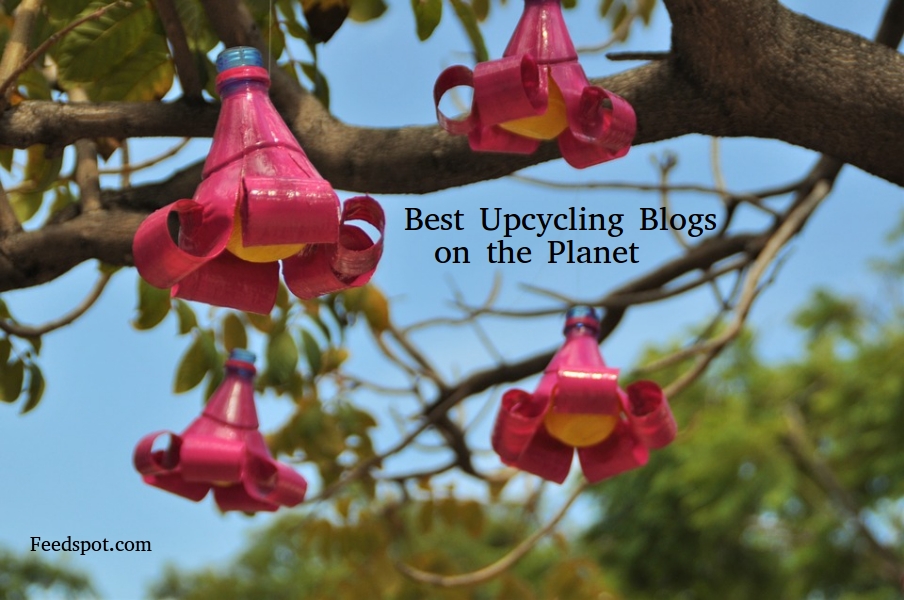 Upcycling Blogs List.
The Best Upcycling blogs from thousands of top Upcycling blogs in our index using search and social metrics. Data will be refreshed once a week.
If your blog is selected in this list, you have the honour of displaying this Badge (Award) on your blog.
Upcycling Blogs
Rank

Blog Name

Facebook Fans

Twitter Followers

Alexa Rank

1

About Blog - Hi, there! I'm Gail Wilson, the author and mastermind behind My Repurposed Life. I'm obsessed with finding potential in unexpected places and believe that with a little hard work and imagination, any old thing can be made useful again—myself included! I hope you'll enjoy the journey and pick up a few tools along the way… literally!
Frequency - about 4 posts per week

489,256
7,084
404,185
2

About Blog - The goal of Recyclart.org is to bring you good products that are made from recycling, reusing, upcycling, etc. We will not bother you with a lot of text or details, we prefer to give you inspiration through pictures and the links where you can find more information. The goal is to be a kind of portfolio based on ideas in which you can brainstorm your sustainability creativity.
Frequency - about 3 posts per week

195,756
n/a
497,183
3

BC, Canada

About Blog - Hi, I'm Donna, a true blue junkaholic from BC, Canada.
My passion is creating cool stuff for my home from salvaged JUNK! Excuse the rust... it's intentional.
Frequency - about 3 posts per week

256,786
10,913
377,975
4

About Blog - Hello! We are Upcycle That and we love Upcycling! We curate and create the best upcycling ideas. Why? Because Upcycling is a great way to reuse materials and reduce our footprint. Look through our menus and browse by materials or end uses.
Frequency - about 1 post per month

55,805
8,504
867,351
5

youtube.com/user/coolirpa/vi..

About Blog - Hi! My names April and my channel is all about DIY Fashion and upcycling old clothes into something new!
Frequency - about 1 posts per week

50,000
2,778
2
6

About Blog - Sadie Seasongoods is a blog dedicated to approachable DIY/Repurposing projects using vintage treasures and thrifted finds. With inspiration and ideas, Sarah aims to help people look at secondhand items and see possibility, not trash.
Frequency - about 1 posts per week

22,977
468
592,000
7

dreamalittlebigger.com/post/..

OK

About Blog - My name is Allison, If you're looking for awesome crafts, doable DIYs and amazing recipes, Dream a Little Bigger is just the place for you! With fresh content daily by our seven fab staff writers our projects have been featured all over the internet and in print in All You Magazine!
Frequency - about 1 posts per week

13,880
4,125
295,672
8

recycledcrafts.craftgossip.com

About Blog - CraftGossip Recycling is all about the variety of projects people come up with to live an eco-friendly yet pretty and festive lifestyle. Come and find great craft and DIY ideas all year round.
Frequency - about 6 posts per week

373,110
46,285
144,075
9

About Blog - A subreddit of Tutorials, Blogs, Articles, Thoughts, and Shops Featuring Items Made From Otherwise Wasted Materials
Frequency - about 2 posts per week

1,125,759
27,859
9
10

About Blog - Reloved is the exciting new magazine at the heart of thrifting, shabby chic and upcycling. With an emphasis on breathing new life into old, forgotten objects, it brings a hands-on approach to this thriving pastime. Reloved is the practical magazine for everyone with a desire to create and adapt beautiful things.
Frequency - about 4 posts per week

12,463
4,286
7,906,671
11

news.google.com/news/section..

Mountain View, CA

About Blog - Comprehensive up-to-date coverage for upcycling, aggregated from news sources all over the world by Google News.
Frequency - about 2 posts per week

n/a
213,512
1
12

About Blog - Welcome to Upcycle Mania !! This is your upcycle maniac and I created this channel to share my upcycling ideas with the world. In here, I will share videos to upcycle every piece of scrap , from used plastic water bottles to kitchen waste to packaging materials used by ecommerce sites .
Frequency - about 2 posts per week

161
7
2
13

redtedart.com/category/recyc..

London, England

About Blog - I am Maggy and I love all things crafty and sharing my craft ideas and how tos.The aim of this site is to provide easy, do-able and fun crafts for all ages.
Frequency - about 1 post per month

2,018,687
16,186
104,403
14

grillo-designs.com/category/..

Birmingham

About Blog - My name is Medina and I am an IKEA loving , Upcycling junkie, DIY passionate , home decor crazy, renter, mother and wife. Here you will find Repurposing ideas, upcycling, diy and crafts ideas by Grillo Designs and our Grillo Designs Facebook group members. Your source for everything related to home décor and diy improvement.

n/a
692
397,820
15

diyinspired.com/category/tra..

California

About Blog - I'm Dinah! I'm a work at home mom in Southern California that loves to craft, decorate, repurpose and create. I get my inspiration from several people from Martha, to my 6 year old and 4 month old daughters, and my extremely talented older brother. I spend hours getting inspiration from swap meets and flea markets, thrift stores, garage sales, and books and magazines.

26,361
17,229
562,167
16

About Blog - I'm Mary and I live in beautiful Greece where I like to repurpose and upcycle anything that is old or looks like junk. We use our creativity to spark some life into old things. And do it frugally! You will also see lots of photography of my Greece.
Frequency - about 3 posts per week

2,468
2,734
710,287
17

cucicucicoo.com/category/cra..

About Blog - Indulge your crafty side in an eco-friendly way! It's possible to sew amazing garments, accessories and objects with upcycled fabrics and craft with repurposed materials, helping both the environment and your wallet.

4,708
224
730,395
18

dukesandduchesses.com/catego..

Dallas, Texas

About Blog - Dukes and Duchesses is a lifestyle blog sharing DIY decor, upcycled projects, simple crafts, and delicious recipes!
Frequency - about 1 post per month

17,791
24,599
768,434
19

Bedford, England

About Blog - Pillar Box Blue is a website full of great crafting, upcycling and DIY ideas for your home. Every week there is a new tutorial of a craft or DIY to inspire you to create something unique. My home is full of the homemade. Some of it is a bit quirky and eclectic but unique as I've created it myself. I want to share with you my enthusiasm for all things crafty.
Frequency - about 1 post per week

1,167
477
897,158
20

shadesofblueinteriors.com/ca..

About Blog - My name is Rachel. I am a stay-at-home mama to 2 little boys and 1 little girl and wife to a wonderfully supportive husband, my better half!
Frequency - about 1 post per month

11,915
n/a
899,694
21

domesticallyblissful.com/cat..

Chattanooga, TN

About Blog - Hello! My name is Giustina & I am a 20 something who is married to my best friend & the love of my life. I think everything tastes better when made with love & a splash of lemon. Although love, life, & marriage is not always easy I believe that it is an adventure worth traveling!

7,296
1,141
1,023,840
22

dishfunctionaldesigns.blogsp..

About Blog - I'm Laura. I blog about creative ideas in crafts and upcycled, innovative, repurposed art and home decor.
Frequency - about 1 posts per week

n/a
3,857
1,084,723
23

About Blog - I'm Cindy or aka RecycleCindy. Welcome to my blog site that is dedicated to recycling and crafting. I love to crochet and create crafts and other useful things from recycled materials. I share many free tutorials and patterns for creating recycled projects as well as other handmade items.
Frequency - about 1 post per month

n/a
n/a
1,214,039
24

About Blog - I am always looking for decorating and flower gardening ideas. I will share mine!
Frequency - about 3 posts per week

23,962
428
1,288,662
25

London

About Blog - Upcyclist is an interiors blog reporting on beautiful resourceful design that reports on considered design for homes and interiors. Products, projects and ideas featured here are about being smart with resources, reducing waste, slowing consumption and finding creative and sustainable solutions that bring beauty to our everyday lives and surroundings.
Frequency - about 1 post per week

1,824
4,829
1,419,239
26

Toronto

About Blog - Sheri Pavlovic is the award winning DIY diva and author behind the book series, channel & blog Confessions of a Refashionista, the fabulously crafty corner of the internet packed with step-by-step upcycling tutorials for everything from groovy clothing & accessories to funky home decor a healthy dose of thrifty style inspiration!
Frequency - about 5 posts per week

6,617
7,589
1,587,453
27

scavengerchic.com/category/u..

About Blog - Hi, My name is Joan. A scavenger is defined as a person that collects things discarded by others…that's me! Whether it be furniture, rusty junk, household items or my current favorite, pallets. When I see a pallet resting against a dumpster I get very excited. I'm also very excited to share some of my projects with everyone. I certainly have scavenged many of my ideas off of everyone else.
Frequency - about 1 posts per week

3,122
n/a
1,914,865
28

mywarehousehome.com/category..

About Blog - Interior design blog providing design inspiration for warehouse conversions and loft apartments. Decoration blog for modern interior design, industrial design, vintage furniture, reclaimed furniture
Frequency - about 8 posts per week

524
16,704
1,957,811
29

looptworks.com/blogs/looptwo..

Portland, OR

About Blog - Manufacturers of eco-friendly upcycled bags, packs, accessories & apparel. We intercept and utilize industry excess materials, transforming them into new, useful products — a process known as upcycling. Our sustainable, eco-friendly products are made in limited editions, and in the process save materials from landfills or incinerators.
Frequency - about 1 posts per week

8,206
2,201
1,958,140
30

wastewiseproductsinc.com/blo..

Toronto, Canada

About Blog - Since 1996 Waste Wise Products has been supplying recycling containers, recycle bins, trash cans and ashtrays to the commercial, industrial and institutional sectors. We have one of the widest selections of recycling bins anywhere in the world.
Frequency - about 1 post per month

1,835
1,431
2,087,702
31

About Blog - I am Becky, a 50 something year old mother of 3, plus 1 sweet son waiting for me in heaven, a wife, junker, decorator, retired teacher. I love hunting for junk that I can repurpose, build with, or paint on. I live in 1931 schoolhouse that we are busy trying to personalize and renovate. I also love taking advantage of the great outdoors in this beautiful place I live, Montana.
Frequency - about 4 posts per week

627
n/a
2,146,758
32

About Blog - Upcycle Studio started with our upcycled homewares and gifts collection and has now grown significantly. It all began with a passion for upcycling that our founders Joanne and Piers just couldn't shake. They both have a professional background in design and found themselves immersed in the world of upcycling, constantly searching for well-designed upcycled products.
Frequency - about 1 post per week

20,472
2,259
2,280,472
33

lucirmas.com/en/blog-de-luci..

Barcelona, Spain

About Blog - Sustainable glass products which tell a story. We design and produce 100% recycled, handcrafted glass products. We love ecodesign!

1,749
441
2,289,310
34

vickymyerscreations.co.uk/ca..

Norwich

About Blog - I enjoy sewing, especially with preloved fabric. A love of recycling and caring for the environment is the perfect excuse to haunt charity shops for bargains!
Frequency - about 1 post per month

894
1,597
2,442,563
35

fromevijawithlove.com/catego..

About Blog - My name is Evija and I am a 32 year old craft enthusiast.. I live on the beautiful Isle of Man and originally come from Latvia. I Blog about DIY, upcycling, creating, crafting and my life.
Frequency - about 1 post per month

879
1,678
2,497,529
36

About Blog - Upcycledzine is a blog to show what upcycle design is all about.
Frequency - about 2 posts per week

3,557
n/a
2,607,982
37

obraznicaturi.com/en/categor..

About Blog - I'm Gabi, a DIY artist, inspired by travel and timeless beauty. Follow my history dreaming, daring and creating projects for a happier life!

1,318
40
2,761,135
38

Logan, QLD, Australia

About Blog - Hi, I'm Sharon Hankins – a furniture painter & restorer who loves to up-cycle and repurpose old neglected pieces and bring them back to life again. My blog was created for thrifty DIYers and home renovators to encourage them to make transformations in their own homes, with educational tutorials, tips and inspirational makeovers.
Frequency - about 1 post per month

10,431
806
2,770,832
39

About Blog - Thrifty Rebel Vintage is all about sharing budget-friendly home and garden decor projects by repurposing, reusing, and rethinking. It doesn't have to take a lot of money to create a home that you love; that reflects your own unique sense of style. You can create a home that smiles with a budget that makes you happy. It's totally possible!
Frequency - about 1 posts per week

2,232
n/a
2,893,952
40

Melbourne

About Blog - A fashion blog dedicated to opportunity shops, charity shops, thrift stores, vintage stores, markets, garage sales, car boot sales, online stores and auctions to find those special recycled fashion wardrobe pieces. Showcasing recycled, vintage, upcycled and DIY fashion, sewing, eco-style, ethical fashion, second hand shopping tours, fair trade and general fashion chat.
Frequency - about 1 post per month

7,035
2,429
3,288,473
41

Atlanta, GA

About Blog - Hi! I'm Karen. I call myself a "recovering lawyer," because I turned in my power suits for power tools and a life of DIY. This blog is all about DIY, home decorating, repurposing and upcycling, and organization. I believe in merging old and new to make a house a home.
Frequency - about 1 post per month

3,831
2,440
3,565,536
42

apurdylittlehouse.com/catego..

Ontario

About Blog - Hiya!!! I'm Sue Purdy; wife, mom of 3, incurable DIYer, thrift store treasure hunter, and lover of all things that make a home beautiful and functional. I love to transform a space using as little money as possible, from full remodels to fun and unique tablescapes. I live in Ontario, Canada with my wonderful husband, and 3 amazing daughters.

1,862
452
3,597,225
43

About Blog - Welcome to our Trash 2 Treasure world! It is our hope to encourage and inspire others to reuse, rebuild, revamp and reinvent by sharing our ideas in this blog.
Frequency - about 1 post per month

n/a
n/a
3,714,714
44

Alabama

About Blog - Hi, I'm Karen: child of God, wife, mom of 8, DIY addict, thrift store and yard sale frequenter, repurpose and upcycle designer, crafter, crochet instructor, garden grower, tea drinker, and deep sleeper. Make yourself at home and let's get our hands into a project or two!
Frequency - about 1 posts per week

3,430
1,946
4,354,347
45

Toronto

About Blog - Curated by Sheri Pavlovic, the award winning DIY diva behind Confessions of a Refashionista, Refashion Nation aims to provide an inspirational resource of links to upcycled DIY clothing & accessory tutorials thrifty outfit ideas for those wanting fabulous, affordable, unique style without supporting the growing phenomenon of cheap, unethically produced "fast fashion".
Frequency - about 5 posts per week

6,619
n/a
4,732,953
46

80
n/a
5,029,748
47

blog.whodhavethought.com/cat..

About Blog - Hi, we're Jane and Meryl and welcome to our world of design innovation and creative reinvention. Meet talented designers, artists, makers and inventors. Read their stories and find out about their amazing creations.

n/a
n/a
5,078,289
48

makesbakesanddecor.com/categ..

Skegness, England

About Blog - My name is Lianne and I am 30 years old. I live with my husband Shaun and our son Mason. Makes, Bakes and Decor is a blog full of creative ideas! Sweet and savoury recipes, fun makes, decor ideas and diy.

783
321
5,183,136
49

carlzimring.com/category/upc..

NYC

About Blog - Posts about upcycling written by Carl Zimring. Carl is a professor of Sustainability Studies at the Pratt Institute.
Frequency - about 4 posts per week

n/a
683
6,322,090
50

Alexandria, VA

About Blog - UpCycle CRC is a community resource. We collect reusable items that are used for arts & crafts and learning purposes. We also provide a studio space where you can come to use our tools and supplies for your projects.

1,707
533
6,744,070
51

About Blog - Hi! I'm Michelle L. I live in a cool old neighborhood near L.A.'s Miracle Mile. Welcome to my upcycled jewelry blog, where I love to create funny or unexpected jewelry from re-purposed materials. So nice of you to visit! I hope you enjoy the weird of it all.
Frequency - about 1 post per month

n/a
n/a
6,823,466
52

pepperboxcouture.wordpress.com

About Blog - Hi I am Mia. You can expect to find posts on good design, obscure Art trends, all manner of projects, Sustainability and quality focussed articles and anything that is good for a mention.I make all my fashion garments, craft projects, and my husband helps out with the DIY furniture projects, home reno jobs. We endeavour to work with 100% recycled materials.

198
104
7,568,972
53

Scotland, UK

About Blog - My name is Evie Milo, a designer maker based in Fife and the person behind the wonderful world of creative recycling that is Milomade. From my windswept, cliff-side studio I have created a range of original and unusual jewellery, stationery, accessories and gifts handcrafted with love and skill from salvaged antique silver, reclaimed copper, vintage buttons and secondhand paper finds.
Frequency - about 1 post per month

2,098
1,483
7,878,172
54

barcelona

About Blog - Upcycling Ideas and Inspiration by demano.
Frequency - about 2 posts per week

2,607
58
8,136,934
55

upcycletucson.com/blog-upcyc..

Tucson, AZ

About Blog - Inspiring quirky people to create recycled arts and crafts. A creative re-use arts center with low cost art supplies, classes, and recycled gifts.
Frequency - about 1 post per month

691
6
8,332,465
56

About Blog - Hi my name is Cindy and if you are here, you probably already know that I am a little bit of a trashoholic. I started Upcycled Design Lab on January 1st 2011 with the idea of focusing solely on making projects that incorporate reusing, remaking and restyling items that have outlived their original purpose.
Frequency - about 1 post per week

n/a
n/a
9,359,982
57

About Blog - Paganoonoo is a fashion design house founded by Michelle Paganini, dedicated to creating refashioned / upcycled fashion designs and specializing in sewing patterns. This blog shares our interests in upcycling and related arts and inspiration.
Frequency - about 3 posts per week

n/a
n/a
10,034,899
58

capturinglifesgifts.com/cate..

Orlando, FL

About Blog - Capturing Life's Gifts is a mom & DIY blog. It focuses on all things motherhood along with family adventures in the Orlando area, and some sprinklings of DIY in the mixing! This blog is a personal blog written and edited by me (Amanda Morehouse).
Frequency - about 1 post per month

597
43
10,523,721
59

About Blog - She is a qualified artist and art teacher who has a passion for colour. She creates unique upcycled furniture pieces full of character and personality. Currently in near completion of a book about painting furniture called 'Furniture Crush'

6,180
694
10,684,332
60

About Blog - Hi, my name is Adriana and I am the owner and operator of Rustic Boutique along with my ever supportive and creative husband Adrian. Borne from a passion for re-purposing and recreating, our business prides itself on its unique hand finished furniture range, unusual vintage items and where possible locally sourced products.
Frequency - about 1 post per month

5,042
16
12,407,818
61

Copenhagen, Denmark

About Blog - Yours Again is bringing upcycled denim back to You. Denim inspires us! At Yours Again we aim to embrace the beauty and imperfection of reclaimed denim and transform it into unique pieces just for You. We turn old jeans into functional and chic fashion pieces with new styles joining our collection seasonally.
Frequency - about 4 posts per week

911
18
13,953,340
62

About Blog - At Kooky Blue you'll find a truly individual range of shabby chic furniture and vintage paint, along with home accessories & gifts. We specialise in up-cycling second hand furniture and stock a unique range of both vintage and hand-painted, shabby chic furniture.
Frequency - about 1 post per month

1,017
383
15,673,065
63

thecreativecoastalhome.com/c..

England, United Kingdom

About Blog - Hi! I'm Andrea and my blog follows my creative life following my recent move to the coast. I'm passionate about creating unique interiors on a budget, so if you're interested in upcycling, creative crafts and large and small DIY projects, as well as how to settle into a new area, step on in and enjoy!
Frequency - about 1 post per month

27
79
18,151,123
64

About Blog - We take broken, unloved and unused drum kits and transform them into furniture, clocks and lighting. Based in Mid-Wales, Rock Terrace was informally founded in 2012, in the music room of musician, fabric shop owner and keen "up-cycyler", Sam Wheeler.

n/a
1,030
15,048,205
65

About Blog - Handcrafted Upcycled Leather products

1,803
n/a
17,910,025
66

Wiltshire, England

About Blog - I'm Kathryn, a forty-something mum and blogger aspiring to live a greener life in the country. I am a second-hand junkie who cannot pass by a charity shop without a peek inside. This blog is an attempt to spread my love of all things thrifted, repaired, recycled, borrowed and swapped.
Frequency - about 1 posts per week

31
589
19,393,977
67

About Blog - Hi, we are Rich and Calum and we look after Orchard. Our place to share our passions. Out of work we love to create things, whether this is a bit of woodwork, upcycling furniture, baking a cake or cooking an eight-course banquet.
Frequency - about 1 posts per week

91
31
19,933,557
68

youtube.com/user/storyjoin/v..

About Blog - We live in a disposable society. It's easier to throw things out than to fix them. We even give it a name - we call it recycling.
The purpose where I start is the idea of use. It is not recycling, it's reuse.

n/a
n/a
2
69

resurrectionrags.com/categor..

About Blog - Vintage inspired romantic clothing and accessories made from vintage finds. Unique handmade one of a kind Dresses, Tops, Skirts, Reconstructed Jewelry, Hair Accessories, Handbags and Purses
Frequency - about 1 post per month

1,822
n/a
n/a
70

Zanesville Ohio

About Blog - Girl UPcycled Studio offers artistic services and products, furniture upcycling and DIY workshops for all ages. Learn about new projects and techniques with Girl UPcycled Studio's blog.

9,188
789
n/a
71

About Blog - I'm Kathryn Price. In April 2017 I launched my own brand of paint, Upcycled & Co. Furniture Paint, and with it, proven processes to create all of your favourite finishes, without the need for wax or polyurethane. ​And, even better, no sanding or priming either!
Frequency - about 1 posts per week

2,475
n/a
n/a
72

Lochgelly, Scotland

About Blog - Handmade furniture and accessories with a difference for your home, made from reclaimed timber and whisky barrels. Gift ideas or a treat for yourself.
Frequency - about 1 post per month

2,013
157
n/a
73

theupcyclejewellerycompany.c..

Ponteland, Newcastle Upon Tyne

About Blog - Welcome to The Upcycle Jewellery Company Turning junk into funk! Most of the Jewellery is made out of up-cycled items such as old keys, bric a brack, nuts,bolts,nails etc They've all been fashionably up-cycled to look fabulous when worn by you and a real conversation piece.
Frequency - about 2 posts per week

1,504
2,811
n/a
74

About Blog - I am Beccy Beavis, wife & mother, reinvention lover and creator of the No Brand Network. I hope that "no brand new" gives you a glimmer of inspiration, changes the way you buy, pushes your creative button and shows you that with a bit of passion the "No Brand New" movement is all you need and more in this wasteful and high consumerism world.

1,045
n/a
n/a
75

About Blog - Junk by Jenny lives by Merriam-Webster's definition of junk with the notion of "maybe used again." My unending devotion of bringing new life to every piece of junk I encounter has transformed a hobby into my business, Junk by Jenny. It is my hope this site will inspire you to revive the junk in your life. I look forward to sharing in the relics of the past with you, one piece of junk at a time
Frequency - about 1 post per month

856
n/a
n/a
76

London

About Blog - We are passionate about Upcycling and reducing waste. If it's re-used, repurposed, refurbished, recycled or upcycled then you'll find it on Buy Upcycled. The website is a creative marketplace that has upcycled products for sale from a community of designers and craftspeople
Frequency - about 2 posts per week

682
159
n/a
77

upcyclesociety.nl/language/e..

Utrecht, The Netherlands

About Blog - Upcycle Society is a creativity center for the hands-on creation of inspired goods made from reclaimed and repurposed materials. We are exploring a range of ways that recycling and upcycling can be used to create useful and innovative items. Upcycled products are designed to create inspired, cozy spaces.

580
160
n/a
78

fancymomma.com/category/upcy..

Winnipeg, Manitoba

About Blog - I blog & share easy to follow tutorials on budget-friendly crafts, DIY, home decor projects, upcyling & repurposing ideas. Here you will Learn how to upcycle and repurpose items that are no longer in use or ready to be thrown and transform them into useful, creative and beautiful items.
Frequency - about 1 posts per week

454
35
n/a
79

littlemillhouse.wordpress.co..

About Blog - Little Mill House is an inspirational interiors and lifestyle blog featuring reviews, design ideas and DIY upcycles. Whatever inspires us we like to share with you. There are often some ace discounts for readers too.
Frequency - about 1 post per month

258
2,603
n/a
80

creativeupcycling.blogspot.com

About Blog - Mixed media explorations and crafty recycled stuff made by a creative Northwest gal. Tutorials, tips, confessions from my creative journey in upcycling, collage, and other forms of mixed media.
Frequency - about 1 posts per week

201
n/a
n/a
81

Halifax, NS, Canada

About Blog - A heart to help this world by reducing, reusing and recycling things inspires me to create lusciously textured paintings (which actually fulfill my in-born desire to make sculpture). When working this way I experience a completely different creative process than when painting realistically.

184
10
n/a
82

re-sourcery.org/category/upc..

Austin, TX

About Blog - Re-Sourcey is a non-profit collective dedicated to saving usable textiles from landfills and upcycling them to desirable products.
Frequency - about 1 post per week

163
695
n/a
83

artlovenature.co.za/category..

South Africa

About Blog - Art.love.nature is an eco arts blog that shares projects, ideas, creative work and news from all over the world that encourages a supportive, compassionate and peaceful future for Earth and all its inhabitants. It forms part of a global movement towards living more compassionately and connected to the earth.
Frequency - about 1 post per month

127
513
n/a
84

About Blog - Life is about constantly upcycling. You often upcycle, your clothes, food and décor. Follow me for the tricks I've learned to create a more beautiful and frugal life.
Frequency - about 1 posts per week

109
167
n/a
85

poesieandaccent.co.uk/catego..

About Blog - Hi, I'm Nicole. Welcome to my blog. I love to make & create things and to research how to improve or change my home. I've set up this blog to share my passion about living beautifully and stylish at home. As an ex TV producer, I used to feature luxury British brands on TV. This blog covers anything from interior design and garden design and displays some of my makeovers always with the idea in min

20
n/a
n/a
86

About Blog - Hi there, I'm Sharon Muravsky and I own Sharon for the Home also known as Sharon M pour la Maison in my home province of Quebec, Canada. I'm Passionate about homes and the environment, I love sharing my vast experience to inspire people by showing them ways to recycle, renew and reuse; creating unique and comfortable decors.
Frequency - about 1 post per month

n/a
n/a
n/a
87

lusheclectic.com/category/di..

About Blog - Hello, my name is Marta Hutt. This is the place where I can channel my ideas and designs. I love being creative when it comes to exploring design topics, upcycling furniture or transforming the space around me.
Frequency - about 1 posts per week

n/a
n/a
n/a
88

repurposedvintagefinds.blogs..

About Blog - I'm Mallori, a wife, mom, antique collector, store owner, blogger, home stager, and interior decorator. I am so happy to have you here!

n/a
n/a
n/a
These blogs are ranked based on following criteria
Google reputation and Google search ranking
Influence and popularity on Facebook, twitter and other social media sites

Quality and consistency of posts.

Feedspot's editorial team and expert review
Top 100 Upcycling Blogs Winners
CONGRATULATIONS to every blogger that has made this Top Upcycling Blogs list! This is the most comprehensive list of best Upcycling blogs on the internet and I'm honoured to have you as part of this! I personally give you a high-five and want to thank you for your contribution to this world.
If your blog is one of the Top 100 Upcycling blogs, you have the honour of displaying the following badge on your site. Use the below code to display this badge proudly on your blog. You deserve it!:
<a href="https://blog.feedspot.com/upcycling_blogs/" title="Upcycling blogs"><img src="https://blog-cdn.feedspot.com/wp-content/uploads/2017/07/Upcycling-transparent_216px.png" ></img></a>
Tags: upcycling rss feeds