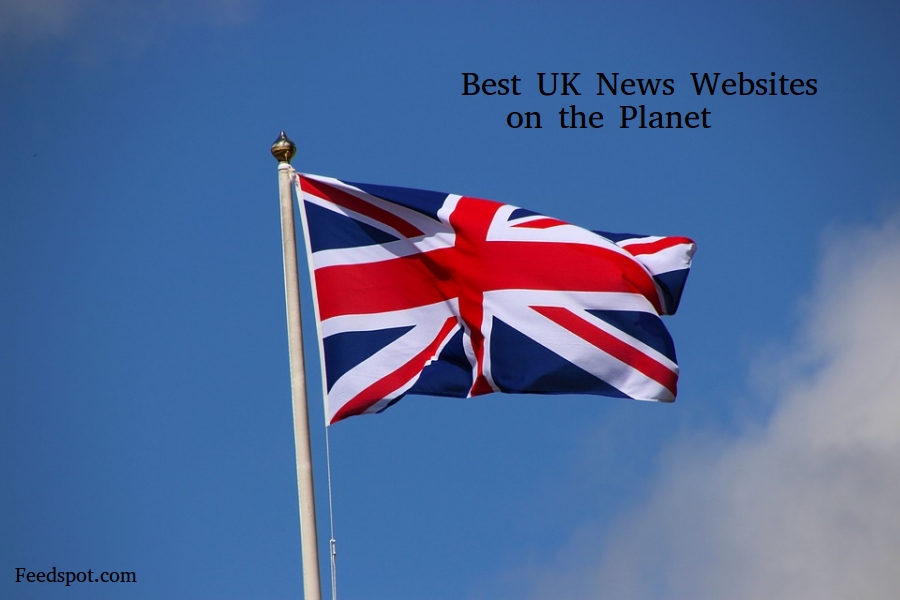 UK News Websites List.
The Best UK News Websites from thousands of top UK Websites in our index using search and social metrics. Data will be refreshed once a week. Also check out Top UK News Youtube Channels list for Top videos on UK News.
If your blog is selected in this list, you have the honour of displaying this Badge (Award) on your blog.
UK News Websites

London About Website The best of the BBC, with the latest news and sport headlines, weather, TV & radio highlights and much more from across the whole of BBC Online. Get the latest news, features, analysis and debate plus audio and video content from England, Scotland, Wales and Northern Ireland.
Frequency 30 posts / day
Website bbc.com/news/uk
Facebook fans 49.3M ⋅ Twitter followers 10.1M ⋅ Social Engagement 74ⓘ ⋅ Domain Authority 95ⓘ

London About Website The need for independent journalism has never been greater. The Guardian has been world's leading liberal voice, since 1821. Find all the latest news, sport, business, comment, analysis and reviews from the Guardian, the world's leading liberal voice.
Frequency 30 posts / day
Website theguardian.com/uk
Facebook fans 8.2M ⋅ Twitter followers 7.9M ⋅ Social Engagement 10ⓘ ⋅ Domain Authority 95ⓘ

London, UK About Website MailOnline provides all the latest news, sport, showbiz, science and health stories from around the world from the Daily Mail and Mail on Sunday newspapers.
Frequency 30 posts / day
Website dailymail.co.uk/home/index.html
Facebook fans 16.2M ⋅ Twitter followers 284.3K ⋅ Social Engagement 23ⓘ ⋅ Domain Authority 94ⓘ

London, UK About Website Latest news, business, sport, comment, lifestyle and culture from the Daily Telegraph and Sunday Telegraph newspapers and video from Telegraph TV.
Frequency 30 posts / day
Website telegraph.co.uk
Facebook fans 4.4M ⋅ Twitter followers 2.7M ⋅ Social Engagement 17ⓘ ⋅ Domain Authority 94ⓘ

London About Website The Independent is world's most free-thinking newspaper. Find all the latest news, comment and features from The Independent.
Frequency 30 posts / day
Website independent.co.uk
Facebook fans 8.8M ⋅ Twitter followers 2.8M ⋅ Social Engagement 75ⓘ ⋅ Domain Authority 93ⓘ

London, UK About Website Daily Mirror provides all the big headlines, pictures, analysis, opinion and video on the stories, news, sport and celebrity gossip that matter to you. You will also find plus weather, horoscopes, competitions, sudoku, bingo and more.
Frequency 30 posts / day
Website mirror.co.uk
Facebook fans 2.5M ⋅ Twitter followers 882.5K ⋅ Social Engagement 85ⓘ ⋅ Domain Authority 93ⓘ

London About Website Get the latest news, exclusives, sport, celebrities, showbiz, politics, business and lifestyle from The Sun. The Best for News, Sport, Showbiz, Celebrities etc.
Frequency 30 posts / day
Website thesun.co.uk
Facebook fans 2.7M ⋅ Twitter followers 1.3M ⋅ Social Engagement 9ⓘ ⋅ Domain Authority 93ⓘ

London About Website Latest UK news, breaking news and current news, plus political news from Express.co.uk, all the latest breaking stories.
Frequency 30 posts / day
Website express.co.uk/news
Facebook fans 1.3M ⋅ Twitter followers 790K ⋅ Social Engagement 392ⓘ ⋅ Domain Authority 93ⓘ

About Website Metro brings you all the latest news, showbiz gossip, the latest film and TV reviews, bizarre videos and headlines from around the world, the most up to date news from the world of sport and exclusive competitions.
Frequency 30 posts / day
Website metro.co.uk
Facebook fans 1.6M ⋅ Twitter followers 260.8K ⋅ Social Engagement 17ⓘ ⋅ Domain Authority 93ⓘ

About Website Channel 4 News is committed to challenging expectations with stories that reveal and inspire, innovatively produced - with just a touch of mischief. Channel 4 News shares stories that reveal and inspire, challenging expectations.
Frequency 10 posts / day
Website channel4.com/news
Facebook fans 3.5M ⋅ Twitter followers 1.4M ⋅ Social Engagement 19ⓘ ⋅ Domain Authority 93ⓘ

Dublin About Website Breaking news from Ireland and the world. Latest news headlines about politics, sports and business. Quality Irish news & weather forecast.
Frequency 30 posts / day
Website independent.ie
Facebook fans 562.6K ⋅ Twitter followers 375.7K ⋅ Social Engagement 4ⓘ ⋅ Domain Authority 90ⓘ

UK About Website The destination for U.K news, blogs and coverage of politics, entertainment, lifestyle, world news, technology and comedy.
Frequency 30 posts / day
Website huffingtonpost.co.uk
Facebook fans 1.2M ⋅ Twitter followers 188.9K ⋅ Social Engagement 63ⓘ ⋅ Domain Authority 90ⓘ

London, United Kingdom About Website Latest London news, football, business, showbiz and entertainment from the London Evening Standard
Frequency 30 posts / day
Website standard.co.uk
Facebook fans 853.3K ⋅ Twitter followers 64.7K ⋅ Social Engagement 141ⓘ ⋅ Domain Authority 92ⓘ

Ireland About Website The Irish Times has earned an international reputation as Ireland's quality daily newspaper. News reporting from throughout Ireland is accompanied by reports from a comprehensive network of foreign correspondents, as well as sports and business coverage, features and arts sections, lifestyle, jobs and property.
Frequency 30 posts / day
Website irishtimes.com
Facebook fans 464.8K ⋅ Twitter followers 339.4K ⋅ Social Engagement 3ⓘ ⋅ Domain Authority 89ⓘ

Manchester, UK About Website Manchester Evening News covers central and Greater Manchester, including news, opinion, sport & celebrity gossipfrom Oldham, Rochdale and Glossop.
Frequency 30 posts / day
Website manchestereveningnews.co.uk
Facebook fans 1.3M ⋅ Twitter followers 434.4K ⋅ Social Engagement 13ⓘ ⋅ Domain Authority 87ⓘ

London About Website Curated by professional editors, The Conversation offers informed commentary and debate on the issues affecting our world. Plus a Plain English guide to the latest developments and discoveries from the university and research sector. In-depth analysis, research, news and ideas from leading academics and researchers.
Frequency 13 posts / day
Website theconversation.com/uk
Facebook fans 39.9K ⋅ Twitter followers 75K ⋅ Social Engagement 40ⓘ ⋅ Domain Authority 90ⓘ

UK About Website PinkNews covers politics, entertainment, religion and community news for the gay, lesbian, bisexual and transgender community.
Frequency 21 posts / day
Also in LGBT Blogs, Lesbian Blogs, UK Lesbian Blogs, UK LGBT Blogs
Website pinknews.co.uk/home
Facebook fans 466K ⋅ Twitter followers 197.7K ⋅ Social Engagement 4.1Kⓘ ⋅ Domain Authority 83ⓘ

London, England About Website An award-winning printed monthly and online publication. WIRED is an agenda-setting magazine offering brain food on a wide range of topics, from science, technology and business to pop-culture and politics.
Frequency 5 posts / day
Website wired.co.uk
Facebook fans 104K ⋅ Twitter followers 268.5K ⋅ Social Engagement 196ⓘ ⋅ Domain Authority 88ⓘ

Glasgow About Website Read the latest Scottish news covering Glasgow and Edinburgh. Scotland news, UK and world news. Covering all the latest headlines and full reports.
Frequency 30 posts / day
Website dailyrecord.co.uk/news
Facebook fans 390.7K ⋅ Twitter followers 106.2K ⋅ Social Engagement 95ⓘ ⋅ Domain Authority 86ⓘ

Wales About Website WalesOnline is the place for news, views, jobs, business news and sport in Wales.
Frequency 30 posts / day
Website walesonline.co.uk
Facebook fans 368.1K ⋅ Twitter followers 165.8K ⋅ Social Engagement 208ⓘ ⋅ Domain Authority 85ⓘ

United Kingdom About Website The Poke is a satirical and topical news source, aiming to deliver an antidote to the daily grind. With the discovery of new British comedy talent firmly at its core, we publish photoshop-led topical articles that cover UK politics, world news, tv arts and culture, science and technology, celebrity and sport.
Frequency 17 posts / day
Since May 2013
Also in Satire Blogs, UK Satire Blogs
Website thepoke.co.uk
Facebook fans 845K ⋅ Twitter followers 237K ⋅ Social Engagement 78ⓘ ⋅ Domain Authority 72ⓘ

Birmingham, UK About Website The Birmingham Mail has been providing the UK's second city & surrounding areas with unrivalled coverage for more than 130 years. They aim to provide readers with the latest news, sport, comment and information for the area both in print and online.
Frequency 30 posts / day
Website birminghammail.co.uk
Facebook fans 263.5K ⋅ Twitter followers 227.6K ⋅ Social Engagement 5ⓘ ⋅ Domain Authority 86ⓘ

Belfast, Northern Ireland About Website Northern Ireland live news, sport, business, opinion, entertainment, lifestyle updates from Belfast Telegraph.
Frequency 27 posts / day
Website belfasttelegraph.co.uk
Facebook fans 220.2K ⋅ Twitter followers 136.5K ⋅ Social Engagement 55ⓘ ⋅ Domain Authority 90ⓘ

Scotland About Website The Scotsman has played a vital part in forming and reporting national opinion for nearly 200 years. Find Scottish perspective on news, sport, business, lifestyle, food and drink and more, from Scotland's national newspaper, The Scotsman.
Frequency 30 posts / day
Also in Scotland Blogs
Website scotsman.com/news
Facebook fans 228.2K ⋅ Twitter followers 157.9K ⋅ Social Engagement 4ⓘ ⋅ Domain Authority 90ⓘ

UK About Website The Daily Mash is a satirical website which publishes spoof articles, i.e. it is all made-up and is not intended, in any way whatsoever, to be taken as factual.
Frequency 6 posts / day
Since Dec 2006
Website thedailymash.co.uk
Facebook fans 896.7K ⋅ Twitter followers 146.5K ⋅ Social Engagement 3Kⓘ ⋅ Domain Authority 68ⓘ

London About Website The best of British & international news, opinion, sport, people & business. The Week brings you all you need to know about everything that matters. More than a news digest - it\'s an original take on world news as it happens.
Frequency 17 posts / day
Also in British News Magazines
Website theweek.co.uk
Facebook fans 145.4K ⋅ Twitter followers 13.2K ⋅ Social Engagement 15ⓘ ⋅ Domain Authority 80ⓘ

Scotland About Website The Herald is a Scottish broadsheet newspaper founded in 1783. The Herald is the longest running national newspaper in the world and is the eighth oldest daily paper in the world.
Frequency 30 posts / day
Also in Scottish News Websites
Website heraldscotland.com/news
Facebook fans 39.2K ⋅ Twitter followers 103K ⋅ Domain Authority 83ⓘ

Ireland About Website Ireland's premier breaking news website providing up to the minute news and sports reports.
Frequency 30 posts / day
Website breakingnews.ie
Facebook fans 463.3K ⋅ Twitter followers 40.9K ⋅ Domain Authority 79ⓘ

About Website Get the latest Scottish, UK and world news, sport, celebrity gossip, showbiz, politics, business and lifestyle from The Scottish Sun
Frequency 30 posts / day
Website thescottishsun.co.uk
Facebook fans 223.3K ⋅ Twitter followers 46.5K ⋅ Social Engagement 2ⓘ ⋅ Domain Authority 81ⓘ

Brighton and Hove, UK About Website The Argus for news, sport, Brighton and Hove Albion, entertainment, video, blogs and for Brighton Hove Lewes Worthing Shoreham Newhaven and Sussex. For over 135 years theye have brought local news, sport and entertainment to Brighton, Hove and Sussex. They provide the best coverage of the Albion and live up-to-the-minute coverage of what is going on in your community around the clock.
Frequency 30 posts / day
Website theargus.co.uk/news
Facebook fans 28.4K ⋅ Twitter followers 83.6K ⋅ Domain Authority 79ⓘ

Cambridge, UK About Website Stay up to date with the latest news from around Cambridgeshire including breaking news updates, sport, football, local events and business.
Frequency 30 posts / day
Website cambridge-news.co.uk
Facebook fans 30.4K ⋅ Twitter followers 69K ⋅ Social Engagement 30ⓘ ⋅ Domain Authority 76ⓘ

Boston About Website New England Cable News, Local News, Weather, Traffic, Entertainment, Breaking News.
Frequency 25 posts / day
Website necn.com
Facebook fans 146.2K ⋅ Twitter followers 79K ⋅ Social Engagement 37ⓘ ⋅ Domain Authority 81ⓘ

Glasgow, Scotland About Website The Evening Times - first for Glasgow and UK breaking news plus sport including Rangers, Celtic FC.
Frequency 30 posts / day
Website eveningtimes.co.uk/news
Facebook fans 118.8K ⋅ Twitter followers 66.1K ⋅ Domain Authority 76ⓘ

York, UK About Website York news, archive, North Yorkshire local information, picture galleries, breaking news, travel updates and what's on.
Frequency 25 posts / day
Website yorkpress.co.uk/news
Facebook fans 29.2K ⋅ Twitter followers 54K ⋅ Domain Authority 72ⓘ

Darlington, UK About Website North East & North Yorkshire news from Darlington, Durham, Middlesbrough, Newcastle, Sunderland, Bishop Auckland, Barnard Castle, and other areas.
Frequency 27 posts / day
Website thenorthernecho.co.uk/news
Facebook fans 30.5K ⋅ Twitter followers 49.6K ⋅ Social Engagement 18ⓘ ⋅ Domain Authority 74ⓘ

Bolton About Website The Bolton News - formerly the Bolton Evening News - is a daily newspaper covering the towns of Bolton, Horwich, Farnworth and Westhoughton in north-western Bolton news, sport, leisure, business, education, health and information from The Bolton News with regular updates.
Frequency 28 posts / day
Website theboltonnews.co.uk/news
Facebook fans 44.6K ⋅ Twitter followers 27.1K ⋅ Social Engagement 89ⓘ ⋅ Domain Authority 69ⓘ

Portsmouth, UK About Website The daily news service for Portsmouth, Gosport, Fareham, Havant, Waterlooville, south east Hampshire and West Sussex. Get latest news, sport, business, lifestyle and more, from Portsmouth's newspaper, The News.
Frequency 30 posts / day
Website portsmouth.co.uk
Facebook fans 80.3K ⋅ Twitter followers 68K ⋅ Social Engagement 68ⓘ ⋅ Domain Authority 69ⓘ

North East Lincolnshire About Website ews, sport, entertainment and more from the Grimsby Telegraph covering North East Lincolnshire including Grimsby, Cleethorpes, Immingham and Louth. Get all of the latest Grimsby News news updated throughout the day and join the discussion on the Grimsby Telegraph
Frequency 23 posts / day
Website grimsbytelegraph.co.uk/news
Facebook fans 36.6K ⋅ Twitter followers 4.6K ⋅ Social Engagement 199ⓘ ⋅ Domain Authority 69ⓘ

London, England, United Kingdom About Website Politics.co.uk is an impartial political website with no political affiliation, which prides itself on standing out as an independent voice in a landscape where the norm is to nail your colours to the mast. Up to the minute UK political news, features, view and analysis, plus guides, briefings and debate.
Frequency 2 posts / day
Also in UK Political Blogs
Website politics.co.uk
Facebook fans 10.3K ⋅ Twitter followers 43K ⋅ Social Engagement 1Kⓘ ⋅ Domain Authority 69ⓘ

London About Website Keep up with the latest business, property and auto news from Investor Times.
Frequency 1 post / month
Website investortimes.co.uk
Domain Authority 14ⓘ

Belfast About Website The latest news from Belfast and Northern Ireland. Covering Belfast News, sport, opinion, celebrity gossip and much more. They intend to provide in-depth news and information about Belfast, for the people of this new Belfast.
Frequency 29 posts / day
Website belfastlive.co.uk
Facebook fans 139.8K ⋅ Twitter followers 28.6K ⋅ Social Engagement 170ⓘ ⋅ Domain Authority 77ⓘ

Britain About Website The Voice Newspaper was founded in 1982 by Jamaican-born accountant, Val McCalla, who was awarded a grant from the Greater London Council to fund his business venture. Britain's leading black newspaper bringing you news, sport and entertainment with an African and Caribbean perspective
Frequency 30 posts / quarter
Website voice-online.co.uk
Facebook fans 597.1K ⋅ Twitter followers 28.3K ⋅ Social Engagement 614ⓘ ⋅ Domain Authority 68ⓘ

About Website News UK publishes The Times, The Sun, The Sunday Times and the TLS.
Frequency 2 posts / day
Website news.co.uk
Facebook fans 84 ⋅ Twitter followers 6K ⋅ Domain Authority 62ⓘ

UK About Website The longest-established publication for quality reporting that inspires, Positive News is owned and supported by a global community. As a magazine and a movement, we are changing the news for good.
Frequency 1 post / day
Also in Positivity Blogs
Website positive.news
Facebook fans 269.2K ⋅ Twitter followers 50K ⋅ Social Engagement 566ⓘ ⋅ Domain Authority 56ⓘ

Scarborough About Website The Scarborough News is the biggest and best news provider on the East Coast and is the latest incarnation of the paper first published on July 10 1882. The Scarboro News is where you'll find live updates from The Scarborough News team on all things Scarborough, and offers you the chance to share your news.
Frequency 30 posts / month
Website thescarboroughnews.co.uk
Facebook fans 14.3K ⋅ Twitter followers 9.2K ⋅ Social Engagement 73ⓘ ⋅ Domain Authority 56ⓘ

Edinburgh, Scotland, UK About Website Deadline News is one of Scotland's leading press and picture agencies serving content to national newspapers, magazines and online press.
Frequency 16 posts / day
Website deadlinenews.co.uk
Facebook fans 1.2K ⋅ Twitter followers 4.3K ⋅ Social Engagement 4ⓘ ⋅ Domain Authority 64ⓘ

The NORTH About Website The Politicalite is the provocative political blogger on the side of the working classes, the Brexit voter, the anti-Globalists and the people who are tired of the status-quo in British politics.
Frequency 5 posts / day
Website politicalite.com
Twitter followers 7.8K ⋅ Social Engagement 72ⓘ ⋅ Domain Authority 41ⓘ

Scotland About Website Newsnet Scotland was launched on 12th March 2010 by a small group of unpaid volunteers from Greenock. The site was set up in order to address what we believed to be an imbalance in the reporting of Scottish News and current affairs. News, current affairs and opinion from Scotland.
Frequency 1 post / week
Website newsnet.scot
Facebook fans 11K ⋅ Twitter followers 29.3K ⋅ Social Engagement 953ⓘ ⋅ Domain Authority 51ⓘ

Larne, Co Antrim, N Ireland About Website Get the latest breaking news from the Larne Times - politics, transport, education, health, environment and more, updated daily
Frequency 4 posts / day
Website larnetimes.co.uk/news
Facebook fans 6.1K ⋅ Twitter followers 3.2K ⋅ Social Engagement 93ⓘ ⋅ Domain Authority 49ⓘ

Coleraine About Website A Coleraine perspective on news, sport, what's on, lifestyle and more, from your local paper the Coleraine Times.
Frequency 10 posts / week
Website colerainetimes.co.uk/news
Facebook fans 9K ⋅ Twitter followers 4.4K ⋅ Social Engagement 16ⓘ ⋅ Domain Authority 44ⓘ

About Website We are a Scottish Multimedia News Agency specializing in transport news and driver misdemeanors.
Frequency 4 posts / quarter
Since Jan 2014
Website swd.media
Facebook fans 26.8K ⋅ Twitter followers 4.5K ⋅ Social Engagement 31ⓘ ⋅ Domain Authority 37ⓘ

London About Website The Church of England Newspaper is the original church newspaper and one of the oldest newspapers in the world, dating back to 1828. It provides the latest news and has established itself as the prime source for news in the Anglican world.
Frequency 30 posts / month
Also in Anglican Blogs, UK Christian Blogs
Website churchnewspaper.com
Facebook fans 211 ⋅ Twitter followers 13.4K ⋅ Social Engagement 3ⓘ ⋅ Domain Authority 42ⓘ

Edinburgh, Scotland About Website Scottish Field is Scotland's quality lifestyle magazine, bringing you country news, fashion, interiors, travel, food & drink, property features and much more.
Frequency 8 posts / day
Website scottishfield.co.uk
Facebook fans 8K ⋅ Twitter followers 18K ⋅ Social Engagement 8ⓘ ⋅ Domain Authority 44ⓘ

Southampton, UK About Website The Daily Echo website brings you the latest news from Southampton, Winchester, Eastleigh, Fareham, the New Forest and across Hampshire.
Frequency 30 posts / day
Website dailyecho.co.uk/news
Facebook fans 137.4K ⋅ Twitter followers 76.2K ⋅ Domain Authority 75ⓘ
Tags: uk news rss feeds