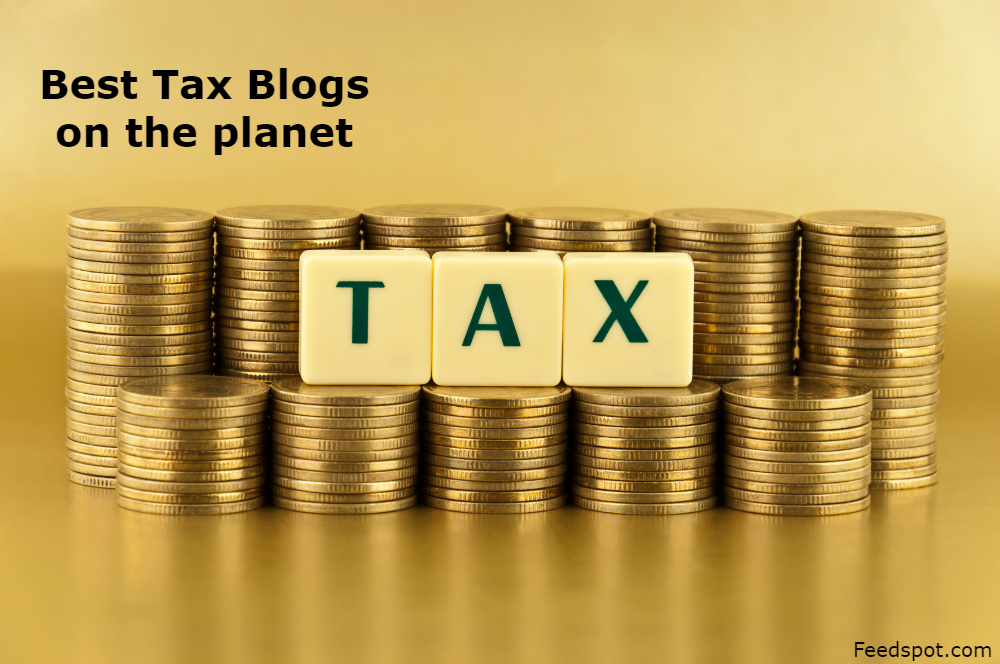 Tax Blogs List.
The Best Tax blogs from thousands of top Tax blogs in our index using search and social metrics. Data will be refreshed once a week. Also check out Tax Podcasts.

If your blog is selected in this list, you have the honour of displaying this Badge (Award) on your blog.
Tax Blogs

Cedar Rapids, IA About Blog TaxAct, founded in 1998, is a leading provider of affordable digital and download tax preparation solutions for individuals, business owners and tax professionals. Our mission is to empower people to navigate the complexities of tax and finance with ease and accuracy at a fair price. Get tips and solutions for making better decisions with your taxes and personal finances.
Frequency about 1 post per week.
Blog blog.taxact.com
Facebook fans 258,590. Twitter followers 7,523.

About Blog Tax-News.com delivers news headlines and features on international tax, law, politics, economics, trade and more. Your daily US tax news service - continuously updated through the day.
Frequency about 3 posts per month.
Blog lowtax.net/blogs
Facebook fans 1,441. Twitter followers 2,890.

San Diego, CA About Blog TurboTax builds software that makes it easy to get the biggest tax refund. Read our blog for tips on how to get the biggest refund you deserve, tax news, and helpful tips. Mission is helping taxpayers keep more of their hard-earned money with the biggest refund possible.
Frequency about 2 posts per week.
Blog blog.turbotax.intuit.com
Facebook fans 739,234. Twitter followers 39,864.

Washington DC About Blog The Urban-Brookings Tax Policy Center aims to provide independent analyses of current and longer-term tax issues and to communicate its analyses to the public and to policymakers in a timely and accessible manner. The Center combines top national experts in tax, expenditure, budget policy, and microsimulation modeling to concentrate on four overarching areas of tax policy.
Frequency about 7 posts per week.
Blog taxpolicycenter.org
Facebook fans 6,842. Twitter followers 4,193.

Washington, DC About Blog The Tax Foundation is the nation's leading independent tax policy research organization. Since 1937, our principled research, insightful analysis, and engaged experts have informed smarter tax policy at the federal, state, and local levels. We improve lives through tax policy research and education that leads to greater economic growth and opportunity.
Frequency about 8 posts per week.
Blog taxfoundation.org/blog
Facebook fans 11,916. Twitter followers 33,195.

Malibu, CA About Blog TaxProf Blog provides news, information and resources for tax professors. Get Latest news in tax policy, as well as some analysis.
Frequency about 42 posts per week.
Blog taxprof.typepad.com
Facebook fans n/a. Twitter followers 5,339.

Ely, Cambridgeshire, UK About Blog Tax Research UK is run by Richard Murphy. He is a chartered accountant who campaigns for tax reform with the aim of relieving poverty. This makes him unusual in the world of accountancy because he argues for more tax on those who can pay (generally called the rich) and less on those who can't pay (the poor, in other words).
Frequency about 14 posts per week.
Since Jan 2005
Blog taxresearch.org.uk/Blog
Facebook fans 1,454. Twitter followers 48,693.

Lehi, UT About Blog The Canopy software was created to help tax professionals save time with practice tax resolution software that works! We're on a mission to make taxing work simple.
Frequency about 2 posts per month.
Blog canopytax.com/blog
Facebook fans 7,345. Twitter followers 1,756.

Seattle, WA About Blog Avalara helps businesses of all sizes achieve compliance with transactional taxes, including VAT, sales and use, excise, communications, and other tax types. Here you will get the latest info on Streamlined Sales Tax, sales tax rates and the Marketplace Fairness Act. Read tips for sales tax compliance & audit protection.
Frequency about 5 posts per week.
Blog avalara.com/blog
Facebook fans 33,716. Twitter followers 25,170.

Richmond, VA About Blog The Income Tax School is an online tax school offering tax courses and continuing education to help you become a tax preparer or grow your tax business. Check out The Income Tax School Blog, with new information about changes to income tax law and rules for being certified that can impact you.
Frequency about 3 posts per month.
Blog theincometaxschool.com/blog
Facebook fans 1,360. Twitter followers 2,508.

New York, NY About Blog Forbes is a leading source for reliable news and updated analysis on Taxes. Read the breaking Tax coverage and top headlines on Forbes.com.
Frequency about 28 posts per week.
Blog forbes.com/taxes
Facebook fans 5,710,639. Twitter followers 15,461,515.

India About Blog India Tax Insights blog brings the experience and knowledge of EY thought leaders and tax professional by way of viewpoints, commentary and the delivery of fresh perspective to evolving tax and policy issues relevant to executive decision makers.
Frequency about 2 posts per month.
Blog indiataxinsightsblog.ey.com
Facebook fans n/a. Twitter followers 48,915.

Georgia, USA About Blog TaxSlayer is a self-prepared tax preparation program that allows you to file both simple and complex returns. We provide friendly and knowledgeable customer support to assist you during your preparation and filing process.The online tax blog that offers simple solutions for maximizing your tax refund and saving money.
Frequency about 3 posts per week.
Blog blog.taxslayer.com
Facebook fans 155,085. Twitter followers 5,664.

Australia About Blog The Etax Blog helps every taxpayer to pay less tax, spot ways to save money & get through tax time easily. This blog is a great source of tips and advice on getting the best possible tax refund.
Frequency about 3 posts per month.
Since Jun 2011
Blog etax.com.au/etax-blog-tax-tips
Facebook fans 19,443. Twitter followers 452.

North Carolina, U.S.A. About Blog We're tax and technology gurus, and we're driven to make the filing process smart, simple, and affordable for DIY filers. Our passion is turning the necessary parts of life into opportunities to better our world, so we invest in clean water projects that help transform thirsting individuals into thriving communities 2.5 million gallons and counting.
Frequency about 2 posts per week.
Blog 1040.com/blog
Facebook fans 31,075. Twitter followers 1,166.

Kansas City, MO About Blog H&R Block Canada is Canada's leading personal tax preparation firm. Tax Talk is H&R Block's online resource offering tax planning tips and advice. Gain some useful tax insight from our professionals on Tax Talk. Check out our blog, Ask The Pros, and more!
Frequency about 3 posts per month.
Blog hrblock.ca/blog
Facebook fans 88,844. Twitter followers 31,766.

New York About Blog Taxes for Expats (TFX) is a New York City-based tax preparation firm specializing on American citizens living abroad. With over 25 years of experience, TFX offers best in class service coupled with industry leading technology to serve clients in 175 countries.
Frequency about 3 posts per month.
Blog blog.taxesforexpats.com
Facebook fans 8,954. Twitter followers 780.

Falls Church, VA About Blog More reporters and commentators dedicated exclusively to tax issues than any other news organization.
Frequency about 3 posts per week.
Blog taxnotes.com
Facebook fans 7,454. Twitter followers 12,773.

Chicago, IL About Blog Community Tax, LLC was created by Attorneys and Bankers with years of experience in the tax debt investigation and resolution industry. We provide nationwide tax resolution services for taxpayers with IRS or State tax problems.
Frequency about 1 post per month.
Blog communitytax.com/tax-blog
Facebook fans 15,591. Twitter followers 2,366.

Europe About Blog Fieldfisher is a European law firm providing commercial solutions across a range of industry sectors. Clients choose to work with us because we deliver commercial, pragmatic and innovative solutions through our exceptional legal expertise and experience, on time and on budget.
Frequency about 1 post per month.
Blog taxdeductionsblog.fieldfishe..
Facebook fans 410. Twitter followers 4,784.
Tax Blogs By Country
---
Andorra
Advantia Blog
About - Advantia specialist tax advice and company creation in Andorra offers advisory services, consulting, accounting and taxation. Bring your residence and install your company and enjoy tax in the principality of Andorra.
Angola
Maka Angola
About - Maka Angola is an initiative dedicated to the fight against corruption and the defense of democracy in Angola, founded and directed by the journalist Rafael Marques de Morais.
Argentina
Castro Sammartino & Pierini´s Legal Blog
About - Castro Sammartino & Pierini´s legal blog regularly covers different subjects of interest for companies and individuals.
Australia
The Tax Institute Blog
About - The Tax Institute Blog is the official community for members of The Tax Institute, their friends and colleagues.
Expat Taxes Services Blog
About - We're Australian accountants specialising in Australian expatriate tax returns/advice. As expats ourselves we understand your complex tax issues firsthand!
Tax Fitness Blog
About - Tax Blog by Tax Fitness Company. Tax planning in Australia has generally been provided manually, on an adhoc basis, to only a few select clients. This has resulted in 95% of taxpayers paying more tax than they legally need to. TaxFitness was established in 2016 to solve this problem.
Let's Fix The Australia/US Tax Treaty
About - Let's Fix the Australia/US Tax Treaty! is a volunteer, grass-roots effort. While we make every effort to ensure that the information on this site is correct, you should get independent professional advice that considers your own particular facts and circumstances rather than relying on any tax or legal opinions posted on this site.
Austria
Deloitte Tax | Tax News Austria
About - Deloitte Tax site discusses about National and international tax law, financial criminal law, payroll and expatriates, as well as current tax issues.
Bangladesh
BDTAX Blog
About - bdtax.com.bd is first online tax preparation, processing and submission software for Bangladesh. With bdtax.com.bd you can easily prepare your tax, electronically file with National Board of Revenue (NBR) and pay any tax due with a mobile payment, credit card or bank transfers.
Bolivia
Bolivia Impuestos | Bolivia Taxes Blog
About - Agile information on national taxes.
Canada
The Blunt Bean Counter
About - I am a Chartered Professional Accountant and a partner with a National Accounting Firm in Toronto. I hope the blog can assist you with your tax planning and wealth accumulation.
Thorsteinssons LLP Tax Blog | Canada Premier Tax Law Firm
About - Thorsteinssons LLP is Canada's largest law firm practicing exclusively in taxation law. Our lawyers are consistently recognized as being among Canada's leading tax practitioners.
US Cross-Border Tax Blog
About - We are a team of over 20 tax professionals that work exclusively on US and cross-border tax issues. Our clients include Canadian businesses and individuals with investments in the US and US citizens resident in Canada. We provide both tax consulting and tax return preparation services. We work with individual and business clients and their legal, accounting and financial advisors.
Canadian Taxpayers Federation
About - A not-for-profit citizens advocacy group dedicated to lower taxes, less waste and accountable government.
Chile
CFA Blog | Chile Finance Advisors
About - CFA is an audit and consulting firm with thirteen years in the Chilean market, focused on providing financial, tax, outsourcing and technology services to organizations with presence or plans to do business in Chile.
Denmark
Corit Advisory | Independent Tax Consultancy
About - CORIT Advisory P/S is an independent boutique tax advisory firm based in Copenhagen, Denmark. Our dedication lies in tax advisory services with a relentless focus on quality and technical competences.
Germany
Expat Tax Blog
About - Our blog has basic information to get you started to understand tax items related to your situation.
Ghana
TaxSolutionsGH
About - TaxSolutionsGH provides latest updates on direct tax, income tax, indirect tax, advocacy and research. It has most accurate database on these taxes and corporate laws.
Guyana
Guyana's Budget & Policy Institute Blog
About - The Guyana Budget & Policy Institute is a non-partisan and non-profit organization that promotes evidence-based and commonsense budget, tax and economic policies for building a strong and vibrant economy that provides opportunities for all Guyanese.
India
H&R Block India | Income Tax Blog
About - Get everything to read about income tax, income tax payment, e-filing, IT returns, tax benefits on H&R Block India.
All India ITR Blog - Latest updates to File Income tax online
About - Get recent updates related to E-filing of income tax return online, tax refund status, income tax calculator, filing of ITR forms and tax laws.
EZTax India | Tax Blog
About - Providing both Online Software, and Expert Assisted Services for GST Accounting / Bookkeeping, GST Returns to Income Tax Filing for both Individuals and Businesses, Tax Consultation, TDS Preparation & Firm, Company Registrations.
Taxmann | All About Income Tax Online,GST, Direct & Indirect Taxes
About - Taxmann is a reliable source for latest income tax, direct tax, indirect tax, GST, company law, IFRS, Ind AS & international taxation related information.
Indonesia
Nusahati | Tax Representative Corner, where the fiscal discussion
About - Likes or Not We Must Know and Understand About Taxation then Tax Representative Corner is present for us, where the fiscal discussion.
Ireland
Andrews Tax Consulting | Tax Tips & Insights
About - Expert advice from tax consultants and trust and estate advisors.
Irish Tax Rebates Blog | Claim Tax Back Ireland
About - With a team that has over 20 years professional tax experience, Irish Tax Rebates blog is the leading online resource to help keep you up-to-date.
Self Employed Blog | Income Tax Return Updates
About - Selfemployed.ie news will keep you informed and up-to-date with key dates for filing your income tax returns, relevant changes or amendments to Revenue's tax policies or guidelines as well as some interesting tips and advice relevant to your Self-Assessment and income tax returns.
Moran McNamara | Accounting Blog With Tax Tips
About - Our Accounting blog with tax tips for 2017 and much more addresses the needs of small business owners, self employed, farmers, sole traders, landlords.
Japan
Suga Professional Tax Services | Japaneese Tax Blog
About - Blogs related to Japanese taxes,which can be useful for foreigners working in Japan, foreign capitalized entities operating businesses in Japan, and/or offshore investors considering setting up businesses or investments in Japan.
Luxembourg
ATOZ Blog | ATOZ Tax Advisers
About - ATOZ is a high-end independent advisory firm offering International n Corporate tax, Indirect tax, Corporate Implementation and Corporate Finance services.
New Zealand
TMNZ Blog | Tax Management New Zealand
About - TMNZ is New Zealand's leading tax payment intermediary. TMNZ Blog is about news & resources for business flexibility, cashflow and capital expenditure.
Talk Tax
About - TalkTax is a community website for tax and accounting professionals. It gives these professionals the opportunity to share their views and expertise and receive feedback from others. TalkTax offers blog articles, useful links, a "What's on" seminar listing, job sections, podcasts, and polls.
Netherlands
Orange Tax Services | Dutch Tax Blog
About - Dutch Tax blog - keep up to date with latest developments, news and trends.
Nigeria
The Tax Professor | Your Number 1 Nigeria Tax for SMEs
About - The Tax Professor is Nigeria's best tax blog focused primarily on start-ups, small and medium scale enterprises and anyone on the look out for relevant solutions to their Nigerian tax issues. Jump right in and take a peek!
Deloitte Nigeria Blog | Audit, Tax,Consulting & Advisory
About - Deloitte is dedicated to assisting companies succeed through our Audit, Consulting, Risk Advisory, Corporate Finance, Tax and Business Process Solutions.
Norway
Norway's Tax Blog
About - Norway's Tax Blog is about more than taxes. Find our perspectives on legal issues, corporate law, employment law, VAT, personal- and payroll tax and corporate tax.
Pakistan
Tax Journal
About - Taxation blog for Pakistan and Middle East, Withholding Taxes, Sales Tax, VAT and Income Taxes, Foreign Remittances, IRIS, FBR, GCC.
Philippines
Philippine Tax Talk This Day & Beyond
About - Philippine Taxation Updates and Other Related Topics in General.
Poland
RSM Poland Blog
About - The RSM Poland Blog is a practical guide to taxes and business. Written by advisors, auditors and experienced consultants, this space is dedicated to all those who make business decisions on a day-to-day basis.
Tax Web Blog
About - TAXweb is a Blog about taxes and almost intended for people who want to quickly find the most important information in the field of taxes and law.
DZP | Tax Blog
About - Blogs of the Domański Zakrzewski Palinka Law Firm.
Portugal
NewCo Blog
About - NEWCO is an independent corporate services provider in tax efficient jurisdictions. News, insights and resources on how to take advantage of opportunities in Madeira and Malta.
South Africa
Tax Talk Today
About - TaxTalk Today is your one-stop source for all things tax related. This daily South African tax aggregator collects important tax legislative updates, government tax pronouncements and other tax news and presents it in one convenient, easy-to-use electronic location.
South African Tax Guide | Tax Made Easy
About - Welcome to SA Tax Guide blog – dedicated to the next generation of taxation trainees and professionals. Here you will be provided with resources on taxation, taxation notes.
The SA Institute Of Tax Professionals
About - The South African Institute of Tax Professionals (SAIT) is the largest of the professional tax bodies in South Africa, and seeks to enhance the tax profession by developing standards in education, compliance, monitoring and performance. SAIT contributes to the development of world class professional practises and people.
PATC Blog
About - Not sure if you need an accountant or tax consultant? Here are a few articles that may be of interest to you.
South Korea
Tax In Korea Blog
About - Christie Lee & Hana Tax specializes in tax and accounting services for expats and foreign owned and operated businesses in Korea. She also advises individuals, freelancers, and startup founders in South Korea.
Switzerland
Deloitte Switzerland Tax Blog
About - Deloitte Switzerland Tax blog brings together tax experts with diverse experience and knowledge to provide latest insights on current issues and developments that may affect tax professionals.
UK
Tax File Blog
About - Accounting and calculating tax can seem like a daunting, confusing business. Let us help you to make sense of it.
Burton Beavan Blog
About - Read the Burton Beavan blog for tax tips, articles of interest and all round great business advice.
Taxation Blogs
About - Your partner in Tax Law, practice & administration.
Stewart Accounting Blog
About - Accounting, bookkeeping and taxation services to small and medium sized businesses in central Scotland and beyond.
USA
International Tax Blog
About - New and Interesting International Tax Issues By International Tax Attorneys.
GreenBack Tax | US Expatriate Tax Blog
About - Greenback expatriate tax accountants have developed this library of info to provide you with important US expat tax advice and insight.
TaxSlayer Blog
About - TaxSlayer is a self-prepared tax preparation program that allows you to file both simple and complex returns. We provide friendly and knowledgeable customer support to assist you during your preparation and filing process.The online tax blog that offers simple solutions for maximizing your tax refund and saving money.
Tax Foundation
About - Do You Believe in Improving Lives Through Tax Policy? Help us educate taxpayers, lawmakers, and the media about the importance of smart, pro-growth tax policy.
These blogs are ranked based on following criteria
Google reputation and Google search ranking
Influence and popularity on Facebook, twitter and other social media sites

Quality and consistency of posts.

Feedspot's editorial team and expert review
Top 100 Tax Blogs Winners
CONGRATULATIONS to every blogger that has made this Top Tax blogs list! This is the most comprehensive list of best Tax blogs on the internet and I'm honoured to have you as part of this! I personally give you a high-five and want to thank you for your contribution to this world.
If your blog is one of the Top 100 Tax blogs, you have the honour of displaying the following badge on your site. Use the below code to display this badge proudly on your blog. You deserve it!:
Tags: tax rss feeds