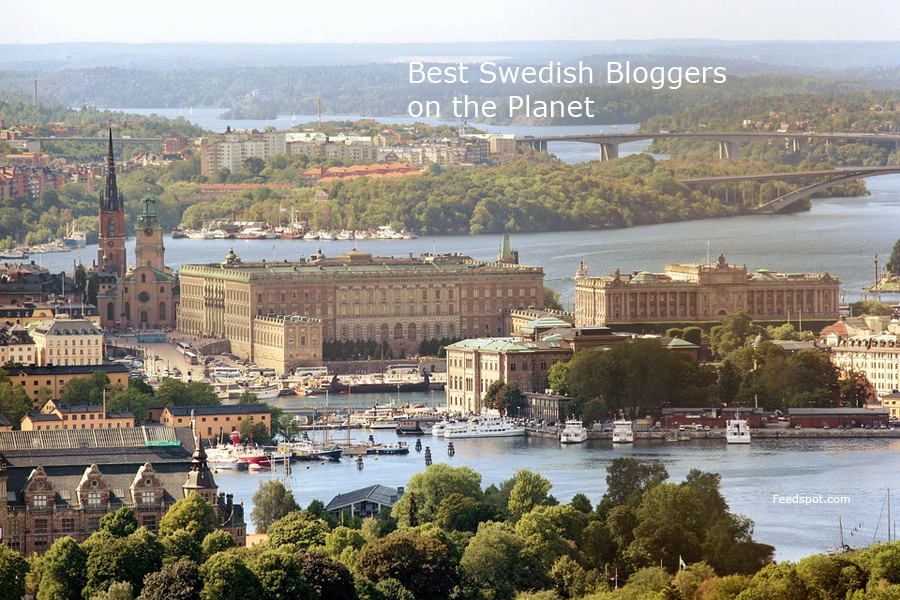 Swedish Bloggers List.
The Best Swedish Bloggers from thousands of top Swedish Bloggers in our index using search and social metrics. Data will be refreshed once a week. Also check out Sweden Youtube Channels.
If your blog is selected in this list, you have the honour of displaying this Badge (Award) on your blog.
Swedish Bloggers

Mountain View, CA About Blog Breaking news, updates and tips about Sweden from Google News.
Frequency 30 posts / day
Blog news.google.com/news/search/..
Twitter followers 259.3K ⋅ Social Engagement 13ⓘ ⋅ Domain Authority 95ⓘ

San Francisco, CA About Blog Hej and wälkommen to Sweddit! The hub for Swedes on reddit and our community here!
Frequency 30 posts / day
Blog reddit.com/r/sweden
Facebook fans 1.3M ⋅ Twitter followers 640.8K ⋅ Social Engagement 404ⓘ ⋅ Domain Authority 90ⓘ

About Blog The Newbie guide to Sweden helps you understand how Sweden works, read about other newbie experiences and connect with other newbie
Frequency 1 post / week
Since Aug 2015
Blog thenewbieguide.se/category/blog
Facebook fans 13.7K ⋅ Social Engagement 9ⓘ ⋅ Domain Authority 38ⓘ

About Blog Swedish Freak is your one-stop shop for Swedish recipes, Swedish holidays, free Swedish lessons and more.
Frequency 1 post / quarter
Since Jul 2010
Blog swedishfreak.com/blog
Facebook fans 2.7K ⋅ Twitter followers 2.9K ⋅ Domain Authority 32ⓘ

Sweden About Blog Study in Sweden is a comprehensive, official resource on studying in Sweden for prospective and current international students. Here you'll find everything you need to know on the Swedish higher education system, finding and applying for a programme, searching for scholarships, living as an international student in Sweden and learning Swedish.
Frequency 1 post / week
Since Oct 2014
Also in Study Abroad Blogs, Student Blogs
Blog blogs.studyinsweden.se
Facebook fans 411.7K ⋅ Social Engagement 50ⓘ ⋅ Domain Authority 60ⓘ

Stockholm About Blog Kenza is a Swedish girl with a huge love for friends, family, fashion & style, who shares her passion for fashion on her blog.
Frequency 2 posts / day
Also in Scandinavian Fashion Blogs
Blog kenzas.se
Facebook fans 361.8K ⋅ Twitter followers 44.3K ⋅ Instagram Followers 1.9M ⋅ Domain Authority 46ⓘ

About Blog Elle Decoration gives you the best inspiration, the coolest pictures, the latest trends and the biggest snackers in the interior.
Frequency 2 posts / day
Blog elledecoration.se
Facebook fans 65.6K ⋅ Social Engagement 16ⓘ ⋅ Domain Authority 51ⓘ

About Blog Swedish Nomad is a popular travel blog that focuses on valuable tips and helpful guides with everything you need to travel more, better and cheaper.
Frequency 3 posts / day
Also in Sweden Travel Blogs
Blog swedishnomad.com
Facebook fans 54K ⋅ Twitter followers 45.3K ⋅ Social Engagement 89ⓘ ⋅ Domain Authority 45ⓘ

London - Stockholm About Blog I am Tess, a Stockholm girl. On this lifestyle's blog you will find everything from beauty, fashion, interior design and travel tips to more personal thoughts and thoughts, inspiration and motivation.
Since Nov 2007
Blog tessm.metromode.se
Facebook fans 20.8K ⋅ Twitter followers 1.3K ⋅ Domain Authority 51ⓘ

Nashua, NH About Blog Transparent Language brings powerful, world-class language-learning technology to libraries, educational institutions, government organizations, corporations, and curious individuals. This blog is our place to share our passion for Swedish language and cultures.
Frequency 1 post / week
Also in Swedish Language Blogs
Blog blogs.transparent.com/swedish
Facebook fans 72K ⋅ Twitter followers 17K ⋅ Instagram Followers 867 ⋅ Social Engagement 15ⓘ ⋅ Domain Authority 68ⓘ

Stockholm, Sweden About Blog This website is an official source for facts about Sweden. Sweden.se wrapped in woolly winter wonder wear warmly welcomes wonderful, weird, whacky web visitors worldwide.
Frequency 1 post / quarter
Since May 2013
Blog sweden.se
Facebook fans 468.8K ⋅ Twitter followers 119.8K ⋅ Social Engagement 2.7Kⓘ ⋅ Domain Authority 74ⓘ

About Blog Damernas Värld is your best guide to fashion & beauty. Here we want to inspire you in the topics we love most, fashion, beauty and lifestyle! Every day, we do our utmost to create material that inspires our readers and engages in the topics that put the golden edge on our daily lives.
Frequency 30 posts / quarter
Also in Swedish Lifestyle Blogs
Blog damernasvarld.se
Facebook fans 20.6K ⋅ Twitter followers 1.8K ⋅ Instagram Followers 32.1K ⋅ Social Engagement 24ⓘ ⋅ Domain Authority 53ⓘ

Sverige About Blog Sweden tips for the holiday. Useful information from & about Sweden, testimonials, peculiarities of Swedish culture, recipes, pictures and faux pas. Inform about the curiosities of Sweden, the country and its people, in an entertaining way. To talk about life in Sweden in an entertaining way, the country and the people.
Frequency 2 posts / year
Blog hejsweden.com/en/sweden-blog
Facebook fans 9.4K ⋅ Twitter followers 760 ⋅ Domain Authority 47ⓘ

Stockholm/ Sweden About Blog Hi! My name is Alexandra Nilsson but you probably know me as Kissie. I live in Sweden / Stockholm and I run one of the country's most famous blogs with over 120 000 readers every day. This is a lifestyle blog and that means that you will read about everything from fitness and fashion to feelings and personal opinions.
Frequency 1 post / day
Since Mar 2009
Blog kissies.se
Twitter followers 8.5K ⋅ Instagram Followers 275.8K ⋅ Domain Authority 36ⓘ

Sweden About Blog We're the heart of retro culture in Southern Sweden and run a store, a record label, give lindy hop classes, put on shows, clubs and art happenings.
Frequency 2 posts / week
Since Oct 2010
Blog hepcat.se/blog
Facebook fans 15.1K ⋅ Twitter followers 2.1K ⋅ Domain Authority 30ⓘ

Sweden About Blog Linda Lomelino a blogger, food photographer, stylist and cookbook author describes different types of cakes & cupcakes recipes.
Frequency 9 posts / year
Since Apr 2010
Also in Food Blogs, Dessert Blogs, Scandinavian Food Blogs
Blog callmecupcake.se
Facebook fans 56.9K ⋅ Twitter followers 2.7K ⋅ Social Engagement 4ⓘ ⋅ Domain Authority 45ⓘ

About Blog Shoegazing is a blog about classical quality shoes, or to be fully correct: quality shoes made with traditional construction methods. Articles about shoe care, shopping tips, guides, reviews, and more, several times a week.
Frequency 1 post / week
Also in Shoe Blogs, Mens Shoes Blogs
Blog shoegazing.se/english
Facebook fans 3.4K ⋅ Social Engagement 16ⓘ ⋅ Domain Authority 41ⓘ

Stockholm, Sweden About Blog SIWI's vision is a water wise world. A world that recognizes the unique value of water, and ensures that it is shared and allocated sustainably, equitably and efficiently, to meet everyone's basic needs.
Frequency 1 post / day
Since Jan 2012
Blog siwi.org
Facebook fans 19.7K ⋅ Twitter followers 26.1K ⋅ Social Engagement 4ⓘ ⋅ Domain Authority 61ⓘ

About Blog Sweden's largest blog about travel, adventure and camping. Take on small and big trips by plane or camper and read about life on a houseboat.
Frequency 1 post / day
Since Mar 2009
Blog freedomtravel.se
Facebook fans 2.7K ⋅ Social Engagement 33ⓘ ⋅ Domain Authority 32ⓘ

Stockholm, Sweden About Blog Are you visiting Stockholm? We bring you the best of the city including restaurants, cafes, bars, hotels, events, activities, shopping, beauty and more.
Frequency 29 posts / year
Blog viewstockholm.com
Facebook fans 2.8K ⋅ Twitter followers 1.5K ⋅ Social Engagement 1ⓘ ⋅ Domain Authority 27ⓘ

Stockholm About Blog Slow Travel Stockholm is run and managed by award-winning travel writer and photographer Lola Akinmade Åkerström. The aim is to establish a repository of eclectic information about the city from a range of perspectives to encourage deeper, more varied exploration .
Frequency 1 post / week
Also in Scandinavia Travel Blogs
Blog slowtravelstockholm.com
Facebook fans 1.6K ⋅ Twitter followers 2.9K ⋅ Social Engagement 10ⓘ ⋅ Domain Authority 44ⓘ

About Blog The best travel destinations in Sweden, including Stockholm, Gothenburg and Malmö, as well as personal and useful travel tips. An online travel guide and booking portal, promising to open up the very best of Sweden to English speaking travellers around the world.
Frequency 2 posts / week
Blog swedentips.se
Facebook fans 3.2K ⋅ Social Engagement 1ⓘ ⋅ Domain Authority 31ⓘ

Sweden About Blog A fashion, beauty, lifestyle and interior blog by Fashion Blogger From Sweden Lisa Olsson.
Frequency 3 posts / month
Since Jan 2012
Blog lisaplace.se
Facebook fans 601 ⋅ Twitter followers 1 ⋅ Instagram Followers 430K ⋅ Domain Authority 35ⓘ

About Blog We make relocation easier. Expert advice and hands-on help throughout your relocation process.
Frequency 14 posts / year
Since May 2016
Blog relocatetosweden.com/en/blogs
Facebook fans 382 ⋅ Domain Authority 24ⓘ

About Blog TWWP is a lifestyle magazine and creative studio. Please enjoy our exclusive home visits, fashion stories and food & travel features.
Frequency 4 posts / day
Blog thewayweplay.se
Facebook fans 1K ⋅ Social Engagement 1ⓘ ⋅ Domain Authority 35ⓘ

About Blog A Lifestyle, Mom and Health blog by Alexandra Bring.
Frequency 1 post / day
Since Apr 2012
Blog alexandrabring.se
Facebook fans 52.5K ⋅ Twitter followers 7.1K ⋅ Domain Authority 30ⓘ

About Blog Sweden's largest and oldest axe manufacturer has a 300-year-old tradition of hand forging the world's best axes and hatchets made to last for generations. Here you can instructionals, news and tips for your Hults Bruk Swedish axe. How to rehandle, sharpen or create a custom leather sheath for your axe.
Frequency 5 posts / year
Since Jun 2016
Blog hultsbruk1697.se/blog
Facebook fans 7.2K ⋅ Domain Authority 33ⓘ

Sweden About Blog Scandinavia's most modern fashion magazine. STYLEBY is the magazine for those who want the best selection from Swedish and international designs, smart and nicely packaged in a magazine experience beyond the usual. STYLEBY attaches great importance to personal style, and in each number you will find style-proof women (and men) to be inspired by.
Frequency 1 post / month
Also in Scandinavian Blogs
Blog styleby.nu
Facebook fans 10.4K ⋅ Twitter followers 1.7K ⋅ Instagram Followers 89.9K ⋅ Social Engagement 2ⓘ ⋅ Domain Authority 39ⓘ

About Blog Angelica Blick, 22 years old fashionista from Linkoping who now lives in Stockholm.
Frequency 1 post / day
Since Aug 2009
Blog angelicablick.se
Facebook fans 4.9K ⋅ Twitter followers 131 ⋅ Instagram Followers 1.2M ⋅ Domain Authority 37ⓘ

Beckmans About Blog Beckmans Design High School educates future creators in Visual Communication, Fashion and Form. The three programs lead to an artistic bachelor's degree (180hp). Many of Sweden's foremost designers and fashion designers have been educated here.
Frequency 2 posts / day
Blog beckmans.se/en
Facebook fans 6.2K ⋅ Twitter followers 307 ⋅ Domain Authority 48ⓘ

About Blog Greetings! My name is Sean Naughton. I will not be listing everything that Stockholm has to offer; instead I will add day by day experiences and thoughts exploring this great city, along with practical tips and upcoming events. I hope that you, as a future visitor to Stockholm, will find the information and experiences listed here of use in planning what to do and see during your visit.
Frequency 1 post / week
Since May 2010
Blog stockholmtourist.blogspot.com
Domain Authority 33ⓘ

Helsinki, Finland About Blog A personal blog about travel, business & marketing, as well as stories, writing, books, photos & things related to everyday life in Helsinki & traveling.
Frequency 4 posts / week
Also in Finland Blogs
Blog jennifersandstrom.se
Twitter followers 831 ⋅ Instagram Followers 1.8K ⋅ Social Engagement 21ⓘ ⋅ Domain Authority 33ⓘ

Sweden About Blog Welcome to the Lost in a Pot site, a place where we'll re-experience the foods of our past, current and future travels as well as the memories associated with them. We're sharing this from our home base in Sweden. We hope to reach out through this site and find many more friends to share recipes and life experiences with.
Frequency 1 post / month
Since Dec 2016
Blog lostinapot.com
Facebook fans 40 ⋅ Twitter followers 11 ⋅ Social Engagement 8ⓘ ⋅ Domain Authority 19ⓘ

Stockholm About Blog Make it last is a digital magazine with a passion for lasting fashion and beauty.
Frequency 30 posts / year
Blog makeitlast.se
Facebook fans 3.2K ⋅ Twitter followers 548 ⋅ Instagram Followers 25.6K ⋅ Social Engagement 11ⓘ ⋅ Domain Authority 37ⓘ

Stockholm, Sweden About Blog An AI-based media platform where professional creatives & premium personal brands design, distribute & monetize their content to a global audience. Follow to get the updates.
Frequency 1 post / day
Blog enliven.co
Twitter followers 48 ⋅ Instagram Followers 2.4K ⋅ Social Engagement 20ⓘ ⋅ Domain Authority 19ⓘ

About Blog Pion Design is a family owned company located outside of Luleå in the northern part of Sweden. They are manufacturer of scrapbooking papers in a vintage and romantic style and our papers are created and printed locally.
Since Jan 2011
Blog blog.piondesign.se
Facebook fans 13.7K ⋅ Domain Authority 29ⓘ

Stockholm, Sweden About Blog My name is Agnes Gällhagen. I'm also a 28-year-old freelancing recipe developer, food stylist & photographer living in a tiny apartment in central Stockholm.
Frequency 1 post / week
Also in Food Photography Blogs, Freelance Bloggers
Blog cashew-kitchen.com
Facebook fans 2.1K ⋅ Social Engagement 2ⓘ ⋅ Domain Authority 33ⓘ

nacka, stockholm, sweden About Blog Hi, I am Anne. I just love food. I love reading about food, writing about food, cooking food and.. not surprisingly, eating food. I live in Stockholm, Sweden, with my husband, our two boys, and our cats.
Frequency 3 posts / quarter
Since Oct 2004
Blog annesfood.blogspot.com
Twitter followers 1.3K ⋅ Social Engagement 1ⓘ ⋅ Domain Authority 46ⓘ

About Blog Swedish Care International is an internationally active operation that develops, packages and exports Swedish elderly and dementia care. Our vision is to provide methods for dementia and elderly care that is based on the care philosophy of Stiftelsen Silviahemmet.
Frequency 13 posts / quarter
Since Sep 2013
Blog sci.se/category/news
Facebook fans 756 ⋅ Social Engagement 26ⓘ ⋅ Domain Authority 28ⓘ

Brighton About Blog Blog by Anneli Haake. I offer Swedish language services: Swedish lessons via Skype. I also offer translations and subtitling, English to Swedish. Here you will get Every aspect of the Swedish language can be covered, from basic beginners to advanced business/academic.
Frequency 2 posts / quarter
Since Jan 2011
Also in Language Learning Blogs
Blog swedishmadeeasy.com/swedish-..
Twitter followers 465 ⋅ Social Engagement 10ⓘ ⋅ Domain Authority 25ⓘ

Stockholm About Blog Style Quest is a website run by Sonja Josipovic based in Stockholm. It is about looking for style in everything and living according to your style. So, as style is a wide term, besides our fashion taste, I will share some of my fitness tips, yummy and easy recipes, good books, traveling tips and anything else I think is worth sharing.
Since Jun 2014
Blog stylequest.se
Facebook fans 14.3K ⋅ Twitter followers 32 ⋅ Domain Authority 17ⓘ

Stockholm, Sweden About Blog Fantasiresor is a Swedish travel blog for dreamy vagabonder. Fantasiresor has among other things won Sweden's best blogs about travel.
Frequency 3 posts / month
Since Apr 2008
Blog fantasiresor.se
Facebook fans 1.1K ⋅ Twitter followers 1.5K ⋅ Social Engagement 36ⓘ ⋅ Domain Authority 34ⓘ

Stockholm, Sweden About Blog Hello and welcome to the Resfredag ​​travel blog where dreams come true. Resfredag is a Swedish travel blog run by me, Annika Myhre, a travel lover and mother of three. I most preferably travel to places I have never visited before.
Frequency 1 post / day
Since Jan 2014
Blog resfredag.se
Facebook fans 1.6K ⋅ Twitter followers 767 ⋅ Social Engagement 17ⓘ ⋅ Domain Authority 33ⓘ

Stockholm, Sverige About Blog Welcome to the blog Äntligen vilse, a travel blog constantly on the move by Katarina Wohlfart, freelance photographer and writer with her feet on solid ground in Stockholm. On Äntligen vilse she blogs with a focus on travel, the visually beautiful and nature travel.
Frequency 2 posts / quarter
Since Sep 2013
Blog antligenvilse.se/blogg
Facebook fans 502 ⋅ Twitter followers 5.2K ⋅ Social Engagement 15ⓘ ⋅ Domain Authority 28ⓘ

About Blog My name's Neil Shipley and I have lived in Sweden for over 20 years. I observe Swedish society and the Swedes everything about Swedish culture from the special to the sublime, the scary to the surprising. This is my blog of my observations.
Frequency 4 posts / week
Since Mar 2010
Blog watchingtheswedes.com
Twitter followers 9 ⋅ Social Engagement 47ⓘ ⋅ Domain Authority 19ⓘ

About Blog A Beauty and lifestyle blog from Sweden.
Since Jun 2006
Blog louiseadolphson.se
Domain Authority 24ⓘ

Sweden About Blog A blog about fashion, lifestyle, travel, recipes, beauty and much more by Sendi Skopljak.
Frequency 9 posts / year
Since Jul 2013
Blog skopljak.se
Facebook fans 6.4K ⋅ Twitter followers 1.6K ⋅ Instagram Followers 658.4K ⋅ Social Engagement 20ⓘ ⋅ Domain Authority 29ⓘ

Stockholm About Blog A Lifestyle blog by Stockholm based Nicole Falciani. Mostly writing about personal style, travel and fashion.
Frequency 1 post / day
Since Jan 2017
Blog nickys.se
Facebook fans 3.2K ⋅ Twitter followers 12.1K ⋅ Instagram Followers 323.4K ⋅ Domain Authority 34ⓘ

About Blog Swedes in the States is a community created by Swedes living in the States, for Swedes living in the States, and everyone else who is interested in Scandinavian culture. We strive to share, encourage and promote Scandinavian culture, businesses and projects.
Frequency 1 post / day
Blog swedesinthestates.com
Facebook fans 8K ⋅ Twitter followers 475 ⋅ Social Engagement 297ⓘ ⋅ Domain Authority 28ⓘ

About Blog Mini Piccolini is a family lifestyle blog by Mina Neumüller Malhotra.
Since May 2011
Blog minipiccolini.com
Facebook fans 436 ⋅ Domain Authority 25ⓘ

Stockholm, Sweden About Blog Ellen Simone, born 1994, is a fashion and commercial photographer from Sweden. Today Ellen is based in Stockholm and updates her blog daily about fashion, style and photography.
Since Dec 2013
Blog stylebyellen.com
Twitter followers 30 ⋅ Social Engagement 3ⓘ ⋅ Domain Authority 18ⓘ

Lindsborg, KS About Blog Since 1989 Anderson Scandinavian Tours has been offering the most affordable and exciting tour packages to Sweden, Norway, and Denmark. See and experience the best of these Nordic countries.
Since Feb 2017
Blog toursweden.com/blog
Facebook fans 59 ⋅ Twitter followers 9 ⋅ Domain Authority 16ⓘ

About Blog Pavel Maira is a profesional photographer based in Stockholm, Sweden and is the owner of Steak Sandwich Media.
Since Nov 2016
Blog pavelmaira.se/en/blog
Facebook fans 1.2K ⋅ Twitter followers 177 ⋅ Domain Authority 25ⓘ

Sweden About Blog Joel home is an interior design company focusing on vintage and modern decor. Joel runs a popular interior blog, offers consultation, freelance and purchasing assignments.
Frequency 1 post / week
Since Nov 2012
Blog joelhome.se
Facebook fans 1.5K ⋅ Twitter followers 35 ⋅ Domain Authority 14ⓘ

Sweden About Blog Hi, I'm who writing here on milkywaygalaxynews.com is named Lahealila in heaven, and I'm incarnate in Stockholm/Sweden. Follow to know what's happening in the galaxy and near beyond / Milky Way Galaxy News/by Lahealila
Frequency 1 post / week
Blog milkywaygalaxynews.com
Social Engagement 1ⓘ ⋅ Domain Authority 6ⓘ

Stockholm About Blog Josefin Dahlberg is a 27 years old and lives in Stockholm. Blogs about fashion, beauty, girl power, life, style and more.
Blog josefindahlberg.metromode.se
Facebook fans 1.2K ⋅ Domain Authority 51ⓘ

About Blog Anna gillar means 'Anna likes' and this is where I collect all the inspiration and beautiful things I find in my work as interior stylist and decorator.
Frequency 9 posts / year
Since Oct 2009
Also in Scandinavia Interior Design Blogs
Blog annagillar.se
Domain Authority 36ⓘ

Sweden About Blog Swedish for Professionals is passionate about languages. We build our own course content and work with inspiring language coaches to offer you engaging and rewarding courses in Swedish. Our aim is to create the world's best business climate in Sweden by welcoming global talent from all over the world.
Frequency 2 posts / year
Since Jun 2014
Blog swedishforprofessionals.com/..
Facebook fans 3.3K ⋅ Twitter followers 191 ⋅ Social Engagement 32ⓘ ⋅ Domain Authority 26ⓘ

New York City & Sweden About Blog I'm Johanna Kindvall. I'm an illustrator who divides my time between Brooklyn and south Sweden. I like to draw ordinary things and things I find amusing or deeply serious. My style is simple and minimal. In 2005, I started my illustrated cooking blog kokblog. On kokblog I share my own recipes that are mostly inspired by Nordic cuisine.
Frequency 3 posts / year
Since Jul 2005
Also in Illustration Blogs
Blog kokblog.johannak.com
Facebook fans 1.2K ⋅ Twitter followers 1.7K ⋅ Social Engagement 2ⓘ ⋅ Domain Authority 43ⓘ
Tags: swedish rss feeds