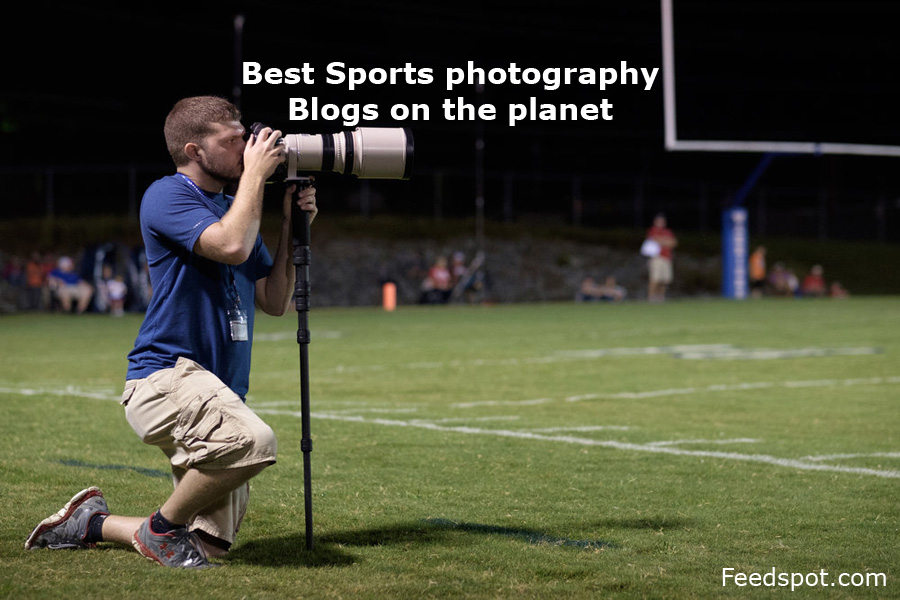 Sports Photography Blogs
The Best Sports Photography blogs from thousands of top Sports Photography blogs in our index using search and social metrics. Data will be refreshed once a week.
If your blog is selected in this list, you have the honour of displaying this Badge (Award) on your blog.
Sports Photography Blogs
Rank

Blog Name

Facebook Fans

Twitter Followers

Alexa Rank

1

fujifilm-blog.com/category/p..

United Kingdom

About Blog - If you love sports photography, tutorials and tips for photographing a sporting event – you've come to the right place!
Frequency - about 1 post per month

16,898
24,036
370,154
2

Santa Fe, New Mexico, USA

About Blog - Michael Clark is an internationally published outdoor photographer specializing in adventure sports, travel, and landscape photography. He produces intense, raw images of athletes pushing their sports to the limit and has risked life and limb on a variety of assignments to bring back stunning images of rock climbers, mountaineers, kayakers, and mountain bikers in remote locations around the world.
Frequency - about 1 post per month

n/a
1,916
1,536,120
3

shutterbug.com/category/spor..

About Blog - Shutterbug is the leading photography magazine for serious photographers. Shutterbug provides an ongoing community experience for Shutterbug readers and all those who are interested in photography and digital imaging. Shutterbug covers everything about photography for the serious enthusiast. Cameras and processing software, lenses, accessories and more.
Frequency - about 1 post per month

269,282
2,483
110,567
4

Interlaken, Switzerland

About Blog - ALPSinsight is the result of a group of friends tremendous enthusiasm for mountain sports in the Alps. Through a collection of the some of the finest trail running, cycling, hiking, alpine climbing and ski tours in the Alps. ALPSinsight is a place to get inspired through photography, stories and some advice on what you would enjoy.
Frequency - about 2 posts per month

1,861
318
1,378,663
5

About Blog - My name is Duncan Gray, and I work as a sports photographer, based in the Glasgow area. The sports I principally cover are Hockey, American Football and Rugby League, although if you check out my gallery pages you'll see that I am happy to cover a variety of sports.
Frequency - about 2 posts per week

1,241
294
1,380,222
6

Dublin, Ireland

About Blog - Sportsfile is Ireland's leading sports photography agency providing high quality action sports photography to media and corporate clients worldwide. Sportsfile photographers can be seen working at sports events the length and breath of the country as well as in far away places where Olympics, GAA International Rules events, European and World Cup Soccer, Rugby World Cup, International Golf etc.
Frequency - about 2 posts per month

11,147
34,732
403,732
7

blog-tom.com/category/the-ar..

Lausanne, Switzerland

About Blog - The Olympic Museum is a global multimedia platform, generating cultural encounters between people and sport. The Olympic Museum brings together culture & sport to celebrate the values, endeavour & creativity of humanity in movement. This is a blog that combines sport, art and culture.
Frequency - about 4 posts per month

32,542
5,321
13,638,728
8

1,132,485
497,491
9
9

About Blog - PrivatePrize create Photoshop Templates, Collage, Designs For Professional Photographers. They cover Sports Photography, Senior Photography, Collage Design, Family Photographs etc.
Frequency - about 2 posts per month

10,849
n/a
2,247,894
10

blog.at-edge.com/commercial-..

About Blog - AtEdge is a fast and flexible marketing program designed to allow this elite group of photographers to show fresh, new work throughout the year. AtEdge features the world's most talented assignment photographers.
Frequency - about 2 posts per month

1,114
4,081
2,485,703
11

daveblackphotography.com/wor..

Colorado, USA

About Blog - Dave is a Nikon Ambassador, and a SanDisk Extreme Team photographer. As a freelance photographer for over 30 years Dave's work has primarily centered on the sports industry for such publications as Sports Illustrated, Time, Newsweek and the award winning TV show Sports Century on ESPN.
Frequency - about 1 post per month

70
1,071
3,466,787
12

markjrebilas.com/blog/catego..

Phoenix, Arizona, USA

About Blog - Mark J. Rebilas is a professional sports photographer based in Phoenix, AZ. Commercial clients include Toyota, Lucas Oil, Red Bull, Monster Energy and Nike. Mark is a regular contributor to ESPN the Magazine and US Presswire and his images regularly appear in Sports Illustrated, ESPN the Magazine, USA Today, the Los Angeles Times and many others.
Frequency - about 3 posts per month

14,892
7,152
3,977,766
13

San Francisco

About Blog - Brad Mangin is a freelance sports photographer based in the San Francisco Bay Area where he regularly shoot assignments for Sports Illustrated and Major League Baseball Photos.
Frequency - about 1 post per month

n/a
4,396
7,740,189
14

Hong kong

About Blog - LLoyd Belcher is a Hong Kong Based photographer specializing in sports and adventure photography. Lloyd travels across South East Asia region shooting endurance races, trail running, long distance running and adventure races. In addition to photography Lloyd does video and film projects and has won numerous awards for his work including for his documentary More Than A Race.
Frequency - about 2 posts per month

7,182
800
8,242,371
15

About Blog - Combining a passion for all things outdoors with a unique creative eye, Stephen Matera creates images for some of the world's leading outdoor manufacturers and publishers. Stephen developed his vision as a natural landscape photographer, now applies that vision to active outdoor sports and lifestyle images.
Frequency - about 1 post per month

995
n/a
7,119,079
16

UK

About Blog - Nadir Khan is a professional adventure sports photographer and film maker based in the UK. From time to time he run courses in adventure sports photography, talking about how to compose shots with athletes and how to use off camera flash and also gives talk to various camera clubs around the country.
Frequency - about 1 post per month

1,770
746
9,748,720
17

clivehallphotography.co.uk/blog

Swindon

About Blog - I'm Clive Hall, a qualified, award winning, full time professional photographer living in Swindon in Wiltshire. I specialise in fine art, portraiture, Sportraits (inspirational sports portraits) and also pet photography.
Frequency - about 1 post per month

547
585
14,683,156
18

NYC

About Blog - Jon Lopez does sports photography including basketball, boxing, football, baseball, at all levels. This blog is where you can see some of his latest endeavors and share in the experience.
Frequency - about 1 post per month

257
959
16,469,340
19

About Blog - I'm a filmmaker and photographer based in the German Alps, specialising in outdoor sports, travel and lifestyle.
Frequency - about 4 posts per month

229
n/a
18,022,779
20

Stone Mounatin, GA

About Blog - Juss Playin™ is a Action Sports, Family & Event Photography is located in Stone Mountain, Georgia, specializing in custom design and printing for your youth athletics, family & event photography needs. Playin™ combines action packed sports photography with uniquely custom designed graphics to create an awesome sports treasure.
Frequency - about 1 post per month

105
34
18,897,366
21

youtube.com/user/sjsphotogra..

Murrieta, Ca

About Blog - I'm Seth Sanchez. I specialize in Sports and Event Photography. This is my channel which specializes in Sports Photography. There will be videos with tips/techniques, camera gear reviews, how to's, and more. I hope my videos help you gain more skill and knowledge, so you can move forward in your goal to become a professional Sports Photographer.
Frequency - about 1 post per month

528
n/a
2
22

About Blog - Tyler Roemer Photography News Blog focuses on Outdoor Adventure Action Sports, Active Lifestyle, Editorial and Commercial photography.
Frequency - about 2 posts per month

10,233
n/a
n/a
23

sussexsportphotography.blogs..

Mid Sussex, United Kingdom

About Blog - Sussex Sport Photography is a leading Sport and Event photography company in the UK. They cover marathons, half marathons, 10k, triathlon & obstacle races for competitors.
Frequency - about 4 posts per month

5,014
3,341
n/a
24

johnrathwellphotography.com/..

About Blog - John Rathwell is an Ottawa based action sports photographer. His work has been commissioned by some of the top commercial and editorial clients in the outdoor industry including Red Bull and Grind Media. Rathwell's specialty is kayak photography but also shoots skiing, biking, surfing and other adventure sports.
Frequency - about 1 post per month

2,010
4,555
n/a
25

New Zealand

About Blog - LR Media Blog is a blog all about action sports photography and cinematography.
Frequency - about 3 posts per month

5,644
n/a
n/a
26

ok3sports.wordpress.com/auth..

About Blog - OK3Sports is a digital news sports organization covering local sports with professional photography and other stories. Capturing the personality of athletes and teams across your community is what we do best. The OK3Sports team is made up of the best photojournalist and sports photographers in the business.
Frequency - about 1 post per month

198
4,356
n/a
27

3,810
n/a
n/a
28

Seattle, WA

About Blog - Steven M. Bisig is a Seattle based freelance photographer that shoots throughout Washington State, Oregon, Idaho and British Columbia. He specializes in commercial photography and editorial sports photography and is currently covering the Seattle Sounders FC, Seattle Mariners, Seattle Seahawks and the University of Washington Football & Basketball home schedule along with other one-off assignments
Frequency - about 3 posts per month

1,264
512
n/a
29

jamescarnegiephotography.blo..

Godalming, Surrey

About Blog - James Carnegie is a editorial & commercial photographer, ultra-runner, fortunate dad & husband. Born and bred in Jersey, he have a passion for outdoors and adventure sports.
Frequency - about 1 post per month

421
980
n/a
30

fabulousoutdoors.wordpress.com

Surrey UK

About Blog - Fabulous Outdoors is a travel photography site about sharing the passion for the outdoors, with the aim of influencing people to get outside more, be more active and enjoy a healthier lifestyle. It is a UK based company specialises in outdoor sport activities, cycling tour guiding, photography & video promotions, tourism, social media marketing.
Frequency - about 1 post per month

254
804
n/a
31

jamesgunnphotography.blogspo..

About Blog - James Gunn Photography is based in Caithness on the North Coast of Scotland and specialises in sports and event photography.
Frequency - about 2 posts per week

1,048
n/a
n/a
32

jc-ruiz.com/sports-photography

Miami/Ft.Lauderdale

About Blog - I'm JC, naturally and I'm an international photographer based in South Florida. I am also a contributor for Getty Images and iStock as well as Adobe Stock. I am a wedding photographer, sports photographer, travel photographer and portrait photographer. I am also a resident photographer for the City of Coral Gables, Miami Elite Events and for theSportsBros.com.
Frequency - about 1 post per month

361
775
n/a
33

About Blog - Filip Viranovski is a Sports Photographer based in Skopje, Macedonia. He is specialized for shooting football, handball, basketball, team photos etc. Filip works as a staff photographer for sports news website Gol.mk.
Frequency - about 2 posts per month

695
14
n/a
34

Chapel Hill, North Carolina

About Blog - This blog is a personal blog maintained by Peyton Williams, a professional sports photographer in the Raleigh, Durham, Chapel Hill area of North Carolina. Williams is a freelance photographer providing services for local universities, magazines and Getty Images.
Frequency - about 2 posts per month

n/a
864
n/a
35

Carmarthen, Wales

About Blog - I'm a UK based photographer. I cover a huge range of Press, PR and Sports photography in South and West Wales and across the UK.
Frequency - about 1 post per month

193
572
n/a
36

neilsmithsportsphotography.c..

Chester-le-Street. Co. Durham

About Blog - I am the sole owner of Neil Smith Sports Photography. I currently cover non league football matches in the NE England. Gateshead FC Club Photographer
Frequency - about 1 post per month

283
410
n/a
37

kingsportsphotography.com/blog

Aurora IL

About Blog - I am a freelance photojournalist based in Aurora, Illinois. My main focus is on editorial photography covering both news and sports. My clients include The Chicago Tribune Media Group, Shaw Media, Daily Herald, St. Louis Post-Dispatch, Dispatch-Argus, The Voice, Chicago Fire Confidential.

Frequency - about 1 post per month

73
609
n/a
38

bluebirdphotography.org.uk/blog

About Blog - Bluebird Photography is the creation of landscape and action sports photographer Craig Robinson, who has an insatiable taste for adventure. Craig is travelling the world to capture moments, to share with others.
Frequency - about 1 post per month

651
n/a
n/a
39

About Blog - Jake Bucci is a Vermont photographer specializing in senior portraits and sports.

Frequency - about 2 posts per month

293
182
n/a
40

California, Texas, DC

About Blog - Born and raised in California, Rafael spent his time swimming competitively and surfing. Over the last decade, Rafael has spent his time photographing US and international swimming events, synchronized swimming, surfing, fashion, and people who enjoy the water. His images have appeared in Swim Swam, Fitter & Faster, Swimming World, Swim Outlet, Sports Illustrated, AquaLung etc.
Frequency - about 1 post per month

n/a
421
n/a
41

Padstow, New South Wales, Australia

About Blog - A Sports photography blog covering Rugby league, Union, Football, Baseball and other various sports
Frequency - about 1 posts per week

165
167
n/a
42

St. John's

About Blog - I'm Trevor Wragg. I'm a Professional Sports Photographer based in St. John's, NL. I began my passion for sports photography while photographing my own daughter playing soccer at a very young age. Over the past 8 years, I have perfected my technique for capturing fast action sports
Frequency - about 1 post per month

225
92
n/a
43

dcsportsphotographyacademy.c..

About Blog - I'm Rafael Suanes and I know that finding a good professional sports photography teacher in Washington, DC is hard. That's why DC Sports Photography Academy was created; to help amateurs and professionals alike learn how to be amazing sports photographers. With DC Sports Photography Academy, you learn how to capture those active and restive moments at any sport of your choice.
Frequency - about 1 post per week

123
9
n/a
44

Thailand

About Blog - Thailand Photo SEALs Sports Photography is a specialized team originally from New York City now based in Thailand. Our mission is to cover game action and editorially. They cover all type of sporting events from golf, tennis, baseball, table tennis, volleyball, basketball, martial arts muay thai, boxing, badminton, motorsports, cycling, shooting, weightlifting, etc.
Frequency - about 3 posts per month

100
12
n/a
45

intensitysportsphotography.c..

Bonney Lake, WA

About Blog - Intensity Sports Photography & Art is all about capturing your athlete doing what they do! In our individual and team posters and banners artwork. Images are incorporated into posters and banners in the style of college and pro athlete promotional posters and calendars. Baseball, Fastpitch, Football, Basketball, Band, Cheer, Drill, Volleyball, Golf, Cross Country, Tennis, Swim / Dive, Soccer etc.
Frequency - about 3 posts per month

57
14
n/a
46

Long Beach, California, United States

About Blog - Welcome to my blog. Looking through my posts you will find that I love and have a passion for photography and although my expertise so to speak is in Sports Action, I have been getting into wildlife and senior portraits.

Frequency - about 3 posts per month

n/a
n/a
n/a
47

Rockville, MD, United States

About Blog - Mike Bahniuk is a self-taught sports action photographer.

Frequency - about 1 post per month

n/a
n/a
n/a
These blogs are ranked based on following criteria
Google reputation and Google search ranking
Influence and popularity on Facebook, twitter and other social media sites

Quality and consistency of posts.

Feedspot's editorial team and expert review
Top 50 Sports Photography Blogs Winners
CONGRATULATIONS to every blogger that has made this Top Sports Photography Blogs list! This is the most comprehensive list of best Sports Photography blogs on the internet and I'm honoured to have you as part of this! I personally give you a high-five and want to thank you for your contribution to this world.
If your blog is one of the Top 50 Sports Photography blogs, you have the honour of displaying the following badge on your site. Use the below code to display this badge proudly on your blog. You deserve it!:
<a href="https://blog.feedspot.com/sports_photography_blogs/" title="Sports Photography blogs"><img src="https://blog-cdn.feedspot.com/wp-content/uploads/2017/08/Sports-Photography-transparent_216.png" ></img></a>