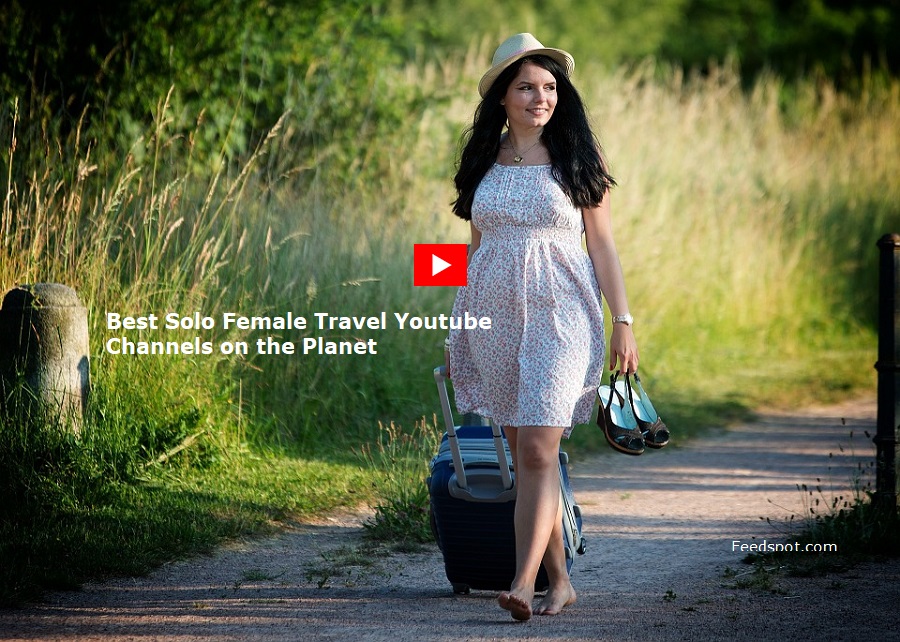 Solo Female Travel Youtube Channels List.
The Best Solo Female Travel Youtube Channels from thousands of top Solo Female Travel Youtube Channels in our index using search and social metrics. Data will be refreshed once a week.
If your Youtube is selected in this list, you have the honour of displaying this Badge (Award) on your website.
Solo Female Travel Youtube Channels
Rank
Channel Name
Youtube Followers
Views Count
Video Count
1

youtube.com/user/nayders07/v..
British Columbia, Canada
About Channel - I am a travel vlogger, videographer, blogger and youtuber who travels the world and shares my experiences and travel expertise via social media and through my videos. My travel credentials include over 49 countries visited, all recorded on video over the last 6 years and shared to over 320,000 subscribers on my youtube channel.
465,209
44,522,515
661
2

youtube.com/user/hopscotchth..
About Channel - My name is Kristen Sarah, and I am an actress and adventure travel junkie. This is an out-of-the-box, off-the-beaten-path, travel channel. I film my crazy adventures around the world, give travel tips and advice in a fun and comedic way. I also like to dress up as different characters and act out travel stories based on true events. Enjoy and happy travels!
262,355
40,974,416
545
3

youtube.com/user/PsychoTrave..
Budapest, Hungary
About Channel - I have been discovering the world for over 3 years straight. I am a psychology graduate with a love for Pho and red wine. Whether I throw myself into a novel or from 14,000ft up out of a plane, I look at adventure big and small and say "Let's do this!" PsychoTraveller is more than just travel, its a platform to inform and inspire people of all ages to live the life they want to live.
200,618
23,561,845
670
4

youtube.com/user/CupofTJ/videos
San Francisco
About Channel - I'm TJ Lee, solo female travel vlogger. Quit my job, sold all my things, left everything behind to travel the world starting 2016. Subscribe for daily travel vlogs and inspiration to pursue your daydreams.
279,547
28,158,441
186
5

United States
About Channel - I'm a single (solo) woman traveling, living and working in an RV with my dog Capone. My videos are as much about my life and my 'path to personhood" as about RV Living and adventures with Capone than trying to formally teach or instruct. My goal is to inspire: to demonstrate how anyone who has the desire and the wherewithal can make this - or any dream - come true.
102,561
18,922,981
392
6

youtube.com/user/missmarijoh..
About Channel - Hi, I'm Mari, a travel enthusiast who wants to help YOU travel. As an avid watcher of YouTube myself, I created this channel in 2014 as a way to give back to the community and share my knowledge as well as to build a platform in which we can all learn together.
69,980
9,001,977
388
7

youtube.com/user/ckaaloa/videos
Hawaii, USA
About Channel - Before your trip can be a vacation, you'll have to survive it first! I'm an American female solo travel vlogger and blogger on YouTube sharing video travel guides, foodie adventures, cultural shock and travel tips on how to travel alone and survive travel, one country at a time!
129,847
19,399,808
299
8

youtube.com/user/brookehaute..
Australia
About Channel - Hi I'm Brooke and I live out of a suitcase. I love exploring and have made it my full time job (yasss!) This channel is to share how you can do it too, some of my adventures, and day-to-day vlogs living out of a suitcase.
54,038
4,660,432
78
9

youtube.com/user/rosieGabrie..
Canada
About Channel - I'm a solo female motorcycle adventure traveller, Photographer and video creator. Hoping to inspire people and help them explore the world through my eyes.
60,474
3,724,532
72
10

youtube.com/user/RizzoBrush/..
England, United Kingdom
About Channel - Christianne Risman is 22 years old, making videos, exploring the world, offering travel tips, all whilst having as much fun as possible. Join her for adventure, backpacking tips and round the world weirdness.
74,650
7,161,971
267
11

United States
About Channel - Is your life is not as adventurous as you would like it to be? Are you worried there is so much to see in this world but you will run out of time to visit all the places you dream of? I'm here to inspire you to be adventurous and live by design, not default. I'm here to help you to never run out of ideas of where to go next.
56,478
4,249,929
148
12

youtube.com/user/TheBlondeAb..
United States
About Channel - The Blonde Abroad is an award-winning solo female travel & lifestyle brand featuring travel tips, fashion, festivals and photography from around the world.
34,041
2,581,295
96
13

youtube.com/user/bearfootthe..
About Channel - Hi! I'm Kristen...the founder of Bearfoot Theory - the adventure travel blog for the everyday explorer - where my mission is to help break down the barriers that prevent people from getting outside. I am a GoPro content creator, live full-time in a 4x4 Sprinter Van, and can usually be found roaming the West with my camera in hand.
32,074
2,807,245
49
14

28,336
2,533,774
96
15

Los Angeles, CA
About Channel - Traveling the world on $30 a day as a solo female traveler.
26,451
1,878,350
76
16

Netherlands
About Channel - My name is Nora and I am traveling the Eurasia continent on my motorcycle. I am vlogging my adventures and sharing them with you on YouTube. I hope some of these adventures will inspire you to get out there and do something out of your comfort zone. Keep on exploring!
32,535
4,095,287
461
17

Windsor, California, United States
About Channel - I make videos on travel, minimalism, and saving money. I found this alternative lifestyle through the help of minimalism - adopting a minimalist lifestyle has been one of the best things I've ever done for myself.
20,943
2,508,367
285
18

youtube.com/user/girlvsglobe..
About Channel - SUBSCRIBE for eco-friendly living videos - from responsible travel and sustainable fashion to vegan food. I bring out new content every Friday!
48,986
3,088,496
82
19

China
About Channel - I am Anissa Syifa Adriana, otherwise known as Syifa. I am a conversation connoisseur, Indonesian female solo traveler and make-up enthusiast.
79,815
6,660,267
137
20

About Channel - Hi there! I am Grietje. A name unpronounceable for anyone outside the Netherlands, so call me Gretl instead 😉 I am a TV Host, Voice-over and Videomaker, going around the world to find the most beautiful spots and the best hidden gems. Sometimes together, but also as a female solo traveler.
23,323
2,588,570
101
21

United States
About Channel - I'm here to inspire others through my journey of being a solo female traveler, pushing the envelope of what's possible, and creating the life of my dreams through a relentless pursuit and downright hustle. Less about travel tricks and tips, this blog is more about what life is like traveling from a personal perspective.
17,914
697,052
20
22

youtube.com/user/maddiedawn1..
Australia
About Channel - Just a gal from Adelaide, South Australia who loves to travel, online shop, drink wine and go to the beach. This channel is somewhere I can be creative and share my thoughts.
10,585
645,627
113
23

youtube.com/user/OneikaTrave..
New York, USA
About Channel - Travel vlogs from a Jamaican-Canadian with a passion for travel. I've been to 95 countries! More travel photos and advice.
16,948
1,002,585
77
24

Republic of the Philippines
About Channel - I am Aileen Adalid of iAmAileen.com. At 21, I quit my corporate job in the Philippines to pursue my dreams. Today, I'm a digital nomad (entrepreneur blogger vlogger) living a sustainable travel lifestyle. My mission? To help inspire you to GO after your travel dreams! So come with me on this crazy journey as I bring the world to you: adventure, fun, inspiration, and tips - you'll find it all
28,335
4,950,652
88
25

Mumbai, India
About Channel - Hi, if you love travelling, food, meeting people and still enjoy alone then you are on the right channel. Here you can find video on food, travel, vlogging, Indian culture, moto vlogging. So have fun.
24,489
1,259,645
91
26

Minneapolis, MN
About Channel - Hello there, huckleberries! This is my ALMOST daily vlog following my first experience as a solo traveler while living out of my Mazda5! Come experience all the adventure, the fun, the beauty, and ALL the quirk... with me!
19,041
2,061,129
281
27

youtube.com/user/TravelYours..
Canada
About Channel - Travel Yourself features travel videos from Cailin O'Neil a travel, video and food blogger from Canada. Quirky, funny, and knowledgable videos from around the world. Known for "Cities in a Minute Videos".
9,023
2,774,049
203
28

About Channel - Anna French is a Freelance Writer & Content Creator who shares her adventures- from backpacking around 6 continents and living in 5 countries
19,780
1,612,682
16
29

youtube.com/user/PommieTrave..
London
About Channel - Hi! I'm Victoria Brewood and I'm a British girl traveling solo around the world. After graduating from university in 2008, I packed my Broadcast Journalism degree into my suitcase to travel & work remotely. I'm now a full-time travel blogger living my dream! I make travel vlogs and videos of the destinations I travel to.
4,899
1,944,950
103
30

youtube.com/user/muchohop/vi..
A Coruña - New York - Mannheim
About Channel - Hello Hoppers. Thanks for dropping by. I've been traveling since I was 5 years old, and still hopping from one place to another. For me, travel is not a hobby, it's been part of my life. I was born in Spain, raised in NYC, and now live in Germany. Come join me in my life of travels.
8,919
2,881,947
261
31

About Channel - I've been a permanent nomad since 2007, making the world my home. So far I visited over 70 countries and lived on 4 continents, discovering their cultures, history and lerning languages.
3,390
279,642
31
32

youtube.com/user/thehostelgi..
About Channel - Hi there!! I am an ex-backpacker hostel receptionist with loads and tips and tricks on budget and hostel travel to share with you!
3,606
354,814
51
33

New Hampshire, USA
About Channel - Solo travel female embarking on journeys of exploration through life, travel and art.
2,891
205,373
150
34

About Channel - Welcome to my life travelling the world and scuba diving the 7 seas. I have been on the road since 2011 and have no plans to stop exploring. Join in for the ride and watch while I live out my dreams and hopefully inspire you to live yours.
6,520
678,363
91
35

youtube.com/user/zestyzippy/..
About Channel - Author, award-winning photographer, and speaker has traveled solo in 33 countries, writing, shooting, teaching and leading humanitarian projects.
2,993
1,286,789
604
36

youtube.com/user/vanillaskyd..
https://twitter.com/HofitKimCohen
About Channel - Vanilla Sky Dreaming gives you a closer look into the traveling adventures of Hofit Kim Cohen - Travel Blogger.
3,908
1,094,042
117
37

youtube.com/user/CatGPhoto/v..
About Channel - Professional still photographer. Never without my camera on adventures, I decided to begin documenting with motion as well as still images. I've had this channel for several years, but haven't done much of anything with it until this year. I'm hoping to improve the more I create these pieces to keep you all entertained.
12,556
892,363
95
38

Switzerland
About Channel - Hey travel friends! My name is Mimi and I make weekly videos about travel adventures, travel guides and of course food vlogs ! 🙂 I don't take myself to seriously and I try to spread kindness and joy 🙂
2,747
415,894
165
39

About Channel - My youtube channel is dedicated to bringing my viewers along with me on a journey across Asia and across the world, to discover what life is really all about, what's really important, to connect and meet other like minded souls on the planet called earth.
2,286
364,317
217
40

About Channel - I was born in Poland and REBORN IN INDIA. On this channel I tell the whole story about my 9-month solo journey in India featuring useful tips and advice on traveling in India solo & sharing all the lessons I've learned.
16,226
1,262,257
71
41

youtube.com/user/al1cedavies..
United Kingdom
About Channel - Solo travel. veganism. self love. spirituality. creativity. I'm just a love bug trying to make the world a better place.
1,411
n/a
n/a
42

Berlin, Germany
About Channel - Welcome to Be My Travel Muse! I'm Kristin, a solo traveler who has been to six out of seven continents on planet earth. This channel will help you do the same! Whether it's vlogs detailing the what and how behind my adventures or packing tutorials, I'm here to help you see the world in new and exciting ways.
11,262
1,564,993
68
43

1,412
180,612
67
44

About Channel - Hello all! I am a traveling fanatic with my passion passport I have been wandering around the world for the last 4 years. I love travel and cannot wait to continue to travel !
42,421
1,907,979
87
45

United Kingdom
About Channel - A 21 year old, a YouTuber, a blogger, but most of all - a traveler. The plan for this year is to travel 7 countries around Asia - India, Malaysia, Philippines, Vietnam, Laos, Cambodia and Thailand.
1,627
143,802
48
46

youtube.com/user/shameenmill..
Canada
About Channel - I am a Canadian girl from Toronto who quit my Corporate job in September 2016. I took my first solo backpacking trip to Southeast Asia in 2016 and have been blessed to still travel back and forth from home. On my channel you will find travel VLOGS, travel & tech tutorials as well real stories about living a happy and exciting life!
30,101
2,283,343
136
47

Vancouver, British Columbia
About Channel - That Adventurer is a channel by Hannah Kacary who seeks out adventure whereever she goes. Outdoor lover who left home in England for the Canadian outdoors & Vancouver. Travelling on a budget, always.
1,280
230,287
55
48

youtube.com/user/romanlillie..
About Channel - I love traveling, exploring new places and meeting interesting people. And although I can be quite social, I actually prefer solo travel. Even as a female, I love solo traveling around India, Nepal, Thailand and lots of other countries.
7,647
858,628
175
49

1,148
174,487
68
50

About Channel - This channel is dedicated to the Heart of the Solo Traveler. We are ALL Solo Travelers. Our choices. Our challenges. Our consequences. Life is like that. I started by soloing in state and national parks. In 2003 I began traveling solo in the the Boundary Waters Canoe Area Wilderness. In 2012 I started backpacking. I encourage everyone to Go Solo into the wilderness.
994
131,917
55
51

youtube.com/user/SemiSandra/..
About Channel - Solo female backpacker's travel documentary on Mexico, Central & South America. Showing how to travel cheap in Latin America through hitchhiking, Couchsurfing and WorkAway.
2,138
195,008
81
52

About Channel - When I was 22, young and physically fit, I decided that I should start traveling the world. Due to the consistent transformation in my life, I've been a solo female traveler, luxury traveler, backpacker, etc.
1,021
70,478
10
53

674
228,955
55
54

youtube.com/user/klelietta/v..
Sardinia /Mexico
About Channel - Clelia is an Italian travel writer and online influencer, a source of inspiration for all the people who would love to travel the world at any age and any budget. Keep Calm and Travel is Clelia's full-time job and passion, a website which aims to inform them on new destinations, travel tips and has a section entirely dedicated to her beautiful homeland Sardinia.
622
253,975
45
55

Spain
About Channel - Enjoy the videos from Maria Trapiello
854
134,525
97
56

Mumbai, India
About Channel - A solo traveler exploring places, culture and food.
473
17,615
6
57

440
87,466
67
58

Kuwait
About Channel - Hey there, welcome to this YouTube channel where I post videos all about motivation, traveling, and advice that may help someone out there. This channel is all about spreading the love and positivity to everyone who joins in.
579
48,272
8
59

New Jersey, USA
About Channel - I quit my job to go backpacking long term across Europe and the world! New uploads 5 times per week!
2,729
446,083
253
60

Sweden
About Channel - Female solo traveler 24 y/o from Sweden Love nature and hiking Minimalistic packing, vegan, budget traveler and a GLT Been to 50 countries and 6 continents.
630
54,461
27
61

Germany
About Channel - I'm posting weekly videos from my solo travels around the world. Get inspired and learn how to do the same! Follow me and be part of the journey!
4,278
202,514
103
62

About Channel - I'm Kim the Abundant Traveler. I make videos about laid back luxury travel and create inspiring travel vlogs. While most of my videos are meant for age 40 and up travelers, I still hope to inspire all viewers to get out there and see what it's like to travel the world. I'll be visiting luxurious travel locations, top sightseeing spots, and embarking on numerous adventure travel vacations through 50 plus countries.
422
57,924
50
63

San Diego, CA
About Channel - GO SEEK EXPLORE | I help people find unique & creative ways to see the world by creating a work travel lifestyle.
342
58,976
33
64

321
659,669
221
65

319
139,458
43
66

youtube.com/user/ThisBattere..
London, UK
About Channel - I've been travelling the world solo for over eleven years. Follow for more photos, stories, and links from my adventures (92 countries and counting)... and find out how you can do it, too.
238
27,187
14
67

Cornwall, England
About Channel - I'm a petite girl backpacking my way round the world solo on a budget! On a quest to make paradise the new 9-5 and inspire you to get out of your comfort zone.
349
37,231
30
68

youtube.com/user/jhuber7672/..
North Port, Florida (Sarasota)
About Channel - Welcome! I'm a forty-something-year-old single gal playing the game of life. I believe in traveling alone, not lonely and share videos related to travel, lifestyle and whatever strikes my interest. Enjoy the ride!
193
288,014
185
69

About Channel - Solo traveler flying by the seat of my pants
308
25,466
11
70

Santiago, Chile
About Channel - A channel by Gloria Apara, this channel helps you to travel More and find your happiness. My objective is to motivate others to travel more and especially to empower other women who seek to travel alone around the world.
147
45,299
52
71

About Channel - Female solo traveler - traveled 35 countries and lived in 8 countries.
188
46,106
67
72

Portland, OR
About Channel - Helping women of color travel more confidently, more adventurously, and more often.
n/a
24,744
30
73

About Channel - Maggie Wong is a traveler with extreme passionate on wine, gourmet, charity and sport tourism. At her 30, she found herself desperately in love with the world, in particular the tiny country Georgia.
204
74,860
82
74

About Channel - Fortunate Travel Adventures is dedicated to solo female travelling.
341
9,298
108
75

Santa Cruz, CA
About Channel - The Atlas Heart is a blog that focuses on local perspectives from around the world. Let me take you on an adventure of a lifetime, focusing on outdoor escapades and slow travel, seeing the world through a kaleidoscope lens!
139
38,179
36
76

United States
About Channel - Extraordinary travel experiences for ordinary people - like me! A blog to share local businesses that create memorable travel experiences, must see places for your bucket list & tips I learn during my travels - so you don't make my mistakes!
261
59,072
60
77

youtube.com/user/yqtravellin..
Singapore
About Channel - YQtravelling is the youtube channel for young working adults who want to travel more. You'll find tips on travelling and taking career breaks to travel.
149
73,206
87
78

Los Angeles
About Channel - Travel-obsessed wife and kitty-mama bringing your hotspots around the world and personal anecdotes from my clumsy adventures!
152
6,684
12
79

Melbourne, Victoria
About Channel - Hi Everyone!! I'm Melina and my channel is all about travel with Tips & Tricks and Travel Hacks for the female solo traveller. There are suitcase reviews, how to book flights, what to pack, how to use google maps and lots more!
126
28,005
24
80

New York, USA
About Channel - My mission is to to take on the World; one photo, and one country at a time. I have a passion and drive to discover the world, 33 countries and counting, this solo backpacker is planning to taste, see and explore the world. I am currently living in New York. Stay posted on my wanderlust travel adventures around Asia! This channel features stories about travel, travel tips & tricks.
133
26,853
44
81

About Channel - A girl with a dream and a backpack. An ordinary girl that just quit her full-time job to travel the world. Travel and hiking advice. Videos on tips and tricks to trails, backpacking, photography and MORE!
108
12,370
25
82

youtube.com/user/Girlaboutth..
About Channel - A guide to solo female travel about the globe. Inspiring women to travel smarter, travel consciously and travel solo. Exploring the world with 'maximum adven...
58
19,202
57
83

About Channel - Hi, I'm Non-stop Issy (Nissy)... a solo traveller, pursuing my dream to live a life of adventure! I decided memories are more important than things... so, packed up my things and now the world is my home!
43
5,297
39
84

About Channel - Shelly is a solo female traveler from the Philippines.
73
5,455
27
85

14
3,903
18
86

About Channel - Solo female travel channel by Sally Watson, sharing stories, thoughts and tips to encourage and assist you to travel widely, wisely, independently and confidently.
10
5,077
24
87

About Channel - This is the Ultimate Girl & Guide to Solo Female Travel! Tips, recommendations, travel advice & all sorts of other good stuff can be found on here ~ welcome ...
n/a
134,909
22
88

Colorado, United States
About Channel - Roxy has been a full-time solo Nomad since 2004. In her blog, she shares her photography, tips, travels, philosophy, poetry, essays, advice, inspiration, and much more. Her YouTube videos also offer tips and ideas, but she also loves to share her adventures hiking and camping alone, (adventure without the drama).
1,546
134,154
151
89

United States
About Channel - My Alternative Journey: Confessions of a Solo female world traveler .
n/a
33,461
97
90

About Channel - One woman. Every country. In The World. Traveling solo full-time, capturing cultures, images, stories, and videos.
n/a
33,348
33
91

About Channel - Cultured Black Pearl features solo travel and lifestyle perspectives from around the world by a woman of color. My goal is to inspire, educate and entertain. I share authentic cultural experiences, travel tips, and wild stories on my travel blog culturedblackpearl.com. I also talk about my natural hair journey and how I maintain my locs while traveling.
n/a
15,578
35
92

About Channel - Exploring America Solo, Female travel journal, reviews and tips on places, gear and gadgets
1
43
3
93

St. John's, Newfoundland
About Channel - Suitcase and Heels is a female travel & style channel featuring travel tips, deals, fashion, and photography from around the world. I want to inspire you to get out there and see the world whenever and however you can, push your own limits, and look good while doing it.
4
81
2
94

217,182
16,079,250
319
These Youtube Channels are ranked based on following criteria
Total youtube channels subscribers, video views, and video uploads
Quality and consistency of videos

Youtube search ranking

Feedspot editorial team' objective and subjective review
Top 100 Solo Female Travel Youtube Channels Winners
CONGRATULATIONS to every youtuber that has made this Top Solo Female Travel Youtube Channels list! This is the most comprehensive list of best Solo Female Travel Youtube Channels on the internet and I'm honoured to have you as part of this! I personally give you a high-five and want to thank you for your contribution to this world.
If your youtube channel is one of the Top 100 Solo Female Travel Youtube Channels, you have the honour of displaying the following badge on your site. Use the below code to display this badge proudly on your blog. You deserve it!: