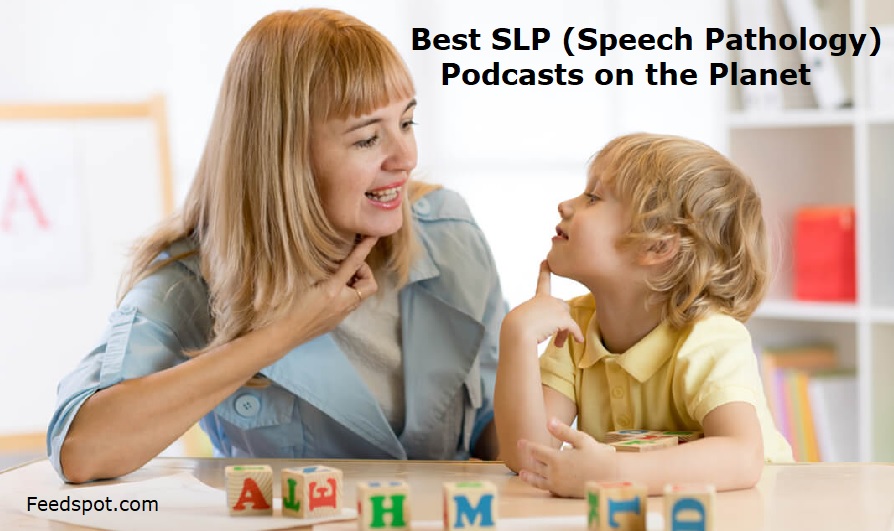 SLP Podcasts.
The Best SLP Podcasts from thousands of SLP Podcasts on the web using search and social metrics. Subscribe to these audio podcasts because they are actively working to educate, inspire, and empower their readers with frequent updates and high-quality episodes.
These podcasts are ranked based on following criteria
Google reputation and Google search ranking
Influence and popularity on Facebook, twitter and other social media sites

Quality and consistency of episodes.

Feedspot's editorial team and expert review
SLP Podcasts

About Podcast Helping Parents Teach Toddlers To Understand and Use Language. Laura Mize is a pediatric speech-language pathologist who specializes in treating young children, ages birth to three, with communication delays and disorders in her private practice in and around Louisville, Kentucky.
Frequency about 2 posts per month.
Podcast teachmetotalk.com/category/p..
Facebook fans 12,883. Twitter followers 81.

New York, USA About Podcast The Swallow Your Pride Podcast was created with the purpose of diving deeper into the issues that speech-language pathologists face when working with patients with swallowing disorders. We'll discuss many controversial topics in order to provide the LATEST evidence-based treatment strategies, and create a community of dysphagia clinicians who want to consume incredibly valuable insight and information.
Frequency about 3 posts per month.
Podcast mobiledysphagiadiagnostics.c..
Facebook fans 3,985. Twitter followers 688.

About Podcast Join Speech-Language Pathologist: Michelle Dawson, MS, CCC-SLP, CLC for First Bite- Fed, Fun Functional Resources for the Pediatric SLP.If you're a SLP who has more questions than answers when it comes to treating your medically complex/fragile pediatric patients, this podcast is for you!Michelle offers her own unique insights & interviews colleagues that are experts in their respective fields with the goal of inspiring & illuminating all aspects of diagnosing & treating this unique population.
Frequency about 4 posts per month.
Podcast firstbite.fireside.fm
Facebook fans 4,234. Twitter followers 299.

About Podcast Meet Deb and Maria. Two NYC Speech Pathologists giving practical speech therapy tips and tricks while enjoying wine and cheese.
Frequency about 3 posts per month.
Podcast player.pippa.io/5aff6b062119..
Facebook fans 140. Twitter followers 11.

About Podcast Join speech-language pathologists Rachel and Chris as they discuss supporting complex communication needs with alternative and augmentative communication (AAC) and assistive technology!
Frequency about 3 posts per month.
Podcast xceptionaled.com/podcasts/ta..
Facebook fans 2,773. Twitter followers 634.

Maryland, United States About Podcast A speech and language podcast designed for the busy speech-language pathologist. These bite-sized shows provide tips, knowledge, and resources that SLPs in the schools or private practice settings will be sure to appreciate!
Frequency about 2 posts per month.
Podcast thespeechspace.com/podcast
Facebook fans 4,743. Twitter followers 860.

About Podcast SLP Happy Hour is a podcast for caring SLPs who want more calm and less chaos in their workday. We are passionate about combating perfectionism and helping SLPs create stronger and healthier relationships with their work worlds, and to have more fun and calm at home. On the podcast, we talk about happiness, SLP lesson fails, easy (lazy) lessons, new habits we are trying to create, and tips and tricks for maintaining more SLP calm.
Frequency about 2 posts per month.
Podcast slphappyhour.com
Facebook fans 345. Twitter followers n/a.

About Podcast This is the true story of two school-based SLPs who decided to start a business and are stupid enough to record it. Find out what happens when we stop being polite and start getting real.
Frequency about 1 post per month.
Podcast anchor.fm/true-confessions
Facebook fans n/a. Twitter followers n/a.

Ohio, USA About Podcast A podcast dedicated to answering the question: What is Communication? Matt, Michelle, and Michael are all licensed and certified Speech and Language Pathologists. They break down the latest in Speech and Language Therapy, interview leaders in the field, and apply evidence based practice to their discussions.
Frequency about 2 posts per month.
Podcast xceptionaled.com/podcasts/sp..
Facebook fans n/a. Twitter followers 591.

About Podcast StutterTalk has published more than 600 free, weekly podcasts on stuttering since 2007. StutterTalk is dedicated to supporting people who stutter, their families, professionals, students, and the general public by talking openly about stuttering and by providing information about stuttering. We address the loneliness and isolation of stuttering by talking about it.
Frequency about 2 posts per month.
Podcast stuttertalk.com
Facebook fans 2,314. Twitter followers 18.

West Palm Beach, FL About Podcast You're listening to the Speechie Side Up podcast hosted by author, AAC specialist, and matcha tea lover, Venita Litvack! Every week, you get to hear what other SLPs are doing in the field and how they found their passion. This podcast was created to help YOU stop re-inventing the wheel and start loving your job again!
Frequency about 4 posts per month.
Podcast speechiesideup.com/category/..
Facebook fans n/a. Twitter followers 16.

Boston, MA About Podcast My name is Jena Castro-Casbon, MS CCC-SLP (of The Independent Clinician and The Private Practice Solution).I am part of a group of private practitioners who have taken client care into our own hands.We are skilled clinicians who pride ourselves on providing high-quality care to our clients and their families.We are fighting against productivity requirements, administrative red tape and unnecessary restrictions.
Frequency about 3 posts per month.
Podcast independentclinician.com/blo..
Facebook fans 28,573. Twitter followers 2,889.

About Podcast Down the Hatch is an unscripted podcast focused on hot topics relevant to swallowing clinicians throughout the world. With lively banter, speech pathologists Ianessa Humbert, Ph.D., CCC-SLP and Alicia Vose, M.A., CCC-SLP take on controversial topics in the field of dysphagia management, while inter-weaving various levels of evidence: anecdotes, clinical experience and the scientific literature.
Frequency about 1 post per month.
Podcast swallowingsystemscore.org/do..
Facebook fans n/a. Twitter followers n/a.

About Podcast Join host Ayelet Marinovich for a 'family enrichment' program, as she discusses various topics on development in infants and toddlers. For weekly sessions of music, play and developmental information for both you and your baby. Speech-language pathologist, parent educator, singer, mom, podcast host & blogger.
Frequency about 1 post per month.
Podcast strengthinwords.com/category..
Facebook fans 3,138. Twitter followers 276.

About Podcast The SLP Now Podcast is your go-to resource for practical speech-language pathology tips. Through this podcast, you'll hear directly from Marisha McGrorty, a school-based SLP turned research nerd. She'll be joined by expert guests to answer your biggest questions.
Frequency about 1 post per week.
Podcast slpnow.fireside.fm
Facebook fans 104. Twitter followers n/a.

Tucson, AZ About Podcast The Speech Therapy Private Practice Startup Podcast specializes in SLP startup, marketing, referrals, employees-payroll, website design-development, coding-billing and all essential aspects of a speech therapy private practice. Originally from southeast Louisiana and relocating to Arizona following Hurricanes Katrina and Rita, Kyle employs over 23 wonderful people who assist more than 1200 + patients monthly between both businesses.
Frequency about 1 post per month.
Podcast privateslp.com/list-all
Facebook fans 6. Twitter followers 208.

Melrose, MA About Podcast Interesting conversations with people who care about reading, language, and speech in the developing child.
Frequency about 1 post per month.
Podcast seehearspeakpodcast.com
Facebook fans 1,186. Twitter followers 840.

About Podcast Join speech-language pathologist Jeff Stepen as he interviews a variety of professionals, parents, and other assorted characters about topics related to the practice of speech pathology/therapy.
Frequency about 1 post per month.
Podcast conversationsinspeech.com
Facebook fans 626. Twitter followers n/a.

Toronto, Canada About Podcast A podcast for stutterers to leave messages which I play on my show. Radical idea, I know, but it's always great to meet (and hear) fellow stutterers. If you stutter, or just curious about stuttering, you may enjoy this show!
Frequency about 1 post per month.
Podcast stutteringiscool.com/stutter..
Facebook fans 2,974. Twitter followers 2,143.

About Podcast Looking for a speech therapy podcast that delivers real-world info and ideas that you can use? Join Char Boshart, MA, CCC-SLP as she cuts to the heart of what we all want: Effective Therapy Strategies. You'll enjoy her no-nonsense discussions with highly qualified, exceptional experts within speech-language pathology. If you work with school-age children, this one's for you.
Frequency about 2 posts per month.
Podcast speechlink.podbean.com
Facebook fans 178. Twitter followers n/a.

Albany, NY About Podcast A place for women who stutter to share stories, thoughts and feelings about our stuttering experience. It can be isolating for women in the predominately male stuttering community. Women talking often and openly about stuttering may lessen that isolation.
Frequency about 1 post per month.
Podcast stutterrockstar.com/category..
Facebook fans 721. Twitter followers 496.

Fayetteville, NC About Podcast Pediatric Developmental Therapy (PDT) was founded by Haden Boliek with a mission focused on providing quality speech therapy, occupational therapy and physical therapy to children. As part of our mission, Haden here provides tools and strategies to help therapists and parents to develop and carry over therapy principles to the home.
Frequency about 2 posts per month.
Podcast theworkingtherapist.com
Facebook fans 546. Twitter followers 15.

About Podcast If you're frustrated because you struggle to be the SLP that can get all the job tasks done in a work day,the Real Talk SLP podcast will help. Your host,Felice Clark, shares advice on how to realistically tackle all the areas that stress out SLPs.With practical advice, real life stories and solutions to the many problems speech pathologists face every day in the job,Felice and her guests will give you the inspiration you need to take actionable steps with managing your caseload more efficiently.
Frequency about 1 post per month.
Podcast thedabblingspeechie.com/cate..
Facebook fans n/a. Twitter followers n/a.

Dixie About Podcast Hello! My name is Scott Harmon. My wife and I own two thriving therapy practices. I have created Startatherapypractice.com because I want to help you overcome the fear and confusion involved in starting your own practice.
Frequency about 1 post per month.
Podcast startatherapypractice.com/ca..
Facebook fans 876. Twitter followers 1,087.