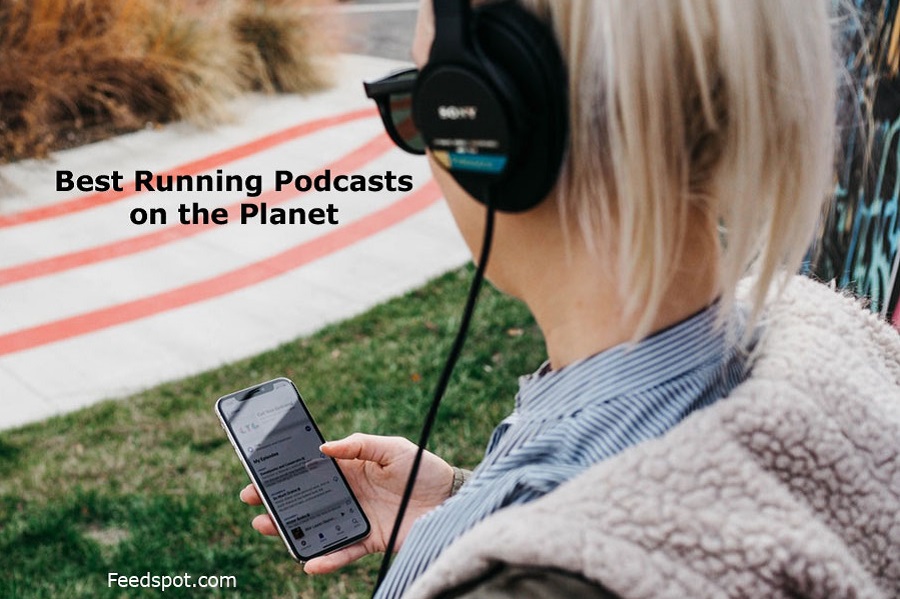 Running Podcasts List.
The Best Running Podcasts from thousands of Running Podcasts on the web using search and social metrics. Subscribe to these audio podcasts because they are actively working to educate, inspire, and empower their readers with frequent updates and high-quality episodes.
If your blog is selected in this list, you have the honour of displaying this Badge (Award) on your blog.
Running Podcasts

London, UK About Podcast Runner's World is the UK's largest and best running website and magazine and this is our podcast, a monthly chat about all things running including interviews, advice, in-depth discussion and much, much more.
Frequency about 1 post per month.
Also in Running Blogs
Podcast runnersworld.co.uk/listen-to..
Facebook fans 228,991. Twitter followers 93,391.

Denver, CO About Podcast The Strength Running Podcast is where Coach Jason Fitzgerald shares running advice for new and veteran runners who are passionate about getting stronger, preventing running injuries, and racing faster. Featuring guests like Olympian Nick Symmonds and New York Times best-selling author Shalane Flanagan, you'll learn what it takes to run fast, stay healthy, and become a better runner.
Frequency about 2 posts per month.
Podcast strengthrunning.com/podcast
Facebook fans 14,293. Twitter followers 12,212.

Ovals around the country About Podcast A new website providing you with all the insight into the latest running news and culture and sometimes with humor.
Frequency about 2 posts per month.
Podcast citiusmag.com/category/podcasts
Facebook fans 2,788. Twitter followers 9,678.

Northern California About Podcast We are passionate about ultra running. Our podcast was created for runners who feel the same about our sport. Reaching your running potential requires access to sport specific information. Our podcast features a variety of qualified experts to discuss nutrition, training, sport psychology, race strategy, injury management, trail gear and many more topics. The information will appeal to new runners and the veterans in our sport.
Frequency about 2 posts per month.
Podcast ultrarunnerpodcast.com/categ..
Facebook fans 17,213. Twitter followers 26,328.

Metro Washington DC About Podcast Chris Farley, owner of Pacers Running, along with his college running teammate, william e docs, and Pacers DC Manager, Joanna E Russo, record weekly episodes of the Pace the Nation podcast. They attract a range of guests from elite runners to everyman runners alike and share great stories. The interviews and discussions uncover the connections between all runners, providing inspiration through common understanding of what it means to be a runner.
Frequency about 3 posts per month.
Podcast runpacers.com/podcast
Facebook fans 18,743. Twitter followers 9,787.

Lexington, KY About Podcast Elite mother runner Tina Muir created the Running for Real Podcast and Superstars Community. Join us for Real Talk, Real Support, Real Encouragement in all the ups and downs of running
Frequency about 1 post per month.
Podcast tinamuir.com/category/podcast
Facebook fans 2,491. Twitter followers 5,052.

Brooklyn, NY About Podcast The best running podcast dishing up life with a side of running. Short, weekly talks with Women's Running Magazine cover model and funny lady Kelly Roberts about female empowerment, running, life, liberty, and the pursuit of our happiest, strongest and most vulnerable selves.
Frequency about 1 post per month.
Podcast shecanandshedid.com/run-self..
Facebook fans 27,135. Twitter followers 7,077.

Salt Lake City, Utah About Podcast The Mountain Land Running Medicine Podcast is an invaluable resource for anyone interested in running medicine. Bryan Heiderscheit, PT, PhD, is the host of the Mountain Land Running Medicine Podcast, and is widely accepted as one of the world's foremost experts in running mechanics and injury management.
Frequency about 1 post per month.
Podcast mlrehab.com/category/podcast
Facebook fans 963. Twitter followers 668.

England About Podcast Martin Yelling and Tom Williams Marathon Talk is the UK's number one running podcast. Released for free every week the show has had almost 5million downloads with listeners across the world.
Frequency about 4 posts per month.
Since Jan 2010
Also in UK Running Blogs
Podcast marathontalk.com
Facebook fans 26,261. Twitter followers 25,998.

About Podcast Another Mother Runner, founded by Dimity McDowell and Sarah Bowen Shea, has cultivated a community of like-minded women with similar goals and challenges since their best-selling book Run Like a Mother hit the shelves in 2010 and struck a chord with audiences across the country. Train Like a Mother followed in 2012, and Tales from Another Mother Runner completed the trilogy in 2015.
Frequency about 2 posts per week.
Podcast anothermotherrunner.com/anot..
Facebook fans 102,649. Twitter followers 7,541.

On the Trail! About Podcast Keep up with trail running, pacing, race nutrition, running shoes and much more from Trail Runner Nation Podcast.
Frequency about 2 posts per month.
Since Nov 2011
Podcast trailrunnernation.com/catego..
Facebook fans 14,421. Twitter followers 23,045.

Worldwide About Podcast Talk Ultra is an ultra running podcast by Ian Corless.
Frequency about 1 post per month.
Since Jan 2012
Podcast talkultra.libsyn.com
Facebook fans 20,206. Twitter followers 20,080.

About Podcast Podcast by Ryan Ploeckelman and Sean Blanton
Frequency about 1 post per month.
Podcast eastcoastultrapodcast.com
Facebook fans n/a. Twitter followers n/a.

Austin, TX About Podcast Running Rogue is our weekly podcast with training tips and commentary on current events in the running world. We are here to talk all things running and help you become a better runner!
Frequency about 2 posts per month.
Podcast roguerunning.com/running-rog..
Facebook fans 13,709. Twitter followers 6,593.

About Podcast In December 2017, I began producing the morning shakeout podcast, which is now a near-weekly installment that has featured the likes of 2:12 marathoner Scott Fauble, U.S. marathon champion Tim Ritchie, and two-time Olympian and Boston Marathon champion Des Linden, to name a few. In short, the morning shakeout is a carefully crafted blend of informed commentary, engaging exchanges, and smart curation, intentionally conversational in its tone. And I plan to keep it that way.
Frequency about 2 posts per month.
Since Nov 2015
Podcast themorningshakeout.com/categ..
Facebook fans n/a. Twitter followers 1,764.

Chicago About Podcast My goal is to give you easy-to-understand tools and tips that you can use to improve your running and your life. I started this site, why I invest hours each day answering your awesome real-life running questions and why you'll learn how to optimize your running life right here, with me and all the other fun-loving mortal runners that share their inspiring stories.
Frequency about 1 post per month.
Podcast jennyhadfield.com/category/p..
Facebook fans 23,058. Twitter followers 12,468.

Lakeland, FL About Podcast Some of the best conversations I've ever had have taken place while running with others. Over the course of several miles, the conversations are allowed to flow freely and cover a variety of topics. And that's what I try to do with my podcast.
Frequency about 2 posts per week.
Since Jul 2014
Podcast dizruns.com/podcast
Facebook fans 513. Twitter followers 5,824.

Portland, OR! About Podcast Welcome to the BibRave Podcast, a show about all things running and racing! We cover a random assortment of topics, (almost) all of which relate in some way to running, runners, health, fitness, nutrition, races, and GEAR!
Frequency about 1 post per month.
Since Aug 2016
Podcast bibrave.libsyn.com
Facebook fans 2,487. Twitter followers 12,135.

About Podcast C Tolle Run is a weekly online show about running and fitness hosted by Olympian Carrie Tollefson. Watch Carrie's weekly episodes for training tips, interviews with experts in the field and highlights from races and events. Get the latest C Tolle Run episodes and behind-the-scenes moments in your news feed and find out how you can "get after it"!
Frequency about 1 post per week.
Podcast ctollerun.com/category/podcast
Facebook fans 11,506. Twitter followers 9,533.

About Podcast I'm Martinus Evans. I'm an RRCA run coach, author, and award-winning speaker. But more importantly I'm a big guy. Who runs. No... really. I've run 5k's, 10k's, half-marathons, and marathons! So I know your struggles. I know your hesitations. And I want to help you become a runner!
Frequency about 1 post per month.
Podcast 300poundsandrunning.com/podcast
Facebook fans 3,663. Twitter followers 8,467.

England, United Kingdom About Podcast One of the best running podcasts in the UK. Listen to great interviews with athletes, nutritionists and doctors to help you run better. We help runners of all abilities. Improve your running with a Personal Running Coach or help improve staff health and wellbeing by starting a Work Run Club.
Frequency about 1 post per month.
Since Apr 2016
Also in Running Coach Blogs
Podcast letsgetrunning.co.uk/podcast
Facebook fans 1,646. Twitter followers 2,229.

Wilmington, DE About Podcast We're here to help soon to be runners to ultra marathoners with access to knowledge and advice from trained professionals. Interviews provide encouragement and connection through inspiring stories told by experienced runners living the running lifestyle. Each episode consists of a Featured Guest, Runner of the Week, and a food question or myth answered by the show's Go To Real Food Dietitian, Serena Marie, RD.
Frequency about 2 posts per month.
Since Jul 2014
Podcast therunninglifestyle.com/the-..
Facebook fans 1,092. Twitter followers 1,489.

Boston, MA (the Hub) About Podcast RunRunLive - Celebrating the transformative power of endurance sports.
Frequency about 1 post per month.
Since Jun 2008
Podcast runrunlive.com/category/4-0
Facebook fans n/a. Twitter followers 14,869.

LA/LV About Podcast Mediocre high school runners turned podcasters, Jason Halpin and Kevin Sully, co-host the weekly House of Run podcast. Jason and Kevin analyze and discuss the latest news from the world of track and field, road racing, cross country. If running is a metaphor for life, then this podcast is pretty much about your life.
Frequency about 1 post per month.
Podcast houseofrun.com
Facebook fans 655. Twitter followers 5,436.

London, England About Podcast Running is great, so why aren't the podcasts? Bad Boy Running is a podcast for runners who are bored of the dull and dry podcasts currently on offer. Hosted by friends Jody Raynsford and David Hellard, both running journalists, bloggers and lovable idiots, the show features the conversations they'd have in the pub focusing as much on the camaraderie and social side of the sport as well as the technical. Whether you're a 5k, 10k, half marathon, marathon runner or ultramarathon runner, you'll find something in here to be offended by. Bad Boy Guarantee.
Frequency about 1 post per week.
Since Sep 2015
Podcast badboyrunningpodcast.com
Facebook fans 1,219. Twitter followers 477.

About Podcast A weekly podcast by 3 fast runners, for all runners. Brady Threlfall (2.19 marathon), Julian Spence (2.16 marathon) and Bradley Croker (2.17 Marathon) talk distance running news, training, review running gear, check in with guests and cover races.
Frequency about 1 post per month.
Podcast insiderunningpodcast.podbean..
Facebook fans 1,031. Twitter followers n/a.

About Podcast Discussions about endurance running from the folks who know endurance... the back of the pack. Clever and entertaining. Good company on that 6 hour long run!
Frequency about 1 post per month.
Since Jul 2008
Podcast runningstupid.libsyn.com
Facebook fans 1,423. Twitter followers 97.

SF Bay Area, CA About Podcast Ruel's Running Podcast's host Ruel Abadam, a recreational Ultra Runner, Health Enthusiast, and Family Guy talks about things related to Health, Ultra Running, NSNG® Lifestyle, Family, and Play.
Frequency about 1 post per month.
Podcast ruelsrunning.com
Facebook fans 291. Twitter followers 686.

About Podcast Runner Girls Podcast is a weekly show about women brought together by a love of running. We talk about our goals & training, share race recaps, & recognize the efforts and achievements of our listeners. Join us each week as we discuss the ups & downs of short & long runs, great songs & apps to keep you moving along, interviews with expert runners, as well as going in depth on topics like how to know if you're ready for a half, proper nutrition before and after runs, when & how to do speed work.
Frequency about 1 post per month.
Podcast runnergirlspodcast.wordpress..
Facebook fans 815. Twitter followers 196.

About Podcast This is a show to help real life runners to improve their running and their life, through conversations about training, nutrition, health and wellness, family, and all the crazy things that life throws at us. We want to live the best life we can and to help others do the same.
Frequency about 3 posts per month.
Since Aug 2016
Podcast realliferunners.com/blog
Facebook fans 272. Twitter followers n/a.

Virginia (USA) About Podcast Ashland Dave is a "regular, ordinary, nobody" middle-of-the-pack runner who promotes, supports and participates in 10Ks, half-marathons, marathons and ultramarathons.
Frequency about 1 post per month.
Since Aug 2008
Podcast ashlanddave.podbean.com
Facebook fans n/a. Twitter followers n/a.

About Podcast Keep up with news, information, tips about the running podcast from Coach Jeff.
Frequency about 2 posts per month.
Podcast therunningpodcast.com
Facebook fans n/a. Twitter followers n/a.

About Podcast The goal of the podcast is to capture these deep conversations and share the stories of ultra runners and adventurers, with a focus on telling female athletes stories. Conversations that go beyond running to explore what it means to push your limits, seek adventure and find connection out on the trail. The guests and their stories will inspire you and hopefully empower you to find your own adventure and tell your own story.
Frequency about 3 posts per month.
Podcast buzzsprout.com/192753
Facebook fans n/a. Twitter followers n/a.

California About Podcast Elena and Mark are a couple of mid pack runners from Northern California. We love to run, and really love to participate in races from 5k's to Marathons. With the Embrace Running Podcast we bring our enthusiasm for the sport of running and share it with as many people as possible. On the weekly podcast we discuss the latest running news, running topics and share our own training and race experiences.
Frequency about 1 post per month.
Podcast embracerunning.com
Facebook fans 695. Twitter followers 554.

About Podcast Heartland Running is a community devoted to all things running related in the Midwest and around the globe. If you are a new runner or a seasoned ultramarathoner, Heartland Running welcomes you.
Frequency about 1 post per month.
Podcast heartlandrunning.com
Facebook fans 436. Twitter followers n/a.
These podcasts are ranked based on following criteria
Google reputation and Google search ranking
Influence and popularity on Facebook, twitter and other social media sites

Quality and consistency of posts.

Feedspot's editorial team and expert review
Best 40 Running Podcasts
CONGRATULATIONS to every podcast that has made this Top Running Podcasts list! This is the most comprehensive list of best Running Podcasts on the internet and I'm honoured to have you as part of this! I personally give you a high-five and want to thank you for your contribution to this world.
If your podcast is one of the Top 40 Running Podcasts, you have the honour of displaying the following badge on your site. Use the below code to display this badge proudly on your website. You deserve it!:
<a href="https://blog.feedspot.com/running_podcasts/" rel="nofollow" title="Running Podcasts"><img alt="Running Podcasts" src="https://blog.feedspot.com/wp-content/uploads/2018/10/running_podcast_216px.png?x51349"/></a>