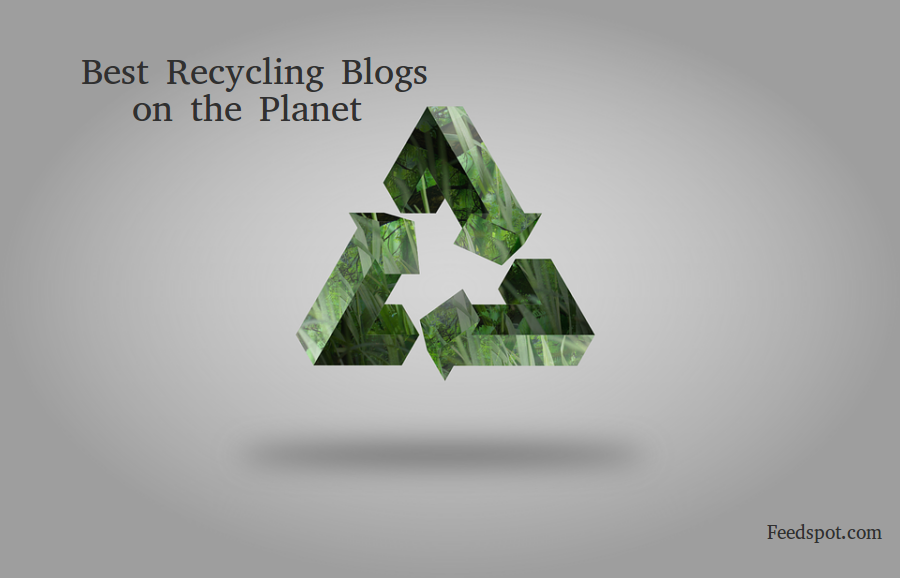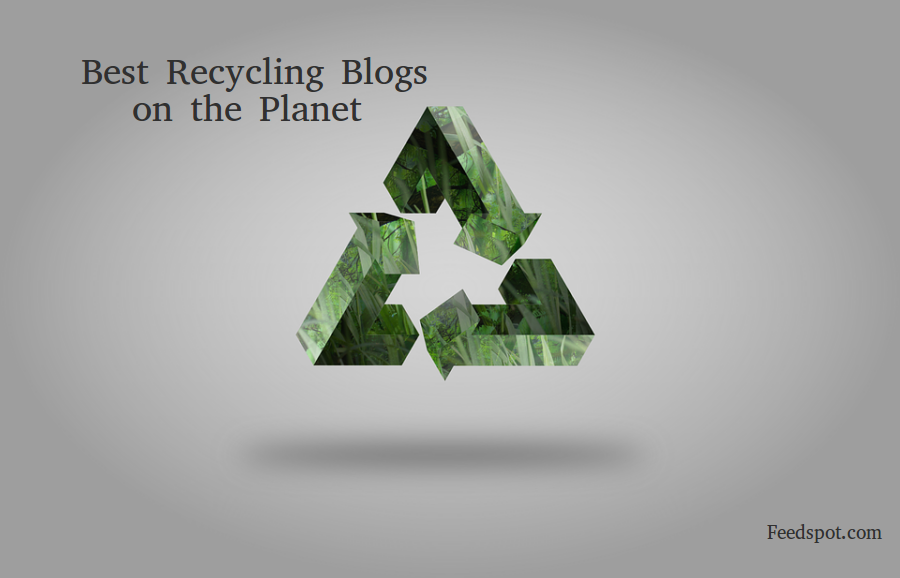 The Best Recycling blogs from thousands of top Recycling blogs in our index using search and social metrics. Data will be refreshed once a week.
If your blog is selected in this list, you have the honour of displaying this Badge (Award) on your blog.
Rank

Blog Name

Facebook Fans

Twitter Followers

Alexa Rank

1

Ann Arbor, MI

About Blog - We envision a waste-free future – a world where wastes become resources and sustainable systems bring value to businesses, institutions and communities, enhancing environment and quality of life.

875
460
2,400,233
2

waster.com.au/waste-manageme..

Sydney, New South Wales

About Blog - Waster.com.au is an innovative solution for all your waste management and recycling needs.
Frequency - about 3 posts per week

30
37
6,016,045
3

fibrexgroup.com/recycling-co..

Virginia

About Blog - Fibrex Group is known for its extensive and innovative selection of recycling centers, waste receptacles, park, street & mall site furnishings and playground equipment.

155
190
5,899,272
4

San Francisco, CA

About Blog - Follow their blog to get tips on recycling common household materials, post interesting links.
Frequency - about 8 posts per week

1,083,454
467,505
21
5

news.google.com/news/section..

Mountain View, CA

About Blog - Comprehensive up-to-date coverage for recycling, aggregated from news sources all over the world by Google News.
Frequency - about 88 posts per week

n/a
212,816
1
6

Brussels

About Blog - Zero Waste Europe (ZWE) proposes to re-design our society in a way that all superfluous waste is eliminated and everything that is produced can be re-used, repaired, composted or recycled back into the system
Frequency - about 2 posts per week

7,764
6,612
892,824
7

Wimblington, England

About Blog - PLASgran plastic waste recyclers provide a range of plastic recycling services, including separation, sorting, regrinds & compounding for UK businesses.

275
83
2,153,836
8

United Kingdom

About Blog - Scrap Gold is the term used for the process of recycling broken jewellery, coins and other items that are no longer wanted. Read the always informative Scrap Gold Blog for Gold, Silver, Platinum and Palladium related articles.

671
357
1,297,300
9

Dubai/UAE

About Blog - From Metal Recycling to aluminium alloy manufacturing, the Lucky Group has been adding value to numerous metal recycling industries.
Frequency - about 2 posts per week

6
22
2,504,976
10

West London

About Blog - West London Waste Authority (WLWA) is a statutory waste disposal authority (WDA) which was created in 1986.They are responsible for disposing of waste collected by the London Boroughs of Brent, Ealing, Harrow, Hillingdon, Hounslow and Richmond upon Thames.

265
2,854
1,971,460
11

Cotswolds

About Blog - Recycling bins offers the largest range of recycling bins for schools, homes, offices and other venues helping them recycle tonnes of waste every day.
Frequency - about 3 posts per week

332
769
2,448,263
12

Victoria, Australia

About Blog - Australasia is the most experienced mercury recovery & recycling company, servicing Dental & Medical, Mining, Gas & Petroleum and Lighting & Electrical sectors.
Frequency - about 1 posts per week

861
365
10,407,567
13

brazosvalleyrecycling.com/blog

College Station, TX

About Blog - BVR's goal is to provide innovative waste diversion services that benefit our customers and positively impact our environment. It provides an extensive array of waste removal, recycling, and transportation services for commercial, industrial, and construction customers. We tailor recycling programs to meet the needs of our customers.
Frequency - about 1 post per month

1,295
26
12,733,110
14

recyclinginternational.com/c..

The Netherlands

About Blog - Recycling International magazine is the voice of the worldwide recycling industries.Follow to get in-depth articles with latest news stories: from recycling technology and scrap market updates,to reports about individuals and major companies.

1,798
5,315
930,564
15

About Blog - Genesis Electronics Recycling is the source for collecting, dismantling and recycling of E-Waste as well as Certified Data Destruction. They are providing corporate, governmental, and manufacturer recycling programs covering local, state, regional and national levels for betterment of the environment.

1
n/a
4,098,325
16

Chicago, IL

About Blog - MedPro was founded in 2009 out of a need for lower cost medical waste disposal services.They provide regulated pick-up, transportation, treatment and disposal services for regulated medical waste, biohazard waste, sharps, and pharmaceuticals (RX).
Frequency - about 6 posts per week

652
223
1,695,228
17

youtube.com/user/erabobo/videos

Canada

About Blog - We are a non-profit organization dedicated to reducing electronic waste through the reuse and recycling of unwanted computers, laptops and related electronic equipment.

9,166
62,933
2
18

United States

About Blog - Global leader in securing e-waste recycling, hard drive destruction, IT asset disposition, remarketing, computer equipment refurbishing and asset recovery.Our centrally managed process for secure IT disposition is engineered to be fully transparent every step of the way.
Frequency - about 1 post per month

1,451
5,937
505,011
19

Vermont, USA

About Blog - Recycle Away is a company dedicated to providing superior customer service to meet the demands of organizations, municipalities, and corporations seeking recycling and waste solutions.

n/a
284
1,153,765
20

Houston, Texas

About Blog - They offer safe, confidential, cost-effective medical waste and unused medication treatment and logistical solutions designed for individuals, companies, and institutions.
Frequency - about 1 post per week

1,469
463
1,270,627
21

Lisle, IL

About Blog - A leader in the recycling industry, Air Cycle provides innovative recycling solutions for lamps, ballasts, batteries, and electronic waste.
Frequency - about 1 post per week

488
102
2,802,021
22

moffattscrapiron.ca/moffatt-..

9620 Guelph Line Campbellville

About Blog - Moffatt Scrap Iron & Metal Inc. is a full-service metal recycling company. They aim to increase recycling resulting in a greener environment.
Frequency - about 1 post per month

277
18
12,796,876
23

About Blog - IT E-Waste specialises in the the recycling of redundant computer and IT equipment Australia-wide. All equipment is recycled in an environmentally-friendly and cost-efficient manner.

55
n/a
12,814,566
24

About Blog - E-waste Recycling Machines, including circuit board recycling machines, Cable wire recycling machines & waste tyre recycling machines.

1,185
50
2
25

247,056
48,215
2
26

youtube.com/user/recycledbot..

Richmond, British Columbia

About Blog - Recycled Bottles Crafts is a part of big diy crafts project. Here you'll find wonderful diy crafts ideas which you can make out of plastic bottles, cups, containers and so on. Use these ideas for your school projects, for home or garden decoration, for fun and soul.
Frequency - about 1 posts per week

5,746
42
2
27

youtube.com/user/mailwendyga..

About Blog - The company was founded in 1995 and has been dedicated to the development concepts of "resources recycling and sustainable regeneration".It deals with waste resources such as municipal solid waste, different kinds of imported waste, waste electrical and electronic products and steel scrap with environmental management technology.
Frequency - about 1 post per month

n/a
n/a
2
28

youtube.com/user/RecycleNowC..

UK

About Blog - Recycle Now is a campaign to encourage people to recycle more things more often. From recycling more everyday items like glass and plastic bottles and unwanted electrical goods to reducing our food waste, re-using carrier bags or trying out new things like home composting, there's lots we can all do to help cut back on the amount of waste we send to landfill.
Frequency - about 8 posts per week

17,311
20,046
2
29

Canterbury, Kent UK

About Blog - Follow this blog for recycling hints, tips and news.
Frequency - about 1 post per month

3,335
509
12,578
30

Houston, TX

About Blog - Waste Management is North America's leading provider of integrated environmental solutions. Their mission is to maximize resource value, while minimizing environmental impact so that both the economy and the environment can thrive.
Frequency - about 1 post per month

101,244
28,655
27,119
31

portlandoregon.gov/sustainab..

Portland, Oregon

About Blog - Follow this Blog to get more updates on recycling. Sustainability at Work was formed in 2007 as a solution for businesses lacking in time, budget and expertise and who want to improve their environmental practices.

n/a
1,508
55,202
32

recycledcrafts.craftgossip.com

About Blog - Come and find great craft and DIY ideas for Christmas, Halloween, Thanksgiving and all year round.
Frequency - about 6 posts per week

372,025
44,561
120,093
33

Seoul, Republic of Korea

About Blog - Follow our blog to learn more about smart and innovative waste management and recycling solutions.

209
724
298,592
34

Bristol, UK

About Blog - A blog of independent ideas from environment experts
Frequency - about 1 posts per week

75
584
452,927
35

Minnesota

About Blog - Rethink Recycling is the go-to guide for waste and recycling in the Twin Cities metropolitan area. We want to help residents and businesses in the region understand the need to make environmentally responsible purchasing, disposal, and recycling decisions in their daily lives. Responsible disposal of unwanted items is necessary for a healthy environment and helps protect public health.
Frequency - about 2 posts per week

4,102
1,039
685,597
36

Vienna, Austria

About Blog - Follow us for news and updates on sustainable waste and resource management.
Frequency - about 3 posts per week

620
1,394
787,070
37

About Blog - They are committed to providing their customers with a reliable, consistent, cost effective and environmentally friendly waste management service. They are leading the way to reduce the carbon footprint of both their company and customers.
Frequency - about 1 post per week

n/a
n/a
949,975
38

buschsystems.com/recycling-b..

North America

About Blog - They specialize in providing waste and recycling bin solutions to a wide range of industries from municipal governments to educational systems.

1,573
5,810
1,003,559
39

About Blog - Read the Green family's blog about reducing the amount of waste sent to landfill each week.The overall purpose of this blog is to help householders reduce the amount of rubbish sent to landfill. Their aim is to inspire and educate other people to reduce their landfill waste as much as possible.
Frequency - about 1 post per month

5,244
5,234
1,157,486
40

Crystal Lake, IL

About Blog - General Kinematics supplies recycling, foundry, mining, and process systems and equipment for classification and conveying of bulk materials.
Frequency - about 2 posts per week

611
833
1,126,412
41

Washington, DC

About Blog - The National Waste & Recycling Association represents U.S. companies that collect and manage garbage, recycling and medical waste; equipment manufacturers and distributors; and a variety of other service providers.

2,038
6,932
1,177,414
42

Lagos, Nigeria

About Blog - Wecyclers gives households a chance to capture value from their waste while providing a reliable supply of materials to the local recycling industry.

3,844
4,004
1,189,021
43

Southport, United Kingdom

About Blog - Inciner8 are the leading provider in Thermal Treatment Solutions. We provide Medical, General Waste and Animal Incinerators across the globe.
Frequency - about 1 post per month

491
170
1,507,165
44

Ontario, Canada

About Blog - CleanRiver is solely focused on and committed to reducing the volume of solid waste that goes into landfills, and increasing the value of recycling practices.
Frequency - about 1 post per month

838
1,662
1,826,639
45

Aylesbury, UK

About Blog - ASM has been the Aylesbury scrap metal specialists for over 40 years, accepting a range of ferrous and non-ferrous metals.They offer a collection service for large collections of scrap, if you can't get your metal to them.

80
236
1,827,767
46

USA

About Blog - ERI specializes in the environmentally safe and socially responsible dismantling of electronic waste and ensures 100% data destruction and compliance.
Frequency - about 1 post per month

52,052
23,935
1,999,004
47

Minneapolis, MN

About Blog - Tech Dump processes all electronic equipment on site and separates it into two broad categories: for recycling or for reuse. Items are deemed for recycling if they have reached the end of their life-cycle. Items for reuse are tested, have all personal data destroyed and are refurbished for reuse
Frequency - about 1 post per week

1,219
1,569
2,160,568
48

pureplanetrecycling.co.uk/re..

Bedford, UK

About Blog - Pure Planet Recycling Ltd specialise in Waste Electrical and Electronic Equipment (WEEE) recycling. They keep a close eye on all waste management and recycling news and aim to keep you up to date with any relevant stories. Simply browse through our recycling blog for current news and archives from the previous years.

437
1,100
2,319,492
49

South Central Pennsylvania

About Blog - LCSWMA (Lancaster County Solid Waste Management Authority) employs an innovative approach to managing municipal trash that protects natural resources and creates renewable energy.

12
281
2,567,409
50

Pleasanton, California

About Blog - Think green, think waste management, norcal compactors blog is your one stop recycling and waste management blog.
Frequency - about 1 post per month

59
n/a
2,578,172
51

United States of America

About Blog - Northstar Recycling specializes in providing waste management and recycling services that utilize Zero Waste to Landfill alternatives and innovative business solutions.
Frequency - about 1 post per month

262
316
2,717,906
52

theglassrecyclingcompany.co...

South Africa

About Blog - The core objective is to keep glass alive by promoting the practice of recycling and reusing this environmentally friendly packaging. Their strategic objectives also focus on the promotion of the reuse of returnable bottles; entrepreneur development and job creation; capacity building and develo

n/a
2,718
2,761,723
53

About Blog - Recycling company specialising in the recycling of PET bottles and products. Information on recyclers and drop-off centres.
Frequency - about 1 post per week

2,924,403
180,582
3,090,742
54

wastewiseproductsinc.com/blo..

Toronto, Canada

About Blog - Waste Wise Products has been supplying recycling containers, recycle bins, trash cans and ashtrays to the commercial, industrial and institutional sectors. They have one of the widest selections of recycling bins anywhere in the world.
Frequency - about 1 post per month

1,846
1,397
3,161,706
55

Kelang, Selangor

About Blog - Usedcomputer Malaysia is the regions premier provider of comprehensive large scale Recycling and IT Asset Management services.

176
17
3,584,720
56

baydisposal.com/resources/blog

About Blog - Bay Disposal & Recycling blog provides very helpful and educational information regarding waste and recycling.

1,452
19
3,788,520
57

melbournemetalrecycling.com...

Braeside, Australia

About Blog - Melbourne Metal Recycling is one of Melbourne's largest independently owned and operated scrap metal recyclers.Their professional and reliable metal recycling services includes collection, transport, receiving, storage, recycling and disposal of the full range of scrap metals.
Frequency - about 1 post per week

60
n/a
4,332,378
58

phoenix, Arizona

About Blog - Medassure Services is a leading Medical Waste Disposal Company offering a full range of solutions across the US. Follow Medassure's blog to be up to date on Medical Waste Industry News.

64
170
4,343,632
59

Bolton, Ontario

About Blog - Maratek Environmental focuses its development effort on reducing, reusing and recycling solvents and other liquid wastes in all areas of the industries.

19
284
4,521,034
60

Denver Co

About Blog - Best DIY projects and examples on how to recycle and create new accessories, find reclaimed furniture pieces and decorate your home.
Frequency - about 1 posts per week

876
238
4,838,279
61

Nationwide in US

About Blog - Cleanlites Recycling Center is dedicated to reducing landfill contamination and protecting brands by providing cutting edge recycling solutions nationwide.
Frequency - about 1 posts per week

221
132
5,157,926
62

Azusa, CA

About Blog - Hazardous Waste Disposal articles and blog posts are designed to educate and inform on areas related to Hazardous Waste Disposal
Frequency - about 1 post per month

30
301
5,199,670
63

United States

About Blog - Waste Cost Solutions helps you set realistic goals for significantly reducing the waste your business produces. It also provides useful information regarding waste management, recycling, dumpsters, and sustainability.

223
159
6,207,951
64

los angeles ca

About Blog - Ewaste Cleanup renders international standards in recycling electronics waste.Their mission is to protect our environment and keep electronic waste from entering our landfills.

168
1,149
6,375,812
65

Leeds, England

About Blog - Follow our blog to read up on the latest recycling and waste management tips and info as well as company and industry news and information.

425
2,848
6,600,180
66

info.mcfenvironmental.com/blog

Ellenwood, Georgia

About Blog - The MCF Waste Management Blog provides very helpful and educational information regarding to hazardous/non-hazardous and medical waste management.
Frequency - about 2 posts per week

n/a
170
6,744,994
67

About Blog - Read our blog for the latest news and events at CJD E-cycling and trends in the recycling industry.

398
n/a
7,007,198
68

Adelaide, South Australia

About Blog - Scout Recycling gives you a really practical way of keeping recyclable rubbish out of land fill.

50
95
7,095,825
69

Sioux Falls, SD

About Blog - They recycle a wide variety of materials from residential and commercial generators. Their goal is to continue driving the recycling rate up through education and innovation.
Frequency - about 1 posts per week

1,234
71
7,172,826
70

southernwasteandrecycling.co..

Atlanta, Georgia

About Blog - The blog provides commercial customers with sustainable waste and recycling services that are customized to their specific needs.
Frequency - about 2 posts per week

10
5
7,322,291
71

denronmetals.com.au/category..

Adelaide, South Australia

About Blog - Denron Metals is in the business of collecting and recycling a wide variety of scrap metal, and are willing to pay top dollar for it.

6
n/a
7,332,959
72

Australia

About Blog - G1 Asset Management specializes in computer recycling and disposal of end of use IT equipment and other electronic waste.

1,854
1,639
8,891,338
73

Sheffield, UK

About Blog - DJB Recycling offer a modular cradle to grave recycling and waste management service so you can choose exactly what's right for your business.
Frequency - about 1 post per month

214
1,306
8,975,580
74

Cambridge, Ontario

About Blog - Greentec specializes in secure electronics recycling. They dispose off cell phones, tablets, computers, servers and electronic equipment. Their services are data secure and environmentally sound.
Frequency - about 1 post per week

810
1,722
9,260,467
75

UK

About Blog - The complete waste solution from GPT Waste Management. Follow our blog for recycling and waste management solutions.

Frequency - about 2 posts per week

218
569
9,883,008
76

Canada

About Blog - Suntech Recycle Inc is a recycling company for computers, electronics and e-waste.They recycle computers, keyboards, laptops, electronic scrap, CD players, DVD players, telephones, cellphones, cables, power supply and all other kind of electronic items.

290
3
9,961,111
77

beegreenrecycling.com/go-gre..

About Blog - Bee Green Recycling is Richmond's newest and greenest scrap metal recycling center. Follow our blog to learn more about scrap metal recycling, tips on how and what to recycle and more.
Frequency - about 1 post per month

1,038
n/a
10,859,816
78

North East England

About Blog - Flexible, Reliable, Responsible Waste Recycling Solutions for Businesses of all sizes in the North of England.
Frequency - about 7 posts per week

217
468
11,530,431
79

Bend, OR

About Blog - The Rethink Waste Project provides the tools and resources you need to help you reduce waste – and rethink the way you think about waste.

697
373
11,834,135
80

Leicester

About Blog - Entire Recycling are industry-leading recycling and waste solutions providers delivering a comprehensive service to businesses across the UK.
Frequency - about 1 post per month

n/a
n/a
11,893,144
81

About Blog - Bruce Metal & Salvage is devoted to the preservation of the environment by making metals recycling convenient and profitable. Follow our blog!

4
n/a
12,086,093
82

Nationwide, UK

About Blog - Premier Waste provide complete Commercial Waste Management Services around Melbourne. They are a leading Australian owned Waste and Rubbish Removal company.

148
1,622
12,245,440
83

Sacramento, CA

About Blog - Their recycling service in the Sacramento area allows easy disposal of plastic, metal, paper, cardboard, used cars, electronics and more.

3,291
n/a
14,727,845
84

metrocompactor.com/waste-man..

Toronto, ON

About Blog - Metro Compactor is Canada's leading expert in waste and recycling equipment. Follow our waste management blog for all the latest news and events.

69
192
15,300,702
85

Revesby, Sydney

About Blog - Enviro Recycling Centre in Revesby specialises in the recovery of recyclable material from Construction and Demolition waste source from and around the Sydney Metropolitan Area.

148
1,123
16,674,710
86

Greenville, SC

About Blog - They recognise every waste stream is a cost to their company. Their comprehensive audit not only helps reduce waste but also identifies the optimal disposal and recycling options for all that remains.

n/a
10
18,725,103
87

About Blog - James Waste Management is a leading recycle and waste company in the UK. They have a skip hire service that operates throughout Essex, and can dispose off all types of waste both domestic, commercial and industrial.

151
2,587
19,888,701
88

West Oakland, CA

About Blog - They make the East Bay look good. Read about their E-Waste program and our educational opportunities for the community.

6
321
23,421,380
89

Texas

About Blog - Brazos Valley Trash Valet & Recycling is revolutionizing the way trash and recyclables are collected in multi-family and single-family communities and businesses throughout the Brazos Valley.
Frequency - about 1 post per month

487
185
30,336,941
90

72 Tremont Street

About Blog - The Melrose Recycles Blog is intended to inform the residents of Melrose about the important solid waste and recycling news, projects, events and campaigns.
Frequency - about 2 posts per week

600
519
n/a
91

cheshire

About Blog - EnviroCraft is an independent recycling and waste management specialist. Our aim is to divert waste from landfill and maximise recycling. For all the latest waste management and recycling news and advice check out our blog!

n/a
91
n/a
92

NY, NH, MA, ME, RI, CT

About Blog - Consultants for hazardous waste disposal, lab pack chemical removal, identification, testing, disposal, radioactive, profiling, storage, audits, transport.

60
95
n/a
93

Longmont, CO

About Blog - Green Girl Recycling is committed to making recycling in Boulder, Larimer and Weld Counties simple, effective and affordable for all types of customers (residential, commercial, institutional, office, restaurant, and government).

475
68
n/a
94

New York, NY

About Blog - Return Recycling seeks to create a community around waste management, an effort that will promote further education, passion, and action in creating a sustainable and responsible waste system.
Frequency - about 1 post per month

262
96
n/a
95

About Blog - Jefferson Recycling specializes in customizing "turn-key" recycling options for your home renovation projects or construction operations.

167
n/a
n/a
96

Stamford, CT

About Blog - City Carting & Recycling is Conneticut's premier waste collection & management company.
Frequency - about 1 post per month

260
17
n/a
97

preston

About Blog - Able Skip Hire Ltd is one of Lancashire's best known Skip Hire & Recycling Companies. They offer a variety of different skip sizes and types to meet all your waste requirements, from simple DIY jobs and general Household tidy-ups right through to multi-million pound Refurbishment Contracts and new build Residential Developments.
Frequency - about 1 post per week

1,089
709
n/a
98

United States

About Blog - Dumpstermaxx offers roll off dumpster rental services for construction, residential projects, landscaping, and household junk.
Frequency - about 1 post per month

21
12
n/a
99

greentreeelectronicrecycling..

Irvine, CA

About Blog - Green Tree Electronic Recycling offers electronic waste recycling for computers, servers & more.

8
46
n/a
100

Meerut, Uttar Pradesh

About Blog - Its objective is to Recycle/ Processing of all Scrap Materials, Recycling of Electronic Goods, Mobiles, Laptops, Computer Accessories & Batteries.

7
n/a
n/a
101

Manchester Gtr Mcr NW UK

About Blog - EMERGE provides the full range of waste, recycling and confidential shredding services to businesses and schools, and promotes sustainable resource management by offering advice, information and educational services within the wider community.The blog seeks to empower people by raising awareness about resource-use, waste management, food redistribution and environmental issues.

679
9,330
n/a
These blogs are ranked based on following criteria
Google reputation and Google search ranking
Influence and popularity on Facebook, twitter and other social media sites

Quality and consistency of posts.

Feedspot's editorial team and expert review
Top 100 Recycling Blogs Winners
CONGRATULATIONS to every blogger that has made to Top Recycling blogs list! This is the most comprehensive list of best Recycling blogs on the internet and I'm honoured to have you as part of this! I personally give you a high-five and want to thank you for your contribution to this world.
If your blog is one of the Top 100 Recycling blogs, you have the honour of displaying the following badge on your site. Use the below code to display this badge proudly on your blog. You deserve it!:
<a href="https://blog.feedspot.com/recycling_blogs/" title="Recycling Blogs"><img src="https://blog-cdn.feedspot.com/wp-content/uploads/2017/03/recycling-100-transparent_216px.png" ></img></a>
Tags: recycling rss feeds