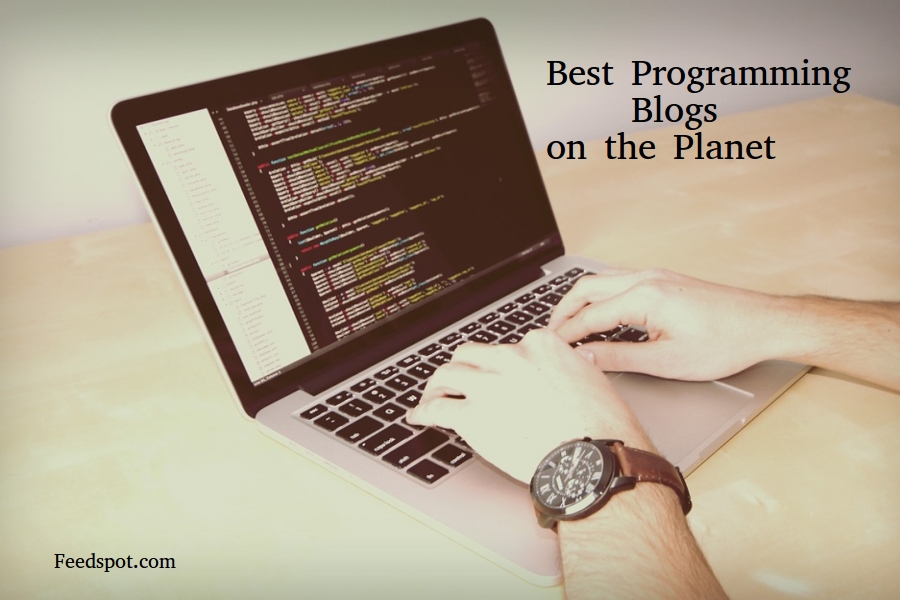 Programming Blogs List.
The Best Programming blogs from thousands of top Programming blogs in our index using search and social metrics. Data will be refreshed once a week. Also check out Top Programming Youtube Channels list for Top videos on Programming.
If your blog is selected in this list, you have the honour of displaying this Badge (Award) on your blog.
Programming Blogs
Rank

Blog Name

Facebook Fans

Twitter Followers

Alexa Rank

1

About Blog - The Crazy Programmer will guide you through the simplest basics of C, C , Android, PHP, SQL and many more coding languages.
Frequency - about 3 posts per week

161,823

10,792

38,727

2

Melbourne, Australia

About Blog - SitePoint is an online community of web professionals. We enjoy sharing our love for creating incredible internet things. Learn Web Design & Development with SitePoint tutorials, courses and books - HTML5, CSS3, JavaScript, PHP, mobile app development, Responsive Web Design.
Frequency - about 5 posts per week

101,749

135,606

1,969

3

About Blog - Keep your Swift & iOS skills up-to-date via hands-on tutorials. Ray Wenderlich is a favorite of everyone on the V-Play team. This is one of the best places on the internet for mobile game tutorials so give it a look as soon as you can. Ray has put together a very experienced team with expertise in a number of different areas, making this blog one of the biggest game development authorites online.
Frequency - about 7 posts per week

14,700

65,386

17,740

4

Zurich

About Blog - Best Practices and Lessons Learned from Writing Awesome Java and SQL Code. Get some hands-on insight on what's behind developing jOOQ.
Frequency - about 2 posts per week

793

4,494

111,774

5

About Blog - Tips, Tricks, and Techniques on using Cascading Style Sheets. CSS-Tricks* is created, written by, and maintained by Chris Coyier and a team of swell people.
Frequency - about 11 posts per week

71,827

340,322

2,440

6

Portland, Oregon

About Blog - Scott Hanselman on Programming, User Experience, The Zen of Computers and Life in General
Frequency - about 2 posts per week

n/a

196,058

39,635

7

Pune, India

About Blog - Learn Programming Codes and Tutorials for C Programming, Data Structures, Java, How - To Tutorials for Beginners with Detailed Description and Algorithm Analysis.
Frequency - about 2 posts per week

5,960

18

149,495

8

About Blog - A reddit for discussion and news about computer programming
Frequency - about 168 posts per week

1,160,869

518,694

8

9

Alvor, Portugal

About Blog - Codrops is a web design and development blog that publishes articles and tutorials about the latest web trends, techniques and new possibilities.
Frequency - about 3 posts per week

90,843

174,791

7,844

10

About Blog - A List Apart explores the design, development, and meaning of web content, with a special focus on web standards and best practices.
Frequency - about 3 posts per month

39,867

148,055

44,741

11

About Blog - Peteris Krumins' blog about programming, hacking, software reuse, software ideas, computer security, google and technology.
Frequency - about 3 posts per month

n/a

127,511

273,003

12

Milwaukee, Bend, and St. Pete

About Blog - Chris Coyier, Alex Vazquez, and Tim Sabat, the co-founders of CodePen talk about the ins and outs of running a web software business. CodePen is a playground for the front end side of the web. It's all about inspiration, education, and sharing.
Frequency - about 2 posts per week

296

67,157

904

13

Madison, WI, US

About Blog - David Walsh is Mozilla's senior web developer, and the core developer for the MooTools Javascript Framework. David's blog reflects his skills in HTML/5, JS and CSS, and offers a ton of engaging advice and insight into front-end technologies. Even more obvious is his passion for open source contribution and trial-and-error development, making his blog one of the most honest and engaging around.
Frequency - about 2 posts per week

n/a

68,859

16,750

14

About Blog - Stories by David Ford on Medium
Frequency - about 1 post per week

n/a

71

329

15

About Blog - The Official blog page of Go Programming Language. Get the latest update, news, libraries and much more.
Frequency - about 1 post per month
Since - Feb 2010

n/a

57,044

12,986

16

SJ, SEA, LA, DA, DC, CHI

About Blog - At Coding Dojo, students quickly learn to code and think like software engineers and develop web applications as an end result. We cover HTML, CSS, JavaScript, PHP, MVC, Ruby on Rails, MySQL, .NET Core, OOP and much more.
Frequency - about 3 posts per month

24,845

5

47,538

17

Bay Area, CA

About Blog - Coding Horror is the outlet of seasoned web application developer Jeff Atwood. The blog tackles all manner of software development and security topics, but it's Jeff's interest in the human component of development that makes the blog stand out.
Frequency - about 1 post per month

n/a

233,611

57,224

18

India

About Blog - Huge collection of data structure articles on various topics which are useful for technical interview preparation to crack interviews of top IT companies.
Frequency - about 1 post per week

25,155

1,935

101,076

19

New Delhi, India

About Blog - Guide to Java Programming, Software Testing Interviews. Read Selenium Webdriver Tutorials, Learn Python Programming, and Java Online. Practice Selenium Interview Questions, Python, and Java Online Quizzes.
Frequency - about 2 posts per month

3,569

3,951

103,555

20

About Blog - Math Blog by John D. Cook. I help companies make better decisions by taking advantage of the data they have, combining it with expert opinion, creating mathematical models, overcoming computational difficulties, and interpreting the results. My blog The Endeavour has short, self-contained articles on a variety of topics, technical and non-technical.
Frequency - about 4 posts per week

n/a

28,279

104,160

21

About Blog - This blog began in 2003 as a personal online journal; in the past few years it became mostly an outlet for technical, programming-related posts. It's my way to document things I find interesting for my future self.
Frequency - about 2 posts per month

n/a

1,020

121,334

22

About Blog - Telling you why bugs happen and servers crash, so you can go home on the weekend. Blogging about Java and Scala. Takipi is now OverOps.
Frequency - about 2 posts per week

2,700

7,222

124,106

23

About Blog - The Ultimate Computer Technology Blog - The Knowledgebase of Computing
Frequency - about 3 posts per week

2,886

409

128,832

24

India

About Blog - Discussdesk is a programming blog mainly focus on topics ranges from PHP, Mysql, Javascript, Jquery, Ajax, Web development, Programming tips with their live demo and download. User can see live demo of web projects and download their code.
Frequency - about 1 post per month

1,179

742

131,042

25

About Blog - Objc.io is focused on iOS and OS X development. It provides a user-friendly and beautifully designed page with more than 20 issues on such topics as debugging, security, games, MVVM and more.
Frequency - about 1 post per month

n/a

25,589

168,263

26

San Francisco, CA

About Blog - My name is Jeremy Kun. I'm currently a software engineer at 21.co . I earned a PhD in mathematics from the University of Illinois at Chicago, where my advisor was Lev Reyzin.
Frequency - about 2 posts per month

4,999

3,494

198,270

27

New York, NY

About Blog - The Fueled team is united by an unwavering passion for quality. We focus on development, design, and strategy to passionately pursue the bleeding, hairsplitting, cutting edge of mobile apps. We're not here to work on just any apps or for any client. We come to work in the morning to build the best apps for the best clients. It's what makes us tick.
Frequency - about 1 post per week

7,389

8,831

209,729

28

About Blog - Programming languages news, articles and discussion
Frequency - about 3 posts per month

n/a

n/a

379,556

29

NYC

About Blog - CTO (Chief Troll Officer) @betterdotcom. Ex-Spotify, co-organizing NYC ML meetup, open sourcing sometimes (Luigi, Annoy), blogging random stuff. Dad.
Frequency - about 2 posts per month

n/a

4,794

408,120

30

wani

About Blog - This website share new programming related books and pdfs . This pdf will help you to learn language with easy way. Mission is to help programmers.
Frequency - about 6 posts per week

510

1,262

414,409

31

About Blog - We tutsplanet provides tutorials for building websites. We are a good source of quality web development, digital marketing tutorials. We are helping to build great websites. Read very effective and helpful tutorials about technology, programming and marketing.
Frequency - about 3 posts per week

13

n/a

669,453

32

Okanagan Falls, BC

About Blog - Programming Zen is a blog about programming and emerging technologies. Authored by Antonio Cangiano, Software Developer and Technical Evangelist at IBM.
Frequency - about 1 post per month

n/a

3,953

755,770

33

About Blog - This blog will provide good and perfect skill and want your skill to grow in the perfect direction. We just try to improve your skill which helps to you and also help to grow your nation by contributing them because contributing is the only way to grow.
Frequency - about 2 posts per month

1,907

33

779,598

34

Stockholm, Sweden

About Blog - Senior software developer in Stockholm, Sweden. Loves coding, learning, reading.
Frequency - about 1 post per month

n/a

543

916,162

35

Amsterdam, The Netherlands

About Blog - I'm Stef van den Ham. I write SASS, HTML5, Javascript, PHP, Bash with Sublime Text 2, Atom, Vim for fun and profit. I work as CTO at NoProtocol in Amsterdam. When not fondling with Node or sockets I like to twiddle with Arduino's and making useful and useless things with hardware.
Frequency - about 1 post per month

n/a

290

972,417

36

About Blog - Jquery Training is a blog for the IT professionals, Web Developers. Best Jquery ,javascript, HTML5 CSS3 tutorial with jquery examples, php script , demos for beginners, web designers and web developers.
Frequency - about 2 posts per week

19

8

974,939

37

About Blog - Java, Spring, Design Patterns, Clean Code and more...
Frequency - about 2 posts per month

1,865

572

1,021,319

38

Mountain View, CA

About Blog - Code Simplicity focuses on the idea of simplicity: simple things, simple thoughts, and simple ideas that can make the world of computing a better place.
Frequency - about 1 post per month

n/a

4,336

1,025,720

39

About Blog - Web development explained for normal people - Learn HTML, CSS and JavaScript in ways that you can actually understand!
Frequency - about 1 post per week
Since - Sep 2017

n/a

n/a

1,161,837

40

Kingdom of Saudi Arabia

About Blog - PHP Clicks is a blog for advanced interactive tutorials. It covers HTML, CSS, jQuery, Angular JS, HTML5, CSS3, JavaScript, PHP, MySQL, WordPress, and much more.
Frequency - about 1 post per month

80

23

1,194,184

41

About Blog - Learn Oracle, PHP, HTML,CSS,Perl,UNIX shell scripts. We are a bunch of people who are working in various IT technology areas. We have extensive experience in various IT technology area and we want to help other IT by providing good tips and tricks so that they can excel in there respective fields. We believe in sharing the knowledge and helping in each other.
Frequency - about 3 posts per week

n/a

n/a

1,461,635

42

About Blog - It is blog about Android, Java, its frameworks, Netbeans,Eclipse,databases: MySQL, MS SQL Server, Oracle, SQLite and another nice things in computer science.
Frequency - about 4 posts per month

n/a

n/a

1,494,211

43

Kolkata

About Blog - All about programming and tech information. Under the banner of Geekboots, we are a team of highly skilled and professional designers and developers. We help step up your business online by delivering an innovative, professional and cost effective solutions. We offer website design, web application, logo design, graphic design, android app, etc. to our clients globally.
Frequency - about 3 posts per week

1,760

1,008

1,644,960

44

Mountain View

About Blog - Programming Throwdown educates current and future Computer Scientists and Software Engineers on a cavalcade of programming and tech topics. Every show will cover a new programming language, so listeners will be able to speak intelligently about any programming language.
Frequency - about 1 post per month

4,819

780

1,781,019

45

India, Hyderabad

About Blog - TechXposer is a community blog targeting IT Professionals and Developers. We have a strong team of committed professional authors who post articles regular
Frequency - about 3 posts per month
Since - Apr 2017

80

5

10,368,042

46

University of Maryland

About Blog - The Programming Languages Enthusiast - Developments in PL, and why they matter
Frequency - about 1 post per month

n/a

1,442

2,757,166

47

About Blog - On the Livecoding.tv blog, we'll share stories about programming languages, skills and updates from coding industry, picked by our staff and broadcasters. LiveEdu is a learning live streaming platform for watching live classes on how real products are built and interacting with people.
Frequency - about 2 posts per week

9,152

69

3,558,656

48

About Blog - Learn java, android developer, app development, mobile app development, android studio tutorial, android app development, android development tutorial, android tutorial, mobile application development, app developer, java for beginners and muc more
Frequency - about 7 posts per week
Since - Oct 2017

4

n/a

11,827,107

49

About Blog - A blog about programs basically written in Java and C language.
Frequency - about 21 posts per week

n/a

n/a

n/a

50

About Blog - A Zambian online newspaper with latest news specialising in investigative reporting and analysis. Want to learn about business techniques? Want to learn about programming? Follow us For latest articles.
Frequency - about 1 post per month

564,793

496

4,368,232

51

About Blog - The blog about programming, working in IT and not only.
Frequency - about 2 posts per month

40

n/a

4,721,180

52

About Blog - Idiot Developer is a programming blog.It has tutorial focused on Web Programming, Javascipt, Angular, React JS, Jquery, Ionic, Ajax, PHP, Demos, Web Design and MySQL.
Frequency - about 2 posts per week

184

14

6,069,593

53

Chennai

About Blog - W3technology is a technical blog with quality articles on various programming languages with appropriate source code,screenshots.
Frequency - about 4 posts per month

467

524

7,876,384

54

yetanothermathprogrammingcon..

About Blog - So I am now a full time math programming consultant... I will try to post my (technical) notes here. Keeping a searchable list of them will make this useful for me in my daily life.
Frequency - about 2 posts per week

n/a

n/a

9,161,959

55

About Blog - Community For programmers to help each other in issues which we face while developing web applications.
Frequency - about 1 post per month

1,327

7

11,710,870

56

n/a

n/a

16,728,878
These blogs are ranked based on following criteria
Google reputation and Google search ranking
Influence and popularity on Facebook, twitter and other social media sites

Quality and consistency of posts.

Feedspot's editorial team and expert review
Top 50 Programming Blogs Winners
CONGRATULATIONS to every blogger that has made this Top Programming blogs list! This is the most comprehensive list of best Programming blogs on the internet and I'm honoured to have you as part of this! I personally give you a high-five and want to thank you for your contribution to this world.
If your blog is one of the Top 50 Programming blogs, you have the honour of displaying the following badge on your site. Use the below code to display this badge proudly on your blog. You deserve it!:
<a href="https://blog.feedspot.com/programming_blogs/" title="Programming Blogs"><img src="https://blog-cdn.feedspot.com/wp-content/uploads/2017/01/programming-50-transparent_216px.png" ></img></a>
Tags: programming rss feeds