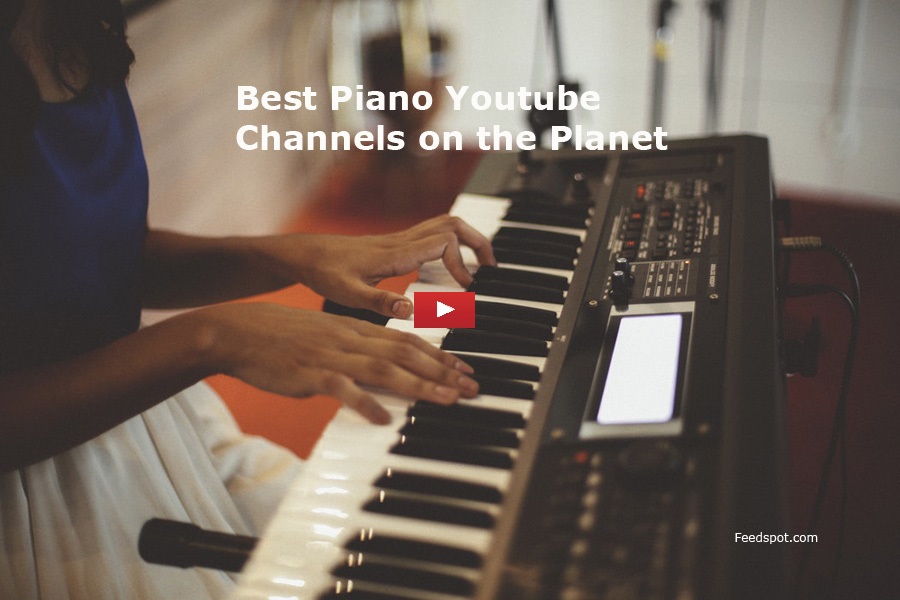 Piano Youtube Channels List
The best Piano Youtube Channels selected from thousands of Piano channels on youtube and ranked based on its subscribers and popularity. Data will be refreshed once a week.
If your Youtube is selected in this list, you have the honour of displaying this Badge (Award) on your website.
Piano Youtube Channels

Czechia About Youtuber Just piano tutorials in synthesia.
Frequency about 6 videos per week
Since Apr 2010
Channel youtube.com/user/MrPeter1991..+ Follow
Youtube Followers- 2,369,876 . Views Count- 1,053,717,885 . Video Count - 1,665


United States About Youtuber HDpiano invented HYBRID Piano Lessons and makes the easiest, clearest, most accurate piano tutorials on the planet. Learn how to play your favorite songs pain-free in HD, right in the comfort of your own home. New songs are posted at least twice every week so you can learn and learn! That's a promise you can count on.
Frequency about 5 videos per week
Since Aug 2008
Channel youtube.com/user/HDPiano/videos+ Follow
Youtube Followers- 1,058,744 . Views Count- 141,497,191 . Video Count - 1,124


Canada About Youtuber This Youtube Channel is dedicated to showcase piano covers of some favourite contemporary songs such as The Weeknd, Ed Sheeran, Drake, Justin Bieber, Lana Del Rey, & many many more, arranged by ear. This channel also features original production, composition, remixes and collaborations by The Theorist.
Frequency about 3 videos per month
Since Mar 2009
Channel youtube.com/user/EDxHENDY..+ Follow
Youtube Followers- 958,877 . Views Count- 116,483,709 . Video Count - 322


Spain About Youtuber Hi there, we aim to be the first to bring you new piano tutorials from your favourite artists.
Frequency about 3 videos per week
Since Aug 2013
Channel youtube.com/user/newpianotut..+ Follow
Youtube Followers- 868,000 . Views Count- 474,364,636 . Video Count - 2,345


Australia About Youtuber Sing2Piano produce piano backing tracks for your favorite vocal songs. Follow us to be up with the latest vids & releases.
Frequency about 4 videos per week
Since Oct 2010
Channel youtube.com/user/Sing2Piano/..+ Follow
Youtube Followers- 1,126,986 . Views Count- 580,249,561 . Video Count - 844


Utah, U.S.A. About Youtuber What do you get when you mix up a marketing genius that does video, a studio engineer that writes music, a pianist that had a successful solo career, and a cellist that does pretty much everything? The Piano Guys: a miraculous meeting of 'guys' with the same intrinsic purpose -- to make a positive impact in the lives of people all over the world through music videos.
Frequency about 2 videos per month
Since Mar 2010
Channel youtube.com/user/ThePianoGuy..+ Follow
Youtube Followers- 6,573,951 . Views Count- 1,757,868,469 . Video Count - 97


United States About Youtuber Piano instrumental arrangements of the music from video games, anime, movies, and radio. You will also find classical, and my compositional/improvisational work.
Frequency about 1 video per week
Since Aug 2007
Channel youtube.com/user/kylelandry/..+ Follow
Youtube Followers- 739,748 . Views Count- 226,866,465 . Video Count - 809


Germany About Youtuber All the arrangements are made by me, sheet music is written by me. Making arrangements/playing piano is my job, your support allows me to continue.
Frequency about 3 videos per month
Since Nov 2007
Channel youtube.com/user/vkgoeswild/..+ Follow
Youtube Followers- 696,442 . Views Count- 190,605,760 . Video Count - 791


Bari, Apulia About Youtuber My name is Costantino Carrara (19)! I am from Italy and make music. Everything you can hear and see is original produced and put together by me.
Frequency about 1 video per month
Since Nov 2009
Channel youtube.com/user/kosta97pian..+ Follow
Youtube Followers- 728,528 . Views Count- 126,669,786 . Video Count - 134


About Youtuber One of the best youtube channel for everything related to piano.
Frequency about 3 videos per month
Since Mar 2007
Channel youtube.com/user/ValentinaLi..+ Follow
Youtube Followers- 544,968 . Views Count- 212,118,834 . Video Count - 372


Germany About Youtuber In this channel, you will find all the piano covers for anime OST/Openings and Endings that I have created since November 2009. Most of my piano videos are covers of currently airing Anime OP/ED but I occasionally make a Piano cover of older Anime songs too.
Frequency about 1 video per month
Since Jan 2010
Channel youtube.com/user/Animenzzz/v..+ Follow
Youtube Followers- 1,515,326 . Views Count- 292,222,526 . Video Count - 149


United Kingdom About Youtuber I am a 26 year old pianist & composer from the UK.
Frequency about 2 videos per week
Channel youtube.com/user/LucasKingPi..+ Follow
Youtube Followers- 591,456 . Views Count- 157,295,610 . Video Count - 1,569


About Youtuber Here you will find many anime / Korean Drama OSTs piano covers. I am a self-taught arranger since the end of 2013. I tend to arrange songs in a very unconventional way with a variation of techniques and with my own feelings of the music so that I can improve as a pianist at the same time.
Frequency about 1 video per week
Since Apr 2013
Channel youtube.com/user/Funguypiano..+ Follow
Youtube Followers- 498,329 . Views Count- 40,569,260 . Video Count - 254


Denmark About Youtuber If you love piano music you are at the right place!
Frequency about 2 videos per month
Since Dec 2011
Channel youtube.com/user/Ladegaard2/..+ Follow
Youtube Followers- 496,467 . Views Count- 138,821,585 . Video Count - 152


Sweden About Youtuber Piano tutorials for a great variety of songs, with HQ audio and sheet music in the video player. I upload covers of old favorites as well as brand new hit songs, sometimes on its very release date.
Frequency about 3 videos per week
Since Dec 2013
Channel youtube.com/channel/UCIjy..+ Follow
Youtube Followers- 460,673 . Views Count- 128,389,189 . Video Count - 994


Canada About Youtuber Piano Covers of Videogame and Movie Soundtracks. I blend my real piano performances with a Synthesia overlay, all in glorious 60fps.
Frequency about 1 video per month
Since Mar 2009
Channel youtube.com/user/Atin1337/vi..+ Follow
Youtube Followers- 453,599 . Views Count- 99,676,187 . Video Count - 150


United States About Youtuber OnlinePianist is a one of a kind animated piano tutorial application which enables its users to fully control & design their piano learning experience. With OnlinePianist you can learn how to play your favorite songs on piano or keyboard with an easy step by step lesson.
Frequency about 11 videos per week
Since Apr 2010
Channel youtube.com/user/OnlinePiani..+ Follow
Youtube Followers- 434,010 . Views Count- 162,706,225 . Video Count - 3,308


Germany About Youtuber Learn in an easy way how to play piano with easy piano tutorials. Made with synthesia and love.
Frequency about 6 videos per week
Since Dec 2013
Channel youtube.com/channel/UC9WD..+ Follow
Youtube Followers- 430,000 . Views Count- 91,288,704 . Video Count - 746


Italy About Youtuber I make piano arrangements and improvisations from radio and movies. You will also find my own compositions.
Frequency about 3 videos per month
Since Jun 2011
Channel youtube.com/user/FrancescoPa..+ Follow
Youtube Followers- 345,583 . Views Count- 51,511,385 . Video Count - 148


About Youtuber You are looking for Quality Piano Lessons for Quality Songs. PGN Piano provides anyone with free lessons for over 500 songs right here on YouTube! All of these lessons are for full songs and will teach you how to play the entire song of your choice for free!
Frequency about 2 videos per month
Since May 2009
Channel youtube.com/user/Paganful/vi..+ Follow
Youtube Followers- 298,446 . Views Count- 37,242,859 . Video Count - 997


United States About Youtuber My name is Dotan Negrin and I quit my 9-5 job to travel Around the World and play my upright piano in Extraordinary places.
Frequency about 1 video per month
Since Dec 2013
Channel youtube.com/user/pianoaround..+ Follow
Youtube Followers- 156,850 . Views Count- 31,369,582 . Video Count - 191


United States About Youtuber Learn to play piano the easy way with step-by-step, simple instructions from pianist and educator Joseph Hoffman.
Frequency about 2 videos per week
Since Jan 2010
Channel youtube.com/user/PianoLesson..+ Follow
Youtube Followers- 148,285 . Views Count- 22,796,585 . Video Count - 576


United States About Youtuber Hi, I'm Sara and I release family friendly music videos and hope to inspire people to find, develop, and share their own talents.
Frequency about 2 videos per month
Since Aug 2013
Channel youtube.com/user/ThePianoGal..+ Follow
Youtube Followers- 144,720 . Views Count- 12,341,905 . Video Count - 319


Netherlands About Youtuber Pop-Piano lessons for singers, pop-pianists, composers, producers and keyboardists!
Frequency about 1 video per month
Since Nov 2011
Channel youtube.com/user/pianocoutur..+ Follow
Youtube Followers- 119,520 . Views Count- 15,837,294 . Video Count - 199


Canada About Youtuber Hello, and welcome to pianoTV! I'm your host, Allysia, a piano teacher, musician and overall music enthusiast based in the Canadian prairies, bringing you videos all about how to play piano.
Frequency about 1 video per month
Since Mar 2015
Channel youtube.com/channel/UCz0P..+ Follow
Youtube Followers- 82,229 . Views Count- 6,135,044 . Video Count - 418


About Youtuber Join me every week as I go through all the different techniques and topics needed to know how to play the piano by ear effectively. From chords, chord progressions, scales, to all the 'tricks' and tips on music theory. I will cover all of these things in my weekly videos.
Frequency about 2 videos per week
Since Jul 2014
Channel youtube.com/channel/UCrpk..+ Follow
Youtube Followers- 72,413 . Views Count- 4,084,954 . Video Count - 157


United States About Youtuber Robert Estrin is a concert pianist who shares his love of pianos with everyone through his extensive video series. He covers everything from piano playing techniques.
Frequency about 3 videos per week
Since May 2009
Channel youtube.com/user/LivingPiano..+ Follow
Youtube Followers- 66,131 . Views Count- 13,689,830 . Video Count - 1,024


Houston, TX About Youtuber PianoSecrets will focus on learning easy, intermediate, advanced and professional keyboard techniques as well as rhythm, melody, harmony lessons and tutorials. Including scales, chords, arpeggios, inversions, music theory, and everything you need to know to learn how to play the piano. Students will be able to perform their favorite song at a beginner, intermediate, advanced and professional level ranging from classical to pop music.
Frequency about 2 videos per month
Since Mar 2016
Channel youtube.com/channel/UCoWe..+ Follow
Youtube Followers- 28,464 . Views Count- 3,001,630 . Video Count - 114


Australia About Youtuber Hello, and thanks for checking out my channel! My name's Beth, and I'm a piano teacher from Brisbane, Australia, here to infuriate you all by playing your pieces too fast/slow/without repeats etc! My channel contains pieces from method books and piano exams, but also from the random composer or genre collections. It's basically one giant repertoire exploration project.
Frequency about 8 videos per week
Channel youtube.com/user/tinymozarts..+ Follow
Youtube Followers- 15,747 . Views Count- 10,418,743 . Video Count - 5,000


About Youtuber Follow to get videos on the piano covers from Parodi Records.
Frequency about 1 video per month
Since Jan 2017
Channel youtube.com/channel/UCwtD..+ Follow
Youtube Followers- 2,060 . Views Count- 161,757 . Video Count - 13


Mississauga, Ontario About Youtuber This is my channel where I play piano interpretations of my favourite rock and metal songs. I'll be recording new videos regularly, and will be happy to take requests.
Frequency about 2 videos per month
Since May 2018
Channel youtube.com/channel/UCMgd..+ Follow
Youtube Followers- 678 . Views Count- 120,357 . Video Count - 65


Philippines About Youtuber I make piano covers for Japanese, Korean, English, and Tagalog songs XD. I have intentions of making guitar covers and later on the full-band cover if I happen to find a singer. Contents would be mostly music related.
Frequency about 2 videos per month
Since Feb 2018
Channel youtube.com/channel/UCwGT..+ Follow
Youtube Followers- 171 . Views Count- 14,900 . Video Count - 35


About Youtuber Keep up with videos from Christopher Payne.
Frequency about 1 video per month
Since Jan 2015
Channel youtube.com/channel/UCs7p..+ Follow
Youtube Followers- 58 . Views Count- 3,156 . Video Count - 1


About Youtuber Keep up with latest piano videos from Erick Urbina.
Frequency about 1 video per week
Channel youtube.com/channel/UCAaJ..+ Follow
Youtube Followers- 53 . Views Count- 8,762 . Video Count - 62

These Youtube Channels are ranked based on following criteria
Total youtube channels subscribers, video views, and video uploads
Quality and consistency of videos

Youtube search ranking

Feedspot editorial team' objective and subjective review