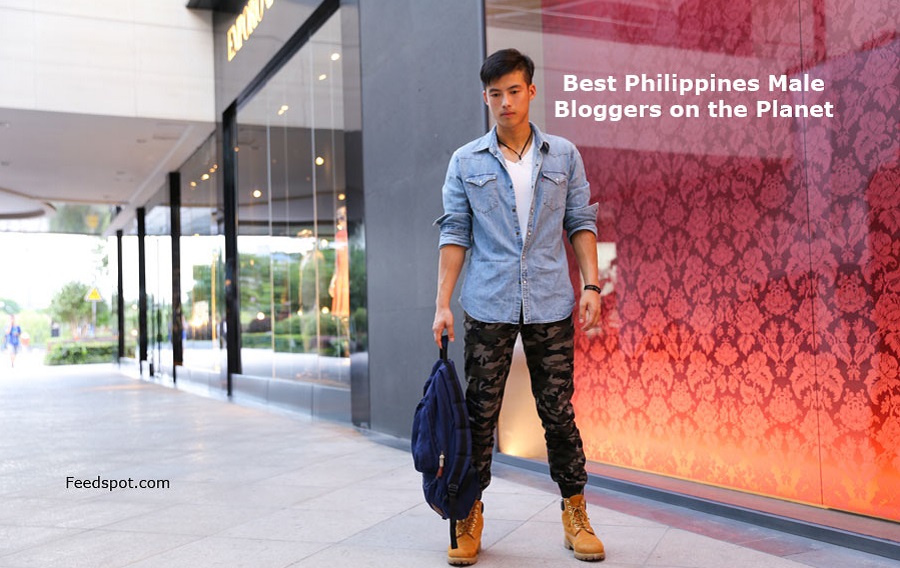 Philippines Male Bloggers List.
The Best Philippines Male Blogs from thousands of top bloggers in the Philippines using search and social metrics. Subscribe to these websites because they are actively working to educate, inspire, and empower their readers with frequent updates and high-quality information.
If your blog is selected in this list, you have the honour of displaying this Badge (Award) on your blog.
Philippines Male Bloggers

Manila About Blog Lifestyle, Culture, Politics, Women. At a pace that meets the era's constant stream of concerns, issues, and fashions. For the Filipino Man at His Best.
Frequency 30 posts / week
Blog esquiremag.ph
Facebook fans 291.6K ⋅ Twitter followers 390.4K ⋅ Instagram Followers 31.5K ⋅ Social Engagement 584ⓘ ⋅ Domain Authority 54ⓘ

Quezon City, National Capital About Blog Hi! I'm John Bueno! This is KUMAGCOW.COM - Men's Lifestyle Redefined! KUMAGCOW.COM wants to redefine what everyday life should be for the Filipino Man. An alternative lifestyle.
Frequency 2 posts / day
Since Apr 2006
Also in Philippines Blogs
Blog kumagcow.com
Facebook fans 3.1K ⋅ Twitter followers 3.9K ⋅ Instagram Followers 9.4K ⋅ Social Engagement 14ⓘ ⋅ Domain Authority 30ⓘ

MNL About Blog I'm Chuckie Dreyfus. This lifestyle blog is all about the things I LOVE and what interests me: food, travel, gadgets, fitness, entertainment and tech.
Frequency 9 posts / quarter
Since Jul 2012
Also in Philippines Lifestyle Blogs
Blog chuckiedreyfus.ph
Facebook fans 30.6K ⋅ Twitter followers 59.5K ⋅ Instagram Followers 61.2K ⋅ Social Engagement 43ⓘ ⋅ Domain Authority 30ⓘ

Philippines About Blog I'm a tennis player who loves to travel and to eat. I have been traveling since I was a teenager and I always find hidden gems and popular gastronomic spots wherever I go. My gastronomic journey begins now and let me share it to you. Check out the latest food finds and reviews from the hidden gems around the metro. Run by Emmanuel Damian.
Frequency 5 posts / month
Also in Tennis Blogs, Filipino Food Blogs, Gastronomy Blogs
Blog thetennisfoodie.com/blog
Facebook fans 8K ⋅ Twitter followers 1.5K ⋅ Instagram Followers 7.6K ⋅ Social Engagement 31ⓘ ⋅ Domain Authority 27ⓘ

Manila About Blog Fitz Villafuerte, the man behind the success of one of the top personal finance blogs in the Philippines, is a Filipino entrepreneur, investor, and Registered Financial Planner. Ready To Be Rich has established itself as a quality source of information for personal finance, investing strategies and business development.
Frequency 2 posts / week
Also in Philippines Financial Blogs
Blog fitzvillafuerte.com
Facebook fans 161K ⋅ Twitter followers 4.5K ⋅ Social Engagement 209ⓘ ⋅ Domain Authority 45ⓘ

Manila, Philippines About Blog Pinoy Guy Guide is a blog on men's fashion - which aims to provide news about the hottest apparel and clothing for men. PGG is a lifestyle blog for men - that gives updates on topics covering high-tech gadgets, chart-topping music, blockbuster movies, interesting men's hobbies and so on
Frequency 1 post / week
Since Feb 2007
Blog pinoyguyguide.com
Facebook fans 6K ⋅ Twitter followers 633 ⋅ Instagram Followers 1.2K ⋅ Social Engagement 136ⓘ ⋅ Domain Authority 26ⓘ

Philippines About Blog Ederic Eder's blog about news and films, movies and television, life and love, worship and struggle, and so on. I was born in Taal, Batangas and grew up in Santa Cruz, Marinduque. Other than journalism, Philippine pop culture and Tagalog language are among my areas of expertise. I love sweet food, and I read books on Philippine politics and history as well as those on technology and religion.
Frequency 2 posts / week
Blog ederic.net
Facebook fans 978 ⋅ Twitter followers 12.8K ⋅ Instagram Followers 1.2K ⋅ Social Engagement 8ⓘ ⋅ Domain Authority 35ⓘ

Republic of the Philippines About Blog Lost and Wonder is a travel and lifestyle blog built for adventure seekers and wonderers. Feed your adventurous soul and have a gastronomic journey with us!
Frequency 6 posts / quarter
Blog lostandwonder.com
Twitter followers 42 ⋅ Instagram Followers 1.1K ⋅ Social Engagement 18ⓘ ⋅ Domain Authority 13ⓘ

Manila, Philippines About Blog I am Jeff, head blogger and founder of Relatable Fitness Philippines. I'm not a fitness coach nor a fitness pro / expert. I'm just a fitness enthusiast who managed to stick to working out pretty consistently for around 6 years now. Overall, this blog covers most of the aspects you'd want to learn about: workout, diet routines, personal care reviews, fitness gadgets, running shoes, gears and accessories, healthy food recipes, fitness centers, outdoor activities, and overall fit health.
Frequency 12 posts / year
Also in Philippines Health and Fitness Blogs
Blog jeffalagar.com
Twitter followers 4K ⋅ Instagram Followers 18.4K ⋅ Social Engagement 2ⓘ ⋅ Domain Authority 19ⓘ

About Blog Keep up with articles from James RhEd whose mission is to travel the 81 Provinces of the Philippines.
Frequency 6 posts / year
Blog rhedtravels.net
Facebook fans 1.5K ⋅ Twitter followers 520 ⋅ Instagram Followers 9.6K ⋅ Social Engagement 1ⓘ ⋅ Domain Authority 5ⓘ

Republika ng Pilipinas About Blog Follow the solo adventures of Erik the Hungry Traveller all across the Philippines and soon the whole world! Find out the latest cool destinations, food spots and travel tips for all the Hungry Travelers across the globe!
Frequency 1 post / month
Since Nov 2016
Also in Travel Blogs
Blog erikthehungrytraveller.com
Facebook fans 966 ⋅ Twitter followers 100 ⋅ Instagram Followers 4.2K ⋅ Social Engagement 42ⓘ ⋅ Domain Authority 8ⓘ

About Blog Life at Philippines.
Frequency 6 posts / month
Blog akhdsrmc.blog.fc2.com
Domain Authority 91ⓘ

Philippines About Blog I'm a French-Filipino content creator with a passion for good food, travel, and fitness.
Blog thefatkidinside.com
Facebook fans 1.2M ⋅ Twitter followers 1.5M ⋅ Instagram Followers 3.2M ⋅ Domain Authority 42ⓘ

Angeles City, Central Luzon About Blog Hi! I'm Will Garcia, Travel & Lifestyle Blogger from the Culinary Capital of the Philippines, Pampanga. This website will feature and review different restaurants, local and international brands, travel destinations, hotels and anything within the more than 7,000 islands of the Philippines.
Frequency 3 posts / quarter
Since May 2013
Blog willexplorephilippines.com
Facebook fans 5.1K ⋅ Twitter followers 545 ⋅ Domain Authority 18ⓘ

Metro Manila, Philippines About Blog I'm a photographer and filmmaker based in Manila, PH. I blog about travel , photography gear, news about what I'm up to and Bits of Wisdom and Inspiration I've picked up along the way
Frequency 1 post / quarter
Since Dec 2013
Blog aaronpalabyab.com/blog
Facebook fans 2.7K ⋅ Twitter followers 531 ⋅ Instagram Followers 5.5K ⋅ Domain Authority 18ⓘ

Quezon City, Philippines About Blog Seph Cham shares his passion in fashion and photography through his blog. He wants to give new ideas not only in styling but also in gadgets, health and lifestyle.
Frequency 1 post / quarter
Since Feb 2013
Blog josephcham.com
Facebook fans 2.7K ⋅ Twitter followers 4.8K ⋅ Instagram Followers 31.7K ⋅ Domain Authority 19ⓘ

Philippines About Blog Daddy Yashiro's Journal is about a Pinoy Daddy Blogger who writes about his personal life experience as he go through the realm of fatherhood. He writes what he thinks about parenting and kids stuff! 'Learn from my experiences and teach me as well!'
Frequency 2 posts / quarter
Blog yashirokuru.blogspot.com
Facebook fans 809 ⋅ Twitter followers 1.7K ⋅ Social Engagement 1ⓘ ⋅ Domain Authority 21ⓘ

Manila, Philippines About Blog David Guison is the founder of top menswear blog DG MANILA. Launched in 2009, David has consistently produced quality content for his brand covering different fields from fashion, food, fitness, tech, grooming and travel
Frequency 4 posts / year
Since Jan 2009
Blog dgmanila.com
Facebook fans 127.6K ⋅ Twitter followers 53.1K ⋅ Instagram Followers 368.3K ⋅ Social Engagement 4ⓘ ⋅ Domain Authority 33ⓘ