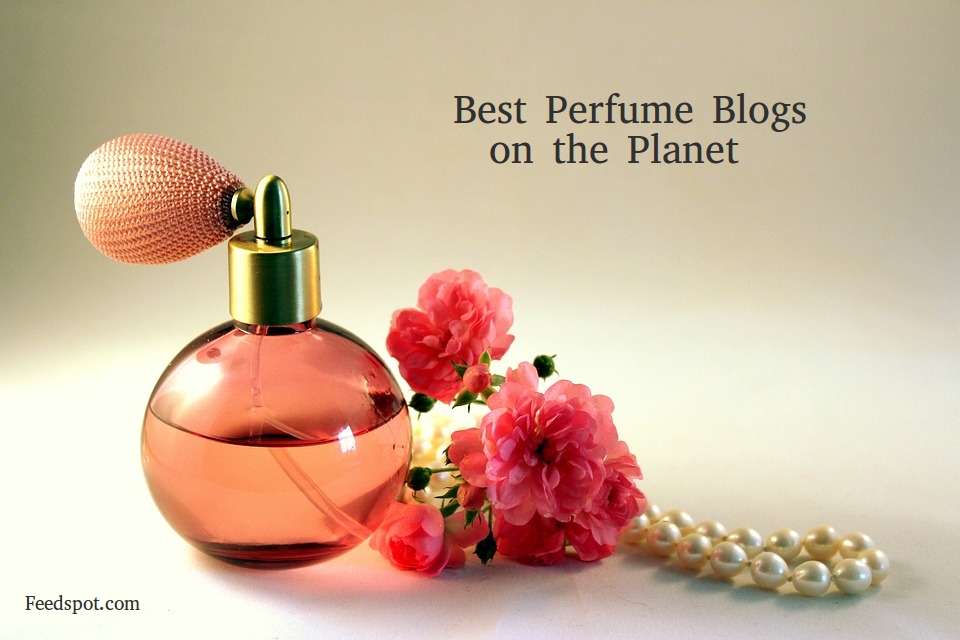 Perfume Blogs List.
The Best Perfume blogs from thousands of top Perfume blogs in our index using search and social metrics. Data will be refreshed once a week. Also check out Top Perfume Youtube Channels list for Top videos on Perfume.
If your blog is selected in this list, you have the honour of displaying this Badge (Award) on your blog.
Perfurme Blogs

About Blog Now Smell This is a blog about perfume. Regular topics include fragrance reviews, news, perfume shopping tips, and new & upcoming fragrance releases. We also cover related areas such as home fragrance, scented bath & body products, and perfume books.
Frequency about 34 posts per week.
Website nstperfume.com
Facebook fans 10,929. Twitter followers 8,418.

New York City About Blog CaFleureBon is a perfume and beauty blog featuring perfume reviews, beauty news and reviews, perfumer interviews, vintage fragrance reviews, and perfume notes.
Frequency about 17 posts per week.
Website cafleurebon.com
Facebook fans 5,992. Twitter followers 1,290.

London About Blog Basenotes is an online guide to perfume and fragrance, featuring news, a database of fragrances, perfume glossary, fragrance forums, user reviews and more.
Frequency about 2 posts per week.
Website basenotes.net
Facebook fans 15,240. Twitter followers 10,359.

UK About Blog The world's first official appreciation society for fragrance - website, events & Discovery Boxes plus our award-winning digital magazine The Scented Letter. Our mission is to help perfume-lovers everywhere discover, explore and enjoy the fascinating world of scent.
Frequency about 6 posts per week.
Website perfumesociety.org
Facebook fans 3,297. Twitter followers 6,453.

San Francisco, CA About Blog All about scents and perfumes.
Frequency about 4 posts per week.
Website reddit.com/r/Perfumes
Facebook fans 1,072,225. Twitter followers 460,772.

UK & Ireland About Blog Welcome to SCENTS, the new blog from The Perfume Shop. We're passionate about perfume and know you are, too! So we're going to help you to be in the know about scent, read the best advice from our in-house experts, and get savvy on how to choose the scents that suit you best. When it comes to perfume, we know our stuff. Prepare to be inspired!
Frequency about 1 post per week.
Website theperfumeshop.com/blog
Facebook fans 504,834. Twitter followers 66,033.

USA About Blog Welcome to the Perfume.com perfume blog where you can find all the latest perfume reviews, news, articles and information and perfumes and colognes. Perfume.com is America's #1 Perfume Site stocking thousands of perfumes and colognes from every brand like Guerlain, Calvin Klein, Dolce & Gabbana, Christian Dior, Burberry and hundreds of other brands.
Frequency about 1 post per month.
Website blog.perfume.com
Facebook fans 228,122. Twitter followers 6,980.

New York/Brussels About Blog Here you can find how to guides to selecting, testing and enjoying scents. Also includes are the lists of our top favorite perfumes for different occasions and articles covering all range of topics related to fragrance. If you're curious to step inside a perfume lab (or even become an industry professional), this group of essays will be of interest.
Frequency about 2 posts per week.
Website boisdejasmin.com/perfume-101
Facebook fans 7,366. Twitter followers 5,410.

New York About Blog IFF is a leading innovator of sensorial experiences that move the world. At the heart of our company, we are fueled by a sense of discovery, constantly asking "what if?" That passion for exploration drives us to co-create unique scents and tastes for fine fragrances and beauty, detergents and household goods, and well-loved foods and beverages.
Frequency about 2 posts per month.
Website blogs.iff.com
Facebook fans 3,502. Twitter followers 2,393.

About Blog A Perfume & Culture Blog: Latest news, reviews, trends, shopping tips, interviews, criticism, and social commentary.
Frequency about 4 posts per week.
Website mimifroufrou.com/scentedsala..
Facebook fans 426. Twitter followers 1,730.

Denver About Blog Perfume Posse - Perfume Reviews of niche perfumes, mainstream perfumes, vintage perfumes. Recommendations for Best Perfumes for Women and best colognes for Men.
Frequency about 4 posts per week.
Website perfumeposse.com
Facebook fans 2,103. Twitter followers 2,220.

About Blog A blog dedicated primarily to fragrance reviews, as well as perfume trends, news concerning the industry, perfumer profiles, interviews, and more. On occasion, a few pieces on history, food, or other issues may be posted as well.
Frequency about 1 post per week.
Website kafkaesqueblog.com
Facebook fans 2,193. Twitter followers 969.

UK/CA About Blog ThePerfumeExpert.com is a fragrance blog. Written by an expert you can trust, I provide you with Perfume reviews, Makeup Reviews and Beauty Reviews that are all written with passion and an eye for excellence. I also provide a list of the Best Perfumes and the latest MakeUp trends so that you can stay up to date and smelling pretty all at the same time!
Frequency about 1 post per month.
Website theperfumeexpert.com
Facebook fans 692. Twitter followers 1,675.

Milton Keynes-Adjacent, UK About Blog Welcome to The Candy Perfume Boy - a Jasmine Award winning perfume blog that chronicles one boy's obsession with fragrance and all things smelly. Come and sniff along with me!
Frequency about 3 posts per week.
Website thecandyperfumeboy.com
Facebook fans 1,169. Twitter followers 4,313.

Zurich About Blog Here at tauer perfumes, we make all our samples and fragrances by hand in Switzerland. For 10 years I am writing my own perfumery blog, where I talk about the craft of perfumery and the daily ups and downs of running an artistic perfumery house. Blog by Andy Tauer.
Frequency about 4 posts per month.
Website tauerperfumes.com
Facebook fans 6,779. Twitter followers 4,662.

UAE About Blog A treat for the indulgent and hi-flying middle eastern shopaholics, perfume lovers and connoisseurs alike — a unique platform discussing the true essence of perfumes and fragrances.
Frequency about 1 post per week.
Website parfumplusmag.fourplusmedia.com
Facebook fans 777. Twitter followers 192.

Jersey City, NJ About Blog EauMG is a perfume blog by Victoria Jent. It features fragrance and perfume reviews and news. It also features step-by-step vintage makeup tutorials. Our mission is to Inform fragrance and beauty addicts of upcoming launches, product reviews, and beauty deals & steals.
Frequency about 5 posts per week.
Website eaumg.net
Facebook fans 1,016. Twitter followers 4,756.

India About Blog ALL GOOD SCENTS A contemporary perfume brand launched in India. The fragrances are created and made in France. Rajiv Sheth the founder is a perfumery expert with almost two decades of experience.
Frequency about 2 posts per month.
Website allgoodscents.com/blog
Facebook fans 55,117. Twitter followers 1,033.

Poolesville, MD About Blog Colgonoisseur is the blog from Mark Behnke former Managing Editor of CaFleureBon, writer at Fragrantica, and Basenotes forum member Somerville Metro Man. I have been a lover of perfume for almost thirty years now.
Frequency about 7 posts per week.
Website colognoisseur.com
Facebook fans 874. Twitter followers 721.

Leicestershire, UK About Blog Behind The Scent is a UK scent-focused blog, with perfume and candle reviews, as well as beauty, lifestyle and events around Leicester.
Frequency about 1 post per week.
Website behindthescent.co.uk
Facebook fans 589. Twitter followers 4,331.

Englfield Green, London, UK About Blog Discover the PAIRFUM Collection ! Transform your home into a sensuous haven of boutique luxury. Find everything you need for your natural wellbeing: Home Fragrance, Organic Skin Care, Natural Perfume
Frequency about 2 posts per month.
Website pairfum.com/blog
Facebook fans 1,335. Twitter followers 1,242.

Wales, UK About Blog My blog reviews perfumes for seasons, all budgets and all tastes. I may stop when I reach 1001, but then fragrance is addictive. Dip in and find something you like. Blog by Samantha.
Frequency about 2 posts per week.
Website iscentyouaday.com
Facebook fans 423. Twitter followers 1,411.

Barcelona, Spain About Blog Eurofragance is an international family owned company that specializes in designing and manufacturing creative fragrances. People, Passion and Creativity are our best assets. Our goal is capturing sensations in partnership with our clients so that their products become the favorite of consumers.
Frequency about 2 posts per month.
Website eurofragance.com/blog
Facebook fans 521. Twitter followers 420.

Sydney, Australia About Blog We at Australian Perfume Junkies love scent in all its forms, we are not trained perfumers but consumers who love to talk about the magic that perfume weaves. There are plenty of groups for splitting and selling fragrance, we are here to talk about our love for it.
Frequency about 7 posts per week.
Website australianperfumejunkies.com
Facebook fans 963. Twitter followers 1,553.

Los Angeles About Blog Roxana Illuminated Perfume provides a unique alternative to synthetic fragrance that assists people in feeling nurtured and beautiful. In the tradition of alchemists and perfumers of ancient times, Roxana creates an illuminated line of botanical fragrances. Our intention is to shift consciousness and illuminate greater awareness of ones self as well as our lovely blue planet.
Frequency about 3 posts per month.
Website journal.illuminatedperfume.com
Facebook fans 1,767. Twitter followers 1,448.

Alexandria, VA About Blog An obsession of all things scented has led me to create this fragrance/perfume blog. Perfume is not my profession but is a hobby, as such I provide my insights from a layman's point of view. To me, scents and smells are very visual. In addition, I find that perfume is less about the notes and composition as it is about the way it makes me feel.
Frequency about 3 posts per month.
Website thescentedhound.com
Facebook fans n/a. Twitter followers 1,392.

Toronto About Blog Two perfumistas who want to help you feed your perfume obsessions: check out our site for decants of hard to find, fabulous perfumes.
Frequency about 1 post per week.
Website perfumeniche.com
Facebook fans n/a. Twitter followers 864.

Vancouver, BC About Blog She is from British Columbia where she is the founder of Ayala Moriel Parfums. The company creates natural artisan and bespoke perfumes inspired by her childhood. Her blog also includes a Perfumer's journal and reviews.
Frequency about 1 post per week.
Website ayalasmellyblog.blogspot.com
Facebook fans 1,119. Twitter followers 2,339.

Colombia About Blog Learn everything about the world of original perfumes
Frequency about 2 posts per month.
Website vencompras.com/blog
Facebook fans 7,770. Twitter followers 196.

Brooklyn, NY About Blog We invite you to experience Brooklyn Perfume Company's truly unique, handcrafted perfumes. They can be ordered directly from us through our online Store, or they can be purchased at The Twisted Lily, a fragrance boutique and apothecary in Brooklyn
Frequency about 1 post per month.
Website brooklynperfume.com/blog
Facebook fans 131. Twitter followers 7.

Bay Area, CA About Blog I love perfumes as long as I can remember myself. I share Perfumed Reflections of Life on my blog Written by Julia. The main purpose of this blog is to make friends with similar interests and maintain a conversation with them.
Frequency about 4 posts per month.
Website undina.com
Facebook fans n/a. Twitter followers 1,380.

About Blog Perfume Shrine is a perfume & art blog devoted to fragrance reviews, scent discussion, articles on perfume history and science, comparisons between modern & vintage scents, interviews with perfumers & insiders of the fragrance industry as well as scented travel memoirs, food and musings about anything scented.
Frequency about 3 posts per month.
Website perfumeshrine.blogspot.in
Facebook fans 452. Twitter followers 3,953.

United Kingdom About Blog Independent perfume reviews and thoughts on fragrance creation from a Jasmine Award winning writer.
Frequency about 2 posts per week.
Website persolaise.blogspot.in
Facebook fans 2,462. Twitter followers 4,410.

About Blog This blog is a constantly evolving forum for thoughts on perfume, perfume-making, plants and life in general. A big part of the blog is thinking about the ongoing process of learning and experimentation that leads to new perfumes, the exploration of perfumery materials, the theory and practice of perfume making, the challenges of marketing perfumes and other fragrance products.
Frequency about 3 posts per month.
Website perfumenw.blogspot.com
Facebook fans n/a. Twitter followers n/a.

About Blog Scent Hive is an on-line community dedicated primarily to natural and organic perfumes, make-up, skin care, and body products. Categories range from fragrances that are 100 percent pure to Victoria Jess. My goal is to provide you information on the best of what is out there in the world of green fragrance and beauty. Blog by Trish.
Frequency about 1 post per month.
Website scenthive.com
Facebook fans n/a. Twitter followers 2,292.

About Blog Dauper creates and manufactures flavors & fragrances to give a quality distinction with the taste and smell to products of different industries like perfume, cosmetics, household products or food & beverage industries. We design and manufacture flavours & fragrances to fill with emotions and sensations our everyday life.
Frequency about 1 post per month.
Website dauper.com/blog-en
Facebook fans 10,877. Twitter followers n/a.

London, England About Blog Experimental Perfume Club brings the world of fragrance to the people. We are a micro-perfumery that creates individual micro-batches of perfumes made by you! Enjoy our hands on perfume making workshop with experienced fragrance expert Emmanuelle Moeglin. Learn about perfumery & create your very own scent.
Frequency about 1 post per month.
Website experimentalperfumeclub.com/..
Facebook fans 1,182. Twitter followers 765.

Staffordshire, UK About Blog Random Musings Of A Born-Again Perfume Anorak - An Aldehydic Blend Of Passion And Irreverence!
Frequency about 3 posts per month.
Website bonkersaboutperfume.blogspot..
Facebook fans n/a. Twitter followers 1,038.

About Blog The Perfume Magpie is a lovely lady who is obsessed with perfumes, often spotted in perfume shops and cosmetic counters sniffing and spraying from numerous bottles with a keen interest. The purpose of this blog is to share her love for perfumes with anyone who is willing to listen to(read). She might write some mini-reviews, share some photos & stories.
Frequency about 1 post per month.
Website theperfumemagpie.com
Facebook fans 434. Twitter followers 144.

San Francisco, California About Blog Posts about Perfume Review written by Kristina Corbett.
Frequency about 2 posts per month.
Website pacificredhead.com/category/..
Facebook fans 72. Twitter followers 50.

About Blog The original niche perfume discovery service. Subscriptions, samples, and full bottles. Discover niche perfume your way.
Frequency about 2 posts per month.
Website olfactif.com/blogs/blog
Facebook fans 3,760. Twitter followers 1,242.

Jersey About Blog A boutique parfumerie where you can create your own fragrance and perfume in our one-of-a-kind custom fragrance creation classes.
Frequency about 1 post per month.
Website tijon.com/blogs/news/tagged/..
Facebook fans 2,774. Twitter followers 3,870.

Hinckley, Leicestershire, UK About Blog Perfume Scentral is a family run business that prides itself in genuine quality products with excellent pricing and a great on-line service.
Frequency about 1 post per month.
Website perfumescentral.co.uk/blog
Facebook fans 1,947. Twitter followers 2,308.

Barbados About Blog This blog explores perfume-making, plants and gardens, and anything beautiful or inspiring from the simple to the serene. Part of the mission of this blog is to identify, promote and bring awareness to the raw materials and ingredients that can be grown in Barbados and the Caribbean for the ethical and responsible manufacturing of perfume and skin care products.
Frequency about 1 post per month.
Website ajones-aromatics.com/blog/ca..
Facebook fans 59. Twitter followers 64.

London About Blog Blog by Nick Gilbert Perfume writer & expert. Consultant, evaluator, marketer & copywriter - specialising in fragrance. I am passionate about helping people develop vocabulary for scent and discover the incredible, fascinating world of olfaction.
Frequency about 1 post per month.
Website nickrgilbert.com
Facebook fans 453. Twitter followers 3,008.

Montreal Canada About Blog Luxury beauty blog providing a glimpse into the world of skincare, niche perfumes, makeup and more! Our philosophy is to source and offer a carefully edited selection of high quality, original and effective beauty products from innovators and specialists around the world.
Frequency about 1 post per month.
Website insider.etiket.ca/fragrance
Facebook fans 4,551. Twitter followers 1,100.

South Africa About Blog Perfume Power was born out of the passion and desire of founder Diana Rankin. From an early age Diana has loved and enjoyed beautiful and exotic perfumes.Diana's vision is to educate women and men on various perfume topics through inspiring, fun-filled and interactive Corporate and Private Perfume Workshops.
Frequency about 1 post per month.
Website perfumepower.co.za/blog
Facebook fans 2,023. Twitter followers 755.
These blogs are ranked based on following criteria
Google reputation and Google search ranking
Influence and popularity on Facebook, twitter and other social media sites

Quality and consistency of posts.

Feedspot's editorial team and expert review
Top 50 Perfume Blogs Winners
CONGRATULATIONS to every blogger that has made this Top Perfume blogs list! This is the most comprehensive list of best Perfume blogs on the internet and I'm honoured to have you as part of this! I personally give you a high-five and want to thank you for your contribution to this world.
If your blog is one of the Top 50 Perfume blogs, you have the honour of displaying the following badge on your site. Use the below code to display this badge proudly on your blog. You deserve it!:
<a href="https://blog.feedspot.com/perfume_blogs/" rel="nofollow" title="Perfume Bloggers"><img alt="Perfume Bloggers" src="https://blog-cdn.feedspot.com/wp-content/uploads/2017/02/perfume-50-transparent_216px.png"/></a>
Tags: perfume rss feeds