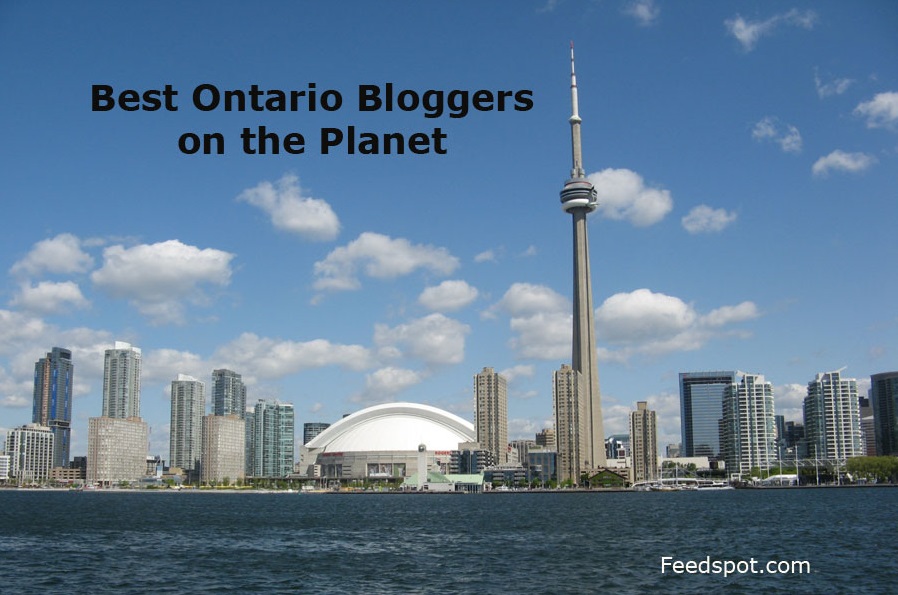 Ontario Bloggers List.
The Best Ontario Bloggers from thousands of Ontario Bloggers in our index using search and social metrics. We've carefully selected these websites because they are actively working to educate, inspire, and empower their readers with frequent updates and high-quality information. Also check out Ontario Youtube Channels.
If your blog is selected in this list, you have the honour of displaying this Badge (Award) on your blog.
Ontario Bloggers

Ontario, Canada About Blog Government of Ontario News. Ontario's official news source.
Frequency 3 posts / day
Since Oct 2003
Blog news.ontario.ca/newsroom/en
Twitter followers 30.6K ⋅ Social Engagement 31ⓘ ⋅ Domain Authority 82ⓘ

Ontario Canada About Blog Your one-stop source for daily and breaking news and commentary about Ontario. Our site aggregates important political and general interest news stories from media across the province.
Frequency 1 post / week
Since Jun 2011
Blog ontarionewswatch.com
Facebook fans 2.6K ⋅ Twitter followers 9.6K ⋅ Social Engagement 5ⓘ ⋅ Domain Authority 28ⓘ

San Francisco, CA About Blog A subreddit to discuss all the news and events taking place in the province of Ontario, Canada.
Frequency 20 posts / day
Blog reddit.com/r/ontario
Facebook fans 1.3M ⋅ Twitter followers 641.7K ⋅ Social Engagement 471ⓘ ⋅ Domain Authority 90ⓘ

Midland Ontario About Blog The Best Things To Do in Ontario! Find the best experiences and things to do for weekend or weekday day trips and getaway vacations in Ontario.
Frequency 3 posts / week
Also in Canada Travel Blogs
Blog 400eleven.com/blog
Facebook fans 6.3K ⋅ Instagram Followers 1.6K ⋅ Social Engagement 8ⓘ ⋅ Domain Authority 37ⓘ

Ontario, Canada About Blog The web log of Ontario Parks. Take some time to explore Ontario Parks. Our mission is to esources in a system of parks and protected areas that is sustainable and provides opportunities for inspiration, enjoyment and education: now and for future generations.
Frequency 1 post / day
Since Jun 2005
Blog ontarioparks.com/parksblog
Facebook fans 126.7K ⋅ Twitter followers 68.6K ⋅ Social Engagement 414ⓘ ⋅ Domain Authority 65ⓘ

Ontario About Blog Canada's best read outdoors magazine. Get the latest hunting and fishing tips, gear, news and more from our Ontario OUT of DOORS experts.
Frequency 30 posts / year
Blog oodmag.com
Facebook fans 12.6K ⋅ Twitter followers 7.7K ⋅ Social Engagement 50ⓘ ⋅ Domain Authority 38ⓘ

Toronto, Ontario About Blog Do Something Delicious! Find your taste of Ontario with #FeastOn. We're a not-for-profit devoted to connecting taste makers, sharing their stories and sparking delicious developments in culinary tourism
Frequency 1 post / week
Blog ontarioculinary.com
Facebook fans 7.9K ⋅ Twitter followers 10K ⋅ Social Engagement 44ⓘ ⋅ Domain Authority 44ⓘ

Ontario, Canada About Blog Simply Stacie is a lifestyle blog by a Canadian mom which is full of delicious recipes, easy crafts, household tips and other fun ideas to inspire readers to embrace an extraordinary life.
Frequency 1 post / week
Since Dec 2007
Also in Canadian Food Bloggers
Blog simplystacie.net
Facebook fans 190.7K ⋅ Twitter followers 69.7K ⋅ Instagram Followers 15.8K ⋅ Social Engagement 12ⓘ ⋅ Domain Authority 62ⓘ

London, Ontario About Blog A Canadian fashion, beauty and lifestyle blog that focus on personal style, beauty, home décor and so much more!
Frequency 9 posts / month
Since Jul 2010
Also in Canadian Fashion Blogs, Canadian Lifestyle Bloggers
Blog canadianfashionista.net
Twitter followers 7 ⋅ Domain Authority 45ⓘ

Toronto, Ontario About Blog Hi! My name is Rachelle Young, but please call me Chelle! I live in Toronto, Canada and I'm deeply obsessed with makeup. This blog focuses on my rather rabid love for beauty with the occasional side of fitness.
Frequency 2 posts / week
Since Oct 2013
Also in Canadian Beauty Bloggers
Blog makeup-your-mind.net
Facebook fans 1.2K ⋅ Twitter followers 2K ⋅ Social Engagement 4ⓘ ⋅ Domain Authority 34ⓘ

Oakville, Ontario About Blog Hi, I'm Angela and author of the NYT Bestseller, The Oh She Glows Cookbook. Oh She Glows is an award-winning recipe blog featuring over 500 healthy recipes inspiring you to embrace more plant-based foods in your diet without feeling the least bit deprived.
Frequency 8 posts / year
Since Mar 2015
Also in Food Blogs, Vegan Blogs, Healthy Eating Blogs, Clean Eating Blogs
Blog ohsheglows.com
Facebook fans 387.3K ⋅ Twitter followers 79.4K ⋅ Instagram Followers 624.1K ⋅ Social Engagement 845ⓘ ⋅ Domain Authority 72ⓘ

Whitby, Ontario About Blog We care about our customers and we care about the community too. Check out our Blog & Articles and see what's new in the industry! Compare rates on home, auto, business, motorcycle, life insurance, and more with quotes from over 40 Ontario insurers. Solid coverage and great customer service.
Frequency 1 post / week
Blog mitchellwhale.com/blog
Facebook fans 699 ⋅ Twitter followers 521 ⋅ Social Engagement 3ⓘ ⋅ Domain Authority 31ⓘ

Toronto, Ontario About Blog A fashion and lifestyle blog situated in Toronto, Ontario, Canada discussing personal style, fashion, beauty and culture.
Frequency 4 posts / quarter
Also in Petite Fashion Blogs
Blog lapetitenoob.com
Facebook fans 808 ⋅ Twitter followers 1.6K ⋅ Social Engagement 3ⓘ ⋅ Domain Authority 31ⓘ

Toronto About Blog Hi, I am Sakthi. I love Ontario Parks and Camping. Thats how I started this website. What started as a simple blog featuring my own trip logs has grown into a trustable brand name across Ontario over the last 2 years. I now have fellow outdoor adventurers and campers in Ontario whom I can call 'friends' proudly because of what I am doing here and I also constantly feature their work here. Trip logs, Gear Reviews, Tips and Tricks….anything that interests campers and park lovers in Ontario.
Frequency 2 posts / year
Since Jun 2013
Blog parksbloggerontario.com
Facebook fans 9.8K ⋅ Twitter followers 590 ⋅ Social Engagement 17ⓘ ⋅ Domain Authority 26ⓘ

Toronto, Ontario About Blog Athletics Ontario is the not-for-profit sport governing body for Athletics (Track & Field, Road Running, X-Country, Race Walking) in the province of Ontario.
Frequency 1 post / week
Blog athleticsontario.ca/blog
Facebook fans 2.3K ⋅ Twitter followers 3.1K ⋅ Social Engagement 51ⓘ ⋅ Domain Authority 35ⓘ

Ontario, Canada About Blog Hey there, I'm Stephanie and am the Canadian gal behind The World As I See It. I have a passion for travel, wildlife and the great outdoors! Through my blog I will take you along on my journey exploring my own backyard of Ontario to cities around the globe. I hope you will be inspired to get out and explore!
Frequency 1 post / week
Blog ladystravelblog.com
Twitter followers 8 ⋅ Instagram Followers 3.6K ⋅ Social Engagement 33ⓘ ⋅ Domain Authority 35ⓘ

London, Ontario About Blog A Canadian Lifestyle and Travel Blogger, Margarita is a mother of 3 teens & adult children. Her philosophy is to live with less... and travel more. DownshiftingPRO is a family, lifestyle and travel blog geared towards families with high school and university aged children. I also tackle life in midlife, dealing with our aging parents and finding a new independence to travel.
Frequency 1 post / quarter
Since Mar 2008
Blog downshiftingpro.com
Facebook fans 7.6K ⋅ Twitter followers 16.7K ⋅ Social Engagement 7ⓘ ⋅ Domain Authority 36ⓘ

Ontario, Canada About Blog Om Heating and Cooling offer the best furnace and air conditioner repair services and maintenance in Brampton and Mississauga along with providing all kinds of appliances like HVAC Solutions in Ontario. Follow to get updates.
Frequency 1 post / month
Blog omheating.ca/blog
Domain Authority 13ⓘ

Ontario, Canada About Blog My name is Stephanie Holmes, SassyModernMom on twitter, and I live in Ontario Canada. I'm the happily married Mother of two gorgeous girls, a feisty cat, and a giant Great Dane. Travel addict, sun seeker, coffee drinker, fashion lover, picture taker. This is a peek behind the closed and competitive doors of the suburbs. A place to come to learn about the best places to travel with your kids in Canada, the United States, the Caribbean and beyond!
Frequency 4 posts / month
Since Jan 2009
Blog howtosurvivelifeinthesuburbs..
Facebook fans 4.7K ⋅ Twitter followers 25.4K ⋅ Social Engagement 13ⓘ ⋅ Domain Authority 37ⓘ

Windsor, Ontario About Blog My name is Amanda and I live in Windsor, Ontario. I work in advertising but I've always been inspired by fashion, home decor and shopping for a steal. Rose City Style Guide is a space to share and chat about things that inspire me on the daily.
Frequency 8 posts / year
Since Dec 2013
Blog rosecitystyleguide.com
Facebook fans 1.2K ⋅ Twitter followers 446 ⋅ Instagram Followers 7.2K ⋅ Social Engagement 1ⓘ ⋅ Domain Authority 23ⓘ

Ontario, Canada About Blog Kidsumers (a play on the word 'consumers') is a lifestyle site that focuses on family, parenting, food and family travel. We provide travel tips, destination reviews, product reviews, healthy living information and family friendly articles. Our mission is to help Canadian families make informed choices when purchasing products and taking family vacations.
Frequency 3 posts / quarter
Since Aug 2010
Blog kidsumers.ca
Facebook fans 8.9K ⋅ Twitter followers 2.1K ⋅ Domain Authority 37ⓘ

Toronto, Ontario, Canada About Blog Michelle is a competitive runner and fitness enthusiast in Toronto, Ontario. When she is not running, she is coaching others to achieve their fitness goals and find happiness in health.
Since Aug 2010
Also in Canadian Running Blogs
Blog michelletherunner.com
Facebook fans 105 ⋅ Twitter followers 3.5K ⋅ Domain Authority 19ⓘ

Toronto, Ontario, Canada About Blog Two quirky girls from Toronto, Canada review products, trash fashion and generally have a good time with the world of beauty.
Frequency 1 post / day
Since Sep 2009
Also in Cosmetics Blogs
Blog beautycrazed.ca
Twitter followers 3.7K ⋅ Domain Authority 39ⓘ

Cambridge, Ontario About Blog Cambridge Ontario's top community blog. If it's something cool, fun or interesting we want to hear about it. We know there are many great events, festivals, parks, hiking trails, restaurants and stores all across the city just waiting to be discovered. We like to show off what is great about the City of Cambridge.
Frequency 5 posts / year
Blog cbridge.ca
Facebook fans 843 ⋅ Twitter followers 2.1K ⋅ Social Engagement 37ⓘ ⋅ Domain Authority 24ⓘ

Ottawa, Canada About Blog Postcards from the Mothership was started in 2005 by Danielle Donders. She shares stories about raising a family in Ottawa.
Frequency 1 post / quarter
Since Feb 2005
Also in Ottawa Blogs
Blog danigirl.ca/blog
Facebook fans 256 ⋅ Twitter followers 3.4K ⋅ Instagram Followers 609 ⋅ Social Engagement 1ⓘ ⋅ Domain Authority 37ⓘ

Hamilton, Ontario About Blog Nicole Rae is a caffeinated daydreamer that loves to write about the latest beauty, fashion, and lifestyle topics. She is always accepting new products to test and review on the blog. She loves to share news about new launches and brands with her readers and social media followers.
Frequency 1 post / month
Blog nicolerae.ca
Twitter followers 295 ⋅ Social Engagement 6ⓘ ⋅ Domain Authority 19ⓘ

Ottawa, Ontario About Blog Welcome to try small things! I'm Julie. This is my lifestyle blog for foodies, readers and decor enthusiasts who love to discover and try small things. I live with my family (including my 8-year-old son, my 10-year-old daughter, and our beloved kitty) in Ottawa, Ontario. A lifestyle blog for foodies, readers and decor enthusiasts who love to discover and try small things.
Frequency 3 posts / month
Since Apr 2014
Blog trysmallthings.com
Facebook fans 1.5K ⋅ Twitter followers 2.9K ⋅ Social Engagement 12ⓘ ⋅ Domain Authority 29ⓘ

London, Ontario About Blog LdnOnt & CAN mamas who love product reviews, mom advice, recipes & more. City Mom shares her ups and downs of raising kids in the city.
Frequency 8 posts / year
Since Jun 2010
Blog citymom.ca/blog
Facebook fans 2.3K ⋅ Twitter followers 3.9K ⋅ Social Engagement 3ⓘ ⋅ Domain Authority 32ⓘ

Toronto, Ontario About Blog I'm a little. is dedicated to pretty things & puns ~ it is a community for lovers of beauty, fashion, decor, entertaining & culinary consummation. take a moment, pour a cup of tea & share in my spot of daily inspiration. Little style blog featuring high-low items combining designer and affordable finds and my daily diary of travel, beauty and fitness routines.
Frequency 1 post / month
Since Dec 2009
Blog imalittle.com
Facebook fans 979 ⋅ Twitter followers 1.9K ⋅ Domain Authority 30ⓘ

Ontario, Canada About Blog Looking for recipes for the foods in season in Ontario? This is the place! I aim to hit 80% local produce in my recipes. Find also notes about my experiences as an organic vegetable and fruit gardener and breeder, and visits to growers, processors and vendors of all kinds of good foods of Ontario.
Frequency 1 post / day
Since Jun 2007
Blog seasonalontariofood.blogspot.ca
Social Engagement 2ⓘ ⋅ Domain Authority 25ⓘ

Ottawa, Ontario About Blog Welcome to Modexlusive by Chantal Sarkisian, where she shares styling tips, beauty secrets, and personal rants. This blog also covers beauty, travel, food and Ottawa lifestyle.
Frequency 1 post / month
Since Apr 2014
Blog modexlusive.com
Facebook fans 1K ⋅ Twitter followers 2.2K ⋅ Social Engagement 5ⓘ ⋅ Domain Authority 25ⓘ
Tags: ontario rss feeds