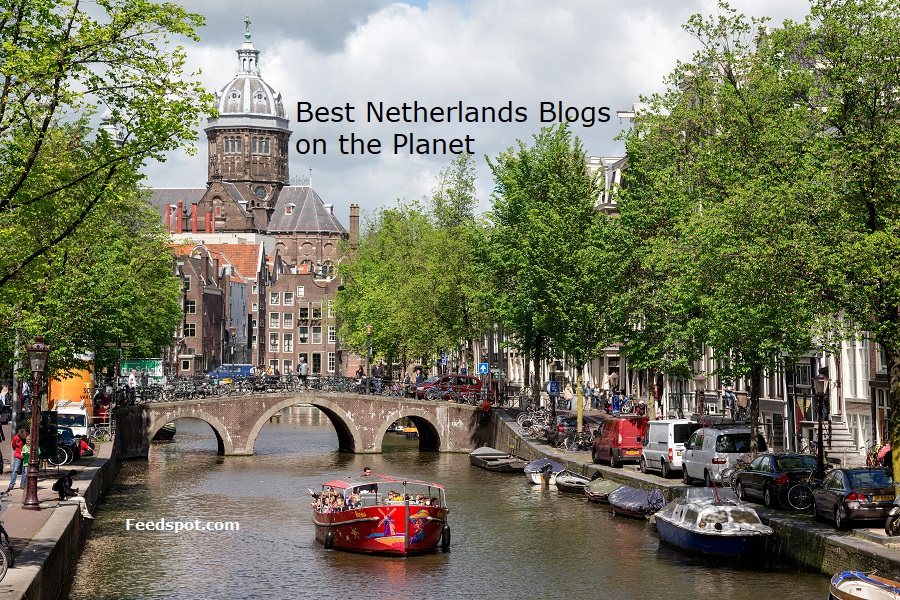 Netherlands Blogs List.
The Best Netherlands blogs from thousands of top Netherlands blogs in our index using search and social metrics. We've carefully selected these websites because they are actively working to educate, inspire, and empower their readers with frequent updates and high-quality information. Also check out Top Netherlands Youtube Channels list for Top videos on Netherlands.
If your blog is selected in this list, you have the honour of displaying this Badge (Award) on your blog.
Netherlands Blogs

Holland About Blog DutchReview is a Dutch magazine for expats, Dutchies with an international taste, Internationalists with a Dutch appetite, in short: anything involving Dutchness. Our content is a mix of themes related, but not restricted, to culture (both refined and popular), politics, history, opinions, lifestyle, and backgrounds. We strive to bring you factual, topical, and also humorous writings.
Frequency about 21 posts per week.
Since Jan 2013
Blog dutchreview.com
Facebook fans 55,215. Twitter followers 4,930.

About Blog Learn all about life in the Netherlands through the observations of the Netherlands snarkiest expat blogger the Amsterdam Shallow Man. Simon Woolcot began his journey as an expat eleven years ago, when he arrived in the Netherlands for what was supposed to be a six-month assignment.
Frequency about 3 posts per month.
Blog amsterdamshallowman.com
Facebook fans 33,714. Twitter followers 1,519.

About Blog Discover the Netherlands: famous for its windmills, tulips, cheese and bicycles. Find places to go, things to do and more. Start your journey today!
Frequency about 1 post per week.
Blog heavenly-holland.com
Facebook fans 46,362. Twitter followers n/a.

Amsterdam About Blog Frenchonista is founded by Samia Taika who was raised in France and is currently located in Amsterdam. Samia started her Blog before her brand 6 years ago. The blog is aimed to share brands Samia uses and she likes to advise her readers about them. Blogpost vary from Fashion to beauty, lifestyle, hotspots and much more. Frenchonista In Amsterdam as a brand as well as the Blog combines the French flavour with Samia's Moroccan heritage, where the leather is gorgeous and the colours of the culture
Frequency about 2 posts per week.
Since Mar 2012
Blog frenchonista-in-amsterdam.com
Facebook fans 13,159. Twitter followers 1,242.

The Netherlands About Blog Welcome to Turning Dutch, my little space in the blogosphere I use to share the ebb and flow of my expat journey. I'm British by birth and I have lived in the Netherlands since 2000. Here, I write about life as an expat mother, expat wife and an expat writer. I write about living life in a foreign language.
Frequency about 3 posts per month.
Since Jan 2012
Blog turningdutch.wordpress.com
Facebook fans 1,104. Twitter followers 4,203.

Amsterdam About Blog At Culy.nl we inspire you daily with articles where the water runs into your mouth. From tasty recipes to special food photography, and from handy movies about food to smart tips for the kitchen. Our goal is to surprise you with the best culinary experience from all over the world, whether on the other side of the earth, or just around the corner in the Netherlands.
Frequency about 19 posts per week.
Since Apr 2012
Blog culy.nl
Facebook fans 54,292. Twitter followers n/a.

Amsterdam About Blog CITYMOM.nl is dé hotspot & lifestyle website voor (bijna) moeders in de stad. Hier vind je alle dienstverleners en kindvriendelijke plekken bij jou in de buurt. De dagelijkse blog staat vol inspiratie over kinderkamers, kindermode, mom-musthaves, hotspots en kindvriendelijke reistips.
Frequency about 5 posts per week.
Since Feb 2013
Blog citymom.nl
Facebook fans 11,968. Twitter followers 2,545.

About Blog Francesca Kookt, eten is genieten. Smaakvolle recepten voor iedereen die houdt van lekker eten. Maar ook kooktips, producten, restaurants culinaire reizen en meer waar ik blij van word. Welkom in mijn keuken!
Frequency about 3 posts per week.
Since May 2016
Blog francescakookt.nl
Facebook fans 68,540. Twitter followers n/a.

Amsterdam, NL About Blog Amsterdamming is a lifestyle blog by Andra Stefan, an Amsterdam-based photographer and writer. Andra is originally from Bucharest, Romania. Soon after her move to the Netherlands – in Summer 2010 – and pursuing her passion for photography and writing, she founded Amsterdamming, a blog aiming to document her life in the city, to capture the mood of Amsterdam and the flavours of local life.
Frequency about 4 posts per month.
Since Mar 2011
Blog amsterdamming.com
Facebook fans 2,326. Twitter followers 1,283.

Amsterdam About Blog Advocatenkantoor AMS Advocaten has years of experience in advising and litigating for companies and individuals in the field of corporate law, real estate law, construction law, rent law, employment law, civil service law, insolvency law, collection, contract law, and media law. We blog on legal news: committed, experienced and out-of-the-box.
Frequency about 4 posts per week.
Blog amsadvocaten.com/blog
Facebook fans 10,088. Twitter followers 798.

Amsterdam About Blog My friends encouraged me to start a blog and after I finished my Master Informations Science, I was ready for a new and different challenge. What do I have to lose right?! After 2 years of blogging I have collaborated with various awesome brands already, producing beautiful creative content focussing on "the experience" of a product or service. I am super excited to share my journey and express my passion through this blog
Frequency about 1 post per week.
Blog hashtagbylily.com
Facebook fans 3,318. Twitter followers 307.

Amsterdam About Blog Welcome to Floortjeloves! An online destination for everybody loving fashion, beauty and lifestyle. As a 16-year-old girl, living in an area surrounded with cows and farmers, Floortje – the founder of the magazine – needed a place to put her inspiration into reality. Floortje created a place where she could share all of this. With just the simple idea to put her inspiration on a board and share her style with everybody who was interested.
Frequency about 4 posts per week.
Blog floortjeloves.com
Facebook fans 1,678. Twitter followers 422.

Amsterdam About Blog Invader Stu is one of the most famous of all of the Netherlands-based bloggers. Intending to apply for a job within bus distance of London, Stuart Billinghurst accidently found himself in Amsterdam nearly twenty years ago. Now the Englishman has a Dutch wife, two children and has moved to Friesland. This is the story of an accident prone Englishman living in The Netherlands.
Frequency about 2 posts per month.
Since Mar 2006
Blog invadingholland.com
Facebook fans 3,253. Twitter followers 1,155.

Amsterdam About Blog On amsterdamfoodie.nl, you'll find reviews, featured food posts, foode travel guides and more. You can also search for restaurant recommendations by price, location and type of cuisine. This is an archive of all the Amsterdam Foodie's blog posts - including restaurant reviews, foodie travels, and an Amsterdam food guide.
Frequency about 4 posts per month.
Since Jun 2007
Blog amsterdamfoodie.nl/blog
Facebook fans 4,711. Twitter followers 3,649.

The Netherlands About Blog I'm Hayley, 35, from the UK. I'm an expat living in Hilversum, The Netherlands (since April 2014) with my husband (he's Dutch) and my cat, Paris. (No, I didn't name her… long story.) I like to use brackets and this is my first attempt at blogging. This blog is mainly about Hilversum and 't Gooi area, eating too many bitterballen, getting married in Holland, learning how to be Dutch… and the language.
Frequency about 1 post per month.
Since Nov 2013
Blog bitterballenbruid.com
Facebook fans 1,892. Twitter followers 386.

The Netherlands About Blog The blog is a collection of all things I find interesting, ranging from politics to sex and whatever other shiny objects attract my attention. The title means "independent" in Gaelic. I'm Molly Rene, an American of Irish extraction currently living in the Netherlands. I'm a writer and editor who spends my free time listening to NPR while baking cookies and drinking beer.
Frequency about 1 post per week.
Since Jun 2008
Blog neamhspleachas.com
Facebook fans n/a. Twitter followers 379.

About Blog Two girls from Amsterdam with a strong desire to Wander, Travel and explore the world.
Frequency about 4 posts per week.
Blog wander-lust.nl
Facebook fans 6,144. Twitter followers n/a.

About Blog Do you like cycling? See more of Holland, explore the Netherlands by bike! Holland-Cycling.com has brought together all the information you need - in English.
Frequency about 1 post per month.
Also in Cycling Blogs
Blog holland-cycling.com/blog
Facebook fans 276. Twitter followers 318.

Schijndel About Blog Hi. Nice to have you here! I am Joyce van de Pas and this lifestyle mama blog is mine (but also yours). On this lifestyle blog you will read personal stories, reviews of products, opinions and hilarious moments that I think should be shared. My blogs are mostly with a wink, because the life of a (working) mom is complicated enough, is not it? I am the mother of a wonderful sweet boy of 12 and a tough girl of 8.
Frequency about 8 posts per week.
Blog mamsatwork.nl
Facebook fans 14,100. Twitter followers 5,579.

Netherlands About Blog Inspire my readers to regain control of their household with my cleaning, tidying and organization tips. But also to enjoy it, because a household is more than just scrub. Topics such as money, family, health, food, vacation and leisure are also included. I want to teach them the art of organizing to be able to enjoy more.
Frequency about 2 posts per week.
Blog firmahuishouden.nl
Facebook fans 2,606. Twitter followers 1,167.

Amsterdam, Netherlands About Blog Welcome! Since 2007, AmsterdamTips.com has been bringing up-to-date insider guides to Amsterdam, Netherlands from local experts - helping you to get more from your stay. Check out top Amsterdam tips from local experts on transport, hotels, things to do and more.
Frequency about 1 post per month.
Since Oct 2016
Blog amsterdamtips.com/news
Facebook fans n/a. Twitter followers 834.

The Netherlands About Blog Memorable Days is created in 2012 by Elisa to share my thoughts about beauty and fashion. I focus on Asian beauty products but I also review European as well as American cosmetics.
Frequency about 1 post per month.
Also in Beauty Blogs
Blog memorable-days.net
Facebook fans 2,329. Twitter followers 1,535.

Amsterdam, Nederland About Blog We are a young(ish) Dutch couple (late thirties/early forties) with kid who want to become financially independent, preferably before the age of 45 (would it not be great to have a midlife crisis while financially "retired"?).What we will do is report our Savings Rate, Cheesy Index, dividend income and other financial numbers from our household. We like food and health science, so this will pop up on occasion in the form of recipies.
Frequency about 2 posts per week.
Blog cheesyfinance.nl/wp
Facebook fans n/a. Twitter followers 1,350.

Netherlands About Blog Expat Since Birth is a blog by a multilingual expat-since-birth, linguist, researcher, mum of three, living in the Netherlands and writing about bilingualism, multiculturalism, parenting abroad, international life...
Frequency about 1 post per month.
Blog expatsincebirth.com
Facebook fans 589. Twitter followers 678.

Utrecht, The Netherlands About Blog Welcome! I am Esther, a 30 something journalist from Utrecht, The Netherlands. I am Your Dutch Guide, here to help you discover The Netherlands beyond Amsterdam. So, make your way around this website while planning your trip. I have listed: The most beautiful cities in The Netherlands, you can scan the very complete city guides ,Great tips to make your way around The Netherlands and plan your trip, Inspirational articles on my blog.
Frequency about 2 posts per month.
Since May 2017
Blog yourdutchguide.com/blog
Facebook fans 204. Twitter followers 98.

Amsterdam, The Netherlands About Blog 24 oranges is a Netherlands-based, English-language blog about anything Dutch. We post anything that's fun, interesting, weird, cool, and otherwise unique.Look at the Netherlands through native and non-native eyes. We blog about other things than the usual tourist and expat information. We are not an expat blog.
Frequency about 3 posts per week.
Since Feb 2007
Blog 24oranges.nl
Facebook fans 576. Twitter followers 1,855.

Amsterdam, Netherlands About Blog As Amsterdamian, I try to create a relationship with this mysterious city. I love it and can't get enough of it. Everywhere I look, there's something beautiful. I walk, I see, I take photos, I share. This is an invitation for you to join me in my journey through Amsterdam, to get to know together the life, the people, the streets and all the hidden corners.
Frequency about 4 posts per month.
Since Feb 2011
Also in Amsterdam Blogs
Blog amsterdamian.com
Facebook fans 2,130. Twitter followers 1,719.

About Blog This is a website to bring together those who have connections to both Australia and The Netherlands, through my own perspective of living as a dual national Dutch Australian.This is a pLACE to connect, share stories, information and experiences
Frequency about 3 posts per month.
Since Jul 2010
Blog dutchaustralian.com/blog
Facebook fans 2,629. Twitter followers 347.

About Blog ArnhemLife is an English platform that provides information about Arnhem on culture, food, social and living. For expats, tourists, international students and anyone else who has an interest in this beautiful city! We offer a variety of guided city tours, organize corporate events and offer a 9 day tour of the Netherlands, showing you the best we've got.
Frequency about 2 posts per month.
Blog arnhemlife.nl
Facebook fans 1,843. Twitter followers 334.

Amsterdam About Blog The #1 community for Dutch culture and the Netherlands. Humorous observations of all things Dutch. Stuff Dutch People Like is a celebration of all things Dutch. It investigates and highlights the idiosyncrasies of the Dutch culture and their uncanny ability to talk on a mobile phone, while carrying 2.5 children, 6 bags of groceries, a television set, and a mattress balanced on a gear-less bicycle.
Frequency about 1 post per month.
Blog stuffdutchpeoplelike.com
Facebook fans 478,857. Twitter followers 6,311.

Amsterdam About Blog Welcome to Amsterdive! I am Ana V. Martins, an actress turned content creative & social media wizard. I speak fluently Dutch, and I almost walk on water, too. Here I host you to my personal amsterdive. Selection of places & experiences in Amsterdam i find unique & ultimately make me happy. Arts & culture, alternative places & routes, stories and wonders.
Frequency about 2 posts per month.
Since Sep 2013
Blog amsterdive.com
Facebook fans 863. Twitter followers n/a.

Amsterdam - the Netherlands About Blog Are you or your employees moving to the Netherlands? Faced with a million questions and a mountain of paperwork? Let us help you navigate the Netherlands
Frequency about 2 posts per month.
Blog new2nl.com
Facebook fans 729. Twitter followers 415.

Eindhoven About Blog Welcome to SarandaAdriana.com! My name is Saranda and this is my personal website which includes my own fashion and lifestyle blog named Sarandipity. I am a fashionista at heart; psychologist within the communication field; lover of music & art; suffering from wanderlust and besides that a perfectionist.
Frequency about 1 post per week.
Since Jan 2012
Blog sarandaadriana.com
Facebook fans 1,746. Twitter followers 837.

Maastricht, The Netherlands About Blog Hey there! My name's Sabrina and this is (obviously) my blog. Here I post weekly articles about fashion. lifestyle and beauty, with the occasional travel post.
Frequency about 3 posts per month.
Since Jan 2017
Also in Dutch Beauty Blogs
Blog thedutchbloggergirl.com
Facebook fans 5. Twitter followers 222.

Netherlands About Blog My domestic travel life in the Netherlands embracing Dutch culture and exploring Haarlem, Amsterdam and more. With the fear of losing my English (not my mother tongue) while learning Dutch language, I decided to write and share my Dutch domestic travel life with whomever care enough to read it.
Frequency about 3 posts per week.
Since Feb 2016
Blog ibecomingdutch.wordpress.com
Facebook fans 411. Twitter followers 42.

The Hague About Blog I'm Gordon Darroch, I'm a journalist, writer and copy editor. I moved to The Hague (Netherlands) in 2014. Before that I lived in Glasgow. I specialize in general newspaper and magazine features, book reviews, legal issues, media matters, autism, football, rugby, athletics.
Frequency about 1 post per month.
Blog wordsforpress.wordpress.com
Facebook fans n/a. Twitter followers 569.

About Blog The story of a Mexican girl who left everything behind and moved to The Netherlands for love.
Frequency about 2 posts per month.
Since Oct 2017
Blog dutchintranslation.blogspot.nl
Facebook fans n/a. Twitter followers n/a.

Amsterdam About Blog Lily Wanderlust is a photography, travel and lifestyle blog featuring everyday adventures in Amsterdam and beyond!
Frequency about 1 post per month.
Blog lilywanderlust.com
Facebook fans n/a. Twitter followers n/a.
These blogs are ranked based on following criteria
Google reputation and Google search ranking
Influence and popularity on Facebook, twitter and other social media sites

Quality and consistency of posts.

Feedspot's editorial team and expert review
Best 40 Netherlands Bloggers
CONGRATULATIONS to every blogger that has made this Top Netherlands Blogs list! This is the most comprehensive list of best Netherlands blogs on the internet and I'm honoured to have you as part of this! I personally give you a high-five and want to thank you for your contribution to this world.
If your blog is one of the Top 40 Netherlands blogs, you have the honour of displaying the following badge on your site. Use the below code to display this badge proudly on your blog. You deserve it!:
<a href="https://blog.feedspot.com/netherlands_blogs/" rel="nofollow" title="Netherlands Blogs"><img alt=" Netherlands Blogs" src="https://blog.feedspot.com/wp-content/uploads/2018/03/netherlands_216px.png?x51349"/></a>
Tags: netherlands rss feeds