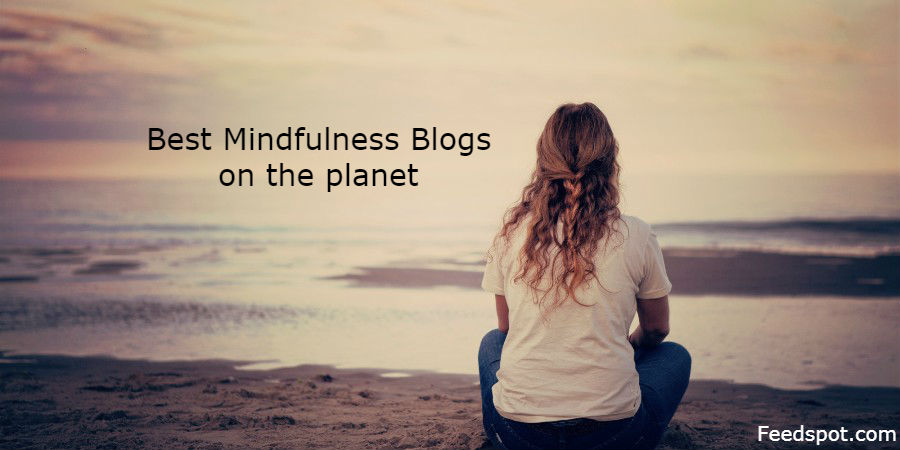 Mindfulness Blogs List
The Best Mindfulness blogs from thousands of top Mindfulness blogs in our index using search and social metrics. Data will be refreshed once a week.
These blogs are ranked based on following criteria
Google reputation and Google search ranking
Influence and popularity on Facebook, twitter and other social media sites

Quality and consistency of posts.

Feedspot's editorial team and expert review
Top 50 Mindfulness Blogs Winners
CONGRATULATIONS to every blogger that has made this Top Mindfulness Blogs list! This is the most comprehensive list of best Mindfulness blogs on the internet and I'm honoured to have you as part of this! I personally give you a high-five and want to thank you for your contribution to this world.
If your blog is one of the Top 50 Mindfulness blogs, you have the honour of displaying the following badge on your site. Use the below code to display this badge proudly on your blog. You deserve it!:
<a href="http://blog.feedspot.com/mindfulness_blogs/" title="Mindfulness blogs"><img src="https://blog-cdn.feedspot.com/wp-content/uploads/2017/07/Mindfulness-transparent_216px-1.png" ></img></a>
Top Mindfulness Blogs
Rank

Blog Name

Facebook Fans

Twitter Followers

Alexa Rank

1

About Blog - Tiny Buddha is about reflecting on simple wisdom and learning new ways to apply it to our complex lives complete with responsibilities, struggles, dreams, and relationships.
Frequency - about 6 posts per week

2,363,798

509,085

22,414

2

Boulder, Colorado

About Blog - This blog is dedicated to sharing the good word about the Mindful Life beyond the core or choir, to all those who might give a care.
Frequency - about 70 posts per week

1,415,417

99,416

19,829

3

Davis, CA

About Blog - Zen Habits is about finding simplicity and mindfulness in the daily chaos of our lives. It's about clearing the clutter so we can focus on what's important, create something amazing, find happiness.
Frequency - about 1 posts per week

n/a

190,858

32,916

4

Canada

About Blog - Mindful.org offers the latest information on bringing mindfulness, awareness, and compassion into your life. Mindful.org delivers to you mindfulness-based approaches to all the important issues of life today, from health, emotional well-being, relationships, and family life, to work, creativity, activism, and the science that's proving the benefits.
Frequency - about 6 posts per week

440,850

124,801

59,152

5

Missoula, Montana

About Blog - Joshua Fields Millburn & Ryan Nicodemus help over 20 million people live meaningful lives with less through their website, books, podcast, and documentary.
Frequency - about 2 posts per week

426,489

93,736

58,324

6

Los Angeles | London

About Blog - After completing his monastic commitment, Andy returned to the UK with the huge-yet-simple goal of teaching meditation and mindfulness to as many people as possible. Headspace has one mission: to improve the health and happiness of the world.
Frequency - about 7 posts per week

268,724

115,090

19,620

7

Emeryville, CA

About Blog - Mindful Schools offers courses for educators to integrate mindfulness into their work with youth. Learn K-12 curriculum, be more present and focused. Our mission is to lead the integration of mindfulness into education.

303,551

12,956

128,891

8

holstee.com/blogs/mindful-ma..

Brooklyn, NYC

About Blog - Our mission at Holstee is to help conscious people (like you!) along your journey to live more fully and mindfully. In today's complicated, fast-paced, hyper-connected, and often overwhelming world, it can be difficult to find perspective, to focus on what's actually important and not just what is urgent. We are passionate about bringing more meaning and inspiration into people's lives.
Frequency - about 1 posts per week

63,555

18,141

335,683

9

London

About Blog - Our vision at The Mindfulness Project is to create an innovative platform for sharing mindfulness with as many people as possible. By offering a secular and evidence-based approach, we hope to teach our audience what meditation is and help make learning mindfulness meditation more accessible and relatable to a mainstream audience while keeping it real and meaningful.
Frequency - about 1 post per month

23,131

55,770

1,390,124

10

California

About Blog - Conscious Lifestyle Magazine's vision is to help people live happier, more fulfilling lives with greater awareness of themselves and the world around them. We offer a platform for the world's leading thinkers, philosophers and leaders to share their knowledge, wisdom and passion with a hungry global community who wishes to create a positive now and future.
Frequency - about 2 posts per week

41,333

3,128

155,920

11

USA

About Blog - Wildmind's mission is to benefit the world by promoting mindfulness and compassion through the practice of Buddhist meditation.
Frequency - about 2 posts per week

41,251

7,127

246,965

12

Dublin City, Ireland

About Blog - A Lust For Life is a movement for mental health and well-being in Ireland. Our site covers a range of articles on anxiety, stress, wellbeing, fitness, cbt, therapies, minfulness, psychology, depression, personal stories, nutrition and compassion.
Frequency - about 4 posts per week

23,295

18,319

769,938

13

About Blog - Our aim is simply to further the cause of mindfulness in whatever way we can, and also to give ordinary people the chance to talk about the practice. Mindfulness is free, simple and has the potential to be life changing.

23,666

156,684

1,025,237

14

Boston, MA

About Blog - Wisdom Publications is the leading publisher of contemporary and classic Buddhist books and practical works on mindfulness. Wisdom Publications is dedicated to making available authentic Buddhist works for the benefit of all.

66,598

15,442

283,272

15

San Francisco, CA

About Blog - Mindfulness is awareness that arises through paying attention on purpose, in the present moment, non-judgmentally. It is awareness of the present experience with acceptance.
Frequency - about 39 posts per week

1,126,423

493,891

9

16

Bengaluru, India

About Blog - Explore Aware's blog to know how Meditation can help to fight stress, depression, anxiety and improve focus, relationships, health and creativity. Aware guides you through the day with mindfulness, helping you achieve balance and clarity for a healthier and happier YOU.
Frequency - about 4 posts per week

41,204

350

2,782,481

17

Nashville, TN

About Blog - GoNoodle makes movement and mindfulness an integral part of the day, at school and at home. GoNoodle gets over 12 million kids moving to be their strongest, bravest, silliest, smartest, bestest selves.

30,608

33,704

28,329

18

Squamish, BC

About Blog - Cait Flanders paid off $30,000 of debt, tossed 75% of her belongings and did a two-year shopping ban. She writes about consuming less and living more.
Frequency - about 1 posts per week

7,097

10,571

447,537

19

Seattle, WA

About Blog - Hi, I'm Catherine! I'm here to help you slow down, be mindful, and feel more content with your life. I'm all about making life more blissful, one practical tip at a time.
Frequency - about 1 post per month

1,416

1,866

430,742

20

Seattle, WA

About Blog - Our tried and true advice about growing up and navigating the real world will help you define your goals, figure out what your next move will be, and have fun along the way. You'll connect with other career-driven, self-reliant, and hard-working twenty-somethings who will inspire you, challenge you, and encourage you to be your best.
Frequency - about 4 posts per week

1,126

3,968

557,815

21

London

About Blog - The blog run by mindfulness thought leader Alfred James. The concept of Pocket Mindfulness provides people with practical daily knowledge to help cultivate 'real' awareness in a hectic modern world that is hell bent on pulling the mind from pillar to post. Release attachment, be present and enjoy every moment of your beautiful existence.
Frequency - about 4 posts per week

2,973

2,873

578,528

22

Minneapolis, MN

About Blog - Left Brain Buddha is about living and parenting mindfully, joyfully, and thought-fully, especially in left-brain, analytical lives. You can incorporate mindfulness into your life regardless of your religious affiliation. While mindfulness is based in part on the Theravada Buddhist tradition, these secular programs present the psychological teachings of mindfulness without Buddhist metaphysics.
Frequency - about 1 post per week

7,460

4,157

693,255

23

San Rafael, CA

About Blog - I am a psychologist and have written and taught about the essential inner skills of personal well-being, psychological growth, and contemplative practice – as well as about relationships, family life, and raising children. On this website you will find tons of FREE resources that you can use to get started on your well-being journey, as well as information and links to more in-depth tools.

21,626

6,532

613,680

24

About Blog - Annaka Harris is an editor and consultant for science writers, specializing in the topics of neuroscience and physics. She is a volunteer mindfulness teacher for the Inner Kids organization.
Frequency - about 1 post per week

4,917

6,067

726,544

25

About Blog - A Network of Mindfulness & Spirituality Podcasts. Dedicated to the gathering and dissemination of spiritual talks, podcasts and writings of master teachers of Spirituality, Mindfulness and Meditation.
Frequency - about 7 posts per week

19,591

4,590

772,747

26

Charleston, South Carolina

About Blog - Best Kept Self is a platform for entrepreneurs dedicated solely to self-care. We publish content daily on health, beauty, mindfulness, and wellness.
Frequency - about 2 posts per week

6,447

12,028

1,482,533

27

instituteformindfulleadershi..

About Blog - Bringing together a deep knowledge of mindfulness training and the actual, lived experience of senior business leaders. The Institute for Mindful Leadership offers retreats and workshops that bring together a deep knowledge of mindfulness training and the actual, lived experience of senior business leaders.

3,105

2,663

1,390,005

28

Vancouver, BC, Canada

About Blog - Dr. Vo has been practicing mindfulness regularly since 1999, and has experienced the transformational power of mindfulness practice firsthand. Dr. Vo has also been deeply inspired by the pioneers of the mindfulness movement in the West. he hopes to share the benefits of mindfulness to diverse youth in a universal, secular way that is appropriate for anyone, of any religion, or no religion at all.

2,292

760

1,875,556

29

San Diego, CA

About Blog - The intention of this blog is to share information that I've learned—and continue to learn on how to live a mindful life, despite having a demanding schedule.To reiterate, my qualifications to blog on mindfulness are mediocre. But the perspective I have to share is interesting.
Frequency - about 1 post per month

1,781

471

1,243,302

30

Atlanta, GA

About Blog - Welzen is a Free Mindfulness Meditation Mobile App to help you deal with your everyday life. The Welzen blog helps you get inspired and and share happiness.
Frequency - about 1 post per month

1,503

1,618

2,423,635

31

Pennsylvania

About Blog - Mindfulness Mama is written for Millennial Moms by a Millennial Mom. Editor, Jennifer Landis, shares her thoughts and tips on healthy living, relationships, mindfulness, and momming like a boss.
Frequency - about 1 post per month

103

637

4,337,237

32

mindfulnessatwork.ie/workpla..

Dublin

About Blog - Mindfulness at Work is the leading provider of quality professional Mindful Leadership & Mindfulness Workplace Training in Ireland. We go into organisations and deliver courses, workshops and talks to develop and inspire leaders and teams develop skills so they can work and live more consciously.

1,290

1,013

5,528,609

33

dancingmindfulness.com/expre..

About Blog - Dancing Mindfulness focuses on "coming as you are," self-discovery, and noticing whatever may happen as part of the experience. Developed by Dr. Jamie Marich, a clinical counselor and expert in traumatic stress studies and spiritual issues, Dancing Mindfulness strives to honor the safety and integrity of each participant.
Frequency - about 1 post per month

6,640

502

6,875,276

34

lynnrossy.com/tasting-mindfu..

Columbia MO

About Blog - Lynn Rossy, Ph.D. is a health psychologist specializing in mindfulness-based interventions. She developed a ten-week, empirically validated Eat for Life class that teaches people to eat mindfully and intuitively, love their bodies, and find deeper meaning in their lives. Lynn is a long-time practitioner of mindfulness meditation and yoga.

1,115

1,210

6,937,167

35

County Kildare, Ireland

About Blog - This blog has a simple aim: to support Mindfulness Meditation practice as a way to support personal development, increase wellness and reduce stress. It contains quotes and reflections to encourage meditation, some practical guidance if you are just starting, as well as occasional reflections on psychology, spirituality & life.
Frequency - about 11 posts per week

n/a

n/a

6,599,073

36

stressreductionatwork.com/mi..

San Francisco

About Blog - Bill Scheinman has been teaching mindfulness since 2001 and brings a broad knowledge of meditative disciplines from over 23 years of intensive practice. He teaches 8-week courses in mindfulness-based stress reduction (MBSR), works with individuals as a Coactive coach, and teaches online mindfulness courses with eMindful.
Frequency - about 1 post per month

874

2,720

8,620,147

37

Emsworth, UK

About Blog - Mindworks is a new digital platform that combines mindfulness meditations with short practical mind talks by highly accomplished international instructors.
Frequency - about 1 post per month

1,901

912

10,367,333

38

Northern Ireland

About Blog - Based in Belfast NI, The Happy Warrior delivers Mindfulness in the workplace.
Frequency - about 1 post per month

n/a

33

11,896,964

39

London

About Blog - We at ZEN@Work are passionate about sharing the benefits of mindfulness. We believe it helps people to be happier, healthier, more fulfilled and more in control of their lives.

n/a

451

13,643,411

40

About Blog - Positively Mindful is a place of self-discovery. We teach meditation and mindfulness techniques to adults and young people (rooted in Buddhist Vipassana) with an emphasis on practical application, we facilitate self-enquiry and we inspire people to live.
Frequency - about 1 post per month

243

n/a

13,781,273

41

Bentonville, AR

About Blog - i'mindful was created to teach and educate people, communities, and companies on the many health benefits of mindfulness.

1,297

692

n/a

42

brightonmindfulnesscentre.co..

Brighton, England

About Blog - The Brighton Mindfulness Centre offers a full range of Mindfulness courses, many of which are not available in the same format anywhere else. We offer workshops, and seminars on mindful-living topics to help support all levels of practice. If somebody prefers to be taught mindfulness in the comfort of their own home, that can be arranged.
Frequency - about 1 post per week

135

125

n/a

43

Europe

About Blog - I am Kerri. This blog is for people who have both feet on the ground, living their crazy hectic lives, yet are interested in living a more conscious, spiritually fulfilled life. I hope you will find my posts interesting and helpful! As a working mom of three it isn't always easy, but I try to live mindfully aware. The things I post here are things that help me do that. I hope it will help you too
Frequency - about 7 posts per week

338

580

n/a

44

Hertford, East

About Blog - We teach mindfulness as a way to help people cope with life's demands and expectations
Frequency - about 1 post per month

n/a

42

n/a