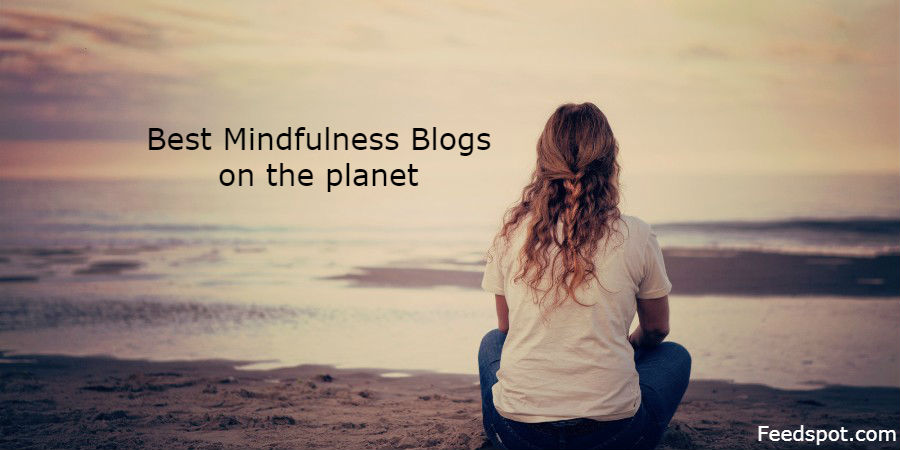 Mindfulness Blogs List.
The Best Mindfulness blogs from thousands of top Mindfulness blogs in our index using search and social metrics. Data will be refreshed once a week.Also check out Top Mindfulness Youtube Channels list for Top videos on Mindfulness and Mindfulness Podcasts.
If your blog is selected in this list, you have the honour of displaying this Badge (Award) on your blog.
Mindfulness Blogs

About Blog Tiny Buddha is about reflecting on simple wisdom and learning new ways to apply it to our complex lives complete with responsibilities, struggles, dreams, and relationships.
Frequency about 5 posts per week.
Also in Happiness Blogs
Blog tinybuddha.com
Facebook fans 3,976,988. Twitter followers 558,786.

Boulder, Colorado About Blog This blog is dedicated to sharing the good word about the Mindful Life beyond the core or choir, to all those who might give a care.
Frequency about 168 posts per week.
Blog elephantjournal.com
Facebook fans 1,545,535. Twitter followers 96,348.

Davis, CA About Blog Zen Habits is about finding simplicity and mindfulness in the daily chaos of our lives. It's about clearing the clutter so we can focus on what's important, create something amazing, find happiness.
Frequency about 2 posts per week.
Since Nov 2016
Also in Personal Development Blogs
Blog zenhabits.net
Facebook fans n/a. Twitter followers 189,246.

Canada About Blog Mindful.org offers the latest information on bringing mindfulness, awareness, and compassion into your life. Mindful.org delivers to you mindfulness-based approaches to all the important issues of life today, from health, emotional well-being, relationships, and family life, to work, creativity, activism, and the science that's proving the benefits.
Frequency about 6 posts per week.
Blog mindful.org
Facebook fans 514,904. Twitter followers 161,321.

Missoula, Montana About Blog Joshua Fields Millburn & Ryan Nicodemus help over 20 million people live meaningful lives with less through their website, books, podcast, and documentary.
Frequency about 2 posts per week.
Blog theminimalists.com
Facebook fans 604,421. Twitter followers 149,748.

Los Angeles | London About Blog After completing his monastic commitment, Andy returned to the UK with the huge-yet-simple goal of teaching meditation and mindfulness to as many people as possible. Headspace has one mission: to improve the health and happiness of the world.
Frequency about 2 posts per month.
Also in UK Mindfulness Blogs
Blog headspace.com/blog
Facebook fans 645,432. Twitter followers 174,683.

Emeryville, CA About Blog Mindful Schools offers courses for educators to integrate mindfulness into their work with youth. Learn K-12 curriculum, be more present and focused. Our mission is to lead the integration of mindfulness into education.
Frequency about 1 post per week.
Blog mindfulschools.org
Facebook fans 328,871. Twitter followers 18,948.

Brooklyn, NYC About Blog Our mission at Holstee is to help conscious people (like you!) along your journey to live more fully and mindfully. In today's complicated, fast-paced, hyper-connected, and often overwhelming world, it can be difficult to find perspective, to focus on what's actually important and not just what is urgent. We are passionate about bringing more meaning and inspiration into people's lives.
Frequency about 1 post per week.
Blog holstee.com/blogs/mindful-ma..
Facebook fans 62,207. Twitter followers 17,285.

London About Blog Our vision at The Mindfulness Project is to create an innovative platform for sharing mindfulness with as many people as possible. By offering a secular and evidence-based approach, we hope to teach our audience what meditation is and help make learning mindfulness meditation more accessible and relatable to a mainstream audience while keeping it real and meaningful.
Frequency about 1 post per month.
Since Dec 2013
Blog londonmindful.com/blog
Facebook fans 28,300. Twitter followers 75,231.

California About Blog Conscious Lifestyle Magazine's vision is to help people live happier, more fulfilling lives with greater awareness of themselves and the world around them. We offer a platform for the world's leading thinkers, philosophers and leaders to share their knowledge, wisdom and passion with a hungry global community who wishes to create a positive now and future.
Frequency about 3 posts per month.
Also in Lifestyle Blogs, Lifestyle Magazines
Blog consciouslifestylemag.com
Facebook fans 53,804. Twitter followers 3,592.

San Francisco, CA About Blog Mindfulness is awareness that arises through paying attention on purpose, in the present moment, non-judgmentally. It is awareness of the present experience with acceptance.
Frequency about 34 posts per week.
Blog reddit.com/r/Mindfulness
Facebook fans 1,279,323. Twitter followers 620,963.

Nashville, TN About Blog GoNoodle makes movement and mindfulness an integral part of the day, at school and at home. GoNoodle gets over 12 million kids moving to be their strongest, bravest, silliest, smartest, bestest selves.
Frequency about 4 posts per month.
Blog blog.gonoodle.com
Facebook fans 49,771. Twitter followers 47,845.

Seattle, WA About Blog Our tried and true advice about growing up and navigating the real world will help you define your goals, figure out what your next move will be, and have fun along the way. You'll connect with other career-driven, self-reliant, and hard-working twenty-somethings who will inspire you, challenge you, and encourage you to be your best.
Frequency about 5 posts per week.
Blog gentwenty.com
Facebook fans 1,546. Twitter followers 6,369.

Seattle, WA About Blog I'm Catherine! I'm here to help you slow down, be mindful, and feel more content with your life. I'm all about making life more blissful, one practical tip at a time.
Frequency about 3 posts per month.
Blog theblissfulmind.com
Facebook fans 4,789. Twitter followers 2,331.

San Rafael, CA About Blog I am a psychologist and have written and taught about the essential inner skills of personal well-being, psychological growth, and contemplative practice as well as about relationships, family life, and raising children. On this website you will find tons of FREE resources that you can use to get started on your well-being journey, as well as information and links to more in-depth tools.
Frequency about 1 post per month.
Blog rickhanson.net/blog
Facebook fans 28,095. Twitter followers 7,769.

Emsworth, UK About Blog Mindworks is a new digital platform that combines mindfulness meditations with short practical mind talks by highly accomplished international instructors.
Frequency about 2 posts per month.
Blog mindworks.org/blog
Facebook fans 14,127. Twitter followers 1,048.

USA About Blog Wildmind's mission is to benefit the world by promoting mindfulness and compassion through the practice of Buddhist meditation.
Frequency about 4 posts per month.
Also in Buddhist Blogs, Meditation Blogs
Blog wildmind.org/category/blogs
Facebook fans 41,247. Twitter followers 7,230.

San Francisco Bay Area About Blog Mindfulness Exercises offers 1,000 free mindfulness exercises and meditation techniques for greater calm, clarity, purpose and resilience. Free mindfulness meditations, talks, worksheets, videos, and more. Visit Mindfulness Exercises to download or stream your favorite mindfulness resources today
Frequency about 3 posts per month.
Blog mindfulnessexercises.com
Facebook fans 24,428. Twitter followers n/a.

Dublin City, Ireland About Blog A Lust For Life is a movement for mental health and well-being in Ireland. Our site covers a range of articles on anxiety, stress, wellbeing, fitness, cbt, therapies, minfulness, psychology, depression, personal stories, nutrition and compassion.
Frequency about 4 posts per week.
Blog alustforlife.com
Facebook fans 33,238. Twitter followers 22,325.

Boston, MA About Blog Wisdom Publications is the leading publisher of contemporary and classic Buddhist books and practical works on mindfulness. Wisdom Publications is dedicated to making available authentic Buddhist works for the benefit of all.
Frequency about 1 post per month.
Blog wisdompubs.org/blog
Facebook fans 70,688. Twitter followers 18,569.

Minneapolis, MN About Blog Left Brain Buddha is about living and parenting mindfully, joyfully, and thought-fully, especially in left-brain, analytical lives. You can incorporate mindfulness into your life regardless of your religious affiliation. While mindfulness is based in part on the Theravada Buddhist tradition, these secular programs present the psychological teachings of mindfulness without Buddhist metaphysics.
Frequency about 1 post per week.
Blog leftbrainbuddha.com
Facebook fans 9,067. Twitter followers 4,224.

London About Blog Pocket Mindfulness is run by mindfulness thought leader Alfred James. The concept of Pocket Mindfulness provides people with practical daily knowledge to help cultivate 'real' awareness in a hectic modern world that is hell bent on pulling the mind from pillar to post. Release attachment, be present and enjoy every moment of your beautiful existence.
Frequency about 1 post per month.
Since Dec 2011
Blog pocketmindfulness.com
Facebook fans 3,412. Twitter followers 2,664.

California About Blog This website is dedicated to the liberation of all beings through the power of meditation, mindfulness, compassion, and like practices. Authors Michael W. Taft, Jessica Graham, and guests write about these topics from their own lived experience.
Frequency about 2 posts per month.
Since May 2011
Blog deconstructingyourself.com
Facebook fans 5,154. Twitter followers 6,947.

About Blog A Network of Mindfulness & Spirituality Podcasts. Dedicated to the gathering and dissemination of spiritual talks, podcasts and writings of master teachers of Spirituality, Mindfulness and Meditation.
Frequency about 6 posts per week.
Blog beherenownetwork.com/blog
Facebook fans 31,430. Twitter followers 6,785.

About Blog Annaka Harris is an editor and consultant for science writers, specializing in the topics of neuroscience and physics. She is a volunteer mindfulness teacher for the Inner Kids organization.
Frequency about 1 post per month.
Blog annakaharris.com/blog
Facebook fans 8,220. Twitter followers 9,988.

Squamish, BC About Blog Cait Flanders paid off $30,000 of debt, tossed 75% of her belongings and did a two-year shopping ban. She writes about consuming less and living more.
Frequency about 1 post per month.
Since Jun 2011
Blog caitflanders.com
Facebook fans 7,287. Twitter followers 12,994.

Vancouver, BC, Canada About Blog Dr. Vo has been practicing mindfulness regularly since 1999, and has experienced the transformational power of mindfulness practice firsthand. Dr. Vo has also been deeply inspired by the pioneers of the mindfulness movement in the West. he hopes to share the benefits of mindfulness to diverse youth in a universal, secular way that is appropriate for anyone, of any religion, or no religion at all.
Frequency about 1 post per month.
Blog mindfulnessforteens.com/blog
Facebook fans 3,076. Twitter followers 1,002.

San Diego, CA About Blog The intention of this blog is to share information that I've learned—and continue to learn on how to live a mindful life, despite having a demanding schedule.To reiterate, my qualifications to blog on mindfulness are mediocre. But the perspective I have to share is interesting.
Frequency about 1 post per month.
Blog mindfulminutes.com
Facebook fans 2,572. Twitter followers 537.

Bengaluru, India About Blog Explore Aware's blog to know how Meditation can help to fight stress, depression, anxiety and improve focus, relationships, health and creativity. Aware guides you through the day with mindfulness, helping you achieve balance and clarity for a healthier and happier YOU.
Frequency about 2 posts per month.
Blog awaremeditationapp.com/blog
Facebook fans 46,548. Twitter followers 469.

About Blog Hi! My name is Jagjot Singh. I'm a spiritual seeker, learning about mindfulness, meditation, and general well being.
Frequency about 1 post per week.
Since Feb 2019
Blog mindfulnessquest.com
Facebook fans n/a. Twitter followers n/a.

Chiang Rai, Thailand About Blog It is our mission to cultivate a lifestyle that fosters inner growth and helps people to find meaning and purpose in life again. We believe that all of us have everything it takes to create a peaceful, equitable and sustainable existence. All we have to do is renew our relationship with ourselves and our environment.
Frequency about 2 posts per month.
Blog newlifefoundation.com/th/blog
Facebook fans n/a. Twitter followers n/a.

About Blog Our aim is simply to further the cause of mindfulness in whatever way we can, and also to give ordinary people the chance to talk about the practice. Mindfulness is free, simple and has the potential to be life changing.
Frequency about 1 post per month.
Blog everyday-mindfulness.org
Facebook fans 30,243. Twitter followers 208,857.

About Blog Live life to the fullest with mindfulness, compassion, and joy
Frequency about 1 post per month.
Since Sep 2018
Blog compassionmonk.com
Facebook fans n/a. Twitter followers n/a.

Pennsylvania About Blog Mindfulness Mama is written for Millennial Moms by a Millennial Mom. Editor, Jennifer Landis, shares her thoughts and tips on healthy living, relationships, mindfulness, and momming like a boss.
Frequency about 1 post per month.
Blog mindfulnessmama.com/om
Facebook fans 236. Twitter followers 410.

About Blog Serena is a practical method for achieving optimal psychological and physical health. It is based on the insight that a life of happiness and health is within the grasp of everyone, provided the right mindset and effort is put in. The guided meditations and other mindfulness techniques available on the website and the Serena YouTube Channel explain how to do this and why it works.
Frequency about 1 post per month.
Blog serenasystem.com
Facebook fans 3. Twitter followers 52.

Charleston, South Carolina About Blog Best Kept Self is a platform for entrepreneurs dedicated solely to self-care. We publish content daily on health, beauty, mindfulness, and wellness.
Frequency about 1 post per month.
Blog bestkeptself.com
Facebook fans 6,401. Twitter followers 10,825.

Santa Monica, CA About Blog I'm a non-religious, non-hippy, modern spiritualista. I'm also a freelance PR & Digital Marketing consultant, ideal lifestyle and business coach, and happiness seeker. Welcome to my happy place of personal growth, mindfulness, business and of course modern spirituality.
Frequency about 1 post per month.
Blog punchdrunksoul.com
Facebook fans 1,104. Twitter followers 219.

About Blog Bringing together a deep knowledge of mindfulness training and the actual, lived experience of senior business leaders. The Institute for Mindful Leadership offers retreats and workshops that bring together a deep knowledge of mindfulness training and the actual, lived experience of senior business leaders.
Frequency about 1 post per month.
Blog instituteformindfulleadershi..
Facebook fans 3,647. Twitter followers 3,257.

About Blog Dr. Nadia is a pediatrician, mom, yogi and shares her experiences with mindful living, holistic wellness, and conscious parenting. The blog, Mindful MD Mom, started as a way to discuss topics pertinent to the modern millennial parent, sharing her experiences as a doctor mom, and empowering others to find balance in this busy world.
Frequency about 2 posts per month.
Also in Millennial Mom Blogs
Blog themindfulmdmom.com
Facebook fans 793. Twitter followers 1,201.

About Blog My mission is to help as many people as I can to build the life they want for themselves, to empower them and to help them create an environment they can thrive in.
Frequency about 1 post per month.
Blog louisedawn.com
Facebook fans 2,101. Twitter followers n/a.

County Kildare, Ireland About Blog This blog has a simple aim: to support Mindfulness Meditation practice as a way to support personal development, increase wellness and reduce stress. It contains quotes and reflections to encourage meditation, some practical guidance if you are just starting, as well as occasional reflections on psychology, spirituality & life.
Frequency about 7 posts per week.
Since Sep 2009
Also in Spiritual Wellness Blogs
Blog mindfulbalance.org
Facebook fans n/a. Twitter followers n/a.

About Blog Dancing Mindfulness focuses on 'coming as you are,' self-discovery, and noticing whatever may happen as part of the experience. Developed by Dr. Jamie Marich, a clinical counselor and expert in traumatic stress studies and spiritual issues, Dancing Mindfulness strives to honor the safety and integrity of each participant.
Frequency about 2 posts per month.
Blog dancingmindfulness.com/expre..
Facebook fans 10,755. Twitter followers 573.

Dublin About Blog Mindfulness at Work is the leading provider of quality professional Mindful Leadership & Mindfulness Workplace Training in Ireland. We go into organisations and deliver courses, workshops and talks to develop and inspire leaders and teams develop skills so they can work and live more consciously.
Frequency about 1 post per month.
Blog mindfulnessatwork.ie/workpla..
Facebook fans 1,285. Twitter followers 1,335.

Columbia MO About Blog Lynn Rossy, Ph.D. is a health psychologist specializing in mindfulness-based interventions. She developed a ten-week, empirically validated Eat for Life class that teaches people to eat mindfully and intuitively, love their bodies, and find deeper meaning in their lives. Lynn is a long-time practitioner of mindfulness meditation and yoga.
Frequency about 1 post per month.
Blog lynnrossy.com/tasting-mindfu..
Facebook fans 1,458. Twitter followers 1,428.

United Kingdom About Blog Edited by psychotherapist, songwriter and teetotaller, Liz Horsman, Voice of Calm promotes mindfulness, inspiration and shared insight. It is a place to stay for a while, look around and visit regularly to refuel your spirit.
Frequency about 2 posts per week.
Blog voiceofcalm.com
Facebook fans 366. Twitter followers 104.

About Blog Positively Mindful is a place of self-discovery. We teach meditation and mindfulness techniques to adults and young people (rooted in Buddhist Vipassana) with an emphasis on practical application, we facilitate self-enquiry and we inspire people to live and to free people from all negative thoughts, stress, and worries through its positively-mindful techniques.
Frequency about 1 post per month.
Since Jul 2015
Blog positively-mindful.com/blog
Facebook fans 309. Twitter followers n/a.

About Blog Just another soul trying to make a difference in this lifetime by juggling between my passion and responsibilities. A blog about inspiration and daily mantras. Unfolding the path of life one pebble at a time with some humility and a poof of abracabadra to speed the process of intention.
Frequency about 3 posts per month.
Blog abracabadra.blogspot.com
Facebook fans n/a. Twitter followers 726.

United States About Blog This Blog is designed as place where people who suffer from, or want to learn more about anxiety and panic attacks can gather.
Frequency about 2 posts per week.
Blog mindgal.com
Facebook fans 49. Twitter followers 17.

Brockham, Surrey About Blog Discover how you and your children could live happier and calmer lives. Techniques to work with stress, pain, illness, relationships and the challenges of everyday life. Mindful Surrey offers a range of affordable mindfulness courses for all ages in Surrey, with free mindfulness taster sessions.
Frequency about 2 posts per month.
Blog mindfulsurrey.co.uk/blog
Facebook fans 41. Twitter followers 7.

About Blog My work is mostly reflections on the society with a satirical flavor. The characters in my book are people you can easily connect to and have met all your lives. I try to make the read entertaining, light and pleasant. To me, writing is a medium to spread comfort, positivity and good humor. Blog by Manju Nambiar.
Frequency about 1 post per month.
Since Jul 2017
Blog manjunambiarblog.wordpress.com
Facebook fans 323. Twitter followers n/a.

London About Blog We at ZEN@Work are passionate about sharing the benefits of mindfulness. We believe it helps people to be happier, healthier, more fulfilled and more in control of their lives.
Frequency about 1 post per month.
Blog zenatwork.co.uk/blog
Facebook fans n/a. Twitter followers 463.

Portland, Maine About Blog Mindful Reality is a practice that combats anxiety, depression and stressful thoughts that stem from the belief that we must do something to fix our lives. Grounded in our 'physical reality,' we learn to counter inner judgment and 'should' thoughts with an awareness that we must always be doing whatever we are doing.
Frequency about 2 posts per month.
Blog jillengmindfulreality.com/posts
Facebook fans 245. Twitter followers 708.

About Blog Blog byTyreice, and I created this space for all the beings on this plane, who live mindful lives, love beautiful truths, and who's spirit yearns for something more than what you've grown a custom too as far as food. This blog is dedicated to providing humanity with a peaceful breath of fresh air, where spirit can unite with spirit in eternally Blissful Words.
Frequency about 2 posts per month.
Blog theblissfulword.wordpress.com
Facebook fans n/a. Twitter followers n/a.

About Blog Hi there! I'm Nicky. I'm so glad you stopped by to check out my blog. I'm a young professional working in the Interior Design industry. I'm on a journey to maintaining balance in my life and I hope to inspire you to create balance too, so you can be the best you. Helping Busy Career Girls Rest, Relax and Unwind.
Frequency about 1 post per month.
Since Jan 2016
Blog sincerelybalanced.com
Facebook fans 234. Twitter followers 99.

About Blog Connecting to the Nature within and around us through the arts of mindful meditation, forest bathing (shinrin yoku), qigong and primal awareness.
Frequency about 3 posts per week.
Blog creativeemergent.com
Facebook fans 41. Twitter followers n/a.

Brighton, England About Blog The Brighton Mindfulness Centre offers a full range of Mindfulness courses, many of which are not available in the same format anywhere else. We offer workshops, and seminars on mindful-living topics to help support all levels of practice. If somebody prefers to be taught mindfulness in the comfort of their own home, that can be arranged.
Frequency about 3 posts per month.
Blog brightonmindfulnesscentre.co..
Facebook fans 162. Twitter followers 154.

Europe About Blog I am Kerri. This blog is for people who have both feet on the ground, living their crazy hectic lives, yet are interested in living a more conscious, spiritually fulfilled life. I hope you will find my posts interesting and helpful! As a working mom of three it isn't always easy, but I try to live mindfully aware. The things I post here are things that help me do that. I hope it will help you too
Frequency about 1 post per month.
Blog moderndaymindful.com
Facebook fans 329. Twitter followers 634.

Northern Ireland About Blog Based in Belfast NI, The Happy Warrior improves organisational effectiveness by enhancing focus, well-being and leadership using Mindfulness in the workplace
Frequency about 1 post per month.
Since Jun 2016
Blog thehappywarrior.co.uk/blog
Facebook fans 165. Twitter followers 38.

San Francisco About Blog Bill Scheinman has been teaching mindfulness since 2001 and brings a broad knowledge of meditative disciplines from over 23 years of intensive practice. He teaches 8-week courses in mindfulness-based stress reduction (MBSR), works with individuals as a Coactive coach, and teaches online mindfulness courses with eMindful.
Frequency about 1 post per month.
Since Jun 2014
Also in Stress Blogs
Blog stressreductionatwork.com/mi..
Facebook fans 857. Twitter followers 3,337.

Atlanta, GA About Blog Welzen is a Free Mindfulness Meditation Mobile App to help you deal with your everyday life. The Welzen blog helps you get inspired and and share happiness.
Frequency about 1 post per week.
Blog welzen.org/blog
Facebook fans 1,628. Twitter followers 4,468.
These blogs are ranked based on following criteria
Google reputation and Google search ranking
Influence and popularity on Facebook, twitter and other social media sites

Quality and consistency of posts.

Feedspot's editorial team and expert review
Top 50 Mindfulness Blogs Winners
CONGRATULATIONS to every blogger that has made this Top Mindfulness Blogs list! This is the most comprehensive list of best Mindfulness blogs on the internet and I'm honoured to have you as part of this! I personally give you a high-five and want to thank you for your contribution to this world.
If your blog is one of the Top 50 Mindfulness blogs, you have the honour of displaying the following badge on your site. Use the below code to display this badge proudly on your blog. You deserve it!: