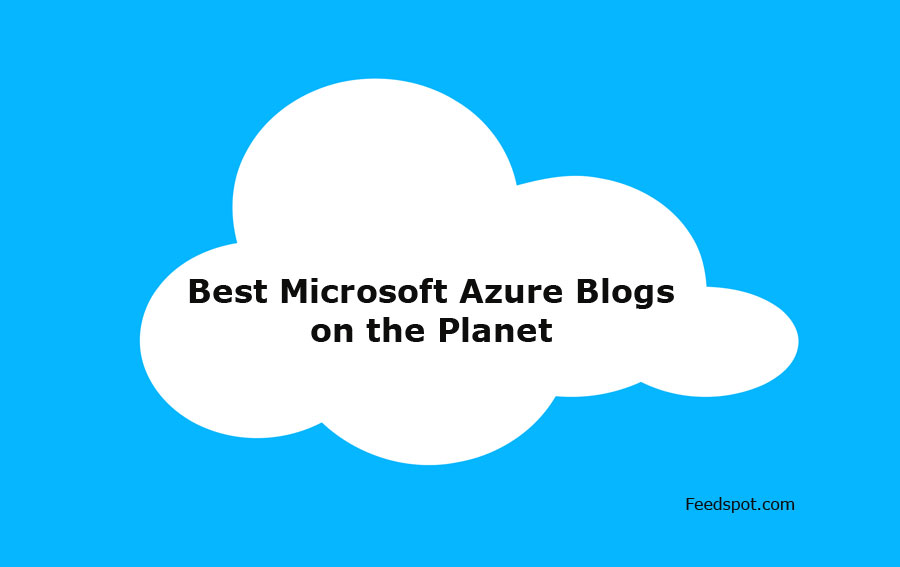 Microsoft Azure Blogs List.
The Best Microsoft Azure Blogs from thousands of Microsoft Azure blogs in our index using search and social metrics. We've carefully selected these websites because they are actively working to educate, inspire, and empower their readers with frequent updates and high-quality information.
If your blog is selected in this list, you have the honour of displaying this Badge (Award) on your blog.
Microsoft Azure Blogs

Redmond, WA About Blog The Microsoft Azure blog has posts by numerous Azure staffers who are part of the company's integrated cloud services initiative. This is a highly extensive blog, and contains over 2,500 posts covering product news and features, as well as industry events. Hear from Azure experts and developers about the latest information, insights, announcements, and Azure news in this blog.
Frequency about 15 posts per week.
Since Sep 2008
Also in Cloud Computing Blogs, Microsoft Blogs
Blog azure.microsoft.com/en-in/blog
Facebook fans 585.5K ⋅ Twitter followers 692.3K ⋅ Social Engagement 41ⓘ ⋅ Domain Authority 100ⓘ

About Blog Build Azure is a showcase of unique and aggregated content that focuses on EVERYTHING Microsoft Azure; from Developer to IT Pro. The site contains videos, tutorials, open source showcases and much more.
Frequency about 4 posts per week.
Since Jun 2015
Blog buildazure.com
Facebook fans 637 ⋅ Twitter followers 5.9K ⋅ Social Engagement 2ⓘ ⋅ Domain Authority 46ⓘ

Switzerland About Blog Blog of Thomas Maurer - Microsoft Cloud Advocate - Focusing on Cloud Computing and Datacenter, especially Microsoft Azure, Windows Server, Container, Windows10, PowerShell and more. Thomas works as a Senior Cloud Advocate at Microsoft. He engages with the community and customers around the world to share his knowledge and collect feedback to improve the Azure cloud platform.
Frequency about 2 posts per week.
Blog thomasmaurer.ch
Facebook fans 712 ⋅ Twitter followers 14.9K ⋅ Instagram Followers 2.9K ⋅ Social Engagement 45ⓘ ⋅ Domain Authority 49ⓘ

London, England About Blog Follow this blog to get updated on latest trends in Microsoft Azure Technology and the product updates from it's best monitoring and operations software ServiceBus360.
Frequency about 2 posts per week.
Since Jun 2011
Blog serverless360.com/blog
Facebook fans 24 ⋅ Twitter followers 372 ⋅ Social Engagement 1ⓘ ⋅ Domain Authority 34ⓘ

Cologne, Germany About Blog Daniel is working for Microsoft as a Technology Solutions Professional, Azure Infrastructure. He is former Microsoft MVP and have received the award in the category Cloud and Datacenter Management in 2013, 2014 and 2015. Follow this blog to know more about Azure.
Frequency about 3 posts per month.
Since Sep 2008
Blog danielstechblog.io
Twitter followers 2.6K ⋅ Social Engagement 1ⓘ ⋅ Domain Authority 16ⓘ

Reggio Emilia, Italy About Blog Follow this blog to find articles and resources on Azure.
Frequency about 3 posts per month.
Since Jan 2009
Blog nocentdocent.wordpress.com
Twitter followers 695 ⋅ Social Engagement 1ⓘ ⋅ Domain Authority 27ⓘ

The Netherlands About Blog Christiaan Brinkhoff works as a Cloud Architect and Technology Evangelist for FSLogix (now part of Microsoft) and owns his own consultancy company. Where he focuses mainly on Public Cloud infrastructures and End-User Computing environments for the larger multinational enterprise customers for the EMEA region.
Frequency about 3 posts per month.
Blog christiaanbrinkhoff.com
Twitter followers 2.5K ⋅ Domain Authority 34ⓘ

Newcastle Upon Tyne, England About Blog A Blog about Microsoft Azure and Sysadmin stuff...Systems Architect working with Microsoft technologies, focusing on #Azure. The first reason was to create a place for me to store my step by step guides, troubleshooting guides and just plain ideas about being a sysadmin. The second reason was for me to share what I have learned and found out with other people like me.
Frequency about 1 post per week.
Blog pixelrobots.co.uk
Twitter followers 1.2K ⋅ Domain Authority 25ⓘ

San Francisco, CA About Blog All information about Microsoft Azure-related news, help, info, tips, and tricks from the Reddit community.
Frequency about 168 posts per week.
Blog reddit.com/r/AZURE
Facebook fans 1.3M ⋅ Twitter followers 638.7K ⋅ Social Engagement 20ⓘ ⋅ Domain Authority 90ⓘ

United States About Blog Whizlabs is the pioneer among the online certification training providers over the world. Follow this blog for Microsoft Azure resources, latest updates, technical topics, up-to-date study & practice material, and get connected with the experts.
Frequency about 3 posts per month.
Blog whizlabs.com/blog/microsoft-..
Facebook fans 3.5K ⋅ Twitter followers 1.4K ⋅ Social Engagement 4ⓘ ⋅ Domain Authority 48ⓘ

San Francisco, CA About Blog Microsoft Azure is a cloud computing platform and infrastructure for building, deploying and managing applications and services through a global network of Microsoft-managed datacenters. It provides both PaaS and IaaS services and supports many different programming languages, tools and frameworks, including both Microsoft-specific and third-party software and systems. Follow this blog to know more about Microsoft Azure.
Frequency about 1 post per month.
Since May 2014
Blog cloudacademy.com/blog/micros..
Twitter followers 4 ⋅ Domain Authority 52ⓘ

United States About Blog BlueGranite is a consulting services provider delivering business intelligence, advanced analytics, and data warehouse solutions on the Microsoft platform.
Frequency about 1 post per week.
Blog blue-granite.com/blog
Twitter followers 1K ⋅ Social Engagement 3ⓘ ⋅ Domain Authority 38ⓘ

Finland About Blog Hi! My name is Joonas Westlin, I'm a software developer who blogs about ASP.NET, Azure, and Web development.
Frequency about 1 post per month.
Blog joonasw.net
Twitter followers 544 ⋅ Social Engagement 2ⓘ ⋅ Domain Authority 25ⓘ

Pasadena, CA About Blog he Redmond Cloud is a home for Azure and Microsoft Cloud news and information. We discuss Azure, AI, IOT, Quantum Programming, ERP, Windows and Blockchain.
Frequency about 6 posts per week.
Since Nov 2018
Blog theredmondcloud.com
Facebook fans 1 ⋅ Twitter followers 4 ⋅ Domain Authority 11ⓘ

Bedford, United Kingdom About Blog James is a Cloud Architect, Developer, Open Source contributor and cyclist. He loves to design and implement end to end solutions that deliver real value. Follow this blog to know more about Azure.
Frequency about 2 posts per month.
Since Oct 2013
Blog azurefromthetrenches.com
Twitter followers 1.1K ⋅ Domain Authority 34ⓘ

About Blog Keep up with an Azure and Microsoft Windows Insider Server Cloud Blog
Frequency about 1 post per month.
Blog robertsmit.wordpress.com
Social Engagement 1ⓘ ⋅ Domain Authority 37ⓘ

About Blog Keep up with articles from The DirTeam.com.
Frequency about 4 posts per week.
Since Nov 2005
Blog dirteam.com
Twitter followers 289 ⋅ Social Engagement 1ⓘ ⋅ Domain Authority 44ⓘ

Ireland About Blog Aidan Finn, MVP, has been working in IT since 1996. He has worked as a consultant and administrator for the likes of Amdahl DMR, Fujitsu, Barclays and Hypo Real Estate Bank International where he dealt with large and complex IT infrastructures. This blog covers Azure, Hyper-V, Windows Server, desktop, systems management, deployment, and so on.
Frequency about 2 posts per month.
Since Sep 2006
Blog aidanfinn.com
Facebook fans 231 ⋅ Twitter followers 9.8K ⋅ Social Engagement 5ⓘ ⋅ Domain Authority 48ⓘ

About Blog Follow us to keep up with articles from Azure Greg.
Frequency about 3 posts per month.
Blog gregorsuttie.com
Social Engagement 3ⓘ ⋅ Domain Authority 29ⓘ

Malmo, Sweden About Blog Hi, I'm Tobias. I plan, architect and develop software and distributed cloud systems. Nice to meet you!
Frequency about 1 post per month.
Blog zimmergren.net
Twitter followers 15.9K ⋅ Social Engagement 1ⓘ ⋅ Domain Authority 40ⓘ

United Kingdom About Blog Hi, I'm Sam Cogan. I'm a Cloud Architect and Microsoft Azure MVP, focused on providing architecture and technical solutions for cloud based SaaS projects using Azure.
Frequency about 3 posts per month.
Blog samcogan.com
Twitter followers 626 ⋅ Social Engagement 1ⓘ ⋅ Domain Authority 24ⓘ

About Blog Marius Sandbu Blog about End-user computing, software-defined datacenter, Microsoft Azure, Citrix, VMware, Nutanix.
Frequency about 3 posts per month.
Blog msandbu.org
Social Engagement 1ⓘ ⋅ Domain Authority 29ⓘ

Boston About Blog Bill Wilder is an experienced developer and architect focused on helping individuals and companies succeed in the cloud using the Azure cloud platform. Follow this blog to find articles on Azure cloud.
Frequency about 1 post per month.
Since Feb 2008
Blog blog.codingoutloud.com
Twitter followers 1.6K ⋅ Domain Authority 24ⓘ

Scotland About Blog A female IT professional's take on the industry, end user support, large project deliveries, tips and general help.
Frequency about 1 post per month.
Since Apr 2018
Blog techielass.com
Facebook fans 34 ⋅ Domain Authority 24ⓘ

About Blog Experiences from real-world projects. Focussing Microsoft Azure, Kubernetes and Infrastructure as Code.
Frequency about 1 post per month.
Blog thorsten-hans.com
Twitter followers 2K ⋅ Instagram Followers 1K ⋅ Domain Authority 16ⓘ

Belfast, Northern Ireland About Blog Passionate about Microsoft Azure. A passion in IT, specifically all things cloud whether it be a virtual machine taken from a local environment and implemented into the cloud or a fully scalable infrastructure stack built with the cloud in mind. Currently focusing on Microsoft Azure including heavily automation on the Azure platform.
Frequency about 3 posts per month.
Blog thomasthornton.cloud
Twitter followers 926 ⋅ Social Engagement 1ⓘ ⋅ Domain Authority 11ⓘ

Texas, USA About Blog A Bearded Country Cloud Boy Loving Microsoft Technologies.
Frequency about 2 posts per month.
Blog kristopherjturner.com
Social Engagement 10ⓘ ⋅ Domain Authority 14ⓘ

Doetinchem, Netherlands About Blog Marnix Wolf is an Azure Evangelist. Follow this blog where he shares his thoughts on Azure, OMS & SCOM.
Frequency about 1 post per month.
Since Nov 2008
Blog thoughtsonopsmgr.blogspot.com
Twitter followers 2.4K ⋅ Domain Authority 27ⓘ

About Blog A cloud technology blog about Microsoft Azure. Other topics include Office 265, Exchange, Windows Server and any other technology I may work with.
Frequency about 4 posts per month.
Blog ciraltos.com
Domain Authority 13ⓘ

About Blog Azure Cloud administrator Role and Responsibility.Microsoft Azure Cloud Administrator Details.Azure,Azure powershell,Microsoft Azure.
Frequency about 1 post per month.
Blog azureadministrator.blogspot.com
Domain Authority 5ⓘ

Pune, Maharashtra, India About Blog A blog focusing on Microsoft BizTalk Server, Azure Data Factory, Logic Apps, APIM. It contains tutorials, samples and errors and resolution by Maheshkumar
Frequency about 1 post per month.
Blog tech-findings.com
Twitter followers 292 ⋅ Social Engagement 11ⓘ ⋅ Domain Authority 7ⓘ

Germany About Blog Tom Janetscheck is a Microsoft Azure MVP (Most Valuable Professional) and a Cloud Solutions Architect focused on security in hybrid infrastructures with Microsoft Azure and on premises environments. He is an Azure Advisor he provides product group feedback for newly developed and improved Azure features on a regular basis. Follow this blog where he shares his thoughts on Microsoft Azure and cloud technologies.
Frequency about 1 post per month.
Since Jan 2015
Blog blog.azureandbeyond.com
Facebook fans 95 ⋅ Twitter followers 1.1K ⋅ Domain Authority 12ⓘ

Dublin City, Ireland About Blog Behind the scenes of this little blog about Microsoft Azure is me, Joe Carlyle. I am a Solution Architect with Evros Technology Group in Dublin, Ireland. I started the blog because I am passionate about what Azure as a platform can offer people and felt like sharing. Posts will vary from new feature commentary and deployment guides, to troubleshooting help, to feature overviews.
Frequency about 2 posts per month.
Since Aug 2017
Blog wedoazure.ie
Twitter followers 776 ⋅ Social Engagement 1ⓘ ⋅ Domain Authority 8ⓘ

NY/NJ About Blog The Azure podcasts is on various topics related to the Microsoft Cloud platform.
Frequency about 4 posts per month.
Since Oct 2013
Also in Cloud Computing Podcasts
Blog azpodcast.azurewebsites.net
Twitter followers 2.8K ⋅ Social Engagement 2ⓘ ⋅ Domain Authority 35ⓘ

About Blog Designing Cloud, Mobility, Virtualized Data Center, Storage, Networks and Application Solutions to empower business to meet the demand of there employees, partners and customers in the Cloud and the Mobile era.
Frequency about 1 post per month.
Blog mykloud.wordpress.com
Social Engagement 3ⓘ ⋅ Domain Authority 10ⓘ

About Blog Cloud Computing with Microsoft Azure. The main reason for AzureFabric is to have a place where i document selected work and have a go to place with structured information and guides, i also hope this blog will be of any use to the community and that sharing will spark ideas, conversations and more knowledge sharing.
Frequency about 2 posts per month.
Blog azurefabric.com
Social Engagement 1ⓘ ⋅ Domain Authority 9ⓘ

Kelaniya About Blog Keep up with articles from AllAboutWindowsSL.
Frequency about 2 posts per month.
Blog allaboutwindowssl.com
Social Engagement 9ⓘ ⋅ Domain Authority 12ⓘ

Norway About Blog Adatum.no is a technical blog written by Martin Ehrnst and fucuses on Azure, Log Analytics, System Center Operations Manager and other cloud and monitoring related software.
Frequency about 1 post per month.
Blog adatum.no
Twitter followers 744 ⋅ Social Engagement 1ⓘ ⋅ Domain Authority 16ⓘ

About Blog This blog is about spreading the knowledge related to IT and more specifically to Azure. It is also is my personal hub for the IT , Azure and the Cloud information. I work with technologies like Azure, Azure Management and Security services (aka OMS), ARM Templates, Azure Stack, PowerShell, Hyper-V, System Center and Azure Pack.
Frequency about 1 post per month.
Blog cloudadministrator.net
Social Engagement 11ⓘ ⋅ Domain Authority 11ⓘ

Denmark About Blog Rasmus is passionate about helping businesses succeed in a software-focused world with intelligent cloud solutions in Microsoft Azure. He has followed Azure closely since its inception in 2008 with some years of experience in designing and implementing real-life Azure solutions. This blog is about Azure Identity and Information Security as well as Azure Compute.
Frequency about 1 post per month.
Since Nov 2017
Blog rasmusg.net
Twitter followers 675 ⋅ Social Engagement 4ⓘ ⋅ Domain Authority 7ⓘ

About Blog My name is Daniel Apps and I have been working in the IT industry since 1999. I am a Solutions Architect at Vigilant.IT and also a Microsoft P-TSP (Technology Solutions Professional). I'm based in beautiful Sydney, Australia and have worked at Vigilant.IT since 2009.
Frequency about 1 post per month.
Blog blog.apps.id.au
Domain Authority 8ⓘ

About Blog Fullstack Backend developer with special interests for DevOps.
Frequency about 2 posts per week.
Also in Microsoft Dynamics CRM Blogs
Blog sergeydotnet.com
Twitter followers 80 ⋅ Social Engagement 4ⓘ ⋅ Domain Authority 5ⓘ

About Blog Keep up with articles from WikiAzure.
Frequency about 1 post per month.
Blog wikiazure.com/blog
Domain Authority 16ⓘ

Burgess Hill, England About Blog Azure & Networking Blog. Hi, I'm Jack Tracey, I am 25 and live in West Sussex, England, United Kingdom. I am responsible for assisting customers migrate, build & expand to mainly Azure IaaS & PaaS services as well as assisting with the various networking elements required when moving to the cloud. I am also a co-founder of the Sussex Azure User Group where we host monthly meetups to discuss all things Azure in a safe, friendly and chilled environment.
Frequency about 1 post per month.
Blog jacktracey.co.uk
Twitter followers 399 ⋅ Domain Authority 2ⓘ

About Blog Keep up with articles from baeke.info.
Frequency about 2 posts per month.
Blog blog.baeke.info
Domain Authority 26ⓘ

Alphen aan den Rijn About Blog My name is Bert Wolters and I'm one of the Lead-Consultants of the Cloud Infrastructure and Apps group at inspark in The Netherlands. My primary focus is on Microsofts public cloud offering, Microsoft Azure and Azure Stack. My work in Azure is not limited to, or focused solely on, IaaS in Azure, but I'm also very interested in the progress being made in Microsofts Operational Management tools, StorSimple, Hybrid Cloud Solutions and further Security aspects of the cloud..
Frequency about 1 post per month.
Blog azureman.com
Twitter followers 2.5K ⋅ Social Engagement 1ⓘ ⋅ Domain Authority 20ⓘ

About Blog Hello everyone and welcome to our blog about Microsoft's Azure technologies. My name is Mohammad Al Rousan and my colleague Kareem Al Zeini and We want to give you insights into Azure Services. This is our personal knowledge base where we are publishing our thoughts all around Microsoft Azure.
Frequency about 2 posts per month.
Blog azure-heros.com/blog
Facebook fans 753 ⋅ Domain Authority 1ⓘ

About Blog My name is Cor den Boer. I am a Certified Microsoft Azure Architect and I work as an Technical Lead / Architect at Proxsys in Gorinchem the Netherlands. On a daily basis I am advising businesses to move to a modern way of working in the public clouds, specifically on Azure and office 365. I'dd like to help companies to improve IT to the level where IT is supporting their business.
Frequency about 2 posts per week.
Blog 2azure.nl
Domain Authority 2ⓘ

About Blog Keep up with articles from Mithun Shanbhag's blog.
Frequency about 2 posts per month.
Blog mithunshanbhag.github.io
Twitter followers 178 ⋅ Domain Authority 3ⓘ

About Blog If you're looking for help with an Exchange 2010 to 2016 migration, Exchange scripts, or lessons learned, you're in the right place.
Frequency about 1 post per month.
Since Jul 2018
Also in Microsoft Exchange Server Blogs
Blog msexchangehelp.com
Domain Authority 2ⓘ

Schweiz About Blog Cloudelicious writes about the different solutions all around Microsoft Azure. Cloudelicious is backed by a team of current and former Microsoft employees with a passion for the various flavors of the cloud. Knowing each other since more than ten years, it was about time to create a blog and share stories from our daily live in consulting.
Frequency about 1 post per month.
Since Mar 2018
Blog cloudelicious.net
Twitter followers 776 ⋅ Domain Authority 16ⓘ

About Blog Azure Field Notes is maintained by a group of technology professionals with deep experience in Microsoft Azure, Azure Stack, System Center and cloud in general (including other public and private clouds). This blog shares their knowledge on Azure, Azure Stack and cloud.
Frequency about 2 posts per month.
Since Jul 2016
Blog azurefieldnotes.com
Twitter followers 219 ⋅ Domain Authority 19ⓘ

Netherlands About Blog Jorg Klein is a technology consultant and architect specialised in the Azure cloud, (big) data & analytics, business intelligence and data warehousing. His passion is to help organisations get the most out of the continuously evolving exciting Azure cloud. He has more than 10 years of experience with the Microsoft BI platform. In recent years he focused only on the Microsoft Azure cloud platform and Power BI. Follow this blog to know more about Azure.
Frequency about 1 post per month.
Since Oct 2007
Blog jorgklein.com
Twitter followers 594 ⋅ Domain Authority 15ⓘ

About Blog Follow this blog to know more about Azure Stack from the Azure Stack Community.
Frequency about 1 post per month.
Since May 2015
Blog azurestack.blog
Facebook fans 1.1K ⋅ Twitter followers 1.7K ⋅ Social Engagement 14ⓘ ⋅ Domain Authority 26ⓘ

Netherlands About Blog Talking Azure is a community initiative. Our goal is to share knowledge about Azure to the community!
Frequency about 1 post per month.
Blog talkingazure.com
Twitter followers 135 ⋅ Domain Authority 3ⓘ

About Blog After spending years on identity management projects and getting very useful information from other blogs and forums I've decided to give something back and share my knowledge with the community. I started with Identity Management around 2005, beginning with Novell IDM 3.x mostly as a Trainer, but shortly went over to Microsoft Identity Integration Server 2003. Starting with MIIS Trainings as an MCT, the first smaller projects appeared, followed by more complex environments.
Frequency about 2 posts per week.
Since Sep 2013
Blog justidm.wordpress.com
Domain Authority 14ⓘ

Ontario, Canada About Blog I am Shawn, a Microsoft Azure MVP and your trainer. Cloud Ranger is a blog about the cloud offering from Microsoft known as Microsoft Azure. This blog offers tutorials about Microsoft Azure cloud platform.
Frequency about 1 post per month.
Since Jan 2015
Blog cloudranger.net
Twitter followers 687 ⋅ Domain Authority 11ⓘ
Google reputation and Google search ranking
Influence and popularity on Facebook, twitter and other social media sites

Quality and consistency of posts.

Feedspot's editorial team and expert review