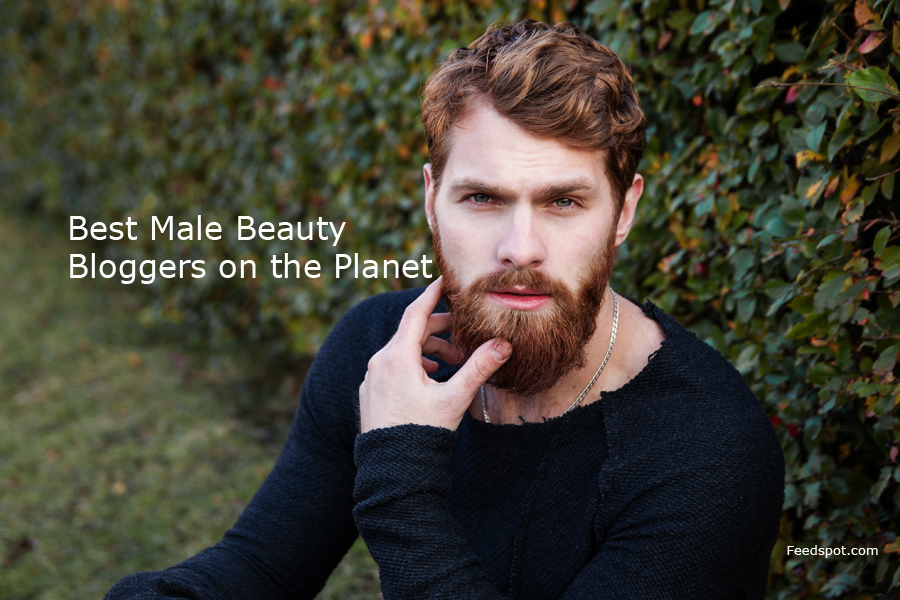 Male Beauty Bloggers List.
The Best Male Beauty Bloggers from thousands of top Male bloggers in our index using search and social metrics. Data will be refreshed once a week.
If your blog is selected in this list, you have the honour of displaying this Badge (Award) on your blog.
Male Beauty Bloggers

NY/CT About Blog Partial to all things that tingle and foam, face masks, martinis (extra dry, up, with a twist), this male beauty blogger thirsts for the latest and greatest, but is persuaded only by 'what works.'
Frequency 5 posts / month
Since Feb 2014
Blog omgbart.com
Facebook fans 488 ⋅ Twitter followers 1.5K ⋅ Domain Authority 32ⓘ

Newport Beach, CA About Blog Zeus Beard is your premier source for fine beard products including beard oil, beard shampoo and conditioner, and boar hair brushes.
Frequency 1 post / week
Since Jun 2014
Blog zeusbeard.com/blog
Facebook fans 39.6K ⋅ Twitter followers 889 ⋅ Social Engagement 21ⓘ ⋅ Domain Authority 31ⓘ

Glasgow About Blog Beauty and The Boy, a Scottish Beauty Blog covering everything from skincare, hair and makeup to busting myths and breaking down trends.
Also in Scottish Beauty Bloggers
Blog beautyandtheboy.com
Twitter followers 1 ⋅ Domain Authority 28ⓘ

United States About Blog This beauty channel is where I teach tutorials, create favorites videos, tags, shenanigans that go on in my life, etc. I hope you guys can join me in this crazy adventure that is Youtube and the beauty world. I am constantly learning and growing with you guys! Honestly I believe that men can wear makeup, teach makeup, and vlog about it just as much as girls can!
Frequency 2 videos / week
Since Jul 2014
Also in Makeup Youtube Channels, Beauty Youtube Channels, American Beauty Bloggers, Male Makeup Youtubers
Blog youtube.com/user/MannyMua733..
Twitter followers 1.4M ⋅ Social Engagement 170ⓘ ⋅ Domain Authority 99ⓘ

Los Angeles, CA About Blog I love makeup, photography and YouTube! I want boys in BEAUTY! I am a professional makeup and I want to share everything I know about makeup and beauty! I myself am always learning as well! In the makeup industry there is no degree of success and you will always learn something new- whether it is new trends or techniques! I absolutely love working with people and I especially enjoy doing others.
Frequency 3 videos / week
Since Feb 2013
Also in American Makeup Youtube Channels
Blog youtube.com/user/theepatrick..
Facebook fans 473.8K ⋅ Twitter followers 542.4K ⋅ Social Engagement 46ⓘ ⋅ Domain Authority 99ⓘ

About Blog A cosmetic chemist's blog on the latest skin care and cosmetic research, ingredients, and beauty news
Frequency 2 posts / month
Since Dec 2017
Blog kindofstephen.com
Facebook fans 1.3K ⋅ Twitter followers 4.1K ⋅ Social Engagement 1ⓘ ⋅ Domain Authority 37ⓘ

Brighton About Blog Makeup For Men UK are the UK's largest men's makeup retailer and are quickly expanding worldwide. Men of all ages can watch videos and read stories about how makeup can improve their appearance.
Frequency 19 posts / year
Blog mensmake-up.co.uk/blog
Facebook fans 1.5K ⋅ Twitter followers 618 ⋅ Social Engagement 4ⓘ ⋅ Domain Authority 46ⓘ

London About Blog On the wrong side of 35, male and obsessed with trying to reverse the signs of old age while smelling delightful! Just started to get back into writing my opinions on various products but you can expect lots of aftershaves from my ever expanding collection, my thoughts on differing hair products, shampoos and shower gels.
Frequency 3 posts / year
Since Jan 2014
Blog beautykinguk.co.uk
Facebook fans 630 ⋅ Twitter followers 3.2K ⋅ Social Engagement 6ⓘ ⋅ Domain Authority 21ⓘ

Yorkshire / London, UK About Blog I am Thom Watson. On MANFACE, I review skincare, beauty and grooming products based on results, accuracy of promise and quality of ingredients.
Since Jul 2011
Also in British Beauty Blogs
Blog manface.co.uk
Twitter followers 8.9K ⋅ Domain Authority 41ⓘ

About Blog Find news, information and tips for mens skin care in our male skin blog, read our in-depth articles to help maximise your skins look and health.
Frequency 2 posts / month
Blog maleskin.co.uk/blog
Facebook fans 359 ⋅ Twitter followers 178 ⋅ Social Engagement 1ⓘ ⋅ Domain Authority 20ⓘ

Leeds, England About Blog UK Based Male Grooming & Lifestyle Blog
Frequency 1 post / week
Blog mrlukechristian.com/blog
Facebook fans 2.8K ⋅ Twitter followers 5.7K ⋅ Social Engagement 12ⓘ ⋅ Domain Authority 22ⓘ

About Blog Boyface's mission is to provide healthy, easy to use skin care products for men so you can look and feel your best.
Blog boyfaceme.com/blogs/news
Facebook fans 1.5K ⋅ Twitter followers 5 ⋅ Domain Authority 13ⓘ

Glasgow About Blog Science based skincare blog covering everything from reviews, tutorials to busting myths, finding dupes and breaking down trends.
Frequency 2 posts / quarter
Also in Skin Care Blogs, Beauty Blogs, Scotland Blogs, UK Skin Care Blogs
Blog theskincaresaviour.com
Facebook fans 3K ⋅ Twitter followers 5.6K ⋅ Instagram Followers 20.7K ⋅ Social Engagement 25ⓘ ⋅ Domain Authority 18ⓘ

NYC About Blog A modern man's lifestyle guide to hair, health and everything in between. Read product reviews of men's hairstyling and grooming products as well as information about curly, kinky and natural hair.
Since Apr 2013
Blog manemanblog.com
Facebook fans 877 ⋅ Twitter followers 704 ⋅ Domain Authority 25ⓘ

London, England About Blog My name is Daniel Gray and I am the founder of War Paint, Make Up for men. The journey started for me 18 years ago when I started to take real notice in the way I looked due to some comments that left me feeling very insecure about my appearance. Learn more about Male cosmetics, Men's makeup products and much more on this blog
Frequency 9 posts / year
Blog warpaintmensmakeup.com/blogs..
Twitter followers 1.2K ⋅ Social Engagement 1ⓘ ⋅ Domain Authority 14ⓘ

UK About Blog The Male Grooming Review is dedicated to mens beauty and lifestyle. Get an insight into male grooming products, men's beauty, health and herbal supplements. We are the ultimate male grooming blog.
Frequency 5 posts / month
Blog yournextremedy.blogspot.com
Facebook fans 356 ⋅ Twitter followers 3.5K ⋅ Domain Authority 21ⓘ

Dubai, United Arab Emirates About Blog Baffi Neri is the largest men beauty online web store in the UAE and the premier beauty destination for cosmetics, fragrance, skin, hair care products and salon services for Men. Get expert opinion on all your skin care and hair care needs on this blog
Blog baffineri.com/blog
Facebook fans 866 ⋅ Twitter followers 5 ⋅ Domain Authority 12ⓘ
Tags: male beauty rss feeds