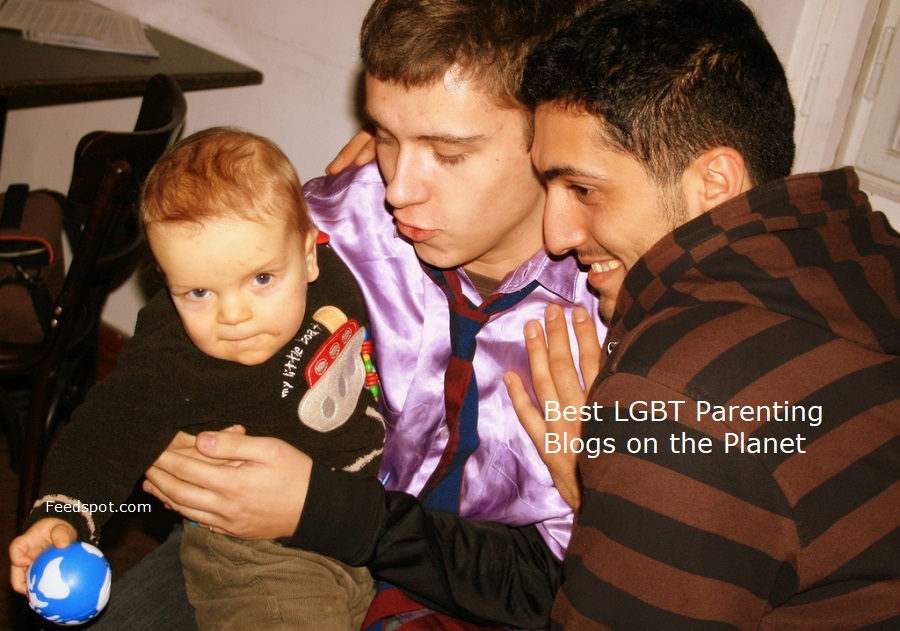 LGBT Parenting Blogs List.
The Best LGBT Parenting blogs from thousands of LGBT and Parenthood blogs on the web using search and social metrics. Also check out LGBT Parenting Youtube Channels.
If your blog is selected in this list, you have the honour of displaying this Badge (Award) on your blog.
LGBT Parenting Blogs

About Blog Proud Parenting shares love, commitment, and family values. LGBTQ Parents - Lesbian Moms & Gay Dads. Follow this website to see world's largest photo gallery of same-sex parents & their families.
Frequency 28 posts / year
Since Feb 2007
Also in Lesbian Blogs
Blog proudparenting.com
Facebook fans 276.1K ⋅ Twitter followers 1.4K ⋅ Social Engagement 175ⓘ ⋅ Domain Authority 50ⓘ

About Blog Gays With Kids is the world's leading digital media company, social network and safe space for gay, bi, and trans (GBT) dads and GBT men considering fatherhood. We help GBT men become dads and navigate fatherhood by sharing stories on how we're creating and raising our families.
Frequency 6 posts / week
Blog gayswithkids.com
Facebook fans 83.9K ⋅ Twitter followers 4.3K ⋅ Social Engagement 44ⓘ ⋅ Domain Authority 51ⓘ

Boston, MA About Blog Mombian is a lifestyle site for lesbian moms and other LGBT parents, offering a mix of parenting, politics, diversions, and resources for all our varied roles.
Frequency 5 posts / week
Since Jun 2005
Also in Parenting Blogs, LGBT Blogs
Blog mombian.com
Facebook fans 2.4K ⋅ Twitter followers 6.4K ⋅ Social Engagement 36ⓘ ⋅ Domain Authority 52ⓘ

Near Brighton, United Kingdom About Blog Welcome! I'm Kate (K) and I'm the main contributor to Lesbemums, and my wife is Sharon (S). This is our blog. As a same sex family, we have also written several posts about LGBT culture and issues.
Frequency 1 post / day
Since Nov 2012
Also in UK LGBT Blogs
Blog lesbemums.com
Facebook fans 3K ⋅ Twitter followers 4.8K ⋅ Social Engagement 13ⓘ ⋅ Domain Authority 33ⓘ

United States About Blog Welcome to GayParentsToBe's Gay Parenting Blog. Read on about LGBT trending news, family building stories, legal advice and more from our LGBT voices team!
Frequency 16 posts / year
Since Apr 2012
Blog gayparentstobe.com/gay-paren..
Facebook fans 26K ⋅ Twitter followers 1.2K ⋅ Instagram Followers 1.3K ⋅ Social Engagement 5ⓘ ⋅ Domain Authority 37ⓘ

East Midlands, UK About Blog We're Jamie and Tom - also known as Daddy and Dad, blogging gay dads of two boys via adoption. Our aim is to enlight prospective adopters about the adoption process, in particular the stuff that happens after the kids are placed with their adoptive parents (or 'move in' as our boys affectionately call it).
Frequency 2 posts / week
Since Aug 2014
Also in Adoption Blogs UK, UK Gay Blogs
Blog daddyanddad.co.uk/blog-1
Facebook fans 1.4K ⋅ Twitter followers 6.1K ⋅ Social Engagement 4ⓘ ⋅ Domain Authority 26ⓘ

California, USA About Blog Two moms, two hounds, and a baby. I'm Molly and my wife is Catch. We spent about 2 years trying to conceive our miracle baby, and were finally successful after a round of IVF and an FET that resulted in a twin pregnancy. We lost one of our twins, but our miracle baby A stuck with us. Charlotte was born on July 23, 2015 and is the light of our life.
Frequency 3 posts / month
Since Aug 2011
Blog houndmamas.wordpress.com
Twitter followers 37 ⋅ Domain Authority 10ⓘ

London, England About Blog Modern love story of two woman and their family. I'm Amber, and Meet the Wildes is a modern love story about two women who fell in love, and the family they made together. Mostly I write about my life with my partner, Kirsty, and our two sets of twins - boys born in October 14 and girls born in July 16.
Frequency 6 posts / quarter
Since Jun 2015
Also in Family Lifestyle Blogs, UK Lesbian Blogs
Blog meetthewildes.com
Facebook fans 2K ⋅ Twitter followers 4.3K ⋅ Social Engagement 17ⓘ ⋅ Domain Authority 32ⓘ

About Blog I'm Tom. I'm 33 and i am a dad to my wonderful son. An adoptive dad. A gay dad. Or maybe just a dad. I am blogging all about toddler life.
Frequency 1 post / quarter
Since Sep 2016
Also in Father Blogs
Blog theunlikelydad.com/blog
Facebook fans 2.8K ⋅ Twitter followers 2.7K ⋅ Social Engagement 4ⓘ ⋅ Domain Authority 28ⓘ

UK About Blog We are an LGBT Family, blogging about life and our family adventures. My Two Mums is an award winning LGBT Lifestyle blog written by two mums in love. It's a blog about the many adventures two mums and their son enjoy.
Frequency 3 posts / month
Since Jan 2012
Blog mytwomums.com
Facebook fans 1.3K ⋅ Twitter followers 8.6K ⋅ Social Engagement 5ⓘ ⋅ Domain Authority 40ⓘ

About Blog Lgbt parenting and lifestyle blog.
Frequency 1 post / week
Blog twodadsandakid.com
Facebook fans 664 ⋅ Social Engagement 22ⓘ ⋅ Domain Authority 15ⓘ

About Blog One research obsessed post-punk political dyke and one wonder-endowed post-modern theater professor fall in love and decide to make some babies. Hilarity, awkwardness and, sometimes, tenderheartedness, ensues. Herein lies an adventure of queer infertility and making a family without biology on your side.
Frequency 1 post / day
Since Aug 2007
Blog lyonsferocious.wordpress.com
Domain Authority 12ⓘ

West Hollywood About Blog An Online Resource for Gay Dads. I'm here to tell the truth about parenting. The good, the bad and the 'we should have known.' While gay adoption has existed for many years, more and more of us are making a step forward from becoming 'the fun guncles' and have biological kids via IVF, which is still relatively new. Gay parenting is becoming even more common, and it's changing parenting forever. Let's document it.
Frequency 1 post / month
Blog daddysqr.com
Facebook fans 766 ⋅ Twitter followers 765 ⋅ Instagram Followers 10.7K ⋅ Social Engagement 2ⓘ ⋅ Domain Authority 12ⓘ

South East London About Blog A Two Mum LGBT Family Raising Their Rainbow Princess. Our Fairytale Came True After A Long Infertility and Loss Journey. Follow Along With Us On Our Adventure.
Frequency 5 posts / year
Since Feb 2014
Blog mamaedenandme.com
Social Engagement 4ⓘ ⋅ Domain Authority 13ⓘ

Toronto, Ontario About Blog Love Deeply, Laugh Together, Be Kind To Each Other
Frequency 3 posts / month
Since Jun 2016
Blog familyisaboutlove.com/our-blog
Facebook fans 1.7K ⋅ Twitter followers 330 ⋅ Social Engagement 6ⓘ ⋅ Domain Authority 34ⓘ

Louisiana About Blog As a LGBTQ family, it's important for us & others like us to help light the way for the ones that need hope. We live in an incredibly divisive time & right now visibility is critical to help destigmatize & normalize same sex families. My hope is that through my blog, I can help. It is my mission to broaden the one sided view of the stereotypical American family. We too, are living the American dream. We are the new normal, loving family that teaches our children acceptance of all walks of life.
Frequency 5 posts / quarter
Blog nolapapa.com/blog
Facebook fans 2.6K ⋅ Domain Authority 15ⓘ

About Blog The Dada Diary - 2 gay dads share life hacks, support, daddy must-haves, and our expereince as a gay multiracial family in America today.
Frequency 1 post / quarter
Blog thedadadiary.com
Facebook fans 189 ⋅ Instagram Followers 293 ⋅ Domain Authority 9ⓘ

Ohio, USA About Blog Hi there! We are Mark & Jason. We are new dads who want to help others who are thinking about starting a family, while also progressing the visibility of gay parents. Yes, we are Gay Dads. But first and foremost, we are Dads. We would LOVE for you to follow along with us on our journey.
Blog the-gay-dads.com/blog
Facebook fans 608 ⋅ Twitter followers 196 ⋅ Social Engagement 5ⓘ ⋅ Domain Authority 7ⓘ

Oakland, CA About Blog Education for a Compassion Revolution. We are a queer, multiracial, adoptive family faking it til we make it! I'm Allison- doing all I can to become the Go Girl I want my daughter to see.
Since Jan 2015
Blog raisingagogirl.com
Facebook fans 566 ⋅ Twitter followers 620 ⋅ Domain Authority 19ⓘ

About Blog Surrogacy and Related News From Around the World
Frequency 3 posts / quarter
Since Jan 2018
Blog intendedparents.com/category..
Domain Authority 20ⓘ

North Carolina, United States About Blog I am a dad, who happens to be gay, with two amazing young adult children who have taught me, my partner, and their mom what grace, faith, hope, and love are all about. This is a blog site dedicated to issues concerning LGBTQ parents and our children, and LGBTQ children in our families, touching on issues of family, faith, and the culture in which we live.
Since Nov 2007
Also in Gay Blogs
Blog onbeingagayparent.blogspot.com
Domain Authority 17ⓘ

About Blog The Next Family is a lifestyle web site for lesbian moms, gay dads, single parents and adoptive families.
Frequency 1 post / year
Since Jul 2009
Blog thenextfamily.com/topics/sam..
Facebook fans 56.9K ⋅ Twitter followers 4.2K ⋅ Domain Authority 52ⓘ
Tags: lgbt parenting rss feeds