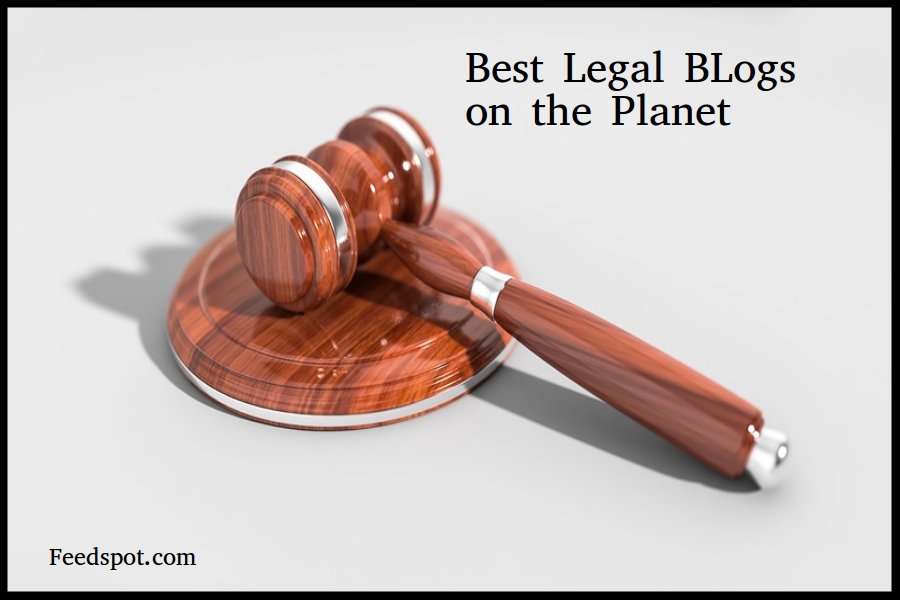 Legal Blogs List.
The Best Legal blogs from thousands of top Legal blogs in our index using search and social metrics. Data will be refreshed once a week. Also check out Law Podcasts and Top Law Youtube Channels list for Top videos on Law.
If your blog is selected in this list, you have the honour of displaying this Badge (Award) on your blog.
Legal Blogs

New York, NY About Blog Above the Law is a legal web site providing news, insights, and opinions on Law firms, Lawyers, Law school, Law suits, Judges and Courts. It takes a behind-the-scenes look at the world of law. The site provides news about the profession's most colorful personalities and powerful institutions, as well as original commentary on the latest legal developments.
Frequency about 84 posts per week.
Blog abovethelaw.com
Facebook fans 61,320. Twitter followers 165,413.

Washington DC About Blog Whether you are a lawyer, law student, or just interested in the U.S. Supreme Court, SCOTUS blog, now in its tenth year, provides comprehensive coverage of the Court and its cases. The blog is written by lawyers, students, and journalists devoted to coverage of the Supreme Court of the United States (SCOTUS).
Frequency about 15 posts per week.
Blog scotusblog.com
Facebook fans 31,395. Twitter followers 322,887.

Chicago About Blog Get continuous news updates from the United States' most-read and most-respected legal affairs magazine and website, ABA Journal. It is the flagship magazine of the American Bar Association, covering the trends, people and finances of the legal profession from Wall Street to Main Street to Pennsylvania Avenue.
Frequency about 34 posts per week.
Also in Legal Magazines
Blog abajournal.com
Facebook fans 25,751. Twitter followers 100,552.

United States About Blog The Canna Law Blog is a forum for discussing the practical aspects of cannabis law and how it impacts those involved in this growing industry. It will provide insight into how canna businesspeople can use the law to their advantage.
Frequency about 7 posts per week.
Also in Marijuana Blogs
Blog cannalawblog.com
Facebook fans 177,664. Twitter followers 5,411.

USA About Blog Lawyerist is home to the largest online community of solo and small-firm lawyers in the world.Their goal is to help lawyers build better law practices by bringing together a group of innovative lawyers to share ideas, experiments, and best practices.
Frequency about 2 posts per week.
Since Jan 2007
Blog lawyerist.com
Facebook fans 20,969. Twitter followers 59,156.

About Blog The Fashion Law is one of the leading authoritative sources dedicated to the field of fashion. It is a source of objective fashion law and business analysis, and serves as a community for lawyers, business executives, fashion industry insiders, designers, and students, alike. Julie Zerbo is the founder and editor-in-chief of The Fashion Law.
Frequency about 11 posts per week.
Since Jan 2014
Also in Fashion Law Blogs
Blog thefashionlaw.com
Facebook fans 20,097. Twitter followers 77,073.

Phoenix, AZ About Blog The Rainmaker Blog provides law firm marketing and business development strategies. It is published by The Rainmaker Institute. Stephen Fairley is the CEO of The Rainmaker Institute.
Frequency about 1 post per week.
Blog therainmakerblog.com
Facebook fans n/a. Twitter followers 28,469.

Indianapolis About Blog Library Law Blog provides debate, commentary, essays, book reviews, interviews, and educational material in a commitment to the first principles of law in a free society. The Online Library of Law and Liberty's focus is on the content, status, and development of law in the context of republican and limited government.
Frequency about 12 posts per week.
Also in Legal Education Blogs
Blog libertylawsite.org/blog
Facebook fans 30,061. Twitter followers 5,387.

About Blog Law Technology Today is a blog from the ABA Legal Technology Resource Center. Get the latest news in technology and law that you need to know. The ABA's LTRC provides extensive legal technology resources on topics such as cloud computing, software, marketing, mobile, and security.
Frequency about 5 posts per week.
Also in Legal Tech Blogs
Blog lawtechnologytoday.org
Facebook fans 2,422. Twitter followers 17,066.

United States About Blog The Crime Report is your complete criminal justice resource. It is the primary non-partisan source of criminal justice news and research for thousands of scholars, practitioners, students, and journalists across the nation.
Frequency about 84 posts per week.
Blog thecrimereport.org
Facebook fans 4,737. Twitter followers 15,597.

New York About Blog Bloomberg Law Podcast is a subscription based service for online legal research. This podcast provides legal content, proprietary company information and news information to attorneys, law students, and other legal professionals.
Frequency about 3 posts per week.
Also in Law Podcasts
Blog bloomberg.com/podcasts/law
Facebook fans 2,939,981. Twitter followers 5,510,970.

Chapel Hill, NC About Blog North Carolina Criminal Law is a UNC School of Government Blog. The purpose of the blog is to disseminate information about, and to serve as a forum for the discussion of, North Carolina criminal law and procedure and related topics.
Frequency about 3 posts per week.
Blog nccriminallaw.sog.unc.edu
Facebook fans n/a. Twitter followers 5,682.

San Francisco About Blog Everyday Law helps you identify the ways the law can make your life better. Find tips about timely legal topics and learn how people like you manage their issues. Rocket Lawyer makes the law work for you at a price you can afford.
Frequency about 1 post per month.
Blog rocketlawyer.com/blog
Facebook fans 31,801. Twitter followers 13,330.

About Blog Volokh Conspiracy, a blog written mostly by law professors, is anchored by Eugene Volokh. Eugene Volokh teaches free speech law, religious freedom law, church-state relations law, a First Amendment Amicus Brief Clinic, and tort law, at UCLA School of Law, where he has also often taught copyright law, criminal law, and a seminar on firearms regulation policy.
Frequency about 24 posts per week.
Also in Conspiracy Blogs
Blog reason.com/volokh
Facebook fans 4,218. Twitter followers 20,016.

India About Blog Lawctopus is India's most popular and trusted website for law students. Launched on 27th September, 2010. Lawctopus is for law students in India: internships, things to do, advice on career in law.
Frequency about 84 posts per week.
Since Sep 2010
Also in Indian Law Blogs
Blog lawctopus.com
Facebook fans 50,736. Twitter followers 15,167.

New York, NY About Blog The Expert Institute's expert witness services connects the world's leading law firms with expert witnesses in every field.
Frequency about 1 post per month.
Blog theexpertinstitute.com/blog
Facebook fans 727. Twitter followers 10,626.

Columbia Missouri About Blog Patently-O is the America's leading patent law blog.
Frequency about 7 posts per week.
Blog patentlyo.com
Facebook fans n/a. Twitter followers 14,182.

New York, NY About Blog Intelligize brings together best-in-class content, analytics and deep expertise to help you stay compliant, build stronger deals and deliver value to your shareholders and clients. Learn how our compliance management solutions can help navigate the complex, rapidly changing regulatory compliance environment.
Frequency about 2 posts per week.
Since Jan 2017
Also in Investment Blogs, New York Finance Blogs
Blog intelligize.com/blog
Facebook fans n/a. Twitter followers 369.

About Blog Legal Desire covers latest legal news, supreme court, high court judgements, interviews, internships, career in law, law school events, law school notes etc.
Frequency about 12 posts per week.
Blog legaldesire.com
Facebook fans 88,585. Twitter followers 924.

United Kingdom About Blog LawInSport is a leading online international sports law publication providing expert commentary and analysis on the latest issues and legal developments in the world of sport. They publish articles of legal opinion, blogs, videos and podcasts by those working in the field.
Frequency about 4 posts per month.
Blog lawinsport.com/blog
Facebook fans 1,120. Twitter followers 14,098.
Legal Blogs By Country
---
Australia
Sydney Criminal Lawyers
About - Sydney Criminal Lawyers is a trusted team of experienced criminal lawyers with offices in Sydney City, Liverpool and Parramatta. Our specialist defence lawyers are passionate about consistently achieving outstanding results and maintaining a high level of client satisfaction, and our unparalleled track record of success in criminal and traffic cases has led to numerous awards and accolades.
Law Answers
About - Law Answers is Australia's #1 Legal Community.
Melbourne Law School » Opinions on High
About - This blog will provide commentary on and analysis of recent High Court decisions, general information about the Court, as well as marking significant activities and events at the Court.
Austria
PwC Legal Austria
About - PwC Legal offers a unique style of integrated legal advice, with access to specialists from across the entire PwC network.
Bangladesh
Bangladesh Law Digest
About - Bangladesh Law Digest (BDLD) is a leading law journal in Bangladesh. It started its journey on June 2, 2015 with a view to providing the lawyers, legal researchers and law students with a brilliant platform to dissect, analyze and synthesize various issues pertaining to the legal field.
Belgium
Belcon Law Blog
About - Addressing recent evolution in Belgian Constitutional Law.
Bhutan
Path Legal
About - PathLegal, Bhutan lawyers directory listed lawyers and law firms and their supported services from Bhutan. Here is the place where both clients and lawyers from Bhutan & world wide can connect each other in a better way.
Brazil
Brazilian Law Blog
About - My name is Adler Martins. I`m a Brazilian lawyer who lives Brazil. This blog is my venue to communicate with business people and also with other lawyers who want to discuss issues related to Brazilian law.
Canada
Slaw | Canada's Online Legal Magazine
About - Slaw is Canadian, co-operative, and about any and all things legal.
Canadian Lawyer Mag
About - Canadian Lawyer delivers award-winning editorial content that informs, inspires and occasionally inflames the lawyers, corporate counsel, judges, law professors, and students-at-law who consider it a "must-read." It is published in print 10 times a year.
China
China Law Blog
About - We will be discussing the practical aspects of Chinese law and how it impacts business there. We will be telling you what works and what does not and what you as a businessperson can do to use the law to your advantage.
China Law Insight
About - Authored by King & Wood Mallesons, China Law Insight covers Chinese corporate, finance, intellectual property, dispute resolution & international trade law.
Ethiopia
Abyssinia Blog
About - We have goals, purposes, focuses, reasons to write about Ethiopian laws and our Legal System. Abyssinia Law is an online free-access resource for Ethiopian legal information.
England
The Lawyer | Legal News and Jobs
About - Top legal magazine and website with all the breaking stories plus online debate, features, blogs, analysis and legal job.
Legal Cheek - News, commentary and law careers advice
About - Legal Cheek was founded in 2011. It has grown to become the UK's leading news source for junior lawyers and law students, and has been described by The Sunday Times as "Popbitch for lawyers" and The Telegraph as an "irreverent, must-read tabloid law website".
Finland
Roschier Reflections
About - Roschier Reflections is a portal providing insights, opinions, news, articles, broadcasts and other items of interest around topical legal and business issues.
France
Patent my French
About - The purpose of this blog is to discuss all matters of interest to patent practitioners or stakeholders – from a French perspective. Therefore, readers can expect a particular focus on French case law, but also news from the European Patent Office or the Unified Patent Court.
Germany
Cross Channel Lawyers
About - German lawyers and English solicitors with experience in the processing of cross-border mandates provide competent, understandable and practice-oriented information.
Ghana
Ghana Law Hub
About - Ghana Law Hub exists to create and encourage the creation of timely, relevant and authentic Ghanaian legal resources. To this end, the Hub aims at detailing key and major events and developments in the legal arena from as many perspectives as possible.
India
Live Law | Legal news india, Law Firms News, Law School News
About - Live Law is a comprehensive Legal News portal which will redefine the standards of legal journalism in India. Our endeavour is to bring in more transparency and accountability in legal reporting. We are committed to provide our readers with accurate and unbiased news, views, opinions, and features.
Lawctopus | For law students in India
About - Lawctopus is India's most popular and trusted website for law students. Launched on 27th September, 2010. Lawctopus is for law students in India: internships, things to do, advice on career in law.
Bar And Bench
About - Bar & Bench is a comprehensive news and analysis portal for the legal fraternity in India. Bar & Bench provides the latest in news, information, interviews and columns spanning the entirety of the legal spectrum.
Indonesia
World of Law and Culture
About - Legal blogs and legal articles online culture and literature Indonesia equipped with legal news and information legislation.
SSEK Law Firm
About - Full-service corporate, commercial law firm in Jakarta, Indonesia. 2014 Who's Who Legal Indonesian Law Firm of Year, 2013 Chambers Indonesian Law Firm of Year.
Ireland
Irish Legal News
About - Irish Legal News is the leading daily news service for lawyers in both the Republic of Ireland and Northern Ireland.
Irish law Updates
About - Updates on Irish and Northern Irish Law (Darius Whelan, School of Law, University College Cork). Irish law, legal system, Irish Constitution, solicitors and barristers, courts, judges, Ireland. Universities, legal professions, law students, law journals. Acts, statutes, common law, events, conferences, seminars and other activities.
Israel
GT Israel law Blog
About- The GT Israel Law Blog covers a range of non-Israeli legal issues relevant to Israeli companies. Our team focuses on topics important to Israeli companies seeking to develop and grow their businesses abroad, as well as information relevant to individuals and companies around the world contemplating business opportunities in Israel.
Japan
The Japan Times | Legal
About- News Updates on Legal Law in Japan.
Kenya
Kenya Law
About - To Provide Universal Access to Kenya's Public Legal Information by Monitoring and Reporting on the Development of Jurisprudence for the Promotion of the Rule of Law.
Kenya Employment Law
About - Thriving in employment and beyond!
Malaysia
Donovan & Ho | Advocates
About - Our Vision is to be the boutique law firm in Kuala Lumpur, Malaysia best known for its vibrancy, innovation and excellent service standards.
Labour Law
About - The purpose of this blog is to provide information on current issues in labour, employment and industrial law practices in Malaysia.
The Malaysian Bar
About - The Malaysian Bar is an independent Bar whose aim is to uphold the rule of law and the cause of justice and protect the interest of the legal profession as well as that of the public.
Mexico
MEX Law | Mexican Law
About - MEXLAW is the only Mexican based law firm that is owned and operated by licensed Canadian and American Lawyers that have partnered with Mexican lawyers. We are accountable for our conduct, integrity and competence to our professional order and to our clients.
Netherlands
Leiden Law Blog
About - The Leiden Law Blog is part of the Leiden Law School, Leiden University. The authors are legal experts or criminologists working at our faculty. The Leiden Law Blog stands out by reacting to the latest news while at the same time touching on the research being performed within our faculty.
Blenheim
About - Blenheim Lawyers in Amsterdam is a law firm that
specializes in commercial law, labor law, financial law, real estate law and company law.
New Zealand
NZ Criminal Law
About - Observations on leading cases in criminal law around the world from 2004 to 2014.
Nigeria
Lawyard - Nigeria's Leading Legal Portal
About - Nigeria's Leading Legal Information outlet. Lawyard is conceived as a one-stop spot for social interaction and engagement built around the learning of law.
The Legalnaija Blawg
About - Legal Law Blog in Nigeria.
Stephen Legal Blog | World of recent and rare Nigerian judicial authorities
About - The Stephen Legal Blog is largely concerned with the delivery of online updates and information on Nigerian Law, as well as legal insights and incisive opinions on highlighted legal principles for the benefit of all especially practising attorneys, Judges, law teachers, law students, researchers and others having interest in law.
Pakistan
Courting The Law
About - Pakistan's First Legal News and Analysis Portal.
Poland
KG Legal
About - Lawyer and Law Firm in Poland.
Romania
Romania Law Blog
About - We decided to start our blog regarding Romania and the Romanian legal system, as well as advising you how to understand business in Romania.
Singapore
Singapore Law Blog
About - Singapore Law Blog discusses the latest Singapore court decisions, legislation and other legal news.
Singapore Law Watch
About - We feature the latest Singapore law headlines, judgments, case highlights, legislation as well as a current listing of seminars and publications.
Slovenia
Lawyers Slovenia
About - MSP CENTER is a local company based in Slovenia that offers a wide range of legal services, from company formation to legal advice on Commercial Law, insolvency, closing a company, real estate regulations etc.
South Africa
South Africa Commercial Law Blog
About - The South African Commercial Law Blog is written and managed by Don Mahon. Mahon is an Advocate (Barrister) and Arbitrator specialising in commercial litigation.
South Korea
The Korean Law Blog
About - The Korean Law Blog is brought to you by New York Attorney Sean Hayes and the partners, associates and consultants at IPG. It is an International Law Firm Blog. Korean Civil,Criminal and Business Law explained by leading Lawyers in Korea.
Spain
Carbray
About - With experts in Corporate, Real Estate, tax matters, divorces, inheritance, litigation and alienation processes in Spain, CARBRAY has extensive experience in the practice of law and legal advice that is constantly evolving and changing, always in line with new times, regulations and technologies.
Sri Lanka
D. L. & F. De Saram
About - D. L. & F. De Saram features a legal team of partners and associates that provide personal attention to the needs of clients, be it civil or commercial law.
Sweden
AWA Patent
About - Awapatent is a leading consultancy firm in intellectual property (IP). We use our legal and technical expertise to help our clients turn their ideas and innovations into business opportunities.
Switzerland
Froriep Lawyers
About - Froriep began life in Zurich in 1966 and has grown to become one of Switzerland's leading law firms, with five offices in three countries. We're a truly international practice, providing Swiss law advice to clients all over the world.
Thailand
Thailand Lawyer Blog
About - Thailand Lawyer News on Thailand Business, Legal and Social Issues.
Thailandroad Blog
About - News, Updates on general Thai Law and international Law by Thailandroad.
UAE
The Bench Law
About - The Bench is an award-winning innovative legal services provider offering cost-effective legal services, legal recruitment and lawyers on demand.
Dubai Law
About - Al Sharif Advocates & Legal Consultants was founded in 1982 by Dr Abdulrahman Al Sharif and is one of the oldest law firms in the U.A.E. At Al Sharif we specialize in construction, corporate, commercial and real estate law.
UK
Legal Week
About - Legal Week has been leading the way in providing expert journalism and analyst-grade content exclusively for commercial lawyers in the UK for over 15 years. Highly respected and trusted for the commentary and insight we give to the latest issues and developments in this competitive landscape.
The Law Society Gazette
About - The Law Society is the independent professional body for solicitors. We represent and support our members, promoting the highest professional standards and the rule of law.
UKSC Blog | UK Supreme Court Blog
About - This blog was conceived and created in spring 2009 by the authors who are solicitors and barristers specialising in litigation and with an interest of the work of the UK Supreme Court.
Ukraine
Ukrainian Law Blog
About - Updates on Law in Ukraine by V. Machuskyy (PhD in law).
USA
Above The Law
About - Above the Law is a legal website providing news, insights, and opinions on Law firms, Lawyers, Law school, Law suits, Judges and Courts.
SCOTUSBlog
About - Whether you are a lawyer, law student, or just interested in the U.S. Supreme Court, SCOTUS blog, now in its tenth year, provides comprehensive coverage of the Court and its cases. The blog is written by lawyers, students, and journalists devoted to coverage of the Supreme Court of the United States (SCOTUS).
ABA Journal
About - Get continuous news updates from the United States' most-read and most-respected legal affairs magazine and website, ABA Journal.
Vietnam
Vietnam Law and Legal Forum
About - Vietnam Law & Legal Forum magazine has been a reliable friend of those who wish to inquire into Vietnamese laws and policies.
Vietnam Business Law
About - Articles on Vietnam Business Law.
These blogs are ranked based on following criteria
Google reputation and Google search ranking
Influence and popularity on Facebook, twitter and other social media sites

Quality and consistency of posts.

Feedspot's editorial team and expert review
Top 200 Legal Blogs Winners
CONGRATULATIONS to every blogger that has made this Top Legal blogs list! This is the most comprehensive list of best Legal blogs on the internet and I'm honoured to have you as part of this! I personally give you a high-five and want to thank you for your contribution to this world.
If your blog is one of the Top 100 Legal blogs, you have the honour of displaying the following badge on your site. Use the below code to display this badge proudly on your blog. You deserve it!:
If your blog is one of the Top 200 Legal blogs, you have the honour of displaying the following badge on your site. Use the below code to display this badge proudly on your blog. You deserve it!: