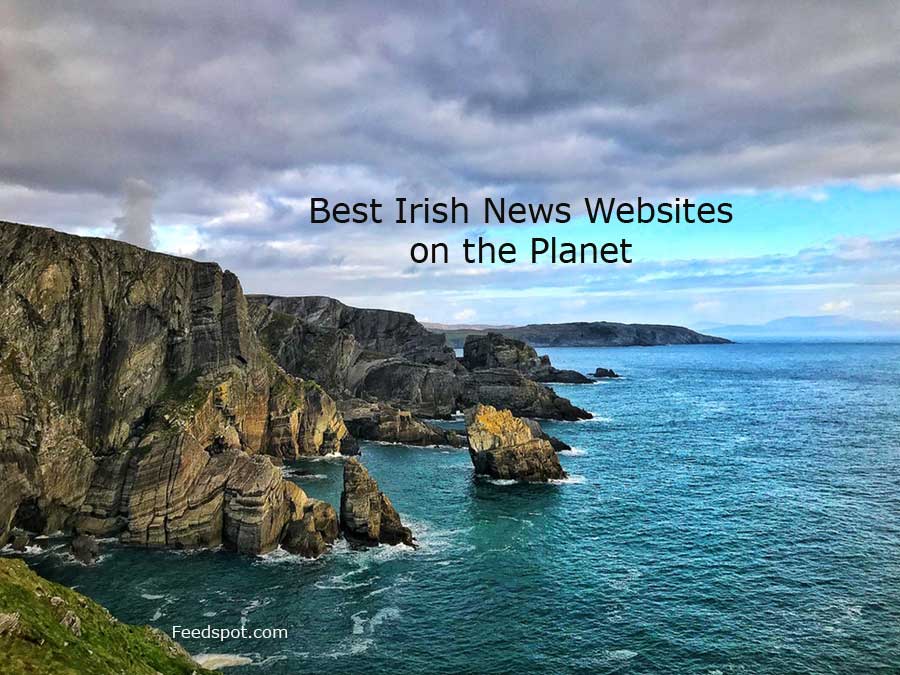 Irish News Websites List.
The Best Irish News Websites from thousands of top Irish Websites in our index using search and social metrics. Data will be refreshed once a week.
If your website is selected in this list, you have the honour of displaying this Badge (Award) on your website.
Irish News Websites

New York City About Website Read and share the latest Irish news, including politics, community, business, travel, Irish roots, culture, and more.
Frequency 2 posts / day
Website irishcentral.com
Facebook fans 726.4K ⋅ Twitter followers 38K ⋅ Social Engagement 133ⓘ ⋅ Domain Authority 84ⓘ

Ireland About Website Find the Latest Local and International News including Sports, Analysis, Business, Weather and more from the Definitive Brand of Quality News in Ireland.
Frequency 3 posts / day
Since Jan 1996
Website irishtimes.com
Facebook fans 561.6K ⋅ Twitter followers 482.6K ⋅ Social Engagement 182ⓘ ⋅ Domain Authority 89ⓘ

Dublin , Ireland About Website Breaking news from Ireland and the world. Latest news headlines about politics, sports and business. Quality Irish news & weather forecast.
Frequency 30 posts / day
Website independent.ie
Facebook fans 768.4K ⋅ Twitter followers 508.5K ⋅ Domain Authority 90ⓘ

Dublin, Ireland About Website Irish Mirror, the latest Irish news, showbiz, football and sport. Plus the best from the Daily Mirror in world news, showbiz and Premier League football.
Frequency 30 posts / day
Website irishmirror.ie
Facebook fans 627.6K ⋅ Twitter followers 38K ⋅ Domain Authority 81ⓘ

Ireland About Website Ireland's premier breaking news website providing up to the minute news and sports reports.
Frequency 30 posts / day
Since Jan 2001
Also in Ireland Blogs
Website breakingnews.ie
Facebook fans 498.3K ⋅ Twitter followers 48.2K ⋅ Domain Authority 79ⓘ

Ireland About Website Read, share and shape the news on TheJournal.ie - Breaking Irish and International News
Frequency 30 posts / day
Website thejournal.ie
Facebook fans 427.1K ⋅ Twitter followers 613.5K ⋅ Social Engagement 175ⓘ ⋅ Domain Authority 82ⓘ

Ireland About Website Ireland's premier website for Irish females with the latest news, showbiz, fashion, beauty, entertainment, and celebrity gossip. As it happens, we have it.
Website evoke.ie
Facebook fans 156.1K ⋅ Twitter followers 16.6K ⋅ Social Engagement 52ⓘ ⋅ Domain Authority 72ⓘ

Ireland About Website Join us for a refreshing take on the latest news and views from Ireland and around the world.
Frequency 6 posts / day
Website irishexaminer.com
Facebook fans 276.1K ⋅ Twitter followers 168.3K ⋅ Social Engagement 5ⓘ ⋅ Domain Authority 85ⓘ

Dublin-Cork-Regional & Global About Website RTÉ news brings you the latest Irish news, world news, international news and up to the minute reports on breaking Irish news stories and news from around the world. Watch and listen to Irish news stories on our video and audio streams.
Frequency 30 posts / day
Website rte.ie/news
Facebook fans 232.1K ⋅ Twitter followers 546K ⋅ Social Engagement 460ⓘ ⋅ Domain Authority 86ⓘ

Dublin, Ireland About Website Get the latest Irish and world news, sport, celebrity gossip, showbiz, pictures, videos, virals and podcasts from The Irish Sun.
Frequency 30 posts / day
Website thesun.ie
Facebook fans 136.6K ⋅ Twitter followers 14.2K ⋅ Social Engagement 2ⓘ ⋅ Domain Authority 81ⓘ

About Website The42 is the sports news source for today's Irish sports fan. Join the conversation about GAA, rugby, football and more.
Frequency 30 posts / day
Website the42.ie
Facebook fans 87.4K ⋅ Twitter followers 69.9K ⋅ Social Engagement 2ⓘ ⋅ Domain Authority 69ⓘ

Ireland,UK About Website Irish Tech News is an award-winning online publication aimed at keeping you informed of all the latest news from the world of Technology. With the main focus on Irish based news, we cover a wide range of topics from social media and smartphones to start-ups and SMEs.
Frequency 30 posts / week
Also in UK Tech Blogs
Website irishtechnews.ie
Facebook fans 3.9K ⋅ Twitter followers 45.8K ⋅ Social Engagement 5ⓘ ⋅ Domain Authority 55ⓘ

Belfast, Northern Ireland About Website Northern Ireland live news, sport, business, opinion, entertainment, lifestyle updates from Belfast Telegraph
Frequency 30 posts / day
Website belfasttelegraph.co.uk
Facebook fans 261.3K ⋅ Twitter followers 174.6K ⋅ Social Engagement 242ⓘ ⋅ Domain Authority 90ⓘ

Limerick, Ireland About Website Find the latest Limerick news, sport, business, death notices, entertainment and more
Frequency 15 posts / day
Website limerickleader.ie
Facebook fans 59.9K ⋅ Twitter followers 42K ⋅ Social Engagement 197ⓘ ⋅ Domain Authority 66ⓘ

Ireland About Website Find latest news related to ireland on this site.
Frequency 30 posts / year
Website newstalk.com
Facebook fans 135.3K ⋅ Twitter followers 228.8K ⋅ Domain Authority 78ⓘ

About Website A Belfast perspective on news, sport, what's on, lifestyle and more, from your local paper the Belfast News Letter.
Frequency 30 posts / day
Website newsletter.co.uk
Facebook fans 67.9K ⋅ Twitter followers 41K ⋅ Social Engagement 4ⓘ ⋅ Domain Authority 68ⓘ

About Website Slugger O'Toole is an award winning news and opinion portal, which takes a critical look at various strands of political politics in Ireland and Britain. It tries to bring its readers 'open source analysis' from both the mainstream media and the blogosphere.
Frequency 3 posts / day
Website sluggerotoole.com
Facebook fans 13.4K ⋅ Twitter followers 34.1K ⋅ Social Engagement 119ⓘ ⋅ Domain Authority 59ⓘ

Donegal, Ireland About Website Donegal's number 1 online news site, reporting 24/7 on what's happening in the lovely Co Donegal
Frequency 28 posts / day
Website donegaldaily.com
Facebook fans 91.1K ⋅ Twitter followers 17.6K ⋅ Social Engagement 47ⓘ ⋅ Domain Authority 52ⓘ

Dublin, Ireland About Website Herald brings you everything you need to know about your city.
Frequency 15 posts / day
Website herald.ie
Facebook fans 98.7K ⋅ Twitter followers 14.2K ⋅ Social Engagement 37ⓘ ⋅ Domain Authority 69ⓘ

About Website Ireland's largest farming news portal. Daily Irish farming news and Irish agricultural news for farmers in Ireland. Farm Ireland advice and farming updates
Frequency 27 posts / day
Website agriland.ie
Facebook fans 153.2K ⋅ Twitter followers 22.7K ⋅ Social Engagement 15ⓘ ⋅ Domain Authority 57ⓘ

Galway, Ireland About Website News, video, photos and more for Galway from the Connacht Tribune
Frequency 30 posts / quarter
Website connachttribune.ie
Facebook fans 70.4K ⋅ Twitter followers 17K ⋅ Social Engagement 49ⓘ ⋅ Domain Authority 56ⓘ

Derry, Ireland About Website A Derry perspective on news, sport, what's on, lifestyle and more, from your local paper the Derry Journal.
Frequency 12 posts / day
Website derryjournal.com
Facebook fans 63.3K ⋅ Twitter followers 24K ⋅ Social Engagement 87ⓘ ⋅ Domain Authority 65ⓘ

Ireland About Website With almost 24,000 members, Engineers Ireland is one of the country's oldest and largest professional bodies. Our primary role is to be the representative voice of the engineering profession in Ireland.
Frequency 22 posts / week
Website engineersjournal.ie
Facebook fans 8.6K ⋅ Twitter followers 13.6K ⋅ Social Engagement 2ⓘ ⋅ Domain Authority 45ⓘ

Dublin , Ireland About Website Adworld.ie is the online information portal of Irish Marketing Journal (IMJ), Ireland's leading magazine for the marketing, advertising and media
Frequency 14 posts / week
Website adworld.ie/news
Facebook fans 3.6K ⋅ Twitter followers 11.9K ⋅ Social Engagement 6ⓘ ⋅ Domain Authority 46ⓘ

Dublin, Ireland About Website Irishbuildingmagazine.ie is Ireland's construction & building sector news portal. The most visited news & information site for the Irish construction & building.
Frequency 2 posts / day
Also in Construction Magazines
Website irishbuildingmagazine.ie
Facebook fans 1.7K ⋅ Twitter followers 5.1K ⋅ Domain Authority 38ⓘ

About Website Find latest news related to ireland on this student newspaper.
Frequency 12 posts / day
Website trinitynews.ie
Facebook fans 11.3K ⋅ Twitter followers 7.4K ⋅ Social Engagement 24ⓘ ⋅ Domain Authority 50ⓘ

Kilkenny City,Ireland About Website The Kilkenny People offers unrivalled news and sports coverage, and reflects the vibrancy of our city and county - our arts, festivals, heritage and sport.
Frequency 16 posts / day
Website kilkennypeople.ie
Facebook fans 24.5K ⋅ Twitter followers 10.6K ⋅ Social Engagement 49ⓘ ⋅ Domain Authority 46ⓘ

Dublin City, Ireland About Website We specialise in Bizarre Irish News, Viral Videos and general Irish Craic.
Frequency 3 posts / week
Since Apr 2014
Website meanwhileinireland.com
Facebook fans 543.1K ⋅ Twitter followers 2.7K ⋅ Social Engagement 1.1Kⓘ ⋅ Domain Authority 30ⓘ

Ireland About Website RSVP brings you the latest Irish celeb news and articles on beauty and fashion, health and fitness, family and more from Ireland, the UK and across the world.
Frequency 29 posts / day
Website rsvplive.ie
Facebook fans 200.9K ⋅ Twitter followers 29.4K ⋅ Social Engagement 45ⓘ ⋅ Domain Authority 53ⓘ

Dublin, Ireland About Website TechCentral.ie is Ireland's technology news resource featuring expert analysis from the pages of TechPro magazine
Frequency 6 posts / day
Also in Tech News Websites
Website techcentral.ie
Facebook fans 455 ⋅ Twitter followers 4.4K ⋅ Domain Authority 55ⓘ

Dublin, Ireland About Website Irish Medical Times is the original newspaper for Irish doctors, with breaking health news, insightful analysis and clinical reports, and controversial opinions.
Frequency 2 posts / day
Also in Medical News Websites
Website imt.ie
Facebook fans 1.6K ⋅ Twitter followers 9.8K ⋅ Social Engagement 4ⓘ ⋅ Domain Authority 52ⓘ

Dublin, Ireland About Website MerrionStreet.ie reviews the wide range of government activity and then reports certain key events as news.Our central task is to take a variety of events and report on them objectively, in the language of a news bulletin.
Frequency 3 posts / week
Website merrionstreet.ie/en
Facebook fans 9.3K ⋅ Twitter followers 35.3K ⋅ Social Engagement 1ⓘ ⋅ Domain Authority 56ⓘ

Ireland About Website The official home of the Ireland cricket team. Stay up to date with news, upcoming fixtures and live scores.
Frequency 17 posts / month
Website cricketireland.ie
Facebook fans 591.6K ⋅ Twitter followers 192.7K ⋅ Social Engagement 4ⓘ ⋅ Domain Authority 43ⓘ

Ireland About Website The latest Irish legal news. Welcome to the leading daily news service for lawyers in both the Republic of Ireland and Northern Ireland.
Website irishlegal.com
Facebook fans 1.5K ⋅ Twitter followers 4.7K ⋅ Domain Authority 44ⓘ

About Website Ireland's longest serving and most prolific boxing website.For over 15 years we have been keeping people up to date on Irish boxing.
Frequency 6 posts / day
Also in Boxing Blogs
Website irish-boxing.com
Facebook fans 41.1K ⋅ Twitter followers 20.3K ⋅ Social Engagement 12ⓘ ⋅ Domain Authority 48ⓘ

Dublin & Belfast, Ireland About Website Find latest news related to ireland on this site.
Frequency 1 post / month
Website anphoblacht.com
Facebook fans 22.2K ⋅ Twitter followers 27K ⋅ Social Engagement 143ⓘ ⋅ Domain Authority 54ⓘ

About Website Find latest Irish Transport Industry News on this site.
Frequency 10 posts / week
Since Apr 2009
Website fleet.ie
Twitter followers 5.5K ⋅ Social Engagement 1ⓘ ⋅ Domain Authority 33ⓘ

About Website Irish Echo is the largest circulation Irish American weekly newspaper.
Frequency 7 posts / day
Website irishecho.com
Facebook fans 4.8K ⋅ Twitter followers 14.3K ⋅ Social Engagement 63ⓘ ⋅ Domain Authority 56ⓘ

Ireland About Website GCN (Gay Community News) is Ireland's national monthly free gay magazine.The remit of GCN is to educate and inform its readers about political issues, to entertain them, speak about gay culture, and give them access to a greater sense of community, for free.
Frequency 4 posts / day
Website gcn.ie
Facebook fans 15.5K ⋅ Twitter followers 15.9K ⋅ Social Engagement 77ⓘ ⋅ Domain Authority 53ⓘ

Dublin, Ireland About Website Ireland's political and cultural magazine.Challenging the endemically complacent and others by the acute promotion of equality, sustainability and accountability.
Frequency 3 posts / week
Website villagemagazine.ie
Facebook fans 2.3K ⋅ Twitter followers 9.1K ⋅ Social Engagement 42ⓘ ⋅ Domain Authority 48ⓘ

Waterford, Ireland About Website The Munster Express is a weekly newspaper covering the areas of Waterford City.Established in 1859, it is the largest selling newspaper in the south-east of Ireland serving a population of over 100,000.
Frequency 1 post / day
Website munster-express.ie
Facebook fans 8K ⋅ Twitter followers 9.4K ⋅ Social Engagement 1ⓘ ⋅ Domain Authority 44ⓘ

Dublin, Ireland About Website Irish Travel Trade News is the only dedicated trade-only #travel industry magazine published in Ireland and has been serving this industry for 50 years.
Frequency 2 posts / day
Website ittn.ie
Facebook fans 3.1K ⋅ Twitter followers 2.7K ⋅ Social Engagement 6ⓘ ⋅ Domain Authority 34ⓘ

About Website The voice of the Irish community since 1987. The family newspaper for Irish people in the UK. Including News, Sports, Community and Entertainment.
Frequency 3 posts / day
Website theirishworld.com
Facebook fans 14.4K ⋅ Twitter followers 8.7K ⋅ Social Engagement 24ⓘ ⋅ Domain Authority 54ⓘ

Ballymena About Website A Ballymena perspective on news, sport, what's on, lifestyle and more, from your local paper the Ballymena & Antrim Times.
Frequency 3 posts / week
Website ballymenatimes.com
Facebook fans 14.8K ⋅ Twitter followers 5K ⋅ Social Engagement 6ⓘ ⋅ Domain Authority 49ⓘ

Ireland About Website LookLeft Is A Bi-Monthly magazine of Progressive News, Views & Solutions.
Frequency 1 post / week
Website lookleftonline.org
Facebook fans 10.1K ⋅ Twitter followers 2.6K ⋅ Social Engagement 27ⓘ ⋅ Domain Authority 29ⓘ

About Website Providing Irish industry and business news while promoting manufacturing excellence. Up to date with the latest investment and market news.
Frequency 2 posts / day
Since Nov 2013
Website industryandbusiness.ie
Domain Authority 32ⓘ

Leitrim, Ireland About Website HGV Ireland is researched, written and designed by a team of dedicated professionals with a passion for road transport.The website is updated regularly to bring our loyal readers, the most up to date, most comprehensive news from Ireland, the UK and continental Europe.
Frequency 2 posts / week
Website hgvireland.com
Facebook fans 1K ⋅ Twitter followers 332 ⋅ Social Engagement 6ⓘ ⋅ Domain Authority 34ⓘ

About Website Online newspaper for Dublin, presents breaking local news, the top stories, business headlines and Dublin weather.
Frequency 4 posts / day
Website dublinnews.com
Facebook fans 5K ⋅ Twitter followers 334 ⋅ Domain Authority 32ⓘ

About Website The Arts Council is the government agency for funding and developing the arts in Ireland.
Frequency 3 posts / month
Since Dec 2006
Website artscouncil.ie/news
Facebook fans 12.4K ⋅ Twitter followers 31.7K ⋅ Domain Authority 50ⓘ

Ireland About Website Latest News from Warner Music Ireland Artists.
Frequency 2 posts / week
Since Nov 2014
Also in Music News Websites
Website warnermusic.ie/news
Twitter followers 23.8K ⋅ Domain Authority 27ⓘ

Dublin City, Ireland About Website An electrical installation industry trade magazine and news website for electricians, electrical contractors, electrical engineers etc.
Frequency 3 posts / week
Website electric.ie
Facebook fans 322 ⋅ Twitter followers 245 ⋅ Social Engagement 1ⓘ ⋅ Domain Authority 34ⓘ
Tags: irish news rss feeds