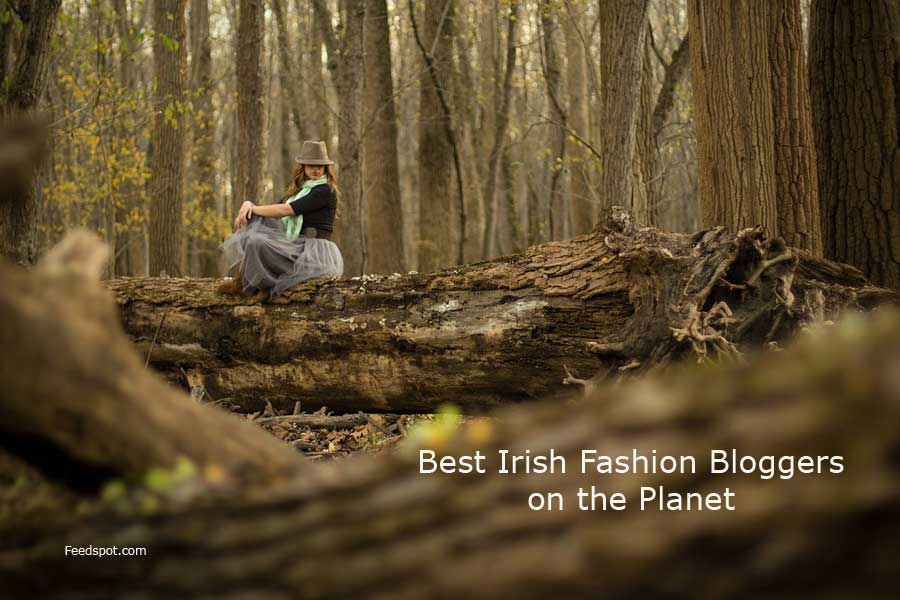 Irish Fashion Bloggers List.
The Best Irish Fashion Bloggers from thousands of top Irish Bloggers in our index using search and social metrics. Data will be refreshed once a week.
If your blog is selected in this list, you have the honour of displaying this Badge (Award) on your blog.
Irish Fashion Bloggers

Dublin,Ireland About Blog Pippa is one of Ireland's best known models. She set up pippa.ie in 2013, a popular fashion, beauty & lifestyle blog.
Frequency 2 posts / week
Since Feb 2012
Also in Ireland Blogs, European Lifestyle Blogs
Blog pippa.ie
Facebook fans 255.1K ⋅ Twitter followers 81.1K ⋅ Instagram Followers 372.7K ⋅ Domain Authority 37ⓘ

Dublin, Ireland About Blog Award-winning blogger turned businesswoman, Suzanne Jackson, is the brains behind one of Ireland's leading fashion, beauty and lifestyle blog SoSueMe.ie.
Frequency 3 posts / month
Since Jul 2015
Blog sosueme.ie
Facebook fans 321.1K ⋅ Twitter followers 49.8K ⋅ Instagram Followers 276.4K ⋅ Social Engagement 7ⓘ ⋅ Domain Authority 59ⓘ

About Blog fashion, inspiration and all things vavavoom. A fashion blog.
Frequency 1 post / month
Since Jun 2015
Blog blog.vavavoom.ie
Facebook fans 248.5K ⋅ Twitter followers 3.4K ⋅ Instagram Followers 117K ⋅ Social Engagement 2ⓘ ⋅ Domain Authority 29ⓘ

About Blog A personal style written by The Clothes Horse featuring daily outfits, art, poetry, old movies, and whatever captivates the eye. A Clothes Horse is a different kind of fashion, travel and photography blog written by Rebecca (that's me!). I share snippets of inspiration and slow-living from my tiny gatehouse in Northern Ireland.
Frequency 3 posts / week
Since Sep 2007
Blog aclotheshorse.co.uk
Facebook fans 13.9K ⋅ Twitter followers 10.5K ⋅ Instagram Followers 219.1K ⋅ Social Engagement 1ⓘ ⋅ Domain Authority 46ⓘ

Ireland About Blog Bringing you the latest fashion, home and lifestyle news for all the family from Littlewoods Ireland Blog.
Frequency 1 post / week
Since Aug 2012
Blog blog.littlewoodsireland.ie/c..
Facebook fans 241.8K ⋅ Twitter followers 34.7K ⋅ Instagram Followers 83.3K ⋅ Social Engagement 6ⓘ ⋅ Domain Authority 52ⓘ

Ireland About Blog The latest fashion and beauty trends, inspiring businesswomen, opinion pieces, video and interiors by IMAGE Magazine.
Frequency 6 posts / week
Blog image.ie/fashion
Facebook fans 118.7K ⋅ Twitter followers 36.8K ⋅ Instagram Followers 72.6K ⋅ Social Engagement 17ⓘ ⋅ Domain Authority 57ⓘ

Dublin About Blog The Gloss Magazine is Ireland's leading glossy published. The Gloss Magazine is a savvy, sophisticated alternative to formulaic, often parochial Irish magazines. It features fashion, beauty, living, interiors, lifestyle and much more.
Frequency 1 post / day
Blog thegloss.ie/category/fashion
Facebook fans 12K ⋅ Twitter followers 22.1K ⋅ Instagram Followers 22.2K ⋅ Social Engagement 5ⓘ ⋅ Domain Authority 43ⓘ

Dublin City, Ireland About Blog A rising fashion star, Ciara boasts a broad media skill-set, and over five years experience in the blogging and media industry.
Frequency 1 post / month
Since Mar 2011
Blog ciaraodoherty.com
Facebook fans 14.3K ⋅ Twitter followers 12.4K ⋅ Instagram Followers 142K ⋅ Domain Authority 31ⓘ

Dublin About Blog Welcome to Style me curvy. I am Louise, I work in the fashion industry as an international plus size/ curvy model with eight different model agencies around the globe. Style me curvy is an award winning curvy fashion and beauty blog dedicated to every shape, size and curve.
Frequency 2 posts / month
Also in Plus Size Fashion Blogs
Blog stylemecurvy.net
Facebook fans 19.3K ⋅ Twitter followers 11K ⋅ Instagram Followers 108.2K ⋅ Domain Authority 37ⓘ

Ireland About Blog maven46 is the ultimate online destination to discover fashion, beauty & lifestyle tips. An online magazine based in Ireland .
Frequency 1 post / day
Blog maven46.com/fashion
Facebook fans 17.4K ⋅ Twitter followers 1.4K ⋅ Instagram Followers 4.9K ⋅ Social Engagement 14ⓘ ⋅ Domain Authority 32ⓘ

About Blog STELLAR Magazine, Irish Fashion, Irish Women's Magazine, Irish Beauty, shops in Ireland, celebrity news, glossy magazine, Fade Street, make-up tips, Irish style, Vip Magazine Group.
Blog stellar.ie/sections/fashion
Facebook fans 45.1K ⋅ Twitter followers 30.4K ⋅ Instagram Followers 65.3K ⋅ Domain Authority 50ⓘ

Dublin City, Ireland About Blog I am a Fashion, Lifestyle & Travel blogger originally from Limerick but currently living in Dublin, Ireland.
Frequency 13 posts / year
Since May 2014
Blog louisecooney.com
Facebook fans 14.7K ⋅ Twitter followers 4K ⋅ Instagram Followers 179.2K ⋅ Domain Authority 31ⓘ

Dublin, Ireland About Blog Latest Irish fashion news and reviews Ireland. See the latest fashion reviews in Ladies fashion, Men's fashion and Teenage Fashion in Ireland.
Frequency 3 posts / day
Blog fashion.ie
Facebook fans 11.2K ⋅ Twitter followers 6.2K ⋅ Instagram Followers 1.7K ⋅ Domain Authority 45ⓘ

About Blog Nuala Gorham is a fashion, travel, beauty and lifestyle blogger currently based in Dublin, Ireland. Nuala's has received numerous blog awards and nominations and has been featured in many world renowned publications including Vogue.
Frequency 5 posts / year
Since Aug 2012
Blog nualagorham.com
Facebook fans 11.2K ⋅ Twitter followers 3.1K ⋅ Instagram Followers 20.7K ⋅ Social Engagement 9ⓘ ⋅ Domain Authority 25ⓘ

Galway, Ireland About Blog Magazine magazine covers everything from fashion, beauty, entertainment, brides, lifestyle and lots more.
Frequency 1 post / day
Blog galwaynow.com/category/fashion
Facebook fans 27.3K ⋅ Twitter followers 3.2K ⋅ Instagram Followers 9.7K ⋅ Domain Authority 28ⓘ

Dublin About Blog Naomi's vision for The Style Fairy is to reach out to real women and to provide them with a one stop destination for fashion inspiration and advice, style ideas, beauty and lifestyle. She writes about affordable, attainable, real life fashion and beauty as well as showcasing her personal style in her 'Outfit Diaries' segment, which is one of the most popular elements of her blog.
Frequency 11 posts / year
Since Dec 2013
Blog thestylefairy.ie/blog
Facebook fans 73.2K ⋅ Twitter followers 2.7K ⋅ Instagram Followers 113.3K ⋅ Domain Authority 23ⓘ

Belfast About Blog I'm Avril - a 40-something busy mum with a love of all things stylish. This blog is where I share my love of fashion, home, food and fitness.
Frequency 1 post / week
Since Jan 2012
Blog alifetostyle.com
Facebook fans 8.4K ⋅ Instagram Followers 18.7K ⋅ Social Engagement 2ⓘ ⋅ Domain Authority 23ⓘ

Limerick, Ireland About Blog Big Brows Messy Hair was born in the summer of 2015 whilst searching for an outlet that peeked my interests. I set about creating a Fashion and Lifestyle blog. I love sharing my fashion style,beauty tips and news about my life on a daily basis.
Frequency 2 posts / month
Also in Irish Beauty Bloggers
Blog bigbrowsmessyhair.com
Facebook fans 5.5K ⋅ Instagram Followers 15.5K ⋅ Domain Authority 15ⓘ

Dublin City, Ireland About Blog Hi, I'm Amy! I'm a writer and journalist from Dublin, Ireland, with a penchant for fashion, beauty and tea. I'm all about positivity and am obsessed with inspirational quotes, and want whatshedoesnow.com to be a positive site to visit.
Frequency 1 post / week
Since Nov 2013
Blog whatshedoesnow.com
Twitter followers 1.1K ⋅ Instagram Followers 4.4K ⋅ Social Engagement 6ⓘ ⋅ Domain Authority 23ⓘ

Dublin City, Ireland About Blog JustKassi.com is an award-winning blog created by Kassiani Cheirogergou. JustKassi won Best Fashion Blog in the Irish Blog Awards in 2015 and has also been a Finalist in the DMA Accenture Awards as Blogger of the year.
Frequency 1 post / quarter
Since Feb 2009
Blog justkassi.com
Facebook fans 3.6K ⋅ Twitter followers 2.2K ⋅ Instagram Followers 4K ⋅ Social Engagement 29ⓘ ⋅ Domain Authority 30ⓘ

Cork, Ireland About Blog My name is Ailbhe and I'm an Irish university student who loves all things beauty, makeup and fashion. That's exactly what I share here on my blog. The name of my blog, The Red Brunette comes from the colour of my hair.
Frequency 5 posts / year
Since Feb 2014
Blog theredbrunette.ie
Facebook fans 213 ⋅ Twitter followers 474 ⋅ Instagram Followers 1.5K ⋅ Domain Authority 7ⓘ

New York, USA About Blog I started Life Of A Lady Bear back in 2013 while I was in final year of college studying Biomedical Science! Since then it is grown into space where I share everything I love. From Fashion Lookbooks, Travel Diaries, fitness tips, and my guide for the best things to see and do in New York City you'll find it all right here!
Frequency 7 posts / year
Since Jul 2013
Also in New York Fashion Blogs, New York Lifestyle Blogs
Blog lifeofaladybear.com
Facebook fans 2.2K ⋅ Twitter followers 2K ⋅ Instagram Followers 24.3K ⋅ Social Engagement 4ⓘ ⋅ Domain Authority 25ⓘ

Ireland About Blog My name is Florence Olufemi-Ojo. A lot of people also know me as Itunu, which is my Nigerian name. I am Nigerian by birth but I've been practically raised in Ireland. So for me Ireland is home. Welcome to mouldedinsideout : Lifestyle, Culture, Beauty &Travel Blog.
Frequency 1 post / month
Since Sep 2016
Also in Black Fashion Bloggers
Blog mouldedinsideout.com
Facebook fans 1.6K ⋅ Instagram Followers 1.1K ⋅ Social Engagement 14ⓘ ⋅ Domain Authority 10ⓘ

Dublin and London About Blog Lorna Weightman is one of Ireland's leading fashion presenters and stylists. Lorna keeps her followers up to date with all the latest fashion news and gossip.
Frequency 1 post / day
Since Mar 2011
Blog styleisle.ie
Facebook fans 4.7K ⋅ Twitter followers 10.6K ⋅ Instagram Followers 22.7K ⋅ Social Engagement 9ⓘ ⋅ Domain Authority 24ⓘ

Dublin, Ireland About Blog I'm Leanne Woodfull, 24 years young and from the vibrant city of Dublin. I started Thunder and Threads in October 2009, as a fashion-obsessed secondary school student. Thunder and Threads features fashion, beauty, travel and feminism.
Frequency 5 posts / year
Since Oct 2009
Blog thunderandthreads.com
Facebook fans 72 ⋅ Instagram Followers 57.6K ⋅ Social Engagement 16ⓘ ⋅ Domain Authority 35ⓘ

Northern Ireland About Blog I'm Yasmin. I'm a Style Blogger living in a small village just outside Derry/Londonderry in Northern Ireland. I've had quite an obsession with fashion and clothes from a very young age, so I thought maybe you guys out there would love to read all about it!
Frequency 1 post / week
Since Jan 2017
Blog snazzyyazi.com
Facebook fans 3.5K ⋅ Twitter followers 635 ⋅ Social Engagement 15ⓘ ⋅ Domain Authority 13ⓘ

Dublin About Blog Fashion Boss is a lifestyle blog that focuses on fashion, travel and beauty. It was set up by myself (Lorna) in 2014. Since it's creation, Fashion Boss has won a number awards such as 'Best Fashion' and 'Best Innovation'.
Frequency 9 posts / year
Since Sep 2014
Blog fashionboss.ie
Facebook fans 4.9K ⋅ Twitter followers 4.4K ⋅ Instagram Followers 18.2K ⋅ Social Engagement 3ⓘ ⋅ Domain Authority 27ⓘ

About Blog Hi. I am Simona, A Slovak girl based in Ireland loving all about fashion and beauty.
Frequency 13 posts / year
Since Feb 2016
Blog sinnamona.blogspot.com
Domain Authority 10ⓘ

Dublin About Blog Sophie Mitchell is a marketing specialist, lifestyle writer, and an award-winning lifestyle blogger from Ireland. ShePrevails is an award-winning blog for young women covering advice and tips from career and lifestyle to travel and fashion.
Frequency 3 posts / year
Since Oct 2015
Blog sheprevails.ie
Facebook fans 149 ⋅ Twitter followers 877 ⋅ Instagram Followers 4K ⋅ Domain Authority 23ⓘ

Dublin About Blog Dolly & Bella is a fashion and beauty store for women's clothing, accessories, cosmetics and shoes. We now also stock childrenswear & menswear. We believe that fashion is more than a look, it is a feeling. This feeling has become our mission: to make every woman feel beautiful.
Frequency 2 posts / quarter
Blog dollyandbella.com/beauty-fas..
Facebook fans 10.9K ⋅ Twitter followers 1.6K ⋅ Instagram Followers 12.4K ⋅ Domain Authority 21ⓘ

Ireland About Blog My name is Louise Byrne, and this is my blog about fashion, beauty, clothes and much more.
Frequency 12 posts / year
Since Mar 2015
Blog simplestyle.ie
Facebook fans 6.9K ⋅ Twitter followers 538 ⋅ Instagram Followers 28K ⋅ Domain Authority 12ⓘ

Ireland About Blog An Irish Fashion, Lifestyle and Travel Blog by Niamh Webb O'Rourke. Following the everyday life and dreams of girl who has no limits.
Frequency 6 posts / year
Since Oct 2015
Blog lovelifeblogireland.com
Social Engagement 14ⓘ ⋅ Domain Authority 22ⓘ

Dublin City, Ireland About Blog A fashion blog finding high street alternatives to high fashion pieces of clothing.
Frequency 4 posts / year
Also in Luxury Travel Blogs
Blog highstreetcoutureblog.com
Facebook fans 1.4K ⋅ Twitter followers 1.5K ⋅ Instagram Followers 3.4K ⋅ Social Engagement 1ⓘ ⋅ Domain Authority 11ⓘ

Waterford, Ireland About Blog Hello and welcome to Penneys To Prada, the result of my rather unhealthy shopping addiction! Penneys To Prada is a fashion, beauty & lifestyle blog created by Emer, a fashion obsessed twenty year old.
Frequency 1 post / quarter
Since Feb 2014
Blog penneystoprada.com
Facebook fans 81.3K ⋅ Twitter followers 1.9K ⋅ Instagram Followers 49.9K ⋅ Social Engagement 4ⓘ ⋅ Domain Authority 18ⓘ

Galway, Ireland About Blog I set up Fashion Truth by Ruth in September 2014 to combine my love for social media, my passion for fashion, cosmetics and beauty.
Frequency 2 posts / quarter
Since Sep 2014
Blog fashiontruthbyruth.com
Facebook fans 9.1K ⋅ Twitter followers 1.1K ⋅ Instagram Followers 11.7K ⋅ Domain Authority 8ⓘ

About Blog I'm Sarah, an 21 year old girl. I started my blog PinkSars in January 2016 and have since grown & expanded my brand. With my blog I hope to inspire all ages and sexes that they too can feel good in how they look. Fashion & Beauty has always been a passion of mine that I love sharing with my friends.
Frequency 1 post / quarter
Since Feb 2016
Blog pinksars.com
Twitter followers 915 ⋅ Social Engagement 2ⓘ ⋅ Domain Authority 15ⓘ

About Blog Hi, my name is Lawson- Welcome to my Blog! i'm a Dublin Based Fashion and Lifestyle blogger. I've always had a keen interest in Men's Style, as I've gotten older I've developed my own signature style. This is a Irish Men's Fashion Blog covering all things Fashion, Lifestyle and Grooming.
Frequency 6 posts / quarter
Since Feb 2016
Blog lawsofstyle.co.uk
Facebook fans 913 ⋅ Instagram Followers 6.4K ⋅ Domain Authority 13ⓘ

Dublin, Ireland About Blog Killer Fashion is a journalistic fashion blog by Nirina Plunkett. On Killer Fashion you'll come across a blog that writes about clothes, accessories & shoes, beauty & skincare, menswear and celebrity that Irish people want to read about, as well as worldwide fans. It also covers Irish designers, supporting the country's ever-growing fashion industry.
Frequency 2 posts / week
Since Oct 2012
Blog killerfashionirl.wordpress.com
Facebook fans 2.2K ⋅ Twitter followers 2.7K ⋅ Social Engagement 1ⓘ ⋅ Domain Authority 27ⓘ

Ireland About Blog WhatSheWears.ie brings you the latest fashion and style from celebrity red carpet to casual wear. Daily fashion news on trends, celebrity style and fashion blog Ireland. You'll be the first to hear about the latest fashion trends, stylist tips, celebrity and catwalk style and competitions every week.
Frequency 2 posts / year
Since Feb 2009
Blog whatshewears.ie
Facebook fans 5.9K ⋅ Twitter followers 5.9K ⋅ Social Engagement 2ⓘ ⋅ Domain Authority 35ⓘ

Northern Ireland About Blog Welcome to The Breton Bird, a fashion, beauty and lifestyle blog based in Northern Ireland and dedicated to channelling a love for clothes and beauty products through an unpretentious eye. This blog aims to give a glimpse into my own personal style and my love for piecing together stylish, modern and attainable outfits.
Frequency 1 post / month
Since Sep 2015
Blog thebretonbird.com
Twitter followers 98 ⋅ Domain Authority 13ⓘ

About Blog Bonnie is a Fashion & Beauty Blogger,and also a freelance makeup artist. Her passion and love for Makeup and Fashion is undeniable and is the motivation behind her blog. Bonnie has set her sites high for the future and is excited for her blog to continue to grow along with her Bonnie Ryan Beauty brand.
Blog bonnieryan.blog
Facebook fans 1.2K ⋅ Twitter followers 1K ⋅ Domain Authority 15ⓘ

About Blog I am a Fashion, Beauty, and Lifestyle blogger originally from Nigeria but currently living in Dublin, Ireland. My main goal is to inspire and empower women to appreciate who they are, encourage them to celebrate their inner beauty and motivate them to make the most out of life. I share my life experience, travel, outfits and inspirations online through my blog.
Frequency 6 posts / year
Blog testyles.com
Facebook fans 343 ⋅ Instagram Followers 1.6K ⋅ Social Engagement 5ⓘ ⋅ Domain Authority 5ⓘ

Dublin | Ireland About Blog Mark My Style is an award winning blog that features the fashion perspective of myself, Mark Anthony. So whether its fashion or lifestyle, I have you covered with style in all the right spaces.
Frequency 2 posts / month
Since Feb 2013
Also in Mens Fashion Blogs
Blog markmystyle.com
Facebook fans 1.5K ⋅ Twitter followers 1.1K ⋅ Instagram Followers 2.1K ⋅ Social Engagement 26ⓘ ⋅ Domain Authority 16ⓘ

About Blog MGN MGR is a blog encompassing ethical fashion, beauty and lifestyle. Focusing on vintage buys, faux fur, cruelty-free cosmetics and trying to eliminate plastic, all while trying to stay on a budget. Visit MGN MGR for her best tips and tricks to remain fashionable while being animal and environment friendly.
Since Aug 2018
Blog mgnmgr.blogspot.com
Domain Authority 3ⓘ

Galway, Ireland About Blog Doll's Closet is an Irish owned online boutique based in Co. Galway, Ireland offering worldwide delivery. Inspired by a love of fashion, we aim to provide you with fabulous pieces at affordable prices! Choose from our range of fabulous dresses, playsuits, jumpsuits, tops and faux fur.
Frequency 1 post / year
Blog dollscloset.ie/blog
Twitter followers 99 ⋅ Instagram Followers 2.1K ⋅ Domain Authority 7ⓘ

Ireland About Blog Pams live love fashion is a fashion and beauty blog..bringing you everything from highstreet to local Irish boutiques but all at affordable prices..A girls girl who loves all things fashion and beauty and if I can help anyone with anything fashion related then just ask..nothing better than finding stuff for other girls...and sharing fashion dashes to fashion & beauty finds..
Frequency 5 posts / year
Since May 2016
Blog pamslivelovefashion.com
Facebook fans 6K ⋅ Twitter followers 795 ⋅ Instagram Followers 6.3K ⋅ Social Engagement 1ⓘ ⋅ Domain Authority 9ⓘ

Ireland About Blog I am Shóna Lenehan, a fashion, beauty and lifestyle Blogger from Ireland, Sharing my style and reviews.
Frequency 10 posts / year
Since Jan 2016
Blog shostyle.eu
Facebook fans 1.3K ⋅ Twitter followers 1.2K ⋅ Instagram Followers 16K ⋅ Social Engagement 13ⓘ ⋅ Domain Authority 16ⓘ

About Blog Hi I'm Clare, a dedicated follower of fashion with a bohemian spirit at heart. Here at lavender and lace I'll be sharing my love of clothes, food and the organic way of living with you.
Since Jan 2015
Blog lavenderandlace.ie
Facebook fans 1.5K ⋅ Instagram Followers 1.5K ⋅ Domain Authority 8ⓘ

Dublin About Blog My name is Freya Broni and I'm a 21 year old Fashion, Beauty and Lifestyle blogger from Dublin. My blog consists of pretty much everything that I love from shoes to interior design.
Since Mar 2014
Blog freyabroni.com
Facebook fans 238 ⋅ Twitter followers 235 ⋅ Instagram Followers 11.9K ⋅ Domain Authority 9ⓘ

About Blog 20-year-old living in Belfast getting to grips with Blogging and City Life.
Frequency 1 post / quarter
Blog tgavy.com
Facebook fans 217 ⋅ Twitter followers 220 ⋅ Instagram Followers 2.3K ⋅ Domain Authority 4ⓘ

EU About Blog Find all the latest on-trend looks in women's fashion right here. From bodycon dresses to smart pencil skirts, oversized shirts, to everything else in-between. It's impossible to be out of style with our huge range of fashionable pieces!
Frequency 4 posts / year
Since Oct 2018
Blog fashionpricekilla.com/blogs/..
Facebook fans 6.3K ⋅ Twitter followers 11 ⋅ Instagram Followers 2.9K ⋅ Social Engagement 7ⓘ ⋅ Domain Authority 10ⓘ

About Blog MFI Magazine is Ireland's only men's fashion publication. They aim to showcase the very best of Irish and international talent.
Since May 2014
Blog mfimagazine.com
Facebook fans 5K ⋅ Twitter followers 1.8K ⋅ Instagram Followers 4.3K ⋅ Domain Authority 17ⓘ

Dublin City, Ireland About Blog A fashion and lifestyle blog by Terrie.
Frequency 1 post / year
Since Nov 2016
Blog terriemcevoy.ie
Twitter followers 2K ⋅ Instagram Followers 178.6K ⋅ Domain Authority 15ⓘ

Dublin, Ireland About Blog Rosie Connolly is one of Ireland's leading fashion, beauty and lifestyle bloggers, and is also a full time Mum to her little boy Harry. Rosie's positive outlook on life and her passion for all things beauty and fashion are what keep her readers wanting more.
Frequency 5 posts / year
Since Jul 2014
Blog rosieconnolly.ie
Facebook fans 74.3K ⋅ Twitter followers 14.2K ⋅ Instagram Followers 285.7K ⋅ Social Engagement 3ⓘ ⋅ Domain Authority 20ⓘ

Ireland About Blog Hi, my name is Billykiss Azeez and welcome to my blog! I'm a huge lover of anything and everything fashion and beauty related so decided to create a platform where I can express myself while also share my ever-changing life journey.
Frequency 2 posts / year
Since Jan 2016
Blog yourfavouritemuse.com
Facebook fans 304 ⋅ Twitter followers 721 ⋅ Instagram Followers 12.8K ⋅ Domain Authority 15ⓘ

Belfast, Northern Ireland About Blog Kathryn's Katwalk is a Fashion, beauty and lifestyle blog by Kathryn O'Brien. Here she shares her own unique styles; personal reviews of products; and lifestyle thoughts. Kathryn's Katwalk is, first and foremost, a positive and enjoyable site for people to come to - It is a blog for you to come to find inspiration.
Since Sep 2014
Blog kathrynskatwalk.com
Facebook fans 5K ⋅ Twitter followers 1.2K ⋅ Instagram Followers 4.5K ⋅ Domain Authority 19ⓘ

Ireland About Blog We are two sisters from the town of Strabane in Ireland. SarahJane, an English and Drama teacher and Kate, a law student in Dublin. Having shared family, memories and life experiences, we have united and launched 'Styled by Sisters' to share this with you.
Blog styledbysisters.com
Facebook fans 23.3K ⋅ Domain Authority 14ⓘ

Ireland About Blog I'm a beauty, fashion and lifestyle blogger as well as a YouTuber living in Ireland.
Frequency 4 posts / year
Since Jan 2015
Blog moremartaslife.com
Facebook fans 108 ⋅ Twitter followers 1.3K ⋅ Domain Authority 9ⓘ

About Blog Keep up with articles from Nyasha's Nook
Frequency 6 posts / quarter
Blog nyashasnook.com
Instagram Followers 1.5K ⋅ Social Engagement 2ⓘ ⋅

Dublin About Blog Hi i'm Martina a 20 something year old Irish fashion enthusiast, globe trotter and lover of all things pretty and feminine. This is my shy attempt to encourage inspiration and to pinpoint my perspective of fashion.
Frequency 3 posts / year
Since Jul 2014
Blog martinasmark.com
Facebook fans 13.1K ⋅ Twitter followers 326 ⋅ Domain Authority 17ⓘ

Galway About Blog The outfits and style advice of Irish personal stylist Orla Sheridan. Looking for a Personal Stylist & Shopper in Ireland? Orla Sheridan provides a complete range of personal shopping & styling services.
Frequency 2 posts / quarter
Since Oct 2013
Blog orlasheridan.com/new-blog
Facebook fans 8.2K ⋅ Twitter followers 542 ⋅ Instagram Followers 17.2K ⋅ Domain Authority 10ⓘ

Ireland About Blog Floralesque is a lifestyle blog that was created in 2015 out of a love of writing and wanting to nurture a corner of the internet into a haven to house my passions and inspirations. It has grown to be a place where you can find out about the latest in Irish Design as well as articles on beauty and skincare with a focus on healthy living with a dash of fitness thrown in.
Frequency 12 posts / year
Blog floralesque.com/category/fas..
Facebook fans 3.8K ⋅ Twitter followers 1.2K ⋅ Instagram Followers 1.1K ⋅ Social Engagement 2ⓘ ⋅ Domain Authority 21ⓘ

Ireland About Blog Welcome to my world of fashion! My name is Rebecca Rose Quigley. I am a 30 year old fashion enthusiast from County Monaghan.
Frequency 5 posts / year
Since Mar 2016
Blog rebeccarosestylist.com
Facebook fans 31.5K ⋅ Twitter followers 492 ⋅ Instagram Followers 32.1K ⋅ Domain Authority 11ⓘ

Limerick, Ireland About Blog Fashion, Beauty and Lifestyle blog
Frequency 3 posts / year
Blog redlipsbluejeans.com
Facebook fans 262 ⋅ Twitter followers 1.3K ⋅ Social Engagement 3ⓘ ⋅ Domain Authority 2ⓘ

Wexford, Ireland About Blog I am Grace McDonnell, a 19 years old and currently living in Wexford. I started up this blog because I'm in love with fashion and styling. The name of my blog, 'ciaobella.ie' translates into Italian as 'hello beautiful.' I hope you enjoy reading my blog and that you can use my blog for some style tips and inspiration for your own outfits.
Frequency 1 post / year
Since Feb 2017
Blog ciaobella.ie
Facebook fans 261 ⋅ Twitter followers 67 ⋅ Instagram Followers 7.5K ⋅ Social Engagement 5ⓘ ⋅ Domain Authority 4ⓘ

New York About Blog Lorna is an Irish 20-something year old girl sharing her style, life and experiences living in the greatest city of all - NYC through her fashion blog LC's Closet. Irish fashion and style blog, with some lifestyle too.
Frequency 1 post / year
Since Nov 2012
Also in New York Blogs
Blog lcscloset.com
Facebook fans 4K ⋅ Twitter followers 2.1K ⋅ Instagram Followers 20.4K ⋅ Social Engagement 1ⓘ ⋅ Domain Authority 25ⓘ

About Blog Fashionable Frank is a Fashion, Lifestyle and Travel blogger. Known for dapper dressing mixed with slick street style looks. His Fashion and Lifestyle blog offers the modern man the resources he needs to look good.
Since Mar 2016
Blog fashionablefrank.com
Facebook fans 220 ⋅ Twitter followers 892 ⋅ Instagram Followers 2.6K ⋅ Domain Authority 21ⓘ

ireland About Blog My name is Michelle Daly and I am a fashion and beauty blogger living in Dublin, Ireland. I started this blog in late 2013 as a way of expressing my creativity and sharing my love for clothing and makeup.
Frequency 1 post / year
Since Aug 2013
Blog michellealice.com
Facebook fans 678 ⋅ Twitter followers 909 ⋅ Instagram Followers 2.5K ⋅ Domain Authority 12ⓘ
Tags: irish fashion rss feeds