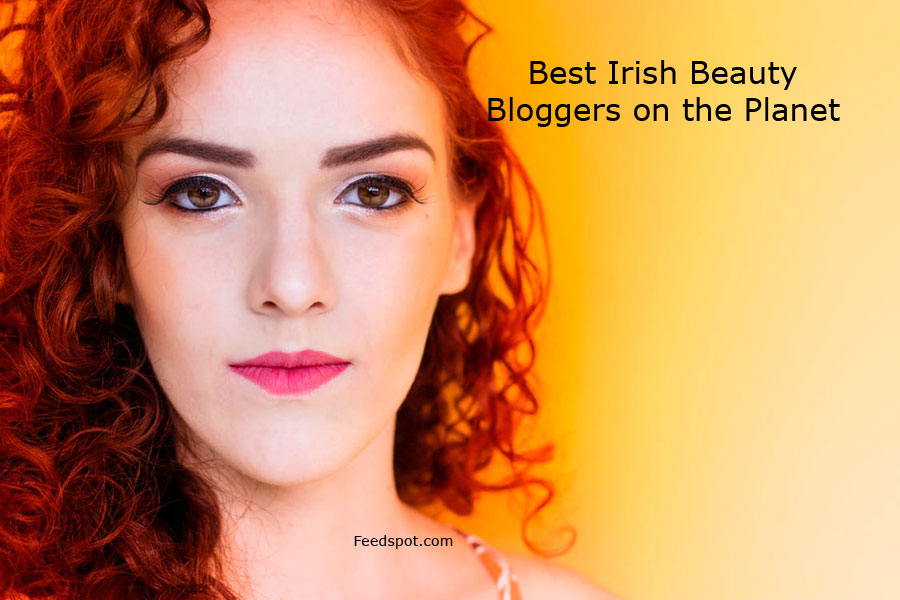 Irish Beauty Bloggers List.
The Best Irish Beauty Bloggers from thousands of top Irish Bloggers in our index using search and social metrics. Data will be refreshed once a week. Also check out Irish Beauty Youtube Channels.
If your blog is selected in this list, you have the honour of displaying this Badge (Award) on your blog.
Irish Beauty Bloggers

Dublin About Blog Beautynook is the normal girls guide to everything beauty related. Click for makeup, hair, skincare, tips, reviews & everything inbetween. I have previously studied Journalism and Beauty so being a 'beauty blogger' is combining my two favourite things.
Frequency 1 post / quarter
Blog beautynook.ie
Facebook fans 15K ⋅ Twitter followers 2.9K ⋅ Instagram Followers 10.6K ⋅ Social Engagement 9ⓘ ⋅ Domain Authority 27ⓘ

Dublin, Ireland About Blog Lovely Girlie Bits was started way back in September 2010 as a little corner of the internet where Karen could share her love of all things makeup and beauty. Somehow over the years, it's grown into an award winning blog that people (hopefully!) trust and Karen's mission is to have a blog that people can search when they're standing at a makeup counter wondering what products to buy!
Frequency 1 post / month
Since Sep 2010
Blog lovelygirliebits.com
Facebook fans 13.8K ⋅ Twitter followers 12.2K ⋅ Instagram Followers 50.1K ⋅ Social Engagement 2ⓘ ⋅ Domain Authority 36ⓘ

Ireland About Blog An Irish blogger chatting about makeup, memes and general randomness. Makeup Monster is an Award winning Irish Beauty Blog with all the latest beauty news and reviews
Frequency 1 post / year
Since Jan 2012
Blog makeupmonster.ie
Facebook fans 5.1K ⋅ Twitter followers 10.4K ⋅ Domain Authority 30ⓘ

About Blog Rebecca Horgan is the creator of The Beauty Bible, Irelands leading Beauty Blog for information and exclusive news on beauty products. Rebecca is an experienced makeup artist and has worked for brands such as Smashbox and CHANEL. Aside from being a makeup wizard, Rebecca is also a badass at marketing and specialises in digital marketing.
Frequency 14 posts / year
Since May 2013
Blog thebeautybible.ie
Facebook fans 9.3K ⋅ Domain Authority 12ⓘ

Dublin City, Ireland About Blog I am A beauty Junkie and have a huge passion for anything beauty / makeup / fashion related and what better way to express it on my blog
Frequency 3 posts / year
Since Sep 2015
Blog shapesandshadows.ie
Facebook fans 43.4K ⋅ Twitter followers 899 ⋅ Instagram Followers 15.1K ⋅ Social Engagement 41ⓘ ⋅ Domain Authority 8ⓘ

Ireland About Blog 7 years ago I landed my dream job! I have always loved beauty and everything related to it and I also love teaching so the chance to combine both was perfect. I hope to share with you some experiences from my time in the beauty world and to keep you up to speed on what is new and exciting through my blog
Frequency 1 post / quarter
Since Jan 2014
Blog prettybeautifulbysara.com
Facebook fans 8.7K ⋅ Twitter followers 128 ⋅ Social Engagement 4ⓘ ⋅ Domain Authority 5ⓘ

Dublin, Ireland About Blog Packed with make up news and product reviews, top Irish beauty blog Fluff and Fripperies is a great resource for fellow beauty junkies, with a bit of fashion and lifestyle thrown in for good measure! Written by Emma, first and foremost, it's a labour of love!
Since Oct 2010
Blog fluffandfripperies.com
Facebook fans 10.5K ⋅ Instagram Followers 3.7K ⋅ Domain Authority 32ⓘ

Dublin, Ireland About Blog Beauty blog with daily fashion, beauty, health and lifestyle news, product reviews, and tutorials
Frequency 1 post / month
Since Jan 2014
Blog thebeautyinbox.com
Facebook fans 15.9K ⋅ Twitter followers 3K ⋅ Instagram Followers 12.6K ⋅ Domain Authority 25ⓘ

Letterkenny, Co. Donegal About Blog Magees Beauty Blog is an Irish beauty blog from Magees Pharmacy. All our top professional tips and ideas for makeup, skincare and health can be found here
Frequency 2 posts / quarter
Since Jul 2012
Blog magees.ie/blog
Facebook fans 26.6K ⋅ Twitter followers 836 ⋅ Social Engagement 2ⓘ ⋅ Domain Authority 29ⓘ

Cork, Ireland About Blog Bia Beauty is a truly remarkable award winning range of multi-tasking natural skin care. Our mission is to feed everyone's skin with yummy, nourishing and healthy skin superfood.
Since Jun 2012
Blog biabeauty.com/blog
Facebook fans 14.3K ⋅ Twitter followers 2.4K ⋅ Domain Authority 28ⓘ

Dublin, Ireland About Blog Award winning blogger turned businesswoman, Suzanne Jackson, is the brains behind one of Ireland's leading fashion, beauty and lifestyle blogs SoSueMe.ie
Frequency 1 post / month
Since Jan 2014
Blog sosueme.ie/the-hair-and-beau..
Facebook fans 321.1K ⋅ Twitter followers 49.8K ⋅ Instagram Followers 273.9K ⋅ Social Engagement 3ⓘ ⋅ Domain Authority 60ⓘ

Ireland About Blog My blog is a little safe, fluffy haven for fellow makeup addicts, a place where we can wax lyrical about the latest lipstick launch or share experiences of products and services. I'm in no way holding myself out as a professional beauty peep - I have no professional beauty qualifications but I have been addicted to beauty and cosmetics for years now
Since Oct 2011
Blog totalmakeupaddict.com
Facebook fans 3.2K ⋅ Twitter followers 3K ⋅ Instagram Followers 2.6K ⋅ Domain Authority 18ⓘ

North Wales, UK/ Dublin, IE About Blog Book professional makeup artist Lydia Ryan for your next occasion. Read her beauty blog for product reviews and view her tutorials on makeup tips and tricks.
Frequency 1 post / week
Blog lydiamakeup.com
Twitter followers 206 ⋅ Instagram Followers 1.3K ⋅ Domain Authority 15ⓘ

Waterford About Blog Welcome to Rachsbeautique. This is my beauty outlet where I will be bringing you beauty related content. I chose to set up my blog back in 2015 after completing an Itec Make Up Certificate course. Since then I have become an Itec, Cibtac & Cidesco Qualified Beauty & Body Therapist. This is my little beauty pod of the world and I hope you all find something you can use
Frequency 2 posts / year
Since Jan 2015
Blog rachsbeautique.com
Facebook fans 2.3K ⋅ Twitter followers 1.4K ⋅ Domain Authority 14ⓘ

Dublin, Ireland About Blog Your Beauty Gossip is your one stop destination for all the latest news on new beauty launches, make-up collections plus reviews, tips and tricks all in one place.
Frequency 30 posts / year
Since Sep 2016
Also in British Beauty Blogs
Blog yourbeautygossip.com
Facebook fans 1.4K ⋅ Instagram Followers 3.3K ⋅ Social Engagement 1ⓘ ⋅ Domain Authority 10ⓘ

Ireland About Blog La Belle Mama is a Beauty and Lifestyle blog covering skincare tips, makeup reviews and much more.
Since Dec 2012
Blog labellemama.com
Facebook fans 252 ⋅ Twitter followers 479 ⋅ Instagram Followers 3.2K ⋅ Domain Authority 15ⓘ

Cork, Ireland About Blog I'm a 36 year old Wife, Mother and Nurse with a love for beauty, skincare and fashion. Most products I try have been put through the #12hourshifttest so you can be sure they will last you throughout the day. Fashion and Beauty can be accessible for all no matter your age, budget or style.
Frequency 30 posts / year
Since Jun 2016
Blog louiseoconnell.ie/category/b..
Facebook fans 10K ⋅ Twitter followers 1.5K ⋅ Instagram Followers 30.3K ⋅ Social Engagement 2ⓘ ⋅ Domain Authority 19ⓘ

Wexford, Ireland About Blog Welcome to Holy Chic; your destination for fashion, beauty and lifestyle! I'm sharing my experiences with you, having a lot of fun along the way!
Frequency 1 post / year
Since Nov 2015
Blog holychic.ie
Facebook fans 2.8K ⋅ Twitter followers 877 ⋅ Instagram Followers 2.9K ⋅ Domain Authority 15ⓘ

Dublin, Ireland About Blog Irish Beauty Blog. Two and a half Dubliners blogging, mostly about makeup.
Since Jul 2009
Blog emeraldeyeliner.com
Twitter followers 1.5K ⋅ Domain Authority 23ⓘ

Dublin, Ireland About Blog Just another girl in love with pretty shallow things. Blogging about beauty, fashion and everything in between.
Frequency 2 posts / month
Also in Irish Beauty Youtubers
Blog yourbeauty.ie
Facebook fans 5.4K ⋅ Twitter followers 1.9K ⋅ Instagram Followers 13.8K ⋅ Social Engagement 20ⓘ ⋅ Domain Authority 29ⓘ

Limerick, Ireland About Blog Big Brows Messy Hair was born in the summer of 2015 whilst searching for an outlet that peeked my interests. I set about creating a Fashion and Lifestyle blog. I love sharing my fashion style,beauty tips and news about my life on a daily basis.
Frequency 2 posts / month
Also in Irish Fashion Bloggers
Blog bigbrowsmessyhair.com
Facebook fans 5.5K ⋅ Instagram Followers 15.5K ⋅ Domain Authority 15ⓘ

Ireland About Blog A beauty blogger and beauty columnist for the Limerick Life Newspaper. I am a 30 blogger who likes to keep it real! I love Instagram. Its a great platform to have fun and to try new things and thanks to that I recently won the beauty category in the Huawei Snapys.
Blog puttingitoutthere.ie

Cork, Ireland. About Blog My love for make up and other beauty related things has been a part of my life for as far back as I can remember. Welcome to my little spot on the internet, where you get to follow my ramblings on make up, beauty and other random things
Since Jan 2011
Blog fitznbitz.ie
Facebook fans 2.7K ⋅ Twitter followers 1.6K ⋅ Instagram Followers 3.2K ⋅ Domain Authority 12ⓘ

Dublin Ireland About Blog Adorn.ie is an Irish Nail and Beauty Blog dedicated to bringing you honest, fun and informative product reviews, the latest trends and helpful tips.
Frequency 1 post / week
Since Jan 2015
Blog adorn.ie
Facebook fans 5.5K ⋅ Twitter followers 1.1K ⋅ Instagram Followers 4.6K ⋅ Social Engagement 9ⓘ ⋅ Domain Authority 19ⓘ

Dublin City, Ireland About Blog A health & wellness blog for all to enjoy where I share my personal journey with illness, talk beauty & fashion & have a bit of a giggle in the process
Frequency 2 posts / quarter
Since Nov 2015
Blog apalershadeofbeauty.com
Facebook fans 2.7K ⋅ Twitter followers 4.8K ⋅ Instagram Followers 3.5K ⋅ Social Engagement 7ⓘ ⋅ Domain Authority 20ⓘ

Wexford, Ireland About Blog Danielle is an Irish mother of one (Lillibug) who, in 2013, decided to put the rare free time she gets into writing about her experiences as a mother. Shortly thereafter she expanded into the realm of beauty blogging and hasn't looked back since.
Frequency 2 posts / year
Since May 2013
Blog lilliwhiterose.blogspot.ie
Twitter followers 4.1K ⋅ Domain Authority 16ⓘ

Donegal, Ireland About Blog I'm Aileen and Welcome to aileenamelia - a blog where I talk about everything from beauty and fashion to my life as 20 year old Irish girl.
Frequency 3 posts / year
Since Feb 2014
Blog aileenamelia.com
Facebook fans 255 ⋅ Twitter followers 1.9K ⋅ Instagram Followers 4.2K ⋅ Domain Authority 7ⓘ

Galway, Ireland About Blog Katarzyna. 22 years old. Lives in Galway, Ireland. Loves her boy, trap, purple, piercings, make-up and doing nails.
Frequency 8 posts / month
Since Aug 2015
Blog avantvous.com
Facebook fans 243 ⋅ Domain Authority 4ⓘ

Ireland About Blog Hi! I'm Siobhan, I'm eighteen years old and I live in Ireland. I started this blog because I wanted to share all the things that I love including make up and beauty products!
Frequency 12 posts / year
Since Nov 2014
Blog lifewithsibh.wordpress.com
Domain Authority 3ⓘ
Tags: irish beauty rss feeds