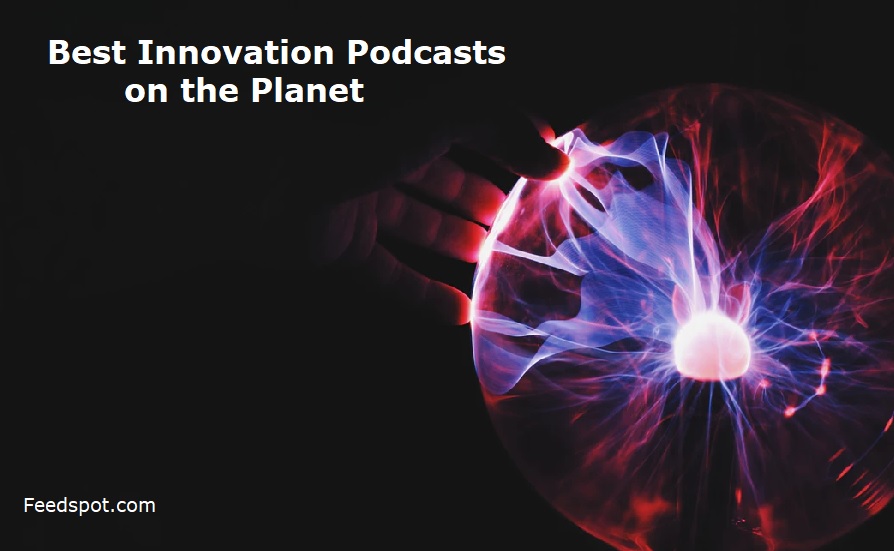 Innovation Podcasts.
The Best Innovation Podcasts from thousands of Innovation Podcasts on the web using search and social metrics. Subscribe to these audio podcasts because they are actively working to educate, inspire, and empower their readers with frequent updates and high-quality episodes.
These podcasts are ranked based on following criteria
Google reputation and Google search ranking
Influence and popularity on Facebook, twitter and other social media sites

Quality and consistency of episodes.

Feedspot's editorial team and expert review
Innovation Podcasts

About Podcast Interviews by MyelinMedia.com of uncommonly high achievers and their innovation, leadership and mastery habits. Including Olympic Athletes, CEOs, New York Times Bestselling Authors, Tech Start-Up Billionaires, World Class Musicians, Special Ops, Hollywood Filmmakers, Pro Athletes, SWAT Team Commanders, Non-Profit Executive Directors, Inventors and many more.
Frequency about 1 post per week.
Podcast myelinmedia.com
Facebook fans n/a. Twitter followers 86.

Boston, MA About Podcast Innovation Hub looks at how to reinvent our world from medicine to education, relationships to time management. Great thinkers and great ideas, designed to make your life better.
Frequency about 2 posts per week.
Podcast blogs.wgbh.org/innovation-hub
Facebook fans 4,938. Twitter followers 6,759.

About Podcast Guy Raz dives into the stories behind some of the world's best known companies. How I Built This weaves a narrative journey about innovators, entrepreneurs and idealists and the movements they built.
Frequency about 4 posts per month.
Podcast npr.org/podcasts/510313/how-..
Facebook fans 3,834. Twitter followers 63,263.

About Podcast Science and technology have transformed the world we live in. But how did we get here? It wasnt by accident. Well, sometimes it was. It was also the result of hard work, teamwork, and competition. And incredibly surprising moments. Hosted by bestselling author Steven Johnson American, Innovations uses immersive scenes to tell the stories of the scientists, engineers, and ordinary people behind the greatest discoveries of the past century.
Frequency about 3 posts per month.
Podcast wondery.com/shows/american-i..
Facebook fans n/a. Twitter followers 368.

Longmont, CO & Sunnyvale, CA About Podcast An award winning podcast and nationally syndicated radio show that looks at the innovations that are changing our lives and how their innovators used creativity and design to take their raw idea and create a game-changing product or service.
Frequency about 3 posts per month.
Podcast killerinnovations.com/feed/p..
Facebook fans 888. Twitter followers 9,301.

Silicon Valley About Podcast The a16z Podcast discusses tech and culture trends, news, and the future especially as 'software eats the world'. It features industry experts, business leaders, and other interesting thinkers and voices from around the world. This podcast is produced by Andreessen Horowitz (aka 'a16z'), a Silicon Valley-based venture capital firm. Multiple episodes are released every week; visit a16z.com for more details and to sign up for our newsletters and other content as well!
Frequency about 2 posts per week.
Podcast a16z.com/podcasts
Facebook fans n/a. Twitter followers 340,005.

About Podcast A Global weekly show interviewing leaders in their fields, authors, renowned professors, inventors, innovators, change-makers and mavericks to inspire, educate and inform the business world and the curious. This Global show speaks of something greater beyond innovation, disruption and technology. It speaks to the human need to learn: how to adapt and love a changing world. It embraces the spirit of constant change, of staying receptive, of always learning.
Frequency about 4 posts per month.
Podcast theinnovationshow.io
Facebook fans n/a. Twitter followers 1,166.

Los Angeles About Podcast Innovation Crush smashes convention to bits by profiling some of the world's most daring projects & the people behind them. From marketing ideas to technology innovations, disruptive business models, personal development, & everything between, IC is a one stop shop for all the 'who-to-know' & 'what-to-know' you'll ever need to know. Hosted by long-time idea maker, Chris Denson, the show serves up a giant helping of some of the best minds around the world.
Frequency about 2 posts per month.
Podcast thecrush.co/innovation-crush..
Facebook fans 1,857. Twitter followers 8,818.

New York, NY About Podcast The FYI - For Your Innovation Podcast offers an intellectual discussion on recent developments across disruptive innovation driven by research, news, controversies, companies, and technological breakthroughs. Hosted by ARK Invest analyst James Wang, ARK and guests provide a unique perspective on how to best understand disruptive innovation.
Frequency about 4 posts per month.
Podcast player.fm/series/fyi-for-you..
Facebook fans n/a. Twitter followers 22,026.

St Louis, MO About Podcast Discover what it takes and what it means to think entrepreneurially from thought leaders throughout the St. Louis region. Cheryl and Christy bring to you the best and most experienced trailblazers around to give you insights to unlock your pioneer potential for creativity, innovation and experimentation.
Frequency about 3 posts per month.
Podcast entrepreneuriallythinking.com
Facebook fans 272. Twitter followers 154.

Denver About Podcast Inside Launch Street is the innovation podcast where we interview top innovators out there shaking things up so YOU can innovate and differentiate and get further, faster in this crazy cluttered world. When you are ready to take your game to the next level, join the thousands of others that are upping their innovation edge on gotoLaunchStreet.com, the top online education, resource and community platform for innovators looking to use innovation to get measurable results.
Frequency about 3 posts per month.
Podcast gotolaunchstreet.com/inside-..
Facebook fans 3,335. Twitter followers 4,281.

San Antonio, TX About Podcast The #1 Podcast for Social Entrepreneurs & Social Innovators. With host Cory Ames, Founder of Grow Ensemble, dive deeper into social entrepreneurship, social enterprises and the tools, resources, and strategies that support their growth and expand their impact. Hear from these top social innovators from both the non-profit and for-profit sector - CEOs, Executive Directors, Thought-Leaders and more.
Frequency about 1 post per week.
Podcast growensemble.com/podcast
Facebook fans 20. Twitter followers 45.

Orlando, FL About Podcast Your favorite podcast featuring exclusive conversations with the entrepreneurs, artists, and philanthropists that are changing our world for the better! Podcast by Francisco Gonzalez
Frequency about 1 post per month.
Podcast agentsofinnovation.org
Facebook fans 317. Twitter followers 1,032.

Hampton, VA About Podcast Innovation Now is a daily 90-second radio series and podcast that gives listeners a front row seat to hear compelling stories of revolutionary ideas, emerging technologies and the people behind the concepts that are shaping our future.
Frequency about 4 posts per week.
Podcast innovationnow.us/index.php/l..
Facebook fans 6,813. Twitter followers 96.

About Podcast Inside Outside Innovation explores the ins and outs of innovation with raw stories, real insights, and tactical advice from the best and brightest in startups & corporate innovation. Each week we'll bring you the latest thinking in Lean Startup, Design Thinking, Corporate Venture Capital and more. Join the movers, shakers, makers, founders, builders, and doers to help speed up your knowledge, skills, and network.
Frequency about 3 posts per month.
Podcast insideoutside.io/the-feed
Facebook fans 392. Twitter followers 567.

Santa Monica, CA About Podcast Innovation For All features far-reaching conversations about hard problems and big ideas at the intersection of innovation and society. Want to know whether Artificial Intelligence is racist? What it feels like to be a conservative working in tech? How Artificial Reality can help the hard-of-hearing? Whether implicit bias training is effective?
Frequency about 2 posts per month.
Podcast innovationforallcast.com
Facebook fans 54. Twitter followers 272.

Arizona About Podcast Innovation Happens is a new podcast from Arizona State University. Each episode will explore HOW innovation happens among students at the nation's top-ranked public university for innovation (U.S. News and World Report). Join us weekly to learn why ASU is #1 in innovation and how you can get involved.
Frequency about 3 posts per month.
Podcast universitydesign.asu.edu/pod..
Facebook fans 3,604. Twitter followers 10,072.

Boston, MA About Podcast Innovation at large, established companies is hard. So we made a podcast to help you overcome obstacles and create change at your organization. Welcome to Innovation Answered, the podcast for corporate innovators. Join your host, Kaitlin Milliken from Innovation Leader, for a new episode every Tuesday at 6 a.m. ET.
Frequency about 2 posts per month.
Podcast innovationleader.com/podcast
Facebook fans 574. Twitter followers 4,161.

Cambridge, MA About Podcast Better Innovation is a podcast featuring interviews with innovation thought leaders across all industries. It explores stories of how innovation is reshaping and transforming business in an inextricably digital world. Topics covered in this series include business model innovation, emerging trends, advanced technologies, and fostering an innovation culture inside organizations. Better Innovation is hosted by Jeff Saviano, EY Global Tax Innovation Leader.
Frequency about 2 posts per month.
Podcast ey.com/gl/en/services/tax/ey..
Facebook fans n/a. Twitter followers 1,200.

United States About Podcast Innovation Unleashed engages curious people who love discovering the 'what's next' in technology solutions to help all of us live better lives. Hosted by Dr. Alan Russell, an innovation expert who has appeared on Rolling Stone Magazine's list of the Top 100 People Who Will Change America, listeners will meet a variety of innovators who will talk about how innovation and technology will shape the future and impact the way that we live.
Frequency about 1 post per month.
Podcast innovationunleashedpodcast.c..
Facebook fans 190. Twitter followers 3,450.

Washington, DC About Podcast Jo Ann Barefoot discussion disrupting innovation in the financial services sector and beyond.
Frequency about 2 posts per month.
Podcast jsbarefoot.com/podcasts
Facebook fans 125. Twitter followers 2,454.

About Podcast The Moonshots podcast goes behind the scenes of the world's greatest innovators to discover the secrets to their success. Each episode deconstructs the skills and behaviors that define their breakthrough business ideas. From Elon Musk, Jeff Bezos to emerging talents from across the globe. Join Mike Parsons and Chad Owen as they take you on a deep dive to discover why innovation matters and how you can do it too.
Frequency about 2 posts per month.
Podcast moonshots.io/show-archive
Facebook fans 83. Twitter followers 28.

Stanford, CA About Podcast Audio talks and lectures by leaders of social change, co-hosted by Stanford Social Innovation Review's Managing Editor Eric Nee. http://ssir.org/podcasts
Frequency about 1 post per month.
Podcast ssir.org/podcasts
Facebook fans 77,618. Twitter followers 136,969.

Manchester, England About Podcast The creative innovation podcast. Arrest All Mimics is a creative industry insights show hosted by illustrator, author and art-director Ben Tallon. We bring you the inside story from the most exciting people and projects across the creative industries.
Frequency about 2 posts per month.
Podcast soundcloud.com/arrestallmimics
Facebook fans n/a. Twitter followers 3,029.

About Podcast What does it take to transform a sketch in a notebook into an international phenomenon?How do the world's top innovators in the arts, business, and technology conceptualize and execute groundbreaking new ideas? Artist, director and experience designer Michael Countsdubbed a mad genius by the New York Times interviews pioneers about their successes, failures, and insights.
Frequency about 3 posts per month.
Podcast countsprojects.com/podcast
Facebook fans 312. Twitter followers n/a.

About Podcast Conversations with innovators who can provide unique and transformative solutions in healthcare through their expertise and experiences.We merge innovation, precision and compassion, empowering our clients to use technology in new ways as they solve problems for the greater good. NewWave is an information technology company helping businesses and government agencies modernize and thrive by applying the power of technology.HIMSS thanks NewWave for sponsoring the HIMSS Innovation That Sticks Podcast Series
Frequency about 1 post per month.
Since Sep 2013
Podcast himss.org/library/podcasts/i..
Facebook fans 24,476. Twitter followers 100,357.

London About Podcast Regular podcasts on sustainable business issues from Innovation Forum.
Frequency about 3 posts per week.
Podcast innoforum.podbean.com
Facebook fans n/a. Twitter followers n/a.

About Podcast Proven, Practical, Profitable Innovation FREE PODCASTS provide innovation Best Practices that major national and international companies have paid $250K-$1.4M to access and use. The subjects covered include innovation fundamentals, innovation process toolkits, real-world innovation case studies, interviews with innovation leaders, and late breaking innovation news.
Frequency about 3 posts per month.
Podcast i2ge.com/innovation-podcast
Facebook fans n/a. Twitter followers n/a.

About Podcast We feature interviews with best-selling authors and innovation experts from around the world. We focus on corporate innovation through the lenses of leadership, company culture, and emerging trends and technologies. Recorded & produced by 3Pillar Global, a product lifecycle management and software development company based in Fairfax, VA, with offices around the world.
Frequency about 1 post per month.
Podcast innovationengine.libsyn.com
Facebook fans 2,998. Twitter followers 2,525.

Chapel Hill, N.C. About Podcast This podcast explores the perspectives, insights and journeys of innovators & entrepreneurs who combined creative thinking and hard work to go beyond the expected. The podcast is powered by the Entrepreneurs Genome Project, which consists of research conducted by the Entrepreneurs Lab class taught by Ted Zoller, T.W. Lewis Clinical Professor and director of the Entrepreneurship Center at the UNC Kenan-Flagler Business School.
Frequency about 1 post per month.
Podcast innovate.unc.edu/podcast-series
Facebook fans 567. Twitter followers 3,786.