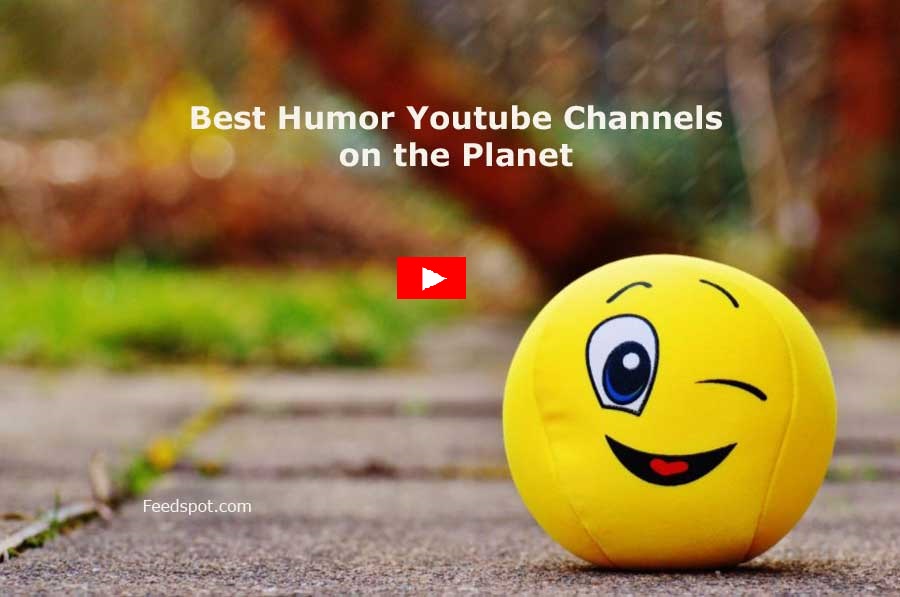 The Best Humor Youtube Channels from thousands of top Humor Youtube Channels in our index using search and social metrics. Data will be refreshed once a week.
These Youtube Channels are ranked based on following criteria
Total youtube channels subscribers, video views, and video uploads
Quality and consistency of videos

Youtube search ranking

Feedspot editorial team' objective and subjective review
Top 50 Humor Youtube Channels Winners
CONGRATULATIONS to every youtuber that has made this Top Humor Youtube Channels list! This is the most comprehensive list of best Humor Youtube Channels on the internet and I'm honoured to have you as part of this! I personally give you a high-five and want to thank you for your contribution to this world.
If your youtube channel is one of the Top 50 Humor Youtube Channels, you have the honour of displaying the following badge on your site. Use the below code to display this badge proudly on your blog. You deserve it!:
<a href="https://blog.feedspot.com/humor_youtube_channels/" title="Humor Youtube Channels"><img alt ="Humor Youtube Channels" src="https://blog.feedspot.com/wp-content/uploads/2017/12/humor_youtube_216px.png?x13245" /></a>
Rank

Channel Name

Youtube Followers

Views Count

Video Count

1

California, United States

About Channel - Smosh is absolutely the best place to funny videos. Bringing you Smoshy Goodness since 2005!
Frequency - about 2 videos per week
Since - Nov 2005

22,811,676

6,947,849,161

940

2

United States

About Channel - FailArmy is the world's number one source for epic fail videos and hilarious compilations. We're powered by fan submissions and feedback from all around the world, with over 30 million fans across digital platforms.
Frequency - about 4 videos per week
Since - Jul 2011

13,207,393

4,369,507,775

581

3

youtube.com/user/collegehumo..

NYC

About Channel - Original and funny videos from CollegeHumor.com, one of the most popular comedy sites on the web. Enjoy CH's award-winning sketches, animations, music videos and web series, delivered right to your (digital) doorstep--like the paper! Or drugs!
Frequency - about 4 videos per week

12,427,836

6,044,743,374

3,112

4

10,081,830

2,063,396,854

1,379

5

youtube.com/user/BadLipReadi..

Los Angeles, CA

About Channel - I put words into other people's mouths.
Frequency - about 1 video per month
Since - Mar 2011

6,577,202

935,395,806

77

6

Montreal, Quebec, Canada

About Channel - Just For Laughs Gags is the best hidden camera pranks channel on YouTube. Our videos are some of the funniest and best pranks ever posted on the web.
Frequency - about 4 videos per week
Since - Jan 2007

6,349,699

3,293,782,098

4,041

7

youtube.com/user/comedycentr..

United States

About Channel - Comedy Central brings you the funniest stuff on the planet. Watch hit shows like Workaholics, Tosh.0, The Daily Show with Trevor Noah, Inside Amy Schumer, Key & Peele, @midnight and Broad City, plus cutting-edge stand-up comedy you won't find anywhere else.
Frequency - about 9 videos per week
Since - Aug 2011

5,912,364

2,966,179,246

3,928

8

youtube.com/user/glozell1/vi..

Los Angeles, CA

About Channel - GloZell is the hottest comedienne blazing the Internet with hilarious YouTube videos!
Frequency - about 4 videos per week
Since - Jan 2008

4,656,938

817,911,790

2,212

9

About Channel - Break brings you the best viral videos, funny photos, and comedy content on the web. Our daily mission: Make the internet break again and again. Our humor hits hard and we take no prisoners. There's no Geneva Convention of Comedy!
Frequency - about 2 videos per week
Since - Dec 2005

2,931,050

1,149,177,309

1,546

10

youtube.com/user/FunnyorDie/..

Hollywood, Ca

About Channel - Funny or Die features your favorite comedians and celebrities in comedy videos. Founded in 2007 by Will Ferrell, Adam McKay, and Judd Apatow, Funny Or Die churns out hilarious videos to make you laugh.
Frequency - about 2 videos per week
Since - Apr 2007

2,136,725

728,800,539

3,353

11

youtube.com/user/TheViralFev..

Mumbai, India

About Channel - TVF-ONE is India's first and biggest Organized OnlineTV, where you can watch regular shows and content, created especially for the young audience, across genres like Humor/Drama/Trends etc.
Frequency - about 1 video per week
Since - Mar 2011

3,217,772

467,958,446

224

12

2,046,409

724,913,771

1,707

13

youtube.com/user/BeingIndian..

India

About Channel - The one stop shop for all things Indian. Presenting to you India at its quirkiest best. Subscribe for your daily dose of humor and much more. Being Indian - The fastest growing Indian YouTube channel in India.
Frequency - about 3 videos per month
Since - Sep 2013

1,603,824

258,075,329

388

14

youtube.com/user/funnyplox/v..

About Channel - New videos, all in HD, ALL the time. Great funny videos for kids and adults! Plus, every time someone subscribes, a litter of kittens are born!
Frequency - about 4 videos per week
Since - Nov 2010

1,554,124

907,845,323

311

15

youtube.com/user/overboardhu..

About Channel - "I want to make as many people laugh as I can in my life time"
Frequency - about 1 video per week
Since - Jan 2011

1,491,474

311,446,206

284

16

youtube.com/user/EastIndiaCo..

About Channel - Sketches, Stand up, News comedy. That's it, really! A bunch of silly comedians just putting stuff up that we find funny, even if others don't.
Frequency - about 3 videos per month
Since - May 2012

942,116

153,891,301

258

17

youtube.com/user/AFVofficial..

About Channel - America's Funniest Videos (AFV) is America's longest running funny video television program. We've been collecting funny viral videos since 1989. Here you'll find funny videos, viral videos, prank videos, funny animal videos, funny baby videos, classic videos, and the best compilations and music montages of some of the funniest videos you've ever seen.
Frequency - about 6 videos per week
Since - Aug 2010

671,008

425,748,097

4,013

18

506,323

45,782,733

37

19

About Channel - If you are looking for funny videos Jokes, memes and a lot of fail videos this is the place to look for.
Frequency - about 2 videos per month
Since - Apr 2015

398,819

92,200,255

47

20

About Channel - Videos Worth Watching . The best content platform for millennials • Share your video with our 150M global audience
Frequency - about 6 videos per week
Since - Dec 2014

267,060

2,727,920

244

21

NYC

About Channel - CollegeHumor is teaming up with the funniest, freshest, and not too busy-est people on the internet for a new YouTube channel that's… well THIS! Sketches, animation, music videos. Comedy, funny, hilarious, haha. Like CollegeHumor but weirder.
Frequency - about 1 video per month
Since - Jul 2014

254,142

43,852,122

131

22

About Channel - Welcome to Best Funny Vines Channel, Here you will find the best vine and instagram compilation. Have fun and enjoy the free time.
Frequency - about 4 videos per week
Since - May 2015

201,913

22,596,800

206

23

About Channel - Your source of daily humor!
Frequency - about 6 videos per week
Since - Nov 2016

136,084

63,527,815

262

24

Atlanta, GA

About Channel - Atlanta comedians DC Young Fly, Clayton English and Karlous Miller talk culture and comedy on this weekly show. Every Friday the team drops a new hilarious episode. ALL INDEPENDENT!
Frequency - about 2 videos per week
Since - Feb 2016

107,807

16,660,147

327

25

youtube.com/user/loadingread..

Victoria, BC, Canada

About Channel - Comedy video production house from Canada. LoadingReadyRun has been making comedy shorts since 2003 and now produce more content that is healthy.
Frequency - about 14 videos per week
Since - Jun 2006

106,384

63,127,265

2,437

26

youtube.com/user/ZDoggMD/videos

About Channel - ZDoggMD is a physician, off-white rapper, and purveyor of the finest medical satire.
Frequency - about 4 videos per week
Since - Mar 2010

84,116

22,977,096

479

27

youtube.com/user/ClickHole/v..

About Channel - Governed by a belief that all content deserves to go viral, ClickHole is a singular online social experience complete with clickable, shareable content that's the best the internet has to offer.
Frequency - about 2 videos per week
Since - Apr 2014

79,315

26,351,642

520

28

About Channel - Best & Latest Nigerian & African Comedy Videos. Subscribe to stay in touch.
Frequency - about 24 videos per week
Since - Jun 2017

53,277

547,960

56

29

Provo, Utah

About Channel - Divine Comedy is BYU's premiere sketch comedy group! We primarily perform live shows for BYU students on campus about 3 times a semester. Our content consists of clean humor poking fun at the BYU culture, our day to day experiences and celebrating the unique and funny differences of all people.
Frequency - about 2 videos per week
Since - Oct 2008

38,206

18,695,955

436

30

About Channel - Hilarious vine compilations everyday!
Frequency - about 2 videos per month
Since - Apr 2015

27,558

11,944,319

45

31

About Channel - Dank memes is life
Frequency - about 2 videos per week
Since - Sep 2016

21,964

922,660

27

32

About Channel - Hi Humor - Funny clips & compilations.
Frequency - about 1 video per month
Since - Nov 2015

21,102

16,505,753

66

33

youtube.com/user/thelaughbut..

NYC

About Channel - Founded in 2006 as a platform to showcase stand-up, The Laugh Button developed into a unique and compelling platform to analyze and showcase the full spectrum of comedy. In addition to thought-provoking editorial, The Laugh Button now incorporates live events, original video content, and a weekly podcast.
Frequency - about 1 video per week
Since - Nov 2008

16,748

6,793,628

213

34

Australia

About Channel - Welcome to my Travel & Humor Channel
Frequency - about 9 videos per week
Since - Aug 2012

6,345

7,199,819

925

35

youtube.com/user/theofficial..

About Channel - HUMOR U is a stand-up comedy collective based out of Brigham Young University.
Frequency - about 4 videos per month
Since - Jan 2010

3,642

1,516,657

449

36

youtube.com/user/stacymakesc..

About Channel - We believe that YOU can manage your home well, keep stress in check, and have a stinkin' awesome time along the way. Simply put – we believe managing a home shouldn't be dull. The videos you'll find here are fun, educational and all about managing your home in a way that fits your season of life and skill set. Never forget that in the walk of life, it's only too late if you're dead.
Frequency - about 1 video per month
Since - Oct 2011

3,086

270,903

77

37

About Channel - Baptist Humors semi-funny Youtube Page
Frequency - about 1 video per month
Since - Mar 2015

2,791

373,982

42

38

Belgium

About Channel - Just a guy trying to make you laugh and have a good tim
Frequency - about 2 videos per month
Since - Nov 2016

2,354

705,604

82

39

youtube.com/user/fakingnews/..

Mumbai

About Channel - Faking News is the leading Indian news satire and humor website. It contains cutting edge satire on political and social scenario of India. The website publishes fake news reports with incisive sarcasm, satire and humor.
Frequency - about 1 video per month
Since - Dec 2008

1,793

556,095

72

40

About Channel - Life is Better when You Are Laughing...
Frequency - about 1 video per month
Since - Oct 2016

945

32,683

10

41

About Channel - Hey here at Modernist Humour. I like to upload sketches and other videos to try and make you viewers laugh.
Frequency - about 2 videos per month
Since - Nov 2010

764

20,167

23

42

India

About Channel - Hi ! We make videos, and some people laugh at them. Hope you do too.
Frequency - about 2 videos per month
Since - Mar 2015

644

15,190

14

43

519

66,319

40

44

About Channel - Enjoy the videos from The Humor LAD
Frequency - about 2 videos per month
Since - Nov 2015

448

22,471

44

45

United States

About Channel - Raondom videos from the internett. I upload all the best and dankest memes!
Frequency - about 2 videos per month
Since - Oct 2014

421

149,900

77

46

Hollywood, Los Angeles

About Channel - Comedy makes me happy, and I want to spread that happiness. Funny videos every week!
Frequency - about 3 videos per month
Since - Jun 2013

183

58,746

27

47

About Channel - Hello this is All Things Humor i make videos of Stranger Things, IT, & Dark.
Frequency - about 3 videos per week
Since - Jun 2016

133

58,815

38

48

About Channel - Hi! You are on Mirthy. The youtube channel where you can spend all day watching the funniest videos on youtube that has millions of views! So check our videos of you wanna enjoy the most hilarious photos compilations and weirdest pictures that people have posted on the internet. And we were also make funny texts messages compilations! And new videos are coming everyday.
Frequency - about 6 videos per week
Since - Aug 2014

134

116,462

32

49

About Channel - Funny stories of adventure and misadventure.
Frequency - about 4 videos per month
Since - Mar 2013

48

4,955

20