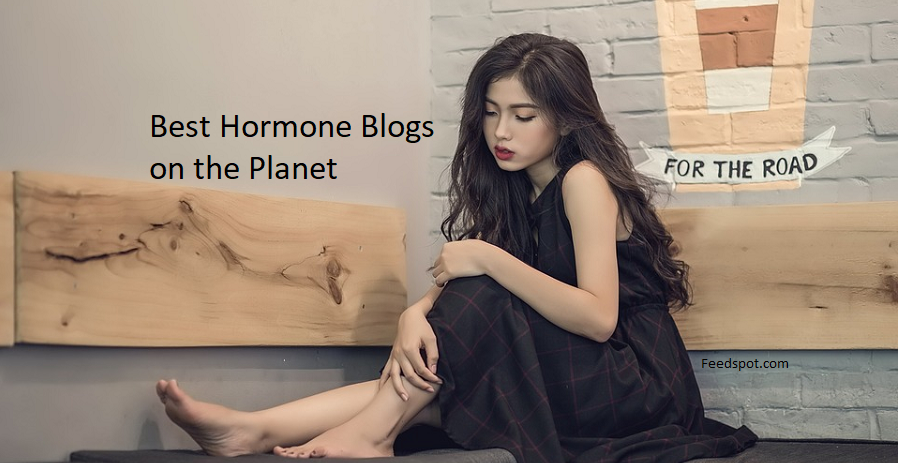 Hormone Blogs List.
The Best Hormone Blogs from thousands of Hormone blogs in our index using search and social metrics. We've carefully selected these websites because they are actively working to educate, inspire, and empower their readers with frequent updates and high-quality information.
If your blog is selected in this list, you have the honour of displaying this Badge (Award) on your blog.
Hormone Blogs

Boulder, CO About Blog Magdalena Wszelaki is a Certified Nutrition Coach with a focus on hormonal health, thyroid and autoimmune conditions. This blog is for those who are seeking help with food and sound lifestyle changes to help them reclaim their hormonal balance.
Frequency about 4 posts per month.
Since Jan 2011
Website hormonesbalance.com/articles
Facebook fans 191,286. Twitter followers 1,094.

New York About Blog Flo Living is the first virtual hormone health center for younger women 25-45. They are the source where all of the things that are preventing you from feeling amazing in your female body can be resolved. Their mission is to help you reclaim your health so you can live the life you're supposed to. FLO Living is a place you can come to understand the root causes of your symptoms, what to do naturally to resolve them, and to get the support you need to make the changes in your diet.
Frequency about 4 posts per month.
Since Oct 2010
Also in Women's Health Blogs
Website floliving.com/blog
Facebook fans 84,591. Twitter followers 31,160.

New York City About Blog I'm a Certified Women's Health & Functional Nutrition Coach, aka The Period Girl. My mission is to empower women in their teens, 20's and 30's to take back control of their hormonal health in a fun and sassy way. In other words, I'm here to teach women how to make their hormones work for them, rather than against them.
Frequency about 1 post per week.
Since Feb 2010
Website nicolejardim.com/blog
Facebook fans 12,219. Twitter followers 1,762.

Toronto, Ontario About Blog Samantha Gladish is a Nutritionist that specializes in helping women lose weight and balance their hormones with delicious food. Also helps achieve more powerful, holistic, purpose driven lives. Areas of specialty include pms, pcos, infertility, diabetes and menopause. She provides wellness workshops and seminars to various corporations on a variety of topics from stress management, detoxification, hormone balancing and green living.
Frequency about 3 posts per month.
Since Jan 2010
Also in Health Coach Blogs, Holistic Blogs, Holistic Nutrition Blogs
Website holisticwellness.ca
Facebook fans 16,671. Twitter followers 4,916.

Gilbert, Arizona About Blog I'm Dr. Westin Childs. Welcome to my blog! I am a Doctor (D.O.) focusing on personalized and Functional Medicine and my passion is in balancing hormones for long last weight loss, more specifically I focus on Hypothyroidism, Insulin resistance and Leptin resistance. Learn how to lose weight and keep it off by balancing your hormones.
Frequency about 3 posts per week.
Since Aug 2017
Website restartmed.com
Facebook fans 33,735. Twitter followers 113.

About Blog I'm a menstruation-loving, yoga-doing women's holistic health coach on a mission to create Happy Hormones! I help you replace anxiety with joy to open possibility in your life and have a positive impact on the next generation! Anxieties become JOY when you open possibility.
Frequency about 2 posts per month.
Since Jan 2015
Website thehormonediva.com
Facebook fans 4,410. Twitter followers 1,180.

Sydney, Australia About Blog I'm a naturopathic doctor, hormone blogger, and author of the book Period Repair Manual: Natural Treatment for Better Hormones and Better Periods.
Frequency about 1 post per month.
Since Aug 2011
Website larabriden.com
Facebook fans 16,466. Twitter followers 2,780.

Los Angeles, California About Blog We offer customized Age Management/Hormone Replacement Programs to combat hormonal decline in men and women. Our team of physicians and professionals specialize in optimizing key hormones (testosterone, Human Growth Hormone (HGH), Growth Hormone Releasiing Peptides, estrogen, thyroid, etc.) so you look and feel your best at any age.
Frequency about 1 post per month.
Since Feb 2012
Website thebodywellusa.com/blog
Facebook fans 2,356. Twitter followers 2,317.

Berkeley, CA About Blog Dr. Sara Gottfried, MD, has been featured in Glamour, Natural Health, Yoga Journal and Yoga International. She believes in leafy greens and nutrient-dense foods, together with evidence-based integration of botanicals and bioidentical hormones, rather than popping prescription pills. This blog is dedicated to helping women balance hormones naturally.
Frequency about 3 posts per month.
Website saragottfriedmd.com/blog
Facebook fans 207,237. Twitter followers 17,245.

About Blog Hello! I'm Laura Charelle and I help women manipulate their hormones to get the minds & bodies they want. You can get the results you desire with the right food, fitness and lifestyle habits, and say GOOD-BYE to pesky monthly symptoms. Here is where you'll learn how to take all your healthy eating, fitness efforts, and your individual lifestyle to make it work for your body.
Frequency about 2 posts per month.
Since Aug 2016
Website lauracharelle.com/blog
Facebook fans 168. Twitter followers 8.

About Blog Restorative Health offers an expertise in hormone replacement therapy for men and women. Thay are passionate about restoring health and vitality to women and men through modern cutting age treatments and therapies. Stay up to date on the latest news in health and age management practices. They cover the latest stories from research and development to staying informed on the latest diseases and treatments.
Frequency about 1 post per month.
Since Jan 2017
Website restorative-health.com/blog
Facebook fans 208. Twitter followers 12.

Caboolture, Queensland About Blog This website is an avenue for communicating with my patients. I keep very up to date with health issues, especially to do with aging and hormonal problems. I will share the interesting bits with you. I have a daily blog dealing with health issues.
Frequency about 2 posts per week.
Since Mar 2012
Website drcolinholloway.com/latest-news
Facebook fans n/a. Twitter followers n/a.

New Zealand About Blog I'm Kate. I am a Holistic Nutritionist, Personal Trainer, Lifestyle Coach and Author specialising in hormone healing and fertility with over 13 years experience in the health and fitness industry. I am dedicated to providing you with evidence-based, useful and understandable resources, with proven-results, on all things hormone-healing and fertility. I am here to support you through the tough times, and to celebrate the good times.
Frequency about 1 post per month.
Since Jul 2014
Also in Nutrition Blogs
Website theholisticnutritionist.com
Facebook fans 11,169. Twitter followers 1,544.

London, UK About Blog Hi, my name is Nicki Williams, qualified nutritionist, speaker, author and founder of Happy Hormones For Life. I am helping women over 40 to get their bodies back into balance nutrition, hormones and menopause.
Frequency about 1 post per month.
Since Mar 2014
Website happyhormonesforlife.com/blog
Facebook fans 8,764. Twitter followers 1,343.

Denville, New Jersey About Blog Find a new way to age using Hormone Replacement Therapy (HRT) provided by Global Life Rejuvenation. Hormone Replacement Therapy is one of the leading treatments that helps prevent and reverse the damage caused by hormone imbalances and deficiencies.
Frequency about 2 posts per month.
Since Dec 2016
Website globalliferejuvenation.com/b..
Facebook fans 1,106. Twitter followers 20.

Centerville, Ohio About Blog Lyn Hogrefe, MS Ed, is the founder and executive director of the Happy Hormone Cottage as a safe place for women to share their stories, be heard and validated. She is passionate about natural hormone balance! Her passion is women helping women understand the truth about their bodies, and to learn the most natural options for aging gracefully and healthfully, with a focus on preventing disease.
Frequency about 1 post per month.
Since Jul 2011
Website happyhormonecottage.com/blog
Facebook fans 1,217. Twitter followers 640.

Boca Raton, Florida About Blog Network of bioidentical hormone doctors dedicated to preventive medicine and wellness using bioidentical hormone therapy.Their mission is to relieve the suffering of men and women with hormonal imbalances including menopause, andropause, adrenal fatigue and thyroid disorders with the use of bioidentical hormone replacement therapy and customized nutrition and fitness plans.
Frequency about 2 posts per month.
Since Sep 2007
Website bioidenticalhormoneexperts.com
Facebook fans 16,109. Twitter followers 2,332.

NJ and NY About Blog At Advanced Hormone Solutions, a leading hormone clinic serving the greater tristate area (NY/NJ/CT), we provide advanced bio-identical hormone replacement therapies to help patients like you reclaim their well-being.
Frequency about 1 post per month.
Since Feb 2014
Also in Menopause Blogs
Website advancedhormonesolutions.com..
Facebook fans 141. Twitter followers 154.

San Francisco, CA About Blog Naturopathic Doctors and Acupuncturists at Radiant Health SF believe in a customized integrative approach to help you achieve optimal wellness for a healthy and enjoyable life. Read the blog to find information on hormone balancing, anti-aging, weight loss, acupuncture, facial and hair rejuvenation.
Frequency about 2 posts per month.
Since Apr 2016
Website radianthealthsf.com/blog
Facebook fans 103. Twitter followers 1.

Lexington, Massachusetts About Blog We are Megan and ALElex. And we love teaching women about improving their hormonal health, being goofy, and trying new things to bring to our audience! We are providing families and individuals with the tools that they need to navigate today's world of food by implementing simple, methodical steps that lead to permanent change.
Frequency about 2 posts per week.
Since Feb 2014
Website zestyginger.com/blog
Facebook fans 3,574. Twitter followers n/a.

Rancho Mirage, California About Blog SottoPelle Hormone Pellets, located in Rancho Mirage, is the only hormone replacement therapy center in Southern California offering BHRT (Bio-Identical Natural Hormone Therapy) pellets. The Center, led by Dr. Enrique Jacome, is dedicated to helping men and women enjoy renewed energy, youthful vitality, and better overall health, both physically and emotionally.
Frequency about 2 posts per month.
Since Oct 2017
Website sottopelleranchomirage.com/blog
Facebook fans 1,167. Twitter followers 3,410.

Rosebud, Victoria, Australia About Blog Women's Health and Hormones Blog is authored by Emma Stimpson. She covers topics such as Fertility, Thyroid Disorders, Hormonal Imbalances, PMS, Fatigue, Menopause and more.
Frequency about 1 post per month.
Since Jun 2015
Website balancehormones.com.au/blog
Facebook fans 1,114. Twitter followers n/a.

Glens Falls, New York About Blog Lisa offers women specialized care for hormone balance, fertility and birth; guiding women to optimal health with compassion, knowledge and gratitude.
Frequency about 3 posts per month.
Since Apr 2016
Website womensintegrativehealthny.co..
Facebook fans 32. Twitter followers 1,056.

Toronto, Ontario About Blog Nutrigal (Kelly Greer) is a Registered Dietitian- Hormone focused based in Toronto. She provides a safe and nurturing haven to allow for open and honest communication, which enlightens, educates, and inspires optimum health.
Frequency about 1 post per month.
Since Aug 2010
Website nutrigal.ca/blog
Facebook fans 636. Twitter followers 192.

Chelmsford, Essex About Blog Ailsa Hichens is a Nutritional Therapist & Health coach. In this blog she provides information for women who want to lose weight, rebalance their hormones, regain their energy or boost their fertility. She helped many women get back to their best – whether that means losing weight, balancing hormones, sorting out persistent gut problems and other niggling issues, or else helping them boost their fertility naturally.
Frequency about 1 post per month.
Since Jul 2016
Website foodfabulous.co.uk/blogs
Facebook fans n/a. Twitter followers 560.

Denver, Colorado About Blog Denver Hormone Health provides men and women relief from symptoms of aging. With Bioidentical hormones, experience increased energy, boosted libido and an enhanced immune system with testosterone therapy.
Frequency about 1 post per month.
Since Jan 2012
Website denverhormonehealth.com/blog
Facebook fans 149. Twitter followers 275.

Scottsdale, Arizona About Blog Tree of Life Medical provides gynecology in Phoenix and on our blog you can read articles such as The Effects of Testosterone and Omega-3. Dr Jennifer Iacovelli Malone specializes in hormone replacement therapy in Scottsdale & Phoenix, where wellness & health is achieved through hormone balance.
Frequency about 1 post per month.
Since Apr 2017
Website treeoflifemedical.net/blog
Facebook fans 198. Twitter followers n/a.

London, UK About Blog You will find useful information about hormones, imbalance of hormones, how hormones affect your daily, heatlh and work life, hormone testing process etc. Hormone Lab provides hormone testing in Saliva, Dried Blood, Dried Urine and multi Hormone Testing.
Frequency about 4 posts per month.
Since Mar 2017
Website hormonelab.co.uk/blogs/blog
Facebook fans 13. Twitter followers 251.

San Diego, California About Blog Women's Homone Health is place for women of all ages to find health, vitality and hormonal harmony! By looking at how your body is functioning and communicating between the adrenal glands, thyroid, brain, liver and digestive system, we can find the source of your imbalance and work toward your hormonal health, naturally. Our mission is to educate women how to find their optimal health.
Frequency about 1 post per month.
Since May 2016
Website womenshormonehealth.com/blog
Facebook fans 256. Twitter followers n/a.

About Blog This blog is for Women's Health & Hormone Balance. Ellie Thomas is a Holistic Nutrition Consultant and women's wellness expert. She guides her clients with proper nourishment techniques and understanding their bodies in relation to symptoms and syndromes that plague women daily. Everything you need to know about how your diet and lifestyle is affecting your hormones, and how to get them in balance now!
Frequency about 1 post per month.
Since Jun 2017
Website deeplynourishedforlife.com/blog
Facebook fans 206. Twitter followers n/a.

Houston, TX About Blog Hormone Health Houston providers offer diagnoses and possible treatment for men and women patients to age healthier and live happier with hormone optimization. They offer their patients the possibility to experience increased energy and muscle strength, greater ability to lose weight, reduced mood swings, better sleep at night, and mental clarity.
Frequency about 3 posts per month.
Since Oct 2017
Website hormonehealthhouston.com/blog
Facebook fans 281. Twitter followers 44.

Decatur, AL About Blog At Complete Hormone Solutions, it's important that your program be based upon your individual needs and designed to improve the balance of your primary sex hormones. They targets balancing your hormones naturally with Bio-Identical Hormone Replacement Therapy, and Medical Weight Loss.
Frequency about 28 posts per week.
Since Mar 2013
Website completehormonesolutions.com..
Facebook fans 2,616. Twitter followers n/a.

Frankfort, Kentucky About Blog Do you suffer from reduced sexual desire and performance with low libido? Human-Identical Hormone Replacement Therapy in Frankfort, KY might be the solution. Finally, you can achieve all the vitality and energy you desire. With BioTE Hormone Replacement Therapy and our supplements, the NuYou is ready for the rest of your life to begin.
Frequency about 2 posts per month.
Since Mar 2018
Website nuyoumedclinic.com/blog
Facebook fans 182. Twitter followers 8.

About Blog Lindsey is a certified holistic nutritionist specializing in women's hormones. As a holistic nutritionist she help women achieve their best life by looking at their history, the whole picture current health & their unique wellness needs and create a customized approach to empower them to take charge of their health and their life with my 1-on-1 personalized nutrition programs and group programs.
Frequency about 4 posts per month.
Since Mar 2018
Website lindseyburwell.com
Facebook fans 1. Twitter followers n/a.
These blogs are ranked based on following criteria
Google reputation and Google search ranking
Influence and popularity on Facebook, twitter and other social media sites

Quality and consistency of posts.

Feedspot's editorial team and expert review
Top 40 Hormone Blogs Winners
CONGRATULATIONS to every blogger that has made this Top Hormone Blogs list! This is the most comprehensive list of best Hormone blogs on the internet and I'm honoured to have you as part of this! I personally give you a high-five and want to thank you for your contribution to this world.
If your blog is one of the Top 40 Hormone blogs, you have the honour of displaying the following badge on your site. Use the below code to display this badge proudly on your blog. You deserve it!:
<a href="https://blog.feedspot.com/hormone_blogs/" rel="nofollow" title="Hormone Blogs"><img alt="Hormone Blogs" src="https://blog.feedspot.com/wp-content/uploads/2018/04/hormone_216px.png?x51349"/></a>
Tags: hormone rss feeds