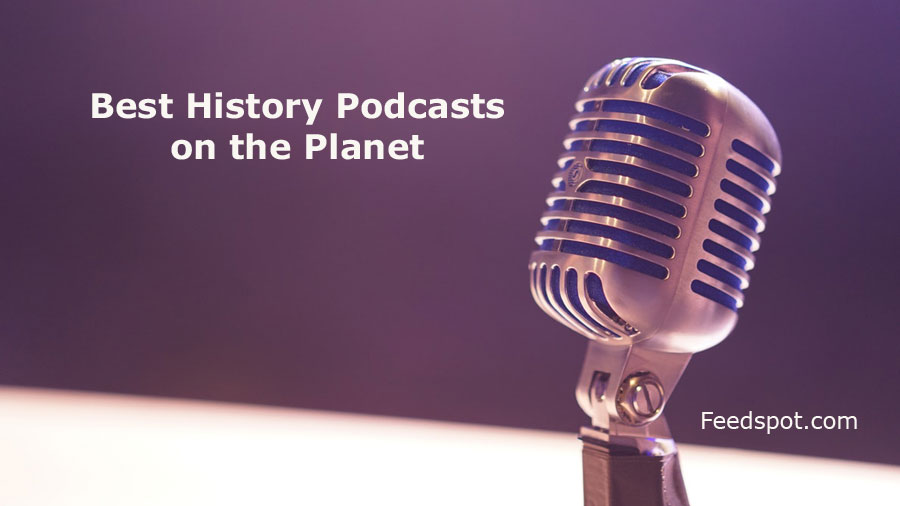 History Podcasts.
The Best History Podcasts from thousands of History Podcasts on the web using search and social metrics. Subscribe to these audio podcasts because they are actively working to educate, inspire, and empower their readers with frequent updates and high-quality episodes.
These podcasts are ranked based on following criteria
Google reputation and Google search ranking
Influence and popularity on Facebook, twitter and other social media sites

Quality and consistency of episodes.

Feedspot's editorial team and expert review
Best 60 History Podcasts
CONGRATULATIONS to every podcaster that has made this Top History Podcasts list! This is the most comprehensive list of best History Podcasts on the internet and I'm honoured to have you as part of this! I personally give you a high-five and want to thank you for your contribution to this world.
If your podcast is one of the Top 60 History Podcasts, you have the honour of displaying the following badge on your site. Use the below code to display this badge proudly on your website. You deserve it!:
History Podcasts

Bristol, UK About Podcast Thousands of historical articles on both British and world history for all levels of knowledge and interest.
Frequency about 2 posts per week.
Podcast historyextra.com/article-typ..
Facebook fans 550,639. Twitter followers 315,497.

United Kingdom About Podcast History Hit brings you the stories that shaped the world through live events, an award winning podcast network and our new online only history channel.
Frequency about 3 posts per week.
Podcast historyhit.com/podcasts
Facebook fans 129,782. Twitter followers 70,419.

Atlanta, GA About Podcast The Stuff You Missed in History Class podcast takes a look at lesser-known historical people and events, with new episodes every Monday and Wednesday.
Frequency about 3 posts per week.
Podcast missedinhistory.com/podcasts
Facebook fans 569,565. Twitter followers 42,749.

About Podcast Each episode of The Way I Heard It is a true story about a real person, place, or thing. With respect to the facts, I try to be as accurate as possible. However, the Internet is full of conflicting accounts, and it's entirely possible you might hear me say something about a person or an event that contradicts something you heard or read elsewhere. If so, feel free to bring any discrepancy to my attention. Just remember I'm not wrong. It's just the way I heard it.
Frequency about 2 posts per month.
Podcast mikerowe.com/podcast
Facebook fans 5,376,468. Twitter followers 400,678.

New York About Podcast Revisionist History is Malcolm Gladwell's journey through the overlooked and the misunderstood. Every episode re-examines something from the past an event, a person, an idea, even a song and asks whether we got it right the first time. From Pushkin Industries. Because sometimes the past deserves a second chance.
Frequency about 1 post per month.
Podcast revisionisthistory.com/seasons
Facebook fans 310,296. Twitter followers 597,660.

New England About Podcast Lore is a podcast about the frightening history behind common folklore.
Frequency about 2 posts per month.
Podcast lorepodcast.com/episodes
Facebook fans 71,532. Twitter followers 64,691.

About Podcast A weekly podcasting exploring great political revolutions. Now: The Mexican Revolution. Next: The Russian Revolution.
Frequency about 3 posts per month.
Podcast revolutionspodcast.com
Facebook fans 5,502. Twitter followers n/a.

Los Angeles About Podcast The Dollop is a bi-weekly* American History Podcast. Every week, Dave Anthony reads a story to his friend, Gareth Reynolds, who has no idea what the topic is going to be about. Each week one topic from American history is discussed at length.
Frequency about 4 posts per month.
Podcast dolloppodcast.com/podcast.html
Facebook fans 35,876. Twitter followers 42,642.

London About Podcast 'The History of Byzantium' is a podcast dedicated to the story of the Roman Empire from the collapse of the West in 476 to the fall of Constantinople in 1453. Byzantine history is fascinating, world changing and largely forgotten. Listen and discover who they were.
Frequency about 3 posts per month.
Since May 2012
Podcast thehistoryofbyzantium.com
Facebook fans n/a. Twitter followers 6,613.

Charlottesville, Virginia About Podcast BackStory with the American History Guys is a nationally syndicated, hour-long, weekly public radio show. We're based in Charlottesville, Virginia at the Virginia Foundation for the Humanities. Each week we take a topic that people are talking about, and explore it's roots in American history. Through stories, interviews, and conversation with our listeners, we turn the things Americans take for granted inside out.
Frequency about 1 post per week.
Since May 2010
Also in Storytelling Podcasts
Podcast backstoryradio.org/episodes
Facebook fans 14,007. Twitter followers 10,096.

Australia About Podcast A history of the holy wars between Christendom and the Islamic states. Over 900 years ago, thousands of Christians invaded the Middle East, intent on taking the Holy Land from the Muslims. The following 200 years were marked by a series of military campaigns known as the Crusades. Join us to follow the history of the Crusades from 1095 onwards.
Frequency about 3 posts per month.
Podcast historyofthecrusades.podomat..
Facebook fans 3,482. Twitter followers 2,328.

About Podcast History on the Net was founded by Heather Wheeler, a historian and former history teacher. The mission to of the site is to explore neglected or forgotten corners of history that changed the world, no matter how strange or controversial. We have blogged on the U.S. Army's failed experiment to use camels as pack animals in the 1840s southwest, failed presidential assassination attempts, and first-hand accounts of the Invasion of Normandy.
Frequency about 2 posts per week.
Podcast historyonthenet.com/category..
Facebook fans 2,592. Twitter followers 349.

About Podcast History on Fire is a podcast by author and university professor Daniele Bolelli. Whether you like history or not, if you care about bravery, wisdom, passion, larger than life characters and some of the most emotionally intense moments in human experience, you have come to the right place. Bolelli shall be your guide in a journey to the place where history and epic collide.
Frequency about 1 post per month.
Podcast historyonfirepodcast.com
Facebook fans 17,054. Twitter followers 56,208.

Portland, OR About Podcast History the way it is meant to be heard. History is human. History is drama. History is our story, and it belongs to all of us. The BHP is a chronological retelling of the history of Britain with a particular focus upon the lives of the people. You won't find a dry recounting of dates and battles here, but instead you'll learn about who these people were and how their desires, fears, and flaws shaped the scope of this island at the edge of the world.
Frequency about 3 posts per month.
Podcast thebritishhistorypodcast.com
Facebook fans 57,255. Twitter followers 12,076.

About Podcast Our goal is to introduce you to female characters in history, factual or fictional via our podcast and shownotes. The shownotes will give you a short look at the life of the person that we are discussing- basic facts and links to other sources to learn more. The podcast episodes will go into greater detail as we chat about the challenges, failures and successes, times, and all the juicy bits that we find interesting about the life of our subject.
Frequency about 1 post per month.
Podcast thehistorychicks.com
Facebook fans 17,445. Twitter followers 7,753.

Atlanta, GA About Podcast History is beautiful, brutal and, often, ridiculous. Join Ben Bowlin and Noel Brown as they dive into some of the weirdest stories from across the span of human civilization in Ridiculous History, a podcast by HowStuffWorks.
Frequency about 2 posts per week.
Podcast ridiculoushistoryshow.com
Facebook fans 5,872. Twitter followers 2,216.

New York City About Podcast We started the podcast on a whim as a fun project during the summer of 2007. We both had some amateur radio experience in our past, and we'd talked for years about producing some sort of fun New York-related radio show. When Greg purchased a new laptop in 2007 that included 'Garage Band' (an audio editing program that makes podcast production possible), we decided to give it a whirl and recorded our first show with a cheap karaoke microphone that Tom pulled out of the closet.
Frequency about 2 posts per month.
Podcast boweryboyshistory.com/catego..
Facebook fans 16,110. Twitter followers 13,565.

About Podcast The Memory Palace is a storytelling podcast and public radio segment about the past. It was named a finalist for a Peabody Award in 2016.
Frequency about 2 posts per month.
Since Nov 2008
Podcast thememorypalace.us/category/..
Facebook fans 11,717. Twitter followers 15,191.

About Podcast Our Fake History is an award-winning podcast about myths people think are history and history that might be hidden in myths.This show explores the tall-tales and tries to figure out what's fact, what's fiction, and what is such a good story it simply must be told. The podcast combines storytelling, humour, and historical detective work to create a show that is good for both history buffs and anyone who loves a good story.
Frequency about 2 posts per month.
Podcast ourfakehistory.com
Facebook fans 4,664. Twitter followers 2,920.

Istanbul About Podcast Ottoman History Podcast is a history podcast and community of bloggers, academics, and enthusiasts especially interested in the Ottoman Empire, the Mediterranean and the modern Middle East. Our weekly podcasts in English and Turkish feature interviews with scholars and researchers about developing topics of historical study.
Frequency about 1 post per week.
Podcast ottomanhistorypodcast.com
Facebook fans 34,203. Twitter followers 8,202.

London,UK. About Podcast Witness is the daily history programme from the BBC World Service. Five days a week we speak to people who lived through moments of history to bring you a personal perspective on world events. Witness on a moment of history.
Frequency about 3 posts per week.
Podcast bbc.co.uk/programmes/p004t1h..
Facebook fans 80,228. Twitter followers 3,691.

About Podcast A podcast by history nerds for history nerds (and everyone else too). The AskHistorians Podcast features members of Reddit's AskHistorians community, as well as published academics, and experts for long-form 60-90 minute in-depth conversations about a topic of their research. Additionally, each podcast episode is accompanied by a thread in AskHistorians where the expert swings by to answer followup questions.
Frequency about 2 posts per month.
Podcast askhistorians.libsyn.com
Facebook fans 3,770. Twitter followers 7,945.

Palo Alto, CA About Podcast The Story Narrated by Alec Baldwin Presented by Salesforce The Story presents the unknown backstories of people who changed the world. Each episode is a mini-historical biography, and includes life lessons and actionable insights from the most courageous and successful people in history.
Frequency about 1 post per week.
Podcast mission.org/thestory
Facebook fans n/a. Twitter followers n/a.

About Podcast A gentle weekly podcast on the history of England from the 6th to 20th Centuries.
Frequency about 2 posts per month.
Podcast thehistoryofengland.co.uk/po..
Facebook fans 8,237. Twitter followers 3,742.

About Podcast A Podcast About Early American History. Exploring the early American past in fun and interesting ways so we can learn more about who we are and how we can affect a better future. New Episodes release Tuesdays.
Frequency about 1 post per week.
Podcast benfranklinsworld.com
Facebook fans 2,579. Twitter followers 1,557.

California, USA About Podcast The Nostalgia Trap podcast features weekly conversations about history and politics with some of the left's most incisive thinkers, writers, and extremely online personalities, exploring how individual lives intersect with the big events and debates of our era.
Frequency about 3 posts per month.
Podcast nostalgiatrap.com/episodes
Facebook fans 471. Twitter followers 1,756.

United States About Podcast The Cold War, Prohibition, the Gold Rush, the Space Race. Every part of your life -the words you speak, the ideas you share- can be traced to our history, but how well do you really know the stories that made America? Well take you to the events, the times and the people that shaped our nation. And well show you how our history affected them, their families and affects you today. Hosted by Lindsay Graham (not the Senator). From Wondery, the network behind Tides Of History, Fall Of Rome and Dirty John.
Frequency about 3 posts per month.
Podcast wondery.com/shows/american-h..
Facebook fans 1,387. Twitter followers 1,669.

About Podcast The Spoken History of a Global Language. Kevin Stroud presents the History of English Podcast for word lovers and history buffs.
Frequency about 1 post per month.
Podcast historyofenglishpodcast.com
Facebook fans n/a. Twitter followers 5,395.

About Podcast An hour of historical reporting told by the people who were there.
Frequency about 3 posts per month.
Podcast bbc.co.uk/programmes/p016tmg..
Facebook fans 6,132,497. Twitter followers 365,115.

About Podcast Everywhere around us are echoes of the past. Those echoes define the boundaries of states and countries, how we pray and how we fight. They determine what money we spend and and how we earn it at work, what language we speak and how we raise our children. From Wondery, host Patrick Wyman, PhD ('Fall Of Rome') helps us understand our world and how it got to be the way it is.
Frequency about 1 post per month.
Podcast wondery.com/shows/tides-of-h..
Facebook fans 1,311. Twitter followers 2,421.

Holden, MA About Podcast In The Past Lane, the history podcast, launched on January 22, 2016. Each week host and Historian-at-Large, Edward T. O'Donnell, correspondents, and guests will bring you news, stories, interviews, film and TV reviews, and special features on all things history. Our aim is to be both engaging and entertaining, but also informative and thought-provoking. We are inspired by the notion that history is not just about the past.
Frequency about 2 posts per month.
Podcast inthepastlane.com/category/p..
Facebook fans n/a. Twitter followers 6,409.

Arlington, VA About Podcast Veterans Chronicles is an hour-long program that tells the stories of America's greatest heroes in their own words. Featuring interviews with eyewitnesses to the great, and tragic, moments in military history. Veterans Chronicles is history told from the perspective of those who were there. Included in each show are archival recordings, which take listeners back to a time when heroes were made.
Frequency about 1 post per month.
Podcast americanveteranscenter.org/a..
Facebook fans n/a. Twitter followers 32,521.

Central Virginia About Podcast A biweekly podcast covering the last great war. A podcast on itunes and a website dedicated to telling the story of World War II.
Frequency about 2 posts per month.
Also in World War II Podcasts
Podcast worldwariipodcast.net
Facebook fans 7,001. Twitter followers 2,817.

About Podcast History Pod is written and presented by Scott Allsop, an experienced History teacher and graduate of the University of Cambridge. In addition to History Pod, he also runs www.MrAllsopHistory.com, an award winning educational website. His work has been featured in the national press, and he has made a number of television and radio appearances discussing different aspects of History.
Frequency about 5 posts per week.
Podcast historypod.net
Facebook fans 212. Twitter followers 7,110.

NYC About Podcast 'A new documentary podcast series (co-produced) by Dwayne Johnson and Dany Garcia's Seven Bucks Productions will take listeners deep into the unknown side of historic news stories trying to find out if what we think we know ever really even happened. '
Frequency about 2 posts per month.
Podcast jenkspod.com
Facebook fans 200,931. Twitter followers 91,361.

About Podcast Historical themes, events and key individuals from Akhenaten to Xenophon.
Frequency about 1 post per month.
Podcast bbc.co.uk/programmes/p01dh5y..
Facebook fans 3,850. Twitter followers 29,826.

Shanghai, China About Podcast An audio journey through the 5000 year history of one of the world's oldest continuous civilizations.
Frequency about 1 post per month.
Podcast thehistoryofchina.wordpress.com
Facebook fans 1,200. Twitter followers 1,178.

About Podcast A serious-but-funny podcast about the lives of Julius & Augustus Caesar & Ancient Rome.
Frequency about 3 posts per month.
Also in Roman Empire Podcasts
Podcast lifeofcaesar.com
Facebook fans 3,937. Twitter followers n/a.

Colorado About Podcast We started this podcast because we wanted to share our passion for history with others, and because we think the Civil War is not only a fascinating story from the past but is also important to understanding the America we live in today. In producing this podcast, we feel we're not so much doing something special, but that we're a part of something special.
Frequency about 3 posts per month.
Podcast civilwarpodcast.org
Facebook fans n/a. Twitter followers 1,646.

Los Angeles, CA About Podcast Big Lives. Little-known Facts. Great, unknown stories hide inside history every other Wednesday, we dig up what you don't know about the icons you do know. Hosts Carter and Vanessa bring history to life, telling unexpected anecdotes, describing the real personalities behind big names, and examining each individual's lasting impact on the world.
Frequency about 1 post per month.
Podcast parcast.com/history
Facebook fans 12,264. Twitter followers 6,527.

Seattle, WA About Podcast For anyone interested in an educational podcast about philosophy where you don't need to be a graduate-level philosopher to understand it. In chronological order, the thinkers and ideas that forged the world we live in are broken down and explained.
Frequency about 1 post per month.
Podcast philosophizethis.org/categor..
Facebook fans n/a. Twitter followers 23,447.

About Podcast Interviews, musings and extra material from the makers of Dan Carlin's Hardcore History. In 'Hardcore History' journalist and broadcaster Dan Carlin takes his 'Martian', unorthodox way of thinking and applies it to the past. This isn't academic history (and Carlin isn't a historian) but the podcast's unique blend of high drama, masterful narration and Twilight Zone-style twists has entertained millions of listeners.
Frequency about 1 post per month.
Podcast dchhaddendum.libsyn.com
Facebook fans 87,442. Twitter followers 215,658.

Mooresville, NC About Podcast The American Military History Podcast is dedicated to telling the story of American history through the eyes of it's military men and women. Starting with the Revolutionary war we'll cover military engagements through present day, as well as taking a few stops along the way to learn about the history of each of the branches of the American Military (Army, Navy, Marines, Air Force, etc...)
Frequency about 2 posts per month.
Podcast americanmilitaryhistorypodca..
Facebook fans 1,842. Twitter followers 724.

Portland, Oregon About Podcast he Weird History Podcast focuses on strange, unknown, and sometimes horrible corners of history. New episodes come out every week.
Frequency about 2 posts per month.
Podcast weirdhistorypodcast.com
Facebook fans 2,083. Twitter followers 1,050.

Austin, Texas About Podcast 15 Minute History is a podcast series is devoted to short, accessible discussions of important topics in World History and US History. The discussions will be conducted by the award winning faculty and graduate students at the University of Texas at Austin.
Frequency about 1 post per month.
Podcast 15minutehistory.org
Facebook fans 1,804. Twitter followers 1,376.

Salem, MA About Podcast History is full of stories we think we know. They are old and dark, but time has robbed us of perspective and clarity. They've become obscured and misunderstood. That's why this series exists: to dig deep and shed light on some of history's darkest moments. To make it Unobscured. Each season will pair narrative storytelling from Aaron Mahnke, the creator of Lore, with prominent historian interviews.
Frequency about 4 posts per month.
Podcast historyunobscured.com
Facebook fans 2,096. Twitter followers 5,075.

Manchester, England About Podcast In conversation with those that experienced the Cold War and those who are fascinated. Cold War Conversations is a series of podcasts chatting to those who lived through and experienced the Cold War first hand and those that are fascinated.
Frequency about 3 posts per month.
Podcast coldwarconversations.com
Facebook fans 866. Twitter followers 3,807.

Ottawa About Podcast Historical research firm specialized in archival research and documentation of the past - ensuring that history is interpreted with respect.
Frequency about 4 posts per month.
Podcast knowhistory.ca/category/podcast
Facebook fans 634. Twitter followers 1,155.

San Francisco, CA, United States About Podcast CURRENT SERIES - THEA (tracing the disintegration of the Seleucid Empire)
Frequency about 1 post per month.
Podcast ancientworldpodcast.blogspot..
Facebook fans n/a. Twitter followers n/a.

About Podcast A podcast on the golden age of Caribbean piracy and the captains that made their fortunes and lost their heads. From the root causes to the bitter end.
Frequency about 3 posts per month.
Podcast piratehistorypodcast.com
Facebook fans 1,633. Twitter followers 736.

About Podcast Giants of History is a documentary podcast that explores the lives of history's most fascinating and influential figures. Each series highlights the best stories and the most monumental moments in each subject's respective life. Education & inspiration through storytelling.
Frequency about 1 post per month.
Podcast giantsofhistorypodcast.com/e..
Facebook fans 134. Twitter followers n/a.

About Podcast Footnoting History is a bi-weekly podcast series dedicated to overlooked, popularly unknown, and exciting stories plucked from the footnotes of history. The brainchild of Elizabeth Keohane-Burbridge, Footnoting History began airing in February 2013 and has been growing ever since. Our rotating ensemble of podcasters all possess graduate degrees in the field of history. Each historian conducts his or her own research and creates the content of their episode.
Frequency about 2 posts per month.
Podcast footnotinghistory.com
Facebook fans 1,125. Twitter followers 3,070.

About Podcast Starting in Florence in the 14th century, a new era began to emerge in the West. People like Petrarch, who re-discovered Cicero's lost letters, and the new humanists - who valued the study of classical antiquity - ushered in a rebirth, or as we know it today, a 'renaissance' - in the study of the arts, the sciences, philosophy, and the theatre. They rediscovered what it meant to be human.
Frequency about 3 posts per month.
Podcast therenaissancetimes.com
Facebook fans 328. Twitter followers n/a.

About Podcast The goal of the Dangerous History Podcast is to help you learn the past so that you can better understand the present and prepare for the future. The Dangerous History Podcast takes CJ's countless hours spent as a Professional History Dork and boils all the most interesting and/or important stuff he has learned into podcast episodes, combining education with entertainment with the ultimate goal of empowerment.
Frequency about 3 posts per month.
Podcast dangeroushistorypodcast.com
Facebook fans 1,429. Twitter followers 1,962.

Missouri, USA About Podcast History of the Great War is a weekly podcast that will cover the First World War that occurred from 1914 and 1918.
Frequency about 1 post per week.
Podcast historyofthegreatwar.com
Facebook fans 1,480. Twitter followers 959.

About Podcast A Chronological Journey through the Revolutionary War. American Revolution Podcast explores the events of the American Revolution, from beginning to end. It publishes weekly. Be sure to check out the related blog for access to pictures, maps, and links to more useful information on each week's episode.
Frequency about 1 post per week.
Podcast blog.amrevpodcast.com
Facebook fans n/a. Twitter followers 557.

New York About Podcast Leon Neyfakh excavates the strange subplots and forgotten characters of recent political history and finds surprising parallels to the present. Season 1 of Slow Burn captured what it felt like to live through Watergate; Season 2 does the same with the saga of Bill Clinton's impeachment.
Frequency about 1 post per month.
Podcast slate.com/slow-burn
Facebook fans 1,522,277. Twitter followers 16,452.

Minnesota, USA About Podcast The Maritime History Podcast is an episodic journey through the history of ships, sailing, naval and maritime history, and much more...
Frequency about 1 post per month.
Podcast maritimehistorypodcast.com
Facebook fans 1,617. Twitter followers 1,099.