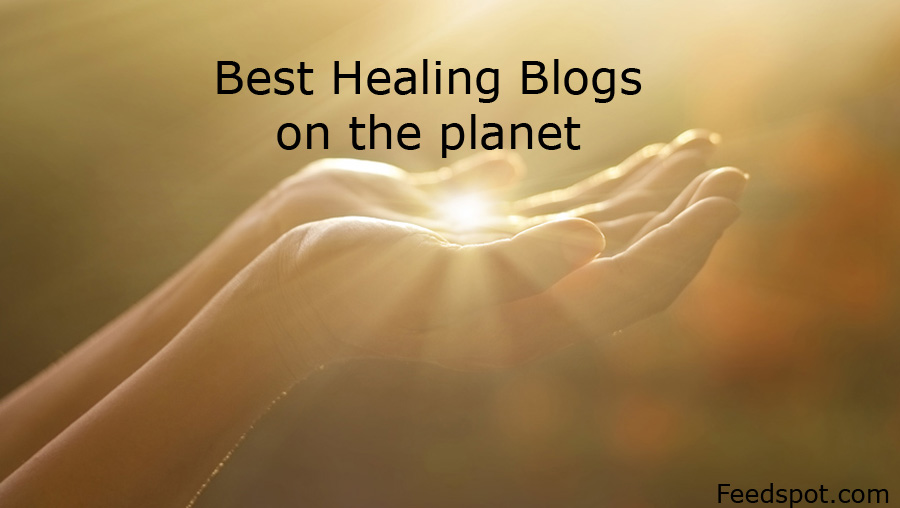 Healing Blogs List
The Best Healing blogs from thousands of top Healing blogs in our index using search and social metrics. Data will be refreshed once a week.
If your blog is selected in this list, you have the honour of displaying this Badge (Award) on your blog.
Top Healing Blogs
Rank

Blog Name

Facebook Fans

Twitter Followers

Alexa Rank

1

Torrance, California

About Blog - The Energy Muse Blog brings you ancient wisdom for modern times. This is your go to guide for healing, crystals, spirituality and more. Our mission is to educate and reconnect the world to the ancient wisdom & healing properties of crystals. By connecting the world with the power of crystals and their intention, we are empowering people to tap into their own personal magnificence.
Frequency - about 3 posts per week

232,413
11,637
219,713
2

the-energy-healing-site.com/..

About Blog - A down-to-earth guide to energy healing. Learn basic concepts, simple self-healing techniques, energy anatomy, and tips for choosing a healer.
Frequency - about 4 posts per month

1,158
31
1,255,228
3

About Blog - Meditation and Healing is an online channel which aims to serve you Meditation and different forms of Relaxation music. Connect your body and mind through music is our main objective.
Frequency - about 6 posts per week

197
81
2
4

Dublin, Ireland

About Blog - Abby Wynne's website. Healing Mind, Body and Spirit. My healing practice has become less about techniques and more about you. Come see what I have to offer. Here you will find posts which include energy tips, thoughts, exercises and energy healing techniques.
Frequency - about 2 posts per month

133,891
30,925
5,599,770
5

hibiscusmooncrystalacademy.c..

Pompano Beach, FL

About Blog - Master the science, art and fun of crystal healing and therapy and know a unique perspective to the world of crystal healing by learning what they're capable of.
Frequency - about 2 posts per month

322,078
3,058
344,162
6

Los Angeles, CA

About Blog - Deborah King is a New York Times best-selling author, a recognized media personality, and the world's leading authority on energy healing Deborah mastered ancient and modern healing systems, ultimately developing a powerful healing technique of her own. She has since gone on to develop LifeForce Energy Healing and Coaching courses that both teach and transform.
Frequency - about 1 post per week

288,144
15,600
513,410
7

blissfullight.com/blogs/ener..

About Blog - Blissful Light provides quality online, distance energy healing attunement courses, treatments, services and psychic readings in a welcoming environment. Find articles, guides, and thoughts about all aspects of energy healing, healing modalities and systems, Reiki, Seichim.
Frequency - about 2 posts per month

172
5,832
3,450,218
8

Ananda Village

About Blog - Ananda is a worldwide movement based on non-sectarian yoga teachings of Paramhansa Yogananda, which include meditation, Kriya Yoga, and spiritual community. Visit www.ananda.org for free meditation lessons, video, music, books, and daily inspiration.
Frequency - about 1 post per month

44,906
762
210,189
9

naturalhealingmagazine.com/c..

About Blog - Heal your body the natural way! Natural Healing magazine is a site about the powers of nature.
Frequency - about 3 posts per month

n/a
n/a
518,191
10

USA

About Blog - Welcome to Healing Energy Tools, your number one source for high quality handcrafted meditation pyramids. After our experience using pyramids and a thorough analysis of the best way to build our energetic pyramids, we have managed to produce a unique hand crafted mobile pyramid. Our mission is to see more people using pyramids around the world and raise the vibration on planet earth nowadays.
Frequency - about 3 posts per week

26,376
1,623
645,348
11

Florida, USA

About Blog - Ancient Wisdom for the Modern Practitioner. Big Tree School of Natural Healing supports health practitioners by teaching Chinese Medicine to Massage Therapists and hands-on skills to Acupuncturists. We are dedicated to education that stretches the limits of what Acupuncture and Massage Therapy have to offer; an integrated approach called the meridian massage method.
Frequency - about 2 posts per month

66,018
331
824,833
12

Boulder, CO

About Blog - Jonathan Goldman is a writer, musician and teacher. He is an authority on sound healing and a pioneer in the field of harmonics.
Frequency - about 1 post per month

28,450
6,107
930,578
13

San Francisco, CA

About Blog - A place for those in need of assistance from energy workers and healers.
Frequency - about 1 post per week

1,134,314
498,734
9
14

Yorkshire, England

About Blog - Crystal Healing Blog shares useful guides and tips for working with your crystals and creating sacred space.
Frequency - about 3 posts per month

684
n/a
1,062,236
15

Los Angeles, CA

About Blog - As an expert in mind-body-spirit healing, Amy helps clients to balance, release, and clear energy in relationship to traumatic events, limiting beliefs, subconscious blocks, and negative emotions.
Frequency - about 1 post per month

9,743
1,250
1,103,640
16

About Blog - Grief Healing Blog is aimed at professional and family care-givers who serve the needs of anyone anticipating or coping with significant loss, including animal lovers, the elderly, the seriously ill and dying, and those who are living with disabilities. This blog is designed and intended to share any useful, accurate and reliable information about care giving, loss, grief and transition.
Frequency - about 3 posts per week

3,233
3,852
1,205,124
17

New Delhi, India

About Blog - Transforming mind, body, relationships and overall wellbeing with holistic healing. Our mission is to build a world where humanity is operating at its most rewarding, satisfying and fulfilling frequency. We wish to help all live bright and enjoyable lives by being free from any well being inhibitors (physical, mental, emotional, and even psychological).
Frequency - about 3 posts per month
Since - Sep 2016

10,263
947
1,318,756
18

Las Vegas, NV

About Blog - This blog has been designed to support William Weigel's healing process and to be a place of reference for her clients. You will find crystal meanings, chakra information, and crystal uses throughout history.
Frequency - about 3 posts per month

11,223
460
1,307,334
19

holistic-mindbody-healing.co..

Northern New York

About Blog - Discussing how to heal yourself and the world. Self-healing topics include: healthy living, spiritual wellness, emotional and mental healing, the power of the mind to heal, energy healing techniques, physical health, herbs and health and more. Topics about healing the world include: a spiritual perspective of our interrelationship with all living beings, ahimsa non-injury and more.
Frequency - about 1 post per month

581
3,885
1,634,676
20

neetasinghal.com/category/he..

Mumbai, India

About Blog - Spiritual healer Neeta Singhal is the penultimate authority in the realm of Chakra healing, Yog and Rudraksha Ratna Therapy. Mission is to guide all Souls towards Self Realisation through Chakra Awareness.
Frequency - about 1 post per month

9,520
195
1,527,157
21

healingfromcomplextraumaandp..

Queensland, Australia

About Blog - I am a survivor of multiple, severe, complex trauma and abuse. It is my hope this blog helps many on the same journey to healing as I am. At the age of 40, my healing journey began, when following a near breakdown in 2012, I was forced to acknowledge and deal with my past, after many years of avoiding, minimizing and denying the severity of the abuse, due to fear and complete lack of support.
Frequency - about 4 posts per week
Since - Apr 2013

64,798
16,198
1,639,724
22

drkimderamo.com/mind-body-he..

Boston, MA

About Blog - Physician and #1 bestselling author of The MindBody Toolkit. Self-Healing to increase energy and reverse disease!
Frequency - about 4 posts per month

5,264
360
1,744,746
23

Bellevue, Washington

About Blog - Velda Wilson is a Vibrational Medicine Practitioner, Certified Energy Therapist, Certified Gemstone Therapist, and Reiki Master. Her blog is dedicated to women wanting to become more self-aware in their personal healing journey and also promotes harmony and balance within, relieving stress and supporting the body's natural ability to heal.
Frequency - about 3 posts per month

n/a
n/a
1,894,359
24

California

About Blog - Vedic Healing is a consulting company based in the San Francisco bay area.
Frequency - about 4 posts per month

3,091
2,923
1,843,053
25

healingtouchprogram.com/htp-..

United States

About Blog - Healing Touch Program is a leader in energy medicine, offering a multi-level certification program to individuals and healthcare professionals desiring an in-depth understanding and practice of healing work using energy based concepts that support the integration of healing arts with conventional medicine.
Frequency - about 1 post per month

8,622
250
2,091,655
26

About Blog - Affair recovery guides, articles, stories, discussions, books, and counseling to help with healing after infidelity.
Frequency - about 2 posts per month

48
n/a
2,005,680
27

About Blog - We offer private healing and guidance sessions for individuals and couples, small group sessions, an ongoing webinar series, healing audio downloads, a book for indigos/sensitive souls, training and mentoring for healers, a YouTube channel, a blog, free healing calls, and much more to come.
Frequency - about 1 post per month

6,259
n/a
2,101,644
28

healinglifestyles.com/catego..

Worldwide

About Blog - Designed to inspire, heal, and awaken, Healing Lifestyles & Spas provides the information we need to balance our lives. Our viewers wish to connect with higher purpose, hope to infuse wellness into their lives, and desire to feel more balanced with the least amount of stress.
Frequency - about 4 posts per week

10,533
19,223
2,286,313
29

crystalhealingforwomen.com/blog

About Blog - The latest news from Crystal Healing For Women. Crystals Brought Me To You And Now I AM Sharing My Story And Them With You. My site is about Crystal Healing, with a very specific purpose behind. To bring the magic, beauty, and powerful metaphysical properties of crystals to others who may benefit from the use of the Crystal Healing Kits, I lovingly create, with the best of intentions.
Frequency - about 2 posts per month

1,119
13
2,483,533
30

Australia

About Blog - In the early 2000s, Melissa embarked on a journey of self-discovery which lead to a very rewarding and beautiful spiritual awakening. She has since mastered the healing arts of massage and Reiki; sharpened her intuitive skills & awareness; as well as created her own 'spin' on healing, which she refers to as "loving energy healing".
Frequency - about 4 posts per month

1,281
633
3,265,637
31

About Blog - As a prophetic healing evangelist, faith healer, Bible teacher, and an author about faith for the miraculous, I know that you need to tap into the supernatural power of faith to receive your healing, but first you must learn how to believe. I'm here to teach you how to do just that– believe and receive your miracle, and then release His supernatural power to others. Blog by Becky Dvorak.
Frequency - about 1 post per week

2,233
748
3,489,704
32

Southern Thailand

About Blog - Dean Ramsden is the creator of the field of Relational Energy Therapy, a synergistic approach combining energy healing, chakra development, chakra relational cords, and Astral energy healing.
Frequency - about 1 post per month

n/a
333
4,009,897
33

Northampton, UK

About Blog - The Healing Trust was founded in 1954 as the 'National Federation of Spiritual Healers'. We are the largest pan-denominational membership organisation of Healers in the UK, with the purpose of promoting healing as a natural and effective choice for all.
Frequency - about 1 post per month

403
54
4,079,364
34

India

About Blog - Healing forest is a journey to explore fascinating forests and discover the healing powers of nature. Our aim is simple. Helping people heal. Helping forests heal. Mission is to build a wise community of like minded people who care about the planet. Join us in this exploration of fascinating forests and other healing spots on this planet.
Frequency - about 1 post per month

122,136
241
4,062,845
35

About Blog - Biofield Healing will bring you into the power and presence of who you really are, so you can enjoy your life fully and share your brilliance.
Frequency - about 1 post per month
Since - Nov 2015

n/a
n/a
4,420,827
36

healingfoundation.org.au/res..

Australia

About Blog - Established on the first anniversary of the Apology the Healing Foundation is an independent Indigenous organisation which engages communities to develop our healing our way and funds education and research on healing.

Frequency - about 2 posts per month

25,449
6,961
4,860,202
37

morriscerullo.com/category/h..

About Blog - For 70 years, God has used Morris Cerullo to pioneer overseas evangelism and build God an army in many countries that have been considered closed to the Gospel.
Frequency - about 1 post per month
Since - Feb 2017

683,582
17,404
4,934,430
38

New Jersey

About Blog - Discover how Energy Healing can rapidly reduce stress and anxiety. Learn EFT tapping, meditation, and more with psychologist and author, Dr. Patricia Carrington. Read about the latest innovations in the Energy Psychology field with Energy Healing Updates.
Frequency - about 2 posts per month

n/a
2,300
6,107,310
39

3010 Skyway Drive, Santa Maria

About Blog - Home to the Healing Rooms of the Santa Maria Valley—where thousands of people have come for healing over nearly two decades—the center is also home to the Healing Rooms House of Prayer that is working with teams in our region to build night and day prayer with worship.
Frequency - about 2 posts per month

3,235
53
6,291,623
40

Brooklyn, NY

About Blog - Nicole's intention as a healing & yoga guide is to assist in releasing ancestral wounding and lifetime conditioning. Her goal is that through this subtle work, she and those who work with her can live their best lives and pass their blessings forward to those they love, the world and future generations. ​ ​
Frequency - about 1 post per month

627
458
7,002,229
41

annejones.org/category/blogs..

Hampshire

About Blog - I am a spiritual healer, writer and seminar speaker and am here to help you heal your emotional, spiritual and mental pain and issues. I teach and share my personal experiences and the spiritual guidance that has transformed my own life. I specialise in helping therapists and healers connect to their true spiritual strength. Blog by Anne Jones.
Frequency - about 1 post per month

9,807
1,874
8,945,380
42

Los Angeles

About Blog - Pranic Healing is based on two major principles. First, that the physical body is capable of healing itself. Secondly, that for life to exist it must have energy. Find Helpful tips and tools on healing a wide variety of ailments and issues. Suggestions for healthier living.
Frequency - about 1 post per month

416
693
8,350,640
43

sacredrootsholistichealing.c..

Long Beach

About Blog - We are a collective of healing practitioners and doctors providing alternative healing. We offer services including therapeutic massage, chiropractic, ayurveda, acupuncture, counseling, meditation, infrared sauna lodge and a variety of energetic healing.
Frequency - about 3 posts per month

2,810
31
8,990,127
44

About Blog - Blog by Brandon Weston, I'm a spiritual healer, native plant herbalist, folklorist, and writer living in the beautiful Arkansas Ozark mountains. His mission is to use spiritual healing for the sick and spellbound soul.
Frequency - about 4 posts per week

656
55
7,089,637
45

healingpowers.net/exploringt..

About Blog - Healing Powers was started to share information and resources on healing and metaphysical topics. Healing Powers TV has been established and a podcast launch in 2011. Also check the great service and product listings, as well as the events page for upcoming opportunities to connect in person.
Frequency - about 1 post per month

387
435
7,854,774
46

About Blog - The doctor of the future will give no medicine, but will interest her or his patients in the care of the human frame, in a proper diet, and in the cause and preven­tion of disease. The mission of The Healing Tree Wellness Center is to use safe, natural, healing modalities combined with wellness education to help you, our clients, family and friends achieve healthier, more balanced lives.
Frequency - about 2 posts per month

1,826
2,238
9,414,889
47

Glens Falls, NY

About Blog - Healing Spring Christian Ministries is an ecumenical Christian healing and prophetic prayer ministry based in Glens Falls, NY. We pray for healing from physical, emotional and spiritual conditions. We also train and equip Christians to pray for healing and minister in the gifts of the Holy Spirit.
Frequency - about 1 post per month

300
3
10,470,186
48

crystalhealingtechniques.com..

USA, London, UK, Cape Town, South Africa

About Blog - Get interesting articles and videos on crystal healing techniques. Also find answers to everything you wanted to know about crystals, but didn't know who to ask.
Frequency - about 1 post per month

327
10
10,490,064
49

About Blog - People the world over are starting to become aware of the energies around us and how they impact our health and well-being. Mission is to help as many people as we can with our healing and protective tools.
Frequency - about 1 post per month

16,253
n/a
13,431,071
50

About Blog - Find Healing. Find Hope. Find Life. Spiritual Transformation in the Bible shows us that the abundant life is possible.
Frequency - about 1 post per week
Since - Jul 2017

n/a
n/a
15,792,770
51

alovinghealingspace.blogspot..

Boulder, Colorado

About Blog - A Healing Space... reflections on love, meaning, and the aliveness of immediate experience. My research interests included contemporary psychodynamic/ relational theory as well as mindfulness-based, contemplative approaches to psychological healing and spiritual transformation.
Frequency - about 4 posts per week

32,092
622
n/a
52

About Blog - Yvette Ulloa chose to share this blog in the hopes of inspiring you or someone you care about who is going through a healing journey. Whether physical, emotional or both…Yvette's goal is to provide a positive role model through the healing process.
Frequency - about 1 post per month

11,971
9,015
n/a
53

Brisbane Australia

About Blog - I'm a healer, medium, medical intuitive & author of The Disciple. I travel throughout Australia, & the world doing healings & communicating to spirit. Blog by Simon Hay.
Frequency - about 1 post per month

1,708
10,479
n/a
54

Hawaii, USA

About Blog - Quantum Healing Hypnosis Technique℠ (QHHT®) is the process of communicating directly with your Higher Self using a breakthrough past life regression method. I am passionate about the QHHT work because I see its importance in healing others as well as a tool to gather lost historical knowledge. Blog by Maria Sherow.
Frequency - about 3 posts per month
Since - Jan 2017

523
7,008
n/a
55

sacred-energy-healing.com/bl..

About Blog - An intuitive, heart-centered healing experience with Sophia awaits you with Reiki, shamanism, chakra balancing, compassion, spiritual guidance, crystal therapy, and mindfulness. Her gentle, non-judgmental, down-to-earth style creates an environment of safety, comfort and support
Frequency - about 2 posts per week

5,464
n/a
n/a
56

orangecountyhealingcenter.co..

Orange County, CA

About Blog - Shaman Isabella Stoloff founded the Orange County Healing Center in 2009 and speaks on positive thought and transformation all over the world. She holds ceremonies, provides group and one-on-one healing sessions which make you feel lighter and more connected to your spiritual path. Chakra balancing, soul retrievals and extractions are just part of her healing sessions.
Frequency - about 1 post per month

1,877
1,185
n/a
57

Miami, FL

About Blog - Healers of the Light is an alternative healing academy, offering workshops, seminars, retreats and events, bringing innovative healing programs based on the application of metaphysical healing methods. Strong community approach. Our mission educate and bring awareness to the community of various healing methods, alternative to traditional medicine.
Frequency - about 2 posts per week

2,609
37
n/a
58

India

About Blog - Counselling, NLP Life Coaching, Guided Meditation, Sound Healing, Past Life Regression, Couples Therapy and Private Retreats in the Nilgiris & Himalayas, India.
Frequency - about 3 posts per month

1,301
263
n/a
59

healinginharmonycenter.com/blog

Glastonbury, CT

About Blog - Welcome to The Healing in Harmony Center Your spiritual journey has brought you do this site so our lives could intersect at some level. Please explore and perhaps you will find out why. Whether it be a service, a class or a special event you will find yourself immersed in a community of seekers.
Frequency - about 1 post per month

1,310
98
n/a
60

fullcirclespiritualhealing.c..

About Blog - Welcome to Fullcircle Spiritual Healing - walking the path of faith & trust.
Frequency - about 1 post per month

1,072
n/a
n/a
61

Philadelphia, PA

About Blog - The Healing Way is a multi-service program providing specialized services to adults experiencing drug and/or alcohol abuse, emotional, social and economic problems. Using a staff multidisciplinary approach, The Healing Way focuses upon the client as a person and their needs. The philosophy of The Healing Way is holistic in nature.
Frequency - about 1 post per month

741
354
n/a
62

Universal

About Blog - The Mystic Agent page offers evolutionary, self-realizing content that will cultivate simplicity of being. We offer leading-edge energy concepts through our posts using real-life experience and humor that can help you to create "Your Life ~ Your Way.
Frequency - about 2 posts per week

745
157
n/a
63

yogaandhealing.com.au/blog/b..

Sydney, New South Wales

About Blog - Yoga and Healing provides group yoga classes, private yoga sessions and Esoteric Therapies in Balmain, Upper North Shore and the Northern Beaches.
Frequency - about 1 post per month

542
318
n/a
64

About Blog - Eve Wilson bridges healing for individuals, soul groups and the planet, returning us to wholeness; with ascension work - helping all life to raise in vibration so our physical experience finds unity with our eternal spiritual essence. Helping people, the planet and all life to find unity with our true selves through healing treatments, classes and ascension work
Frequency - about 4 posts per month

357
304
n/a
65

medicinalhealing.com.au/blog..

About Blog - Medicinal Healing is a place that you can visit to re-establish your true health. Offer's support for a range of conditions including depression, anxiety, chronic health issues
Frequency - about 84 posts per week

541
n/a
n/a
66

wellnesstransformations.com/..

Pennsylvania, USA

About Blog - Specialize in spiritual and health healing through personal consultations, nutrition and life coaching to help my clients learn to improve their wellbeing.
Frequency - about 1 post per month

362
154
n/a
67

Winter Park, FL

About Blog - The All Saints Healing Ministry provides opportunities for the community to come receive Jesus' healing for physical, emotional/mental, and spiritual issues. We also provide teachings about healing through workshops, classes. The mission of healing thoughts is to introduce the lord as our healer through writings that talk about his healing power at work in our lives and circumstances.
Frequency - about 3 posts per month

239
50
n/a
68

West Seneca, NY

About Blog - Darcy Thiel is a Licensed Mental Health Counselor. A Family's Journey with Cancer and most recently Life After Death, On This Side of Heaven.
Frequency - about 4 posts per month

215
61
n/a
69

About Blog - Point of Healing Acupuncture will enhance your quality of life by strengthening the natural healing ability of each patient through comprehensive, personalized, affordable treatments.
Frequency - about 2 posts per month

209
n/a
n/a
70

heal-spirit.com/spiritual-he..

About Blog - The Heal Your Soul Blog is my mean to help, support, and inspire people through their spiritual healing processes. Learn how to heal your soul to return to your already-whole-self. Spiritual healing is a process of healing spirit, wounds and pain on the level of the soul.
Frequency - about 2 posts per week

16
n/a
n/a
71

Los Angeles, CA

About Blog - A website devoted to empowering individuals to heal their own bodies and lives through Spiritual Truth and Principles.
Frequency - about 1 post per month

n/a
186
n/a
72

About Blog - HNJ Healing Clinic provides Acupuncture in Scottsdale Arizona for your holistic health.
Frequency - about 2 posts per month

74
n/a
n/a
73

About Blog - Come join us on an unprecedentedly easy conscious path of healing! Your journey toward change and healing is so simple, that our catch phrase at Ascend-Now is "Sit back, relax, and allow the energy to change." Read our spiritual healing blog for ongoing journeys toward enlightenment and positive living.
Frequency - about 1 post per month

68
n/a
n/a
74

About Blog - Backed by more than 29 years in the medical field, Debbie turned her attention to holistic mending and the ancient practice of reiki healing. Debbie uses the tools and techniques such as healing crystals, chakra healing, and meditation taught to her by reiki masters. Her focus is on restoring the energetic pathways throughout the body's systems, by implementing reiki and energy healing.
Frequency - about 3 posts per month

66
n/a
n/a
75

California

About Blog - LIVE IN YOUR ETERNALLY PERFECT BODY, LEARN HOW. Within everyone is their perfect body, their perfect mind and their perfect balance. Since 1975, the correspondence courses of the University of Healing have effectively revealed to students around the world their spiritual mastership.
Frequency - about 9 posts per week

n/a
n/a
n/a
These blogs are ranked based on following criteria
Google reputation and Google search ranking
Influence and popularity on Facebook, twitter and other social media sites

Quality and consistency of posts.

Feedspot's editorial team and expert review
Top 75 Healing Blogs Winners
CONGRATULATIONS to every blogger that has made this Top Healing Blogs list! This is the most comprehensive list of best Healing blogs on the internet and I'm honoured to have you as part of this! I personally give you a high-five and want to thank you for your contribution to this world.
If your blog is one of the Top 75 Healing blogs, you have the honour of displaying the following badge on your site. Use the below code to display this badge proudly on your blog. You deserve it!:
<a href="https://blog.feedspot.com/healing_blogs/" title="Healing blogs"><img src="https://blog-cdn.feedspot.com/wp-content/uploads/2017/08/Healing-transparent_216.png" ></img></a>
Tags: healing rss feeds