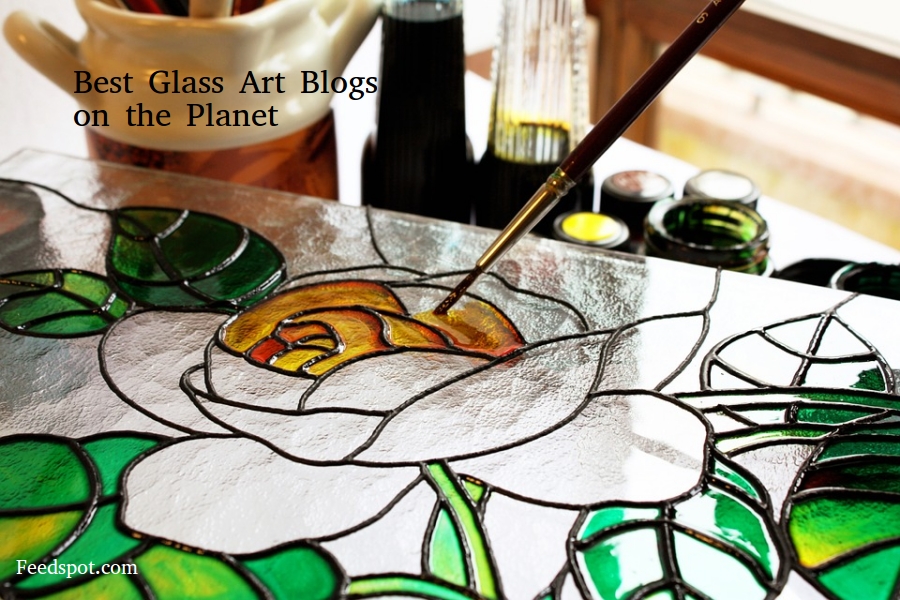 The Best Glass Art blogs from thousands of top Glass Art blogs in our index using search and social metrics. Data will be refreshed once a week.
If your blog is selected in this list, you have the honour of displaying this Badge (Award) on your blog.
Rank

Blog Name

Facebook Fans

Twitter Followers

Alexa Rank

1

youtube.com/user/glasssculptor

CA, USA

About Blog - Glass sculpture artist extraordinaire, Jack Storms has achieved serious recognition in both the public arena and the demanding world of fine art, since he opened his own studio in 2004. These beautifully reflective, hand-sculpted pieces begin with a core of dichroic glass pieces; each cut, polished and laminated until they shine like mirrors.
Frequency - about 2 posts per week

359,899
8,237
2
2

youtube.com/user/corningmuse..

Corning, New York, USA

About Blog - Home to the world's largest collection of glass, showcasing 3,500 years of glass art and history, The Corning Museum of Glass welcomes visitors from around the world to explore the amazing properties of glass.

Frequency - about 1 posts per week

90,293
13,865
2
3

Berkeley, CA

About Blog - Revere Glass is a glassblowing studio in Berkeley, CA offering classes and studio space. Subscribe to this channel for more videos on online classes, hang out with tehm for a session, and help spread the knowledge.

Frequency - about 1 post per week

10,465
1,083
2
4

youtube.com/user/museumofglass

Tacoma, WA

About Blog - Videos to inspire and educate about glass as an art medium, from live glass blowing to conversations with world-renowned artists. Experience contemporary glass art in a breathtakingly beautiful museum on Tacoma's revitalized waterfront.
Frequency - about 3 posts per week

35,302
9,745
2
5

Portland, OR, United States

About Blog - Bullseye Glass is the first company in the world to formulate and manufacture glasses that are factory-tested for fusing compatibility. Bullseye Glass Company is a leader in promoting glass art worldwide through quality production of colored glass for art and architecture, research and education, and the presentation of innovative glass art in its Portland gallery.

17,825
4,348
494,011
6

Beacon, New York

About Blog - A blog dedicated to contemporary and modern lighting design, located at Beacon, New York. Niche Lighting Specializes in crafting fine modern hand blown glass lighting and chandeliers.
Frequency - about 7 posts per week

66,494
1,448
899,689
7

Colorado

About Blog - KravinGlass.com was started back in 2009 so that I can share my work with a larger audience. I've been melting glass for over 17 years in Colorado and I'm mostly self taught. I started out by learning the basics from a friend and set up my own studio a few years later.
Frequency - about 1 post per month

11,711
616
2
8

youtube.com/user/GlasscraftINC

Colorado/Eugene

About Blog - Founded in 1970 by Homer Hoyt, one of America's flameworking pioneers, Glasscraft is a leading distributor of the finest selection of glassworking supplies, tools, and equipment.
Frequency - about 1 post per month

9,342
2,147
2
9

San Francisco, CA

About Blog - Discussions, news and everything related to glass art.
Frequency - about 1 post per month

1,119,990
489,374
8
10

news.google.com/news/section..

Mountain View, CA

About Blog - Comprehensive up-to-date coverage for glass art, aggregated from news sources all over the world by Google News.
Frequency - about 4 posts per week

n/a
213,317
1
11

Brooklyn, NY

About Blog - UrbanGlass is a community built around artists who use glass as a creative material. It is an open-access glassworking facility and international center for new art made from glass.
Frequency - about 4 posts per week

8,581
2,902
1,043,049
12

illuzionglassgalleries.com/blog

About Blog - The stories behind some of the art, companies, artists, and products in our Galleries. The only 4-time Glass Gallery of the Year winner! We support American artists and makers of hand-blown glass waterpipes and accessories.
Frequency - about 2 posts per week

8,782
62
1,350,113
13

thirddegreeglassfactory.com/..

St. Louis, MO

About Blog - Third Degree functions as an artists' studio, education center, fine art gallery, and event space. They also offer private demonstrations and lessons to small groups.
Frequency - about 2 posts per week

7,658
869
2,153,173
14

966 Western Ave Manchester, ME

About Blog - Stained Glass Express is a family-owned business that specializes in stained glass, fusing, mosaics, flameworking (bead making) and etching supplies, glass gifts, church window restoration, glass art classes, cabinet door glass and custom stained glass art.
Frequency - about 1 post per month

1,773
353
2,677,496
15

Bristol, UK

About Blog - Bohemian Glass is a decorative glass produced in Bohemia and Silesia by studio glass artists since the middle ages. We shortened Bohemian Glass to Boha Glass to come up with our company name. Although we admire glass from all over the world, but we are fascinated by Eastern European Glass. We decided to specialise in this area and have searched to find the very finest studio glass artists.
Frequency - about 1 post per week

5,297
1,193
2,928,112
16

Costa Mesa, CA

About Blog - LIULI Gong Fang started out in 1987 as a modest seven-person Glass Studio creating Liuli (cystal) art by Pâte-de-verre (Lost wax casting). At LIULI Crystal Art, we dedicate ourselves to an age-old method of glass art. LIULI has become known around the world for its outstanding artistic endeavors. We have become the world leaders and innovators in glass arts.

13,749
1,043
3,118,249
17

Newark, NJ

About Blog - GlassRoots ignites and builds the creative and economic vitality of greater Newark, with a focus on under-served youth and young adults, through the transformative power of the glass art experience.
Frequency - about 1 post per week

2,075
813
4,198,958
18

San Marcos, TX

About Blog - Wimberley Glassworks is Texas's premier hand blown glass lighting and art glass studio, creating exclusive glass collections, limited edition vases, sculptures, platters and lighting since 1992. Wimberley Glassworks hosts daily glass blowing demonstrations for travelers and art glass enthusiasts from around the world.
Frequency - about 1 post per month

3,416
230
5,860,827
19

washingtonglassschool.com/sc..

Washington DC

About Blog - The Washington Glass School is a unique educational program in the Nation's Capital area, operating as the sculptural glass education, artistic and community center and resource for the mid-Atlantic region, serving students, artists and the general public. It encourages research and exploration of new techniques in all aspects of glass (kilncast, fused, cold worked) as well as other media.
Frequency - about 2 posts per week

1,685
780
8,278,990
20

naturalseaglass.com/blogs/news

Sarasota County, Florida

About Blog - Out Of The Blue Sea Glass Jewelry is the oldest full time sea glass jewelry business in the world. Their sea glass was collected on beach and worn smooth in the sea.

9,782
n/a
8,710,101
21

store.sundropjewelry.com/blo..

Berkeley, CA

About Blog - Sundrop Jewelry is made using a large magnifying lens to concentrate sunlight to melt and shape glass. Sundrop Jewelry is made using a large magnifying lens to concentrate sunlight to melt and shape glass.
Frequency - about 1 post per month

767
100
9,142,898
22

kaiserlee.com/fuse-it-with-p..

About Blog - Kaiser-Lee, LLC is specialized in Glass Fusing since over 2 decades, now. And with glass fusing we refer to kiln forming glass in kilns. KILN FORMING with Kaiser Lee Board is the most versatile way to create shapes and sculptures in a kiln.
Frequency - about 1 post per week

1,073
n/a
10,332,011
23

fusionartglass.com/fusion-blog

About Blog - Founded in 1996 by glass artist Russ Gilbert, Fusion Art Glass has grown to represent over one hundred and fifty North American artists. Focusing on small, independent studios and quality craftsmanship each piece is individually created with excellence in mind.
Frequency - about 1 posts per week

2,089
n/a
10,713,799
24

About Blog - Artist Henry Richardson (b. 1961) grew up in Syracuse, NY. He attended Haverford College, PA where he studied geology and art. Combining his business acumen with his love of art, Henry built a studio in Lee, MA where he currently lives and works. Henry's work is in private and corporate collections throughout the US.

n/a
n/a
10,896,869
25

About Blog - A blog about Handmade wearable glass art, made by the hands of Astrid Riedel contemporary lampwork artist.
Frequency - about 2 posts per week

n/a
n/a
11,482,442
26

elegantfusedglassbykaren.com..

Colorado

About Blog - Elegant fused glass art is handcrafted by layering glass and then fusing it together to form a solid piece that is made into many types of art. My name is Karen and I create each piece of Fused Glass jewelry and gallery art in my home studio in Colorado Springs, Colorado.
Frequency - about 6 posts per week

n/a
145
12,033,321
27

artglasscenteratglenecho.org..

About Blog - From its beginnings more than 40 years ago Art Glass Center has blossomed from a tiny teaching space to a spacious studio and light-filled gallery. The AGC was one of the first organizations to join the National Park Service's unique enclave of visual and performing arts groups in the historic Glen Echo amusement park.
Frequency - about 2 posts per week

234
n/a
12,641,787
28

About Blog - Craftsman/ Owner Marc S. Haeger is superb in the craftsmanship of art glass windows. He has an unusual discerning eye for subtle colors and is adept in interpreting designs into glass. Marc has exceptional patience and aptness in handling delicate old windows in restoration.

71
n/a
13,600,115
29

oohshinyartglass.com/blogs/news

Appleton, WI

About Blog - Emilie Steinmann the name and face behind Ooh Shiny Art Glass LLC is a fused glass artist based out of her home studio in Menasha, Wisconsin. She creates one of a kind glass art, ranging in size from tiny wire-wrapped necklaces and earrings to large wall installations. Ooh Shiny Art Glass LLC truly specializes in extra thick and durable fused glass art with trendy color combinations.
Frequency - about 1 post per week

567
120
13,883,646
30

About Blog - Hudson River Sea Glass is about Genuine Sea Glass Jewelry from sea glass found on the Hudson River.
Frequency - about 1 post per month

251
n/a
15,213,646
31

cumberlandstainedglass.com/blog

Mechanicsburg, PA

About Blog - Cumberland Stained Glass, located in Mechanicsburg, PA, specializes in commercial and residential stained glass and stained glass restorations.

171
8
16,036,067
32

About Blog - Annie Mulholland is a stained glass artist and teacher. Aspire to create beautiful stained glass, drawings and paintings.
Frequency - about 1 post per month

1,064
n/a
17,434,578
33

Long Beach Island, NJ

About Blog - SwellColors Glass Studio & Gallery produces custom stained glass to suit all architectural needs, both commercial and residential. They design custom fused glass art, mosaic glass art, and flame-worked glass. This blog is a great way to share with their customers the time, expertise, and love that goes into both running an art studio & designing & fabricating artisan-crafted, custom stained glass.
Frequency - about 3 posts per week

1,059
369
17,523,365
34

Philadelphia PA

About Blog - Luxury design for interior decor by Bernard Katz Glass. Katie Katz writes about glass art and interior design. Follow this blog for Hand blown art glass sculpture and custom glass art installations for private collectors, art consultants and architects worldwide.

889
2,445
17,709,277
35

davidjacobsonglass.com/david..

About Blog - David Jacobson makes hand-blown and kiln-formed glass utilizing contemporary designs based in the Venetian tradition. Jacobson makes brightly colored functional objects, such as bowls, glasses, vases and platters, and also sculptural objects.

638
n/a
19,077,080
36

About Blog - My name is Kristin Anderson. I began working with fused glass several years ago as an outlet to my daily analytical work as an Engineering Director. Up until now, I have focused on sharing my glass with friends and family offering them pieces I made.

379
n/a
20,168,845
37

boehmstainedglass.blogspot.com

About Blog - Kathy is an Event Photographer, as well as a Stained Glass Artist. Boehm Stained Glass Studio, was launched in 2009 in response to requests for custom stained glass windows. Working with copper foiled glass of all types, she creates and repairs heirloom works of art for your windows.
Frequency - about 1 post per week

257
n/a
20,932,249
38

142 Millsaps Ave., Jackson, MS

About Blog - Pearl River Glass Studio, Inc. is a group of dedicated artists, designers, and craftsmen with the goal of producing art work in glass.

1,501
114
20,966,513
39

linearglassart.com/fused-gla..

Cheshire

About Blog - Linear Art Studios high quality sensational fused glass art designs can be seen gracing the walls of royalty and footballers from Sandbanks to Bahrain. Linear Art Studios have developed a distinguished international profile, and are renowned for unique and expressive glass fusion designs using a variety of mediums such a glass, polished metals and wood.
Frequency - about 1 post per month

203
219
21,695,995
40

San Diego

About Blog - James Stone is an Ocean Conservation Mixed Media Sculpture Artist, working full-time out of his environmentally conscious, hot glass studio, in Escondido, Calif. James creates sea creatures and marine-themed sculptures that portray the beauty of the ocean's diverse flora and fauna. His message of eco-awareness leaps from the forged aluminum and sculpted glass pieces.

1,285
29
21,731,298
41

handmadeseaglassjewelry.com/..

Niantic, CT

About Blog - We are Bruce and Gail Barton owner of Sea Glass Designs. We spend the winter months living aboard our boat in the northern Bahamas collecting rare sea glass shards. The area is rich in beautiful old sea glass as a result of numerous shipwrecks on the reefs during the early 1800's.

478
1
23,451,256
42

About Blog - Houston Stained Glass is a branch of Scottish Stained Glass, an authentic stained glass company founded by owner Martin Faith more than 20 years ago. They combine traditional methods of stained glass building with some modern additions for stronger, lower maintenance windows.
Frequency - about 1 post per week

23,098
n/a
n/a
43

About Blog - Hand blown glass by llewelyn ash, an artist working from the Jam Factory Adelaide. Llewelyn's glass is now being exhibited in art galleries Australia wide.

2,352
n/a
n/a
44

Yorkshire, UK

About Blog - Abundant Glass is the home of contemporary fused glass art and gifts handmade in the Pennines by Jane O'Neill.
Frequency - about 1 post per month

658
1,138
n/a
45

Bridgend

About Blog - Christian is an award winning welsh stained glass artist. Over the last seventeen years he has been commissioned to create glass artwork all over the United Kingdom and abroad, from public projects to private commissions. His work as a glass artist has come from combining my love of painting, graphics, craft and architecture.

1,253
486
n/a
46

About Blog - Jill Matthew is Fused Glass Artist. This blog is ​designed, assembled and fired by Jill in her home studio in NZ. She use many techniques to make my pieces, and it is an involved process of assembling, multiple firings, then coldworking to a quality finish.

1,479
n/a
n/a
47

Northumberland

About Blog - Helen Grierson is a glass artist based in Broomhill, Northumberland. Creating fused and stained glass artwork, beginner and advanced workshops and commissions.
Frequency - about 1 post per week

784
426
n/a
48

Charlotte, NC, USA

About Blog - Carmella Jarvi is a McColl Center for Art Innovation and Vermont Studio Center alumni, and three-time Regional Artist Project Grant recipient. Her artwork has evolved from women in water paintings to abstract explorations of water through kiln-glass, her primary focus since a trip in 2011 to Playa del Carmen, Mexico.
Frequency - about 1 post per month

348
564
n/a
49

Australia

About Blog - Jenie writes this lighthearted blog, sometimes its fascinating, and sometimes educational, its mostly about glass & inspirations that lead to glass designs. Follow this blog for Kilnformed and fused glass art gifts, bespoke pieces by Jenie Yolland.
Frequency - about 1 post per month

644
78
n/a
50

About Blog - Sasha Ward is a blog on Architectural Glass Design and Fabrication Modern Stained Glass.
Frequency - about 1 post per month

n/a
569
n/a
51

Mount Gambier, South Australia

About Blog - Julie Frahm have designed a range of glass jewellery that looks good and feels great to wear. Best of all, it's good for the environment too.
She recycle various types of glass to make the beads in the Recycled Glass Jewellery collection.
Frequency - about 3 posts per week

387
19
n/a
52

About Blog - I am Debbie Copley and I'm a stained glass artist living in Silverdale on the edge of Morecambe Bay, Lancashire. From my studio named 'Debbie's Shed' I design stained glass bird and animal sculptures and undertake commissions for leaded windows, panels and other bespoke items.
Frequency - about 1 post per month

362
n/a
n/a
53

About Blog - A Touch of Glass create unique artwork using lampworking techniques, along with fusing and slumping glass.

265
n/a
n/a
54

UK

About Blog - Fiona Bryer is a Glass Artist, Licentiate of The Society of Designer Craftsmen, enthused by our amazing natural world. The works she create suit both public and private settings, and range from small scale decorative bowls and sculptural centrepieces to larger scale wall panels.
Frequency - about 1 post per month

172
181
n/a
55

Howell, Michigan

About Blog - Artisan of beautiful and functional art, handmade in our glass studio. All items one of a kind due to the nature of our medium. This blog is the ramblings about (mostly) Kris's glass art.
Frequency - about 2 posts per week

192
55
n/a
56

About Blog - Thal Glass Studio is a working glass blowing studio, where the glass furnace is hot (2000 F) during selected months when Laurie is blowing glass. They have collector bowls and vases with intricate sandblasted designs. They also have a variety of great glass gifts, perfume bottles, bud vases, candlesticks, wine goblets & martini goblets.

201
n/a
n/a
57

Schomberg, Ontario, Canada

About Blog - Gotham Glassworks is a custom fine art glass proprietorship located in the historic village of Schomberg, Ontario, Canada. Greg Locke is the artist behind Gotham Glassworks, unique fused and stained glass art. Custom stained and fused art glass, sculpture, decorator lighting, corporate gifts and awards.
Frequency - about 1 post per month

140
5
n/a
58

About Blog - Sam Rowena is a Jewellery designer-maker, creating sculptural wire and beaded jewellery / accessories and fused glass designs. Inspired by ancient civilizations, travel and nature.

133
n/a
n/a
59

rockcrestglass.com/in-progress

About Blog - ockcrest Glass is a stained glass studio in Maryland, USA which specializes in custom stained glass window panels, suncatchers and 3D glass items. Rockcrest Glass places emphasis on unique, attractive design as well as Quality Craftsmanship. All pieces are crafted for stability and longevity.

62
n/a
n/a
60

About Blog - I am Charlie Rees, an artist with a studio in the Wicker Park neighborhood of Chicago. I have always been a painter, but in recent years, doing more work in stained glass and mosaics. My recent work in stained glass and mosaics is evolving. Although stained glass and mosaics are ancient art forms, they are bold, contemporary mediums.
Frequency - about 2 posts per week

49
n/a
n/a
61

About Blog - Joy of Glass features the beautiful and unique glass art of Merrilee Harrigan, including jewelry, bowls and plates, wall and pedestal pieces.
Frequency - about 1 post per month

21
n/a
n/a
62

sparksofspiritglass.blogspot..

About Blog - I am a fused glass artist in Portland, Oregon, specializing in the creation of fused glass Judaica. My work is inspired by Torah study and a careful study of our liturgy.

n/a
n/a
n/a
63

About Blog - Here at Glass Memorial, glass artist Setsuko Ogishi specialises in creating beautiful glass works to give your memories something special. Be it a loved one, a friend or somebody special, the beauty and kindness of their being will be embodied inside the glass, so their memory can stay with you forever.
Frequency - about 1 posts per week

n/a
n/a
n/a
64

About Blog - In the business for close to 30 years and working out of their mid-town Toronto studio, sisters Jane and Kathryn Irwin share a fresh approach to glass. The duo creates artistic alternatives to traditional leaded stained glass for worship spaces, schools, commercial environments, public spaces and private homes.
Frequency - about 1 post per month

n/a
n/a
n/a
65

About Blog - Rick Hunter attended California State University at Fullerton, California where he studied ceramics and glass blowing. He received his Bachelor of Arts and graduated with his Masters Degree in Glass Blowing in 1986. Hunter Art Glass has been showcased in many exhibits including: San Diego, Las Vegas, Hawaii, Tempe, and Philadelphia. And is carried in several gift shops across the U.S.
Frequency - about 1 post per month

n/a
n/a
n/a
These blogs are ranked based on following criteria
Google reputation and Google search ranking
Influence and popularity on Facebook, twitter and other social media sites

Quality and consistency of posts.

Feedspot's editorial team and expert review
Top 75 Glass Art Blogs Winners
CONGRATULATIONS to every blogger that has made this Top Glass Art Blogs list! This is the most comprehensive list of best Glass Art blogs on the internet and I'm honoured to have you as part of this! I personally give you a high-five and want to thank you for your contribution to this world.
If your blog is one of the Top 75 Glass Art blogs, you have the honour of displaying the following badge on your site. Use the below code to display this badge proudly on your blog. You deserve it!:
<a href="https://blog.feedspot.com/glass_art_blogs/" title="Glass Art blogs"><img src="https://blog-cdn.feedspot.com/wp-content/uploads/2017/06/Glass-Art-transparent_216px.png" ></img></a>
Tags: glass art rss feeds