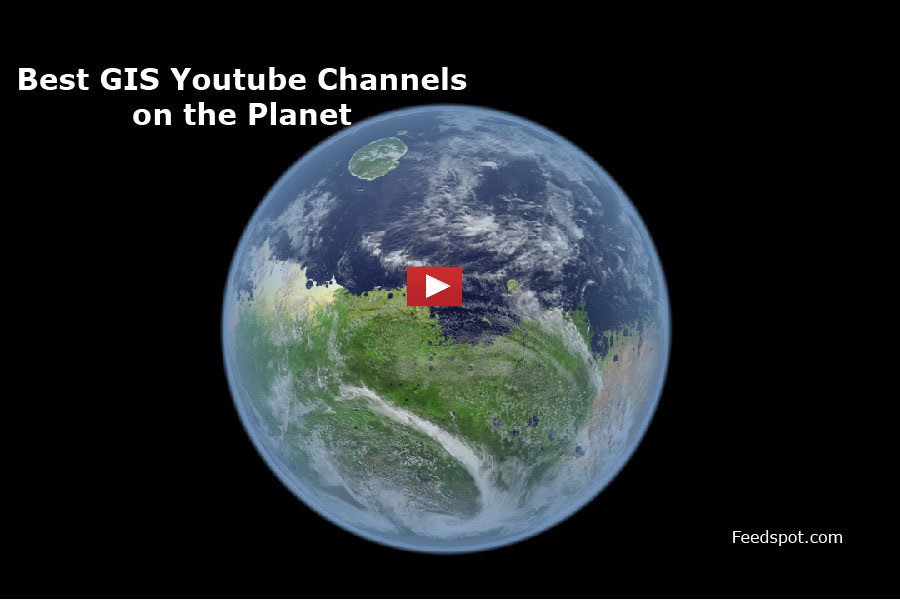 GIS Youtube Channels List.
The Best GIS Youtube Channels from thousands of GIS Youtube Channels in our index using search and social metrics. Subscribe to these youtubers because they are actively working to educate, inspire, and empower their audience with frequent updates and high-quality videos. Data will be refreshed once a week.
If your Youtube is selected in this list, you have the honour of displaying this Badge (Award) on your website.
GIS Youtube Channels

India About Youtuber Geospatial Media is the top video channel for GIS, GPS, LiDAR, UAVs, BIM, Maps, Smart Cities, Artificial Intelligence, IoT, Autonomous vehicles and more.
Frequency 5 videos / month
Since Jan 2013
Channel youtube.com/user/geospatialm..+ Follow
Youtube Followers- 14,579 . Views Count- 2,891,600 . Video Count - 1,746


United States About Youtuber Cloudpoint is a dynamic geospatial solutions provider specializing in Geographic Information Systems (GIS) and precision mapping services for a wide range of industry needs.
Frequency 6 videos / month
Since Sep 2011
Channel youtube.com/user/Cloudpointg..+ Follow
Youtube Followers- 2,400 . Views Count- 566,619 . Video Count - 58


United States About Youtuber Learn about geography, cartography, and maps.
Frequency 2 videos / quarter
Since Jun 2017
Channel youtube.com/channel/UCPZj..+ Follow
Youtube Followers- 1,550 . Views Count- 210,089 . Video Count - 133


United Kingdom About Youtuber Tips, tricks, tutorials and vlogs about all things GIS. We're in the business of sharing knowledge. So if you're into maps, GIS, programming, webmapping, webGIS, anything tech (with a spatial slant) subscribe now. burdGIS offer training and consultancy in geographical information systems (GIS).
Frequency 6 videos / quarter
Since Nov 2012
Channel youtube.com/channel/UCABP..+ Follow
Youtube Followers- 1,323 . Views Count- 173,576 . Video Count - 88


Wayland, MA About Youtuber The Open Geospatial Consortium (OGC) is an international industry consortium of hundreds of companies, government agencies and universities participating in a consensus process to develop publicly available interface standards. OGC® Standards support interoperable solutions that 'geo-enable' the Web, wireless and location-based services and mainstream IT.
Frequency 5 videos / month
Since Mar 2011
Channel youtube.com/user/ogcvideo/vi..+ Follow
Youtube Followers- 701 . Views Count- 78,627 . Video Count - 307


About Youtuber Follow GIS Application to get more Videos related to GIS.
Frequency 1 video / year
Since Nov 2012
Channel youtube.com/channel/UCbS2..+ Follow
Youtube Followers- 417 . Views Count- 187,668 . Video Count - 34


China About Youtuber SuperMap Software, the leading global provider of complete GIS platforms. SuperMap is devoted to developing and providing the most innovative Geographic Information System (GIS) platform and solutions for global customers
Frequency 1 video / week
Since May 2013
Channel youtube.com/user/SuperMap..+ Follow
Youtube Followers- 568 . Views Count- 65,189 . Video Count - 279


About Youtuber Get more videos from American Program in GIS and Remote Sensing
Frequency 2 videos / month
Since Jul 2018
Channel youtube.com/channel/UCAo7..+ Follow
Youtube Followers- 126 . Views Count- 2,022 . Video Count - 8


United States About Youtuber Follow to get the videos related to Simple GIS Software Tutorials.
Frequency 1 video / week
Since Jan 2016
Channel youtube.com/channel/UCIoR..+ Follow
Youtube Followers- 86 . Views Count- 12,310 . Video Count - 33

Total youtube channels subscribers, video views, and video uploads
Quality and consistency of videos

Youtube search ranking

Feedspot editorial team' objective and subjective review