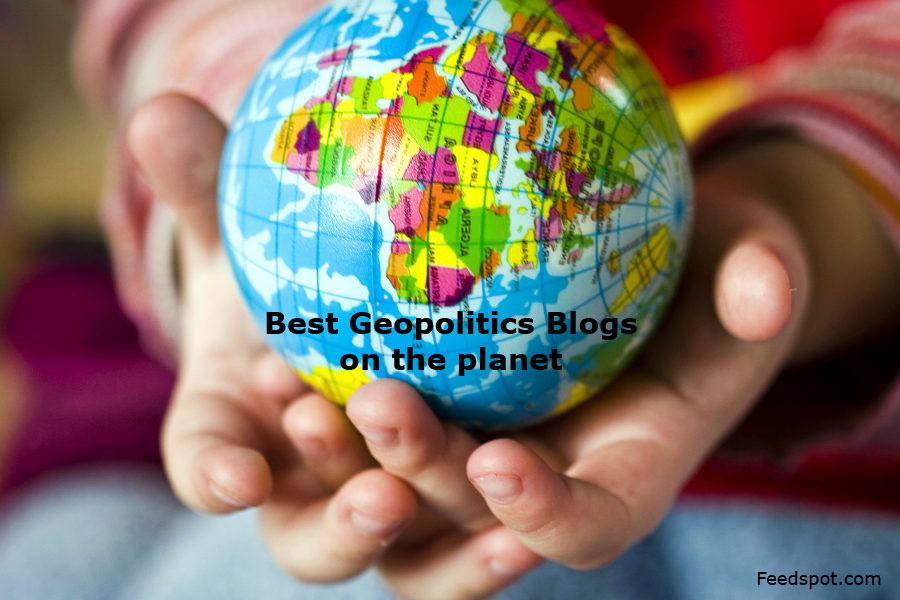 Geopolitics Blogs List.
The Best Geopolitics blogs from thousands of top Geopolitics blogs in our index using search and social metrics. Data will be refreshed once a week.
If your blog is selected in this list, you have the honour of displaying this Badge (Award) on your blog.
Geopolitics Blogs

Maharlika About Blog Real-time updates on behind-the-scenes geopolitical events. Understanding what global players really mean when they say or do something.
Frequency about 6 posts per week.
Website geopolitics.co
Facebook fans 6,461. Twitter followers 667.

Austin, TX About Blog Your source for what matters in the world, founded by geopolitical forecaster George Friedman, who also founded the geopolitical intelligence firm Stratfor. Get expert geopolitical insights and forecasts on the topics that matter.
Frequency about 15 posts per week.
Website geopoliticalfutures.com
Facebook fans 11,214. Twitter followers 5,827.

Toronto About Blog Geopolitical Monitor is an open-source intelligence collection and forecasting service. We provide research, analysis and up to date coverage on situations and events that have a substantive impact on political, military and economic affairs.
Frequency about 7 posts per week.
Website geopoliticalmonitor.com
Facebook fans 3,011. Twitter followers 4,845.

San Bruno, CA About Blog CaspianReport is an independent research and media group based in Baku, Azerbaijan. The group addresses geopolitical, economic and social issues.
Frequency about 1 post per week.
Since Jul 2010
Website youtube.com/user/CaspianRepo..
Facebook fans 15,489. Twitter followers 3,793.

About Blog Independent Global News. Stay up to date with global political news all in one convenient location at Geopolitics Alert! Stay tuned in on the go with our podcast!
Frequency about 12 posts per week.
Website geopoliticsalert.com
Facebook fans 34,643. Twitter followers 128.

About Blog Weekly Geo-Political News and Analysis by Benjamin Fulford. BenjaminFulford.net is a geo-political news and discussion website from reporter and investigative journalist Benjamin Fulford.
Frequency about 4 posts per week.
Website benjaminfulford.net
Facebook fans 5,090. Twitter followers n/a.

San Francisco, CA About Blog Geopolitics is focused on the relationship between politics and territory. Through geopolitics we attempt to analyze and predict the actions and decisions of nations, or other forms of political power, by means of their geographical characteristics and location in the world. In a broader sense, geopolitics studies the general relations between countries on a global scale.
Frequency about 56 posts per week.
Website reddit.com/r/geopolitics
Facebook fans 1,136,713. Twitter followers 500,032.

About Blog FDD's Long War Journal is dedicated to providing original and accurate reporting and analysis of the Long War (also known as the Global War on Terror). This is accomplished through its programs of embedded reporters, news and news aggregation, maps, podcasts, and other multimedia formats.
Frequency about 9 posts per week.
Website longwarjournal.org
Facebook fans 4,891. Twitter followers 29,420.

About Blog Sputnik is a major new media brand with modern multimedia centers in dozens of countries. Sputnik is uniquely positioned as a provider of alternative news content and as a radio broadcaster. Offering a fuller picture of the world with a truly diverse range of views, Sputnik tells the untold.
Frequency about 168 posts per week.
Website sputniknews.com/politics
Facebook fans 1,158,532. Twitter followers 194,339.

Washington, DC About Blog The Brookings Institution is a nonprofit public policy organization based in Washington, DC. Brookings brings together more than 300 leading experts in government and academia from all over the world who provide the highest quality research, policy recommendations, and analysis on a full range of public policy issues.
Frequency about 8 posts per week.
Website brookings.edu/topic/internat..
Facebook fans 377,688. Twitter followers 301,845.

London About Blog Oil Price is the most popular energy news site in the world. Our analysis focuses on Oil and Gas, Alternative Energy and Geopolitics. Get updates on crude oil prices & gas price charts. as well as energy news covering oil, petroleum, natural gas and investment advice.
Frequency about 84 posts per week.
Website oilprice.com
Facebook fans 38,556. Twitter followers 11,525.

Tokyo, Japan About Blog The Diplomat is a current-affairs magazine for the Asia-Pacific, with news and analysis on politics, security, business, technology and life across the region.
Frequency about 84 posts per week.
Website thediplomat.com/category/blogs
Facebook fans 882,330. Twitter followers 120,442.

United Kingdom About Blog The Independent is a online newspaper, which covers World Politics, geopolitics and News ananlysis
Frequency about 2 posts per week.
Website independent.co.uk/news/world..
Facebook fans 7,336,140. Twitter followers 2,325,616.

London About Blog The Guardian's blog on politics, politicians and geopolitical news.
Frequency about 4 posts per week.
Website theguardian.com/politics/blog
Facebook fans 7,649,084. Twitter followers 6,706,092.

United Kingdom About Blog Taylor & Francis publish high quality, rigorously peer-reviewed open access (OA) research across all disciplines. Search and explore the millions of quality, peer-reviewed journal articles published about geopolitics and much more.
Frequency about 2 posts per week.
Website tandfonline.com/toc/fgeo20/c..
Facebook fans 8,127. Twitter followers 5,168.

New York, NY About Blog Every day the UN works to tackle global challenges and deliver results for those most in need.
Frequency about 34 posts per week.
Website un.org/News
Facebook fans 2,361,556. Twitter followers 9,309,566.

Boston, MA About Blog The Conversation is an independent channel of information, analysis and opinion – sourced from the rich expertise of the university and research sector. Browse Geopolitics news, research and analysis from The Conversation
Frequency about 1 post per month.
Website theconversation.com/us/topic..
Facebook fans 29,558. Twitter followers 26,136.

Mountain View, CA About Blog If you'd want to drink it, eat it, wear it, ride it, drive it; if it'd be cool to see, listen to or do, we're writing about it.
Frequency about 3 posts per month.
Website ozy.com/topic/geopolitics
Facebook fans 892,571. Twitter followers 29,482.

Santa Monica, California About Blog The RAND Corporation is a nonprofit institution that helps improve policy and decisionmaking through research and analysis. RAND focuses on the issues that matter most such as health, education, national security, international affairs, law and business, the environment, and more
Frequency about 2 posts per week.
Website rand.org/topics/internationa..
Facebook fans 37,403. Twitter followers 137,786.

About Blog E-International Relations (E-IR) is the world's leading open access website for students and scholars of international politics. We publish a range of original content including books, articles, blogs, student essays, book reviews and interviews with leading scholars.
Frequency about 2 posts per week.
Website e-ir.info/category/blogs
Facebook fans 27,811. Twitter followers 14,033.

Global About Blog War on the Rocks is a platform for analysis, commentary, debate and multimedia content on foreign policy and national security issues through a realist lens. It features articles and podcasts produced by an array of writers with deep experience in these matters.
Frequency about 15 posts per week.
Website warontherocks.com
Facebook fans 23,832. Twitter followers 53,440.

About Blog Global Issues provides insights into global issues that may be misrepresented but are all closely related. List of topics covered include social, political, economic and environmental issues, including human rights, economy, trade, globalization, poverty, environment and health related issues.
Frequency about 21 posts per week.
Website globalissues.org
Facebook fans 13,455. Twitter followers 3,010.

Washington, DC About Blog The Cipher Brief is the go-to digital platform for the latest security news and high-level analysis. Each day, we offer multiple expert perspectives, engaging the private sector to find solutions and foster dialogue on what events mean for businesses and organizations around the world. More than just reporting on the news, The Cipher Brief helps readers understand what the news means to you.
Frequency about 24 posts per week.
Website thecipherbrief.com
Facebook fans 3,010. Twitter followers 9,003.

Nevada About Blog The Lifeboat Foundation is a nonprofit nongovernmental organization dedicated to ensuring that humanity adopts the increasingly powerful technologies of genetics, nanotechnology, and robotics/AI safely as we move towards the Singularity. Read articles about geopolitics and much more.
Frequency about 3 posts per month.
Website lifeboat.com/blog/category/g..
Facebook fans n/a. Twitter followers 128,592.

About Blog This is a site devoted to analyzing and discussing the places where we live and work. We want to know not only what is happening, but also how you, your company and your community can best adapt to rapidly changing conditions. We welcome your writing, your thoughts on the site, and your insights on economic development, metropolitan demographics, and community leadership.
Frequency about 2 posts per week.
Website newgeography.com/category/st..
Facebook fans n/a. Twitter followers 7,028.

London, UK About Blog Global Risk Insights | International Archives - Global Risk Insights.Global Risk Insights (GRI) is a world-leading publication for political risk news and analysis. Our aim is to bring the political risk industry into the 21st century by making it more innovative and accessible.
Frequency about 2 posts per week.
Website globalriskinsights.com/categ..
Facebook fans 8,566. Twitter followers 7,720.

Hickory Valley TN USA About Blog Solari is a private company founded by Catherine Austin Fitts. It offers special reports focused on current financial and precious metals markets, geopolitical events as well as risk issues and opportunities impacting personal wealth, health and happiness.
Frequency about 4 posts per month.
Website solari.com/blog/category/top..
Facebook fans 124. Twitter followers 4,721.

Europe,Middle East,Africa,Asia About Blog MAX Security Solutions specializes in comprehensive security and risk management solutions that ensure your safety by proactively mitigating threats. MAX provides Geopolitical Intelligence on a global scale, bringing you tactical insights into the cities, regions and countries that matter most to you.
Frequency about 1 post per week.
Website max-security.com/category/ge..
Facebook fans 2,531. Twitter followers 1,330.

Nijmegen, The Netherlands About Blog A European news site for financial and geopolitical analysis. Global Analysis from the European Perspective. Preparing for the world of tomorrow. It promotes an independent political viable Euro area.
Frequency about 42 posts per week.
Website gefira.org/en
Facebook fans 375. Twitter followers 1,010.

Donetsk About Blog DONi Donbass News Agency and International Press Center is the official state media enterprise in Donetsk People's Republic. The main task of DONi media organization is to collect and share trusted and confirmed information related to geopolitics, world affairs, defense and much more
Frequency about 4 posts per week.
Website dninews.com/categories/geopo..
Facebook fans n/a. Twitter followers 812.

London, England About Blog Geographical is the magazine of The Royal Geographical Society in London. It was established in 1935, and publishes articles about culture, travel, science, exploration, wildlife, and the environment. The magazine for Geography, Geopolitics, Culture, Exploration.
Frequency about 1 post per month.
Website geographical.co.uk/geopoliti..
Facebook fans 5,750. Twitter followers 24,045.

About Blog PolGeoNow is widely recognized for its uniquely comprehensive coverage of geopolitical changes and detailed tracking of territorial control in conflict zones. The site receives tens of thousands of visits every month from readers including university professors, magazine editors, diplomatic staff, and government officials.
Frequency about 4 posts per month.
Website polgeonow.com
Facebook fans 3,241. Twitter followers 2,030.

Springfield, Virginia About Blog Geostrategy - Direct provides exclusive reports which are not yet on the radar.
Frequency about 9 posts per week.
Website geostrategy-direct-subscribe..
Facebook fans 100. Twitter followers 23.

San Francisco, CA About Blog The purpose of Global Geopolitics is to present impactful and up-to-date geopolitical developments to the reader that has affected, or will affect our daily lives. Global Geopolitics serves and operates in a geopolitical information aggregate capacity that not only keeps you up to date with the most recent salient developments
Frequency about 17 posts per week.
Website glblgeopolitics.wordpress.com
Facebook fans n/a. Twitter followers n/a.

Brooklynn About Blog Geopolitical blogger Ryan Bohl writes about the current events in geopolitical context.
Frequency about 2 posts per week.
Website geopoliticsmadesuper.com
Facebook fans 4,766. Twitter followers 327.

California About Blog Global matters is a project of the Center for Global Politics at Freie Universität Berlin. Our goal is to present ideas and reflections on important global issues. Follow what our experts say on International Relations, keep up with the hottest political debates, and share your thoughts on global issues that matter to you.
Frequency about 2 posts per month.
Website global-matters.org
Facebook fans 2,714. Twitter followers 42.

Canada About Blog National Defence brings stories on Geopolitics and Strategic Affairs in Indian context. Neighbors like China, Pakistan, Bangladesh, Afghanistan, Maldives are part of Indian geopolitics; but US, Russia, Japan are extended neighbors in world geopolitics due to increasing military interaction and impact of their actions on each others.
Frequency about 4 posts per week.
Website nationaldefence.in/category/..
Facebook fans n/a. Twitter followers 176.

About Blog Hello, my name is Joseph Shupac. I am a financial journalist living in Toronto, Canada, and this is my blog about economics and world affairs.
Frequency about 2 posts per month.
Website future-economics.com
Facebook fans 50. Twitter followers 22.

Québec, Canada About Blog Observing geopolitical and military situations. Providing our readers with accurate analysis on Russia and NATO's geopolitics, military situations, and intelligence. We are an independent news source.
Frequency about 1 post per week.
Website conflictobserver.com
Facebook fans 1,282. Twitter followers 1,737.

Las Vegas About Blog Tracking geopolitical water issues before they boil over into political unrest or interstate competition
Frequency about 3 posts per week.
Website waterpolitics.com/blog
Facebook fans n/a. Twitter followers n/a.

About Blog Argeo International is a geopolitics/foreign affairs/international relations website made by redditors. It is the official blog of r/geopolitics.
Frequency about 1 post per month.
Website argeointernational.com
Facebook fans 35. Twitter followers 34.

Winnipeg, MB R3T 2N2, Canada About Blog The Geopolitical Economy Research Group (GERG) is an influential policy research institute, conducting high quality research and analysis dealing with nations and their relation to the world economy. It will critically analyze, and propose, policy alternatives for managing the interaction of national economies and states to promote human development and mutual benefit in today's multipolar world.
Frequency about 1 post per month.
Website geopoliticaleconomy.org/news
Facebook fans 884. Twitter followers 1.

Royal Holloway About Blog This blog is written by experts in Security and Geopolitics from Royal Holloway, University of London, one of the leading centres of geopolitical research in the UK.
Frequency about 3 posts per month.
Website rhulgeopolitics.wordpress.com
Facebook fans 250. Twitter followers 1,625.

Maynooth, Ireland About Blog This is a blog hosted by staff and students at Maynooth University's Department of Geography.This blog has posts covering the full range of what we take to mean by political geography.
Frequency about 1 post per month.
Website maynoothgeography.wordpress...
Facebook fans 130. Twitter followers 1,019.

About Blog Globalization Geopolitics Sustainability Technology Climate. Towards Sustainability in a New Era of Globalization & Geopolitical Upheaval.
Frequency about 2 posts per month.
Website fiftyyearperspective.com/blogs
Facebook fans n/a. Twitter followers n/a.

Washington, DC About Blog W. Alejandro "Alex" Sanchez Nieto is an international security analyst who focuses on geopolitics, military and cyber security issues in the Western Hemisphere. His research interests include inter-state tensions, narco-insurgent movements and drug cartels, arms sales, the development of Latin American military industries as well as UN peacekeeping operations
Frequency about 3 posts per month.
Website wasanchez.blogspot.com
Facebook fans n/a. Twitter followers 800.

About Blog Geopolitics & Empire is a podcast seeking to critically analyze global affairs with the assistance of experts from around the world, devoted to examination of the perilous truths of our time and not to any particular ideology.
Frequency about 1 post per month.
Website guadalajarageopolitics.com
Facebook fans 12. Twitter followers 347.

About Blog I am a introvert that can be an extrovert at the drop of some beer. I like checking out geopolitics, amazing scenery, the paranormal and anything to do with deserts.
Frequency about 2 posts per month.
Website markozen.com/category/geopol..
Facebook fans n/a. Twitter followers 6.

Zurich & Geneva - Switzerland About Blog This website presents the independent Geopolitical Macro Research of Christian Takushi MA UZH, a Swiss-Peruvian Macro Economist and his research network. It researches Global Geopolitical & Macroeconomic Trends - and their impact on financial markets.
Frequency about 2 posts per month.
Website geopoliticaleconomics.org/?c..
Facebook fans n/a. Twitter followers n/a.

About Blog We are a group of researchers from the universities of Portsmouth, Exeter and Royal Holloway, looking at the relationship between war games, childhood and play. On this blog, we share our thoughts and latest research, focussing on how contemporary geopolitics are expressed and enacted through play.
Frequency about 1 post per month.
Website ludicgeopolitics.wordpress.com
Facebook fans n/a. Twitter followers n/a.
These blogs are ranked based on following criteria
Google reputation and Google search ranking
Influence and popularity on Facebook, twitter and other social media sites

Quality and consistency of posts.

Feedspot's editorial team and expert review
Top 50 Geopolitics Blogs Winners
CONGRATULATIONS to every blogger that has made this Top Geopolitics Blogs list! This is the most comprehensive list of best Geopolitics blogs on the internet and I'm honoured to have you as part of this! I personally give you a high-five and want to thank you for your contribution to this world.
If your blog is one of the Top 50 Geopolitics blogs, you have the honour of displaying the following badge on your site. Use the below code to display this badge proudly on your blog. You deserve it!:
<a href="https://blog.feedspot.com/geopolitics_blogs/" title="Geopolitics blogs"><img src="https://blog-cdn.feedspot.com/wp-content/uploads/2017/08/Geopolitics-transparent_216.png" ></img></a>
Tags: geopolitics rss feeds