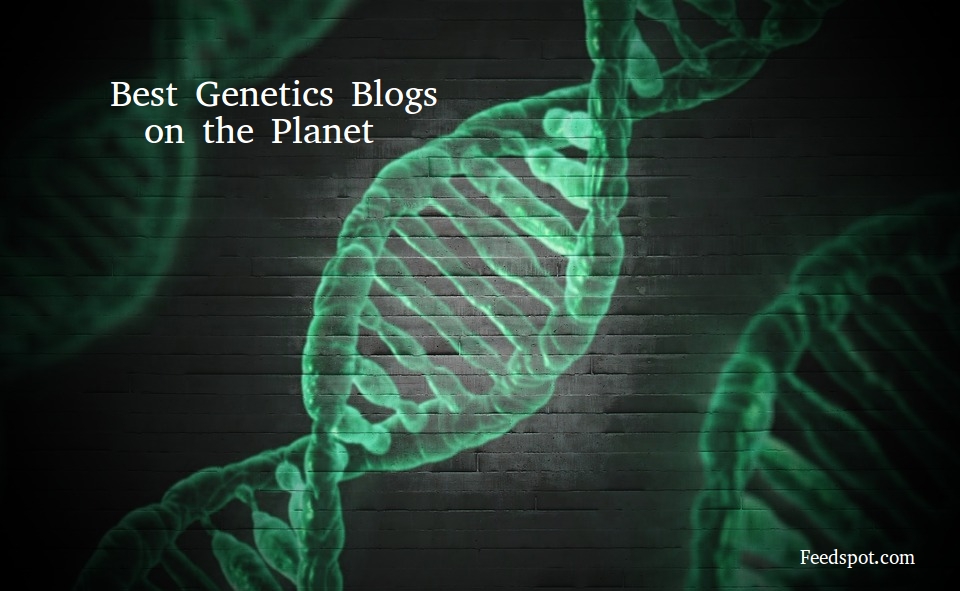 The Best Genetics blogs from thousands of top Genetics blogs in our index using search and social metrics. Data will be refreshed once a week.
If your blog is selected in this list, you have the honour of displaying this Badge (Award) on your blog.
Rank

Blog Name

Facebook Fans

Twitter Followers

Alexa Rank

1

Mountain View, CA

About Blog - 23andMe is a web-based service that helps you read and understand your DNA along with Personal genetics for health, ancestry and research discoveries. 23andMe's mission is to help people access, understand and benefit from the human genome.
Frequency - about 2 posts per week

285,946
65,514
7,976
2

New York, NY

About Blog - GenomeWeb is an online news organization serving the global community of scientists, technology professionals, and executives who use and develop the latest advanced tools in molecular biology research and molecular diagnostics. Covering Genetics News, Genome, DNA, and more.
Frequency - about 58 posts per week

n/a
11,798
37,970
3

About Blog - Get the latest in Genetic Engineering through daily news coverage as well as analysis, features, tutorials, webinars, podcasts, and blogs.
Frequency - about 27 posts per week

556,766
39,028
110,549
4

medicalnewstoday.com/categor..

United States

About Blog - Genetics uses information from one or two genes to explain a disease or condition, whereas genomics examines all of the genetic information to determine biological markers predisposing an individual to disease. This category includes news on DNA, genes, microRNAs, chromosomes, inheritance and evolution.
Frequency - about 12 posts per week

193,892
78,170
6,494
5

news-medical.net/?tag=/Genetics

About Blog - News-Medical aims to segment, profile and distribute medical news to the widest possible audience of potential beneficiaries worldwide and to provide a forum for ideas, debate and learning, and to facilitate interaction between all parts of the medical health sciences community worldwide.
Frequency - about 13 posts per week

266,490
870
14,246
6

San Francisco

About Blog - PLOS BLOGS Network features independent science writers and scientists who blog. The DNA Science Blog timely updates all about genes and its behaviour.
Frequency - about 1 posts per week

86,822
21,179
3,967
7

journals.plos.org/plosgenetics

USA and UK

About Blog - PLOS Open-Access Journal about Genetics and genomics research. PLOS Genetics features outstanding primary research articles, occasional Editorials, engaging Interviews and Formal Comments, Viewpoints, Perspectives, and Reviews by invitation.
Frequency - about 10 posts per week

86,823
117,552
3,967
8

3,571,489
2,606,588
7,621
9

sciencedaily.com/news/plants..

Rockville, MD

About Blog - Read the latest news on plant and animal genetics from universities and research institutes around the world. Also covers genetically modified food, crops and GMO issues. It also includes current science articles on genetic engineering including mice with glowing hearts, disease-resistant mosquitos, GM bacteria chips and more.
Frequency - about 3 posts per week

1,761,479
208,269
2,374
10

San Francisco, CA

About Blog - Reddit provides a wide range of discussion of genetics research, questions, discoveries, diseases, and more.
Frequency - about 27 posts per week

1,088,802
472,297
17
11

news.google.com/news/section..

Mountain View, CA

About Blog - Google News covers comprehensive up-to-date coverage for genetics, aggregated from news sources all over the world.
Frequency - about 50 posts per week

n/a
212,892
1
12

Bethesda, MD

About Blog - Genetics Society of America is a professional scientific society representing more than 5,700 genetics researchers & educators around the world. The purposes of is to facilitate communication between geneticists, promote research that will bring new discoveries in genetics, to educate the public and their government representatives about advances in genetics.
Frequency - about 4 posts per week

19,145
10,292
2,611,029
13

Atlanta, GA

About Blog - A blog devoted to discussing best practices and questions about the role of genomics in disease prevention, health promotion and healthcare.
Frequency - about 1 post per week

672,935
780,096
1,921
14

About Blog - MIT News is dedicated to communicating to the media and the public the Genetics news of the students, faculty, staff and the greater MIT community.

957,129
716,372
417
15

Tucker GA

About Blog - Genetic testing is important for diagnosing and predicting medical conditions and improving patient management. For more than 40 years, Emory Genetics Laboratory (EGL) has focused on providing the highest quality, cutting-edge genetic testing for common and rare hereditary conditions.

792
401
9,813
16

San Francisco, CA

About Blog - Reddit enables a medium to learn and discuss more about genomics.
Frequency - about 3 posts per week

1,088,802
472,297
17
17

7,262,486
6,401,659
158
18

biobeat.nigms.nih.gov/catego..

Bethesda, MD

About Blog - National Institute of General Medical Sciences (NIGMS) supports basic research that increases understanding of biological processes and lays the foundation for advances in disease diagnosis, treatment and prevention.
Frequency - about 1 post per month

32,395
12,527
202
19

Los Angeles, CA

About Blog - The UCLA Institute for Society and Genetics incorporates scientists fully in the process of understanding ethical, legal, and societal impacts of the applications of their genetic and genomic research. We aim to educate the public to understand, discuss, and make informed decisions about issues in biotechnology, genetics and genomics.

n/a
78
2,015
20

Davis, California

About Blog - Dr. Alison Van Eenennaam is a Cooperative Extension Specialist in the field of Animal Genomics and Biotechnology in the Department of Animal Science at University of California, Davis. The mission of her extension program is "to provide research and education on the use of animal genomics and biotechnology in livestock production systems".
Frequency - about 1 posts per week

n/a
2,613
2,903
21

jmg.bmj.com/content/early/re..

About Blog - Journal of Medical Genetics is a leading international publication covering original research in human genetics, including reviews of and opinion on the latest developments. Articles cover the genetic basis of human disease including germline cancer genetics, the clinical manifestations of genetic disorders, applications of molecular genetics to medical practice.
Frequency - about 1 post per month

1,232
1,271
7,005
22

journal.frontiersin.org/jour..

Lausanne, Switzerland

About Blog - The section publishes significant articles on all aspects related to genetic disorders, from experimental research to clinical applications. It includes developmental genetics, dysmorphology, genetic counseling, prenatal diagnosis, molecular diagnostics, microarray techniques in practice, community genetics and more..
Frequency - about 1 post per week

44,122
14,353
10,853
23

www2.le.ac.uk/departments/ge..

About Blog - University of Leicester's Genetics News provides extensive discoveries and research from their revolutionary work in DNA fingerprinting to the discovery of Richard III.
Frequency - about 1 post per month

44,354
43,286
12,573
24

sciencenews.org/topic/genetics

Washington, DC

About Blog - Science News online features daily news, blogs, feature stories, reviews and more about Genetics.
Frequency - about 2 posts per week

2,726,650
2,281,989
29,116
25

medicalxpress.com/genetics-news

About Blog - Medical Xpress provides the latest news on genetics, genetic science, genetic research, genetic engineering, genetic studies and genes.
Frequency - about 11 posts per week

153,842
36,502
30,231
26

About Blog - Blog of a tutorial of Ecole doctorale de biologie UNIL

n/a
n/a
31,967
27

United States

About Blog - Genetics news from across the world provided by Sci-News, an independent source for the latest news on science.
Frequency - about 1 posts per week

27,551
4,160
69,525
28

About Blog - SciTechDaily provides all the genetics related discoveries, Research and news from around the globe.

161,923
1,662
154,215
29

thefishsite.com/fishnews/cat..

Sheffield, UK

About Blog - The home of premium international fish news insight, analysis and features. Fish Genetics news detailed information on managing fish health, treating fish diseases and much more.
Frequency - about 13 posts per week

3,669
6,345
226,515
30

About Blog - The Daily Online Genealogy Newsletter.
Frequency - about 2 posts per week

n/a
n/a
234,683
31

About Blog - Roberta Estes has been a professional scientist and business owner. She been writing Personalized DNA Reports, publishing articles in newsletters about genetic genealogy.
Frequency - about 4 posts per week

n/a
n/a
286,731
32

About Blog - Invitae is a genetic information company whose mission is to bring genetic information into routine medical practice to improve the quality of healthcare for billions of people. The Invitae Blog updates timely discoveries in field genetics.

23,423
4,026
494,721
33

San Diego, CA

About Blog - Pathway Genomics is a clinical diagnostic and mobile healthcare technology company providing services worldwide. Our genetic testing specialties include hereditary cancer, pharmacogenomic, and general health and wellness testing. Pathway Genomics strives to develop new and innovative testing and products, including a first-of-its-kind mobile health application in partnership with IBM Watson.
Frequency - about 2 posts per week

6,149
8,702
549,574
34

Maryland, USA

About Blog - This is Steven Salzberg's blog on genomics, pseudoscience, medical breakthroughs, higher education, and other topics, including skepticism about unscientific medical practices.
Frequency - about 1 post per month

n/a
3,491
662,528
35

blog.courtagen.com/topic/gen..

Woburn, MA

About Blog - Courtagen is a privately-held life sciences and molecular information company that converts genomic data into actionable clinical information for the diagnosis of critical pediatric neurological and metabolic disorders.

25,492
677
681,397
36

About Blog - Musings on Genealogy, Genetics, and Gardening.
Frequency - about 1 post per week

n/a
n/a
830,091
37

Ottawa, ON

About Blog - DNA Genotek develops products that optimize ease of collection and provide superior samples and proven performance for those requiring high-quality biological samples for nucleic acid testing.

1,136
601
973,782
38

dna-testing-adviser.com/dna-..

About Blog - My name is Richard Hill. I am the founder and sole author of DNA Testing Adviser.com. My DNA Testing Update blog alerts you to new and updated articles on the DNA Testing Adviser web site and news about genetic genealogy.
Frequency - about 3 posts per week

18,336
n/a
1,044,648
39

About Blog - I'm Michael Eisen, a biologist at UC Berkeley and an Investigator of the Howard Hughes Medical Institute. I work primarily on flies, and my research encompases evolution, development, genetics, genomics, chemical ecology and behavior. This blog is about genomes, DNA, evolution, open science and other important things.

n/a
23,211
1,282,642
40

About Blog - I am Dan Koboldt, the author of MassGenomics. I started the Massgenomics blog in 2008 to write about next-generation sequencing and medical genomics in the post-genome era. My primary research interests are human genetics and cancer genomics, and the content of my blog reflects that.

n/a
4,940
1,654,897
41

About Blog - Group blog created by genetic counselors with an interest in public discussion of genetics-related issues
Frequency - about 2 posts per week

n/a
797
2,109,697
42

aphlblog.org/category/newbor..

About Blog - Association of Public Health (APHL) Laboratories works to strengthen labs serving the public's health. The Newborn Screening and Genetics provides recent and upcoming discoveries and updates on genology.

3,668
3,973
2,535,381
43

Kiel, Germany

About Blog - Epilepsies or seizure disorders are common diseases of the brain. Many types of epilepsies have a genetic etiology. Finding these genes and characterizing them will lead to insights about the physiology of epilepsies and -hopefully- novel treatment options. In our blog "Beyond the Ion Channel", we try to make our research more understandable, digestable and interpretable.
Frequency - about 1 post per month

n/a
457
3,032,579
44

About Blog - Research Stash is a curated collection of tools & News for S.T.E.M researchers.
Frequency - about 3 posts per week

943
154
3,332,914
45

About Blog - The Coop lab, which is in the Department of Evolution and Ecology at UC Davis, and the Center for Population Biology. We work on a number of different aspects of evolutionary and population genetics.
Frequency - about 1 post per month

n/a
6,250
3,452,430
46

About Blog - Mixing science and genealogy. We help adoptees and others of unknown parentage as part of the search angel community, donating our effort and expertise to help people help themselves.
Frequency - about 1 posts per week

158
n/a
3,551,430
47

About Blog - A blog for stakeholders in beef cattle and genomics by Jared Decker, He is the MU Extension State Beef Genetics Specialist and uses computational genomics to research cattle genetics. He is passionate about beef cattle genetics and helping beef farmers and ranchers adopt new technologies and best practices.

465
1,983
4,667,921
48

About Blog - This is a blog about DNA and Genealogy sharing latest research and theories about the same.
Frequency - about 2 posts per week

n/a
n/a
6,928,418
49

About Blog - A blog about DNA Barcoding and Biodiversity Research.
Frequency - about 2 posts per week

n/a
n/a
9,609,069
50

About Blog - I started writing new textbook editions (human genetics, human anatomy & physiology) interspersed with other books. I also contribute to Rare Disease Reports and the Genetic Literacy Project, and have published hundreds of articles for Medscape Medical News.
Frequency - about 1 post per week

n/a
n/a
12,213,662
51

Cambridge

About Blog - This blog by James Hadfield provides some comments and analysis from the exciting and fast moving world of Genomics. It focusses on next-generation sequencing and microarray technologies, although it is likely to go off on tangents from time-to-time.

n/a
2,243
16,017,526
52

About Blog - This Blog Showcases Genetics and Ethics hand in hand along with genomics and medicine.
Frequency - about 1 posts per week

n/a
1,891
16,129,015
53

About Blog - Focusing on European population genetics and modern anthropology.
Frequency - about 3 posts per week

n/a
n/a
22,983,700
54

About Blog - This blog is a personal blog written and edited by me Debbie Kennett. The day-to-day activities of the Cruwys/Cruse one-name study with occasional diversions into other topics of interest such as DNA testing and personal genomics.
Frequency - about 7 posts per week

n/a
n/a
25,227,401
55

New Delhi

About Blog - A blog about Genetic Information for Fitness and Nutrition. - Adam's Genetics is a Personalized Genomic Service that Helps you Analyze and Understand your DNA.

874
372
26,922,717
56

genealem-geneticgenealogy.bl..

Oregon

About Blog - DNA Testing - know the In's and Out's of it. Genetic Genealogy, a new branch of genealogy combining genetics and traditional genealogy research, is the most accurate tool for the family historian. Family connections can be proven or disproven. DNA testing can support a paper trail which is often in question given the lack of surviving records.

n/a
274
n/a
57

Western Australia

About Blog - This website is managed by Cate Pearce, a genealogist specialising in DNA applications to family history, and the convenor of the DNA Special Interest Group at the Western Australian Genealogy Society. The aim of this blog is to help you to get the most out of your DNA testing by sharing hints and keeping you up-to-date with DNA topics of interest from Australia and around the world.
Frequency - about 1 posts per week

20
32
n/a
58

About Blog - The goal of the Mainstreaming Cancer Genetics Programme is to make genetic testing part of routine cancer patient care.Genetic tests can provide information about the cause of the cancer and can aid decisions about the best treatments and drugs to use. It can also identify relatives of cancer patients at increased risk of cancer and gives them a window of opportunity to decrease their cancer risk.

n/a
164
n/a
59

About Blog - This blog gives a glimpse inside the Wellcome Trust Sanger Institute. A leader in the Human Genome Project, we are now focused on understanding the role of genetics in health and disease by using the latest genomic and genetic techniques. Our passion for discovery drives our quest to uncover the basis of genetic and infectious disease.
Frequency - about 1 posts per week

4,861
28,063
n/a
60

Seattle, WA

About Blog - A blog about my doctoral dissertation on genetics: data, information, and knowledge. I am an interdisciplinary trainee-researcher interested in the ethical and social implications of genomics in research, clinical care, and everyday life. also work as a research scientist in a genetics data coordinating and analysis center in the UW Department of Biostatistics.

n/a
163
n/a
61

El Paso, TX

About Blog - Endeavor DNA Laboratories is your full-service genetic identity laboratory specializing in human relationship testing. Utilizing state-of-the-art genetic analysis instrumentation, Endeavor DNA strives to bring you the most accurate test results available on the market today.
Frequency - about 1 post per month

15
15
n/a
These blogs are ranked based on following criteria
Google reputation and Google search ranking
Influence and popularity on Facebook, twitter and other social media sites

Quality and consistency of posts.

Feedspot's editorial team and expert review
Top 60 Genetics Blogs Winners
CONGRATULATIONS to every blogger that has made this Top Genetics Blogs list! This is the most comprehensive list of best Genetics blogs on the internet and I'm honoured to have you as part of this! I personally give you a high-five and want to thank you for your contribution to this world.
If your blog is one of the Top 60 Genetics blogs, you have the honour of displaying the following badge on your site. Use the below code to display this badge proudly on your blog. You deserve it!:
<a href="https://blog.feedspot.com/genetics_blogs/" title="Genetics blogs"><img src="https://blog-cdn.feedspot.com/wp-content/uploads/2017/03/Genetics-transparent_216px.png" ></img></a>
Tags: genetics rss feeds