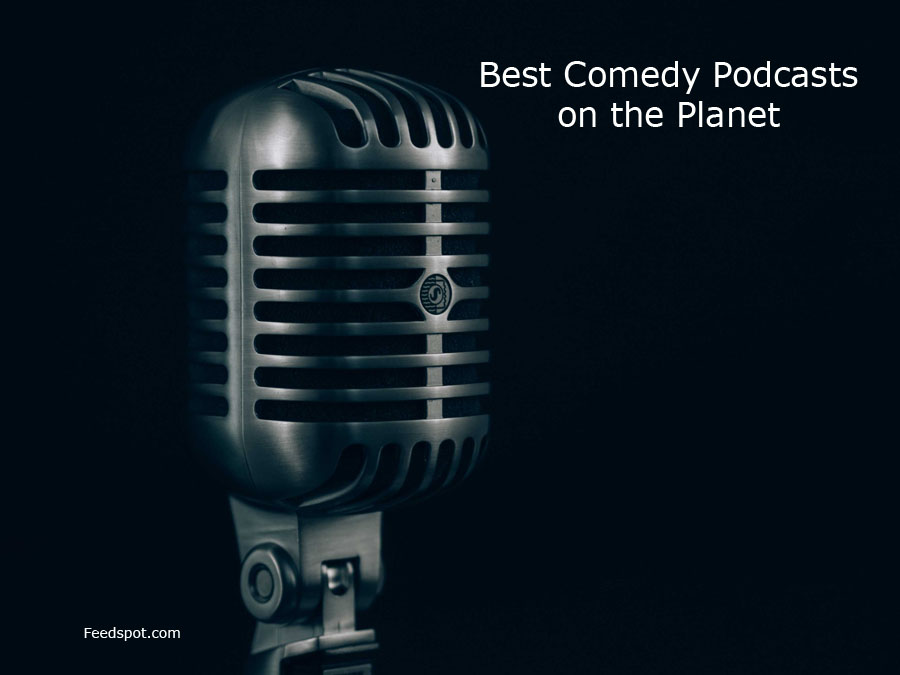 Funny and Comedy Podcasts List.
The Best Funny and Comedy Podcasts from thousands of Funny and Comedy Podcasts on the web using search and social metrics. Subscribe to these websites because they are actively working to educate, inspire, and empower their readers with frequent updates and high-quality information.
If your blog is selected in this list, you have the honour of displaying this Badge (Award) on your blog.
Funny And Comedy Podcasts

About Blog A standup comedian for over 20 years, Rogan's sixth hour long comedy special Joe Rogan: Strange Times premieres on Netflix in October 2018. Rogan's previous comedy specials include Joe Rogan: Triggered (2016) for Netflix, Joe Rogan: Rocky Mountain High (2014) for Comedy Central, Joe Rogan: Live from the Tabernacle (2012) released via his website, Talking Monkeys in Space (2009) on CD & DVD, and Joe Rogan Live (2007) on DVD and more!
Frequency about 4 posts per week.
Website podcasts.joerogan.net
Facebook fans 2,063,515. Twitter followers 4,417,340.

About Blog Wait Wait... Don't Tell Me! is NPR's Peabody-award-winning weekly hour-long humorous quiz program. Each week on the radio you can test your knowledge against some of the best and brightest in the news and entertainment world while figuring out what's real news and what's made up.
Frequency about 1 post per week.
Website npr.org/programs/wait-wait-d..
Facebook fans 1,028,325. Twitter followers 173,090.

About Blog Join host Scott Aukerman ("Comedy Bang! Bang!" on IFC, "Mr. Show") for a weekly podcast that blends conversation and character work from today's funniest comedians. While Scott begins by traditionally interviewing the celebrities, the open-door policy means an assortment of eccentric oddballs can pop by at any moment to chat, compete in games, and engage in comic revelry. With all that, and regular bonus episodes, we bet your favorite part will still be the plugs!
Frequency about 1 post per month.
Website art19.com/shows/comedy-bang-..
Facebook fans 22,874. Twitter followers 131,109.

About Blog My Brother, My Brother and Me is an advicecast for the modern era featuring three real-life brothers: Justin, Travis and Griffin McElroy. For roughly five-sixths of an hour each week, with new episodes dropping every Monday, the brothers McElroy will answer any query sent our way, each fielding questions falling into our respective areas of expertise. We operate like a streamlined, advice-generating machine. It's both terrifying and humbling to behold.
Frequency about 4 posts per month.
Since Jan 2011
Website maximumfun.org/shows/my-brot..
Facebook fans 36,200. Twitter followers 141,019.

About Blog Bill Burr is slowly becoming a comedy legend. The Boston, no-nonsense comic takes to the airwaves every Monday morning to ramble about life, fatherhood, current events, sports, and all craziness of the world for about an hour or so. If you dig Burr's brash and intelligent comedy, you'll love his off-the-cuff ravings every Monday. It's a great kickstart to your week.
Frequency about 2 posts per week.
Website billburr.com/podcast-2
Facebook fans 665,144. Twitter followers 1,138,399.

HarmonTown About Blog Founded in 2011, Harmontown is a near weekly live podcast by Dan Harmon (Community, Rick & Morty, Channel 101) featuring co-host "Comptroller" Jeff Davis (Whose Line Is It Anyway?). In 2013, it took to the road and by 2014 became a movie, the second documentary by director Neil Berkeley, following his first release "Beauty Is Embarrassing".
Frequency about 3 posts per month.
Since Oct 2010
Website harmontown.com/category/podc..
Facebook fans 12,243. Twitter followers 32,413.

Los Angeles About Blog A weekly podcast by comedian Pete Holmes where he interviews other comedians and actors and makes it weird.
Frequency about 3 posts per month.
Since Oct 2011
Website youmadeitweird.libsyn.com
Facebook fans 20,232. Twitter followers 412,322.

The Hills of Highland Park CA About Blog For over twenty years, Marc Maron has been writing and performing raw, honest and thought-provoking comedy. In September 2009, Marc changed the podcast landscape when he started WTF with Marc Maron, featuring Marc's revelatory conversations with iconic personalities such as Conan O'Brien, Terry Gross, Robin Williams, Keith Richards, Ben Stiller, Lorne Michaels and President Barack Obama. It became a worldwide phenomenon, with more than six-million downloads each month.
Frequency about 2 posts per week.
Since Sep 2009
Website wtfpod.com/podcast
Facebook fans 180,080. Twitter followers 799,657.

Glendale, CA About Blog The new home for the rantings and ravings of Adam CarollThe Adam Carolla Show is the #1 Daily Downloaded Podcast in the World. GET IT ON as Adam shares his thoughts on current events, relationships, airport security, specialty pizzas, politics, and anything else he can complain about. Five days a week and completely uncensored, Adam welcomes a wide range of guests to join him in studio for in depth interviews and a front row seat to his unparalleled ranting.
Frequency about 9 posts per week.
Website adamcarolla.com/blogs/podcas..
Facebook fans 216,887. Twitter followers 519,672.

About Blog "Hamish & Andy" is a podcast that began it's life as a band of three men, travelling from village to village in the 1700's, asking locals to gather round to listen as they discussed big issues of the times and provided light refreshments. The advent of The Internet saw the podcast's audience skyrocket, and now that we're well into the 2000's the podcast is heard in dozens of countries worldwide, although due to logistical reasons, the listeners must now provide light refreshments for themselves.
Frequency about 1 post per week.
Since Mar 2008
Website hamishandandy.com/listen
Facebook fans 2,551,120. Twitter followers 1,337,702.

On Klang, Thailand About Blog A weekly salon-style supershow, where comedian Duncan Trussell and guests explore the outer reaches of the multiverse.
Frequency about 3 posts per month.
Website duncantrussell.com
Facebook fans 15,545. Twitter followers 259,571.

Astoria, NY About Blog Last Things First is an inspirational interview series with comedians and funny people in funny business, asking them about the historic lasts and firsts in their lives as their comedy careers have blossomed. Or still are blossoming.
Frequency about 3 posts per month.
Since Nov 1998
Website thecomicscomic.com/category/..
Facebook fans 1,504. Twitter followers 9,935.

Los Angeles, CA About Blog In 2006, Jimmy Pardo became a podcasting pioneer when he began hosting the raucous-but-smart weekly podcast "Never Not Funny", which Entertainment Weekly called "one of the sharpest and gut-bustingest shows on the Internet." The show has been named a top comedy podcast by The AV Club, Esquire, GQ and USA Today, and its guest list (Conan O'Brien, Jon Hamm, Amy Poehler, Tom Bergeron, Zach Galifianakis and Sarah Silverman, just to name a few) reads like a Who's Who of Hollywood.
Frequency about 3 posts per month.
Website pardcast.com/blog
Facebook fans 8,606. Twitter followers 29,038.

Los Angeles, CA About Blog The official podcast of comedians Ethan & Hila Klein of h3h3productions.
Frequency about 1 post per week.
Since Dec 2016
Website h3h3roost.libsyn.com
Facebook fans 474,874. Twitter followers 2,030,331.

Foon About Blog I'm Arnie. I fell through a magical dimensional portal behind a Burger King in Chicago and found myself in a strange magical land called "Foon." I'm still somehow getting a weak wi-fi signal from the Burger King so I host a weekly podcast from the tavern the Vermilion Minotaur, interviewing monsters, wizards and adventurers. There are worlds other than our own!
Frequency about 3 posts per month.
Website hellofromthemagictavern.com
Facebook fans 17,575. Twitter followers 27,361.

About Blog Hannibal Buress is a mildly popular comedian, writer, podcast host and actor who is a favorite of fans and critics on big and small screens alike. The New York Times called him one of the most "supremely gifted and respected" comics around and the FADER said subscribing to his podcast, Handsome Rambler, is a must. He is also a cast member on Comedy Central's hit series Broad City, as well as the former co-host of Adult Swim's The Eric Andre Show.
Frequency about 2 posts per month.
Website hannibalburess.com/podcast
Facebook fans 214,767. Twitter followers 1,016,590.

Los Angeles, CA About Blog Each week or so Faris welcomes a celebrity to her couch to talk about the industry, how weird it is living in said industry, and the ticks that seem to become universal once you're in it — then they call up someone with a problem and try to solve it. It's funny, poignant, and useful all at the same time.
Frequency about 1 post per week.
Website unqualified.com
Facebook fans 41,425. Twitter followers 39,333.

Summer in NY/winter in LA About Blog A comedy podcast to help better understand humanity and also to make fart jokes.
Frequency about 2 posts per month.
Website arishaffir.com/category/podcast
Facebook fans 43,390. Twitter followers 187,617.

New Jersey About Blog What is The Best Show? It used to be The Best Show On WFMU for thirteen years. Now we are on our own and making our way through the world! The show is comedy, call-ins, music and fun. It's Scharpling and Wurster and everyone else! Tell your friends that we're back and we're coming for your children!
Frequency about 1 post per week.
Website thebestshow.net/podcast
Facebook fans 6,058. Twitter followers 93,618.

Los Angeles CALIFORNIA About Blog The Church Of What's Happening Now With: Joey Coco Diaz is a twice-weekly podcast hosted by Comedian Joey Coco Diaz along with his co-host Lee Syatt. Joey doesn't hold anything back and let's you know exactly what's on his mind. Joey and Lee are joined by one of Joey's friends, Comedians, Actors, Writers and Director's to name a few. We look forward to having you as a member of The Church.
Frequency about 2 posts per week.
Since Sep 2012
Website thechurchofwhatshappeningnow..
Facebook fans 27,405. Twitter followers 443,582.

Los Angeles About Blog Comedian Doug Benson (Super High Me, Last Comic Standing) invites his friends to sit down and discuss his first love: movies!
Frequency about 2 posts per week.
Website douglovesmovies.com
Facebook fans 3,547. Twitter followers 863,596.

London About Blog RHLSTP is an award-winning series in which Richard Herring chats with some of the biggest names in comedy. Stephen Fry, Steve Coogan, Russell Brand, Sarah Millican, David Mitchell are amongst the many comedy stars to have been interviewed across the 100 episodes.
Frequency about 3 posts per month.
Website comedy.co.uk/podcasts/richar..
Facebook fans 18,210. Twitter followers 224,599.

Coeur d'Alene, ID About Blog Each week, Dan Cummins takes fascinating listener suggested topics and enthusiastically dives into time sucks about everything from Charles Manson to the Lizard Illuminati, absurdly and sarcastically sharing the best of what he uncovers with you. Time to get curious! Time for Timesuck.
Frequency about 3 posts per month.
Website timesuckpodcast.com/Episodes
Facebook fans 6,981. Twitter followers 4,725.

Los Angeles, CA About Blog Jake Hurwitz and Amir Blumenfeld offer up advice in areas they're qualified to talk about. Also in areas they're not qualified to talk about.
Frequency about 1 post per week.
Website ifiwereyoushow.com
Facebook fans 254,069. Twitter followers 134,600.

EVERYWHERE! About Blog Keith and The Girl is a free comedy talk show hosted by Keith Malley and Chemda. Topics include current events, pop culture, politics and even intimate details of their lives. Every show is guaranteed to make you laugh!
Frequency about 4 posts per week.
Website keithandthegirl.com
Facebook fans 5,840. Twitter followers 6,818.

About Blog Comedian Chris D'Elia (Incorrigible, Man on Fire) goes on tangent after tangent every week about what's going on, alone in his house.
Frequency about 4 posts per month.
Website congratulationspod.com
Facebook fans 313,842. Twitter followers 709,447.

Norwich About Blog British comedian Adam Buxton talks with interesting people. The rambly conversations are sometimes funny, sometimes more serious with funny bits. Adam records the intros and outros for most episodes while walking with his dog friend Rosie in the East Anglian countryside where he lives with his wife and three children. Adam has appeared in films such as 'Hot Fuzz', 'Stardust' and 'Son Of Rambow' as well as a variety of TV shows in the UK.
Frequency about 2 posts per month.
Since Sep 2015
Website adam-buxton.co.uk/podcasts
Facebook fans 1,162. Twitter followers 250,651.

We fight #SweetPotatoStalin About Blog "The Smartest Man In The World" is a bold and riveting comedy podcast by comedian Greg Proops. There are new episodes frequently. You can download and listen to every episode for free at proopcast.com. The Proopcast is recorded in front of a live crowd.
Frequency about 4 posts per month.
Since Oct 2010
Website smartest.libsyn.com
Facebook fans 2,791. Twitter followers 135,047.

Vegas, Baby! About Blog Join us as Penn Jillette, Michael Goudeau, Matt Donnelly, and YOU discuss the news of the week. We'll examine religious news, talk about monkeys, and anything else that seems funny or makes us mad. We'll also take your suggestions for things you feel like talking about. We will be running a live video feed from the Vintage Nudes Studio for people with the time and inclination to watch people sitting and talking.
Frequency about 2 posts per week.
Website pennsundayschool.com/episodes
Facebook fans 11,202. Twitter followers 7,163.

About Blog Have you ever seen a movie so bad that it's amazing? Paul Scheer, June Diane Raphael and Jason Mantzoukas want to hear about it! We'll watch it with our funniest friends, and report back to you with the results.
Frequency about 1 post per week.
Website hdtgminfo.com
Facebook fans 66,815. Twitter followers 60,383.

London, England About Blog Join comedian Deborah Frances-White and her special guests as they discuss topics "all 21st century feminists agree on" while confessing their insecurities, hypocrisies and fears that underlie their lofty principles. Deborah Frances-White is the 2016 Writers' Guild Award Winner for Best Radio Comedy for her hit BBC Radio 4 series Deborah Frances-White Rolls the Dice. She is an Edinburgh Fringe regular, screenwriter and is hugely in demand for her corporate seminars.
Frequency about 4 posts per month.
Since Dec 2015
Website guiltyfeminist.com
Facebook fans 25,286. Twitter followers 41,927.

About Blog Averaging an IQ of 103, comedians and best friends Filip & Fredrik take an agonizingly prejudiced bilingual glance at the wonders of our time. Tuesdays in English and Thursdays in Swedish!
Frequency about 4 posts per month.
Website filipandfredrik.com/en/pod
Facebook fans 13,516. Twitter followers 51,590.

London UK About Blog For anyone who writes comedy, makes comedy, loves comedy, or just has an interest in comedians and what makes them so annoying.
Frequency about 3 posts per month.
Since Mar 2012
Website comedianscomedian.com/podcasts
Facebook fans 3,498. Twitter followers 11,114.

Hollywood, California U.S.A. About Blog A Weekly Roundup of America Through the Eyes of Two American Americans. Hosts Seth Romatelli and Jonathan Larroquette spend each episode meandering through current events, offering their unique opinions (and jokes) about what's going on in the world.
Frequency about 1 post per week.
Website uhhyeahdude.com
Facebook fans 8,142. Twitter followers 9,821.

About Blog Phil Hendrie's historic improvisational genius goes to work everyday in this divinely hilarious satire of the modern media. And that's only part of what's really going on here. Get a hold of this top shelf entertainment from one of the acknowledged masters of comedy and social satire.
Frequency about 5 posts per week.
Website philhendrieshow.com
Facebook fans 55,991. Twitter followers 22,092.

The World, & surrounding areas About Blog The Bugle is the ultimate pan-global audio home of international satire. The show is a weekly eruption of comedic comment about the world's most, and least, important news stories.
Frequency about 4 posts per month.
Website thebuglepodcast.com
Facebook fans 28,523. Twitter followers 68,670.

New York, NY About Blog Ask Me Another is the rambunctious live show from NPR and WNYC that blends brainteasers, pub trivia, comedy and music into an hour of mind-bending fun. Host Ophira Eisenberg invites guests and listeners alike to stretch their noggins, tickle their funny bones and be serenaded by house musician Jonathan Coulton. What you'll hear resembles the casual intimacy of game night at a friend's house: one where scores are forgotten in favor of hilarious gaffes.
Frequency about 3 posts per month.
Since Apr 2012
Website npr.org/programs/ask-me-another
Facebook fans 37,473. Twitter followers 20,931.

About Blog Join Dr. Sydnee McElroy and her husband Justin for a tour of all the dumb, bad, gross, weird and wrong ways we've tried to fix people.
Frequency about 3 posts per month.
Since Jun 2013
Website sawbones.libsyn.com
Facebook fans 22,937. Twitter followers 44,570.

Auckland/New York City About Blog The Worst Idea Of All Time is a podcast hosted by Guy Montgomery and Tim Batt, two New Zealand comedians who watched Grown Ups 2 once a week, every week for a year. The duo then watched Sex and The City 2 52 times. They are currently watching WE ARE YOUR FRIENDS. 52 times. What started as simply a stupid idea, quickly turned into a public mental unraveling of two grown men, week by week. The podcast has been downloaded over 5 millions times since it began in Feb 2014.
Frequency about 3 posts per month.
Since Feb 2014
Website worstideaofalltime.com
Facebook fans 12,246. Twitter followers 12,681.

Dublin, Ireland About Blog Comedy with Oliver Callan
Frequency about 2 posts per month.
Website rte.ie/radio1/comedy/podcasts
Facebook fans 7,720. Twitter followers 24,757.

About Blog Comic and man of the world Bert Kreischer shares his wisdom and life with you.
Frequency about 2 posts per week.
Since Dec 2012
Website bertcast.libsyn.com
Facebook fans 4,335. Twitter followers 12,771.

Los Angeles, CA About Blog Comedian Dana Gould takes a look at our world... through his eyes... for your benefit. Joined by fellow comedians and other interesting people with a focus on the weird and the real. Conversation. Music. Monologues. With Ken Daly, Andy Paley and more.
Frequency about 1 post per month.
Website danagould.com/category/episodes
Facebook fans 26,396. Twitter followers 307,900.

London About Blog Answer Me This! is an award-winning weekly comedy podcast, hosted by Helen Zaltzman and Olly Mann, which has been answering the world's questions since 2007.
Frequency about 1 post per month.
Since Dec 2006
Website answermethispodcast.com
Facebook fans 13,256. Twitter followers 18,932.

United States About Blog Citation Needed, a podcast where we choose a subject, read a single article about it on Wikipedia, and pretend we're experts. We have had an absolute blast putting this show together and we hope you like it, too!
Frequency about 4 posts per month.
Website citationpod.com
Facebook fans 3,727. Twitter followers 2,258.

Los Angeles, CA About Blog Unpops is a Los Angeles-based comedy podcast network. We currently feature more than 15 different shows and release at least ten episodes each week. The network began as a single podcast hosted by comic Adam Tod Brown.
Frequency about 1 post per week.
Website unpops.com
Facebook fans 1,532. Twitter followers 7,867.

New York, NY About Blog How Was Your Week is a weekly chat/comedy show that features interviews with authors, comics, musicians, actors and writers in which Julie Klausner asks guests how their week was, and also we learn stuff and have fun.
Frequency about 1 post per month.
Website howwasyourweek.com
Facebook fans n/a. Twitter followers 122,909.

London, England About Blog Carl Donnelly and Chris Martin are both UK stand-up comedians who between them have won awards, appeared on television and generally been funny all over the globe. In 2008 they started doing a podcast together; an edited 25 minutes of 'bite-size' comedy chit chat. It has now become between 1 and 2 hours of unedited nonsense due to public demand. This may also however have been because they are too lazy to edit it and like talking about world issues* for ages.
Frequency about 3 posts per month.
Website carlandchrispodcast.com
Facebook fans 1,225. Twitter followers 527.

nerdfighteria About Blog Hank and John Green (YouTubers and etc.) answer questions, give questionable advice, and talk about Mars (the planet) and AFC Wimbledon (the 3rd tier English football club).
Frequency about 4 posts per month.
Website dearhankandjohn.libsyn.com
Facebook fans n/a. Twitter followers 1,450.

New York About Blog Negin Farsad is an American comedian, actor, writer and filmmaker of Iranian descent based in New York City. Like most comedians, she has a Masters Degree in African-American Studies. She was named one of the 53 Funniest Women by the Huffington Post, one of 10 Feminist Comedians to Watch by Paper Magazine, and was selected as a TEDFellow for her work in social justice comedy.
Frequency about 1 post per month.
Website fakethenation.com
Facebook fans n/a. Twitter followers 18,775.

Brooklyn, NY About Blog Phoebe Robinson and Jessica Williams are funny. They're black. They're BFFs. And they host a live comedy show in Brooklyn. Join the 2 Dope Queens, along with their favorite comedians, for stories about sex, romance, race, hair journeys, living in New York, and Billy Joel. Plus a whole bunch of other s**t.
Frequency about 2 posts per month.
Website wnycstudios.org/shows/dopequ..
Facebook fans 103,867. Twitter followers 61,941.

Brooklyn, NY About Blog Phoebe Robinson is tired of being the token black woman in an ocean of white dude comedians. So in this podcast, Phoebe's calling the shots. She'll host intimate, funny and super honest conversations with musicians, actors, writers and comedians who are killing it in their fields — AND who aren't white dudes! Stay tuned for the one token white guy (it's only fair), cameos by Phoebe's ball-busting executive producer Ilana Glazer, and a whole lot of hijinks.
Frequency about 2 posts per month.
Website wnycstudios.org/shows/whiteguys
Facebook fans n/a. Twitter followers 75,651.

Hollywood, CA About Blog Jimmy Dore is the star of several Comedy Central specials, Author of the best seller "Your Country Is Just Not That Into You", a writer performer for the Off-Broadway hit "The Marijuana-Logues", the host of his own weekly radio show in Los Angeles, and on air host for The Young Turks, the largest online news show in the world.
Frequency about 1 post per week.
Website jimmydorecomedy.com/home/ind..
Facebook fans 31,422. Twitter followers 136,782.
These podcasts are ranked based on following criteria
Google reputation and Google search ranking
Influence and popularity on Facebook, twitter and other social media sites

Quality and consistency of posts.

Feedspot's editorial team and expert review
Best 60 Funny and Comedy Podcasts
CONGRATULATIONS to every podcast that has made this Top Funny and Comedy Podcasts list! This is the most comprehensive list of best Funny and Comedy Podcasts on the internet and I'm honoured to have you as part of this! I personally give you a high-five and want to thank you for your contribution to this world.
If your podcast is one of the Top 60 Funny and Comedy Podcasts, you have the honour of displaying the following badge on your site. Use the below code to display this badge proudly on your website. You deserve it!:
<a href="https://blog.feedspot.com/funny_podcasts/" rel="nofollow" title="Funny and Comedy Podcasts"><img alt="Funny and Comedy Podcasts" src="https://blog.feedspot.com/wp-content/uploads/2018/10/comedy_podcast_216px.png?x51349"/></a>