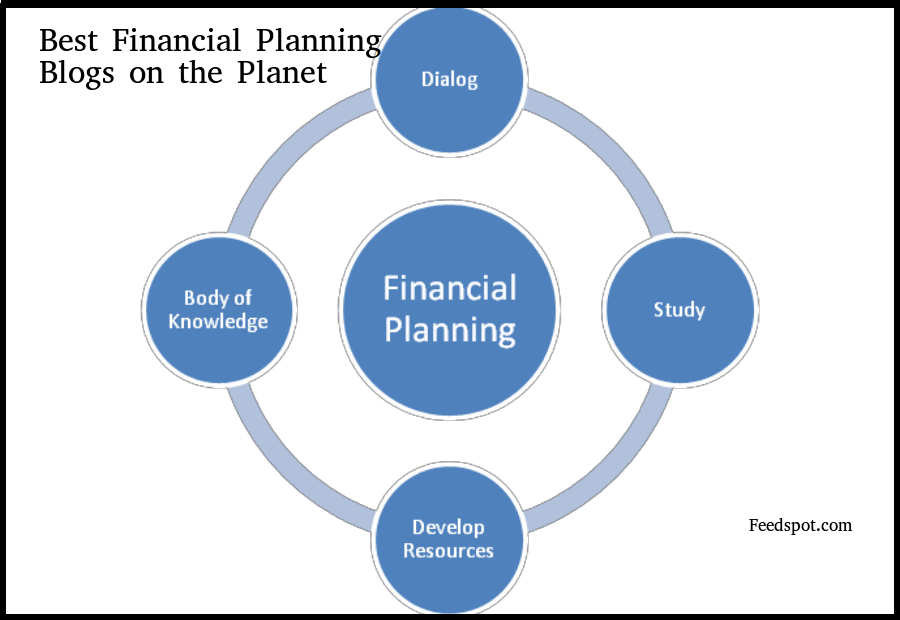 Financial Planning Blogs List.
The Best Financial Planning blogs from thousands of top Financial Planning blogs in our index using search and social metrics. Data will be refreshed once a week.
If your blog is selected in this list, you have the honour of displaying this Badge (Award) on your blog.
Financial Planning Blogs

About Blog Advancing Knowledge in Financial Planning. Publisher of the financial planning industry blog including news and commentary on the world of financial planning, and CFP CE credit!
Frequency about 6 posts per week.
Also in Financial Advisor Blogs
Blog kitces.com
Facebook fans 9,596. Twitter followers 53,164.

Denver, CO About Blog FPA and the Journal of Financial Planning are committed to helping financial planning professionals run their businesses more efficiently, effectively, and profitably. Part of this commitment is providing FPA members and others in the financial planning profession with the latest practice management content from some of the leading experts in the field. This blog is populated frequently with helpful posts on marketing, client skills, technology, HR/staff, compliance, and operations.
Frequency about 2 posts per week.
Also in Financial Planning Magazines
Blog onefpablog.org
Facebook fans n/a. Twitter followers 13,007.

India About Blog A Personal Finance Website helps you to make better financial decisions. We talk about Financial Planning, Investment Planning and Retirement planning services to individuals in India and NRIs. We provide fair guidance on fix income instruments, Equity, Mutual Funds, Insurance, gold & income tax. We are financial planners and our financial plans are completely reliable. Follow this site and get Best Investment Option & Business Ideas.
Frequency about 3 posts per week.
Since Aug 2014
Also in Indian Personal Finance Blogs
Blog moneyexcel.com
Facebook fans 3,634. Twitter followers 561.

Austin, TX About Blog I'm a Fee-Only CFP® who provides affordable financial planning to clients in their 20s and 30s. I help people navigate through big life decisions, like buying a home, paying off student loans, maximizing their company benefits, planning their next vacation, investing in their future, and resisting their brother-in-law's hot stock tip.
Frequency about 1 post per month.
Also in Wealth Management Blogs
Blog genyplanning.com
Facebook fans 343. Twitter followers 9,893.

London About Blog Financial Planning Today is the daily news website for Financial Planners, Paraplanners and Wealth Managers. We will bring you a daily news service with the latest from the Financial Planning and Paraplanning sectors plus other relevant business and finance stories along with insightful features and other content.
Frequency about 34 posts per week.
Also in UK Financial Advisor Blogs
Blog financialplanningtoday.co.uk..
Facebook fans n/a. Twitter followers n/a.

New Delhi About Blog This blog is about covers everything you wanted to know about Investment Options, Financial Planning and Income Tax in India! I hope this blog would benefit you in making better financial decision about your money. Blog by Amit Kumar. Follow this blog and get everything you wanted to know about Investment Options, Financial Planning and Income Tax in India!
Frequency about 3 posts per week.
Since Dec 2009
Blog apnaplan.com
Facebook fans 6,601. Twitter followers 563.

New York City About Blog We help people align their investments with their financial goals and manage portfolios for them. This blog is about markets, economics, media, and finance. We provide you with a running commentary of market-related insights and thoughts as events unfold.
Frequency about 8 posts per week.
Also in Investment Blogs, New York Finance Blogs
Blog thereformedbroker.com
Facebook fans 5,742. Twitter followers n/a.

mumbai, India About Blog You are the architect of your own destiny, not everyone is a good builder. Here at Financial Hospital we build a solid foundation for you to reach your desired destiny of financial stability through proper foundation and execution of financial goals as well as planning.
Frequency about 1 post per month.
Blog financialhospital.in/blog
Facebook fans 25,865. Twitter followers 237.

Pune About Blog A personal finance blog teaching everything about money and how to live a good financial life.Through Jago Investor author is trying to 'demystify' the Financial Planing ethics. He deals with all the fields related to financial planing and why one needs a financial planer. A massive financial literacy program for India which helps investors make their financial lives more better and inspiring.
Frequency about 3 posts per month.
Blog jagoinvestor.com
Facebook fans 1,743. Twitter followers 9,548.

About Blog USAA is a financial services company that offers banking, investment planning, and insurance for military members, past and present, and their families. While much of their blog is geared toward military families, there are still many articles that are applicable to civilian families as well.
Frequency about 1 post per month.
Blog communities.usaa.com/t5/Fina..
Facebook fans 1,173,620. Twitter followers 120,880.

San Francisco, CA About Blog Discuss and ask questions about personal finances, budgeting, income, retirement plans, insurance, investing, and frugality.
Frequency about 84 posts per week.
Blog reddit.com/r/FinancialPlanning
Facebook fans 1,281,223. Twitter followers 623,200.

About Blog Bemoneyaware writes in simple form on money issues which face in daily life ex: EPF, about filling income tax form, about EPF,PPF, Credit debt, loan,Investing.
Frequency about 4 posts per week.
Blog bemoneyaware.com
Facebook fans 1,105. Twitter followers 2,656.

Bangalore About Blog ReLakhs is a blog on personal finances. The main aim is to present the information on financial products in a simple,unbiased and easy to understand manner . This blog covers wide array of personal finance topics like insurance,home loans,banking services,mutual funds,tax planning,stock
Frequency about 1 post per week.
Also in Personal Finance Blogs
Blog relakhs.com/financial-planning
Facebook fans 8,942. Twitter followers 1,082.

About Blog Financial Planning, a SourceMedia brand, is the leading resource for news-analysis, insights and data for independent financial advisers. Get Financial Planning's breaking and daily news coverage on topics including RIAs, practice management, financial planning news & insights from industry experts.
Frequency about 42 posts per week.
Also in Financial Magazines
Blog financial-planning.com
Facebook fans 15,277. Twitter followers 63,478.

Canada About Blog WealthBar is private wealth management for the rest of us. Financial experts ensure that every portfolio and investment helps clients reach their financial goals. Our expert technology team designs, and creates the smoothest, easiest, and most amazing investing and personal financial planning experience possible. Follow this blog to get financial advice and news.
Frequency about 4 posts per month.
Since Jul 2013
Also in Canadian Personal Finance Blogs
Blog blog.wealthbar.com
Facebook fans 4,954. Twitter followers 4,680.

Bangalore, India About Blog Money Management Software India. Indians use Mymoneysage to Plan their Finances. Save, Track, Protect and Make more out of your Money. Follow this blog and get information on investments, money management Ideas & tools.
Frequency about 3 posts per month.
Since Feb 2016
Blog mymoneysage.in/blog
Facebook fans 2,867. Twitter followers 196.

Sydney, Australia About Blog The Financial Planning Association (FPA) is the home of qualified financial planning professionals representing financial planners in Australia. Read about financial planning and find a planner in your local area. We design and offer an industry-leading range of training programmes to help financial planners to keep their knowledge and skills up-to-date.
Frequency about 1 post per week.
Blog fpa.com.au
Facebook fans 10,865. Twitter followers 6,347.

India About Blog Blog by Hemant Beniwal. Who Teaches Lessons that Last a Lifetime. He believe that Financial Planning is the only way through which people can achieve their Financial Goals. His goal is to provide quality financial education to as many people as possible including kids, teens and adults that empower them to create financial freedom in their lives.
Frequency about 1 post per month.
Blog tflguide.com/category/financ..
Facebook fans 4,353. Twitter followers 2,633.

Pensacola, FL About Blog Blog by Matt Becker. Dedicated to helping new parents build happy families by making money simple. Come visit the blog and check out our fee-only financial planning services. I help you take control of your money so that you can take care of your family.
Frequency about 1 post per month.
Blog momanddadmoney.com/blog
Facebook fans 770. Twitter followers 2,462.

Chandigarh About Blog At 'Good Moneying' we are committed to empower our readers with the knowledge related to all kind of personal finance matters. We want them to take informed decisions and follow the Financial Planning route to take holistic view of their finances. We also offer customized financial planning solutions to Salaried, Retired, NRIs and Professionals.
Frequency about 2 posts per month.
Blog goodmoneying.com/home
Facebook fans 4,398. Twitter followers 1,161.

Bellingham, WA About Blog I believe that women in tech need to focus on both career and financial opportunities. I want to give you financial guidance, yes, but also a connection to a broader community of professionals who can help you succeed in the industry. Flow is a fee-only, virtual financial planning firm.
Frequency about 3 posts per month.
Blog flowfp.com/blog
Facebook fans 287. Twitter followers 806.

India About Blog International College of Financial Planning is one of India's leading educational institutions specializing in financial services education.
Frequency about 2 posts per week.
Blog icofp.org/blog
Facebook fans 112,568. Twitter followers 334.

Vancouver, BC/ Canada About Blog Money Coaches Canada is the nation's leading provider of advice-only financial planning and money coaching. We are a national brand that clients recognize and trust. Since 2010, we've guided over 1,200 clients to achieve a level of financial contentment they never thought possible helping them reduce debt, improve cash flow, save, invest and plan for both short and long term goals.
Frequency about 2 posts per month.
Blog moneycoachescanada.ca/blog
Facebook fans 2,444. Twitter followers 2,257.

About Blog My name is Chris Roane. I started this blog to share what I've learned and hear from the community. I've made mistakes in my adult life, in regards to money and finances. I want to help people avoid these mistakes, and continue learning myself. For most of my life I found it difficult to know how to succeed financially and I want to help others succeed.
Frequency about 3 posts per week.
Blog moneystir.com
Facebook fans 31. Twitter followers 833.

About Blog Stephen Foster has worked in the financial services sector for over thirty years. He has worked extensively in the retirement planning space and has run defined-contribution programs for several major financial institutions. Follow his blog for tips and advice on financial planning.
Frequency about 1 post per week.
Since Sep 2010
Blog fosterfinancial.xyz
Facebook fans n/a. Twitter followers n/a.

Jaipur About Blog TheWealthWisher is a website aimed at educating investors about personal finance, financial planning, behavioral finance, value investing and self-development. The topics include investments, stocks, mutual funds, retirement, loans, fixed income investing and much more. Your Guide to Financial Planning, Wealth Management & Personal Finance.
Frequency about 2 posts per month.
Blog thewealthwisher.com/category..
Facebook fans 2,953. Twitter followers 240.

Southfield, MI About Blog Center for Financial Planning, Inc. is recognized as one of the leading Financial Planning and Investment Management firms in the Midwest. The Center provides highly personalized wealth management services concentrated in Comprehensive Financial Planning and Investment Management.
Frequency about 1 post per week.
Blog centerfinplan.com/money-cent..
Facebook fans 387. Twitter followers 422.

Raleigh, North Carolina About Blog An independent, fee-only firm offering Financial Planning, Investment Management and Wealth Management services in Raleigh, NC and beyond.
Frequency about 2 posts per month.
Blog financialsymmetry.com/blog
Facebook fans 133. Twitter followers 498.

Dubai About Blog UAE focussed financial blog, provides actionable ideas & tools for Investments, Insurance, Wealth Accumulation and Financial Independence.
Frequency about 2 posts per month.
Blog financialplanningindubai.com..
Facebook fans 19. Twitter followers n/a.

India About Blog Fund-Matters offers consultation on financial planning services like Retirement, child education/marriage, NRI investments in India. We also offer an online investing platform for easy investing in mutual funds.
Frequency about 1 post per week.
Blog fund-matters.com/blog
Facebook fans n/a. Twitter followers 50.

Newport Beach, CA About Blog Welcome to Investing Caffeine, a blog written by professional money manager Wade W. Slome. Investing Caffeine will wake up your investment brain by tackling the complex issues of investing and financial planning, with the goal of educating and entertaining your mind.
Frequency about 1 post per month.
Blog investingcaffeine.com
Facebook fans 225. Twitter followers 19.

About Blog Finance News & updates worldwide with all breaking and trending news articles on howtofinance.online. By different market analysists worldwide to give you best knowledge.
Frequency about 2 posts per month.
Blog howtofinance.online
Facebook fans 13. Twitter followers 5.

Dallas, TX About Blog Katie Brewer, CFP® is a Dallas, Fort Worth, and online fee-only financial planner with over 10 years of experience. Her passion is helping clients get their financial lives in order to start living their richest lives.
Frequency about 1 post per month.
Blog yourrichestlifeplanning.com/..
Facebook fans 366. Twitter followers 4,139.

Anytown USA About Blog An independent financial planning firm that provides hourly, as needed financial planning advice to individuals and families who realize they need help and guidance to achieve their goals. Our technology allows us to monitor your plan no matter where you are and as life changes quickly, we'll work proactively to help tackle your major financial concerns.
Frequency about 2 posts per month.
Blog solarifinancial.com/blog
Facebook fans 85. Twitter followers 522.

Morristown, NJ About Blog Blog by Sheri Iannetta Cupo. Here you will find about holistic financial planning & investment management for busy professionals. Appreciate the Wealth of your Life by following us.
Frequency about 1 post per month.
Blog sagebroadview.com/category/f..
Facebook fans n/a. Twitter followers 3,015.

Atlanta About Blog This blog is about the journey to Buying My Time Back with Financial Independence. I am no financial expert nor do I profess to be and I am still a work in progress. My writings include my life's challenges, changes and successes.
Frequency about 2 posts per week.
Blog buymytimeback.com
Facebook fans 108. Twitter followers 1.

Roanoke, VA About Blog At Integrity Financial Planning, we act as financial coaches helping our clients make better decisions for their financial future. Our independence ensures a fiduciary duty to work in our clients' best interests. As objective advisors, we select from a wide range of products and services that are appropriate for each client's situation.
Frequency about 1 post per week.
Blog financialplanningva.com/blog
Facebook fans 58. Twitter followers 26.

Denver, CO About Blog Sullivan Financial Planning offers fee only or fee based financial planning services for Metro Denver area individuals.She offers advice to individuals and families looking for help with retirement savings, college planning, investment advice, and other life goals.
Frequency about 1 post per week.
Blog sullivanfinancialplanning.com
Facebook fans 217. Twitter followers 222.

Yorkshire About Blog We are an established, family run business with over 30 years' experience delivering quality, friendly and efficient advice to clients from all walks of life. Our initial consultation is completely free to all new prospective clients as we understand that making financial decisions isn't always easy. We know it's important to have reliable information and guidance before making a commitment.
Frequency about 1 post per week.
Blog charlesjames.com/blog
Facebook fans 601. Twitter followers 1,069.

Bengaluru, India About Blog All about Financial Planning and life Goals, ranging from Plan to Marriage, Buy a Home, Investments, Child Education, life insurance, Startup Funding.
Frequency about 1 post per month.
Blog blog.theriteplan.com
Facebook fans 575. Twitter followers 28.

Melbourne, Victoria About Blog Yield Financial Planning provides expert holistic financial advice that empowers our clients to live better lives. Unlike other financial planning firms, our personalised approach means that we spend more time getting to know our client. Our success is underpinned by our inclusive and forward thinking culture that is powered by the best financial planning minds in the country.
Frequency about 1 post per month.
Blog yieldfinancialplanning.com.a..
Facebook fans 147. Twitter followers 215.

London About Blog BBi Financial Planning Ltd is a new company formed in 2015, but you might already know us as the financial services department of Berns Brett Ltd. We can advise you on a wide range of investments and pensions, as well as help you make sure you have proper financial protection in place by arranging insurance to cover your life, health and medical bills.
Frequency about 4 posts per month.
Blog bbifp.com/blog
Facebook fans n/a. Twitter followers n/a.

Northern Ireland About Blog Newbridge Financial Planning provides independent financial advice on Mortgages, Protection, Pensions and Investments. We aim to simplify and streamline your financial affairs, helping you understand and improve your current financial position. We are committed to our clients throughout each life stage helping you achieve your goals leading up to and beyond retirement.
Frequency about 1 post per month.
Blog newbridgefinancialplanning.c..
Facebook fans 98. Twitter followers 215.

Santa Rosa, CA About Blog Ridgeview Financial Planning is an Independent, Fee-Only Registered Investment Advisor located in Santa Rosa, CA. It is a fee-only firm so you'll know exactly what the services will cost, no surprises. All of my recommendations will be in writing. Any conflicts of interest will be disclosed.
Frequency about 1 post per week.
Blog ridgeviewfp.com/blog.html
Facebook fans n/a. Twitter followers 4.

Newton, MA About Blog We help you create your ideal tomorrow while living well today. Navigating your finances has become much more difficult and complex. Financial planning is a lifelong endeavor that requires guidance from a well-qualified and empathetic professional. Our greatest strength is our unwavering passion to help you meet financial goals that are important to you.
Frequency about 1 post per week.
Blog planwithfps.com/blog
Facebook fans 112. Twitter followers 33.

Orange, CA About Blog KIS Financial Planning, LLC is a boutique fee-only financial planning practice that provides financial advice and investment management services.We focuses on creating effective solutions to meet the various financial and investment needs of our clients. We have made it our mission to help our clients alleviate their debt, create strong investment portfolios and build futures for families.
Frequency about 2 posts per month.
Blog jasonhamilton.org/blog
Facebook fans 109. Twitter followers 160.

South Africa About Blog Warren Basel is an independent financial advisor, taking on a holistic approach to financial planning. Looking at wealth protection as well as wealth creation for individuals, business people as well as corporates. I provide first class service to my clients and act in an ethical and professional manner to deliver the most suitable advice.
Frequency about 1 post per week.
Blog financial-planning-sa.net/blog
Facebook fans 3,148. Twitter followers 417.

Saffron Walden, UK About Blog We are a Chartered firm of financial planners. This means we have satisfied rigorous criteria relating to professional qualifications and ethical good practice. With a variety of expertise and knowledge across the team, we take the time to ensure that the right combination is applied to meet our clients' individual needs.
Frequency about 1 post per week.
Blog greenwoodfinancialplanning.c..
Facebook fans 8. Twitter followers 399.

Fort Collins, CO About Blog Wherever you need your money to take you, Financial Planning Fort Collins can help you get there with technology driven planning and advice. We believe that a basic financial plan, a properly diversified investment portfolio, and guidance from a certified financial planner professional are essential to long term financial success.
Frequency about 4 posts per month.
Blog financialplanningfortcollins..
Facebook fans 70. Twitter followers 154.

North Shields About Blog A financial planning company that thinks differently about money. We are Wades, independent financial advisers in Newcastle, UK. We believe that until we really know about our clients' lives and aspirations we have no right to talk to them about their money. That's why our methodology is structured around them, not the market or the financial products currently available.
Frequency about 1 post per month.
Blog wadefinancial.co.uk/blog
Facebook fans 107. Twitter followers 429.

Dallas-Ft. Worth, TX About Blog Our mission is to help you achieve your goals and be successful in your life and with your money. We understand that things don't always go as planned. We are here to provide the financial knowledge and framework to accomplish your dreams and plan for the future regardless of whether you feel like you're on track right now or not.
Frequency about 1 post per month.
Blog keenerfinancial.com/blog
Facebook fans 264. Twitter followers 1,789.

About Blog Crue Invest (Pty) Ltd is a fiercely independent, fee-based financial planning practice based in Pinelands, Cape Town. Crue is one of only 14 practices in South Africa that have received the FPI Approved Professional Practice accreditation in recognition of the stringent levels of expertise, advice and ethics applied by the practice.
Frequency about 2 posts per month.
Blog cruechronicles.com
Facebook fans 386. Twitter followers 797.

Dublin, OH About Blog At Keeler & Nadler, we work with individuals and families like yours to help you set and achieve your personal financial goals. We want to get to know our clients, and your lifetime goals and dreams. After meeting with you and thoroughly reviewing your personal situation, we'll create a personal financial plan for you.
Frequency about 1 post per month.
Blog keelernadler.com/blog
Facebook fans 126. Twitter followers 10.

About Blog Lighthouse Financial Services, Inc. is an independent wealth management firm providing financial guidance and portfolio management to high-net-worth families and individuals.
Frequency about 4 posts per week.
Blog lighthouselink.com/marketupdate
Facebook fans 199. Twitter followers n/a.
These blogs are ranked based on following criteria
Google reputation and Google search ranking
Influence and popularity on Facebook, twitter and other social media sites

Quality and consistency of posts.

Feedspot's editorial team and expert review
Best 50 Financial Planning Bloggers
CONGRATULATIONS to every blogger that has made this Top Financial Planning blogs list! This is the most comprehensive list of best Financial Planning blogs on the internet and I'm honoured to have you as part of this! I personally give you a high-five and want to thank you for your contribution to this world.
If your blog is one of the Top 50 Financial Planning blogs, you have the honour of displaying the following badge on your site. Use the below code to display this badge proudly on your blog. You deserve it!: