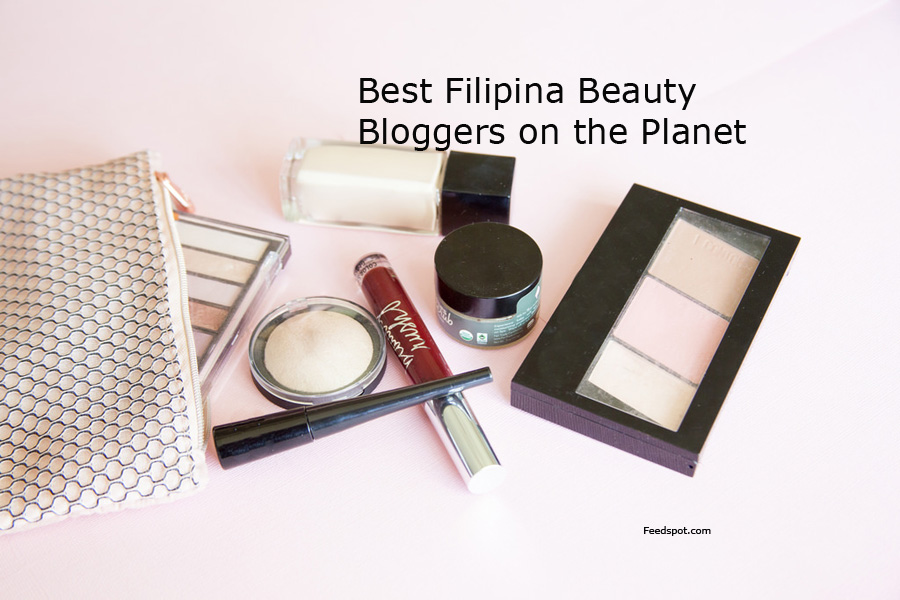 Filipina Beauty Bloggers List.
The Best Filipina Beauty Bloggers from thousands of Beauty, Skincare and Makeup Blogs in the Philippines using search and social metrics. We've carefully selected these websites because they are actively working to educate, inspire, and empower their readers with frequent updates and high-quality information. Also check out Filipina Beauty Youtubers.
If your blog is selected in this list, you have the honour of displaying this Badge (Award) on your blog.
Filipina Beauty Bloggers
Philippines About Blog Project Vanity is the Philippine's top beauty website, written by a team of passionate beauty mavens. Find reviews, tutorials, and videos!
Frequency 1 post / day
Also in Philippines Women Blogs
Blog projectvanity.com
Facebook fans 91.1K ⋅ Twitter followers 3.4K ⋅ Instagram Followers 48.6K ⋅ Social Engagement 18ⓘ ⋅ Domain Authority 41ⓘ
About Blog Mari is a top beauty blogger and female lifestyle blogger from Manila, Philippines. Find reviews, tutorials, swatches, and prices of makeup, skincare, haircare, and bodycare.
Frequency 1 post / day
Since Apr 2013
Also in Asian Beauty Blogs
Blog dollupmari.com
Facebook fans 62K ⋅ Instagram Followers 14.3K ⋅ Domain Authority 29ⓘ
Republic of the Philippines About Blog Style Vanity is a beauty blog that focuses on Asian beauty. It provides honest reviews and the latest trends in Asia to keep the readers informed. Its mission is to explore and provide insight into beauty products, from ingredients to retail.
Frequency 1 post / day
Blog stylevanity.com
Facebook fans 2.1K ⋅ Twitter followers 1.8K ⋅ Domain Authority 41ⓘ
Philippines About Blog A Top Filipina Beauty Blogger from Manila Philippines who writes about makeup, skincare,fashion,nail art,motherhood,recipes and tips about beauty.
Frequency 3 posts / week
Since Jan 2008
Blog askmewhats.com
Facebook fans 4.3K ⋅ Twitter followers 5.1K ⋅ Instagram Followers 16.1K ⋅ Social Engagement 3ⓘ ⋅ Domain Authority 36ⓘ
Philippines About Blog My name is Keith and I am a certified beauty junkie. I work as a freelancer for a living. The main mission of this blog is to provide information and to entertain at the same time. This will serve as your online guide to a fab and functional makeup kit.
Frequency 8 posts / quarter
Since Jun 2016
Blog makeupkeith.com
Facebook fans 824 ⋅ Social Engagement 2ⓘ ⋅ Domain Authority 16ⓘ
Philippines About Blog Honest reviews, entertaining features, and crazy personal musings. Written by a bipolar beauty blogger who's on a journey to live life. Well, basically just strive to live!
Frequency 27 posts / year
Since Dec 2009
Also in Beauty Blogs, Lifestyle Blogs, Philippines Blogs, Philippines Health and Fitness Blogs
Blog kikaysikat.com
Facebook fans 22.6K ⋅ Twitter followers 1.3K ⋅ Instagram Followers 24.4K ⋅ Social Engagement 8ⓘ ⋅ Domain Authority 37ⓘ
Philippines About Blog A Beauty Blog dedicated to inspiring women be the best version of themselves
Frequency 12 posts / year
Since Jun 2011
Blog realasianbeauty.com
Facebook fans 27.8K ⋅ Twitter followers 1.3K ⋅ Social Engagement 10ⓘ ⋅ Domain Authority 32ⓘ
Philippines About Blog A Filipina who talks about Beauty, Fashion, and Lifestyle.
Frequency 1 post / quarter
Since Apr 2012
Blog gen-zel.com
Instagram Followers 144 ⋅ Social Engagement 33ⓘ ⋅ Domain Authority 25ⓘ
Philippines About Blog I'm a ninja who overcame mission impossible in a cat suit. Find makeup looks, product reviews and much more on Couchwasabi
Frequency 1 post / day
Since Sep 2008
Blog couchwasabi.wordpress.com
Twitter followers 930 ⋅ Domain Authority 19ⓘ
Manila, Phillipines About Blog Top Beauty Blogger in the Philippines. Your #1 blog for Makeup and Skincare reviews and whatever beauty products on trend.
Frequency 1 post / quarter
Since Oct 2011
Blog mhisha.com
Twitter followers 1.1K ⋅ Social Engagement 12ⓘ ⋅ Domain Authority 11ⓘ
Philippines About Blog Beauty and Fashion Blogger from the Philippines
Frequency 30 posts / year
Since Aug 2010
Blog carizzachua.com/tag/beauty
Facebook fans 6.2K ⋅ Twitter followers 2.1K ⋅ Social Engagement 2ⓘ ⋅ Domain Authority 25ⓘ
Philippines About Blog I'm Andie, a filipina beauty blogger who's addicted to all things pretty. I blog about all things nail polish, makeup, skincare and DIY beauty plus Philippine Makeup Brands, Pinay skincare stuff, and shopping in the Philippines
Frequency 30 posts / year
Since Mar 2016
Blog pinaybeautyandstyle.blogspot..
Facebook fans 2.6K ⋅ Instagram Followers 3.6K ⋅ Social Engagement 24ⓘ ⋅ Domain Authority 16ⓘ
Quezon, Central Luzon About Blog Learn latest beauty trends,fashion must have with the help of Dashing Mom.Top Lifestyle,Beauty blog,makeup,food,travel and skincare.
Frequency 4 posts / day
Blog itsrayrose.com
Facebook fans 2.2K ⋅ Twitter followers 373 ⋅ Social Engagement 3ⓘ ⋅ Domain Authority 13ⓘ
Manila About Blog A blog about the adventures of two best friends on makeup and everything nice! And - well, we're pretty in peach and pink!
Frequency 1 post / month
Since Jun 2010
Blog peachypinksisters.blogspot.com
Facebook fans 1.7K ⋅ Twitter followers 1.5K ⋅ Domain Authority 30ⓘ
Republic of the Philippines About Blog Amanda Dela Cruz is a TransPinay Writer who is a former Author of a YA Paranormal-Romance Novel. As a TransPinay, her journey to beauty was like a tricycle ride on a rocky road and she wants to share her knowledge about beauty, treatments, products, hormones (for MTF transgenders like her), procedures, surgeries and etc. to the Modern Pinays. Get Honest Skin Care , Makeup and Beauty Service Reviews for Filipinas by a Filipina.
Frequency 1 post / month
Since Feb 2018
Blog filipinow.com
Facebook fans 1.1K ⋅ Twitter followers 238 ⋅ Social Engagement 3ⓘ ⋅ Domain Authority 14ⓘ
Cebu About Blog Cebu Beauty Blogger who writes about all things beauty. Read product reviews on makeup, skin, hair and body essentials. As well as makeup tutorials.
Frequency 4 posts / quarter
Since Oct 2010
Blog randombeautybyhollie.com
Facebook fans 827 ⋅ Twitter followers 628 ⋅ Social Engagement 5ⓘ ⋅ Domain Authority 21ⓘ
About Blog Char blogs about her thoughts, experiences, raves and rants about beauty, fashion, food, events and anything under the sun at www.yellowyum.com
Frequency 3 posts / quarter
Blog yellowyum.com
Facebook fans 604 ⋅ Twitter followers 848 ⋅ Social Engagement 7ⓘ ⋅ Domain Authority 17ⓘ
Binan Laguna City About Blog Little Cessang is a blog about Life & style, beauty reviews, travel and any related on my field.
Frequency 3 posts / week
Since Apr 2017
Blog princessperalta.com
Twitter followers 108 ⋅ Social Engagement 7ⓘ ⋅ Domain Authority 12ⓘ
Philippines About Blog Quirky, fun, and totally relatable, binge-watch Michelle's beauty favorites, 'hugot' makeup tutorials and everything in between
Frequency 3 videos / month
Since Mar 2011
Also in Filipina Beauty Youtubers
Blog youtube.com/user/michelledy0..
Social Engagement 518ⓘ ⋅
Philippines About Blog Hi my name is Angel and i blog about beauty, fashion and everything under the sun. Aside from makeup, i am a skin care and anti aging fanatic
Frequency 1 post / month
Since Jul 2011
Blog pinkoolaid.com
Twitter followers 1.9K ⋅ Domain Authority 21ⓘ
Manila City About Blog All Filipina-friendly videos! I post videos about beauty, product reviews, makeup tutorials, hauls, affordable finds. Anything pinay.
Frequency 1 video / week
Since Jan 2012
Blog youtube.com/user/THEanneclut..
Twitter followers 91.9K ⋅ Instagram Followers 460.3K ⋅ Social Engagement 61ⓘ ⋅
Philippines About Blog Welcome to Ana Victorino's channel! Here, you will see makeup tutorials made with quality and passion from a self-taught makeup artist from Manila, Philippines.
Frequency 3 videos / quarter
Since Dec 2011
Blog youtube.com/user/anavictorin..
Facebook fans 244.4K ⋅ Instagram Followers 53.9K ⋅ Social Engagement 7ⓘ ⋅
Philippines About Blog Find makeup ticks, product reviews, beauty secrets and much more on my channel
Frequency 1 video / day
Since Oct 2015
Blog youtube.com/channel/UC76-..
Twitter followers 55K ⋅ Instagram Followers 232.8K ⋅ Social Engagement 10ⓘ ⋅
Philippines About Blog Hi this is Jessica Godinez. What can you expect here? Lots of makeup tutorials, hair makeovers, random VLOGS, hauls, singing, dancing, weirdness.
Frequency 4 videos / month
Since Feb 2013
Blog youtube.com/channel/UCSMl..
Facebook fans 4.6K ⋅ Twitter followers 1.2K ⋅ Instagram Followers 22.9K ⋅ Social Engagement 52ⓘ ⋅
DGP - MNL About Blog Danica T. Delos Santos. 20 years old. Blogger. Making write ups ranging from delicious cuisines to beauty products.The writer loves to write and review beauty products that are well-reviewed by herself. She also loves to share tips about everything that can help women flourish like a beautiful flower in the garden called 'Earth.'
Frequency 1 post / week
Blog thedanicadelossantos.com
Facebook fans 70 ⋅ Twitter followers 1.3K ⋅ Social Engagement 1ⓘ ⋅ Domain Authority 10ⓘ
Philippines About Blog Hi guys! It's Cheska from the Philippines. Welcome to my youtube channel. Find makeup reviews and beauty tips on this channel
Frequency 2 videos / month
Since Feb 2014
Blog youtube.com/channel/UCYAM..
Instagram Followers 17.5K ⋅ Social Engagement 2ⓘ ⋅
Ph // US About Blog Style Vanity is a beauty blog that focuses on Asian beauty. It provides honest reviews and the latest trends in Asia to keep the readers informed. Its mission is to explore and provide insight into beauty and hair products, from ingredients to retail.
Frequency 3 posts / month
Blog stylevanity.com/category/bea..
Facebook fans 2.1K ⋅ Twitter followers 1.9K ⋅ Domain Authority 41ⓘ
Ph // US About Blog Style Vanity is a beauty blog that focuses on Asian beauty. It provides honest reviews and the latest trends in Asia to keep the readers informed. Learn more about organic beauty products on Style Vanity
Frequency 2 posts / month
Blog stylevanity.com/?s=organic
Facebook fans 2.1K ⋅ Twitter followers 1.9K ⋅ Social Engagement 2ⓘ ⋅ Domain Authority 41ⓘ
Republic of the Philippines About Blog Get Honest Skin Care , Makeup and Beauty Service Reviews, Acne Removal reviews and much more for Filipinas by a Filipina.
Frequency 1 post / month
Since Feb 2018
Blog filipinow.com/category/acne
Facebook fans 1.1K ⋅ Twitter followers 238 ⋅ Social Engagement 1ⓘ ⋅ Domain Authority 14ⓘ
Philippines About Blog A blog of a young Filipina lawyer and a professional makeup artist about her random musings about life and her love for makeup.
Frequency 3 posts / year
Since Apr 2008
Blog mylucidintervals.com
Facebook fans 5.9K ⋅ Twitter followers 867 ⋅ Social Engagement 4ⓘ ⋅ Domain Authority 29ⓘ
Davao City, Philippines About Blog As Told By Julz is a blog that celebrates beauty in all forms. It exists to empower and inspire women to embrace their own kind of beautiful.
Frequency 2 posts / year
Since Mar 2009
Blog astoldbyjulz.com
Facebook fans 2K ⋅ Twitter followers 556 ⋅ Instagram Followers 663 ⋅ Social Engagement 34ⓘ ⋅ Domain Authority 20ⓘ
Philippines About Blog Makeup in Manila is a beauty blog written by Maj Valencia. Read honest reviews about makeup and skin care products tried and tested by Maj!
Since Feb 2014
Blog makeupinmanila.com
Facebook fans 1.9K ⋅ Twitter followers 130 ⋅ Social Engagement 17ⓘ ⋅ Domain Authority 19ⓘ
Manila, PH About Blog Filipina beauty mom blogger with a passion for makeup, skincare and shoes.
Frequency 1 post / year
Blog themistymom.com
Facebook fans 7.8K ⋅ Twitter followers 1.5K ⋅ Social Engagement 13ⓘ ⋅ Domain Authority 33ⓘ
Manila About Blog Here you will find honest and detailed reviews, tried and tested beauty tips, tutorials, and more
Frequency 1 post / year
Since Aug 2012
Blog maxinemarcelino.com
Facebook fans 2.1K ⋅ Twitter followers 895 ⋅ Domain Authority 20ⓘ
Philippines About Blog Kimpossibly Gorgeous is a beauty and lifestyle blog from the Philippines since 2012; it is a mixture of everything I love and a resource of what's hot and buzzin' in the metro.
Since Jan 2012
Blog kimpossiblygorgeous.com
Facebook fans 2.6K ⋅ Twitter followers 966 ⋅ Domain Authority 28ⓘ
Marikina City About Blog An educator by profession and a beauty enthusiast by choice, Jes shares her thoughts on beauty and all the love in between through MakeUpLove. Hop in and get a dose of reviews, tutorials, features, expressions, and love.
Since Sep 2010
Blog jesroque.com
Facebook fans 1.7K ⋅ Twitter followers 1.1K ⋅ Domain Authority 20ⓘ
Philippines About Blog Kimpossibly Gorgeous is a beauty and lifestyle blog from the Philippines since 2012; it is a mixture of everything I love and a resource of what's hot and buzzin' in the metro.
Since Jan 2012
Blog kimpossiblygorgeous.com/?s=nail
Facebook fans 2.6K ⋅ Twitter followers 966 ⋅ Domain Authority 28ⓘ
Cebu city, Philippines About Blog Hi guys I'm Khymm. I am a professional makeup artist. I used to work for MAC Cosmetics Cebu. Get makeup tips and reviews on my blog
Frequency 2 posts / year
Since Aug 2007
Blog miss-shopcoholic.com
Facebook fans 820 ⋅ Social Engagement 1ⓘ ⋅ Domain Authority 21ⓘ
Philippines About Blog Camille is always a fashion designer, sometimes a model, occasionally a stylist and as of April 2011, officially a blogger. Get beauty tips and tricks by Camille
Frequency 1 post / year
Since May 2011
Blog itscamilleco.com/category/be..
Facebook fans 64.6K ⋅ Twitter followers 61.3K ⋅ Domain Authority 39ⓘ
Philippines About Blog Hi!, I'm Jasmine! I love everything about natural beauty.I believe that beauty is skin deep and that we can be naturally beautiful while multi-tasking our personal lives -- whether you're engaged, married or juggling motherhood and work life.
Blog jasminemendiolablog.blogspot..
Domain Authority 5ⓘ
Ph // US About Blog Style Vanity is a beauty blog that focuses on Asian beauty. It provides honest reviews and the latest trends in Asia to keep the readers informed. Learn more about cruelty free makeup and beauty products on style vanity
Frequency 11 posts / year
Blog stylevanity.com/tag/cruelty-..
Facebook fans 2.1K ⋅ Twitter followers 1.9K ⋅ Domain Authority 41ⓘ
About Blog Promoting healthy and glowing skin by making the best of K-beauty easily accessible
Blog kbeauty-cafe.com/blog
Facebook fans 10.6K ⋅ Domain Authority 19ⓘ
Philippines About Blog Like any little girl, I played with my mother's makeup when I was young, and the magical transformation through the power of makeup vividly stayed in my mind as I leafed through the pages of Vogue, Glamour and Bazaar. Now I'm a Manila-based makeup designer
Frequency 4 posts / year
Since Sep 2013
Blog aciefores.com/blog-2
Facebook fans 2.5K ⋅ Domain Authority 19ⓘ
About Blog BEAUTYPRENEUR is an entrepreneur in the industry of beauty products, aesthetic devices and sciences. I am proud to be known as The Beautypreneur of the Philippines because it is fulfilling to help Filipinos achieve their beauty goals and build their confidence by providing access to inimitable skincare products and treatments.
Blog beautypreneur.com.ph/blog
Facebook fans 2.1K ⋅ Domain Authority 12ⓘ
About Blog Hi! My name is Jessy Pearl, I am currently based here in Cebu City, Philippines. Get makeup ticks and beauty product reviews on this blog
Frequency 1 post / year
Since Nov 2013
Blog jessypearlee.blogspot.com
Twitter followers 673 ⋅ Domain Authority 2ⓘ
Manila, Philippines About Blog Sharing Beauty Experience , aiming to share not only Good photos but an Effective woman to Inspire others
Since Nov 2016
Blog msjoyceeblog.wordpress.com
Facebook fans 3.5K ⋅ Twitter followers 39 ⋅ Domain Authority 7ⓘ
Philippines About Blog Make Up Artist for Estée Lauder Philippines; Specializing in Airbrushing, Bridal, Beauty & Fashion Editorial make-up.
Since Jan 2011
Blog lilianyeung.blogspot.com
Instagram Followers 527 ⋅ Domain Authority 10ⓘ