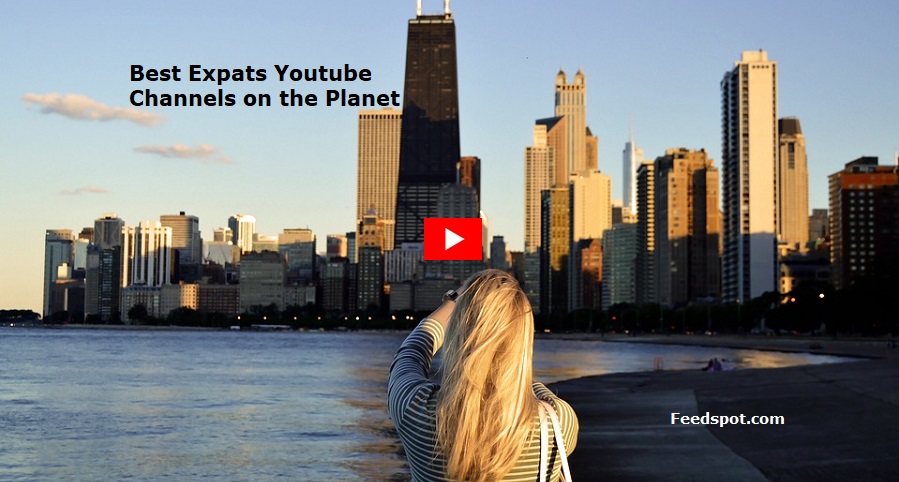 Expats Youtube Channels List.
The Best Expats Youtube Channels from thousands of Expats Youtube Channels in our index using search and social metrics. We've carefully selected these youtubers because they are actively working to educate, inspire, and empower their audience with frequent updates and high-quality videos.
If your Youtube is selected in this list, you have the honour of displaying this Badge (Award) on your website.
Expats Youtube Channels
France About Youtuber Hi, I'm Andrea! I'm an American expat currently living in Paris, France. I make videos about writing and creativity, living abroad, traveling, and all the wonderfully nerdy things I love.
Frequency 1 video / month
Since Jan 2013
Channel youtube.com/user/booksandbre..+ Follow
Youtube Followers- 31,600 . Views Count- 2,544,102 . Video Count - 221

France About Youtuber I'm Rosie, a New Zealander living as an Expat in France: conqueror of French administration, culture-shock junkie and (very) slowly learning how to hack life in France. I'm here to share stories, tips and insights on life in Paris and navigating the French culture.
Frequency 1 video / week
Since Sep 2013
Channel youtube.com/channel/UC3rq..+ Follow
Youtube Followers- n/a . Views Count- n/a . Video Count - n/a

Scotland, United Kingdom About Youtuber My name is Jodi and I packed up my life in America to move to Europe with my husband. Here I share my expat & lifestyle videos, travel & adventure vlogs, travel tips & advice!
Frequency 1 video / week
Since Nov 2012
Channel youtube.com/user/SJsTravels/..+ Follow
Youtube Followers- n/a . Views Count- n/a . Video Count - n/a

About Youtuber Black American Expat traveling the world trying to make a difference everywhere I go. I am a native of Birmingham, Alabama. Follow me on my journey as I explore different countries as a expat and humanitarian. I am trying to leave a mark everywhere I go.I am going to help people along the way and have fun. I will show you life in foreign places from a black American point of view.
Frequency 4 videos / week
Since Feb 2010
Channel youtube.com/user/AntwanVJohn..+ Follow
Youtube Followers- 2,101 . Views Count- 249,195 . Video Count - 317

About Youtuber I'm Angela Carson. At 21 I left university, jumped into my Jeep Wrangler, and drove from my native California to live an adventure in Puerto Vallarta, Mexico. Since then, I've explored 35 countries on 4 continents, residing in 7 of them, Kuala Lumpur is currently my home. I upload reviews of Southeast Asia's top luxury hotels, restaurants, lounges, and travel experiences ... and vlog about street food and living as an expat in Malaysia.
Frequency 6 videos / quarter
Since Jul 2012
Channel youtube.com/user/AngelasBang..+ Follow
Youtube Followers- n/a . Views Count- n/a . Video Count - n/a

About Youtuber Hi I'm Petra Boteková and welcome to my YouTube channel! Do you want to make a difference globally and lead a happy and fullfilled life regardless of the country you live in? Then this is the place for you! My number one aim and passion is to help people to tap into their fullest potential and become global leaders.
Frequency 6 videos / year
Since Apr 2017
Channel youtube.com/channel/UC2U2..+ Follow
Youtube Followers- n/a . Views Count- n/a . Video Count - n/a

About Youtuber Hi Everyone! Thanks for dropping by. My channel is about exploring The Philippines from an expatriate's point of view. As time goes on I'll make videos on Filipino history, and culture. I'm in the Philippines at an important time because a lot of the old ways of doing things are being lost. I want to preserve the traditional ways, even if it's only in a video.
Frequency 3 videos / month
Since Aug 2013
Channel youtube.com/channel/UCQrn..+ Follow
Youtube Followers- 1,327 . Views Count- 374,804 . Video Count - 133

Mexico City About Youtuber I want to be the old lady everyone comes to for a good story. These videos are my way of preserving those stories, of sharing them with you, and hopefully, of inspiring you to create your own stories whether that's through travel or some other method. Each video will take you around the world through personal vlogs, food guides, travel guides and any tips and tricks I pick up along the way. Let's travel the world together.
Frequency 2 videos / week
Since May 2016
Channel youtube.com/channel/UCoVy..+ Follow
Youtube Followers- n/a . Views Count- n/a . Video Count - n/a

About Youtuber Expats In Mexico is The Expat Guide to Living in Mexico. It is designed for expats currently living in Mexico and aspiring expats who are planning to move to this beautiful country. We bring you a broad range of timely, truthful and trustworthy information and resources to help you lead a happy and successful life as an expat in Mexico.
Frequency 1 video / quarter
Since Jul 2016
Channel youtube.com/channel/UCTBe..+ Follow
Youtube Followers- 3,323 . Views Count- 334,528 . Video Count - 32

About Youtuber My Expat Diary is my little space where I share thoughts and experiences of my travel ventures.
Frequency 1 video / week
Since Sep 2015
Channel youtube.com/channel/UC4xP..+ Follow
Youtube Followers- 882 . Views Count- 211,585 . Video Count - 128

About Youtuber This channel is to explore the tropical and natural vibrant beauty of the Philippine Islands along with their cheerful, smiling, outgoing inhabitants and it's warm, friendly culture and lifestyles.
Frequency 1 video / week
Since Mar 2013
Channel youtube.com/channel/UCXNu..+ Follow
Youtube Followers- n/a . Views Count- n/a . Video Count - n/a

About Youtuber 10 years of expat life! I have lived in 6 countries, I speak 4 languages, and I share 100% of my tips with you!
Frequency 11 videos / year
Since Dec 2016
Channel youtube.com/channel/UCldc..+ Follow
Youtube Followers- 812 . Views Count- 51,443 . Video Count - 59

chelem, Mexico About Youtuber The life and adventures of American and Canadian expat women and their friends who have retired in the Yucatan, Mexico. They hilariously navigate their new life in the small fishing villages of Chelem and Chuburna on the Gulf Coast of the Yucatan peninsula.
Frequency 22 videos / year
Since Nov 2016
Channel youtube.com/channel/UCiCU..+ Follow
Youtube Followers- n/a . Views Count- n/a . Video Count - n/a

About Youtuber A new independent weekly and update news channel that discusses the topics and issues that are important to you!!!!
Frequency 1 video / week
Since Apr 2017
Channel youtube.com/channel/UCije..+ Follow
Youtube Followers- 656 . Views Count- 24,620 . Video Count - 85

About Youtuber I started this channel to let my friends and family know that I'm still kickin' here in the Philippines. I never imagined myself leaving the USA and living in a third world country but my wife is finishing her nursing degree here so I'm here for the duration and making the best of it! Who knows, I may just want to stay...we'll see.
Frequency 1 video / week
Since Jun 2007
Channel youtube.com/user/dumper17/vi..+ Follow
Youtube Followers- n/a . Views Count- n/a . Video Count - n/a

About Youtuber Hey there! I'm Kari, an American living in Germany, raising kids and trying to keep my head on straight. I post videos about expat life and raising kids abroad including how we are raising our children to be bilingual.
Since Oct 2016
Channel youtube.com/channel/UCAFk..+ Follow
Youtube Followers- 360 . Views Count- 67,570 . Video Count - 18

About Youtuber Expat.com YouTube channel, a reference platform for all those who live or have a life project abroad. Our ambition is to help all those who live or wish to live outside their borders: everyone can participate! YouTube channel of Expat.com, reference among participative platforms dedicated to life abroad. Our ambition is to help all those who live or wish to live abroad!
Frequency 1 video / month
Since Nov 2016
Channel youtube.com/channel/UCsqZ..+ Follow
Youtube Followers- n/a . Views Count- n/a . Video Count - n/a

About Youtuber Young American Expat (YAE) is the online digital storytelling showcase of the American expatriate community. We utilize digital media to showcase the lives of Americans living abroad, with a focus on the young Americans in their 30s and under. Founded initially as a blog in January 2015, YAE is proud to be the default voice, platform, and entertainment hub for the young Americans who want to showcase their lives abroad.
Frequency 26 videos / year
Since Apr 2017
Channel youtube.com/channel/UC6Fh..+ Follow
Youtube Followers- n/a . Views Count- n/a . Video Count - n/a

Amsterdam, Netherlands About Youtuber We are Sean and Jessica from A Wanderlust For Life! Follow us on our journey as American expats living in Amsterdam. We travel all around Europe to see how much we can discover while working full-time. Taking full advantage of vacation time and long weekends, we get to travel frequently and love to bring you along to show other expats how to make the most of Europe being at their doorstep.
Frequency 1 video / week
Since Apr 2013
Channel youtube.com/user/aWanderlust..+ Follow
Youtube Followers- n/a . Views Count- n/a . Video Count - n/a

Portugal About Youtuber Expat Real interviews dynamic expats all over the world about how they created their custom lifestyle living abroad. Lisa May researches and teaches others how to live an upgraded life style abroad for far less than in the U.S. and other 1st world countries.
Frequency 6 videos / year
Since Mar 2016
Channel youtube.com/channel/UCcGc..+ Follow
Youtube Followers- n/a . Views Count- n/a . Video Count - n/a

About Youtuber I'm Jessica, an American expat mom of four, living in Zurich, Switzerland. This is where I share snippets of our experience here and talk about common themes that expat families face. I hope my channel inspires and empowers you to make the most of your time here in Switzerland, whether it's for a few days or forever.
Since Feb 2010
Channel youtube.com/user/gotzie1/videos+ Follow
Youtube Followers- n/a . Views Count- n/a . Video Count - n/a

About Youtuber I'm an American expat living in Sweden and trying to navigate being a first time mom in a foreign country. I'm looking forward to sharing my immigration story and tips & tricks for settling into a new country. I'm looking forward to preserving my memories here, and hope that they come in handy for any other expat mommies on their way to building a family in Sweden.
Frequency 1 video / month
Since Sep 2017
Channel youtube.com/channel/UCkrG..+ Follow
Youtube Followers- n/a . Views Count- n/a . Video Count - n/a

London, England About Youtuber Hi, we are Liza and Pepe, young married couple of travel addicts, who cannot sit in one place for a while. Based in Edinburgh, but escaping from the beautiful Scottish capital at least once a month to see the beauty of the world.
Frequency 7 videos / month
Since Sep 2016
Channel youtube.com/channel/UCz1s..+ Follow
Youtube Followers- n/a . Views Count- n/a . Video Count - n/a

Dubai, UAE About Youtuber Jaunts of a Filipino Expat in Dubai who loves to dress up, dine out and explore places!
Frequency 2 videos / year
Since Mar 2014
Channel youtube.com/channel/UC5vF..+ Follow
Youtube Followers- n/a . Views Count- n/a . Video Count - n/a

Japan About Youtuber At City-Cost we're all about supporting the expat community of Japan in their daily lives. Working out of an office somewhere in Tokyo's towers, our team will document real life in Japan. There will be no flowery music scores, or reverent temple walk throughs. This channel is all about straight up expat living; the good, the bad, and the ugly.
Frequency 2 videos / quarter
Since Jun 2014
Channel youtube.com/channel/UC0rg..+ Follow
Youtube Followers- n/a . Views Count- n/a . Video Count - n/a

Exploring Saudi Arabia About Youtuber Start Exploring Saudi Arabia with Blue Abaya travel videos from all the best places and hidden gems locations of Saudi Arabia. We encourage everyone to make the most out of their time in Saudi Arabia by discovering all the amazing places that can be found there! Browse our Travel guides, Expat guides, find Restaurant reviews and the best events in Saudi Arabia!
Frequency 2 videos / year
Since Oct 2011
Channel youtube.com/user/BlueAbaya/v..+ Follow
Youtube Followers- n/a . Views Count- n/a . Video Count - n/a

About Youtuber Erin and Davey are American expats living in Luxembourg. Together, these college sweethearts caught the travel bug while studying abroad in Florence, Italy. Over the past 13 years, they've established home bases in Boston, San Francisco and Los Angeles while traveling to many international destinations. This vlog is a way to share their adventures with friends and family and it's also a time capsule for when they're old and grey.
Frequency 1 video / quarter
Since Mar 2017
Channel youtube.com/channel/UCHDQ..+ Follow
Youtube Followers- n/a . Views Count- n/a . Video Count - n/a

Singapore About Youtuber Your guide to Singapore, Expat Living Singapore is a monthly lifestyle magazine filled with handy tips on things to do, shopping, activities for kids, property, restaurants, style, news, where to live, travel, awesome competitions & giveaways and more! With our glossy, monthly print magazine and website, our readers stay in-the-know for everything Singapore.
Frequency 1 video / week
Since Apr 2012
Channel youtube.com/channel/UCikU..+ Follow
Youtube Followers- n/a . Views Count- n/a . Video Count - n/a

About Youtuber My goal is to use my expat teacher experience and expertise to empower you to get your ideal teaching job abroad- one that is personally, professionally, and financially rewarding. Let's start this exciting journey together!
Frequency 7 videos / quarter
Since Nov 2016
Channel youtube.com/channel/UC3M9..+ Follow
Youtube Followers- 38 . Views Count- 1,369 . Video Count - 33

Shenzhen, Guangdong, China About Youtuber We're Drew and Julie of Drive on the Left, American expats who just moved from London after three years. We are still exploring the world, just now it is from our new expat home, Shenzhen, China. Join us if you are an avid explorer, armchair traveller or if you need a little inspiration for your next journey. Whether it is a road trip through the Balkans, or a weekend getaway to NYC, we have something new every week! We aim to inspire others to take the leap and move abroad, just like us!
Since Aug 2015
Channel youtube.com/channel/UCdJO..+ Follow
Youtube Followers- n/a . Views Count- n/a . Video Count - n/a

Total youtube channels subscribers, video views, and video uploads
Quality and consistency of videos

Youtube search ranking

Feedspot editorial team' objective and subjective review