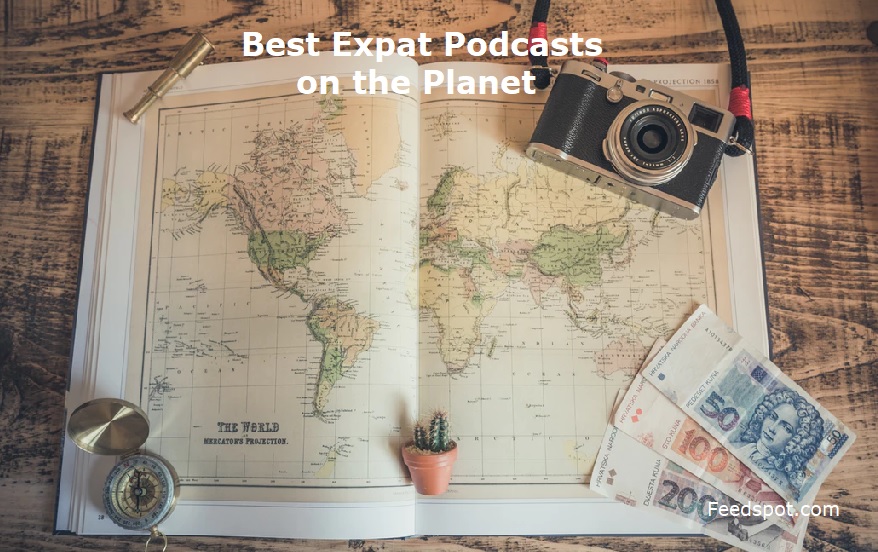 Expat Podcasts.
The Best Expat Podcasts from thousands of Expat Podcasts on the web using search and social metrics. Subscribe to these audio podcasts because they are actively working to educate, inspire, and empower their readers with frequent updates and high-quality episodes.
These podcasts are ranked based on following criteria
Google reputation and Google search ranking
Influence and popularity on Facebook, twitter and other social media sites

Quality and consistency of episodes.

Feedspot's editorial team and expert review
Expat Podcasts

About Podcast ExpatFocus.com: International relocation advice for expats moving overseas.
Frequency about 2 posts per month.
Podcast expatfocus.com/podcast
Facebook fans 16,967. Twitter followers 20,515.

About Podcast Tandem Nomads is a podcast show and online platform. It is designed to bring inspiration and great free ressources to expat partners who feel the need to build their own success and achievements in order to fully enjoy their life abroad. Each episode provides inspiration, tips and ressources to build a portable career and turn challenges into opportunities.
Frequency about 2 posts per month.
Podcast tandemnomads.com/podcast
Facebook fans 1,274. Twitter followers 276.

Freiburg im Breisgau, Germany About Podcast The ExpatCast is the podcast where expats share stories about fitting in, standing out, and every mishap on their journey to feeling at home abroad.
Frequency about 4 posts per month.
Podcast theexpatcast.podbean.com
Facebook fans 76. Twitter followers 177.

About Podcast A guide to moving to Latin America, finding work, and settling in. Join Johnny Mueller twice a week as he talks the good, the bad, and the great of living in Latin America!
Frequency about 2 posts per week.
Podcast theexpatfiles.podbean.com
Facebook fans 177. Twitter followers n/a.

Doha, Qatar About Podcast Making Expat Life Large. Two Fat Expats is a podcast that believes your expat life should be lived large. Make the most of it, fill it up with as much as you can.
Frequency about 2 posts per month.
Podcast twofatexpats.com
Facebook fans n/a. Twitter followers 491.

South Africa, Switzerland, USA About Podcast Funny and heartfelt, this podcast draws on the realities of expat life to offer you smart and simple solutions so that you can quickly (and painlessly!) adapt. Be successful, find your purpose abroad and stay connected with those who mean the most.
Frequency about 1 post per week.
Podcast sundaebean.com/expat-happy-hour
Facebook fans 1,444. Twitter followers 3,363.

About Podcast Want to learn how to build your business overseas how to travel the world freely and make more money at the same time? Join your host Mikkel Thorup every week for conversations with successful Entrepreneurs and learn actionable skills you can use to double your own income and get some adventure into your life today.
Frequency about 3 posts per month.
Podcast expatmoneyshow.com/episodes
Facebook fans 838. Twitter followers 572.

Rome and San Francisco About Podcast Expats, former expats, future expats, and travelers: this is the podcast you've been looking for. It's about stepping off the beaten path and out of your comfort zone, and what happens when you do. Get to know Italy. Laugh at the embarrassments; cry at the losses. Learn from interviews with famous authors and expats worldwide. Most of all, explore the possibilities for your own adventurous life. The show is a journey, so don't be afraid to start at the beginning.
Frequency about 1 post per week.
Podcast thebittersweetlife.net
Facebook fans 5,663. Twitter followers 2,186.

About Podcast Living Unconventionally is a podcast featuring weekly interviews with digital nomads, full-time travelers, entrepreneurs, and a variety of other people who have ditched their desk and decided to chase their passions around the world. We discuss their travel stories, how they find deals on travel, how living in an unconventional way has improved their life, how they fund their travels, and how they make money when on the road.
Frequency about 2 posts per month.
Podcast livingunconventionally.com/p..
Facebook fans 21. Twitter followers 3,360.

Buenos Aires, Argentina About Podcast Nomads share their stories from the road! Nomadtopia Radio is a monthly (formerly weekly) podcast that features interviews with people all over the world who are living their version of Nomadtopia. They might be living abroad, settling down (for now), traveling overland with kids, homeschooling, or backpacking solo around the world... You name it. Their stories highlight
Frequency about 1 post per month.
Podcast nomadtopia.com/podcast
Facebook fans 2,407. Twitter followers 6.

About Podcast Welcome to The Expat Career and Lifestyle podcast, the place to be when you want to create a career you love and live the global lifestyle.
Frequency about 1 post per month.
Podcast dmcoachingblog.libsyn.com
Facebook fans 1,882. Twitter followers n/a.

Bangkok, Thailand About Podcast Greg Jorgensen and Ed Knuth have been knocking around Bangkok since the turn of the century. Exploring its dark corners, eating its amazing food, and interacting with its fascinating people, the two have gotten to know and love the Big Mango in all its awful, magnificent glory. Every week they chat about topics near and dear to those living here, those visiting here, or those who are just curious about what it's like to live in Asia's craziest city.
Frequency about 1 post per week.
Podcast bangkokpodcast.com
Facebook fans 2,500. Twitter followers 2,173.

China About Podcast Shining humour, love and light on Chinese life. For those living, working or ling in China or interested in learning about , and foreigners perceptions.Join our international team for an inside look into Chinese life as foreigners living, working, crying and laughing in China with family, children and friends. A light hearted insight into all things good and bad with a little bit of extra wit added on top.
Frequency about 2 posts per month.
Podcast chinajedi.com
Facebook fans 81. Twitter followers 19.

Leyden, The Netherlands About Podcast Stories from people who have come to live in the Netherlands and those who are thinking about taking the plunge. Stories to make you laugh, cry, pull your hair out and jump for joy. An uplifting new series of podcasts produced by Andy Clark. Here in Holland has interview podcasts to give you expert info and advice on life in the Netherlands. Here in Holland has story podcasts too - internationals share their stories on life in one of the greatest countries in the world.
Frequency about 2 posts per month.
Podcast hereinholland.com
Facebook fans n/a. Twitter followers n/a.

Taipei, Taiwan About Podcast Exclusively focusing on adjusting to life overseas as an expat or immigrant. Whether traveling alone, with a partner or family, share in the adventures, challenges and difficulties faced by people living outside their home nation. Hosted by James Thomas.
Frequency about 2 posts per month.
Podcast fourseasonefamily.com
Facebook fans 907. Twitter followers 1,043.

About Podcast The Aussie Expat Podcast by Atlas Wealth Management is a podcast for Aussie expats living overseas who want to learn more about managing their finances as an expat. Atlas Wealth Management is a specialist in providing Australian expat financial advice and planning and has been providing these services to Australian expats in over 28 countries.
Frequency about 1 post per month.
Podcast player.fm/series/aussie-expa..
Facebook fans n/a. Twitter followers n/a.

About Podcast Starting and growing your business as an expat will test you to the limit but the rewards can more than compensate. Become a business hero for your customers, your family and of course yourself. Join Alex Congdon, a UK expat in Switzerland, as he interviews expat business entrepreneurs and experts from around the world as they share their stories and strategies, successes and failures.
Frequency about 2 posts per month.
Podcast businesshero.libsyn.com
Facebook fans 280. Twitter followers 10.

About Podcast A podcast about expats and how their love of books helped them relocate.
Frequency about 1 post per month.
Podcast bookishexpats.podbean.com
Facebook fans n/a. Twitter followers n/a.

Leiden, The Netherlands About Podcast Living abroad? Moving abroad? A broad? Not a broad? Then this is the pod for you. Listen to the Bitter Balls Podcast to join Ben and Rob in the Netherlands as we discuss all things Expat and more!
Frequency about 2 posts per week.
Podcast open.spotify.com/show/73O..
Facebook fans 18. Twitter followers 89.

About Podcast The Expat Repat Podcast is for expats, repats, and anyone who's ever considered living abroad. A former American-expat-in-Switzerland, Lindsey McLean found her life turned upside down and her identity entirely erased when she left her expat life and moved back home in 2014. The Expat Repat Podcast explores all the ins and outs of expat life, including the biggest one of all: moving home.
Frequency about 2 posts per month.
Podcast expatrepat.ch
Facebook fans 47. Twitter followers 2.

About Podcast As you prepare to take this journey to study, work, volunteer, or retire abroad, subscribe to The Your Expat Expert podcast to minimize the Nobody told me or I didn't know moments. Now let's begin a smoother transition. Expat Expert Podcast provides expatriate services to individuals and companies moving abroad in an educational environment with an informative voice helping you feel confident and more importantly, prepared.
Frequency about 1 post per month.
Podcast podomatic.com/podcasts/youre..
Facebook fans n/a. Twitter followers n/a.

About Podcast Native ExPat Radio is a subsidiary of the Merirei Media Group and was created to help bring Palauans abroad 'a little closer to home.'
Frequency about 1 post per month.
Podcast anchor.fm/nativeexpatradio
Facebook fans n/a. Twitter followers n/a.

England, United Kingdom About Podcast Inspiring expats to create professional and personal success abroad. Insights and inspiration for expats and expat experts.
Frequency about 1 post per month.
Podcast thrivingabroad.com/expat-pod..
Facebook fans 665. Twitter followers 5,276.

Malaysia About Podcast A podcast about subjects that affect people of colour (POC) expats in Malaysia from fun subjects to topics that we may not be all-the-way comfortable talking about. Also features non-POC expats and locals who provide more information about things relevant to the POC expats.
Frequency about 1 post per month.
Podcast otherexpats.com/podcast01
Facebook fans 425. Twitter followers 76.