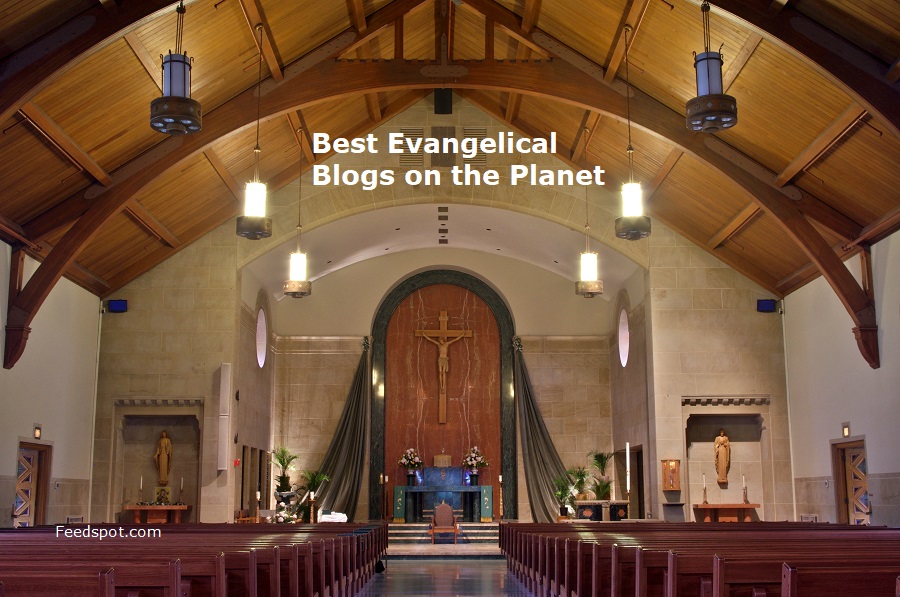 Evangelical Blogs List.
The Best Evangelical blogs from thousands of top Christian blogs and Jesus websites on the web using search and social metrics. Data will be refreshed once a week. Also check out Evangelical Podcasts and Evangelical Youtube Channels.
If your blog is selected in this list, you have the honour of displaying this Badge (Award) on your blog.
Evangelical Blogs

About Blog Evangelical History is a blog by Thomas Kidd and Justin Taylor. The Gospel Coalition (TGC) is a Christian organization that seeks to serve the local church by providing gospel-centered and Christ-focused content.
Frequency about 3 posts per month.
Website thegospelcoalition.org/blogs..
Facebook fans 318,676. Twitter followers 242,694.

U.S.A. About Blog The Evangelical Lutheran Church in America (ELCA) is one of the largest Christian denominations in the United States. We are the church that shares a living, daring confidence in God's grace. Liberated by our faith, we embrace you as a whole person--questions, complexities and all. Join us as we do God's work in Christ's name for the life of the world.
Frequency about 6 posts per week.
Since Sep 2008
Also in Protestant Blogs, Lutheran Blogs
Website blogs.elca.org
Facebook fans 118,459. Twitter followers 22,028.

About Blog Evangelism Explosion is a ministry that trains people how to share their faith in Christ and how to bring people from unbelief to belief. Equipping local churches to multiply through friendship, evangelism, discipleship, and healthy growth. Here you will learn small parts of the Gospel each week, including Bible verses and illustrations, people incrementally grasp a Gospel tool that becomes a lifelong mission.
Frequency about 7 posts per week.
Since Jul 2008
Website evangelismexplosion.org/blog
Facebook fans 10,052. Twitter followers 9,598.

Los Angeles About Blog The mission of the Evangelical Philosophical Society is to glorify God through the faithful practice of philosophy, fostering a deeper understanding of God and the world he created while both encouraging and enabling Christian philosophers to engage philosophical and spiritual issues in the academy.
Frequency about 3 posts per month.
Since Apr 2008
Also in Philosophy Blogs, Christian Philosophy Blogs
Website blog.epsociety.org
Facebook fans 5,926. Twitter followers 4,410.

Florida About Blog Official Blog of Author & Speaker Frank Viola. Digging below the surface and moving beyond the shallows in today's Christianity. His mission is to help serious followers of Jesus know their Lord more deeply so they can experience real transformation and make a lasting impact.
Frequency about 3 posts per month.
Since Jun 2008
Also in Christian Blogs
Website frankviola.org
Facebook fans 24,583. Twitter followers 39,381.

Charlotte, N.C. About Blog Founded by Billy Graham, BGEA is a Christian non-profit organization that exists to proclaim the Gospel of Jesus Christ by every effective means and to equip others to do the same. The BGEA exists to support and extend the evangelistic calling and ministries of Billy Graham and Franklin Graham by proclaiming the Gospel of the Lord Jesus Christ to all we can by every effective means available.
Frequency about 9 posts per week.
Since Apr 2007
Website billygraham.org
Facebook fans 2,477,825. Twitter followers 115,828.

London, England, UK About Blog The online home of Christian writer and preacher Adrian Warnock. Adrian writes about a broad range of themes including leadership, modern culture, Christian doctrine, and the Church.
Frequency about 3 posts per month.
Since Apr 2003
Website patheos.com/blogs/adrianwarnock
Facebook fans 908. Twitter followers 23,911.

About Blog The National Association of Evangelicals is a body of believers made up of 40 denominations and thousands of churches, schools, nonprofits and individuals. The mission of the National Association of Evangelicals is to honor God by connecting and representing evangelical Christians.
Frequency about 1 post per week.
Since Oct 2011
Website nae.net
Facebook fans 3,331. Twitter followers 1,234.

Port St Lucie, FL About Blog Can Evangelism be as normal as breathing? How can Chris Walker help your church be effective in evangelism? He provide virtual and live evangelism training for churches, mission organizations, parachurch organizations, plus pastors and individual, to help churches grow and be effective in the work of God's Kingdom. His mission is to help scared saints share their faith in Christ with confidence and boldness.
Frequency about 2 posts per month.
Since Jan 2007
Website evangelismcoach.org/free-eva..
Facebook fans 2,176. Twitter followers 2,242.

Ghana About Blog Dag Heward-Mills is a best-selling Author, Evangelist, Founder & Presiding Bishop of United Denominations Originating from Lighthouse Chapel Group of Churches. Follow this blog to find latest post on his travel from country to country preaching the Gospel of Jesus Christ.
Frequency about 3 posts per month.
Since Aug 2009
Website daghewardmills.org/blogg
Facebook fans 1,248,046. Twitter followers 341,011.

Darlington, UK About Blog Evangelical Times is Britain's leading non-denominational evangelical Christian newspaper, with news, comment and articles of interest to Christians from all backgrounds. It contains relevant and readable articles and analyses on topics as varied as church history, biography, science and ethics, Bible doctrine and exposition, ministry, and trends in evangelicalism.
Frequency about 8 posts per week.
Since Nov 2012
Website evangelical-times.org
Facebook fans 824. Twitter followers 1,050.

New Freedom, PA About Blog The Evangelical Environmental Network (EEN) is a ministry that educates, inspires, and mobilizes Christians in their effort to care for God's creation, to be faithful stewards of God's provision, to get involved in regions of the United States and the World impacted by pollution, and to advocate for actions and policies that honor God and protect the environment.
Frequency about 3 posts per month.
Since Jan 2016
Website creationcare.org/blog
Facebook fans 5,619. Twitter followers 2,255.

About Blog God became man, and the world would never be the same. Evangelicals witness this reality in their own lives all the time: the Lord invades, and we are ever transformed by the working of His Spirit. Here, you can hear the thoughts and concerns of evangelicals from all walks of life: pastors, moms, dads, theologians, historians, scientists, entrepreneurs.
Frequency about 2 posts per month.
Since Sep 2014
Website patheos.com/blogs/evangelica..
Facebook fans n/a. Twitter followers n/a.

About Blog At Patheos Evangelical, Jonathan Aigner writes his blog, Ponder Anew.
Frequency about 2 posts per week.
Since Jul 2014
Website patheos.com/blogs/ponderanew
Facebook fans 8,709. Twitter followers n/a.

About Blog Mortification of Spin is a casual conversation about things that count. Carl Trueman, Todd Pruitt and Aimee Byrd serve up a humorous, informal podcast with bite. Join this engaging and thought-provoking conversation on the challenges the Church faces and what counts in the Christian life. Served up with a healthy dose of germane cultural references.
Frequency about 2 posts per week.
Since Jun 2006
Website alliancenet.org/mos
Facebook fans n/a. Twitter followers n/a.

UK About Blog The Jesus Fellowship seeks to be a contemporary expression of the historic Christian faith. Everyone is valued from young to old, rich and poor. Their mission is to gather a people whose lives are being transformed by Jesus.
Frequency about 2 posts per month.
Since Nov 2009
Also in Jesus Blogs
Website jesus.org.uk/blog
Facebook fans 6,319. Twitter followers 3,874.

Philadelphia, PA About Blog ESA serves as a catalyzing agent for Christ's shalom via projects focused on cultural renewal, holistic ministry, political reflection and action, social justice and reconciliation, and creation care. We aid and abet the body of Christ to practice holistic ministry, subvert empire, and transform culture through education and activism in solidarity with those who are impoverished & oppressed.
Frequency about 6 posts per week.
Since Mar 2011
Website evangelicalsforsocialaction.org
Facebook fans 17,228. Twitter followers 1,332.

About Blog A subreddit with articles and discussions on Evangelical Christians. Evangelicalism is a worldwide, transdenominational movement within Protestant Christianity, maintaining that the essence of the gospel consists in the doctrine of salvation by grace through faith in Jesus Christ's atonement.
Frequency about 2 posts per week.
Website reddit.com/r/Evangelical
Facebook fans 13. Twitter followers 546,296.

About Blog Awakening the Evangelical Church to Domestic Violence and Abuse in its Midst. Through authoring books, blogging, networking, and speaking about the issue of domestic abuse in the Christian church, we seek to expose the injustices being effected upon victims of domestic abuse and educate the church so it can deal more biblically with this issue.
Frequency about 4 posts per week.
Website cryingoutforjustice.com
Facebook fans 4,726. Twitter followers 294.

Cambridge, England About Blog This is a forum for people with knowledge of the Bible in its original languages to discuss its manuscripts and textual history from the perspective of historic evangelical theology.
Frequency about 2 posts per week.
Since Oct 2005
Website evangelicaltextualcriticism...
Facebook fans 2,574. Twitter followers 668.

Chicago, IL About Blog As the denominational magazine and news source of the Evangelical Covenant Church, it informs, stimulates thought, and encourages dialogue on issues that impact the church and its members. Articles deal with Christian life, the church, spirituality, issues impacting the Christian community, social justice, and outreach.
Frequency about 9 posts per week.
Since Mar 2009
Website covenantcompanion.com/news
Facebook fans 8,847. Twitter followers 3,463.

Nashville, TN About Blog Understanding, Reaching, and Serving the Millennial Generation.
Frequency about 1 post per month.
Since Jun 2014
Also in Millennial Blogs
Website millennialevangelical.com
Facebook fans 371. Twitter followers 1,733.

Andover, MN About Blog This blog is to hone her writing skills and to do the hard work of redefining her faith in a world that is significantly less black and white than she once believed it to be. Addie has been speaking evangelical fluently since she was three years old. In her life, she has been a Bible study leader, prayer group founder, Sunday school teacher, worship band singer, and Awana Spark for Jesus.
Frequency about 2 posts per month.
Since Sep 2011
Website addiezierman.com
Facebook fans 3,224. Twitter followers 5,940.

About Blog Saved, Spirit filled, Licensed Assembly of God Evangelist with a ministry emphasis on the Baptism in the Holy Spirit and Healing. Donna boldly and fearlessly proclaims the TRUTH of God's Word, and believes in getting back to basics; Salvation, Baptism in the Holy Spirit, Divine Healing, and the Second Coming of Christ.
Frequency about 3 posts per month.
Website story-of-grace.com/salt--gra..
Facebook fans n/a. Twitter followers 366.

Fort Wayne, IN About Blog The Fellowship of Evangelical Churches will intentionally expand the visible body of Christ both nationally and internationally. We dedicate ourselves to teaching the Bible for spiritual maturity and for equipping people for ministry.
Frequency about 3 posts per month.
Since Sep 2014
Website fecministries.org/category/p..
Facebook fans 903. Twitter followers 360.

About Blog We are a lively Canadian-German evangelical church on the shores of Lake Ontario. We are member of EKD and ELCIC and provide services in English and German.
Frequency about 2 posts per month.
Since Aug 2014
Website martinluther.ca
Facebook fans 158. Twitter followers 136.

About Blog ELC Frederick encourages everyone to visit and experience our growing church community. Whether you are here for a weekend or a year, please feel welcome to come and worship with us. It doesn't matter what you wear or who you know, at ELC Frederick you will be welcomed with open arms and hearts.
Frequency about 2 posts per month.
Since May 2016
Website twinspires.org/blogs
Facebook fans 748. Twitter followers n/a.

About Blog Connection Points is the teaching ministry of Randy David Newman: Helping Christians engage people's hearts the way Jesus did. He hope Christians will pursue connections with those around them, pointing them to the way God has woven together the world and called us to connect with Him. He want to help ordinary Christians do the extraordinary work of evangelism.
Frequency about 3 posts per month.
Since Jun 2010
Website connectionpoints.us/blog
Facebook fans n/a. Twitter followers n/a.

Glen Ellyn, IL About Blog The Evangelical Church Library Association is a fellowship of Christian churches, schools and individuals. We strive to promote church libraries to encourage Christian growth. Offer spiritual encouragement and professional assistance to librarians.
Frequency about 5 posts per week.
Since Jul 2014
Website eclalibraries.org
Facebook fans 453. Twitter followers 120.

Sioux City, IA About Blog This is the Christian writing ministry of Dave Sherrill. In the coming months He will be writing on and highlighting many different resources for use in small groups, Sunday school classes, & youth groups. In addition, there will be links to book sales, book reviews, theology, commentary, & pretty much anything.He think it could be helpful to for those who are fellow evangelicals & those who are not yet christians.
Frequency about 2 posts per week.
Since Mar 2017
Website evangelical.world
Facebook fans 33. Twitter followers 201.

About Blog Bethlehem Lutheran Church is a community of Lutheran Christians guided by the Great Commission of our Lord Jesus Christ both to BE disciples and to go and MAKE disciples. Inspired by the Holy Spirit, we seek to grow in our relationships with God and each other through worship, education, fellowship, witness and service.
Frequency about 1 post per week.
Since Jun 2017
Website belc.org/blog
Facebook fans 221. Twitter followers n/a.

Caerwent, Wales About Blog A church in a historic Roman town seeking to make Christ known to the world! We are a baptist church in Caerwent, South Monmouthsire. We love God, believe the Bible and preach the Gospel of Christ.
Frequency about 1 post per month.
Since Jan 2018
Website caerwentbaptist.com/blog
Facebook fans 142. Twitter followers 67.

About Blog Hope Evangelical Church is a member church of the Presbyterian Church in America (PCA). Served by Pastor Steve Muzio, Ruling Elders, and a Board of Deacons, we are a Bible-believing reformed church that seeks to honor God in worship, serve Him by loving His people, and share the good news of Jesus with all.
Frequency about 1 post per month.
Since Mar 2016
Website hope-presbyterian.org/muziom..
Facebook fans 175. Twitter followers n/a.

About Blog Grace Community Church is an Evangelical Free Church, a denomination which traces its American roots back to the 1880's. We want to engage those in need of a savior with the gospel and deeds that reflect our faith.
Frequency about 2 posts per month.
Since Aug 2013
Website gracefreechurch.org/blogs
Facebook fans 152. Twitter followers n/a.

About Blog The Evangelical Free Church of Clinton, Iowa, began in the late 1940s as a Sunday School ministry and was chartered with the Evangelical Free Church of America in 1951. This blog is for forming followers of jesus who impact their world.
Frequency about 1 post per month.
Since Feb 2011
Website clinton-efree.org/category/b..
Facebook fans 102. Twitter followers n/a.

About Blog An umbrella association that identifies, calls and empowers leaders Christ. We encourage you to learn more about the outreach and ministries at First Lutheran, and our beliefs.
Frequency about 1 post per month.
Since Jun 2016
Website the-nbea.org/blog
Facebook fans 98. Twitter followers n/a.

About Blog A blog about Bible studies, Vacation Bible School, Choir, Women's Circles, Prayer, Fellowship opportunities, Liturgical Worship, Discipleship and Weekly Communion.
Frequency about 2 posts per month.
Since Sep 2016
Website peaceingreenock.com/blogs
Facebook fans 96. Twitter followers n/a.

About Blog We are a congregation of born-again Christian believers whose main objective is to spread the Good News and make disciples of all nations. Under the guidance of the Holy Spirit, the Great Comforter promised by our Lord Jesus Christ, we will strive to preach the Word be it in season and out of season, and with great patience, correct, rebuke, and encourage everyone with good teaching.
Frequency about 3 posts per week.
Since Oct 2017
Website maplesevangelical.org/blogs
Facebook fans 26. Twitter followers 5.
These blogs are ranked based on following criteria
Google reputation and Google search ranking
Influence and popularity on Facebook, twitter and other social media sites

Quality and consistency of posts.

Feedspot's editorial team and expert review
Best 40 Evangelical Bloggers
CONGRATULATIONS to every blogger that has made this Top Evangelical Blogs list! This is the most comprehensive list of best Evangelical blogs on the internet and I'm honoured to have you as part of this! I personally give you a high-five and want to thank you for your contribution to this world.
If your blog is one of the Top 40 Evangelical blogs, you have the honour of displaying the following badge on your site. Use the below code to display this badge proudly on your blog. You deserve it!:
<a href="https://blog.feedspot.com/evangelical_blogs/" rel="nofollow" title="Evangelical Blogs"><img alt="Evangelical Blogs" src="https://blog.feedspot.com/wp-content/uploads/2018/03/evangelical_216px.png?x51349"/></a>
Tags: evangelical rss feeds