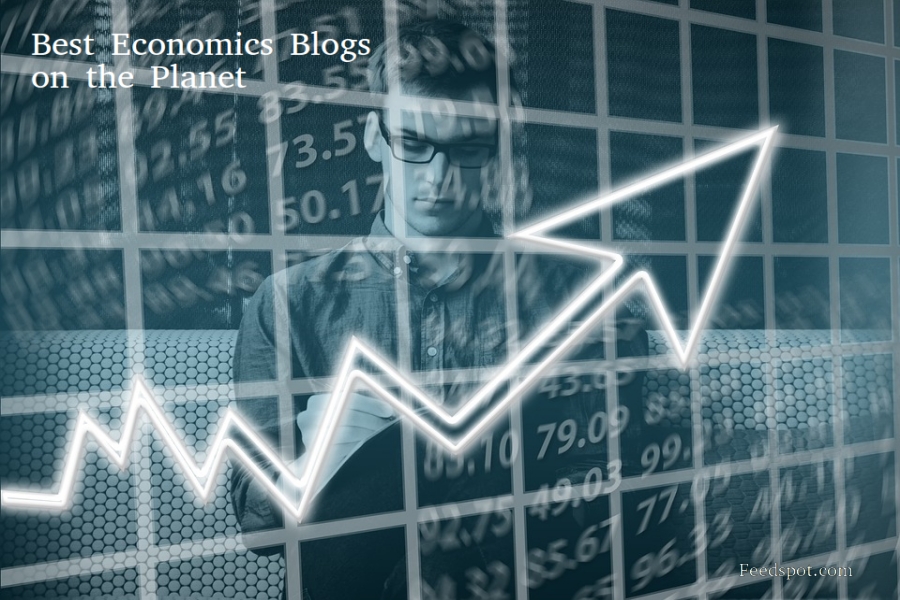 Economics Blogs List.
The Best Economics blogs from thousands of top Economics blogs in our index using search and social metrics. Data will be refreshed once a week. Also check out Top Economics Youtube Channels list for Top videos on Economics and Economics Podcasts.
If your blog is selected in this list, you have the honour of displaying this Badge (Award) on your blog.
Economics Blogs

New York and the World About Blog Get latest Articles on Economics from the Bloomberg. Bloomberg delivers business and markets news, data, analysis, and video to the world, featuring stories from Businessweek and Bloomberg News.
Frequency about 11 posts per week.
Blog bloomberg.com/view//topics/e..
Facebook fans 2,946,040. Twitter followers 100,555.

About Blog An economist and a journalist join forces to make the often daunting topic of economics easily understood and digested by general audiences. Its a fun and informative exploration of how the subjects basic principles drive the minutiae of day-to-day existence.
Frequency about 1 post per week.
Blog freakonomics.com
Facebook fans 378,947. Twitter followers 648,663.

San Francisco, CA About Blog News and discussion about economics, from the perspective of economists.
Frequency about 168 posts per week.
Blog reddit.com/r/Economics
Facebook fans 1,298,444. Twitter followers 641,909.

New York, NY About Blog Real Time Economics offers exclusive news, analysis and commentary on the U.S. and global economy, central bank policy and economics. Economic insight and analysis from The Wall Street Journal.
Frequency about 5 posts per week.
Blog blogs.wsj.com/economics
Facebook fans 6,357,999. Twitter followers 783,080.

London About Blog The Financial Times is one of the world's leading business news and information organisations, recognised for our authority, integrity and accuracy. Here you will find news on global economics.
Frequency about 56 posts per week.
Blog ft.com/global-economy
Facebook fans 3,885,993. Twitter followers 3,655,548.

Washington, DC About Blog Reflections on economics, finance, and policy by the former Chairman of the Federal Reserve, now Brookings Distinguished Fellow in Residence. The Brookings Institution is a nonprofit public policy organization based in Washington, DC. Our mission is to conduct in-depth research that leads to new ideas for solving problems facing society at the local, national and global level.
Frequency about 1 post per month.
Blog brookings.edu/blog/ben-bernanke
Facebook fans 407,620. Twitter followers 371,505.

New York, NY About Blog FiveThirtyEight, created by Nate Silver, who is best known for election forecasts such as the 2012 presidential election in which FiveThirtyEight correctly predicted the vote winner of all 50 states. The site regularly publishes articles by creating or analyzing statistical information on a wide variety of topics in current politics and economic news.
Frequency about 1 post per month.
Blog fivethirtyeight.com/economics
Facebook fans 380,363. Twitter followers 1,060,644.

About Blog Marginal Revolutions is currently one of the most popular economics blogs. It is written by Tyler Cowen and Alex Tabarrok, both of whom are professors at George Mason University. In addition to a daily roundup of interesting links, the blog features some of the best economics debates on the web.
Frequency about 28 posts per week.
Blog marginalrevolution.com
Facebook fans 14,925. Twitter followers 54,211.

Auburn, Alabama About Blog The Mises Wire is a blog publication by the Mises Instituion which promotes teaching and research in the Austrian school of economics. The posts apply Austrian economic theory on current or historical events.
Frequency about 21 posts per week.
Blog mises.org
Facebook fans 234,547. Twitter followers 106,910.

Indianapolis, IN About Blog The Library of Economics and Liberty is dedicated to advancing the study of economics, markets, and liberty. It offers a unique combination of resources for students, teachers, researchers, and aficionados of economic thought.
Frequency about 17 posts per week.
Blog econlog.econlib.org
Facebook fans 79,274. Twitter followers 20,153.

New York City About Blog It is a New York Times column written for wider audiences, authored by Paul Krugman. Paul is an American economist who was awarded the Nobel Economics Prize in 2008 and is known in academia for his work on international economics. He is also a Distinguished Professor of Economics at the Graduate Center of the City University of New York.
Frequency about 1 post per month.
Blog krugman.blogs.nytimes.com
Facebook fans 16,846,477. Twitter followers 4,535,321.

Berkeley, California About Blog We created this interactive site to give voice to our scholars' ideas and opinions in a forum that encourages public comment. This blog serves as a virtual blackboard for ideas and expertise found on the Berkeley campus.Here you will find latest updates on economics.
Frequency about 1 post per month.
Blog blogs.berkeley.edu/category/..
Facebook fans 477,018. Twitter followers 172,545.

About Blog Armstrong Economics is an economic forecasting organization based on the cyclical models developed by Martin Armstrong. Our mission is to remove opinion from forecasting through the use of our advanced technical models while educating the public on the underlying trends within the economy.
Frequency about 24 posts per week.
Blog armstrongeconomics.com/blog
Facebook fans n/a. Twitter followers 13,518.

About Blog INOMICS helps students and researchers in economics, business and social sciences find the best opportunities to reach their academic and professional goals.
Frequency about 2 posts per week.
Blog inomics.com
Facebook fans 66,664. Twitter followers 3,022.

New York, NY About Blog Yves Smith is the pseudonymous author of Naked Capitalism, a popular blog about the U.S. economy and the financial sector. Naked Capitalism was started to combat the underreporting of Wall St. and the economy by mainstream media. They don't hold back any punches against government officials or corporate interests.
Frequency about 34 posts per week.
Blog nakedcapitalism.com
Facebook fans 11. Twitter followers 23,154.

Washington DC About Blog The mission of the Economics and Statistics Administration is to provide high-quality economic analysis and foster the missions of the Census Bureau and the Bureau of Economic Analysis.
Frequency about 1 post per month.
Blog esa.doc.gov
Facebook fans n/a. Twitter followers n/a.

Washington DC About Blog The Economic Policy Institute (EPI) is a nonprofit, nonpartisan think tank created in 1986 to include the needs of low- and middle-income workers in economic policy discussions. EPI believes every working person deserves a good job with fair pay, affordable health care, and retirement security. To achieve this goal, EPI conducts research and analysis on the economic status of working America.
Frequency about 3 posts per week.
Blog epi.org/blog
Facebook fans 122,790. Twitter followers 60,848.

London, United Kingdom About Blog VOX is an awesome blog created by the The Centre for Economic Policy Research, which promotes research excellence and policy relevance in European economics. It covers a diverse range of research based analyses on policy and economic issues. The content can appeal to a diverse audience of economic students to professional economists.
Frequency about 19 posts per week.
Also in UK Economics Blogs
Blog voxeu.org
Facebook fans n/a. Twitter followers 33,810.

About Blog MishTalk is Mike's global economics blog where he typically writes several articles a day topics such as interest rates and central bank policy, gold and precious metals, jobs and economic reports, all from an Austrian Economic perspective.
Frequency about 24 posts per week.
Blog moneymaven.io/mishtalk
Facebook fans n/a. Twitter followers n/a.

NYC About Blog The Big Picture, an excellent blog that looks at macroeconomic issues, is written by Barry L. Ritholtz. Barry is the founder of Ritholtz Wealth Management. The Big Picture breaks down and explains the latest economic news in great detail.
Frequency about 21 posts per week.
Also in Macroeconomics Blogs
Blog ritholtz.com
Facebook fans 3,042. Twitter followers 145,898.
Economics Blogs By Country
---
Albania
Albanian Daily News
About - The most authoritative Albanian source in English. It covers topics like politics, economy, world news , current events and more.
Angola
Maka Angola
About - Maka Angola is an initiative dedicated to the fight against corruption and the defense of democracy in Angola, founded and directed by the journalist Rafael Marques de Morais. Angola is endowed with immeasurable natural wealth and has recorded impressive economic growth in the last decade, with no positive impact on the daily lives of the majority of Angolans who continue to live in poverty. This is maka!.
Argentina
Economic Trends | Keys To Thinking About The Argentina Economy
About - Economic Trends SA is a company specialized in the generation and dissemination of information and economic analysis to think, analyze and interpret the economy and make better decisions.
El Eleconomista
About - Journal of economics, politics and international news. Analysis and specialized columnists.
Australia
MacroBusiness | Australian Property Shares Dollar Economy
About - No nonsense analysis of the Australian and global economy and the effects on your assets and business.
John Quiggin
About - John Quiggin's blog focuses on Australian economics and politics. He delivers an interesting perspective on current events in Australia. He also hosts a weekly 'sandpit' forum style discussion.
Core Economics | Economics , Strategy & More
About - This blog began in 2006 and was solely authored by Joshua Gans, an economics professor at the University of Melbourne. In 2008, the blog became multi-authored with other academic economists joining Core Economics. The topics on this blog reflect the wide interests of the authors. Much of the commentary is about economic policy and economic issues. However, a myriad of posts discuss aspects of business strategy, technology and innovation.
Bill Mitchell - billy Blog
About - Bill Mitchell is a Professor in Economics and Director of the Centre of Full Employment and Equity (CofFEE), at the University of Newcastle, NSW, Australia. His blog is about Modern Monetary Theory with importance to macroeconomic reality.
Austria
Austrian Economy Center Blog
About - The AEC's basic goal is the promotion of a free, responsible and prosperous society. To achieve this goal, it considers economic and socio-political questions, prepares studies, and recommends solutions.
Bangladesh
Bdnews24 | Economy
About - bdnews24.com is a first-of-its-kind venture, being the first Internet-only newsgathering operation in Bangladesh and one of the first in the world.
Bulgaria
Bulgaria Economic Forum
About - Bulgaria Economic Forum is a non-profit legal entity founded in 1998 with the main objectives to promote the business environment of Bulgaria and Southeast Europe to potential foreign investors and to facilitate the dialogue between government and business.
Cambodia
Ministry Of Economic & Finance
About - The informative site about laws & regulation & news by Ministry of Economic & Finance.
UEF | University Of Economic & Finance
About - University of Economics and Finance is an higher education organization that provides unique courses of Economics, Finance, and Technology with quality.
Canada
Progressive Economics Forum
About - The Progressive Economics Forum aims to promote the development of a progressive economics community in Canada.
Greater Fool By Garth Turner
About - Garth Turner is a Best-selling Canadian author of 14 books on economic trends, real estate, the financial crisis, personal finance strategies, taxation and politics.
Worthwhile Canadian Initiative
About - The Worthwhile Canadian Initiative blog is a self proclaimed "mainly Canadian economics blog". Written by a group of intelligent economists, this blog is filled with top quality posts ranging from health, finance and inequality.
Mises Canada Blog | Canada's Leading Austrian Economics Educator
About - It is the mission of Mises Canada to educate the public on the importance of placing human choice at the center of economic theory, to encourage a revival of critical historical research, and to advance the Misesian tradition of thought through the defense of the market economy, private property, sound money, and peaceful international relations.
China
China Economic Review
About - China Economic Review (CER) has been a dependably independent voice on trends and developments in the greater Chinese economy for a quarter century. Our coverage has won recognition from the Society of Publishers in Asia and is widely read by economists, business leaders, academics and students with an interest in one of the world's most vibrant and complex developing markets.
Colombia
Portafolio.co
About - Portafolio.co is the most important economic information center in Colombia with a combination of specialized news content, indicators and transactional tools. It is the destination for anyone interested in current economic issues, business, finance, management and personal matters.
Dinero | Economic News and Businesses in Colombia
About - Specialized Portal in Economy News, Financial News, Economic Indicators, Trade and Business in Colombia and El Mundo.
Denmark
Copenhagen Economics News
About - Copenhagen Economics is the leading economic consultancy in the Nordic region.
Egypt
Economic Research Forum
About - The Economic Research Forum (ERF) is a regional network dedicated to promoting high quality economic research to contribute to sustainable development in the Arab countries, Iran and Turkey.
France
RFI | Global Economic News Live
About - Follow the live economic news in the world - The last articles, reports on global economic activity continuously on RFI.
Georgia
ISET Economist Blog
About - A blog about economics in the South Caucasus.
Germany
Schmieding Blog By Berenberg chief economist Dr Holger Schmieding
About - Berenberg Chief Economist Dr Holger Schmieding on the latest economic topics.
Eurozone Blog | Eurointelligence
About - We have a publicly available short version of Eurointelligence Professional Briefing, which focuses on the geopolitical aspects of our news coverage. It appears daily at 2pm CET.
Flassbeck Economics | Economics & Politics
About - English website of Heiner Flassbeck, former Vice-Minister of Finance, former head of the macroeconomic unit of UNCTAD, macroeconomist and author.
Greece
Economia Blog
About - The only economic magazine that has been in circulation since 1934 in Greece.
Aristidis Notis | Economist Articles
About - Aristidis Notis - Economist - Educator. He teaches economic theory - IB economics, he is a writer of manuals on economic theory and management, and editor-in-chief of the XENOFON scientific journal on Economics in Secondary Education.
Hungary
Barrelperday Blog | Energy,Economics & Whatnot
About - A blog on energy, economics and whatnot, from MOL Group's economists: Diana Szoke, Peter Simon Vargha and Istvan Zsoldos. Barrel per day - keeps the doctor away.
The Budapest Business Journal | Economy
About - The BBJ presents all the essential information on Hungarian business life and many international analyses about the country.
India
Qrius | Indian Economist
About - Qrius is a leading digital magazine that focuses on publishing high-quality articles and opinion pieces on business & economics, policy, politics, culture, foreign affairs and more.
Economic Times Blog
About - Browse through Business Blogs, News, Articles, Expert Opinions & more on Economic Times Blog. Find news blogs on markets, stocks, wealth, mutual fund & more.
Ideas For India | More Evidence Based Policy
About - Ideas for India is an economics and policy portal that is intended to be source for ideas and evidence on development and growth policy issues in India.
Economic & Political Weekly
About - EPW is also unique because it is the one forum where there is an exchange of ideas across the social science disciplines - political scientists debate with economists, sociologists read what political scientists have to say, historians study what economists have to say and so on.
Indonesia
Economic Review News
About - To survive in the financial industry especially in banking, which is very competitive today, every industry is required to always innovate. Here's what ... Economic Review-Many Indonesians do not realize the importance of having a safe.
Gumilang Aryo Sahadewo | A student in economics
About - An Economics Blog by student in economics.
Indonesia Economic Forum
About - Indonesia Economic Forum (IEF) brings together business leaders, policy makers, entrepreneurs and thought leaders from Indonesia and the region.
Iraq
Iranian Economic Review
About - Iranian Economic Review is indexed in SCOPUS as the largest abstract. and citation database of international peer- reviewed journals.
Ireland
Irish Economy Blog
About - Commentary, information, and intelligent discourse about the Irish economy.
Tasc | Progressive Economy Blog
About - The Progressive Economy is a respected and well-established forum for progressive economists and others commenting on the Irish economy. Most contributors are members of the TASC Economists' Network.
David McWilliams | The website of economist, author and broadcaster
About - David recognises the pivotal role of Economics in all of our daily lives and it is his aim to make the 'dismal science' as captivating and accessible as possible. David writes a weekly column for The Irish Times, and he also regularly contributes to a variety of other publications including The Financial Times and Woodford Investment Management.
Dan McLaughlin Blog
About - Economic analysis and commentary on the Irish economy and international financial market developments.
Italy
Paolo Manasse | Back Of The Envelope Economics
About - An Economics Blog by a Professor of Macroeconomics and International Economic Policy at the University of Bologna.
Lebanon
Business News
About -Dedicated to economic and business news on Lebanon, managed by the team of Lebanon Opportunities.
Libya
Libya Observer | Economy
About - We are an independent news source, committed to deliver comprehensive and authoritative coverage of Libyan news and current affairs.
Madagascar
EDBM News | Economic Development Board Of Madagascar
About - Economic Development Board of Madagascar (EDBM) is your reference partner for your investments in Madagascar.
Malaysia
Tun Ismail Ali Chair Blog
About - A blog on Monetary and Financial Economics by TIAC.
Moldova
Teleradio-Moldova | Economic
About - The first Radio TV media company from the Republic of Moldova that presents latest information like news, TV news, TV and Radio programs.
Monaco
Monaco Economic Board
About - MONACO ECONOMIC BOARD (MEB) is responsible for promoting the Principalities economy and plays an active role in its development.
Mongolia
Economic Research Institute
About - Our mission is to promote policy debate and to provide high-quality information resources for the benefit of objective, original economic research and policy analysis in Mongolia.
Mongolian Economic Forum
About - The Mongolia Economic Forum (MEF) is an independent, non-governmental, public organization committed to improving and creating common concept to accelerate development of Mongolia by organizing discussions between the business and political leaders, civil society and scholars.
Namibia
Namibia Economist
About - The Namibia Economist is an important medium for timely identification and evaluation of new market opportunities, management strategies and the main economic news of the week.
Nepal
Nepal Economic Forum
About - Nepal Economic Forum (NEF) is a not for profit organization aiming to be Nepal's premier private sector led economic policy and research institution. Established in 2009, NEF seeks to re-define the economic development discourse in Nepal and positively transform Nepal's economic and development policies.
Aarthiknews
About - Aarthiknews.com is a leading business & economic news portal from Nepal dedicated for building sustainable, developed and prosperous Nepal.
Netherlands
Off The Charts | Economics Blog
About - Welcome to Off the Charts, the official blog of the study association Asset | Economics.
Spatial Economics Blog | Spatial, Transport and Environmental Economics
About - Do you want to study Regional, Urban, Transport & Environmental Economics in Amsterdam? Check out our Master's Programme at spatial economics!
New Zealand
NZAE | New Zealand Association Of Economists
About - The intention of this blog is to highlight economists' work and provide material to support education and general understanding, especially as it relates to economics in New Zealand.
Interest.co
About - Latest breaking business, finance and economic news and views from New Zealand & most popular independent site, interest.co.nz.
Nigeria
Proshare Nigeria
About - PROSHARE Nigeria, founded in December 2006 as a niche news and analysis service has since grown to become Nigeria's No#1 Financial Information Hub; with key focus on markets, business, personal finance, economy, startups, technology and regulation.
Pakistan
Pakistan & Gulf Economist | Business Magazine
About - Pakistan & Gulf Economist is a weekly business magazine published from Karachi covering the business community, stock exchanges, economy of Pakistan & Gulf.
Paraguay
Paraguay Economy News
About - Latest news and breaking news from Paraguay, Economy.
Peru
Semana Economia
About - SEMANAeconómica, economy and business magazine with the most complete analysis of the Peruvian business world.
Singapore
Econs Actually Blog
About - Econs Actually is an established premier tuition programme in Singapore, specializing in 'A' Level Economics Tuition.
Spain
Spanish Economy
About - The Spanish Economy provides access to the latest key economic information on Spain in English in a clear and comprehensive manner.
UK
Economics Help Blog
About - This blog is written by Tejvan Pettinger. He contributes articles to the Economic Review and writes regularly on economics.
Institute Of Economic Affairs
About -Our mission is to improve understanding of the fundamental institutions of a free society by analysing and expounding the role of markets in solving economic and social problems.
The Sloman Economics News Site | All Your Resources For Economics
About - This blog discusses economic issues in the news and relates these news items to key economic concepts and theories. Links are given to a range of articles and other relevant material and each blog post finishes with a set of discussion questions.
National Institute Of Economic & Social Research Blog
About - EconomicsUK is the personal website of David Smith, the Economics Editor of The Sunday Times, London. His easy to understand writing and clearly defined causes and consequences makes this an accessible blog for beginners.
USA
Economist's View
About - Mark Thoma, a Professor of Economics at the University of Oregon, writes about macroeconomics on the Economist's View. He posts a daily round up of interesting blogs links, while sometimes writing his own detailed analysis in longer posts.
Curious Cat investing & Economics Blog
About - Focused on economics, investing and financial literacy. One aim is to to help regular readers become more knowledgeable about these important areas to aid their ability to manage their personal finances and to better understand the economy.
The New York Times | Economics & Politics
About - It is a New York Times column written for wider audiences, authored by Paul Krugman. Paul is an American economist who was awarded the Nobel Economics Prize in 2008 and is known in academia for his work on international economics.
Marginal Revolution
About - MR began in August of 2003 and there have been new posts daily since that time. In numerous reviews and ratings over the years Marginal Revolution has consistently been ranked as the best or one of the best economic blogs on the web, but it is more (and less) than that, also representing the quirks of its authors.
These blogs are ranked based on following criteria
Google reputation and Google search ranking
Influence and popularity on Facebook, twitter and other social media sites

Quality and consistency of posts.

Feedspot's editorial team and expert review
Top 100 Economics Blogs Winners
CONGRATULATIONS to every blogger that has made this Top Economics blogs list! This is the most comprehensive list of best Economics blogs on the internet and I'm honoured to have you as part of this! I personally give you a high-five and want to thank you for your contribution to this world.
If your blog is one of the Top 100 Economics blogs, you have the honour of displaying the following badge on your site. Use the below code to display this badge proudly on your blog. You deserve it!:
Tags: economics rss feeds, economics blogs uk, economics blogs australia