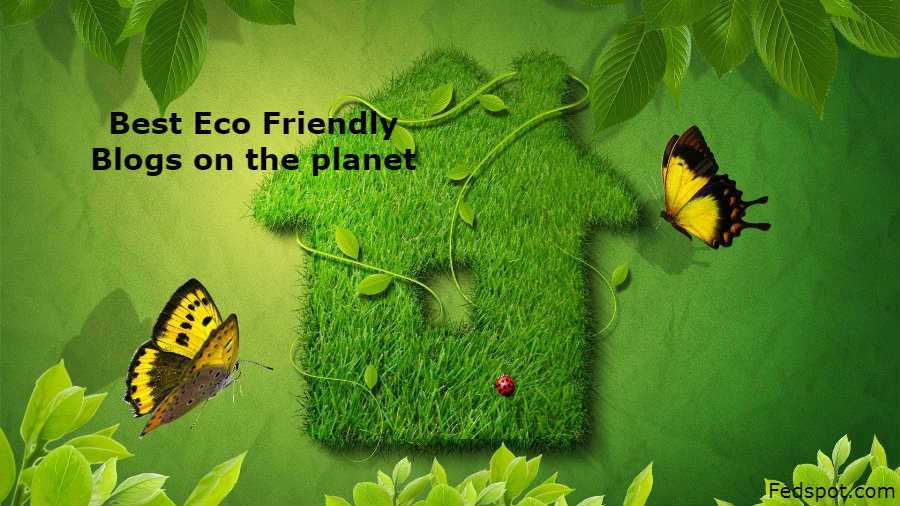 Eco Friendly Blogs List.
The Best Eco Friendly blogs from thousands of top Eco Friendly blogs in our index using search and social metrics. Data will be refreshed once a week.Also check out Top Eco Friendly Youtube Channels list for Top videos on Eco Friendly.
If your blog is selected in this list, you have the honour of displaying this Badge (Award) on your blog.
Eco Friendly Blogs

New York, Everywhere About Blog Find everything you need to know about living a healthy and eco-friendly life, with an emphasis on nature, science and sustainable design. Green design & living news covering technology, architecture, transportation and more. Featuring sustainable living commentary, features and solutions.
Frequency about 28 posts per week.
Since Apr 2003
Also in Sustainability Blogs
Blog treehugger.com
Facebook fans 608.6K ⋅ Twitter followers 353.1K ⋅ Social Engagement 183ⓘ ⋅ Domain Authority 82ⓘ

Dallas, TX About Blog We provide Environmental news and content to help you, as a consumer, live a zero waste lifestyle. A community forum to share ideas and also iInformation about environmental causes.
Frequency about 14 posts per week.
Blog earth911.com
Facebook fans 113.2K ⋅ Twitter followers 75.5K ⋅ Social Engagement 11ⓘ ⋅ Domain Authority 77ⓘ

New York, NY About Blog EcoCult is stunningly informed, brash, beautiful and unapologetic. EcoCult loves anything local, sustainable, eco-friendly, handmade. Living sustainably just makes sense to me, even though it's not always easy.
Frequency about 2 posts per week.
Also in Sustainable Living Blogs, Sustainable Fashion Blogs
Blog ecocult.com
Facebook fans 4.8K ⋅ Twitter followers 4 ⋅ Social Engagement 12ⓘ ⋅ Domain Authority 52ⓘ

Middle East About Blog Green Prophet is an environment news site reporting on the Middle East. Get Environmental news on design, energy, architecture, technology, solar energy, food, cities, and more on Green Prophet.
Frequency about 7 posts per week.
Also in Middle East Blogs
Blog greenprophet.com
Facebook fans 14.8K ⋅ Twitter followers 4.4K ⋅ Social Engagement 2ⓘ ⋅ Domain Authority 67ⓘ

About Blog The idea behind Ecofriend is simple: to inform and educate consumers who love to possess the latest gadgets and products available in the market and who are also concerned about the environment around them.
Frequency about 5 posts per week.
Blog ecofriend.com
Facebook fans 9.1K ⋅ Twitter followers 148 ⋅ Social Engagement 1ⓘ ⋅ Domain Authority 58ⓘ

Los Angeles, CA About Blog TreePeople is an environmental nonprofit that unites the power of trees, people and technology to grow a sustainable future for Los Angeles. Simply put, our work is about helping nature heal our cities.
Frequency about 3 posts per month.
Blog blog.treepeople.org
Twitter followers 11.6K ⋅ Social Engagement 8ⓘ ⋅ Domain Authority 59ⓘ

Australia About Blog Founded in 2010 by Jennifer Nini, Eco Warrior Princess covers the topics that matters — sustainable fashion, conscious businesses, green politics, feminism, eco beauty, wellness, green technology — in an analytical, intelligent and honest way.
Frequency about 11 posts per week.
Blog ecowarriorprincess.net
Facebook fans 9.5K ⋅ Twitter followers 8.1K ⋅ Social Engagement 15ⓘ ⋅ Domain Authority 51ⓘ

Edinburgh About Blog Moral Fibres is a green lifestyle blog about seasonal recipes, energy saving, ethical fashion, eco-friendly gardening, ethical shopping, sustainable travel & more
Frequency about 1 post per week.
Since Jan 2013
Also in UK Eco Friendly Blogs, UK Sustainable Living Blogs
Blog moralfibres.co.uk
Facebook fans 4.2K ⋅ Twitter followers 8.1K ⋅ Social Engagement 73ⓘ ⋅ Domain Authority 46ⓘ

San Francisco, CA About Blog A place for products, methods, and solutions that Redditors can use to become more eco-friendly and green.
Frequency about 9 posts per week.
Blog reddit.com/r/EcoFriendly
Facebook fans 1.3M ⋅ Twitter followers 638.7K ⋅ Social Engagement 1ⓘ ⋅ Domain Authority 90ⓘ

Brisbane, Australia About Blog Australia's favourite eco friendly store since 2003.
Frequency about 1 post per week.
Blog biome.com.au/blog
Facebook fans 202.8K ⋅ Twitter followers 2.9K ⋅ Social Engagement 51ⓘ ⋅ Domain Authority 50ⓘ

Canada About Blog Discuss environmentally friendly products, deals, tips, and more.
Frequency about 3 posts per month.
Blog forums.redflagdeals.com/gree..
Facebook fans 63.3K ⋅ Twitter followers 67.3K ⋅ Domain Authority 64ⓘ

About Blog The Green Living Guy, Seth Leitman is a green living expert, celebrity and Editor of the McGraw-Hill, TAB Green Guru Guides. Seth is also an Author, Radio Host, Reporter, Writer and a Environmental Consultant on green living. The Green Living Guy writes about green living, green lighting, the green guru guides and more.
Frequency about 12 posts per week.
Blog greenlivingguy.com
Facebook fans 20.6K ⋅ Twitter followers 60.2K ⋅ Domain Authority 47ⓘ

Wilmington, DE About Blog PlushBeds is a leading online luxury mattress retailer and manufacturer, specializing in natural and organical latex mattresses. Latex mattresses are growing in popularity as people discover the many wonderful, back-saving, environmental, and other benefits they deliver not to mention their exceptionally long lifespans when compared to other mattresses.
Frequency about 4 posts per month.
Since Jun 2012
Also in Mattress Blogs
Blog plushbeds.com/blog
Facebook fans 14K ⋅ Twitter followers 8.1K ⋅ Social Engagement 2ⓘ ⋅ Domain Authority 44ⓘ

San Diego, CA About Blog Articles, how-to's and tips to empower and inspire you to save money, consume less, produce more, and live a greener, healthier, more sustainable life.
Frequency about 1 post per month.
Blog smallfootprintfamily.com
Facebook fans 36.8K ⋅ Twitter followers 1.8K ⋅ Social Engagement 260ⓘ ⋅ Domain Authority 56ⓘ

India About Blog Ecoideaz aspires to be an exclusive website that acts as a repository for innovative green ideas both from the investor and consumer perspective.
Frequency about 2 posts per week.
Blog ecoideaz.com
Facebook fans 7.7K ⋅ Twitter followers 439 ⋅ Social Engagement 3ⓘ ⋅ Domain Authority 37ⓘ

Orlando, Florida About Blog Get Green Be Well is a fun resource of how going green can also help you live a healthier life! With product recommendations, honest reviews, eco-wellness tips and tricks, giveaways, travel ideas and hints of where to go shopping.
Frequency about 2 posts per week.
Blog getgreenbewell.com
Facebook fans 1.2K ⋅ Twitter followers 2.9K ⋅ Social Engagement 2ⓘ ⋅ Domain Authority 47ⓘ

About Blog Feel beautiful. Live beautifully. All of our products are made from earth-friendly ingredients to help you look good and feel good about it.
Frequency about 1 post per month.
Blog ecotools.com/blog
Facebook fans 378.4K ⋅ Twitter followers 19K ⋅ Domain Authority 58ⓘ

Louisville, Kentucky About Blog Eco to Know and Ways To Go Green
Frequency about 5 posts per week.
Blog ways2gogreenblog.com
Facebook fans 1.5K ⋅ Twitter followers 65.1K ⋅ Domain Authority 36ⓘ

Mumbai, India About Blog Greenhandle is an Online B2B marketplace to provide eco-friendly customized products such as paper bags, Handmade Paper Bags, Non-Woven Bags, Jute Bags, newspaper bags ,Pouches, boxes, Office Product, Food Product & Safety Product and made from recycled materials in India.
Frequency about 1 post per month.
Blog greenhandle.in/blog
Twitter followers 165 ⋅ Domain Authority 24ⓘ

Santa Monica, CA About Blog The freshest innovative and eco-friendly designs, trends and ideas for stylish urban gardens and small spaces. Urban Gardens is an award-winning and Webby-nominated lifestyle blog with a creative blend of urban style, design, and nature curated from around the globe.
Frequency about 2 posts per month.
Also in Garden Design Blogs, Urban Blogs
Blog urbangardensweb.com
Facebook fans 163K ⋅ Twitter followers 58.1K ⋅ Social Engagement 6ⓘ ⋅ Domain Authority 57ⓘ

NJ About Blog The Glamorganic Goddess is your source for the latest clean beauty tips, natural organic product reviews healthy lifestyle how-to's... from a sassy, young Breast Cancer Survivor with a passion for prevention! Green your glam! Find healthy beauty products without carcinogens, without sacrificing your standards
Frequency about 1 post per month.
Since May 2010
Also in American Beauty Bloggers
Blog glamorganicgoddess.com/blog
Facebook fans 12K ⋅ Twitter followers 4.8K ⋅ Domain Authority 36ⓘ

Australia About Blog Technology for a sustainable future
Frequency about 2 posts per week.
Blog renew.org.au
Facebook fans 2.9K ⋅ Twitter followers 3.4K ⋅ Social Engagement 18ⓘ ⋅ Domain Authority 48ⓘ

USA & Canada About Blog Let's raise our kids in a greener world! Learn about moms who are living green & teaching their kids to do the same. Get eco-lifestyle tips for your family!
Frequency about 1 post per month.
Blog ecocentricmom.com/category/e..
Facebook fans 6.8K ⋅ Twitter followers 2K ⋅ Domain Authority 33ⓘ

US/Canada/Worldwide About Blog Ecodiva beauty provides luxury, non toxic and organic beauty products, skin care products, makeup products, hair products, bath and body products and organic recipes for skin & beauty care.
Frequency about 1 post per month.
Since Aug 2012
Blog ecodivabeauty.com/blogs/ed
Facebook fans 6.9K ⋅ Twitter followers 6.4K ⋅ Domain Authority 42ⓘ

Singapore About Blog Little Green Dot is an eco-lifestyle guide for busy people who want a healthy, happy & green life, with ideas for your home, family, beauty and lifestyle.
Frequency about 1 post per month.
Blog littlegreendot.com/#recent-a..
Facebook fans 11K ⋅ Twitter followers 2K ⋅ Social Engagement 5ⓘ ⋅ Domain Authority 52ⓘ

Republic of Mauritius About Blog EcoFriendlyLink is your one-stop resource for everything green and eco friendly.
Frequency about 2 posts per week.
Blog ecofriendlylink.com/blog
Facebook fans 115 ⋅ Twitter followers 5.4K ⋅ Social Engagement 2ⓘ ⋅ Domain Authority 35ⓘ

India About Blog Eco and Mommy blogger from India
Frequency about 1 post per week.
Since Dec 2011
Blog pratsmusings.com
Facebook fans 11.2K ⋅ Twitter followers 1.5K ⋅ Social Engagement 5ⓘ ⋅ Domain Authority 24ⓘ

About Blog Edenland is a global movement that is reforesting earth's forests and protecting our wildlife habitat we make it simple to make actions that help our planet one tree at a time. Follow to get updates.
Frequency about 2 posts per month.
Blog edenland.org/blog
Facebook fans 169 ⋅ Instagram Followers 1.4K ⋅ Social Engagement 3ⓘ ⋅ Domain Authority 3ⓘ

Portland, Oregon About Blog Growing a Green Family is a weblog focused on helping families to live green (or live greener) with all the other ups and downs of family life. My own family home unit is me, (Jennifer) and my son Cedar.
Frequency about 1 post per month.
Blog growingagreenfamily.com
Facebook fans 1.4K ⋅ Twitter followers 1.4K ⋅ Domain Authority 38ⓘ

Vancouver/Chicago/Guatemala About Blog The Green Mama grows greener families and businesses through research-based support for those trying to create healthier, sustainable lives. The Green Mama was founded in 2007 by Manda Aufochs Gillespie.
Frequency about 1 post per month.
Blog thegreenmama.com/blog
Facebook fans 3.8K ⋅ Twitter followers 2.4K ⋅ Domain Authority 37ⓘ

About Blog The green technology industry is responding to the need to preserve the planet for generations to come bringing its ideas to the mainstream almost overnight and U.S. Green Technology is seeking out the latest in the movement to share with you.
Frequency about 1 post per week.
Blog usgreentechnology.com
Social Engagement 2ⓘ ⋅ Domain Authority 42ⓘ

About Blog Welcome to My Zero waste! A blog about how we reduced waste and pollution to save our environment since 2004. Join us as we reduce the amount of rubbish we send to landfill each week.
Frequency about 1 post per month.
Blog myzerowaste.com
Facebook fans 5.4K ⋅ Twitter followers 9.8K ⋅ Social Engagement 5ⓘ ⋅ Domain Authority 52ⓘ

Washington, D.C. About Blog Big Green Purse Urges Women to Use Their Consumer Clout to Protect the Environment and Themselves Diane MacEachern's message is simple but revolutionary.
Frequency about 1 post per month.
Blog biggreenpurse.com
Facebook fans 1.9K ⋅ Twitter followers 5.8K ⋅ Social Engagement 17ⓘ ⋅ Domain Authority 47ⓘ

Los Angeles, CA About Blog Eco-friendly tips, news and entertainment for a greener life.
Frequency about 4 posts per week.
Blog biofriendlyplanet.com
Facebook fans 4.3K ⋅ Social Engagement 14ⓘ ⋅ Domain Authority 32ⓘ

Cincinnati, Ohio About Blog Hi, I'm Amanda! Here on The Eco-Friendly Family I discuss my life alongside topics that are important to me and my family, like getting fit, composting, cloth diapers, safe products, and tips on reducing chemical exposure to name a few. I like to approach green living from a practical, modern perspective.
Frequency about 1 post per month.
Blog theecofriendlyfamily.com
Facebook fans 17.1K ⋅ Twitter followers 7.8K ⋅ Domain Authority 51ⓘ

Alberta About Blog Welcome to Of Houses and Trees, a blog about sustainable design, sustainable living, sustainable eating - sustainable everything!
Frequency about 2 posts per month.
Blog ofhousesandtrees.com
Facebook fans 178 ⋅ Twitter followers 64 ⋅ Social Engagement 1ⓘ ⋅ Domain Authority 12ⓘ

Los Angeles, CA About Blog Sustainable Fashion, Green Beauty, & Eco-friendly Lifestyle Blog
Frequency about 1 post per month.
Blog sustainabledaisy.com
Facebook fans 80 ⋅ Twitter followers 382 ⋅ Social Engagement 1ⓘ ⋅ Domain Authority 22ⓘ

New York About Blog Eco-friendly, non-toxic, natural & organic product info for moms, expecting moms, their babies & families.
Frequency about 2 posts per month.
Blog smartmommyhealthybaby.com
Facebook fans 1.5K ⋅ Twitter followers 1.3K ⋅ Social Engagement 5ⓘ ⋅ Domain Authority 23ⓘ

USA About Blog My blog is all about Green living, organic gardening etc and also the green products that can be used to make this world a better place to live in. You might be surprised and think you only want to learn one thing but will come away from the blog learning lot of other green tools.
Frequency about 1 post per month.
Blog green-talk.com
Facebook fans 6.5K ⋅ Twitter followers 6.3K ⋅ Social Engagement 6ⓘ ⋅ Domain Authority 48ⓘ

Spokane, Wa About Blog Hi! I'm Christine! I'm an Eco-friendly, frugal living 30 something hippie at heart Mom of teens with dreadlocks. I love fitness, yoga, and enjoying life wherever I happen to be planted at the moment which currently is the Pacific Northwest.
Frequency about 4 posts per month.
Blog savedbygraceblog.com
Facebook fans 4.1K ⋅ Twitter followers 5.9K ⋅ Social Engagement 45ⓘ ⋅ Domain Authority 38ⓘ

Westchester, NY About Blog Karen lives a simple, frugal, and green life. She sells functional handmade eco-goodies on Etsy and blogs about green DIY, product reviews, sponsors giveaways, eco tips and news.
Frequency about 2 posts per month.
Blog drkarenslee.com
Facebook fans 7.9K ⋅ Twitter followers 4.1K ⋅ Social Engagement 25ⓘ ⋅ Domain Authority 44ⓘ

About Blog Environment Blog brings you environmental news and insightful articles on the environment, pollution, energy, recycling, climate change and much more.
Frequency about 1 post per month.
Blog environmentblog.net
Social Engagement 15ⓘ ⋅ Domain Authority 38ⓘ

About Blog Eco-Office Gals strives to build businesses green and paperless. Our blog site compiles information about sites and products that we find safe and useful for our environment. Follow this blog and get ideas for businesses interested in making a lighter environmental Impact.
Frequency about 1 post per month.
Since Jun 2008
Also in Green Business Blogs
Blog eco-officegals.com/eog-blog
Facebook fans 827 ⋅ Twitter followers 4.7K ⋅ Domain Authority 36ⓘ

Leeds, England About Blog Follow us to keep up with the latest recycling and waste management tips and info as well as company and industry news and information.
Frequency about 3 posts per month.
Since Feb 2015
Also in UK Recycling Blogs
Blog forgerecycling.co.uk/blog
Facebook fans 659 ⋅ Twitter followers 3.1K ⋅ Social Engagement 4ⓘ ⋅ Domain Authority 33ⓘ

About Blog Greenne.com is an eco friendly blog covering the most important and talked about green issues of our time.
Frequency about 3 posts per month.
Blog greenne.com
Facebook fans 1.3K ⋅ Domain Authority 26ⓘ

New York Metro About Blog The Green Divas offer low-stress ways to live a deeper shade of green - quality digital content via blog, podcast, and video.
Frequency about 2 posts per month.
Blog thegreendivas.com
Facebook fans 8.4K ⋅ Twitter followers 4.8K ⋅ Domain Authority 47ⓘ

About Blog Ecopod is an easy-to-use refill kiosk that dispenses cleaning solutions into refillable containers. Reduce, Reuse, and Save - A Clean Planet Begins Here.
Frequency about 1 post per month.
Blog ecopod.us/category/blog
Facebook fans 4.1K ⋅ Twitter followers 96 ⋅ Instagram Followers 14K ⋅ Social Engagement 1ⓘ ⋅ Domain Authority 17ⓘ

USA About Blog Our future depends on our knowledge and actions. What choices will you make today?
Frequency about 1 post per month.
Blog shaneshirley.com
Facebook fans 1.8K ⋅ Twitter followers 15.6K ⋅ Domain Authority 24ⓘ

About Blog Green Your Decor a blog by Jennae Petersen is your guide to all things eco-friendly for your home. If you're looking for green furniture, organic textiles, safe nursery decor or anything else, we can help you find it.
Frequency about 2 posts per month.
Blog greenyourdecor.com
Facebook fans 2.4K ⋅ Twitter followers 100 ⋅ Domain Authority 42ⓘ

Budapest, Hungary About Blog Eco friendly and healthy survival guide by Eugenia Zhenya Bulah from Budapest & Moscow.
Frequency about 2 posts per month.
Blog diamondsandspikes.com
Facebook fans 19.3K ⋅ Twitter followers 13 ⋅ Instagram Followers 40.9K ⋅ Social Engagement 10ⓘ ⋅ Domain Authority 21ⓘ

Lake Tahoe, Nevada About Blog BantheBottle.net is a blog devoted to banning plastic water bottles while staying hydrated.
Frequency about 1 post per month.
Blog banthebottle.net
Facebook fans 4.1K ⋅ Twitter followers 1.2K ⋅ Domain Authority 57ⓘ

About Blog Eco-friendly and adorably chic, Wrappily is a smart new take on wrapping paper—great patterns printed on 100% recyclable and compostable newsprint. Our reversible gift wrap makes a gift look great, and not at the expense of the environment.
Frequency about 1 post per month.
Blog wrappily.com/blog
Facebook fans 1.3K ⋅ Twitter followers 491 ⋅ Domain Authority 38ⓘ

About Blog Our reviews help consumers use more solar and alternative energy products in their home to reduce reliance on fossil fuels and save money
Frequency about 15 posts per week.
Blog ecopowerup.com
Domain Authority 13ⓘ

About Blog Plastic-Free Tuesday: One day a week no plastic purchases or waste! Follow us for tips about using less plastic. One day at a time, small steps!
Frequency about 1 post per month.
Blog plasticfreetuesday.com
Facebook fans 2K ⋅ Twitter followers 7.5K ⋅ Social Engagement 10ⓘ ⋅ Domain Authority 32ⓘ

About Blog Live Simple Eco will help break down the process of going green. I will give you easy and accessible tips on living eco-friendly. You will find simple step-by-step guides that you can follow at your own pace.
Frequency about 2 posts per week.
Blog livesimpleeco.com/blog

Burlington, ON., Canada About Blog Welcome to our eco-friendly blog. We offer reusable insulated stainless steel water bottles for hot and cold liquids, environmentally friendly. Read our latest news and information on how to live and promote a green lifestyle. Browse our recent posts.
Frequency about 1 post per month.
Since Feb 2017
Blog greensyourcolour.com/blogs/blog
Twitter followers 5.8K ⋅ Instagram Followers 7.2K ⋅ Social Engagement 11ⓘ ⋅ Domain Authority 23ⓘ

Australia About Blog ECO FRIENDLY FASHION is an online portal providing people with thoughtful, sustainable ways to slow down and make more conscious choices. Covering clothing, homewares, books, lifestyle tips, resources and real life stories, E.F.F. embraces a culture of design & creativity with social & environmental issues in mind.
Frequency about 1 post per month.
Blog ecofriendly-fashion.com
Facebook fans 3.5K ⋅ Twitter followers 503 ⋅ Domain Authority 21ⓘ

Aylesbury, UK About Blog Eco Tech Daily was founded in April 2014 by British writer Craig J Todd. He is passionate about technology and its potential to have a positive impact on our environment and lives.
Frequency about 1 post per month.
Blog ecotechdaily.net
Facebook fans 93 ⋅ Twitter followers 11.2K ⋅ Social Engagement 11ⓘ ⋅ Domain Authority 19ⓘ

Brighton and Hove, UK About Blog Hi, my name is Zoë Morrison and I am the author of Eco Thrifty Living. I have learned so much about being eco-friendly, saving money and setting healthy limits when it comes to both of those activities!
Frequency about 2 posts per month.
Since Jul 2011
Also in Zero Waste Blogs, Thrifting Blogs, UK Thrift Blogs
Blog ecothriftyliving.com/blog
Facebook fans 1.7K ⋅ Twitter followers 5.8K ⋅ Social Engagement 32ⓘ ⋅ Domain Authority 39ⓘ

North Wales UK About Blog Earth-friendly gardener: connecting gardening with the world around us
Frequency about 1 post per month.
Blog earthfriendlygardener.net/ca..
Twitter followers 8.3K ⋅ Domain Authority 23ⓘ

About Blog Features green technology news, views, reviews and products you can use. Offers information on renewable and sustainable energy.
Frequency about 1 post per month.
Blog greentechgazette.com
Domain Authority 30ⓘ

California, USA About Blog The GBDRRRF An Umbrella Trust Fund is working to build resilience in vulnerable communities around the globe. The DRRRTF is a multi-donor partnership and grant-making financing mechanism. Its purpose is mainstreaming climate change to help achieve the Sendai Framework for Disaster Risk Reduction 2015-2030-a decade-long plan to help make the world safer from disasters caused by natural hazards and to support the implementation of the Global Climate Agreement in Paris.
Frequency about 1 post per month.
Also in Global Warming Blogs
Blog gbdrrrf.org
Twitter followers 66 ⋅ Domain Authority 7ⓘ

About Blog Dedicated to all things minimalist, green/eco friendly, zero waste and vegan. I'd love to get to know like-minded people so please subscribe and comment. If you have a similar channel you think I'd be interested in please let me know so I can subscribe to you too.
Frequency about 1 post per month.
Since Oct 2015
Also in Eco Friendly Youtube Channels, Zero Waste Youtube Channels
Blog youtube.com/channel/UC8ad..
Social Engagement 4ⓘ ⋅

United Kingdom About Blog Hi, I'm Kate Arnell! Nice to meet you. I've been living a zero waste lifestyle in London for nearly 4 years and this is my YouTube channel where I get to release my inner eco-enthusiast.I'm super passionate about zero waste, choosing organic, eco fashion, seasonal food, exploring and eco friendly alternatives.
Frequency about 1 post per month.
Since Jan 2015
Blog youtube.com/channel/UC3pE..
Facebook fans 1.2K ⋅ Twitter followers 5.1K ⋅ Social Engagement 9ⓘ ⋅

About Blog With over 35 years of living green, research work and supporting a sustainable environment, we are proud to offer selections of the finest 'green' tips, products & reviews around.
Frequency about 1 post per month.
Blog eco-friendly-green-products.com
Twitter followers 752 ⋅ Domain Authority 19ⓘ

About Blog My name is Alison, and I'm part of the Vegan Warrior Princess Tribe. I like writing a lot. Check out my blog, it's mostly stuff about saving the planet.
Frequency about 3 posts per month.
Blog happythoughtshare.com/blog
Facebook fans 983 ⋅ Social Engagement 36ⓘ ⋅ Domain Authority 1ⓘ

Nashville, TN About Blog We're proud to say that Nashville Wraps got its start selling eco-friendly packaging. The first product we ever sold was gift wrap made from recovered papers from the textile industry. We now offer an entire line of Green Way® recycled products
Frequency about 1 post per month.
Blog nashvillewrapscommunity.com/..
Facebook fans 29.7K ⋅ Twitter followers 6.4K ⋅ Social Engagement 46ⓘ ⋅ Domain Authority 42ⓘ

Chicago, IL About Blog Just another story of boy meets girl at college except this girl was born in the Caribbean and this boy was born in Scandinavia! They met in New Mexico of all places and are now married with 3 children. They live in the suburbs of Chicago, 3 continents and 2 languages in one house. It is fun and loud and green living at its finest.
Frequency about 1 post per month.
Blog ecolifeandstyle.com
Facebook fans 13.4K ⋅ Twitter followers 23.2K ⋅ Domain Authority 28ⓘ

About Blog Wild Beasts Art is an online platform for ethical consumer awareness and artistic expression. We believe you deserve beautiful unique products but not at the price of our planet or people's welfare. Wild Beasts Art's mission is to create a community that thinks critically about how we can all encourage healthy living and a healthier planet.
Frequency about 1 post per month.
Blog wildbeastsart.org/blog-posts
Twitter followers 35 ⋅ Domain Authority 7ⓘ

Virginia About Blog Dedicated to inspiring your home and garden with beautifully-crafted, eco-friendly décor from around the world, VivaTerra strives to bring you products that represent our commitment to sustainable materials and practices.
Frequency about 1 post per month.
Blog vivaterra.com/blog
Facebook fans 4.9K ⋅ Twitter followers 1.1K ⋅ Domain Authority 63ⓘ

Oakland, CA About Blog Think we can't live without plastic? Think again. In 2007 I committed to stop buying any new plastic & I've almost succeeded! Won't you join me? Let's see what plastic-free looks like today for the health of our bodies, our oceans, our planet. How I Kicked the Plastic Habit and How You Can Too Join me in living life with less plastic.
Frequency about 1 post per month.
Since Jun 2007
Blog myplasticfreelife.com/blog
Facebook fans 49.1K ⋅ Twitter followers 11.5K ⋅ Social Engagement 31ⓘ ⋅ Domain Authority 59ⓘ

Boston, MA About Blog Step by step to a greener lifestyle. Easy greening for families! We are a husband and wife team who want to help others get started living greener and saving money by doing simple and affordable things that make a big difference in your community and the world.
Frequency about 1 post per month.
Blog greenlifestylechanges.com
Facebook fans 4K ⋅ Twitter followers 4.2K ⋅ Domain Authority 38ⓘ

San Francisco Bay Area About Blog Welcome to Easy Eco Blog. This website is designed to help you become more green and eco friendly with tips that are doable with a minimal of effort. Our goal is to help the environment, while saving you money and improving the entire world's quality of life.
Frequency about 1 post per month.
Blog easyecoblog.com
Facebook fans 92 ⋅ Twitter followers 296 ⋅ Domain Authority 29ⓘ

About Blog Being green and energy efficient and how to be eco-friendly.
Frequency about 2 posts per week.
Blog mygreenhomeblog.com
Twitter followers 29 ⋅ Domain Authority 21ⓘ

Arizona About Blog ENSO Plastics was created with a vision of making the world a cleaner place through plastic solutions that are better for the environment. Our goal is to end plastic pollution by developing earth friendly plastic solutions.
Frequency about 3 posts per month.
Blog ensoplastics.com/theblog
Facebook fans 462 ⋅ Twitter followers 1.4K ⋅ Domain Authority 29ⓘ

About Blog Sustainability | Green Living | Eco-Friendly
Frequency about 1 post per month.
Blog greenconduct.com/blog
Facebook fans 599 ⋅ Twitter followers 6.4K ⋅ Social Engagement 51ⓘ ⋅ Domain Authority 31ⓘ

Brighton, UK About Blog Claire potter design is an award winning eco design practice. We actively research and speak about the role of design in the circular economy, marine litter and plastic and push ourselves to forefront of sustainable design.
Frequency about 4 posts per month.
Blog clairepotterdesign.com/theec..
Facebook fans 214 ⋅ Twitter followers 4.4K ⋅ Domain Authority 27ⓘ

About Blog We at EnviroGadget are firmly driven by a philosophy to create a safer and greener world and bring to our readers the latest in Eco-friendly gadgets and technologies. We hope that this would encourage our users to look into renewable alternatives for a better planet. Envirogadget.com has reviews on the latest and popular Eco-friendly gadgets and well as insights into new sustainable technologies.
Frequency about 1 post per month.
Also in Gadget Blogs
Blog envirogadget.com
Facebook fans 1.3K ⋅ Twitter followers 542 ⋅ Domain Authority 45ⓘ

Dallas, TX About Blog EcoView Homes offers modern eco-friendly homes with quality construction to home owners in a downtown urban area. Luxury condos for sale in Dallas, TX.
Frequency about 1 post per month.
Blog ecoviewhomes.com/blog
Facebook fans 335 ⋅ Twitter followers 37 ⋅ Domain Authority 15ⓘ

New Jersey, USA About Blog The mission of the site is to inform the general public about green living and promote healthy alternatives to the mainstream by sampling products and publishing reviews.
Frequency about 1 post per month.
Blog leafygreen.info
Facebook fans 732 ⋅ Twitter followers 7.8K ⋅ Domain Authority 27ⓘ
Google reputation and Google search ranking
Influence and popularity on Facebook, twitter and other social media sites

Quality and consistency of posts.

Feedspot's editorial team and expert review