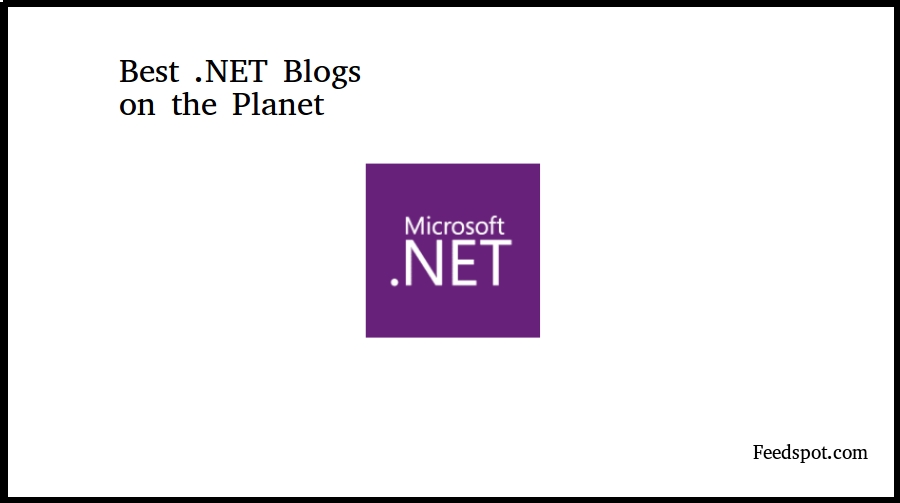 DotNet Blogs List.
The Best Dot Net blogs from thousands of top Dot Net blogs in our index using search and social metrics. Data will be refreshed once a week.
If your blog is selected in this list, you have the honour of displaying this Badge (Award) on your blog.
DotNet Blogs
Rank

Blog Name

Facebook Fans

Twitter Followers

Alexa Rank

1

About Blog - DotNetKicks is a community based news site edited by members specializing in .NET development techniques, technologies and tools.
Frequency - about 168 posts per week

450

15,473

350,676

2

1,179,350

537,973

n/a

3

About Blog - A free weekly newsletter on .NET latest.
Frequency - about 19 posts per week

230

132

2,006,430

4

Portland, Oregon

About Blog - Scott Hanselman is a programmer, teacher, speaker, technologist, podcaster, writer, diversity advocate and more.
Frequency - about 2 posts per week

n/a

199,307

48,064

5

Paia, Hawaii, USA

About Blog - Home of Rick Strahl's company site. Find products, tools and development service, read development blogs and white papers about Web and Service development on the Microsoft and open Web stack.
Frequency - about 3 posts per month

n/a

15,985

78,668

6

About Blog - Telerik: Leading UI controls and Reporting for .NET (ASP.NET AJAX, MVC, Core, Xamarin, WPF), Kendo UI for HTML5 and Angular development, and NativeScript.
Frequency - about 6 posts per week

182,843

56,429

6,642

7

Maryland, USA

About Blog - Founder of Ode to Code and CTO of Medisolv. Teacher, writer, speaker, podcaster.
Frequency - about 2 posts per month

n/a

39,647

154,688

8

Hyderabad, Andhra Pradesh

About Blog - Get Asp net online training and video tutorials with project for beginners to advanced level by under the guidance of Microsoft Expert. Satisfaction Guaranteed
Frequency - about 1 post per week

557

301

462,451

9

Liverpool, England

About Blog - The Morning Brew is a daily .NET software development link blog published by Chris Alcock a software developer from the north west of England.
Frequency - about 5 posts per week

n/a

1,811

620,431

10

channel9.msdn.com/Blogs/dotnet

Redmond, WA

About Blog - Channel 9 keeps you up to date with videos from people behind the scenes building products at Microsoft.
Frequency - about 1 post per month

21,494

419,986

15,838

11

youtube.com/user/programming..

Australia

About Blog - Moshfegh Hamedani helps aspiring and established developers take their development skills to the next level and build awesome apps.
Frequency - about 2 posts per week
Since - Oct 2014

12,718

4,584

2

12

Munich, Bavaria

About Blog - This blog was started back in 2006 with the aim to blog topics explore. You will find discussion topics for ASP.net, C#, JQuery, AJAX, SQL, VB.net, .Net Framework, WCF, WPF, WWF, WSS 3.0, MOSS 2007, OOPs Concepts, SQL Server, Programming.
Frequency - about 2 posts per month

3,830

n/a

3,008,070

13

Switzerland

About Blog - Damienbod an engineer, Microsoft MVP living in Switzerland interested in web development. His favorite technologies are ASP.NET, Javascript, Angular, Typescript, MS SQL Server, SQLite and Elasticsearch.
Frequency - about 1 post per week

n/a

994

264,696

14

Pasadena, CA

About Blog - DiscountASP.NET, a Microsoft Gold Certified Partner, is a recognized leader in advanced Microsoft Windows web hosting services. Offering: ASP.NET 4.5, MVC & Silverlight ready, SQL 2008 R2, SQL 2012, and Team Foundation Server 2012 Hosting.
Frequency - about 2 posts per month

2,629

5,557

201,351

15

Plymouth, England

About Blog - Andrew Lock is Software developer, C# lover, blogger, focused on ASPNET. Author or ASP. NET Core in Action.
Frequency - about 1 post per week

176

1,723

181,155

16

Global

About Blog - Verisign ensures the security, stability and resiliency of key internet infrastructure, including .com and .net top-level domains, and provides protection for websites and enterprises around the world.
Frequency - about 2 posts per month

317,985

50,930

50,917

17

About Blog - This blog began in 2003 as a personal online journal; in the past few years it became mostly an outlet for technical, programming-related posts. It's my way to document things I find interesting for my future self.
Frequency - about 2 posts per month

n/a

1,173

117,804

18

UK

About Blog - A collection of articles and tutorials on web development with ASP.NET by Mike Brind.
Frequency - about 2 posts per month

n/a

876

155,127

19

Stockholm, Sweden

About Blog - This blog is on various topics from the world of .NET.
Frequency - about 3 posts per week

n/a

700

191,625

20

About Blog - Welcome to Bytescout Blog. Here you will find a perfect selection of articles about programming in C#, .NET, VB NET, ASP NET etc. Check our recent tutorials for advanced developers.
Frequency - about 1 post per week

42

210

196,340

21

About Blog - Talking Dotnet talks about ASP.Net, MVC, WCF, Web API, AngularJS, jQuery, JavaScript, BootStrap, Visual Studio, Grunt, Bootstrap, HTML5, CSS and other newest client side frameworks and technologies.
Frequency - about 2 posts per month

159

320

229,159

22

Kochi, Kerala, India

About Blog - Dotnetthoughts Blog is a dotnet developer's technical journal.
Frequency - about 1 post per week

2,046

37

233,399

23

Zurich, Switzerland

About Blog - Filip W is NET developer and all that, blogger, author, OSS contributor, HTTP fan, Microsoft MVP.
Frequency - about 1 post per month

n/a

5,659

263,390

24

About Blog - Dotnetcoretutorials.com was born out of a need for a single place to "record" how things work in .net core in an up to date way. The .net core framework is still relatively new and it shows with out of date articles and incomplete documentation providing the basis for learning.
Frequency - about 1 post per week

n/a

233

352,302

25

London

About Blog - Rehan is a professional Software Developer and Microsoft MVP. If it's written in C# or .NET, Rehan has probably written something using it in anger.
Frequency - about 2 posts per month

n/a

539

497,504

26

Derry

About Blog - A blog about Visual Basic.NET.
Frequency - about 2 posts per week

3,469

3,054

498,348

27

Germany

About Blog - This blog containes technical articles about web development with ASP.NET and some more things about .NET and related technologies
Frequency - about 2 posts per month

n/a

1,053

515,648

28

India

About Blog - Helios Solutions is an Indian IT sourcing company which sees your relationship with us as equally vital to the success of our outsourcing partnership as our development skills.
Frequency - about 2 posts per month

666

459

521,454

29

Arizona

About Blog - Dan Wahlin is co-founder and CEO of Wahlin Consulting. He handles the technical operations and has over 20 years of development and training experience. He's a Google Developer Expert (GDE), Microsoft MVP and is also part of Microsoft's Regional Director, ASP Insiders and Docker Captains programs.
Frequency - about 1 post per month
Since - Mar 2015

n/a

41,919

656,903

30

Sweden- or traveling the world

About Blog - Iris Classon is an appreciated speaker, writer, blogger and Microsoft C# MVP with a tremendously passion for programming.
Frequency - about 2 posts per month

n/a

20,096

661,380

31

About Blog - codingsight is the learning platform for .NET developers, SQL Server DBAs, programmers, web specialists, and all who is involved in a software development
Frequency - about 1 post per week

216

940

670,315

32

Bruxelles, Belgium

About Blog - Climbing the cliffs of web development, on .NET.
Frequency - about 2 posts per week

n/a

3,359

749,166

33

About Blog - Group site for .NET and SharePoint developers, with blogs dealing with (usually) SharePoint 2010, Office 365, SharePoint Online, .NET, SQL server, and other Microsoft products, as well as some discussion of general programming related concepts.
Frequency - about 1 post per month

n/a

4,556

834,382

34

Australia

About Blog - Modern structured logging bridges the gap between human-friendly text logs, and machine-readable formats like JSON. Using event data from libraries such as Serilog, ASP.NET Core, and Node.js, Seq makes centralized logs easy to read, and easy to filter and correlate, without fragile log parsing.
Frequency - about 2 posts per month

n/a

729

902,987

35

About Blog - This blog is all about .NET.
Frequency - about 1 post per month

n/a

2,595

1,105,059

36

Redmond, WA

About Blog - A Blog posts about software development, lifehacks, opinion, etc.
Frequency - about 1 post per month

n/a

912

1,239,343

37

About Blog - A chronicle of a journey from .NET Framework into .NET Core, from the perspective of a full stack .NET web developer.
Frequency - about 2 posts per month

n/a

230

1,283,198

38

About Blog - A Blog about Microsoft technologies (.NET, ASP.NET, WPF, UWP, etc.)
Frequency - about 2 posts per week

n/a

57

1,288,083

39

About Blog - .NET and software development learnings, tips and rants
Frequency - about 1 post per week

n/a

n/a

1,305,958

40

West Grove, PA

About Blog - Alvin Ashcraft's blog. Alvin is a Microsoft MVP and a developer with over 19 years of experience with Microsoft-related technologies. The blog is updated daily with links to articles that are relevant to .NET developers.
Frequency - about 5 posts per week

1,130

6,356

1,326,675

41

Birmingham, AL

About Blog - DotNetVibes is a blog with articles related to .Net and SQL Server & would contain tips, tricks, new features and information around the latest technologies The articles will be suited for all levels of developers – beginners to advanced.
Frequency - about 2 posts per week

89

331

1,454,667

42

About Blog - I'm a Developer with around 5 years experience of real-world software development in different domains. I love making code in Javascript, jQuery as well as code in C# in web forms, MVC and Windows Applications as well. I love challenges and I am always ready to take new one. I have worked with SQL, LINQ , Entitiy Framework. I have experience of working with Agile.
Frequency - about 2 posts per week

n/a

n/a

1,486,189

43

About Blog - Mobilize.Net is the fastest way to bring VB apps to .NET, mobile, cloud, or Web.
Frequency - about 3 posts per month

989

346

1,541,237

44

Louisiana - Houston - Dallas

About Blog - Sparkhound delivers transformative technology consulting, solutions and managed services from our Baton Rouge, Birmingham, Charlotte, Dallas and Houston offices.
Frequency - about 3 posts per month

698

497

1,598,029

45

Florida, USA

About Blog - Allen Conway is a Magenic Lead Consultant that is an advocate of Microsoft .NET technologies and the Microsoft platform both professionally and personally.
Frequency - about 1 post per month

n/a

468

1,792,103

46

Poland

About Blog - Let's go invent tomorrow instead of worrying about what happened yesterday.
Frequency - about 3 posts per month
Since - May 2010

18

83

2,250,615

47

Chennai, India

About Blog - San2Debug.Net is a website for focusing the Microsoft Technologies like .Net, Windows Phone and Windows Azure. San2debug website provides a insight on .Net (Web, Windows Phone, Wearable) with all the latest news and the development tutorials, articles, code snippets and etc. San2debug focuses on new technologies such as Internet of Things, HoloLens and etc.
Frequency - about 1 post per month

298

28

2,490,043

48

Switzerland

About Blog - Manuel Meyer is a .NET Senior Consultant and Trainer working for the Swiss IT service provider Trivadis AG. We provide a broad range of services in Application Development, Application Performance Management, Business Communication, Business Intelligence, Managed Services, Security and Training.
Frequency - about 2 posts per month

n/a

470

2,582,748

49

Redmond, WA

About Blog - Yi Zhang is a Microsoft developer working on the CLR (Common Language Runtime), the virtual machine that powers Microsoft .NET framework, including full .NET Framework, CoreCLR, .NET Native, and CoreRT.
Frequency - about 1 post per month

n/a

88

3,068,399

50

San Diego, CA

About Blog - David McCarter is a C# Microsoft MVP Developer/ Architect/ Consultant & Professional Code Reviewer in San Diego, California. David is the creator of dotNetTips.com that has been helping programmers since 1994. David has written for programming magazines and has published many books and his latest self-published book is David McCarter's .NET Coding Standards.
Frequency - about 2 posts per month

n/a

1,263

6,548,534

51

Amersfoort, the Netherlands

About Blog - This blog attempts to be a collection of how-to examples in the Microsoft software stack - things that may take forever to find out, especially for the beginner. I see it as my way to return something to the Microsoft community in exchange for what I learned from it. In the beginning there was .NET - now there's so much more... especially Windows Phone and Windows 8
Frequency - about 2 posts per month

n/a

4,368

7,437,428

52

Hyderabad, India

About Blog - DotNet-Revanth offers Asp.Net, C#.Net, SQL Server, Web Services, WCF, WebApi, WPF, MVC, AJAX, XML, JavaScript, JQuery, Gridview, Interview Q&A, samples.
Frequency - about 1 post per month

112

32

11,352,100

53

youtube.com/user/dnfvideo/vi..

Hyderabad, India

About Blog - DotNetFunda.Com is Youtube Video tutorials of C#, Design Pattern, UML, C#, ASP.NET etc.
Frequency - about 1 post per month

n/a

946

2

54

Jacksonville,Fl

About Blog - CsharpStar Blog is all about Tutorials, Tips and Tricks on Microsoft Technologies.
Frequency - about 2 posts per month

n/a

88

149,901

55

About Blog - A blog of Microsoft and Javascript technologies like ASP.NET core, Angular js, ASP.NET MVC, SQL Server, ASP.NET Web API, Node.js,Entity Framework etc.
Frequency - about 3 posts per month

2,517

n/a

521,313

56

Paris, France

About Blog - Thomas Levesque's .NET blog shares Tips, tricks and thoughts about .NET development.
Frequency - about 1 post per month

n/a

264

701,422

57

Antwerp, Belgium

About Blog - Maarten Balliauw loves building web and cloud apps. His main interests are in ASP.NET MVC, C#, Microsoft Azure, PHP and application performance. He co-founded MyGet and is Developer Advocate at JetBrains.
Frequency - about 1 post per month

n/a

6,320

1,003,139

58

Pakistan

About Blog - Dotnetdetail is a platform to learn and read about Microsoft Dotnet technologies. Learn about .NET Framework, Dotnet CMSs, ASP.NET and more.
Frequency - about 7 posts per week

n/a

65

1,052,102

59

About Blog - Nikos Kantzelis is Μicrosoft Certified Trainer,Software Engineer,.Net Developer,passionate about .Net communities,love to blog about Software technologies.
Frequency - about 1 post per month

n/a

1,288

1,587,922

60

New Jersey

About Blog - Macrosoft Migrate to .NET Blog shares it's knowledge and expertise Visual FoxPro, Visual Basic, ASP, Clipper, MS Access , SQL Server, Migration Methodologies.
Frequency - about 1 post per month

4,938

4,859

3,637,457
These blogs are ranked based on following criteria
Google reputation and Google search ranking
Influence and popularity on Facebook, twitter and other social media sites

Quality and consistency of posts.

Feedspot's editorial team and expert review
Top 60 Dot Net Blogs Winners
CONGRATULATIONS to every blogger that has made this Top Dot Net Blogs list! This is the most comprehensive list of best Dot Net blogs on the internet and I'm honoured to have you as part of this! I personally give you a high-five and want to thank you for your contribution to this world.
If your blog is one of the Top 60 Dot Net blogs, you have the honour of displaying the following badge on your site. Use the below code to display this badge proudly on your blog. You deserve it!:
<a href="https://blog.feedspot.com/dotnet_blogs/" title="Dot Net blogs"><img src="https://blog-cdn.feedspot.com/wp-content/uploads/2017/05/Dot-Net-transparent_216px.png" ></img></a>
Tags: dotnet rss feeds