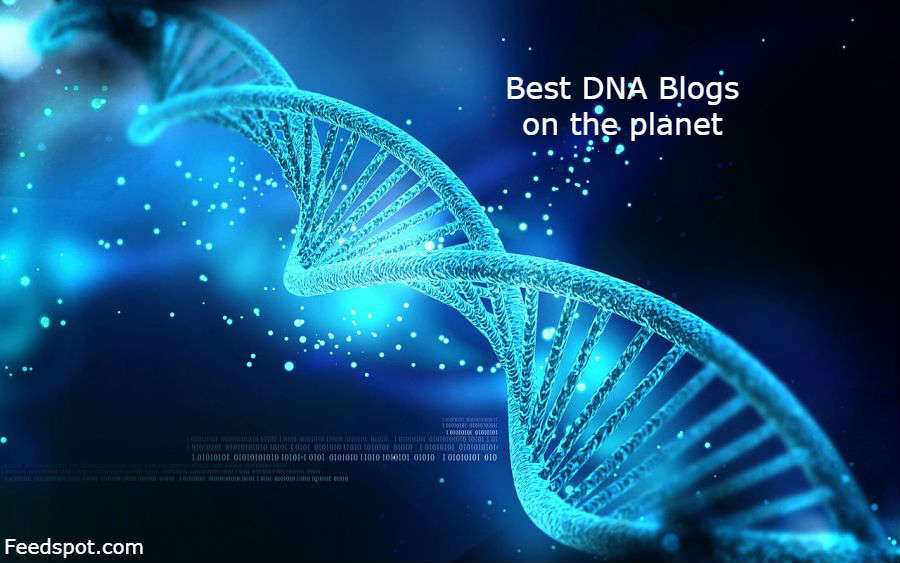 The Best DNA blogs from thousands of top DNA blogs in our index using search and social metrics. Data will be refreshed once a week.
If your blog is selected in this list, you have the honour of displaying this Badge (Award) on your blog.
Rank

Blog Name

Facebook Fans

Twitter Followers

Alexa Rank

1

Mountain View, CA

About Blog - 23andMe is a web-based service that helps you read and understand your DNA along with Personal genetics for health, ancestry and research discoveries. 23andMe's mission is to help people access, understand and benefit from the human genome.
Frequency - about 2 posts per week

328,311
70,728
4,776
2

About Blog - Roberta Estes has been a professional scientist and business owner. She been writing Personalized DNA Reports, publishing articles in newsletters about genetic genealogy.
Frequency - about 4 posts per week

n/a
1,394
202,957
3

blogs.ancestry.com/ancestry/..

USA

About Blog - Ancestry is the global leader in family history and consumer genomics, harnessing the information found in family trees, historical records, genetics and health history to help people gain a new level of understanding about their lives.
Frequency - about 1 post per month

1,976,232
103,742
1000
4

dna-testing-adviser.com/dna-..

About Blog - My name is Richard Hill. I am the founder and sole author of DNA Testing Adviser.com. My DNA Testing Update blog alerts you to new and updated articles on the DNA Testing Adviser web site and news about genetic genealogy.
Frequency - about 3 posts per week

18,336
n/a
1,044,648
5

blog.myheritage.com/category..

Worldwide

About Blog - MyHeritage.com is the leading destination to discover, preserve and share your family history. Finds relatives based on shared DNA. With access to all the major record archives and the most internationally diverse collection of family trees, exciting discoveries are at the touch of a button.
Frequency - about 4 posts per month

290,193
60,938
6,057
6

Houston, TX

About Blog - Discussions about genealogy, anthropology and DNA Testing. Family Tree DNA is the world leader in DNA testing for ancestry and genealogy. Discover your family history with our wide range of tests including autosomal, Y-DNA and mtDNA products. Our goal is to help genealogists advance their research, and to help adoptees find more about their biological families.
Frequency - about 34 posts per week

88,022
4,430
23,752
7

United States

About Blog - Choice DNA paternity test results are also used as legal evidence to establish biological ties in a family-based immigration petitions. We are one of the leaders in DNA testing for family and immigration law firms, general practitioners, corporate clients and consumers alike. We take the confusion and uncertainty out of your decision on choosing which paternity test is right for you.
Frequency - about 1 post per month

9,717
3,104
5,522,110
8

About Blog - The Daily Online Genealogy Newsletter. Dick Eastman has been involved in genealogy for more than 35 years. He has worked in the computer industry for more than 40 years in hardware, software, and managerial positions. By the early 1970s, Dick was already using a mainframe computer to enter his family data on punch cards. He built his first home computer in 1980.
Frequency - about 4 posts per month

n/a
n/a
260,612
9

About Blog - The Legal Genealogist, written by Judy G. Russell JD, may be able to help you. She discusses notaries, which records are newly available for research, the issue of plagiarism, and more.
Frequency - about 4 posts per week

n/a
2,779
298,092
10

Mountain View, CA

About Blog - At DNAnexus, we provide scientists and clinical professionals with a cloud-based platform that is an easily accessible, online genomics data center for secure and efficient management, storage, and analysis of DNA data. Find product updates, industry insights, opinions and references. From the team powering the Genomics Revolution.
Frequency - about 2 posts per month

942
5,013
501,843
11

Ottawa, ON

About Blog - DNA Genotek develops products that optimize ease of collection and provide superior samples and proven performance for those requiring high-quality biological samples for nucleic acid testing.
Frequency - about 2 posts per month

1,191
635
646,333
12

dnatesting.com/category/reso..

About Blog - The IDENTIGENE DNA testing laboratory participates in several proficiency and accreditation programs to ensure the highest degree of quality available in the industry. Our DNA Testing Laboratory undergoes regular voluntary evaluations by independent auditors to ensure that your paternity test and all other DNA test results comply with accepted standards and practices.
Frequency - about 2 posts per month

n/a
n/a
703,902
13

About Blog - Musings on Genealogy, Genetics, and Gardening.
Frequency - about 1 posts per week

n/a
n/a
707,175
14

Far far, Away

About Blog - Haplogroup - DNA Genealogy The genetic ancestry of all people alive began long before our ancestors were modern or even human according to anthropologists. It links us to our fellow primates and back toward the earliest days of life on earth. A tests help us discover these links. Between the code of our DNA and the records of our recent ancestors is the truth of our personal ancestry.
Frequency - about 4 posts per month

5,555
252
731,452
15

US and India

About Blog - We are an analytics driven, technology enabled Revenue Cycle Management ("RCM") company providing services to leading healthcare providers across the US. At AGS Health, we combine the best analytical minds, deep healthcare knowledge and smart technology to create worldclass solutions for our clients.
Frequency - about 2 posts per week

329
41
845,861
16

Longmont, CO

About Blog - We are a DNA testing company that provides a full, personalized report to our customers based on forensic science. Check out our blog and read about reviews of Science Writings and News Reports on Ancestry Testing and Popular Genetics. Mission to advance the frontiers of autosomal forensic testing, especially for people of mixed ancestry.
Frequency - about 1 post per month

1,094
1,138
939,717
17

La Jolla, CA

About Blog - Synthetic Genomics, Inc. is a leader in the field of synthetic biology, advancing genomics to better life. The commercial products and services include instrumentation, reagents, DNA synthesis services, and bioinformatics services and software.
Frequency - about 1 post per month

3,491
2,243
1,175,067
18

myscizzle.com/blog/category/dna

Start Scizzling!

About Blog - Scizzle helps you stay on top of science by finding the papers you want. With Scizzle you can spend less time searching and more time researching.
Frequency - about 1 post per month

524
808
1,314,447
19

dnacentre.co.uk/about-ddc/blog

London, UK

About Blog - DNA Diagnostics Centre (formally DDC Laboratories, Inc.) is a leading DNA testing company, focused on the development and marketing of innovative genetic testing products and services. DNA Diagnostics Centre provides easy DNA testing for paternity, immigration, legal purposes, and for clients who wish to discover their genetic ancestry.
Frequency - about 2 posts per month

42
510
1,790,860
20

About Blog - Discover the fascinating world of genetic genealogy! Written for the non-scientist, YGG is the best source for unbiased news on the major genealogy DNA testing companies. Written by CeCe Moore, an independent professional genetic genealogist and television consultant.
Frequency - about 1 post per month

5,249
n/a
2,088,673
21

About Blog - TL Dixon on Ancestry, Anthropology, DNA, Genealogy, Genetics & My Roots
Frequency - about 1 post per month

n/a
n/a
2,596,206
22

About Blog - Dr. Leah Larkin uses genealogical DNA results to help adoptees and others find biological family. Full-Service Family Search Whether you are investigating your own unknown parentage or a more distant brick wall in your genealogy, we have the knowledge and expertise to use your DNA results to address your questions.
Frequency - about 1 posts per week

524
n/a
2,147,129
23

About Blog - Jim Bartlett has been a genealogist since 1974. He started the BARTLETT DNA Project at FamilyTreeDNA in 2002. Jim has become a huge fan of the Triangulation process and chromosome mapping – the ultimate human puzzle. This site was set up to document information about segments and autosomal DNA.
Frequency - about 1 post per month

n/a
n/a
3,917,354
24

dnaandfamilytreeresearch.blo..

About Blog - Practical guidance on how to use DNA to advance your genealogy research.
Frequency - about 1 post per month

n/a
n/a
4,243,955
25

About Blog - The Iowa DNA Project welcomes all of those with a connection to the State of Iowa. This project uses genetic genealogy to connect DNA cousins to surnames (or variants) in our family tree database using historical records and other facts. he Iowa DNA Project focuses primarily on Family Finder test results to connect known and prospective DNA cousins, and their collateral lineages.
Frequency - about 1 post per month

n/a
n/a
4,357,086
26

Norwich, England

About Blog - Nutrigenomics: Discover your genetic risks and how your dietary and lifestyle choices are changing your gene expression and future health potential. myDNAhealth works with nutritional and healthcare practitioners to help them provide personalised, science-based approach to nutrition, prevention and wellbeing programmes for their clients.
Frequency - about 1 post per month

182
1,610
5,033,373
27

About Blog - My DNA Paternity Testing Labs is a network of local labs and mobile collectors dedicated to DNA Testing. Our vision is to provide DNA testing to all persons, coast to coast, while meeting the upmost requirements set forth by every state in the nation. Our blog covers multiple topics from national to local paternity news to fathers' and mothers' rights and benefits through paternity testing.
Frequency - about 1 post per month

1,477
56
5,378,196
28

About Blog - DNA Forums is an online community for those who want to share their knowledge and even those who are interested about Genetic Genealogy.
Frequency - about 1 post per month

n/a
n/a
5,416,365
29

Tulsa, OK

About Blog - A collection of labs all around the globe, offering a litany of Do-It-Yourself DNA tests for diet, fitness, food prep, stress, male and female hormone outcomes. To offer a litany of medical testing for the masses, whereby all tests can be performed by the customer, in the comfort of their own homes, thereby negating multiple visits to physicians, specialists, blood draw centers, etc.
Frequency - about 2 posts per month

199
12
6,480,731
30

About Blog - This blog is a personal blog written and edited by me Debbie Kennett. The day-to-day activities of the Cruwys/Cruse one-name study with occasional diversions into other topics of interest such as DNA testing and personal genomics.
Frequency - about 4 posts per month

n/a
3,326
6,697,545
31

About Blog - This is a blog about DNA and Genealogy sharing latest research and theories about the same.
Frequency - about 2 posts per week

n/a
n/a
6,928,418
32

About Blog - We are a fully comprehensive DNA collection company. We offer a wide variety of DNA and drug testing services. We provide the most accurate testing services and accessibility to clients all over the world.
Frequency - about 2 posts per month

182
n/a
7,462,695
33

About Blog - Focusing on Polish and European population genetics and modern anthropology.
Frequency - about 1 post per month

n/a
n/a
8,145,755
34

About Blog - Fast DNA Testing provides legal and non-legal DNA testing for paternity, siblingship, immigration and more. Get best Legal paternity testing from Fast DNA Testing, we offers reliable DNA paternity test services which you can trust upon. Explore our services now.
Frequency - about 1 post per month

171
n/a
8,195,613
35

About Blog - Boston Paternity has been providing accurate DNA test results for clients since 1999. We help individuals and families prove relationships for many different reasons.
Frequency - about 2 posts per month

n/a
n/a
11,843,329
36

Cambridge, FBC

About Blog - DNAdigest is a not-for-profit promoting efficient and secure sharing of genomics data for research. DNAdigest works to promote and enable easier and more efficient sharing of genomic data for research. We educate and engage the community about the hurdles and dilemmas for data sharing as faced from the perspective of stakeholders in academia, industry and patient communities.
Frequency - about 2 posts per month

534
3,145
12,054,094
37

About Blog - A blog about DNA Barcoding and Biodiversity Research.
Frequency - about 2 posts per week

n/a
n/a
13,022,352
38

Brooklyn, NY

About Blog - Brooklyn DNA Testing helps families and individuals with their DNA needs. Your local resource for Paternity, Relationship, Immigration, and Prenatal DNA Testing. Resources for people who need DNA Testing. Learn about insider tips to ensure that you get the right DNA Testing with the fastest and most accurate results!
Frequency - about 1 post per week

n/a
4
17,001,333
39

About Blog - The purpose of this blog is to share thoughts, comments and issues, as well as hints and suggestions that may help extend your own knowledge of family. As an advocate of DNA testing to support traditional genealogy, my focus is on DNA and newsworthy topics.
Frequency - about 2 posts per month

n/a
n/a
19,459,193
40

New York, USA

About Blog - Upstate DNA Testing is a full-service DNA center providing relationship, paternity, immigration & DNA testing in Albany, Buffalo, Rochester, and Syracuse NY.
Frequency - about 1 post per month

12
1
19,606,917
41

Ghana

About Blog - DDC Ghana is part of global DNA testing laboratory DNA Diagnostics Center Inc.. We are ONE-STOP shop for DNA testing in Ghana. We also provide necessary technical support and consultation in Ghana, Nigeria and Cote d'Ivoire.
Frequency - about 1 post per month

2,113
59
n/a
42

Salt Lake City, Utah

About Blog - M-Vac Systems Inc. is the sole manufacturer of the M-Vac - a unique, wet-vacuum surface sampling system that significantly improves forensic DNA collection and numerous other markets that require better micro particle sampling. Mission is to help investigators solve more crime through better forensic DNA collection.
Frequency - about 1 posts per week

376
695
n/a
43

London

About Blog - Welcome to the blog for the Gleason/Gleeson DNA Project. This will serve to provide regular updates on the status of the DNA Project and as a repository for stories, and general genealogical information that will advance the study of the Gleason/Gleeson surname.
Frequency - about 1 post per month

n/a
314
n/a
44

genealem-geneticgenealogy.bl..

Oregon

About Blog - DNA Testing - know the In's and Out's of it. Genetic Genealogy, a new branch of genealogy combining genetics and traditional genealogy research, is the most accurate tool for the family historian. Family connections can be proven or disproven. DNA testing can support a paper trail which is often in question given the lack of surviving records.
Frequency - about 1 post per month

n/a
284
n/a
45

dnapaternitytestingcenters.c..

Kentucky, USA

About Blog - Accredited DNA testing labs in the United States, and the most affordable provider of court admissible DNA testing. Mission to provide the best service with the most accurate results at a price you can afford. All members of our staff are trained in DNA testing compliance and procedure.
Frequency - about 1 post per month

30
8
n/a
46

El Paso, TX

About Blog - Endeavor DNA Laboratories is your full-service genetic identity laboratory specializing in human relationship testing. Utilizing state-of-the-art genetic analysis instrumentation, Endeavor DNA Laboratories strives to bring you the most accurate test results available on the market today.
Frequency - about 1 post per month

18
16
n/a
47

Toronto, Ontario

About Blog - At Beyond DNA we confirm your ancestry ethnicity through your DNA test results. Our offered services include ancestry DNA testing, Ethnicity tests and more. It is widely known that DNA testing is used in child custody cases for determining parenthood, in forensics, in medicine, Genetic Ancestry Testing and more.
Frequency - about 1 post per month

5
13
n/a
48

About Blog - Genetic genealogy, laws affecting family history, Texas history and records, and technological topics with a slant toward the professional and advanced researcher. Debbie Parker Wayne, Certified Genealogist® and Certified Genealogical LecturerSM, specializes in genealogical research in Texas, the southwest and southern U.S., using DNA, and using technological tools to accomplish project goals.
Frequency - about 1 post per month

n/a
n/a
n/a
49

About Blog - The On-line Journal of Genetics and Genealogy will highlight the connections between the science of Y and X chromosome, mitochondrial, and autosomal DNA analysis and genealogy. Reference will be made to scientific and genealogy articles which complement each other and advance the study of recent family history and ancient human migrations.
Frequency - about 1 post per month

n/a
n/a
n/a
These blogs are ranked based on following criteria
Google reputation and Google search ranking
Influence and popularity on Facebook, twitter and other social media sites

Quality and consistency of posts.

Feedspot's editorial team and expert review
Top 50 DNA Blogs Winners
CONGRATULATIONS to every blogger that has made this Top DNA Blogs list! This is the most comprehensive list of best DNA blogs on the internet and I'm honoured to have you as part of this! I personally give you a high-five and want to thank you for your contribution to this world.
If your blog is one of the Top 50 DNA blogs, you have the honour of displaying the following badge on your site. Use the below code to display this badge proudly on your blog. You deserve it!:
<a href="https://blog.feedspot.com/dna_blogs/" title="DNA blogs"><img src="https://blog-cdn.feedspot.com/wp-content/uploads/2017/08/DNA-transparent_216px.png" ></img></a>
Tags: dna rss feeds