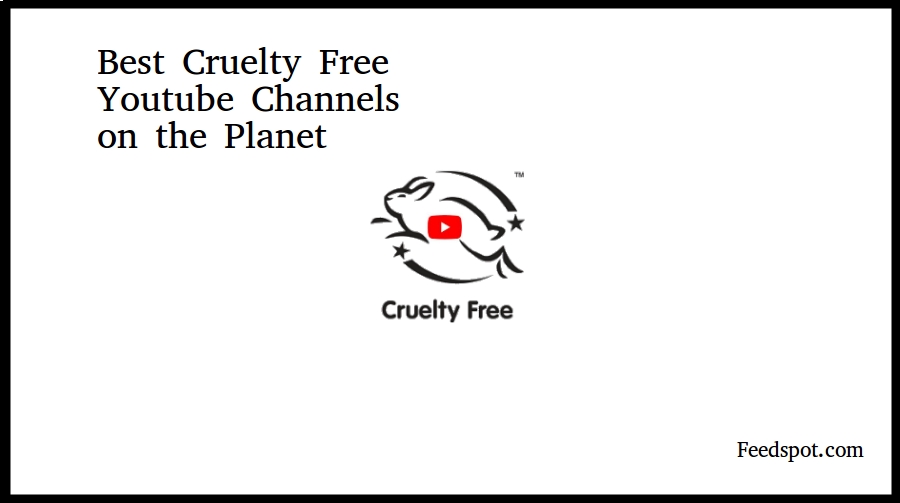 Cruelty Free Youtube Channels List
Cruelty-free is a label for makeup products or activities that do not harm or kill animals. Products tested on animals are not considered cruelty-free.
These are the best Cruelty Free Youtube Channels selected from thousands of Cruelty Free channels on youtube and ranked based on its subscribers and popularity. Data will be refreshed once a week.
Follow these channels to keep up with the latest videos relating to Cruelty Free.
These Youtube Channels are ranked based on following criteria
Total youtube channels subscribers, video views, and video uploads
Quality and consistency of videos

Youtube search ranking

Feedspot editorial team' objective and subjective review
Top 50 Cruelty Free Youtube Channels Winners
CONGRATULATIONS to every user that has made this Top Cruelty Free Youtube Channels list! This is the most comprehensive list of best Cruelty Free Youtube Channels on the internet and I'm honoured to have you as part of this! I personally give you a high-five and want to thank you for your contribution to this world.
If your Youtube Channel is one of the Top 50 Cruelty Free Youtube Channels, you have the honour of displaying the following badge on your site. Use the below code to display this badge proudly on your blog. You deserve it!:
<a href="https://blog.feedspot.com/cruelty_free_youtube_channels/" title="Cruelty Free Youtube Channels"><img src="https://blog.feedspot.com/wp-content/uploads/2017/10/cruelty_youtube_216px.png?x59787" ></img></a>
Top Cruelty Free Youtube Channels
Rank

Channel Name

Youtube Followers

Views Count

Video Count

1

Brisbane, Queensland

About Channel - I am a cruelty free youtuber and I post a little bit of everything! Beauty videos, unsolved mysteries, vlogs, and I'm always open to suggestions!
Frequency - about 2 videos per week
Since - Jun 2015

1,393,366
77,243,381
225
2

youtube.com/user/KristenLean..

San Diego, California

About Channel - Welcome! On my channel you'll find all things cruelty-free beauty, including drugstore brands, affordable makeup, how to color hair, and vlogs.
Frequency - about 2 videos per week
Since - Jan 2014

467,919
22,001,607
265
3

youtube.com/user/GettingPret..

American & Canadian

About Channel - My name is Brittany and I recently converted over to all cruelty free beauty videos on my channel!
Frequency - about 2 videos per week
Since - Feb 2013

220,296
14,444,367
297
4

youtube.com/user/makemestunn..

Australia

About Channel - Hey Guys! My name is Jade Madden! I am a Australian Beauty Vlogger that specializes in using ONLY Cruelty Free products.
Frequency - about 1 video per week
Since - Jan 2011

98,991
14,311,235
590
5

youtube.com/user/JazzyTe007/..

New York, NY

About Channel - I'm Jasmine and welcome to my little corner of the inter-webs! My channel is your one stop shop for all things beauty & lifestyle related! Here, I focus on showing you easy to follow makeup tutorials / how-to's, the latest cruelty-free/vegan makeup and skincare products - perfect for people who have oily / combination skin as well as share my "heat free" natural hair/locs styles, tips and tricks.
Frequency - about 1 video per week
Since - Nov 2011

80,719
6,193,010
367
6

youtube.com/user/xoxSm4rt3rB..

Michigan

About Channel - Welcome to Smarter Beauty! My name is Jess. I'm a YouTuber and Makeup enthusiast residing in Michigan. I started this channel wanting to share my passion for makeup and all things beauty related. All products featured on my channel are cruelty free to the best of my knowledge.
Frequency - about 2 videos per week
Since - Oct 2011

18,609
2,433,607
540
7

youtube.com/user/ihatemarkse..

United States

About Channel - Vegan & Cruelty Free as of October 2016! Makeup artist from Chicago. Lip swatch videos, hauls, tutorials, makeup reviews!
Frequency - about 1 video per week
Since - Jan 2016

109,642
6,881,891
97
8

youtube.com/user/makeupbykit..

United States

About Channel - This is my channel for all things cruelty free beauty!
Frequency - about 2 videos per week
Since - Sep 2014

28,213
1,578,856
291
9

youtube.com/user/xoLoveLeti/..

United States

About Channel - You may know me as xoLoveLeti on other social media, where I feature cruelty-free products and practice an eco-friendly vegan lifestyle. I never feature anything specific, so there's a little bit of everything for everyone here! From makeup/beauty reviews to books, DIYs, lifestyle and more. I'm originally from Rio de Janeiro, Brasil- living in Texas!
Frequency - about 1 video per month
Since - Jun 2012

27,996
1,994,764
240
10

youtube.com/user/lauraacanfl..

United Kingdom

About Channel - Vegan and Cruelty-free lifestyle videos.
Frequency - about 2 videos per month
Since - May 2011

64,729
3,543,633
121
11

Sydney, Australia

About Channel - I'm a YouTuber and Blogger, located in Sydney, Australia. I love to make videos around fashion, beauty and my life. All of the beauty brands that I feature are cruelty free because none of the makeup I use is ever tested on animals!
Frequency - about 1 video per week
Since - Apr 2015

56,359
2,139,985
64
12

Los Angeles, California

About Channel - Sugarpill Cosmetics is a cruelty-free line of vibrant, richly pigmented makeup line for dolls! Made with love in Los Angeles and never, ever tested on animals.
Frequency - about 1 video per month
Since - Nov 2016

37,157
1,504,915
18
13

Canada

About Channel - I am an 18 year old aspiring beauty blogger, and singer. I am a vegan and I only use products that are vegan or cruelty free.
Frequency - about 2 videos per month
Since - Aug 2013

23,719
1,248,967
166
14

youtube.com/user/cosmicprinc..

United States

About Channel - Cruelty-free beauty enthusiast who believes that beauty starts on the inside and perfection is subjective.
Frequency - about 1 video per week
Since - May 2015

22,345
1,671,950
122
15

United Kingdom

About Channel - Cruelty Free Beauty, Fashion & Lifestyle Videos Every Week!
Frequency - about 1 video per month

18,488
1,461,288
201
16

London, UK

About Channel - Two old school vloggers wanted to to try out this beauty channel malarky. Then we fell down the rabbit hole. As of May 2014, we are making the switch to using only cruelty free products (at the moment we are mixing up our old products and only replacing them with CF ones). London, UK based.
Frequency - about 1 video per month
Since - Mar 2012

18,114
930,366
97
17

Miami, FL

About Channel - Cruelty-free and vegan lifestyle! LynSire is anything about beauty, tutorials, makeup, hauls, outfits, reviews, diy's, and more! I don't buy cosmetics tested on animals and together we can make this world a better place!
Frequency - about 3 videos per month
Since - Jun 2012

10,173
2,983,246
133
18

United States

About Channel - Making conscious decisions in life, style, and beauty. Strong commitment to using products that are cruelty free and sharing my inspiration with you all.
Frequency - about 2 videos per month
Since - Aug 2015

8,338
528,339
167
19

youtube.com/user/Amexitalian..

United States

About Channel - Hi, I'm Kim! I love make-up as much as I love to eat. I only reach for cruelty-free products and am a V E G A N! On my channel you'll find simple makeup tutorials and soon some fashion videos as well!
Frequency - about 1 video per month
Since - Aug 2014

6,037
133,015
24
20

youtube.com/user/debthemakeu..

United States

About Channel - I film about cruelty-free makeup & beauty, along with various lifestyle vlogs. I embrace a natural lifestyle, but you will see all different kinds of product in my videos. This channel will have videos featuring animal-testing free makeup & beauty, tips, tricks, fashion, tutorials, reviews, hauls, mommyhood, and a few vlogs here and there.
Frequency - about 2 videos per month
Since - Feb 2011

5,708
956,560
156
21

youtube.com/user/CFVeganBeau..

Chandler, AZ

About Channel - My name is Danielle and I am a vegan, non toxic, cruelty free skincare and makeup enthusiast! Providing information on natural and vegan products is a huge passion of mine and I am forever grateful to be able to get to share that with so many wonderful people!
Frequency - about 2 videos per week
Since - Jun 2014

4,685
399,000
305
22

youtube.com/user/veganbeauty..

United States

About Channel - Sunny runs the website Vegan Beauty Review, where she covers the latest and greatest green and cruelty-free beauty products, fashion, food and everything vegan in between. Her goal is to show the world that veganism can be beautiful, bold, fun, and delicious!
Frequency - about 3 videos per month
Since - Jun 2013

4,226
117,992
87
23

Los Angeles, CA

About Channel - Welcome to my channel! Here I talk about green, natural, organic, and non - toxic, cruelty free beauty brands.
Frequency - about 3 videos per month
Since - Nov 2015

3,808
145,168
80
24

youtube.com/user/erikasummer..

Washington, USA

About Channel - Welcome to my channel with all things green & cruelty-free. I share nourishing and sustainable products that make us all feel that we're embracing our best. Please join me on my journey to finding the best and worst green products.
Frequency - about 2 videos per month
Since - Aug 2015

3,771
218,386
72
25
3,511
144,419
42
26

About Channel - Vegan and Cruelty Free Makeup and Beauty Products & Lifestyle.
Frequency - about 3 videos per month
Since - Aug 2015

3,487
56,086
70
27

United States

About Channel - I'm a college student first and foremost, but YouTube is a great hobby for me. I have spent the last couple years becoming more and more cruelty free and you can expect to see mostly cruelty free brands featured on my channel.
Frequency - about 2 videos per week
Since - Mar 2014

3,364
352,482
362
28

youtube.com/user/secondhands..

About Channel - I am a nature lover and wannabe farm girl. I recently switched to natural and cruelty free makeup and would love to share my journey with you. Expect natural/cruelty free makeup, tutorials, hauls, brand information, and general craziness!
Frequency - about 1 video per month
Since - Mar 2014

3,134
220,439
353
29

Midwestern America

About Channel - My name is Jackie and I have created this space out of a desire to connect with other beauty and makeup addicts in a positive and uplifting way. I am currently transitioning all my products to cruelty-free, and I create videos about the very best in cruelty-free makeup, beauty, skincare, and a sprinkle of lifestyle.
Frequency - about 2 videos per week
Since - Oct 2016

2,671
137,218
109
30

youtube.com/user/HeidiKMakeu..

Tucson, AZ

About Channel - Making Cruelty Free Beauty fun! Because makeup doesn't have to harm.
Frequency - about 2 videos per month
Since - Mar 2011

2,523
134,909
163
31

youtube.com/user/LoveYouLots..

Canada

About Channel - I live in a really small town & this is how I keep myself entertained!
Cruelty Free & Vegan Cosmetics only since Jan 2016.
Frequency - about 3 videos per month
Since - Jan 2013

2,191
869,290
320
32

youtube.com/user/DimlyLitRoo..

United States

About Channel - Hi, my name is Christina! This channel is where I share my experiences about cruelty-free makeup and skincare, minimalism, travel, and lifestyle.
Frequency - about 1 video per month
Since - Jun 2014

1,945
142,599
100
33

United States

About Channel - Thanks for visiting my channel! I love everything beauty related! I upload product reviews, makeup tutorials, hauls, beauty favorites and empties videos. I've recently decided to go cruelty free, so I'm working on switching over all my products to things that aren't tested on animals.
Frequency - about 1 video per week
Since - Feb 2016

1,838
40,557
127
34

About Channel - My Channel will consist of Product Review & Demos, Anti-Aging Products, Skincare Products, Beauty Tips & Trends, Makeup Tutorials, Cruelty-Free Cosmetics, Beauty Hauls, Drugstore Beauty Products, As Seen On TV Products, Giveaways and More..!
Frequency - about 1 video per month
Since - Jun 2016

1,302
18,929
30
35

United States

About Channel - Hi, I'm Amelia! I'm a 23-year-old Chicago native who recently moved to Los Angeles. I make videos about ethical consumption and minimalism with a bit of beauty, fashion, and fitness thrown in. Cruelty Free Beauty. Minimalist Lifestyle.
Frequency - about 4 videos per month
Since - May 2014

1,231
116,981
132
36

youtube.com/user/vpallthesim..

United Kingdom

About Channel - The real side of cruelty free beauty and lifestyle content.
Frequency - about 2 videos per week
Since - Jul 2014

1,201
244,458
190
37

Ireland

About Channel - Hello and welcome to my channel! This is a cruelty free beauty channel and I also sometimes do fashion videos! Please subscribe if you support cruelty free beauty!
Frequency - about 2 videos per month
Since - Sep 2015

1,081
76,141
81