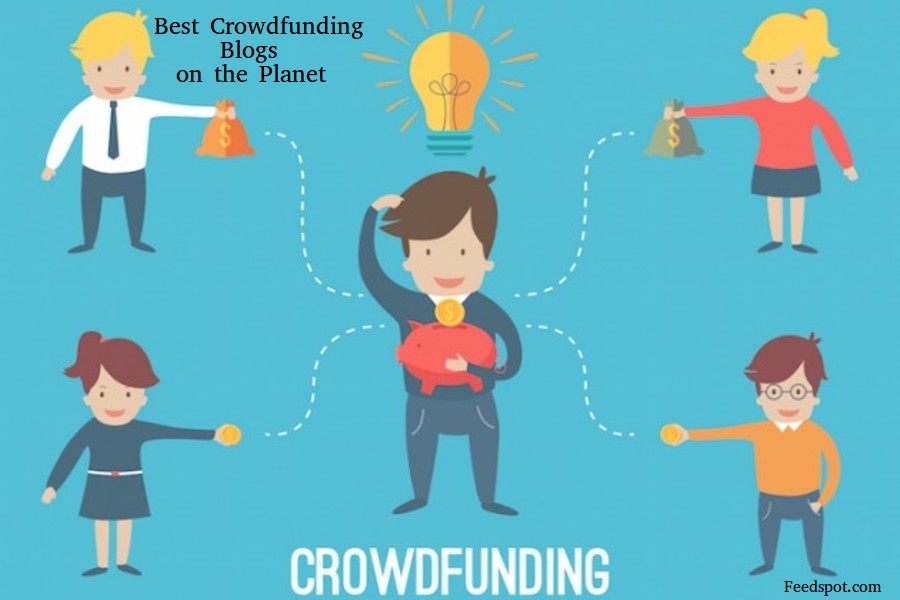 Crowdfunding Blogs List.
The Best Crowdfunding blogs from thousands of top Crowdfunding blogs in our index using search and social metrics. Data will be refreshed once a week.
If your blog is selected in this list, you have the honour of displaying this Badge (Award) on your blog.
Crowdfunding Blogs

USA About Blog Crowdfund Insider covers disruptive finance news including crowdfunding, peer-to-peer / marketplace lending, Fintech and more from around the world and a searchable directory of crowdfunding web sites.
Frequency about 56 posts per week.
Blog crowdfundinsider.com
Facebook fans 13,456. Twitter followers 41,800.

Brooklyn, NY About Blog Kickstarter is the world's largest funding platform for creative projects. A home for film, music, art, theater, games, comics, design, photography, and more.To date, tens of thousands of creative projects — big and small — have come to life with the support of the Kickstarter community.
Frequency about 4 posts per month.
Blog kickstarter.com/blog
Facebook fans 1,567,440. Twitter followers 1,112,872.

San Francisco About Blog As this place is where curious humans find clever things, it is our goal to give you the earliest access to ingenious products. Want to be one of the first to discover the latest in tech, design and innovation.
Frequency about 3 posts per month.
Blog go.indiegogo.com/blog
Facebook fans 539,415. Twitter followers 338,904.

About Blog GoFundMe is the easiest way to raise money online. Create a campaign in just a few minutes and start accepting donations today! Get dispatches from the world's largest fundraising platform.
Frequency about 1 post per week.
Blog gofundme.com/blog
Facebook fans 1,333,927. Twitter followers 613,736.

About Blog CrowdRise is about giving back, raising lots of money for great causes, and having the most fun in the world while doing it. CrowdRise is the world's largest and fastest​-​growing fundraising platform dedicated exclusively to charitable giving. Follow this blog to get news and tips on crowdfunding.
Frequency about 2 posts per week.
Blog fundraising.crowdrise.com/blog
Facebook fans 48,868. Twitter followers 28,472.

Baltimore, MD About Blog Big things are happening in the private equity world. The JOBS Act, signed into law in April 2012, eased restrictions on small companies looking to raise capital. Follow this site to find current events and advice on what to look for in promising startups and their founders.
Frequency about 5 posts per week.
Blog earlyinvesting.com
Facebook fans 22,254. Twitter followers 641.

New York, NY About Blog Crowdability provides individual investors with education, information and insight into opportunities in the crowdfunding market.
Frequency about 3 posts per week.
Blog crowdability.com/articles
Facebook fans 700. Twitter followers 379.

San Francisco, California About Blog YouCaring is dedicated to compassionate crowdfunding, providing free and easy online fundraising and support for humanitarian causes. It empowers people to help others overcome hardships and enjoy happier, healthier lives.
Frequency about 2 posts per week.
Blog youcaring.com/blog
Facebook fans 96,114. Twitter followers 38,313.

NYC About Blog A blog by Salvador Briggman that helps individuals run successful crowdfunding campaigns. CrowdCrux is a crowdfunding news website and resource. We provide articles news updates that help entrepreneurs, investors, business owners, and creative types take advantage of the emerging crowdfunding industry.
Frequency about 2 posts per week.
Blog crowdcrux.com
Facebook fans 1,845. Twitter followers 19,070.

London About Blog Seedrs makes it possible for anyone to buy into businesses they believe in and share in their success. Follow to know more about online investing opportunities in the best new startup businesses, and raise seed and angel investment, with top European equity crowdfunding site Seedrs.
Frequency about 1 post per week.
Blog seedrs.com/learn/blog
Facebook fans 17,381. Twitter followers 31,255.

San Francisco About Blog MicroVentures is an equity crowdfunding investment platform, combining the best of venture capital with equity crowdfunding. MicroVenture Marketplace is a FINRA registered broker-dealer, offering both primary and secondary investment opportunities. Follow to get the latest news, perspective, and insight to investing in startups, equity crowdfunding, and your venture capital portfolio.
Frequency about 3 posts per month.
Blog microventures.com/blog
Facebook fans 5,199. Twitter followers 4,767.


San Francisco, CA About Blog A forum for discussing crowdfunding.
Frequency about 6 posts per week.
Blog reddit.com/r/Crowdfunding
Facebook fans 1,188,563. Twitter followers 549,160.

Canada-wide, based in Toronto About Blog The National Crowdfunding Association of Canada (NCFA Canada) is a cross-Canada non-profit actively engaged with both social and investment crowdfunding stakeholders. NCFA Canada provides education, research, industry stewardship, networking opportunities and services to thousands of community members and works closely with industry, government, academia and eco-system partners and affiliates to create a vibrant and innovative fintech and online financing industry in Canada.
Frequency about 6 posts per week.
Blog ncfacanada.org
Facebook fans 1,552. Twitter followers 5,978.

New York, NY About Blog DonorsChoose.org is an online charity that makes it easy to help a classroom in need. This blog is the place to get DonorsChoose.org news, tips for project creation and reaching your project goal, success stories, and outstanding student thank-you notes.
Frequency about 1 post per week.
Since Aug 2007
Blog donorschoose.org/blog
Facebook fans 194,533. Twitter followers 244,151.

About Blog Krowdster is the #1 crowdfunding marketing & PR software solution, designed to promote Kickstarter and Indiegogo campaigns as well as equity crowdfunding campaigns. Get everything you need to grow your crowd and exposure for your crowdfunding campaign on a budget.
Frequency about 2 posts per month.
Blog krowdster.co/blog
Facebook fans n/a. Twitter followers n/a.

Jerusalem, Israel About Blog OurCrowd is the leading hybrid venture capital equity crowdfunding platform for accredited investors who wish to invest in Israeli and global early stage companies.
Frequency about 13 posts per week.
Blog blog.ourcrowd.com
Facebook fans 18,268. Twitter followers 9,360.

New York City About Blog CauseVox's Fundraising and Marketing Blog. Free tips and insights on how to raise funds through crowdfunding and online fundraising.
Frequency about 3 posts per month.
Since May 2010
Blog causevox.com/blog
Facebook fans 2,630. Twitter followers 5,143.

San Francisco, CA About Blog Fundly is the only integrated platform for social impact that delivers a seamless end-to-end experience for both organizations and individuals to successfully manage and promote their causes. Fundly has been a market leader in crowdfunding and peer-to-peer fundraising.
Frequency about 1 post per month.
Blog blog.fundly.com/blog
Facebook fans 80,968. Twitter followers 13,972.

San Francisco, CA About Blog All about the equity side of crowdfunding. Reddit is a community of millions of users engaging in the creation of content and the sharing of conversation across tens of thousands of topics.
Frequency about 4 posts per month.
Blog reddit.com/r/equity_crowdfun..
Facebook fans 1,170,740. Twitter followers 529,966.

Boston, MA About Blog Crowditz was founded to provide investors with one location to identify and learn about deals on the Reg CF Platforms. Crowditz is your source for news and deals across the entire crowdfunding ecosystem.
Frequency about 11 posts per week.
Blog crowditz.com
Facebook fans 31. Twitter followers 51.

London About Blog Latest news and features from theguardian.com, the world's leading liberal voice. Get latest news on crowdfunding regularly.
Frequency about 2 posts per month.
Blog theguardian.com/technology/c..
Facebook fans 7,833,226. Twitter followers 6,976,444.

San Francisco, CA About Blog Empowering Creators. Support, encourage, and FUND the emerging creative class. Patreon is a way to get paid for creating the things you're already creating (webcomics, videos, songs, whatevs). Fans pledge a few bucks per month OR per thing you release, and then you get paid every month, or every time you release something new.
Frequency about 4 posts per month.
Blog blog.patreon.com
Facebook fans 141,764. Twitter followers 76,402.

About Blog Mashable is a global, multi-platform media and entertainment company. Powered by its own proprietary technology, Mashable is the go-to source for tech, digital culture and entertainment content for its dedicated and influential audience around the globe.
Frequency about 2 posts per month.
Blog mashable.com/category/crowdf..
Facebook fans 6,597,020. Twitter followers 9,698,847.

New Delhi, India About Blog The latest news, videos, and discussion topics on Crowdfunding. Advice, insight, profiles and guides for established and aspiring entrepreneurs worldwide. Home of Entrepreneur magazine.
Frequency about 3 posts per month.
Blog entrepreneur.com/topic/crowd..
Facebook fans 424,177. Twitter followers 20,005.

About Blog AngelList is where tech companies fundraise, recruit and launch. Follow this blog to get more information on angel investors and investing.
Frequency about 1 post per month.
Since Nov 2010
Blog blog.angel.co
Facebook fans 40,360. Twitter followers 305,464.

San Francisco, CA About Blog Millions of people use Teespring to turn ideas into high-quality products. Shopping here means youre supporting independent creators and the causes they care about. Everything youll find here is custom made with satisfaction and quality guaranteed.
Frequency about 1 post per week.
Blog community.teespring.com/blog
Facebook fans 863,678. Twitter followers 59,847.

San Francisco About Blog BackerKit is a backer survey and data management platform that helps crowdfunding creators send surveys, sell add-ons and pre-orders, and manage backer data for rewards fulfillment.
Frequency about 3 posts per week.
Blog backerkit.com/blog
Facebook fans 3,202. Twitter followers 4,652.

New York, USA About Blog Our favorite crowdfunding campaigns from Kickstarter and Indiegogo. Discover the coolest projects from the crowdfunding community. Gadget Flow is the most powerful product discovery platform on the web, helping you find the latest and greatest products and crowdfunding projects.
Frequency about 10 posts per week.
Blog thegadgetflow.com/portfolio/..
Facebook fans 387,538. Twitter followers 38.

New York About Blog SeedInvest is a leading equity crowdfunding platform opening up access to venture capital and angel investing to everyone. Follow this blog and get information on Equity Crowdfunding, Angel Investing, and Venture Capital.
Frequency about 1 post per month.
Since Jan 2011
Blog seedinvest.com/blog
Facebook fans n/a. Twitter followers 15,688.

India About Blog Ketto is all about empowerment of the people. It aims to mobilise the online community. It multiplies the efforts of change-makers and campaigners of social causes, creative projects and entrepreneurial ideas. Ketto makes online giving and fundraising easy and safe.
Frequency about 2 posts per month.
Blog blog.ketto.org
Facebook fans 293,470. Twitter followers 18,866.

San Francisco, CA About Blog Fig is a curated platform for funding and developing games with the direct support of passionate players. Our platform brings together rewards-based crowdfunding and investing to create a more balanced and sustainable approach to game development.
Frequency about 1 post per month.
Blog blog.fig.co
Facebook fans 8,633. Twitter followers 4,557.

About Blog FundRazr is the easy-to-use crowdfunding site for anyone, anywhere, to raise money for any project or cause online. FundRazr enables crowdfunding and Facebook fundraising by sharing your project with friends and family and finding new supporters via social media.
Frequency about 1 post per month.
Blog blog.fundrazr.com
Facebook fans 125,168. Twitter followers 14,623.

Los Angeles, CA About Blog Crowdfunder is the equity crowdfunding leader for sourcing and funding high-growth ventures with a network of over 130,000 entrepreneurs and investors.
Frequency about 1 post per month.
Blog blog.crowdfunder.com
Facebook fans 13,287. Twitter followers 71,871.

About Blog The most delicious way to change the world. GroupRaise is a new way of organizing fundraisers at local restaurants for organizations/causes you care about.
Frequency about 1 post per month.
Blog blog.groupraise.com
Facebook fans 1,661. Twitter followers 855.

United Kingdom About Blog As an online equity-based crowdfunding and co-investment platform, we match entrepreneurs, who have great ideas and potential, with investors who are looking to build strong investment portfolios. We also have professional partners who work alongside entrepreneurs to ensure that their businesses are investor-ready.
Frequency about 4 posts per week.
Blog blog.growthfunders.com
Facebook fans 2,539. Twitter followers 17,224.

About Blog Insights on all things crowdsourcing, crowdfunding and open innovation. Collaborative or decentralized models of finance and investing, including equity crowdfunding, reward crowdfunding, crowd currencies, peer-to-peer lending and peer-to-peer commerce.
Frequency about 2 posts per month.
Since Mar 2012
Blog crowdsourcingweek.com/blog/c..
Facebook fans 11,564. Twitter followers 15,514.

Collingwood, Melbourne About Blog Pozible is a crowdfunding platform and community for creative projects and ideas. Developed for all creative mind people, you can use it to raise funds, realise your aspirations and make great things possible.
Frequency about 2 posts per month.
Blog blog.pozible.com
Facebook fans 34,699. Twitter followers 15,007.

Nordics & UK About Blog Blogs about investment, growth financing and equity crowdfunding.
Frequency about 3 posts per month.
Blog home.invesdor.com/en/blog
Facebook fans 16,623. Twitter followers 6,250.

Stockholm, Sweden About Blog The FundedByMe Crowdfunding Blog follows the journeys of investors and entrepreneurs. FundedByMe aims to be the leading global crowd investment platform, connecting the right entrepreneurs and investors.
Frequency about 1 post per month.
Blog blog.fundedbyme.com
Facebook fans 21,420. Twitter followers 7,051.

Sebastopol, California About Blog Plumfund.com is a simple, low-cost crowdfunding platform that allows anyone to raise money for anything. There is no vetting; anyone can setup a campaign. There are no tilting, funding or goal requirements.
Frequency about 1 post per month.
Blog plumfund.com/blog
Facebook fans 8,142. Twitter followers 4,275.

NYC, MEM, DET, PGH, CLE, DC... About Blog ioby supports citizen-led, neighbor-funded projects. On ioby, you can raise tax-deductible donations, recruit local volunteers and share ideas with a likeminded community.
Frequency about 1 post per month.
Blog ioby.org/blog
Facebook fans 8,590. Twitter followers 5,313.

Team in US, Aust, UK, Indo. About Blog StartSomeGood is a crowdfunding platform exclusively for social change initiatives. We exist to help social entrepreneurs, non-profits and community groups to raise the funds they need to make a difference. We want to empower anyone with a great idea to make the world better.
Frequency about 1 post per month.
Blog blog.startsomegood.com
Facebook fans 8,990. Twitter followers 54,891.

New York, NY About Blog The enormous opportunity created by the JOBS Act is leading to an explosion of firms emerging to operate funding portals, aka "platforms." FundAmerica's mission is to provide FinTech to the crowdfunding industry and deliver the highest value to our customers. Additionally, we plan to expand into other areas of service to the industry.
Frequency about 1 post per month.
Blog fundamerica.com/blog
Facebook fans n/a. Twitter followers 1,866.

Charlotte, NC About Blog Learn more about product development, crowdfunding, startup marketing, ecommerce, digital marketing and more in the Enventys Partners blog.
Frequency about 1 post per month.
Since Aug 2009
Blog enventyspartners.com/blog
Facebook fans 2,047. Twitter followers 2,384.

UK About Blog Spacehive is a crowdfunding platform that brings civic spaces to life. Spacehive provides a single portal where people with project ideas can build support from their community, ensure their plans are viable, pitch for funding from the crowd and our partners at the same time, and share the impact they've created.
Frequency about 1 post per month.
Blog about.spacehive.com/blog
Facebook fans 2,423. Twitter followers 8,225.

About Blog RallyMe is an online crowdfunding tool that empowers athletes, teams, and organizations to harness the power of the crowd to fund their goals. RallyMe is focused on athletes, teams, and organizations, sport-focused entrepreneurs, and sport-focused creative projects.
Frequency about 1 post per month.
Blog blog.rallyme.com/blog
Facebook fans 1,380. Twitter followers 1,831.

UAE About Blog Eureeca is the first global equity crowdfunding platform. It enables members of its investor network, who range from casual and angel investors to institutional firms, to buy shares in growth-oriented businesses, while providing operational businesses with crucial access to capital.
Frequency about 1 post per month.
Blog blog.eureeca.com/CrowdFunding
Facebook fans 21,761. Twitter followers 3,851.

NYC About Blog CrowdfundingPR lets you create a press release for your crowdfunding campaign and helps you promote your campaign to bloggers, journalists, and your target audience.
Frequency about 1 post per month.
Blog crowdfundingpr.org
Facebook fans 3,373. Twitter followers 13,986.

About Blog Property Crowd is an independent marketplace platform offering property crowdfunding investments exclusively to institutional and professional investors. Get the latest news and insights about professional property investment, property crowdfunding, the UK property market, and fintech.
Frequency about 1 post per month.
Blog propertycrowd.com/blog
Facebook fans 281. Twitter followers 1,065.

Asia Pacific About Blog We are creating an intuitive and automated investment ecosystem which is highly social and inclusive for ALL investors from family offices, to VCs, high net worth angels and less experienced retail investors.
Frequency about 1 post per month.
Blog equitise.com/blog
Facebook fans 4,531. Twitter followers 1,720.

Jaipur, India About Blog DreamWallets (DW) is a first of its kind online collaboration platform that focuses on the concept of Crowd Funding - an age old concept of raising funds from large number of supporters who feel for a cause or an idea and Crowd Sourcing – people coming and working together to help turn dreams into reality.
Frequency about 1 post per month.
Blog dreamwallets.com/blog
Facebook fans 51,975. Twitter followers 238.

Boston About Blog Fundraisingscript.com Crowdfunding Script - Help you to build own crowdfunding software. We can provide you white label crowdfunding software. best crowdfunding software. You really can start own crowdfunding sites like kickstarter, Indiegogo, Gofundme.
Frequency about 1 post per month.
Blog fundraisingscript.com/blog
Facebook fans 1,600. Twitter followers 869.

Singapore About Blog EthisCrowd.com is the world's first Real Estate Islamic Crowdfunding Platform. Our community of 20,000 ethical and Islamic crowd-investors and donors from 25 countries provide funding for Social Housing development projects in Emerging Indonesia.
Frequency about 1 post per month.
Blog ethiscrowd.com/blog
Facebook fans 7,594. Twitter followers 371.

Africa About Blog ACfA was established to engage all crowdfunding platforms operating on the African continent, providing an inclusive, objective and collaborative space to promote common interests and effective self-regulation; educate African consumers, platforms and regulators about crowdfunding in Africa.
Frequency about 1 post per month.
Blog africancrowd.org/blog
Facebook fans 139. Twitter followers 156.

Brooklyn, New York About Blog Locavesting is your source for news, information & resources about community capital. We cover the intersection of financial innovation community.
Frequency about 1 post per month.
Blog locavesting.com
Facebook fans 877. Twitter followers 3,704.

USA About Blog CrowdFund Beat Media International "Esablished 2012" is an online source of news, information, events and resources for crowdfunding. They e-publish latest news and expert view related to the crowdfunding industry in the USA, Canada, UK, Italy, Germany, France, Holland and coming soon in Spain, Australia, Japan and China on a daily basis.
Frequency about 1 post per month.
Blog crowdfundbeat.com
Facebook fans 2,103. Twitter followers 19,247.

Cherry Hill, New Jersey About Blog Mark Roderick is a very boring corporate and securities lawyer. Since the JOBS Act of 2012, he has spent all of his time in the Crowdfunding space and today is one of the leading Crowdfunding and Fintech lawyers in the United States. He writes a widely-read blog, www.CrowdfundAttny.com, with a wealth of legal and practical information for portals and issuers. He also speaks at Crowdfunding events.
Frequency about 1 post per month.
Blog crowdfundattny.com
Facebook fans n/a. Twitter followers 1,644.

Newburyport, MA About Blog Kickstarter is the most powerful crowdfunding platform for new and professional creators and creative entrepreneurs alike. To date, nearly $40 million dollars have been raised for comics and graphic novel projects on Kickstarter. ComixLaunch is trying to change that by revealing the mindset, strategies, and tactics you can use to successfully crowdfund your projects.
Frequency about 1 post per month.
Blog comixlaunch.com
Facebook fans 1,670. Twitter followers 3,886.

Irvine, California About Blog THE Crowdfunding News source, with Insights and Strategy for Tech Entrepreneurs. Keeping You Informed with Global Coverage on the Latest Trending Campaigns!
Frequency about 1 post per month.
Blog crowdfundingheadlines.com
Facebook fans 138. Twitter followers 2,027.

London, UK About Blog The AlliedCrowds blog features the latest analysis of global crowdfunding news, interviews with industry thought leaders, proprietary data on crowdfunding in the developing world, and lessons learned from successful campaigns.
Frequency about 1 post per month.
Blog blog.alliedcrowds.com
Facebook fans 15,234. Twitter followers 2,054.

Worldwide About Blog Oliver* is a blog updated daily with a very clear focus on all things crowdfunding and alternative finance. Here you will find news, interviews, reports and insights industry experts.
Frequency about 1 post per month.
Blog thisisoliver.co
Facebook fans n/a. Twitter followers 690.

Oregon, USA About Blog Hatch Oregon is a brand new economic engine for growing community capital. It's a result of the work of Hatch Innovation, the nonprofit that pushed through Oregon's new law enabling community investing. Hatch Oregon enables communities to thrive through investing their capital in local businesses.
Frequency about 1 post per month.
Blog hatchoregon.com/blog
Facebook fans 446. Twitter followers 1,665.

Vancouver, BC About Blog Crowdfund Suite provides solutions and services that help portals, funding industry stakeholders, entrepreneurs and investors profit from the crowd.
Frequency about 1 post per month.
Blog crowdfundsuite.com/blog
Facebook fans 95. Twitter followers 531.

Seattle, Washington About Blog Community Sourced Capital offers a type of funding simply not available elsewhere.We provide loans to small businesses using funds sourced from people in their community. CSC is a means for small businesses to connect with their own community in raising needed capital.
Frequency about 1 post per month.
Blog blog.communitysourcedcapital..
Facebook fans 2,359. Twitter followers 1,262.

Baltimore, Washington, DC About Blog Jeff Koeppel is of counsel at a corporate/securities law firm in the Washington, DC – Baltimore metro area.
Frequency about 1 post per month.
Blog jeffkoeppel.wordpress.com
Facebook fans n/a. Twitter followers n/a.

Scotland, United Kingdom About Blog A blog about UK equity crowdfunding and how platforms like Crowdcube are using business plans to deceive investors. FCA unwilling to act.
Frequency about 1 post per month.
Since Mar 2015
Blog fantasyequitycrowdfunding.bl..
Facebook fans 199. Twitter followers 1,340.

About Blog HuffPost is a politically liberal American online news aggregator and blog that has both localized and international editions founded by Arianna Huffington, Kenneth Lerer, Jonah Peretti, and Andrew Breitbart, featuring columnists.
Frequency about 1 post per month.
Blog huffingtonpost.com/topic/cro..
Facebook fans 9,829,646. Twitter followers 11,249,683.

New York City About Blog Experiment is an online crowdfunding platform for discovering, funding, and sharing scientific research. We're based in New York City. We're a team of scientists, designers, and technologists passionate about helping ideas grow. Our mission is to democratize science.
Frequency about 1 post per month.
Blog medium.com/this-is-an-experi..
Facebook fans 5,939. Twitter followers 6,958.

San Francisco, CA About Blog Wefunder is a crowd investing platform for startups. We help seed investors purchase stock for as little as $100 in the most promising new businesses around the country. On the other side, we help founders raise funds from their most passionate users who provide product feedback, marketing evangelism, and business connections. We help more startups succeed.
Frequency about 1 post per month.
Blog blog.wefunder.com
Facebook fans 11,466. Twitter followers 5,916.

About Blog GoGetFunding lets you raise money for personal plans, events, causes and more. From funding that aeronautical degree that has been just out of your reach, to conquering Everest or crowdfunding your creative idea - GoGetFunding gives you funding freedom and lets you raise money online for all the things that really matter to you.
Frequency about 1 post per month.
Blog gogetfunding.com/blog
Facebook fans 9,073. Twitter followers 11,678.

New Delhi About Blog BitGiving is a crowdfunding platform that enables artists, engineers, and creators of all kinds to come together in a bid to raise funds online and share their stories. BitGiving is all about taking an extra step to show your support!
Frequency about 1 post per month.
Blog blog.bitgiving.com
Facebook fans 14,724. Twitter followers 1,621.

About Blog The #1 market intelligence service for crowd investors with investment opportunities from more than 50 equity crowdfunding platforms worldwide.
Frequency about 1 post per month.
Blog crowdtures.com
Facebook fans 6. Twitter followers 3.

Chicago, IL About Blog Bolstr is a marketplace lender that connects small and medium businesses with real investors for growth and expansion projects.
Frequency about 1 post per month.
Blog bolstr.com
Facebook fans 904. Twitter followers 1,363.

Amsterdam About Blog Business innovation and local communities benefit greatly from a quality crowdfunding and alternative finance ecosystem. CrowdfundingHub is the European Expertise Centre on Alternative Finance and Community Finance. With a core team in Amsterdam and local experts throughout Europe, we are a research and consultancy network of crowdfunding and alternative finance experts.
Frequency about 1 post per month.
Blog crowdfundinghub.eu/blog
Facebook fans 605. Twitter followers 1,518.

Brookville, NY About Blog As one of the best crowdfunding sites, we offer fundraising ideas and some of the best ways to fundraise using our nonprofit fundraising software.
Frequency about 1 post per month.
Blog crowdster.com/fundraising-blog
Facebook fans 2,972. Twitter followers 5,689.

About Blog CrowdFund Genius is a path to crowdfunding success. After 100's of interviews with creators and entrepreneurs from around the world we have turned our attention to helping those very same creators and entrepreneurs navigate through their crowdfunding campaigns.
Frequency about 1 post per month.
Blog crowdfundgenius.com/blog
Facebook fans 1,245. Twitter followers 2,481.

London About Blog In Spring 2016, Trillion launched Your Brand Crowdfunding, a white-label, debt-based crowdfunding service that enables medium-sized businesses to crowdfund on their own websites.
Frequency about 1 post per month.
Blog blog.trillionfund.com
Facebook fans 3,642. Twitter followers 5,761.

Seattle, Washington About Blog THEY ARE EXPERTS ACROSS THE CROWDFUNDING ECOSYSTEM, CONNECTING CAPITAL BETWEEN INVESTORS AND ENTREPRENEURS.
Frequency about 1 post per month.
Blog crowdfund.co/blog
Facebook fans 60. Twitter followers 358.

About Blog This is a new Tumblr idea I've been hoping to try out for a while. I've seen a lot of people who need donations unable to get the money they need due to lack of followers and the like. This Tumblr reblogs posts of people who need donations and also allows submissions.
Frequency about 1 post per month.
Blog crowdfunding-donations.tumbl..
Facebook fans n/a. Twitter followers n/a.

About Blog Citizinvestor is a crowdfunding and civic engagement platform for local government projects. We empower citizens to invest in their community and create real change.
Frequency about 1 post per month.
Blog blog.citizinvestor.com
Facebook fans 836. Twitter followers 4,691.

Malmo, Sweden About Blog The #1 European PR, Marketing and Consulting Agency for a successful Crowdfunding campaign. They are a boutique agency humming with smart people who passionately propel successful crowdfunding strategies through digital marketing and PR.
Frequency about 1 post per month.
Blog thecrowdfundmarketing.com/cr..
Facebook fans 10,606. Twitter followers 4,898.

About Blog CrowdClan offers a strong community of experts to deliver all of the current information, tips, and tricks that you will need to succeed in the crowdfunding industry. CrowdClan is the place to explore every aspect of crowdfunding.
Frequency about 1 post per month.
Blog crowdclan.blogspot.com
Facebook fans 12,268. Twitter followers 121,226.

Bengaluru, India About Blog Fueladream.com was launched in Mid April of 2016 and is based in Bengaluru. They are a crowdfunding platform and marketplace for people & organisations that currently aims to raise funds for creative ideas, causes, charities, events and community. They are a crowdfunding platform that is committed to radically changing the lives of 2.2 billion people in India, S.E. Asia & Africa.
Frequency about 1 post per month.
Blog crowdfundinginindia.com
Facebook fans 20,246. Twitter followers 247.

California, USA About Blog Crowdfundcenter is best marketing agencies they offers crowdfunding PR and marketing services for promotion. Our agency provides the top crowdfunding services for projects raising funds.
Frequency about 1 post per month.
Blog crowdfundcenter.com/blog
Facebook fans 116. Twitter followers 31.

United States About Blog Things of relevance to crowdfunding, including events and news.
Frequency about 1 post per month.
Blog crowdfundingnow.blogspot.in
Facebook fans 104. Twitter followers 16,034.
Crowdfunding Blogs By Country
---
USA
Nextseed
About - Our Mission is to Connect Businesses and Individuals to Build Vibrant Communities. By using the latest crowdfunding laws and technology, NextSeed is creating new opportunities for businesses and everyday investors to grow together. Through NextSeed, small businesses have access to a source of debt financing that is all around them. Crowdfunding on NextSeed helps a business bring on investors from the community who can become customers, raving fans and loyal advocates of the business.
Flash Funders
About - FlashFunders is an equity crowdfunding platform committed to helping startups raise capital as efficiently as possible and democratizing investor access.
Crowdfund Insider
About - Crowdfund Insider is the leading news and information web site covering the emerging global industry of disruptive finance including crowdfunding, Blockchain peer-to-peer / marketplace lending and other forms of Fintech. Our site provides extensive coverage, and industry leading perspective, from a team of staff writers and leading industry expert contributors from around the world.
Crowdfund Buzz
About - Our services are specifically designed to help any crowdfunding project get more visibility and exposure to radically increase the chances of reaching a crowdfunding goal. Crowdfunding campaign promotion & public relations. We also share the latest in crowdfunding news, PR trends and advertising initiatives.
Backerkit
About - BackerKit makes it easier to manage your crowdfunding campaign. We help bring crowdfunded projects to life by giving creators more time to do what they love.
UK
DROP Crowdfunding
About - Our crowdfunding blog has been created to provide you with up-to-date guides, advice, research and insights on crowdfunding all in the name of helping you decide whether crowdfunding is the right option for you. It's aimed at aiding you in the levelling up of your campaign whether you're in the early stages of planning a launch, currently live on your selected crowdfunding platform, or even just looking for a social media boost.
Crowdfunder
About - Crowdfunder is a community of over 600,000 people who are funding the change they want to see. We are the No.1 crowdfunding platform in the UK, having raised over £45m. Connecting projects that matter with people who care.
Business Agent
About - Business Agent is the UK's alternative finance marketplace for investors and entrepreneurs. Invest, borrow, lend and raise. Businessagent.com is creating the alternative finance marketplace. A place where entrepreneurs, investors & alternative finance providers meet.
Crowd For Angels
About - Crowd for Angels is a crowdfunding platform that raises funds for companies through the issue of shares (equity) and crowd bonds (debt) to investors. Crowd for Angels is based in the City of London and is regulated by the Financial Conduct Authority. Since 2014 we have been helping companies to raise finance from thousands of investors on our platform.
VE Magnet
About - VE Magnet is a crowdfunding platform for innovative tech startups looking to raise finance! Our mission is to simplify and optimize the crowdfunding process for tech startups through a user-friendly platform.
Canada
Crowd Capital
About - Startup Canada gives a voice to every entrepreneur & supports a network of grassroots Startup Communities. Founders access mentorship, leadership and entrepreneurship programming through our community relationships. We offer connections with a deep network of industry and capital contacts throughout Canada.
NFCA Canada
About - The National Crowdfunding & Fintech Association (NCFA Canada) is a national non-profit actively engaged with social and investment crowdfunding, alternative finance, fintech, peer-to-peer (P2P), initial coin offerings (ICO), and online investing stakeholders across the country.
CMF Trends
About - The CMF regularly posts on Crowdfunding in a Canadian Context, an informative site dedicated to promoting an in-depth understanding of this funding method from the specific perspective of Canada's creative industries.
Australia
Ready Fund Go
About - Ready Fund Go helps you get ready, get funded and get going with your great business idea. Do you have a new idea, a startup, or a growing business & want to make a difference in the world? Get crowdfunding with ReadyFundGo. Where ideas take off!
My Cause
About - Australia's No.1 crowdfunding & online fundraising platform helping you to raise money for a person, cause or charity that matters to you.
Pozible
About - Pozible provides the platform for project creators to present their ideas to a connected audience, worldwide. We believe in crowdfunding for everyone. That means providing help to creators to give them the best possible chance of success - and the highest success rate of any major platform.
India
Khwahish
About - Khwahish is a crowdfunding and social cause awareness platform. The idea behind Khwahish was to help social organizations raise campaigns, highlight the impact they have made and gain more credibility by building a brand.
Wishberry's Blog
About - Wishberry is a new way of raising funds for creative projects through rewards-based crowdfunding. Our mission is to discover & empower creative ideas originating out of India and to put India on the creative map of world.
Impact Guru
About - We are a tech-for-good platform that provides complete crowdfunding solutions to empower individuals, NGOs and social enterprises to raise funds for medical emergencies, personal needs, creative projects or any social cause - be it big or small. We aim to bring together generosity with need to maximise people's potential to do good.
Angle Paise
About - ANGLE Paisa began its operations in July 2010 in collaboration with some of its counterparts in US and local investors by working on projects in the real estate sector and websites. It later felt the need of expanding into the crowdfunding market and reaching out to a larger pool of investors and public at large for inviting ideas and contributing funds.
Ketto
About - Ketto is most trusted and visited crowdfunding platform that helps you raise funds for personal needs, charitable causes and creative ideas.
These blogs are ranked based on following criteria
Google reputation and Google search ranking
Influence and popularity on Facebook, twitter and other social media sites

Quality and consistency of posts.

Feedspot's editorial team and expert review
Top 100 Crowdfunding Blogs Winners
CONGRATULATIONS to every blogger that has made this Top Crowdfunding Blogs list! This is the most comprehensive list of best Crowdfunding blogs on the internet and I'm honoured to have you as part of this! I personally give you a high-five and want to thank you for your contribution to this world.
If your blog is one of the Top 100 Crowdfunding blogs, you have the honour of displaying the following badge on your site. Use the below code to display this badge proudly on your blog. You deserve it!:
<a href="https://blog.feedspot.com/crowdfunding_blogs/" title="Crowdfunding blogs"><img src="https://blog-cdn.feedspot.com/wp-content/uploads/2017/07/Crowdfunding-transparent_216px.png" ></img></a>