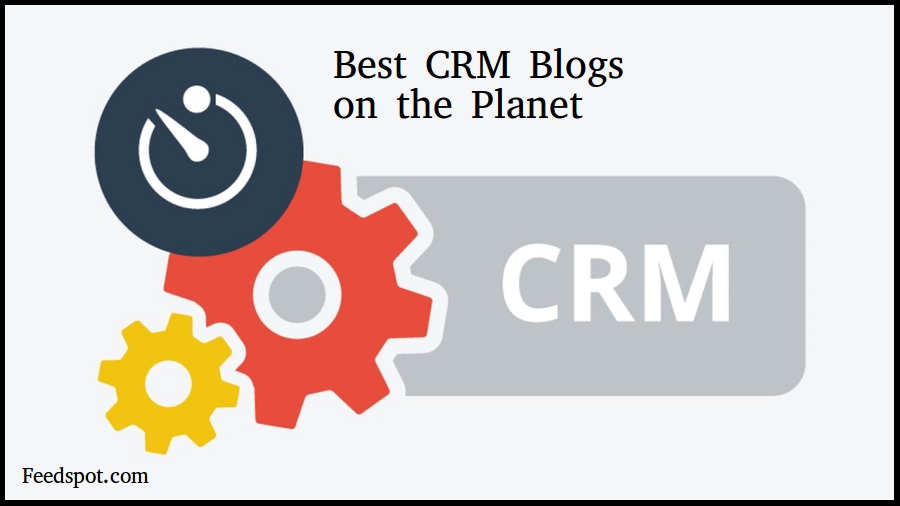 CRM Blogs List.
The Best CRM blogs from thousands of top CRM blogs in our index using search and social metrics. Data will be refreshed once a week.
If your blog is selected in this list, you have the honour of displaying this Badge (Award) on your blog.
CRM Blogs
Rank

Blog Name

Facebook Fans

Twitter Followers

Alexa Rank

1

San Francisco, CA

About Blog - Salesforce is the innovative company behind the world's #1 CRM platform. New tips, trends and insights from the world's leading enterprise cloud ecosystem in sales, service, marketing, community, analytics & apps
Frequency - about 3 posts per week

683,414

409,009

132

2

customerthink.com/category/blog

About Blog - CustomerThink is a global online community of business leaders striving to create profitable customer-centric enterprises. Main areas of coverage include Customer Relationship Management, Customer Experience Management and Social Business.
Frequency - about 42 posts per week

n/a

13,851

81,637

3

New York, NY

About Blog - CRM Magazine is dedicated to providing this pertinent information in a timely manner, thereby connecting decision makers and industry providers now and in the future.
Frequency - about 1 post per week

2,535

25,221

5,086,868

4

Los Angeles, CA

About Blog - CRM Buyer is the essential guide for CRM system purchasers. CRM Buyer features CRM product information, reviews and comparisons. It is an independent source updated each day.
Frequency - about 3 posts per week

5,089

9,105

859,758

5

About Blog - Customer relationship management (CRM) is a model for managing a company's interactions with current and future customers. It involves using technology to organize, automate, and synchronize sales, marketing, customer service, and technical support.
Frequency - about 5 posts per week

1,109,332

484,871

8

6

news.google.com/news/section..

About Blog - Comprehensive up-to-date coverage for crm, aggregated from news sources all over the world by Google News.
Frequency - about 42 posts per week

23,149,966

213,113

1

7

About Blog - CRM Daily shares Customer relationship management news and tips.
Frequency - about 11 posts per week

55,429

1,006

3,220,305

8

Dallas, TX

About Blog - Agile CRM blog gives you insights on various topics related to an All-in-one CRM such as Marketing Automation, Sales Automation, Helpdesk and others to grow your small business.
Frequency - about 2 posts per week
Since - Jan 2014

18,444

18,053

28,611

9

California

About Blog - The Nimble Blog will cover topics including customers engagement with social media, sales & marketing automation, customer service and analytics.
Frequency - about 3 posts per week

3,732

15,580

66,342

10

About Blog - MSDynamicsWorld.com is the independent authority for Microsoft Dynamics AX, GP, NAV, SL, and CRM news, white papers, case studies, and add-on ISV solutions.
Frequency - about 17 posts per week

588

14,608

465,624

11

San Francisco, USA

About Blog - The Insightly blog is dedicated to providing relevant, fresh, and easy to consume content for small business owners seeking to understand the benefits of using a CRM platform, and who want to better understand specific business growth strategies such as building out a sales pipeline, leveraging social media to build brand awareness and better connect with their customers.
Frequency - about 1 post per week

35,132

5,252

n/a

12

blogs.gartner.com/michael_maoz

Stamford, CT

About Blog - Michael Maoz is a Research Vice President and Distinguished Analyst in Gartner Research. His research focuses on customer strategies and technologies, with an emphasis on the CRM customer service disciplines, collaborative customer strategies, social media strategies, and cloud-based CRM applications and analytics.
Frequency - about 2 posts per month

57,589

349,512

8,581

13

Ann Arbor, MI

About Blog - Nutshell is the user-friendly small business CRM that helps sales reps win more deals, with sales process automation, fast onboarding, and free support.
Frequency - about 4 posts per month

4,560

2,133

68,639

14

Ontario, Canada

About Blog - CRM Dynamics is a Gold certified Microsoft Dynamics CRM partner located near Toronto, Ontario, Canada. For over 20 years They have served clients in higher education, manufacturing, financial services, technology and professional service industries.
Frequency - about 2 posts per month

221

375

2

15

Palo Alto, CA

About Blog - The official blog for Close.io, the sales communication platform built by the hackers and hustlers at Elastic. In 2012, we started a "Sales-as-a-Service" business called ElasticSales. Our vision was to build the sales infrastructure necessary to empower companies around the world to scale their sales efforts.
Frequency - about 2 posts per week

4,172

4,612

31,820

16

Cupertino, CA

About Blog - SugarCRM provides the most flexible CRM platform in the world. Follow us to track the latest in developing on the Sugar platform.
Frequency - about 2 posts per month

7,568

1,610

42,522

17

Boston, MA

About Blog - Check out Bullhorn's Blog to stay up to date on the latest customer relationship management trends and information.
Frequency - about 2 posts per week

2,116

10,664

75,243

18

Oslo

About Blog - Driven by a passion for Customer Relationship Management (CRM), SuperOffice makes award winning CRM software for sales, marketing and customer service. As the leading European CRM provider, SuperOffice is trusted and used by more than 11,000 companies.
Frequency - about 2 posts per month

1,553

639

81,711

19

Seattle & Philadelphia

About Blog - Follow the PipelineDeals blog for information on how to sell, building a sales pipeline and CRM software and other technology making waves in the world of selling.
Frequency - about 1 post per week

10,703

2,664

83,785

20

Mountain View, CA

About Blog - Get insights from sales leaders and optimization experts to help you accelerate your sales process and win more deals by leveraging CRM data.
Frequency - about 3 posts per week

4,326

6,499

92,249

21

St. Louis, MO

About Blog - The Hatchbuck blog is a go-to resources for small businesses looking for the latest in small business marketing, sales, technology and more.
Frequency - about 5 posts per week

18,763

7,804

90,805

22

US/UK/India

About Blog - Act-On is a cost-effective marketing automation software platform with email marketing, lead nurturing, lead generation, lead scoring, webinar management, CRM integration, and social media prospecting and tracking tools.
Frequency - about 3 posts per week

34,354

38,532

105,008

23

Minneapolis, MN

About Blog - Read from the most comprehensive CRM blog for Microsoft Dynamics 365 courtesy of the CRM experts at PowerObjects, an HCL Company.
Frequency - about 5 posts per week

1,796

3,874

115,561

24

Petersfield, Hampshire, UK

About Blog - CRM Blog covering all things Customer Relationship Management related - CRM Software, Online CRM, Cloud CRM, Email Marketing, & Newsletter Templates
Frequency - about 2 posts per month

167

1,046

191,684

25

United States

About Blog - Salesflare is the intelligent sales CRM that sales people love. Salesflare reminds you of who you should contact, collects information on customers, and logs all your customer interactions for you.
Frequency - about 3 posts per month

782

6,941

256,197

26

Los Angeles, CA

About Blog - SalesPOP! is an online multi-media magazine by PipelinerCRM. that empowers sales leaders, sales management, sales professionals and entrepreneurs to thrive in today's new world of sales.
Frequency - about 10 posts per week

18

267

231,134

27

London, England

About Blog - The latest news on inbound sales, new tactics in sales management, and a fair share of learned lessons in the SaaS and CRM field.
Frequency - about 1 post per week

2,164

47,625

283,831

28

About Blog - Get help on your Microsoft Dynamics CRM solution from qualified experts in the forums, read blogs and how-to articles, and watch videos.
Frequency - about 168 posts per week

66,266

33,227

5,122

29

Chennai, India/Pleasanton, CA

About Blog - Zoho CRM gives you a 360-degree view of your complete sales cycle and pipeline. Identify trends, spot opportunities, increase efficiency, and reduce costs with the right answers, right now.
Frequency - about 2 posts per month

110,481

34,736

532

30

New York, NY

About Blog - This blog is written by people behind Pipedrive, the sales pipeline management software. Pipedrive's blog covers the latest sales and sales management tips, tactics and strategies for salespeople, sales managers, and small business owners.
Frequency - about 1 post per week
Since - Feb 2011

44,512

8,612

3,670

31

USA | UK | Asia | Australia

About Blog - Paul Greenberg focuses on not only what CRM is but where its going in this blog on CRM strategy, technology, stories, companies and personalities.
Frequency - about 1 post per month

267,990

409,595

3,063

32

New York, NY

About Blog - Welcome to the Customer Experience Suite blog. Follow this blog to learn about valuable industry insights, product announcements, events and more. Infor Customer Experience suite helps organizations integrate customer data, accelerate customer engagement and gain a complete view of their customers.
Frequency - about 2 posts per month

14,532

15,879

16,689

33

USA

About Blog - Highrise is a CRM solution for small businesses with contact and task management functionality. The software allows users to track communication with clients so that teams can view the status of deals and relationships.
Frequency - about 1 post per week

543

2,366

21,588

34

San Francisco, CA

About Blog - Read helpful articles on a variety of topics as well as feature updates, news and announcements from the recommended CRM for G Suite.
Frequency - about 2 posts per week

1,626

1,257

35,226

35

Sunnyvale, CA

About Blog - Insights and updates for sales, marketing, and customer service professionals. Vtiger CRM is online customer relationship management software that helps you track and nurture customers across marketing, sales, and customer service.
Frequency - about 2 posts per month

4,048

2,510

39,433

36

Cupertino, CA

About Blog - SugarCRM enables businesses to create extraordinary customer relationships with the most innovative and affordable CRM solution in the market.
Frequency - about 2 posts per week

7,758

16,278

48,625

37

San Francisco, CA

About Blog - Chime is a marketing and customer relationship management (CRM) suite designed for small and midsize real estate businesses. Chime provides team management features, lead and customer management and content management.
Frequency - about 2 posts per week

2,383

14,620

183,650

38

United States

About Blog - Microsoft Dynamics 365 & Dynamics CRM experts provide reviews and opinions to aid professionals with the Dynamics 365 selection process.
Frequency - about 4 posts per week

n/a

2,583

369,164

39

Vancouver, BC

About Blog - Content & actionable advice that will help you maximize lead generation and manage pipelines to shorten sales cycles, close more deals and increase revenue. Maximizer Software has been developing CRM software to help businesses better manage their customers, leads, and prospects for over 25 years.
Frequency - about 1 post per week

1,279

3,652

375,901

40

Birmingham, UK

About Blog - This blog is all about The Hosk and Microsoft CRM Dynamics.
Frequency - about 2 posts per month

n/a

2,430

375,904

41

infosysblogs.com/customer-re..

Global (HQ: Bangalore, India)

About Blog - If CRM has been a struggle or a passion for you then Infosys' CRM blogs is the place to be in. Come join us as we discuss the latest trends, innovations and happenings which will have a bearing on CRM.
Frequency - about 1 post per month

793,853

223,941

406,006

42

Bengaluru, India

About Blog - Mobile CRM Blog - Be first to learn about latest Kapture Mobile CRM features, News. Also includes latest business CRM trends and automation benefits by big businesses.
Frequency - about 2 posts per week

299

39

416,053

43

About Blog - Get the latest Sales CRM tips that make people success in sales and reach their targets. Know how to optimize the way you use CRM by Salesbox Blog.
Frequency - about 2 posts per month

28,506

1,307

441,933

44

Ann Arbor, MI

About Blog - A Simple CRM That You'll Actually Use. karmaCRM is the fully customizable solution for building better customer relationships through clarity and efficiency.
Frequency - about 3 posts per month

2,611

3,291

465,773

45

Poznan, Poland

About Blog - InStream is an online CRM, which helps build strong relationships with customers. Check this blog to learn more about sales, lead management, building strong business relations and how InStream can help you with all that.
Frequency - about 1 post per month

669

1,189

472,245

46

Planet Earth

About Blog - Daily smörgåsbord of finest Microsoft Dynamics CRM tips and tricks.
Frequency - about 4 posts per week

391

1,827

502,993

47

USA

About Blog - The official blog by CRMNEXT for latest Customer Relationship Management trends, industry landscape, best practices in social, mobility, analytics, cloud for sales, customer service, marketing, key opinion leaders, gamification and much more.
Frequency - about 3 posts per month

1,144

149

537,299

48

SF Bay Area, California

About Blog - A blog about CRM and marketing technology. Topics include strategy, selection, implementation and usage.
Frequency - about 2 posts per month

67

1,502

553,837

49

Houston, Texas

About Blog - SalesNexus is Online CRM and Email Marketing for organizations from sales teams. They focus on helping small and medium sized businesses grow by increasing their direct marketing efforts, maximizing marketing ROI and improving the effectiveness and efficiency of their sales operations.
Frequency - about 1 post per week

5,384

5,927

836,120

50

India

About Blog - Inogic is a Microsoft Partner with Gold Competency in Dynamics CRM. Their Product division specializes in development of Innovative solutions and products for Dynamics CRM like Maplytics and InoLink. Maplytics - Bing Maps CRM Integration is a geo-analytics tools designed to provide geo-spatial analysis for Dynamics CRM data from within Dynamics CRM.
Frequency - about 2 posts per week

158

1,713

598,608

51

Birmingham, UK

About Blog - Neil Parkhurst is Microsoft MVP with a passion for all things Dynamics related includes posts on CRM and USD.
Frequency - about 2 posts per week

n/a

1,050

669,275

52

Dubai, United Arab Emirates

About Blog - Nishant Rana is Microsoft Certified Professional in Microsoft Dynamics CRM (CRM 3.0 to CRM 2016), Microsoft SharePoint (2007 and 2013) and Microsoft .NET with 10 years of experience.
Frequency - about 2 posts per week

n/a

698

667,393

53

WI

About Blog - OnContact CRM by WorkWise is a full-featured, flexible and customizable Customer Relationship Management (CRM) application that provides the competitive edge your company needs. Offered as a cloud or on-premise deployment, this browser-based CRM application automates the sales, marketing and customer service areas of your company, delivering the power to create, cultivate and grow relationship.
Frequency - about 3 posts per month

1,023

892

681,361

54

Austin, Texas

About Blog - Cosential is the CRM and proposal automation solution for the AEC industry. Cosential is a powerful and easy-to-use customer relationship management (CRM), sales force automation, and proposal automation system designed specifically for AEC firms and by AEC experts.
Frequency - about 1 post per month

165

646

767,994

55

Stamford, CT

About Blog - 1to1 Media's editorial and guest blogs from industry influencers bring thought leadership on the latest trends in customer experience, customer service, marketing, sales, and employee engagement.
Frequency - about 3 posts per month

1,265

8,064

778,191

56

New York City

About Blog - IRIS CRM is a software development company in the payment industry. IRIS is used by ISOs to track their leads, board new merchants and calculate residuals.
Frequency - about 3 posts per month

6,853

815

891,492

57

develop1.net/public/default...

Oxford, UK

About Blog - Develop 1 Limited are a Microsoft Partner with experience in the Financial Services, Insurance and Local Government sectors. They specialise in Microsoft Dynamics CRM solutions with bespoke integration to line of business applications.
Frequency - about 1 post per month

n/a

2,679

1,066,646

58

crm.fullscope.com/resources/..

Alpharetta, GA and UK,

About Blog - Fullscope formerly Zero2Ten is one of Microsoft's leading Dynamics CRM Partners having deployed well over 800 clients worldwide, more than any other Microsoft Dynamics CRM Partner in the world.
Frequency - about 3 posts per week

218

1,339

1,227,802

59

Appleton, Wisconsin

About Blog - Ledgeview Partners blog shares CRM tips, tricks, and useful know-how on Microsoft Dynamics CRM & Salesforce.com.
Frequency - about 3 posts per month

224

1,093

1,136,943

60

London, England

About Blog - The FIVE CRM suite of products give a range of options for CRM, email marketing, outbound calling, marketing automation & website tracking.
Frequency - about 2 posts per month

523

10,908

1,180,705

61

Finland

About Blog - Jukka Niiranen's personal blog for all things related to Microsoft Dynamics CRM. He writes about the news, tips and issues encounter during day job as a CRM Consultant in a Finnish company called Digital Illustrated.
Frequency - about 1 post per month

n/a

3,468

1,356,473

62

global

About Blog - eWay-CRM Blog is about CRM System for Outlook.
Frequency - about 2 posts per month

66

26

1,399,875

63

California

About Blog - ClearAction is a customer experience management consulting firm. They specialize in metrics, actionability, cross-functional engagement, and maturity roadmaps.
Frequency - about 1 post per month

358

5,726

1,401,529

64

Dallas/Ft. Worth Area, Texas

About Blog - This blog is about Training and consulting services for Microsoft Dynamics CRM.
Frequency - about 2 posts per month

166

3,022

1,445,052

65

Toronto, Canada

About Blog - Read up on industry news, tips, and tutorials for CRM Software form the experts at Carmel Vision.
Frequency - about 1 post per month

909

1,414

1,457,559

66

San Francisco, Dehradun

About Blog - This blog showcase knowledge base on CRM, Cloud Computing, sales force and Mobile Apps development with focus on selecting best CRM & sales force consultant.
Frequency - about 1 post per week

577

2,017

1,536,834

67

Nashville, TN

About Blog - CallProof is the leading sales tracking app & web portal that automates sales reporting activities in real time so you can sell more.
Frequency - about 3 posts per month

326

583

1,580,155

68

Jackson Hole, Wyoming

About Blog - The oldest independent CRM analyst alive, Richard Bohn is a one-of-a-kind blend of salesman and computer geek on a mission to help companies to get the best bang for their buck when it comes to CRM software.
Frequency - about 4 posts per month

n/a

8,410

1,910,548

69

Singapore

About Blog - QuickDesk offers the Best CRM software in Singapore. Their online CRM system is optimized for professionals to boost sales productivity.
Frequency - about 3 posts per month

418

10

2,086,460

70

USA

About Blog - The Microsoft Dynamics CRM Platform Enhancement Discussion. Management Technology Consulting (MTC) is a Microsoft Certified Advanced Dynamics 365 / CRM Partner in a very unique high-value global products and services business model.
Frequency - about 2 posts per week

n/a

570

2,418,164

71

Irvine, CA

About Blog - Onsite CRM provides a dynamic responsive CRM developed to increase sales and employee efficiency.
Frequency - about 1 post per month

25

5,768

2,431,716

72

Kyiv, Ukraine

About Blog - As SugarCRM Advanced Partner Integros company offers full range of services on CRM processes improvement such as business consulting, CRM system customization and integration and CRM support
Frequency - about 4 posts per month

4

457

2,711,703

73

Montréal, Québec

About Blog - This blog is about Everything Dynamics CRM from a technical, architectural and business perspective.
Frequency - about 1 post per month

n/a

733

2,923,344

74

Munich, Bavaria

About Blog - ZeyOS unifies all the features of CRM and ERP you care about in one brilliant and intuitive platform - from e-mail and calendar to inventory and billing.
Frequency - about 1 post per month

495

1,275

2,995,873

75

Melbourne, Australia

About Blog - A blog Sharing Andre K Margono work and study experience with technologies.
Frequency - about 1 post per month

n/a

555

3,880,702

76

Melbourne, Victoria

About Blog - Dyn365Apps is a site dedicated to share all things Dynamics 365 based on his experience in delivering Dynamics 365 Sales, Service, Marketing, Finance, Portals, Office 365, SharePoint, Azure, ISV and custom solutions.
Frequency - about 2 posts per month

n/a

338

4,497,620

77

Christchurch, New Zealand

About Blog - A blog about helping businesses to improve in Digital Transformation, Customer Engagement, Customer Experience, CRM, Innovation.
Frequency - about 3 posts per month

n/a

7,005

5,004,278

78

Philadelphia, PA

About Blog - Joel 'Cap' Capperella brings over 20 years strategic marketing execution in software and SaaS, with both big fish (SAP, Oracle) and small startups. He's now building on that experience to help startups and small companies to think like and relate to customers in the way they go about sales and marketing.
Frequency - about 3 posts per month

166

1,488

n/a

79

Toronto

About Blog - Prodigm specializes in working with small and medium size businesses who want to grow their sales and profitability. We implement Zoho CRM. Mission to help your business grow.
Frequency - about 1 post per month

89

279

5,353,863

80

Near Boston

About Blog - Beagle Research Group, LLC is a CRM analyst firm founded in 2004. They perform market research for vendors and advise end users in CRM selection, deployment and use.
Frequency - about 1 post per week

n/a

6,124

5,419,846

81

UK

About Blog - Mohamed Mostafa's Blog is about MSDynCRM Resources, Information, best practices & help on Microsoft Dynamics CRM, Scribe, .NET (C# & ASP), Integration, ECommerce, Business Transfomration and more.
Frequency - about 4 posts per month

n/a

1,621

6,774,732

82

About Blog - A collection of straightforward SharePoint and Dynamics CRM articles aiming to help those in need.
Frequency - about 2 posts per month

n/a

n/a

6,943,183

83

Hyderabad, India

About Blog - CRM Ramblings blog is mainly on Dynamics CRM(365) & USD.
Frequency - about 1 post per month

n/a

22

7,058,203

84

Stockholm, Sweden

About Blog - Gustaf Westerlund is Dynamics CRM MVP and Principal consultant of small consultancy with burning passion for Dynamics 365 and the CRM concepts.
Frequency - about 1 post per month

n/a

888

7,862,572

85

About Blog - BGBS, formerly known as Brite Global, provides custom application solutions built on Microsoft Dynamics ® CRM, SharePoint and .NET platforms. Our technical and industry expertise empower our clients to enhance their technological capacity and respond to business opportunities with greater efficiency.
Frequency - about 1 post per week

30

n/a

9,788,811

86

About Blog - The latest news & updates for Microsoft Dynamics 365 & Microsoft Office 365. Success Tips & Whitepapers for CRM, Marketing Automation & Customer Support.
Frequency - about 3 posts per month

431

n/a

8,001,676

87

Wellesley, MA

About Blog - The innovative THINKstrategies blog is written by Jeff Kaplan, who is its Managing Director. A leading expert in cloud computing, Jeff is a frequent guest blogger and keynote speaker on SaaS, managed services, and IOT.
Frequency - about 1 post per month

n/a

8,280

14,545,644

88

About Blog - Started career at Osmosys, which has given me a chance to work on multiple Microsoft technologies like CRM, C#, ASP.net and MVC. Currently working as a Associate Consultant for MS CRM at Microsoft, Hyderabad, India.
Frequency - about 3 posts per month

n/a

n/a

6,898,275

89

Wokingham, England

About Blog - This is all about providing strategic advice to clients, helping them to find the right path towards a successful digital marketing, CRM and data strategy. So, in this blog, he will try to bring you links to resources, articles & opinions that I think you will find interesting & thought provoking. he will also share his thoughts, opinions & comments on the latest marketing theories & projects.
Frequency - about 1 post per month

n/a

1,330

10,832,696

90

Greenville, WI

About Blog - A blog about Microsoft Dynamics CRM related information.
Frequency - about 1 post per month

n/a

1,796

11,525,170

91

Woodstock, GA

About Blog - The journey to customer-centric innovation through Jobs to be Done.
Frequency - about 1 post per month

n/a

9,727

12,051,761

92

About Blog - I am a MSCRM Technical Consultant on providing the best Solutions to the readers helping them achieve their Goals and objectives in Customer Relationship Space.
Frequency - about 1 post per month

n/a

n/a

n/a

93

About Blog - The CRM Manifesto is a declaration of the fundamental truths about Customer Relationship Management. It is intended to be used to inform and remind those on a CRM journey what they are seeking to achieve.
Frequency - about 1 post per month

n/a

23

n/a

94

About Blog - CRM 2016 Introduced Auto-complete feature on web forms. This allowed us to help users in filling out data faster and easier without creating any unwanted relationships.
Frequency - about 2 posts per month

n/a

n/a

n/a

95

About Blog - Occasional rantings about Dynamics CRM/365, Power BI, SharePoint, Office 365 and Azure cloud. Intrigued about how people collaborate and data driven decision making. Taking the first small steps in machine learning. Putting all of the above in practical use to help companies "embrace" their customers.
Frequency - about 3 posts per month

n/a

n/a

n/a

96

Sydney, Australia

About Blog - That CRM Blog is related to CRM and Customer Experience as it is a great example of how NOT to set up your customer service function.
Frequency - about 2 posts per month

n/a

2,078

n/a

97

About Blog - This blog aims to provide some technical tips about Microsoft Dynamics CRM 4.0/2011/2013/2015/2016,DYNAMICS 365, SQL Server and .Net.Javascript
Frequency - about 3 posts per week

n/a

13

n/a

98

Los Angeles, California 90048

About Blog - The Oro Blog is a collection of carefully curated and original articles filled with CRM tips, marketing insights, and sales insights designed to help you grow your business.
Frequency - about 5 posts per week

730

2,886

n/a

99

New Jersey, USA

About Blog - This blog is about Microsoft CRM & Dynamics 365.
Frequency - about 3 posts per month

6

24

n/a

100

About Blog - The Dynamics Hacker Blog provides you Tutorials on Errors and Fixes and more about Dynamics 365.
Frequency - about 4 posts per month

n/a

n/a

n/a

101

Boca Raton, FL

About Blog - CRMsearch.com is an online community focused on CRM strategies, software, processes and complimentary solutions. CRM community forum providing advocacy journalism, remarkable content, balanced reporting and community facilitation.
Frequency - about 1 post per month

4,742

1,859

286,674

102

About Blog - The Small Business CRM Blog keeps you up-to-date with all additions, new product reviews, articles and other topical CRM stuff.
Frequency - about 1 post per month

135

1,253

686,593

103

San Francisco, CA

About Blog - CRM applications are not often described as 'simple and user friendly'. End-user adoption is a critical piece to a great CRM solution or a successful implementation of a CRM system. CRM Simplified will focus on issues related to making CRM systems easier to use and implement.
Frequency - about 3 posts per month

80,706

9,347

64,596

104

About Blog - Razwan is Author of the Microsoft Dynamics CRM Consultant UK Blog providing Free Resources and Events for Microsoft Dynamics, Office 365 Implementation, Development, Integration & Project Management.
Frequency - about 2 posts per month

n/a

1,176

2,045,411

105

San Francisco, CA

About Blog - How To Articles, Samples, Tips, Best Practices, News and Events about Microsoft CRM Online.
Frequency - about 1 post per month

n/a

1,443

2,047,899

106

About Blog - Dynamics CRM Solution Architect with over 15 years of experience in the Information Technology Industry and more than 6 years of experience in requirements analysis, gathering and interpreting requirements documents, designing, configuring, coding, developing and implementing Microsoft Dynamics CRM – based solutions for numerous clients.
Frequency - about 2 posts per week

n/a

n/a

2,911,609

107

Auckland

About Blog - Greg Olsen is currently a Solutions Architect at Sable37 in Auckland, New Zealand. Greg is also a Microsoft P-SSP for CRM, Dynamics CRM Specialist, Leader of the NZ CRM xRM User Group.
Frequency - about 1 post per month

n/a

914

3,534,182

108

About Blog - Real Experiences from Analyzing, Architecting, developing and working with Dynamics CRM, Dynamics 365 and sometimes .net.
Frequency - about 2 posts per month

n/a

434

1,163,181

109

Eatontown, NJ

About Blog - Commence provides small business software and CRM solutions to help you organize and better manage customer data, improve sales efficiency, generate new business, provide high quality customer service and make informed business decisions.
Frequency - about 3 posts per month

713

573

1,963,337

110

Colorado Springs, CO

About Blog - MrDave's blog is all about Microsoft Dynamics CRM, Marketing and Social Listening.
Frequency - about 1 post per month

n/a

4,233

10,764,404

111

stuffandtacos.azurewebsites.net

About Blog - Ramdom IT stuffs about powershell, C#, Visual Studio Team Service, Azure, CRM Dynamics, Sharepoint and even SAP
Frequency - about 1 post per month

n/a

n/a

13,533,208

112

n/a

n/a

17,100,096

113

Las Vegas, NV

About Blog - xRM blog shares Information related to Microsoft Dynamics CRM and xRM.
Frequency - about 1 post per month

252

401

590,351

114

Boston, MA

About Blog - Bpm'online is a premium vendor of process-driven software for marketing, sales, and service. Bpm'online's process-driven CRM enables companies to change processes in the CRM faster than ever and align marketing, sales and service on a single CRM platform.
Frequency - about 2 posts per month

8,160

2,836

106,741
These blogs are ranked based on following criteria
Google reputation and Google search ranking
Influence and popularity on Facebook, twitter and other social media sites

Quality and consistency of posts.

Feedspot's editorial team and expert review
Top 100 CRM Blogs Winners
CONGRATULATIONS to every blogger that has made this Top CRM Blogs list! This is the most comprehensive list of best CRM blogs on the internet and I'm honoured to have you as part of this! I personally give you a high-five and want to thank you for your contribution to this world.
If your blog is one of the Top 100 CRM blogs, you have the honour of displaying the following badge on your site. Use the below code to display this badge proudly on your blog. You deserve it!:
<a href="https://blog.feedspot.com/crm_blogs/" title="CRM blogs"><img src="https://blog-cdn.feedspot.com/wp-content/uploads/2017/06/CRM-transparent_216px.png" ></img></a>
Tags: crm rss feeds