Promote Your Instagram Profile
Get more people to visit your Instagram profile by featuring it in the list below. Helps you grow your business, your influence, or your audience. Submit your instagram profile below if you want to grow your traffic and revenue.
Submit your Instagram profile
Craft Beer Instagrammers
1. Mik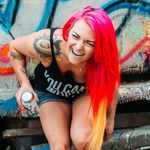 Bio Maven elevated with craft beer & cannabis. Sharing stories + Cooking + Outdoors + Sports + Fitness + Mom. Marketing & Alt Model. Do good & love hard💛 Instagram Handle @craftybeermaven Instagram Followers 41100 Location California, United States
2. Julie
Bio Photography, Travel + Craft Beer Enthusiast Buffalo, NY 📧| jeroesser@gmail.com untapped | Julieroesser Instagram Handle @craftbeerdeer Instagram Followers 37700 Location Buffalo, New York, United States
3. Jennifer
Bio The Beerded Lady •Pint sized and full bodied with a hoppy attitude• 🍺 Beer Drinker ✈️ Traveler 🌕 Love & Light Instagram Handle @jenniferthebeerdedlady Instagram Followers 36000 Location Denton, Texas, United States
4. Alyssa
Bio ❤️Head brewer at @jaggedmountaincb 🏔 Texan living in Denver 🍺 Advocate for diversity in beer ✈️ Traveling brewer/speaker Instagram Handle @southernbeergirl Instagram Followers 34000 Location Denver, Colorado, United States
5. Megan
Bio ✻ beer ✻ travel ✻ style 💁🏻‍♀️whatever, i'm getting cheese fries 🌾brewer 🌈DEI advocate (she/her) 🍻traveling brewer+speaker 💼@societebrewing 📧isbeeracarb@gmail.com 📍san diego Instagram Handle @isbeeracarb Instagram Followers 33500 Location San Diego, California, United States
6. Beck
Bio Wisconsin Beer & Travel Wisconsin blogger and creator #chicago #michigan #wisconsin beers are my specialty Craft Beer 🍻| Cicerone® CBS | Travel ✈️ 📍Madison, WI Instagram Handle @a.girl.rates.beer Instagram Followers 29200 Website https://www.agirlratesbeer.com Location Wisconsin, United States
7. CBR
Bio Must be 21 to follow. No matter how full you are, there's always room for a BEER 📍San Diego, CA 🍻 UnTappd: craftbeeray Instagram Handle @craftbeeray Instagram Followers 29100 Location San Diego, California, United States
8. Ashley
Bio Orlando Beer God gave me 2 hands: one to hold a 🍺 & one to hold a 🌮 Orlando, FL 🏝 @showsigoto contributor floridahopmama@gmail.com Check out my website ⬃ Instagram Handle @floridahopmama Instagram Followers 25800 Website https://thefloridahopmama.com Location Austin, Texas, United States
9. Miguel Rivas
Bio Every beer has a story. Every story has a beer. ® | Photographer | Visual Story Teller | Content Creator | Let's work together, inquire by email ↘️ Instagram Handle @thebeertrekker Instagram Followers 23800 Location Brooklyn, New York, United States
10. Caitlin
Bio Big World Small Girl ~ austin blogger ~ a travel blog disguised behind photos of craft beer ~ host of 512 Brewed podcast 👇 here to help you plan your next beercation Instagram Handle @bigwrldsmallgrl Instagram Followers 19100 Website https://bigworldsmallgirl.com Location Austin, Texas, United States
11. Joy
Bio Mostly Beer and Travel Photos 🍻 📍 Southern California Instagram Handle @beerbitty Instagram Followers 17600 Location California, United States
12. Lindsay Hayes
Bio CLT Craft Beer + Lifestyle ⫸ Beer in one hand, phone in the other ⫸ Bartending & Social Media things ⫸ @pinkbootscharlotte Member 📍 Charlotte, NC Instagram Handle @hoppyhayes Instagram Followers 17000 Location Charlotte, North Carolina, United States
13. Tara
Bio Road trips 🌵🌵 Beer Dinosaurs 🎨:@taratea.art Instagram Handle @taratea Instagram Followers 16300 Location Phoenix, Arizona, United States
14. Bella
Bio 📍NYC📍JC 🇺🇸🇵🇭 🍕 I eat 🍻 I drink 💃🏻 I dance Certified Cicerone Beer Server Instagram Handle @onehoppylady Instagram Followers 15000 Location New York City, New York, United States
15. Charlie
Bio Save water, drink beer 🍻 #hops_and_charlie Untappd: @hops_and_charlie Florida 🌴 Instagram Handle @hops_and_charlie Instagram Followers 13400 Location Florida, United States
16. Garnet
Bio Beer Blog 🍺 Denver 🍺Beer Blog Denver, CO Traveling w/a Slice of Life Instagram Handle @garnet_heart_ Instagram Followers 10900 Location Denver, Colorado, United States
17. Joshua M. Bernstein
Bio Journalist. Dad. Fan of beer, dumplings, street art + NYC adventures. I somehow wrote five books, including Complete Beer Course + Drink Better Beer. Instagram Handle @joshmbernstein Instagram Followers 9782 Location New York City, New York, United States
18. Mandy Naglich
Bio 🏅NHC Gold Medal Homebrewer | 👅 Certified Taster 🤓Studying for Master Cicerone 🍻 stories from around the 🌏 Philly born. Texas raised. NYC today. Instagram Handle @beerswithmandy Instagram Followers 9667 Website https://beerswithmandy.com Location New York City, New York, United States
19. Elle
Bio Beer • Grub • Fitness 📍Philadelphia #BadThingsHappenInPhiladelphia 🍻🐶🧘🏽🌮🍩 😀 🛍: https://bit.ly/34RHzGA 💌: SipOnWhat@Gmail.com 🚗: TBD Instagram Handle @siponwhat Instagram Followers 7791 Location Philadelphia, Pennsylvania, United States
20. Alison Grasso
Bio ➖ filmmaker/editor ➖ #craftbeer drinker ➖ a third thing @alisongrasso → work & etc Instagram Handle @grassowhat Instagram Followers 6492 Website http://www.alisongrasso.com Location Brooklyn, New York, United States
21. Trina-Jo
Bio ✘ Going places and drinking things ✘ • Amateur Hand Model 🤚🏼 • Professional Reveller 💃🏽 All comments and ideas expressed are my own. Instagram Handle @hellotrinajo Instagram Followers 6192 Website http://www.hellotrinajo.com Location Dallas, Texas, United States
22. Em Sauter
Bio Award winning cartoonist making adorable #visualbeereducation since 2010! Advanced Cicerone® Beer Judge Author Public Speaker Dark Lagers forever Instagram Handle @pintsandpanels Instagram Followers 5821 Location Connecticut, United States
23. Katie B.
Bio Never look at your beer as half empty...look at it as you're halfway to your next beer. 📍 𝚠𝚊𝚜𝚑𝚒𝚗𝚐𝚝𝚘𝚗, 𝚍𝚌 🍺 𝚞𝚗𝚝𝚊𝚙𝚙𝚍: 𝚔𝚊𝚢𝚋𝚘𝚞𝚟𝚜 All 📸 are my own. Instagram Handle @beerisbrewtiful Instagram Followers 4863 Location Washington, District of Columbia, United States
24. Summer Burk
Bio Austin Beer Broad Just a free-spirited, spunky Texas girl who loves good beer. 🤘🏻❤️🍻 . The Definitive Rules For Being The Cool Chick: Instagram Handle @austinbeerbroad Instagram Followers 1974 Location Orlando, Florida, United States
25. Holly
Bio A craft beer photographic journey through the lens of @hollygerardphoto 🍻 Follow along: #portraitofbeer 📍Denver, Colorado Instagram Handle @apertureofales Instagram Followers 984 Website https://www.apertureofales.com Location Denver, Colorado, United States